Cover letters…to ask or not to ask? You may gain valuable information about candidates by requiring a cover letter, but it also creates more work for candidates and may cause applicants to drop off.
In this guide, we'll cover some pros and cons to think through, and if you choose to require a cover letter, we'll explain how you should evaluate it.
Pros Of Requiring A Cover Letter
If you're on the fence about requiring a cover letter, you're not alone. According to Jobvite's Job Seeker Nation Study, just over half of job seekers–53%–bother to submit a cover letter, and only a quarter of recruiters consider cover letters important. But despite the statistics, requiring a cover letter can have benefits.
1. It Separates Serious Candidates From The 'Browsers'
Writing a cover letter for an individual application takes some work. By requiring one, you'll get a more motivated pool of candidates and gain some insight into their experiences and qualifications that a resume alone won't show you. Think about it this way: if a candidate can't spend 20 extra minutes to write a cover letter for you, do you really want that person working for you?
Some candidates will copy and paste the same cover letter from application to application. However that's usually easily spotted and generates a data point on whether a candidate is serious or not. Submitting a cover letter that's tailored for the job is a great sign of a serious applicant.
2. You Can Test Attention To Detail
Candidates are often blasting out applications and resumes en masse. Requiring a cover letter will test whether the candidate actually read your job description and can follow instructions. Those traits are important later, on the job, as well.
3. It Lets You Gauge Cultural Fit
A cover letter is a chance for a candidate to stand out from the crowd. Having them write about themselves can allow you to get a feel for a candidate's personality before meeting them in person. Since cultural fit can be an important factor in a new hire's eventual success, this could be an important data point.
4. A Cover Letter Is More Creative Than A Resume
Resumes tend to be terse. A cover letter allows candidates to emphasize key capabilities or experiences that only get a bullet point on their resume. It also lets you know what the candidate views as important to being successful at your company.
5. Tests Communication Skills
Most positions require good communication skills, either with clients or teammates. Requiring a cover letter lets you see how they communicate in writing.
Cons Of Requiring A Cover Letter
If there are so many benefits to requiring a cover letter, why do so many recruiters and candidates find them unimportant? Here are 5 reasons not to bother.
1. You'll Get Fewer Candidates
According to a Seven Step RPO study, 30% of all candidates, and 57% of those with incomes over $100k, won't spend more than 15 minutes filling out a job application. So, you'll lose a chunk of potential candidates by requiring a cover letter–they won't even apply. You'll also lose some percentage of candidates who apply but are automatically knocked out because they don't actually submit the required cover letter (or they submit an obvious copy paste job).
2. It Creates More Work For You
Between reviewing resumes, interviewing candidates, and discussing candidates with other interviewers, hiring is already a time consuming activity. Requiring a cover letter means more work for you. Two mitigating factors here:
This initial extra work could pay off in the long run if you get a better hire from requiring a cover letter. It can reduce turnover by resulting in better qualified candidates.
You might be able to offload the review work to an external recruiter if you don't want to devote resources to it in-house.
3. You Risk Looking Old School
"As more job seekers encounter fast, easy online applications from industry
leaders, they'll increasingly judge your company against this new standard."

— Indeed
Many employers are working to streamline the application process in order to attract more candidates. They are making the application process similar to fast consumer shopping experiences, like those seen on sites like Amazon or Netflix. By requiring a cover letter, you risk appearing to be out of touch and could undermine your employer branding efforts. While this is true if you're looking to hire millennials, it is not limited to that age group.
4. It Makes the Process Less Standardized
The common elements on a resume – such as experience, education, skills, etc. – create an apples-to-apples comparison of candidates. In fact, some applicant tracking systems can automatically read and filter candidates based on their resumes. Requiring a cover letter introduces subjectivity into the hiring process and makes the review process more complicated.
Are Other Small Businesses Requiring Cover Letters?
In Favor of Cover Letters
Against Cover Letters
"A cover letter is a great way to see whether candidates are reading your job ads; even when I explicitly request a cover letter, many candidates fail to submit one or leave out critical information. If they can't follow those directions, the odds are good that inattention will be reflected in their job performance as well."

Chris Van Patten,
Owner and Creative Director, Tomodomo
"It's an outdated practice that no longer has a legitimate place in the hiring process... Today, there is such an abundance of other information out there that allows you to evaluate a potential hire."

Garrett Ball,
Founder, 65Medicare.org

"A cover letter shows commitment and interest and also lets us know whether the candidate took the time to check us out online or learn anything about us. I would say 80% of candidates submit an obviously generic cover letter, but the other 20% will mention our company name and refer to something they learned about us online. Those candidates are gold."

Danielle Kunkle, Co-Founder,
Boomer Benefits

"As a small business, it is unlikely your compensation and benefits are competitive with other larger companies, so adding barriers to entry for the best talent is only hurting your cause."

Fletcher Wimbush,
CEO, The Hire Talent
Cover Letter Alternatives
There are alternatives that may give you more insight into a candidate than a cover letter. These include:
Test projects
Surveys that ask candidates to respond to specific questions
Work samples/portfolios
Video cover letters
Checking their personal website or blog
According to Lazlo Bock, head of Google People Operations, "The best predictor of how someone will perform in a job is a work sample test." At Fit Small Business, we give test articles to candidates for writer positions. We find that this closely mimics how they actually perform on the job.
We also use surveys at Fit Small Business, in lieu of generic cover letters, to find a good fit. Here's an example of one. We ask questions that specifically test for how a candidate would solve real world problems. For example, on the SEO Specialist survey, we ask the candidate to provide specific recommendations to improve the SEO of one of our pages.
Allowing for formats outside of a traditional cover letter might uncover some creative talent and initiative in your candidate pool. Check out these resumes cleverly disguised as a milk carton and painkiller prescription!
What A Good Cover Letter Should Include – 5 Things To Look For
If you've decided it's worth it to require a cover letter, there are 5 things to keep in mind when evaluating it. We'll walk through these with an example of a successful cover letter that was submitted to Fit Small Business for a sales position: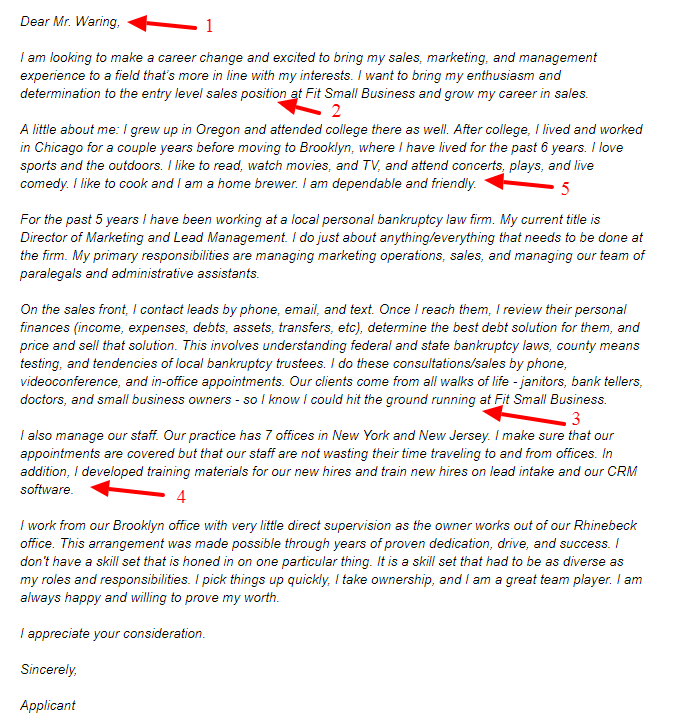 1. The Candidate Sounds Motivated
You can usually spot a copy and paste cover letter from a mile away. That should be a red flag. Conversely, a well researched cover letter shows a motivated candidate. Did they research the company well? Did they personalize it to your company and the role? Did they address key points stated in the job description?
Bonus points if they found out, as our applicant did, who to address the cover letter to instead of just using a generic 'to whom it may concern' or 'hiring manager'.
2. The Letter Is Well Organized
Clear, concise communication is a common required characteristic for many jobs. Being able to organize a cover letter that will likely only be scanned is a good test of a person's organization skills. Is their information clearly presented, such as contact information? Does the cover letter, like our example above, include the title of the job they are applying for? Can you get the gist of the letter by scanning it? Is it logical?
3. The Letter Is Persuasive 
A good cover letter is persuasive. It contains a strong argument for why this person is a good fit. Does the candidate understand what the role requires? Did they do a good job showing why they are the right person for the role? The applicant in our example addresses their past sales experience to show how they would be successful in the sales position at Fit Small Business.
4. The Candidate Paid Attention to Detail
Good communication means paying attention to detail when the stakes are high. Would you want a candidate sending erroneous emails to customers or colleagues? In their cover letter, there should be no typos, grammatical errors, or misstatement of facts. The more specifics and details that the writer includes, as in our example, the more likely that they truly have the experience and knowledge to be successful in the role.
5. The Candidate's Personality Shines Through
Another aspect of a good cover letter is one that lets the reader get a feel for the candidate's personality. Getting to know someone through a document is tough. A strong cover letter has details about a person's interests or history, enabling a recruiter to feel like they've gotten to know this person a bit better and perhaps determine if there's an initial cultural fit.
In our example above, the applicant takes one paragraph to describe their personal interests. While this is unconventional, it does a great job of allowing the reader to get to know the candidate on a more human level. In inspires confidence that this individual will be a team player and easy to get along with.
Bottom Line: Cover Letters
Cover letters can help identify more qualified candidates and filter out less motivated candidates. But, this might be at the price of eliminating potentially good candidates, especially when there might be better ways to get the same or better information. Once you've gotten past the resume and cover letter review, here's some help on how to run the best interview process and some general hiring tips from the pros.