CoverWallet is a leading innovator for online commercial insurance services. Recognized as a global startup leader by CNBC and featured as an Upstart 100, CoverWallet uses easy-to-understand web applications combined with analytics, and technology to help small business owners get the right insurance quickly and without hassles.
The CEO, Inaki Berenguer, is no stranger to tech startups.
Inaki Berenguer, CEO & Co-founder, CoverWallet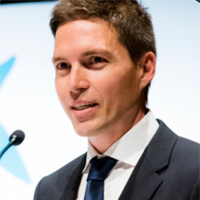 Inaki Berenguer, the CEO and co-founder CoverWallet, has been recognized for technology innovations his entire career. He has both a master's degree and a doctorate in engineering from Cambridge University and was a two-year Fulbright Scholar at Columbia University. Inaki co-founded Contactive, a data platform for telephone calls now owned by Fuze. He was also the co-founder of the internet startup Pixable that was bought out by SingTel, the second-largest telco in the world.
We were excited to sit down and ask Inaki about his ideas on the future of insurance tech.
Business Owners Considerations in Insurance Providers
Fit Small Business (FSB): Small business owners don't realize that an insurance broker is more of an advisor or partner to their business. What do you think small business owners need to understand most when it comes to choosing whom to work with?
Inaki Berenguer: Small business insurance has traditionally been a complex, analog, and time-consuming process, requiring dozens of pages and paperwork and taking several days. As a business owner, time is one of your most valuable assets. When it comes to insuring your business, it's important to work with someone who is going to get you the right coverage at a good price, and who is also going to make it quick and easy.
We take out the inefficiencies involved in the insurance process and make it simple, online, and convenient so that business owners can get the coverage they need and get back to what matters most—their business. If a business wants to go through the full insurance process online, they can, and if they want to work with an advisor, CoverWallet has a team of licensed insurance experts ready to assist and provide advice.
Understanding a Business Owner's Needs
FSB: Some industries or businesses have unique insurance needs. What are some of the things a small business owner should consider to ensure they are picking coverage?
Berenguer: The type of insurance coverage for a particular business depends on its specific industry. A contractor needs different insurance than an accountant who needs different insurance than a startup founder. A licensed advisor can help explain the different types of policies and coverages and what your business should purchase.
Additionally, there are a few tools that help make it easy to understand the different types of insurance and what your specific business needs. With the Advice tool from CoverWallet, a business simply enters its location, industry, and size, and we use data to show the types of policies businesses like them typically purchase and what they cost.
Innovating Insurance in the Future
FSB: Insurance providers need to be forward-thinking. What do you see as the big new risks emerging that small business owners need to be aware of and address?
Berenguer: In general across the board, the frequency of cyberattacks has increased in the past decade, and everyone has seen the headlines about major incidents against businesses. Cyber incidents can affect businesses of all sizes, and research shows that around 40 percent of cyberattacks target small businesses. With an estimated cost of a breach of about $120,000 for small businesses, there's a lot at risk.
Cyber liability insurance provides protection in the event of security-related claims, including data breaches or network failures. These policies tend to offer very broad coverage at relatively affordable rates, and they can be purchased online in just a few minutes. It's an additional level of protection that can be added very conveniently.
Insurance for Expanding Business Needs
FSB: Ideally, businesses grow and evolve into bigger, more successful companies. What is the most important thing for a small business owner to consider in regard to his insurance as his business expands?
Berenguer: As a business grows and builds its team, gets its own office space, brings on more investors, and adds to its customer base, its insurance needs evolve. For example, you might start with a simple general liability policy or a business owner's policy, but you'll likely need to add directors & officers insurance if you raise investor money and worker's compensation coverage when you hire an employee.
It's important to work with the right insurance partner that helps you understand new risks that come up and the new coverages you should consider adding as you expand. We have a dedicated team for high-growth companies to help them navigate insurance since their needs change over time.
CoverWallet's Edge to Help Small Business Owners
FSB: What are some of the primary areas CoverWallet focuses on when it comes to helping small business owners navigate the world of insurance?
Berenguer: We built our platform with data science, design, and state-of-the-art-technology to make insurance fast, simple, and convenient, and we work with businesses across all types of industries to help them get the right insurance. Through our platform, you can understand what commercial insurance you need and why you need it, get quotes, and complete the purchase of a customized policy all online, in a few minutes. Additionally, you can manage your coverage through the platform, including generating instant certificates of insurance.
We know that business owners have a lot on their plates. You shouldn't have to spend unnecessary time worrying about insurance, trying to buy coverage, and managing it.
What CoverWallet Does for Small Businesses



CoverWallet has a cutting edge online platform that helps small business owner obtain business insurance in a fast, easy-to-understand manner. The application allows CoverWallet to shop policies among many insurance carriers to provide the right protection for the best premium price possible. CoverWallet reviews show the company does an excellent job of helping small business owners in tough industries such as landscaping quickly get the right policy.