In these trying times, the best thing you can do for your business is to stay informed. Our mission is to provide you with the best answers to your questions, so we've compiled on this page all our resources on how to keep your business afloat during the current crisis.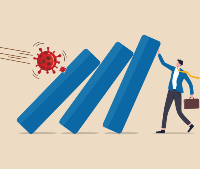 This guide to the federal COVID-19 relief stimulus package provides all the information you'll need about the US government's landmark recovery legislation: what's in the bill, who can take advantage of it, and how.
Newly available Paycheck Protection Program (PPP) Loans unlock more than $10 million in funding for small business owners. They're also forgivable, meaning they can be turned into grants. This guide will explain how to qualify and apply for these funds.