Welcome to the Fit Small Business Xero training course! In this lesson, we're going to cover how to create and manage expense claims in Xero.
You can follow along on your own Xero account. If you don't have one already, click here to sign up for a free 30-day trial and follow along below.
To complete this lesson, you can either watch the video below, read through the step-by-step instructions, or do both. Let's begin!
For some small business owners, Xero will provide enough tools to handle their books all on their own. But, for many, it makes sense to use Xero in conjunction with experienced small business accountants who are also Xero experts, like those at Bookkeeper360.
Bookkeeper360 can handle your monthly bookkeeping, payroll, new employee paperwork, taxes, and more. Basic plans start at $249/month. Get your first consultation free.
What Is the Importance of Creating and Managing Expense Claims?
If an employee or business owner spends personal funds to purchase items for their business, they must complete an expense claim to be reimbursed. Expense claims are similar to expense reports in that you can submit multiple receipts on one expense claim.
Example: If you attended a conference and you used your personal credit card to pay for airfare, rental car and hotel, you can submit receipts for all of these items on one expense claim to request reimbursement.
While traditionally expense claims would be submitted by paper and processed by hand, Xero lets you create reports within the software and attach receipts digitally. Then, Xero handles all the accounting for you!
How Do I Create an Expense Claim?
To create an expense claim, follow the steps below:
Step 1 – Navigate to Expense Claims
From the Accounts menu, select Expense Claims as indicated in the screenshot below.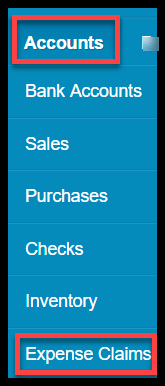 Step 2 – Click the "Add Receipt" button as indicated in the screenshot below.
Step 3 – Complete the fields indicated in the screenshot below. A brief description has also been provided.
Receipt from – Enter the name of the company as it appears on your receipt.
Date – Enter the date on the receipt.
Reference – This field is optional. You may include any additional info in this field regarding this purchase.
Description – Enter the business purpose for this expense in this field.
Quantity – If you purchased items you can enter the quantity purchased here.
Unit Price – Enter the unit cost or total amount of the purchase in this field.
Account – From the dropdown, select the account the purchase should be categorized to.

Note: If an account has not been flagged to "show in expense claims" it will not show up in the dropdown.

To make this change, go to the chart of accounts and add the flag to the account.
Tax Rate – From the dropdown, select the appropriate tax rate or leave the default rate as shown here (Tax on Purchases (0%).
Tracking category (Region) – If you use tracking categories, select the appropriate category from the dropdown.
Attach file – You can attach copies of receipts and other supporting documentation here.
Add a new line – If you need to add additional line items, just click the "add a new line" button to do so.
Save and Add Another Receipt – Select this option if you have multiple receipts that you need to enter.

Note: The expenses do not have to be related for you to select this option.

In the next step we will show you how to submit receipts for approval.
Save – Once you have completed all of the fields, you can save. You can also save even if you have not completed all of the fields. Xero will not allow you to submit a receipt for reimbursement until all fields have been completed.
Step 4 – All receipts that you have added will appear in the next screen as indicated below.
Receipts that have not been submitted for approval will appear on the Current Claim tab as indicated above. The total number of receipts along with the total amount will appear as indicated in the above screenshot.
Step 5 – Select the receipts to submit for approval by putting a checkmark in the box & click the "Submit for Approval" button as indicated below.
Note: As mentioned previously, you can submit one receipt per claim or multiple receipts as we have done in this example.
Step 6 – In the next screen, you can see the status of all expense claims that you have submitted.
All expense claims that have been submitted but not authorized for payment will appear in the "Awaiting Authorization" tab as indicated in the screenshot above. Once the expense claim has been approved, it will move over to the "Awaiting Payment" tab.
How to Approve, Decline or Delete Expense Claims
If you have an Advisor role then you can approve, decline or delete your own expense claims as well as other employees. You can learn more about user permissions here.
Follow the steps below to approve, decline or delete expense claims.
Step 1 – Navigate to the Expense Claims status page
Return to the Expense claims page by selecting Accounts and then Expense claims as indicated below.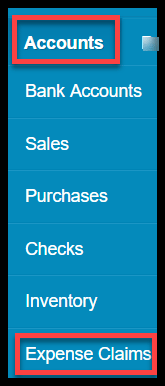 Step 2 – Click on the "Awaiting Authorizations" tab as indicated below.


Step 3 – The following screen should display. Below is a brief description of the action that you can take.
Checkbox: Put a checkmark in the box for the claim(s) that you would like to select.
Approve: Click the "approve" button to authorize payment for individual receipts or the entire claim.
Decline: You can decline payment for individual receipts or the entire claim. A notification will be sent to the person that submitted the claim.
Delete: You can delete a receipt that you do not wish to pay. A notification will be sent to the person that submitted the claim.
Approved Total: Based on your selections, Xero will automatically calculate the total amount of the claim that you have approved.
Delete Expense Claim: This will allow you to delete the entire claim which will send a notification to the person who submitted the claim.
View Expense Claim Summary Report: This report is an aging report for all expense claims. It will show you all of the unpaid expense claims and the number of days they have been outstanding (unpaid).
Below is a sample Expense Claim Detail Report for our fictitious company Acme Web Pros Plus.
Step 4 – Authorize payment for Approved Claims
Once you have approved an expense claim, you can immediately authorize it for payment. From the expense claim status page (step 3), scroll down and you will see the payment authorization section. Complete the fields as follows and click the "Authorize" button:
After payment has been authorized, you can pay the expense claim by check. You can learn more about this here. If you manage your payroll in Xero you can reimburse an employee's expense claim using payroll.
Wrap Up
That wraps up the section on how to create and manage expense claims. The next lesson in our Xero Training Course will be How to Create a Bill. In this lesson, we will walk you through how to create and manage supplier bills. To access this lesson or any of the others in the series, click here. For a free 30-day trial of Xero, click the link below.