Constant Contact may be best known for its popular email marketing platform, but it has branched out and now offers a free AI-powered website builder. Whether you're looking to build a professional business website or launch an online store, Constant Contact makes the process very easy. Follow along with our step-by-step instructions on how to build a website with Constant Contact for free and with very little time and effort:
1. Head Over to Constant Contact
To start, go to the Constant Contact website. From the homepage, find the website builder in the menu at the top, and click "Start your site for free."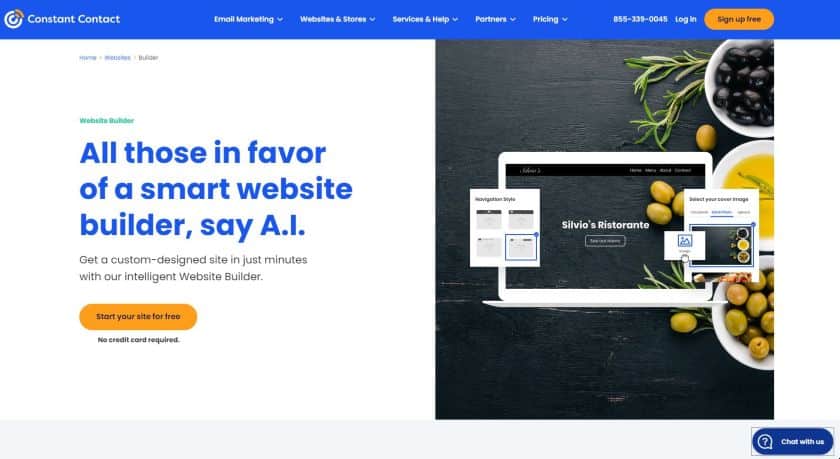 2. Follow the Prompts
Next, you'll simply be asked a few questions, which the artificial intelligence (AI)-powered site builder will use to start building your site for you. To start, you'll be asked what your site is about. If you don't see a topic that fits your business, try typing whatever your business covers in the search field. Then click on whether you want a blog or a store. As you make your choices, the website builder will find free stock images to use and sections for your site that make sense for your industry.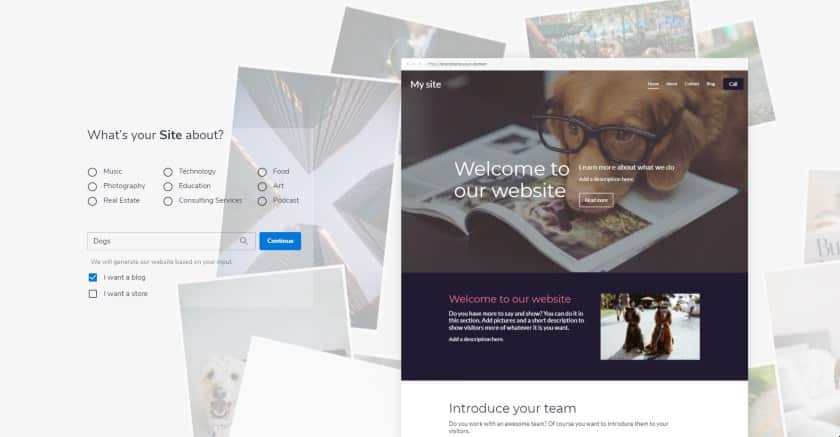 Click the tabs below for extra assistance with each of the prompts: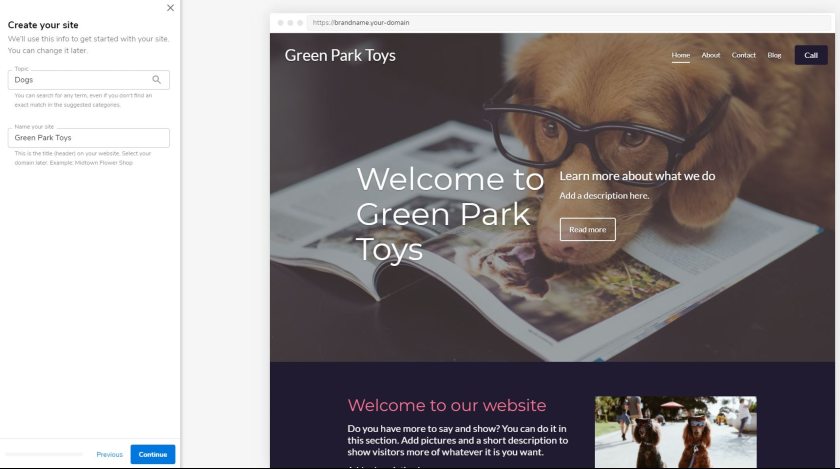 The next step in creating your website with Constant Contact's site builder is to add your business or website name. As you type in your site's name on the left, it will fill in automatically on the right.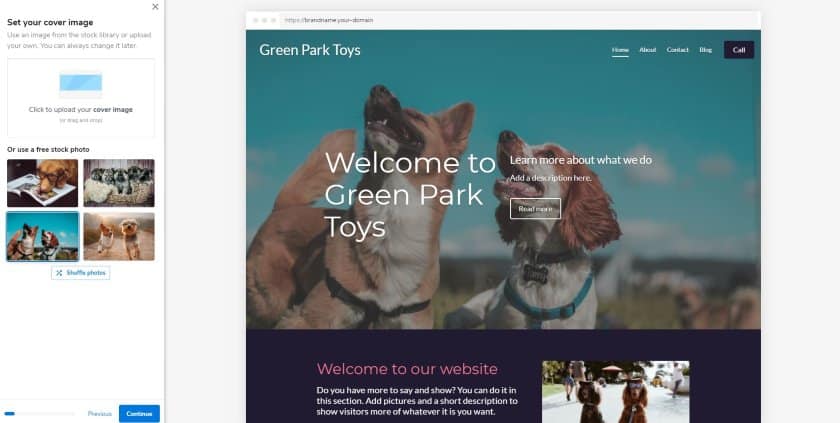 If you'd like, you can change your cover image. Upload one of your own, or choose from the free stock photos Constant Contact provides. If you don't see one you like, click on "Shuffle photos" to see a new crop of photos that are related to your topic. You'll have the chance to change your cover photo later, too.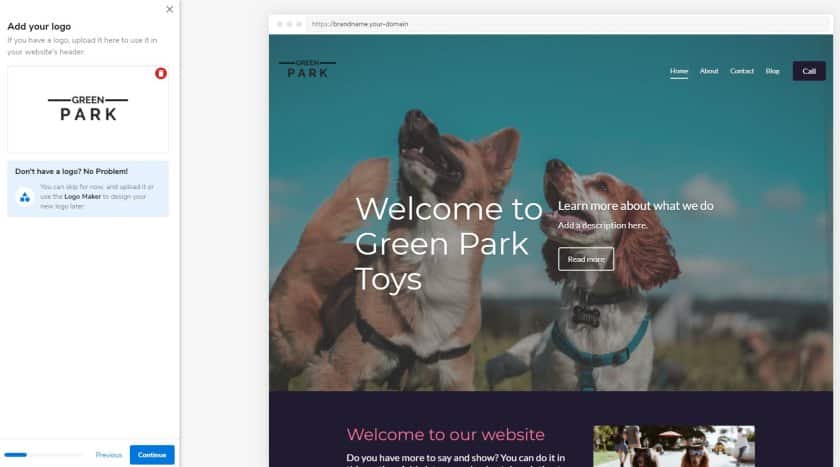 If you already have a logo, you can upload it now. Simply click to upload, or you can drag an image from a folder onto the screen to upload your logo. You may not have a logo yet, and that's okay. You can use Constant Contact's logo maker later to create a logo that will fit the look and feel of your website. Alternatively, you could hire a graphic designer at Fiverr to create a logo for your business.
If you're interested in Constant Contact's built-in logo creator, you will be able to access it after completing your new account registration. After doing so, go to your website dashboard and click on "Logos" at the top. Then click on "Make a new logo." Type in your business name and slogan. It will automatically create logos that may fit with your brand. If you don't like what you see with the first designs, just scroll down and more designs will populate.
Fonts & Site Colors
Next, you can choose a set of fonts you like best. No worries if you're not excited about the options here—you can change your fonts later in the Constant Contact website builder. The next screen will give you several color combinations for your site. As you click each font pair, you should see buttons, background, and text colors change.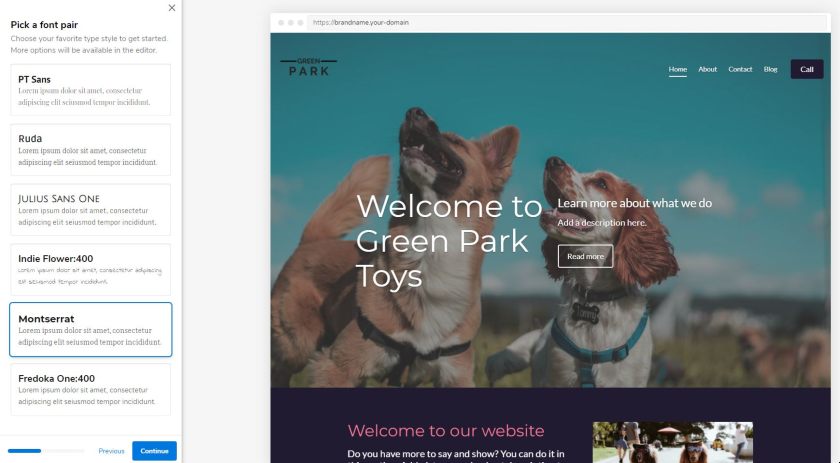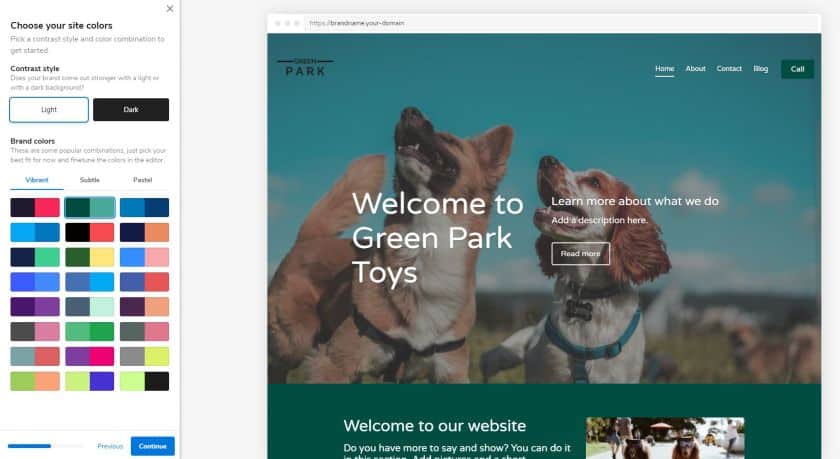 Navigation
Click on the different layout options to pick the one you like best. Keep in mind that some layouts may cut off your cover image at an odd place. If you like the layout, though, you can adjust your cover image later in the site builder by zooming out the image, or moving it up or down as needed.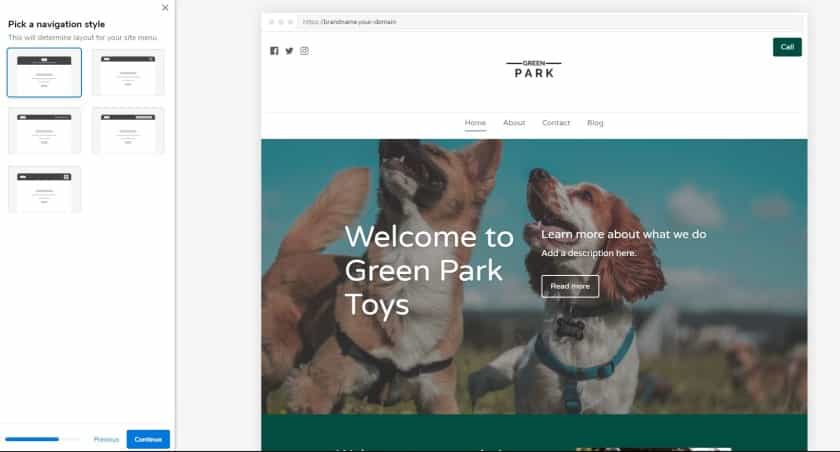 Contact Information
Adding your business address to your site is not necessarily required. If you plan to do any email marketing, set up an online store, or want site visitors to know where your brick-and-mortar shop is, you will need to add contact information. You don't have to fill this out now if you're not sure; you can fill out your contact information later, if you prefer.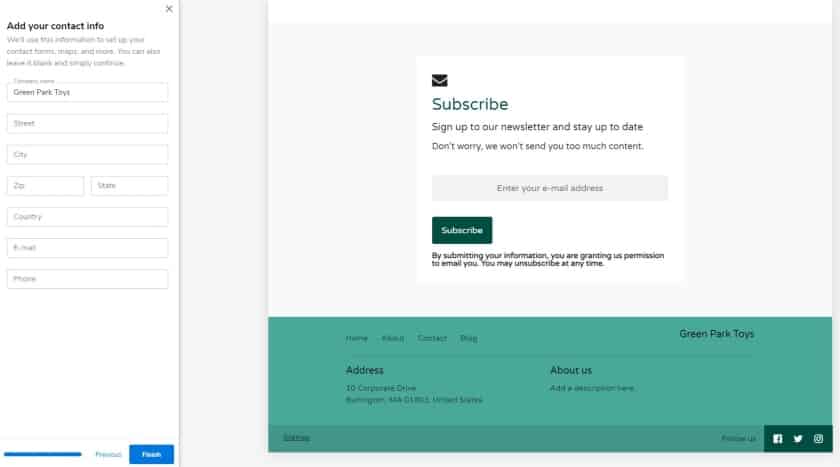 3. Complete Your Account Registration
You're almost done. Just click on "Finish" and you'll come to a page where you can add your name, email address, and create a password for your account. You still don't need to provide any payment information. This is just to save the site you've created so far. Once you finish this step, you'll be sent to Constant Contact's site editor, where you can refine your site's design and add your content.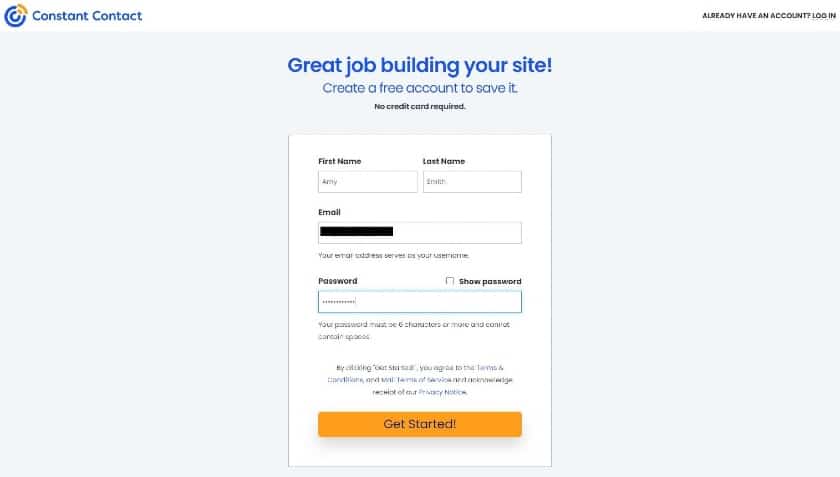 4. Customizing Your Site Further
Even if you're familiar with site editors, it's a good idea to click through the tour of how to use Constant Contact's website editor. It's an intuitive editor, but the location of some options may not be obvious. It could also help to read a guide on how to create a business website, so you know which elements you should have and those which may be unnecessary.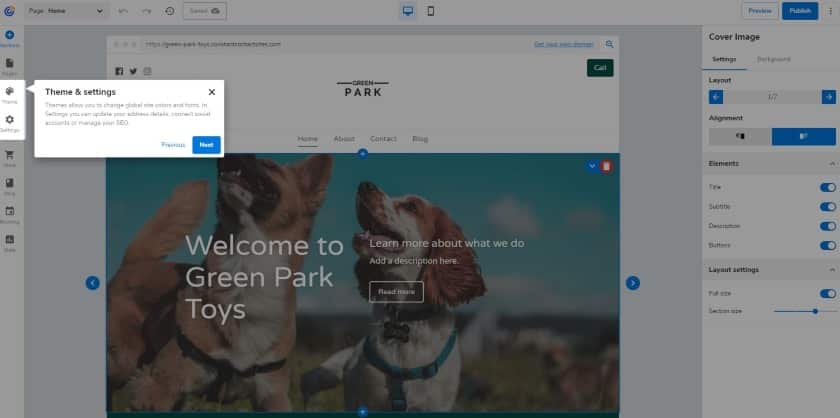 Adding & Updating Copy
Now you can adjust text on each page, change fonts and colors, and rearrange sections on your site. To change text, simply click on the text in the section you want to change, highlight the text, and type. Although Constant Contact doesn't offer templates or themes for you to use, you can change the layout of almost any section. For example, the cover image includes seven different prebuilt layouts.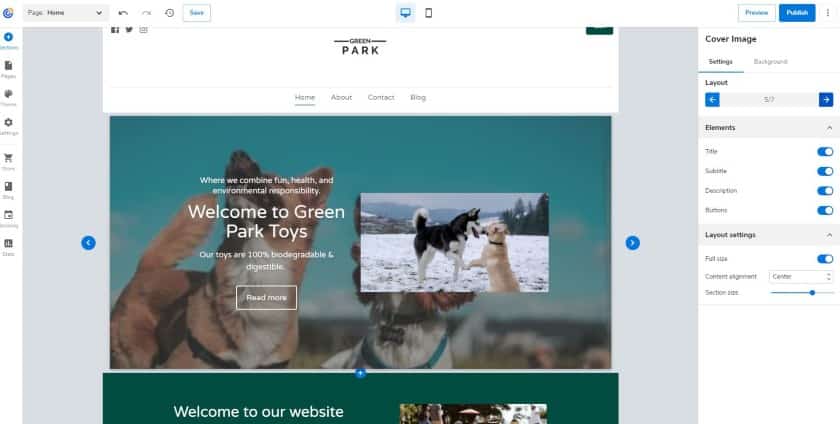 Add a New Page
To add a new page to your site, click on pages on the left menu, and then the "New page" button. Fill out the information in the pop-up and then click on "Add page." If you choose a dynamic app page, such as if you add a store or appointment booking page, the Constant Contact website builder will automatically install the app needed to make it work.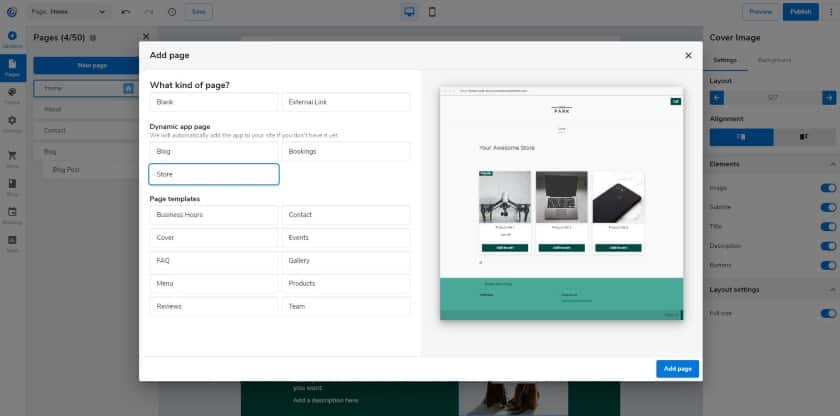 Selling Products Online
If you add a store page to your website, you'll go to a new part of the editor where it will walk you through adding your preferred payment method, shipping information, and your products. As you're learning how to create a website with Constant Contact, you may find that you aren't ready to finish some steps, and that's OK. You can always come back to this area from your dashboard.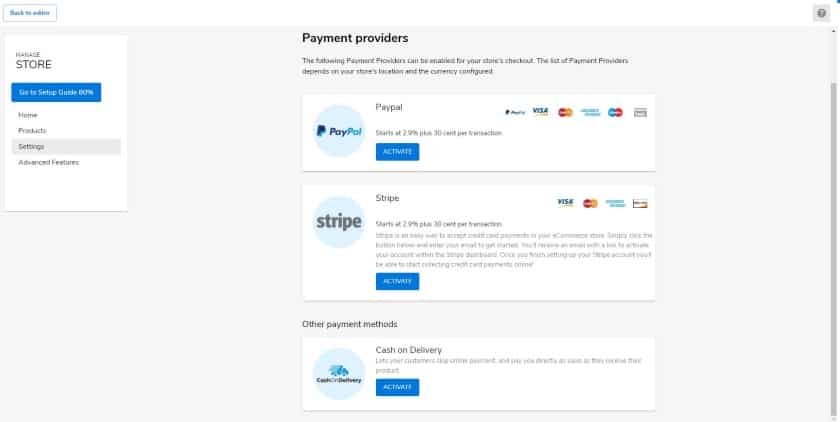 5. Select a Plan & Launch Your Website
Once you've added your content and you're happy with your site, it's time to upgrade your Constant Contact plan. It's free to build a website, but once you hit the "Publish" button, you'll have to choose a paid plan to make your website live.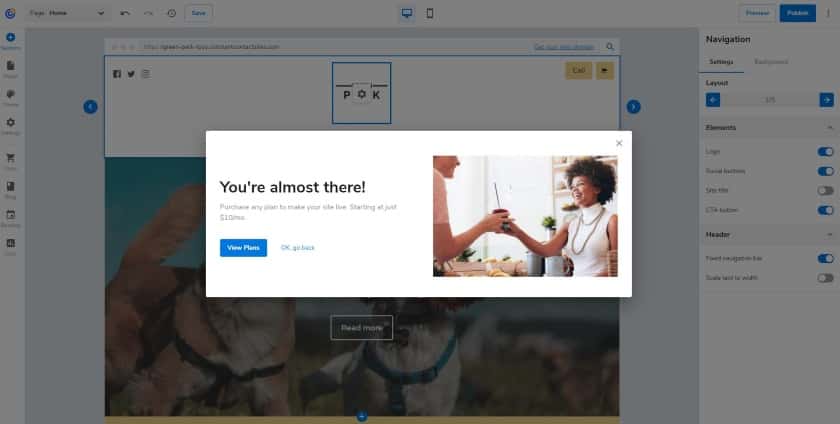 Constant Contact offers three plans that range from $10 to $45 per month. Each plan includes all the website features, including a mobile-responsive website, unlimited storage, secure sockets layer (SSL) certificate, and a blog. Marketing features include the logo builder, contact management, pop-up forms, and email marketing. The monthly fee increases as you build your email list. For example, if you choose the mid-level plan for $20 per month, but you grow your email list to more than 500 contacts, your monthly price goes up to $45 (and the $45 plan will go up to $70 per month).

Constant Contact doesn't offer a free domain name, but you can get a domain through Constant Contact after you've chosen a monthly plan. Domains start at $22 per year. Alternatively, you can register a domain from another registrar and follow Constant Contact's instructions in the support center to connect your domain to your site.
Frequently Asked Questions (FAQs)
How much do premium plans cost with Constant Contact?
Constant Contact offers a free trial for its website builder, but you won't be able to publish a website until you choose one of three plans: Website Builder, Email, or Email Plus, which cost $10, $20, and $45 per month, respectively. Monthly costs increase as you grow your contact list, which is common among the best email marketing software.
What are the best free website builders for businesses?
Free website builders for businesses include WordPress, Wix, and Weebly. WordPress is an open source platform you can use to build your website, but it may take a while to learn how to use it well. Site builders like Wix and Weebly include easy-to-use site builders that automate a lot of the process. A free plan will limit some features, but using one of the best free website builders is a great way to start your small business website.
How much does it cost to build a DIY website compared to hiring a pro?
A DIY website could cost you less than $3 per month, plus the time and effort of creating the site. Hiring a professional to design your website will typically cost about $500 on the lower end and around $10,000 or more on the higher end, depending on how complex your site's functionality is. Learn more about website costs in our guide that breaks down one-time and ongoing prices.
Bottom Line
Although Constant Contact is first and foremost an email marketing solution, it also offers one of the best website builders on the market. The AI-powered builder automatically creates your site after you answer a few questions about your business. Learn how to create a website with Constant Contact by signing up for a 60-day free trial.
You Might Also Like…