The terms CRM and CMS are thrown around a lot in business, and while they sound similar, they have different purposes. A CRM is a customer relationship management tool used by businesses to manage sales leads and customers or clients. In contrast, a CMS, or content management system, is the platform used to build and manage a website.
Here's when to use a CRM vs a CMS:
CRM: For managing your business' leads, customers, and clients
CMS: For building and managing your business website
In the market for both a website and a customer relationship management software? Get a CRM and CMS in one by choosing Squarespace, which has a number of CRM integrations, including Salesforce and HubSpot. Alternatively, HubSpot offers a CRM and CMS in one solution for those looking to streamline the two and maximize sales.
CRM Benefits
CRM systems are software used to manage leads and customers as well as sales opportunities. You should use a CRM if you are involved in selling products or services to customers and are looking for software that will help you keep your sales process and customer communications organized. You should also take advantage of CRM reporting and analytics features if you are responsible for managing customer-facing teams like sales or support.
Here's what a CRM can do for a business:
Lead and contact management
Lead nurturing
Manage sales opportunities and pipelines
Track customer activities (e.g., purchase history, emails, and so on)
Workflow automation
Want more in-depth information about these benefits? Learn everything you need to know about what CRMs can do.
Examples of Top CRM Providers
Small business CRM providers are designed to be easy to use for a variety of businesses—from landscape designers to manufacturers to marketing agencies. They provide contact and sales management tools, email automation, and reporting features that help sales teams nurture leads and win more deals. We review a lot of CRMs, and here are a few of the most popular choices for small businesses:
Interested in using a CRM, but not sure which one to choose? Get all the information you need to find the best CRM for your small business.
CMS Benefits
CMS software is used to manage the production of content, usually for a website. This content might include blog posts, articles, graphics, and videos. The main advantages of using a CMS include creating and maintaining a website without HTML knowledge and easily creating, organizing, and publishing content to your website. If you design, manage, or create content for websites, a CMS is a tool you should use.
Here's what a CMS can do for a business:
Build and launch a website
Manage website content
Generate leads
Create and publish blog content
Selling products and services online
Examples of Top CMS Providers
CMS providers range from open source software that you host on third-party server space to all-in-one design, hosting, blogging, and ecommerce solutions. WordPress is the world's leading CMS. However, it's not the most beginner-friendly, and it involves a steep learning curve. Here are a few of the best WordPress alternatives for small businesses looking for a code-free and user-friendly website at an affordable price:
Get the complete breakdown of the best website builders to find which is right for your business, needs, and budget.
How CRM & CMS Work Together
A CMS is used to build and manage a website and a CRM is used to manage leads and contacts. This doesn't mean the two can't work hand-in-hand. A CMS (as a website) can generate leads, which can then be fostered with the CRM. In addition, both a CRM and a CMS track user behavior analytics. Combining them provides more insights, which is why businesses often use both systems instead of picking just one.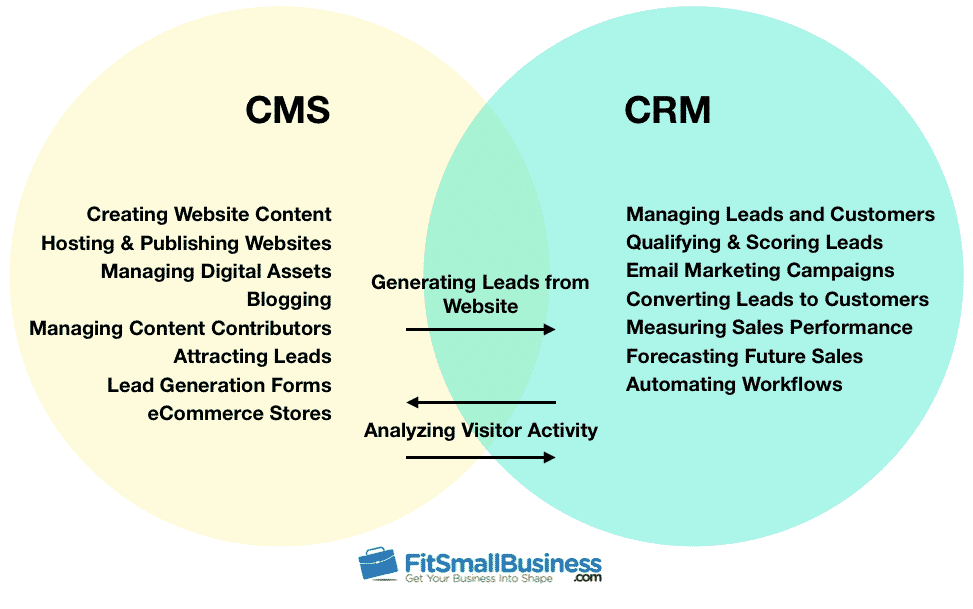 Frequently Asked Questions (FAQs)
Should I use both a CRM & a CMS?
Businesses often use both a CRM and a CMS. The two can work together to help your business gain online visibility, drive traffic, generate leads, and eventually increase sales. It's especially common for ecommerce businesses to use a CRM and CMS in one, given that online retailers need a streamlined system for managing leads, customers, orders, and inventory. For this reason, Squarespace is a top choice for online retailers who want to simplify their organization.
How much does it cost to build a website?
The cost to build a website varies greatly depending on how you build it and what your specifications are. Businesses are more frequently building their own with the help of high-quality and very beginner-friendly all-in-one website builders, such as Squarespace, for a flat monthly fee of $12 per month. To hire someone, expect to pay anywhere from a few hundred dollars with Fiverr to over $10,000 with an agency. Learn more about how much a website costs.
Bottom Line
There is no winner in terms of CMS vs CRM as both software programs are important tools in the sales and marketing process, and each plays a role in attracting visitors, generating leads, and converting them to customers. Chances are that you will use some form of both as you create a sales strategy that works for your business. If you're looking for an easy-to-use CMS with lots of built-in tools to help you grow your business and foster leads, go for Squarespace.
You Might Also Like…