CRM vs CMS: Definitions & Uses
This article is part of a larger series on CRM.
The terms CRM (customer relationship management) and CMS (content management system) may sound similar, but each serves different purposes. Businesses use CRM software to manage sales leads, contacts, and customer data and interactions. A CMS is used to build and manage a business website to promote a brand and its products or services. Find out the benefits of each, how they work together, and how to find the best options for your business.
Who Uses CRM vs CMS
The typical users of CRM software primarily include business sales, marketing, and support teams. However, other departments (such as accounting) can also take advantage of the centralized database for contact records, customer communication history, sales data for inventory management, billing, and more.
CRM systems often include tools for deal management, opportunity development, collaboration, productivity, reporting, and workflow automations to make business processes more efficient. Read more about how CRM systems do this in greater detail in our article explaining what CRM software is.
On the other hand, a content management system, or CMS, is software used by a limited number of people, usually in marketing. These are individuals tasked with building or managing a business' website.
Among the tasks are marketing-related responsibilities, such as website design, search engine optimization (SEO), and creating and adding content to the website. However, technology professionals may also be involved in site management, such as updating themes or plugins, server management, data exporting, site security, and maintenance.
When to Get a CRM
It's possible to keep track of leads, contacts, and customer interactions on a simple spreadsheet. However, we strongly recommend using CRM software if your customer base extends beyond a handful of clients.
Doing so often requires an upfront investment of time and money to implement and learn the system. But when used correctly, a CRM can also increase your revenue by helping you spot trends and optimizing your team's sales performance.
Consider using a CRM if you want to do the following:
Provide a centralized database where anyone in the company can access customer data like email address, contact number, and social media information—to learn more, check out our guide on the best contact management software
Be able to record customer touchpoints faster and view most recent communication history, including phone calls, support requests, social media messages, and purchase history at a glance
Make it easier to track, prioritize, and follow up with leads based on the likelihood of converting them into customers—learn more about the top options in our guide on the best software for lead management
Improve the accuracy of essential CRM reports, such as real-time performance metrics about sales, marketing, and support efforts
See why your business needs a CRM in our article detailing the top CRM benefits for small businesses.
When to Get a CMS
A CMS is recommended for those who use (or plan to use) a website to promote a business' brand, products, or services, ecommerce businesses wanting to sell online, bloggers, and those who want a website to showcase digital portfolios, such as photographers and graphic designers. The best content management systems make it easy to manage all the content you want to post on your website without having to hire a web developer.
You'll need a CMS to be able to do the following:
Create a website using your business' domain name to represent your brand and company name
Customize the layout, design, and architecture of your website, whether using a code-based or a drag-and-drop editor—learn about the best solutions for small businesses in our guide on the best website builders
Make your website and its content discoverable on the internet (aka web hosting, which can be purchased separately but is often included as a service when you sign up with an all-in-one website builder)—our article on the best web hosting services explains more about this
How CRM & CMS Software Work Together
Businesses do not need to choose between having a CRM vs a CMS. In fact, they can even be used together to provide insights into your business' marketing and content strategy. Plus, integrating the two systems also ensures that customer activity on your website funnels directly into your CRM, which makes it easier to generate and follow up on web leads and increases the accuracy of reporting.
For example, a visitor goes to your website and completes a contact form. Typically, a sales rep would process the data submitted and manually enter it into your CRM. However, you can take advantage of your CRM's lead generation feature and integrate it with your CMS so that a prospect or customer's data is automatically captured. The same principle applies to ecommerce sites, wherein the customer's purchase history is automatically saved in the CRM.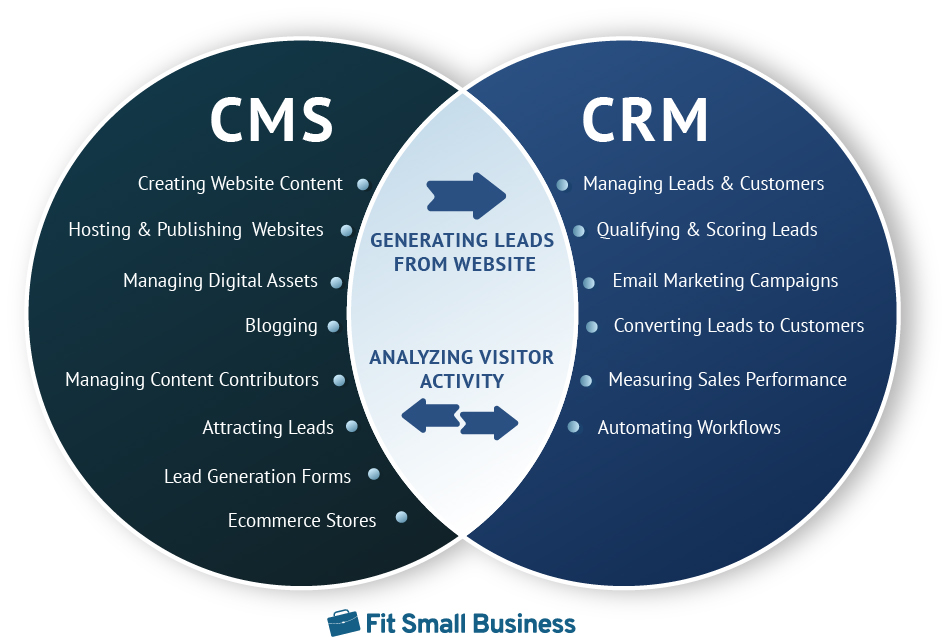 CRM Pricing & Top Providers
The best CRMs for small businesses have easy-to-use interfaces and affordable pricing options. They also offer core CRM features like contact and account management, sales automation, lead management, reporting and dashboards, and third-party integrations.
Here are some of the top CRM systems for small businesses and their respective starting prices:
| | | | | |
| --- | --- | --- | --- | --- |
| | | | | |
| Best For | Businesses looking for a scalable CRM with solid lead management and integration capabilities | Sales teams that want a robust mobile CRM app | Startup businesses looking to grow with a scalable CRM | Business-to-business (B2B) companies that rely on direct selling |
| Free Trial | 21 days | 14 days | Free plan | 14 days |
| Starting Price per Month* | Free or $15 per user | $25 per user | Free or $45 (includes 2 user seats) | $12.50 per user |
| | | | | |
*Based on annual billing. Monthly pricing is also available at slightly higher rates.
Want to start with a free CRM solution before upgrading to a paid plan? Check out our guide to the best free CRM software for small businesses.
CMS Pricing & Top Providers
The best CMS providers offer a beginner-friendly interface, a wide range of customizable templates and theme designs to choose from, and affordable pricing. While WordPress is the world's top CMS and is technically free, it has a steep learning curve and may result in expenses for purchasing a domain and web hosting, paid themes and plugins, and more. Find out more in our article explaining how much WordPress costs (and what you'll really pay).
For a faster and easier CMS solution, check out our full list of the best WordPress alternatives or these top CMS options:
| | | | | |
| --- | --- | --- | --- | --- |
| | | | | |
| Best For | Businesses looking for an all-in-one website builder with modern templates | Service providers needing a website builder with a built-in appointment booking system | Organizations looking for CRM software that also offers a CMS | Businesses diving into serious ecommerce or dropshipping |
| Free Trial | 14 days | 30 days | 14 days | 14 days |
| Starting Price per Month* | $14 | Free or $9.99 | Free or $23 | $29 |
| | | | | |
*Based on annual billing. Monthly pricing is also available at slightly higher rates.
Looking for something else? Get the complete breakdown of the most affordable website builders to find the best option for your small business, or get completely free options with the best free website builders. You can also read up on website costs to compare do-it-yourself (DIY) with professional design costs.
Bottom Line
There is no winner in a CRM vs CMS discussion as both software programs play essential roles in generating leads and converting them into customers, and each serves different purposes. A CRM streamlines contact and lead management, while a CMS allows you to build and manage your website and its online content. Depending on your sales or marketing strategy, you can use one or both of these tools.
You Might Also Like…