Customer relationship management (CRM) tools and content management systems (CMS) are two types of software used for sales and marketing. CRMs help manage contacts and sales opportunities while CMS software is used to create and publish content on a website. Businesses use each for different aspects of marketing their business and selling products and services.
If your small business is looking for an easy-to-use, affordable CRM designed to help you manage your leads, customers, and sales opportunities, check out Freshsales, including its free-forever option. If you need a CMS with beautiful templates, simple content editing, and unlimited hosting, be sure to check out Squarespace's plans, which start at $12 per month.
CRM vs CMS at a Glance
| | CRM | CMS |
| --- | --- | --- |
| Cloud-based Software | ✔ | ✔ |
| Contact Management | ✔ | |
| Sales Opportunities | ✔ | |
| Sales Pipelines | ✔ | |
| Email Communication Tools | ✔ | |
| Analytics & Reporting | ✔ | ✔ |
| Lead Generation Forms | ✔ | ✔ |
| Content Creation | | ✔ |
| Content Scheduling & Publishing | | ✔ |
| Website Hosting | | ✔ |
| Ecommerce | | ✔ |
What's the Difference Between a CRM & CMS?
Both CRMs and CMSs are software, often delivered via the cloud, and both fit into a business' overall marketing and sales strategy. However, in reality, the differences between CRM and CMS are much greater than what they have in common. While they often work together, they include different functionality and focus on different aspects of how your business connects with customers.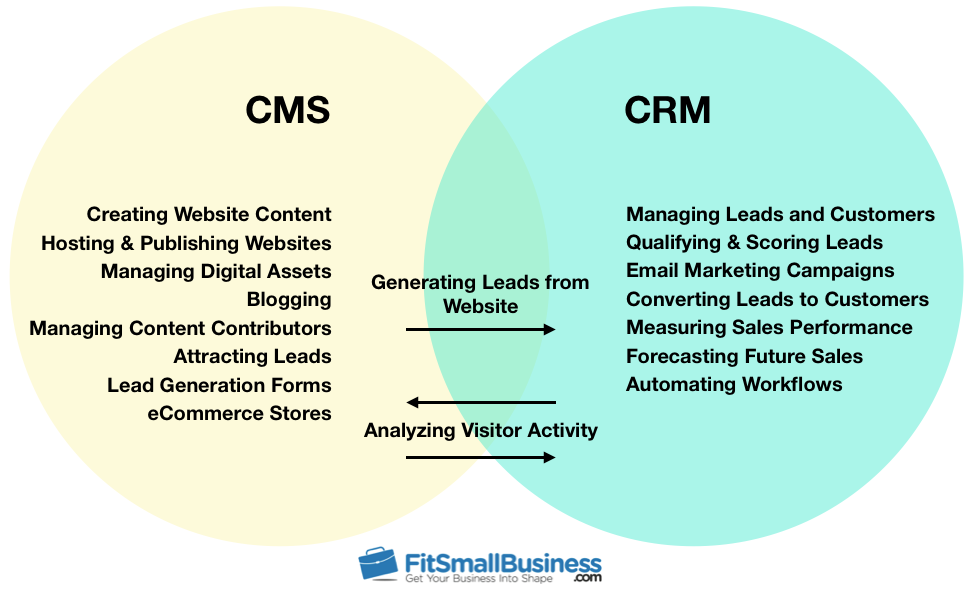 What Is a CRM & How Does It Work?
CRM is a software tool used by businesses to manage lead and customer relationships throughout the sales process. It generally includes a core set of contact management features, sales opportunities, sales pipelines, and reporting functions. Advanced CRMs include automated workflows, automatic lead scoring, and communications tools like email drip campaigns. For a more detailed look, check out our in-depth article about CRM.
CRMs work by providing a central database to collect and organize leads and customer contacts and link them to accounts and deals. Many CRMs also allow you to track opportunities as they move through your sales process by creating visual pipelines that you can use to drag-and-drop deals between stages. Because CRMs are designed to track all of your sales activities, they also give you reporting features to monitor the effectiveness of your sales efforts.
What Is a CMS & How Does It Work?
CMS is a tool used to create and manage content, usually for a website (such as a blog). It includes features that allow users to create content, schedule, and publish to a website, manage digital assets, and measure performance through reporting and analytics. One of the primary functions of a CMS is to easily manage website content without needing to know HTML or other code languages. Be sure to check out our in-depth guide to CMS.
A CMS provides a graphical user interface, instead of a code editor, to create and publish website content without having to use HTML. It either includes hosting or is installed on a third-party server and manages the layout and content of a website. Many of the best CMS for small business also include content creation and editing tools that allow users to publish blog posts or articles and provide cloud-based storage for managing digital assets like photo and video files.
CRM vs CMS: Pricing & Features
Most of the most popular CRM and CMS options used by small businesses are cloud-based software as a service (SaaS) offered as a monthly or annual subscription. They are also available as open-source software (Joomla and Drupal). Pricing is generally tiered and ranges from free basic plans to fully featured plans costing $79 to $99 per month, per user.
CRM Pricing: What You Should Expect to Pay
| | Basic | Average | Advanced |
| --- | --- | --- | --- |
| Pricing (Monthly)* | ~$20 | ~$45 | ~$79 |
| Contact Management | ✔ | ✔ | ✔ |
| Lead Generation | ✔ | ✔ | ✔ |
| Deals | ✔ | ✔ | ✔ |
| Mobile Apps | | ✔ | ✔ |
| Pipeline Customization | | ✔ | ✔ |
| Email Tracking | | ✔ | ✔ |
| Form Submissions | | ✔ | ✔ |
| Landing Pages | | | ✔ |
| Calling | | | ✔ |
| Advanced Reporting | | | ✔ |
Freshsales
is an affordable CRM that includes lead and contact management, sales pipelines, and sales reporting features as well as an easy to use interface. Tiered plans begin at $12 per month per user, and a free-forever plan is available with basic contact and deal management features. Visit Freshsales to start a
30-day free trial today
.
CRM Features
Small business CRMs are designed to be easy to set up and use for teams of any size. They include features that range from simple contact management, customizable sales pipelines, and deal forecasting, to advanced reporting and territory management functionality. Here are some of the common features you'll find in most small business CRMs.
Lead & Contact Management
The core function of a CRM tool is to maintain a database of your contacts. In addition, many CRMs include the ability to distinguish between leads, customers, and accounts, allowing users to link contacts with the right accounts and deals. Your CRM is the primary place you keep information about your customers and should contain the entire customer history including past deals, communications, and sales activity as well as current efforts to nurture leads.
Sales Pipelines
Sales pipelines are a visual representation of the steps you use to move a deal or lead through your sales process. Most small business CRMs include multiple ways to view your sales pipeline, allowing you to customize the process, activities, and stages included as you work to close a sale. Be sure to check out our article on the eight stages every sales pipeline should have.
Email Communications
Because a CRM lives at the heart of your efforts to build customer relationships, how it handles your communication efforts is an important factor. Many include the ability to create templates for frequently sent emails as well as scheduling and tracking tools that let you know when a prospect or customer has opened an email or clicked on a link. In addition, many CRMs include browser plugins to provide access to your CRM within your Outlook or Gmail inbox
More advanced CRMs allow you to set up drip campaigns to nurture leads through your process, sending a series of emails over time designed to qualify and convert them into customers. You can also keep track of all previous email communications in one place, allowing everyone who interacts with that prospect or customer to access the entire contact history.
Workflow Automation
One of the most useful features of CRM software is that it can be configured to handle the repetitive tasks involved in your sales process. For example, you can create a workflow that will automatically assign an incoming lead to the right salesperson, reply to their email with a templated message, increase the lead score by 10 points, and notify the salesperson to follow up in two days.
Reporting & Analytics
Because your CRM is where much of your sales activity takes place, it contains crucial information about how effective you are in executing your sales plan. Making sense of that information is one of the most valuable features of small business CRMs. Most include the ability to generate reports about almost any aspect of your sales process. Many also include the ability to configure dashboards that provide analytics of your sales process at a glance.
You can use reports to identify sales opportunities that need to be contacted, determine which accounts are most valuable, and indicate which salespeople are performing the best. Sales reps can configure reporting that tells them which tasks are overdue and which sales opportunities are most likely to close, giving them important information as they plan their sales activities. We also created a guide to the sales dashboards every team should use.
Sales Performance Goals
Sales performance goals help you create expectations of both revenue and activity, and can be created for individual sales reps, or for your team as a whole. CRMs help you keep track of how well you are performing based on your stated sales goals and give you the ability to make adjustments when needed. Be sure to also check out our article on practical ways you can improve your sales performance.
CMS Pricing: What You Should Expect To Pay
| | Basic | Average | Advanced |
| --- | --- | --- | --- |
| Pricing (Monthly)* | ~$20 | ~$45 | ~$79 |
| Templates | ✔ | ✔ | ✔ |
| Post Creation | ✔ | ✔ | ✔ |
| Scheduling | ✔ | ✔ | ✔ |
| Approval | ✔ | ✔ | ✔ |
| Media | | ✔ | ✔ |
| Forms | | ✔ | ✔ |
| Comments | | ✔ | ✔ |
| Guest Authors | | ✔ | ✔ |
| Analytics | | | ✔ |
| Domain Registration | | | ✔ |
| Hosting | | | ✔ |
| Ecommerce | | | ✔ |
Squarespace
is a CMS that offers low-cost plans ranging from $12 to $40 per month, allowing users to build everything from simple landing pages to
fully featured ecommerce sites
. Squarespace includes a variety of beautiful templates that are highly customizable to fit any brand. Visit Squarespace today to start a
30-day free trial
.
CMS Features
Common features of CMSs include the ability to install templates and style sheets that determine the overall design of the site, content creation and publishing tools, page editors, reporting features, and website hosting. Here are a few things to consider as you decide what type of CMS is right for you:
Templates & Style Sheets
Many CMSs include templates and style sheets that can be installed, making it simple to create a website structure and feel. Templates provide the overall structure of a website while style sheets determine the specific look and feel. Instead of having to create these from scratch using HTML or CSS code, they allow you to install predesigned templates that you can tweak and adjust to match your brand.
Content Creation
The core function of a CMS is the ability to create digital content for a website without needing to know how to write code. Most CMS tools include a graphical user interface that includes a "what you see is what you get" (WYSIWYG) content editor. In many cases, CMS make this as easy as using a simple word processor with drag-and-drop capabilities for adding photos, videos, forms, and other content.
Content Scheduling & Publishing
CMS software also includes the ability to publish content according to a schedule, giving users flexibility in creating content to be published later. Most also include the ability to organize, index, and categorize content based on both the type of content and the topic. This makes it easy to create content, review and edit it, and schedule it to be published according to a content calendar.
Contributor Permissions
If your website has more than one individual who handles content, many CMSs include the ability to assign permissions to users based on the specific access they need. You can differentiate between users who need access to the entire website, and those who only need access to specific features like editing content, moderating comments or accessing reporting.
Review & Approval
Another important feature of CMS software is that they allow you to review, edit, and approve content that is either in a draft stage or scheduled to be published. This is especially useful for teams that collaborate on content and need to be able to review, edit, and approve content to be published on the site easily. Different CMS software tools handle this in different ways, but most allow you to distinguish between content in a draft stage vs published.
Comments & Reviews
Many websites that publish content encourage audience engagement by allowing them to add comments. CMSs like Squarespace include the ability for readers to add comments and for businesses to review, moderate, and publish those comments that meet your standards guidelines. Comments and product reviews are useful features in connecting with your audience through conversations and help resolve issues quickly.
Ecommerce
Some CMSs make it easy to sell products online by including ecommerce features. In fact, ecommerce-specific software like Squarespace allows you to create a site, upload your products, set prices, integrate shipping services, and sell online. They often also include order management tools as well as integration with accounting software to make it easy to run your online store without the hassle of complicated shopping cart software.
Activity Reporting & Analytics
Many of the best CMS for small business include reporting and analytics features that help you understand how your visitors are using your site, like telling you where your visitor traffic is coming from, what they do on your site, how long they stay, and what pages are most popular. This can help you make decisions about where to advertise, how to optimize your site, and what content is most effective at converting your visitors into customers.
When to Use a CRM
CRMs are software used to manage leads and customers as well as sales opportunities. You should use a CRM if you are involved in selling products or services to customers and are looking for software that will help you keep your sales process and customer communications organized. You should also take advantage of CRM reporting and analytics features if you are responsible for managing customer-facing teams like sales or support.
Examples of individuals who gain the most from using a CRM include:
Sales managers
Sales reps
Customer service reps
Sales planning
Marketing specialists
When to Use a CMS
CMS software is used to manage the production of content, usually for a website. This content might include blog posts, articles, graphics, and video. The main advantages of using a CMS is that you can create and maintain a website without needing to know HTML, and can easily create, organize, and publish content to your website. If you design, manage, or create content for websites, a CMS is a tool you should use.
Examples of roles that use CMS include:
Website designers
Marketing content creators
Editors
Marketing
Ready to get started with a CMS? Learn about the best website builders to choose the CMS that best suits you.
When to Use an Alternative or Combination of Both
For ecommerce sellers, options like Squarespace combine a CMS with basic CRM features like order and customer management, invoicing, and customer history. At the same time, software like HubSpot combines a powerful CRM with CMS features like landing pages, content hosting, and activity tracking, which are especially useful for bloggers and other businesses that generate sales leads from the content they publish online.
Squarespace is an easy-to-use CMS that includes beautifully designed templates, drag and drop editing, and ecommerce tools. Plans range from $12 to $40 per month and include hosting and unlimited bandwidth. Squarespace offers a 30-day free trial to allow users to create a site before choosing a plan. Visit Squarespace to build your site today.
CRM vs CMS: Providers
Software designed to manage customer relationships is generally separate from software platforms designed to manage content for a website. There are some options that contain both CRM and CMS functionality as well as CRMs with content management features. However, most small businesses opt for software that is designed to do one of the other and integrate them when needed.
CRM Providers
Small business CRMs are designed to be easy to use for a variety of businesses from landscape designers to manufacturers to marketing agencies. They provide contact and sales management tools, email automation, and reporting features that help sales teams nurture leads and win more deals. We review a lot of CRMs, and here are a few of the most popular choices for small businesses.
Freshsales
Freshsales is a fully featured CRM that includes easy to use contact management tools along with sales pipelines and reporting features. It offers a free forever plan for unlimited users and contacts. Freshsales is easy to set up and was designed to be intuitive to use, making it great for small businesses. The CRM also integrates with Freshdesk, extending your ability to manage customer relationships.
Freshsales offers a 30-day free trial of any of its tiered plans, letting you figure out which features matter most to your team. Freshsales is designed to grow with your business, offering tiered plans ranging from $12 to $49 per month per user, adding additional features like automated lead scoring, workflows, and email tracking. Visit its website to start your free trial.
Salesforce
Salesforce is a comprehensive CRM with both sales and service features designed for small businesses as well as large enterprises. Salesforce is the most widely used CRM and is highly customizable. It also includes a large number of integrations with third-party sales, marketing, and productivity tools. The Essentials plan is designed specifically for small businesses and costs $25 per month per user, for up to 10 users.
One of the benefits of Salesforce is that it includes apps that let you connect with common CMS software like WordPress, Drupal and Adobe Experience Manager. This helps businesses that need a powerful tool to filter through a large number of online leads and assign them to sales reps. Salesforce lets you try out the Essentials plan with a 30-day free trial to make sure it's a good fit for your business. Visit its website to get started today.
HubSpot
HubSpot CRM is a free tool that includes a comprehensive set of contact and deal management features including lead nurturing, lead scoring, email tracking, customizable sales pipelines, and social media integration. HubSpot allows you to manage up to 1 million contact records and uses social media and publicly available information to enrich and qualify your leads and customers automatically.
In addition to the CRM, HubSpot also offers a full-featured CMS that integrates seamlessly, making it a powerful option for small businesses looking to streamline the process of attracting visitors and converting them to leads within one software tool. HubSpot offers paid plans that include these tools and more beginning at $50 per month. Visit HubSpot to create your free account today.
Pipedrive
Pipedrive is a CRM that is built around a visual sales pipeline that makes it easy to see where your current deals are at in your sales process. Pipedrive includes the ability to integrate your email into a unified inbox within the CRM, includes an innovative scheduling tool that makes it easy for customers to book appointments, and lets you create individual and team sales goals that are easy to track and monitor.
While Pipedrive doesn't include some of the advanced features found in Salesforce or even Freshsales, it one of the easiest CRMs to get set up and is extremely user-friendly. Pipedrive plans range from $12.50 to $49 per month, per user, and you can try out any of the plans for free for 14 days. Visit Pipedrive today to get started with your free trial.
CMS Providers
CMS providers range from open source software that you host on third-party server space to all-in-one design, hosting, blogging, and ecommerce solutions. Here are a few of the best CMS for small business used by organizations and individuals to host everything from a simple blog, a multipage small business site, or large publishing platforms.
Squarespace
Squarespace is a CMS that offers professionally designed templates for small businesses websites. It includes drag-and-drop page editors, ecommerce product sales, order management, content authoring and publishing, and analytics reporting. Squarespace is flexible, allowing users to customize the overall design with easy-to-use tools, and has a developer mode that allows advanced site customization.
Squarespace includes mobile apps that allow users to create, edit, and publish content, manage ecommerce sales, and view traffic and visitor stats. Squarespace offers a free trial that gives you 30 days to try out the tools and templates before committing to one of four tiered pricing plans that ranging from $12 to $40 per month. Each of the plans includes hosting and unlimited storage as well as 24/7 support. Visit Squarespace today to start your free trial.
WordPress
WordPress is the open-source CMS that powers more than a third of all websites, from large news sites with millions of readers ― including this one ― to small hobby blogs. WordPress sites can be built using custom built themes, or users can purchase templates from hundreds of providers that build professional site designs just for WordPress. Once your theme is installed, WordPress allows you to add and manage content easily without the need for HTML.
If you're using WordPress.org and need a place to host your site, Bluehost is an official recommended WordPress host that offers secure and affordable options beginning at $2.95 per month. Bluehost allows you to register a domain, host your website, and get a professional email address along with one-click WordPress installation. Visit Bluehost to get started today.
Joomla

Joomla is another open source CMS that currently is used in roughly 3% of all websites. One of the benefits of Joomla is the advanced content contributor controls, and the ability to use multiple templates on the same site to provide different style themes for different types of content. Like Joomla, WordPress is widely supported on various web hosting services, many of whom offer auto-install features to get you started on its servers.
Drupal

Drupal is an open-source CMS that provides the back-end framework for a little more than 2% of websites worldwide. Drupal is highly customizable and highly scalable and is used by some of the most trafficked websites. It includes simple content authoring tools with the ability to implement revision control to see which changes have been made and choose the version to publish. Like Joomla, Drupal requires hosting from a third-party service.
HubSpot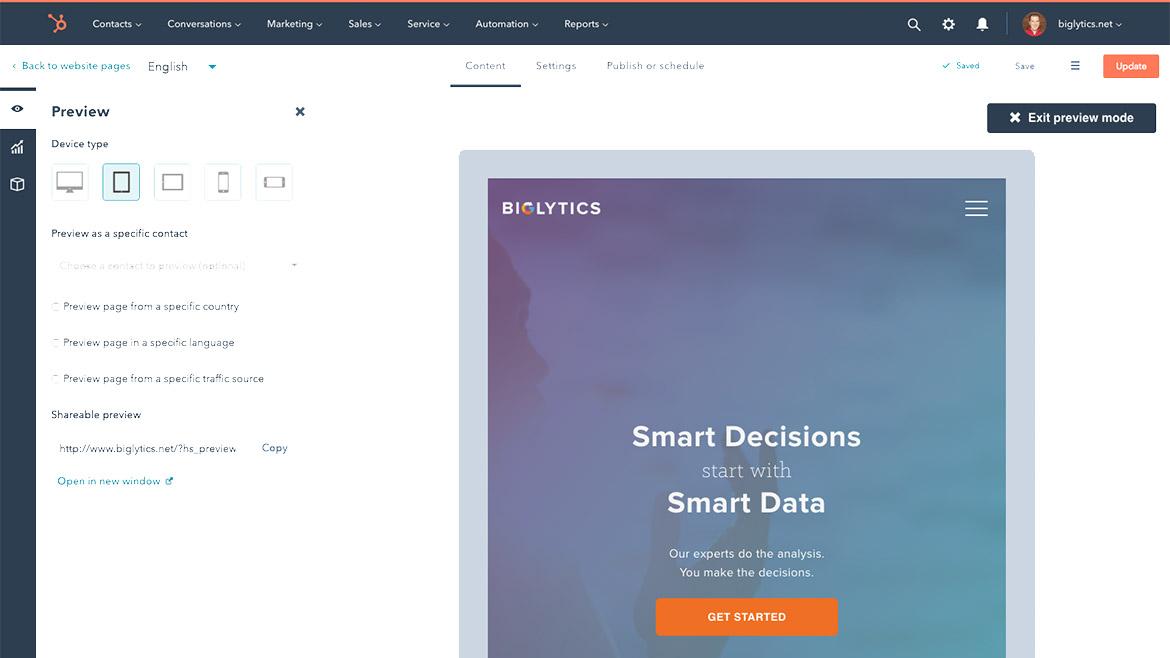 HubSpot was already listed above, but it also offers a robust CMS that is specifically designed for attracting, capturing, and nurturing leads. HubSpot allows you to build your entire site on its CMS, or you can integrate it with your existing site, and they will copy your site design to match. This is used when you want to use HubSpot to host landing pages, contact forms, and digital assets like downloadable resource guides, and integrate them into the site you already use.
HubSpot's CMS includes the ability to customize your site appearance and content based on the individual visitor. If the visitor is a lead in your HubSpot CRM, the site can modify the content offered based on their past activity and interactions, making it an extremely powerful tool for nurturing leads through your sales process.
Benefits of a CRM vs CMS
Software designed to manage customer relationships is generally separate from software platforms designed to manage content for a website, though they often work together as connected pieces of an overall sales and marketing strategy. There are unique benefits to each while together the main benefit is that they help streamline and organize the process of attracting visitors, generating leads, and converting them to customers.
Benefits of Using a CRM
The primary benefit of using a CRM is to keep your sales process organized, which leads to less confusion and more sales. Since CRMs are designed to keep track of all of your sales activities, you can spend more time interacting with customers and less time trying to figure out how to remember important information.
A few of the primary benefits of a CRM include:
Keeping track of contact information so that nothing gets lost and deals don't fall through the cracks.
Keeping everyone on the same page.
Winning more sales by making it easier to focus on customer relationships instead of administrative tasks.
Benefits of Using a CMS
The main benefit to using a CMS is that you can easily create a business website without the need for HTML experience. This means that your business can focus on your overall marketing and sales strategy without worrying about learning to code. It also makes it easy for teams with multiple people responsible for a website to collaborate and create content that supports your brand.
A few of the benefits of a CMS include:
Building websites without knowing how to code.
Keeping your content organized.
Understanding what visitors do on your site.
Changing the look and feel of your site by changing templates without having to start over.
Saving money compared to creating an HTML site from scratch.
"I find that using a CMS helps my business by making it easy to keep my website updated. I can easily add new products, blog posts, or photos without needing to know complicated code. That means I'm able to focus on the parts of my business that I love while knowing that my website will always represent my brand."
― Joy Sparks, Founder, Joy Sparks Designs
Bottom Line ― CMS vs CRM
There is no winner in terms of CMS vs CRM as both software programs are important tools in the sales and marketing process, and each plays a role in attracting visitors, generating leads, and converting them to customers. Chances are that you will use some form of both as you create a sales strategy that works for your business.
If you're looking for an easy-to-use CMS with professionally designed templates, Squarespace is a great choice for small businesses, that sell products or services online. Squarespace plans begin at $12 a month and include unlimited hosting, a simple content editor, marketing tools, order management, and fully customizable themes. Visit Squarespace to start building your site.