Customer relationship management (CRM) and marketing automation software are tools that handle different aspects of the marketing and sales process. Both software often include features of the other, though CRMs are used by salespeople and are focused on lead, customer, and deal management, while marketing automation is designed to help marketers generate and nurture leads.
If you're looking for a CRM that includes marketing features like mass emails and workflows, Zoho CRM is a great option for small businesses with prices as low as $12 per user, per month. It includes include easy-to-use lead and deal management tools along with powerful marketing automation capabilities. Visit Zoho CRM to start a 30-day free trial of any plan.
CRM vs Marketing Automation Software at a Glance
| | CRM | Marketing Automation |
| --- | --- | --- |
| Pricing | Free - $99/month | $30 - $399/month |
| Email Drip Campaigns | | ✔ |
| Complex Lead Nurturing Workflows | | ✔ |
| Marketing Lead Qualification | | ✔ |
| Marketing List Segmentation | | ✔ |
| Lead Generation Forms | ✔ | ✔ |
| Lead Scoring | ✔ | ✔ |
| Email Tracking | ✔ | ✔ |
| Mass Emails | ✔ | ✔ |
| Contact Management | ✔ | |
| Lead Management | ✔ | |
| Sales Pipelines | ✔ | |
Difference Between CRM & Marketing Automation Software
The primary difference between CRMs and marketing automation software is they focus on different aspects of the marketing-to-sales process. Marketing automation tools focus on generating, qualifying, and nurturing leads through automated campaigns. CRMs focus on managing relationships with leads after they become prospects or customers and moving deals through your sales pipeline.
CRM vs Marketing Automation Software
CRM Software & How It Works
A CRM works by acting as a central database for all of your prospect and customer information, as well as any sales opportunities you are pursuing. CRMs allow you to keep track of contact information, customer communications, and sales activities as you move leads and deals through the sales process. CRMs commonly include core features like contact profiles, list segmentation, deal scoring, email communications tools, sales pipelines, and reporting.
Advanced CRMs include automated workflows, automatic lead scoring, and communications tools like email drip campaigns. Many CRMs also include visual pipelines that you can use to drag and drop deals between stages. Because CRMs are designed to track all of your sales activities, they also give you reporting features to monitor the effectiveness of your sales efforts. For a more detailed look, check out our comprehensive guide to CRM features.
Marketing Automation Software & How It Works
Marketing automation software is used by marketing teams and focuses on the lead generation and nurturing end of the process. Ultimately, the goal of marketing automation is to identify the highest quality leads that can then be moved through the sales cycle. They include features like lead generation forms, lead nurturing email campaigns, automated workflows, and social media management.
For example, marketing automation software like Mailchimp streamlines the marketing process by creating workflows that automatically handle tasks like sending email drip campaigns, scoring and segmenting leads, and identifying the most promising leads for a sales team to incorporate in the sales process. As a result, they allow marketing teams to handle far larger numbers of leads, especially those generated from website visitors or a social media audience.
CRM vs Marketing Automation: Pricing & Features
CRM and marketing automation providers are commonly available in tiered-pricing plans with varying levels of features based on your marketing needs. Both software categories include providers offering free plans, but these tend to lack the more specialized features like advanced workflows or mass email campaigns.
CRM Pricing: What You Should Expect to Pay
| | Basic | Average | Advanced |
| --- | --- | --- | --- |
| Pricing (monthly)* | ~$20 | ~$45 | ~$79 |
| Contact Management | ✔ | ✔ | ✔ |
| Lead Generation | ✔ | ✔ | ✔ |
| Deals | ✔ | ✔ | ✔ |
| Mobile Apps | | ✔ | ✔ |
| Pipeline Customization | | ✔ | ✔ |
| Email Tracking | | ✔ | ✔ |
| Form Submissions | | ✔ | ✔ |
| Landing Pages | | | ✔ |
| Calling | | | ✔ |
| Advanced Reporting | | | ✔ |
CRM Features
Small business CRMs are designed to simplify the sales process by making it easy to manage all of your contacts and sales opportunities. They include features that range from basic contact management, customizable sales pipelines, and deal forecasting to advanced reporting and territory management functionality.
Here are some of the common features you'll find in most small business CRMs:
Lead & Contact Management
The core function of a CRM tool is to maintain a database of your sales contacts. Many CRMs allow you to distinguish between leads, customers, and accounts, and help you track sales activities related to engaging with your customer relationships. It is the primary place you keep information about your customers and should contain the entire customer history, including past deals, communications, and sales activity as well as current efforts to nurture leads.
Sales Pipelines
CRMs handle sales pipelines in a variety of ways, though the most common is a visual representation of the steps you use to move a deal or lead through your sales process. Some even offer multiple ways to view your sales pipeline, allowing you to customize the process, activities, and stages included as you work to close a sale. Be sure to check out our article on the eight stages every sales pipeline should have.
Email Communications
CRMs provide a single source of truth with regard to your customer communication efforts. Many include the ability to create templates for frequently sent emails as well as scheduling and tracking tools that let you know when a prospect or customer has opened an email or clicked on a link. In addition, many CRMs include browser plugins to provide access to your CRM within your Outlook or Gmail inbox.
Some CRMs allow you to set up advanced drip campaigns to nurture leads through your process, sending a series of emails over time designed to qualify and convert them into customers. While this is technically a marketing function, it can also be helpful in staying connected to existing customers.
Reporting & Analytics
A CRM is where much of your sales activity takes place, and therefore contains crucial information about how effective you are in executing your sales plan. Most include the ability to generate reports about almost any aspect of your sales process. Many also give you configurable dashboards that provide analytics of your sales process at a glance.
You can use reports to identify sales opportunities that need to be contacted, determine which accounts are most valuable, and indicate which salespeople are performing the best. Sales reps can configure reporting that tells them which tasks are overdue and which sales opportunities are most likely to close, giving them important information as they plan their sales activities. We also created a guide to the sales dashboards every team should use.
Sales Performance Goals
Sales performance goals help you create expectations of both revenue and activity, and can be created for individual sales reps or for your team as a whole. CRMs help you keep track of how well you are performing based on your stated sales goals, and give you the ability to make adjustments when needed.
Marketing Automation Pricing: What You Should Expect to Pay
| | Basic | Average | Advanced |
| --- | --- | --- | --- |
| Pricing (monthly)* | ~$30 | ~$99 | ~$299 |
| Landing Pages | ✔ | ✔ | ✔ |
| Forms | ✔ | ✔ | ✔ |
| Email Designers | ✔ | ✔ | ✔ |
| Email Campaigns | ✔ | ✔ | ✔ |
| Social Media Publishing | | ✔ | ✔ |
| List Segmentation | | ✔ | ✔ |
| Social Media Led Generation | | ✔ | ✔ |
| Lead Scoring | | ✔ | ✔ |
| Advanced Workflows | | | ✔ |
| Advanced Reporting & Insights | | | ✔ |
Marketing Automation Features
Marketing automation software include a range of features designed to generate leads and move them through the nurturing and qualification process. Common features include landing pages and forms, lead nurturing campaigns, email drip campaigns, analytics, and reporting. Advanced features often include lead scoring and the ability to design complex, variable campaigns with multiple triggers and actions.
These tools can be used in the following ways:
Lead Generation
Most marketing automation software tools begin with lead generation functionality, usually as landing pages and forms that can be hosted on your website to attract visitors and collect contact information like an email address. Pop-up forms can be designed to appear when visitors navigate to specific pages or spend a certain amount of time on your site. For example, you might set them to appear when a visitor has been on your site for five seconds.
Lead Nurturing & Management
One of the core functionalities of a marketing automation solution is the ability to set up workflows that are designed to take incoming leads and qualify them through a series of engagements. For example, you may have a new email subscriber that signed up on your website and to cultivate that lead, you send them a series of emails that include downloadable offers to keep the prospect engaged.
At the same time, every time a lead engages with an email or with your website to download a new free offer, for example, you are able to collect additional information that helps you better understand and qualify the lead, and move them towards becoming a customer. Many visitors will eventually opt out of these offers and emails, leaving more interested and engaged prospects to continue to connect with your brand.
List Segmenting
Marketing automation software lets you create targeted lists of contacts based on criteria you define. For example, you might segment incoming leads based on the landing page or download offer they responded to. Or you might create segments based on industry or role, allowing you to tailor specific marketing campaigns to different types of leads. This gives you better control over how you define your target customer and market to leads accordingly.
Email Campaigns
Email campaigns allow you to create a series of messages that are automatically sent over time to targeted lists of leads, often using include drag-and-drop editors and templates that make it easy to create professional-looking emails that represent your brand. These are most commonly used in lead nurturing campaigns and are a great way to present your company's offering in a way that educates your prospect and encourages them to stay engaged.
While CRMs often include the ability to send mass emails and, in some cases, drip campaigns, dedicated marketing automation software allows users to create more sophisticated campaigns that include features like action triggers that send emails based on how a prospect interacts with previous messages. Additionally, most CRMs have limits on the number of emails you can send that are much lower than marketing automation software options.
Social Management
Many businesses generate leads and interact with them on social media, and marketing automation software can help you organize and engage with incoming social media messages. It can also schedule and post social media campaigns that are designed to drive traffic to landing pages on your website, which can then collect leads. CRMs that include this are usually limited to the ability to view @mentions on a social feed, without the ability to create campaigns.
Lead Scoring
Helping identify the best leads to pursue is one of the most important reasons for using marketing automation software. One of the ways it does this is by assigning a score to each lead based on criteria like pages viewed on your website, email opens and click-through, and whether the prospect is likely to be a decision-maker in their business. Advanced tools will automatically update scores as new activities occur, like opening or replying to a specific email.
CRM Integration
One of the most vital aspects of your marketing automation software is its ability to ultimately send high-quality leads directly to your customer relationship management software so that your sales team can effectively pursue the best opportunities. For example, Constant Contact includes integrations with a variety of CRMs including Zoho CRM and SugarCRM, and connects with services like Zapier to send information to dozens more.
CRM vs Marketing Automation: Benefits
CRM and marketing automation software offer a range of benefits that help sales and marketing teams streamline their processes to win more deals. While each offer distinct benefits, both are important pieces of a lead generation and relationship building strategy.
A few of the benefits of each include:
Benefits of Using a CRM
The primary benefit of using a CRM is to keep your sales process organized. Using marketing automation tools built into your CRM can help keep things simple because you aren't concerned with integrating separate tools and hoping they play nice. Since CRMs are designed to keep track of all of your sales activities, you can spend more time interacting with customers and less time trying to figure out how to remember important information.
A few of the primary benefits of a CRM include:
Keeping track of contact information so nothing gets lost and deals don't fall through the cracks.
Keeping everyone on the same page.
Winning more sales by making it easier to focus on customer relationships instead of administrative tasks.
Benefits of Using Marketing Automation Software
Since marketing automation software removes many of the manual tasks associated with lead generation and nurturing, the benefits are that it saves time while delivering higher quality leads. Ultimately, your sales funnel is as valuable as the leads you feed into it, which makes marketing automation software a valuable tool for improving your overall sales performance.
Several key benefits of marketing automation software include:
Automating processes like email campaigns to nurture leads.
Determining lead scores based on activity like website and email engagement.
Delivering higher-quality leads to your sales team, resulting in more profitable deals and sales revenue.
When to Use a CRM
You should use a CRM as the core foundation of your sales process. It's used to keep track of incoming leads, qualify them, create deals, and move them through your sales pipeline. CRMs also help you keep track of sales activities and generate reporting insights about your sales performance. This helps you stay focused on the activities that move more deals towards the win column, and helps sales managers monitor and track individual performance.
When to Use Marketing Automation
You should use marketing automation software when your marketing strategy involves capturing leads, either through your website or social media, and nurturing them over time through a series of email drip campaigns. Standalone marketing automation tools also generally include more powerful tools that help with A/B testing, dynamic content response on your website, and in-depth reporting on prospect activity on your website or within emails.
When to Use a CRM & Marketing Combination
In many cases, CRMs include marketing automation features like email drip campaigns or lead capture workflows, and most marketing automation tools include some lead contact management tools. For businesses that want to nurture leads and feed them directly into their sales process, a combination CRM marketing tool with automation features can simplify the overall marketing process and eliminate the need to integrate multiple software tools.
A CRM like Zoho CRM includes many marketing automation features along with contact and lead management. Users can create mass emails, track email opens, send email campaigns, and score leads based on whether they open emails or interact with your website. Zoho CRM offers plans beginning at $12 per user, per month. Visit their website to start a 30-day free trial.
CRM vs Marketing Automation: Providers
Software designed to manage customer relationships is generally separate from software platforms designed to manage content for a website. There are some options that contain both CRM and content management system (CMS) functionality, as well as CRMs with content management features. However, most small businesses opt for software that is designed to do one of the other and integrate them when needed.
CRM Providers
Small business CRMs are designed to be intuitive and easy-to-manage communications with leads and customers. They are also meant to provide contact and sales management tools, email tracking, and reporting features that help sales teams win more deals. Here are a few of the most popular small business CRMs.
Zoho CRM
Zoho CRM is a flexible CRM that includes contact and lead management, customizable sales pipelines, and marketing automation features like mass emails and automated workflows. Zoho offers a free plan for up to three users, with paid plans beginning at $12 per user, per month, and include both a robust set of customer relationship management features as well as integrations with many popular third-party marketing automation tools. Visit Zoho for more information.
Freshsales
Freshsales is a small business CRM that includes contact management tools along with easy-to-use sales pipelines and reporting features. It offers a basic free plan for unlimited users and contacts as well as paid plans that range from $12 to $49 per user, per month. Freshsales is easy to set up and was designed to be intuitive to use, making it great for small businesses like business-to-business (B2B) sales teams and contractors. Check out their site to start a 30-day free trial today.
HubSpot
HubSpot CRM is a free tool that includes a comprehensive set of contact and deal management features, including lead nurturing, lead scoring, email tracking, customizable sales pipelines, and social media integration. HubSpot allows you to manage up to 1 million contact records and uses social media and publicly available information to automatically enrich and qualify your leads and customers. Visit HubSpot to create your free account today.
Salesforce Essentials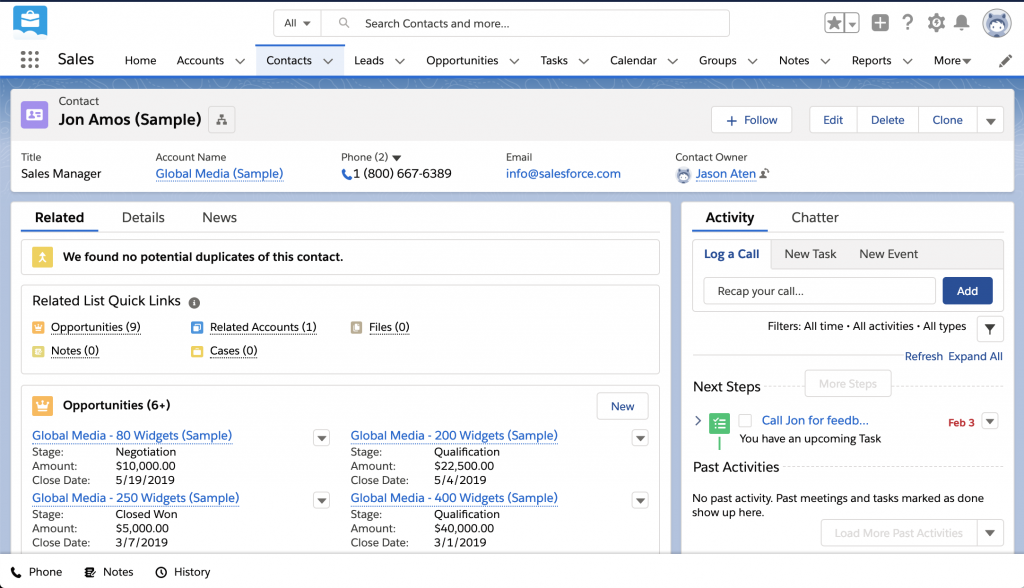 Salesforce Essentials Contact Profile
Salesforce is a comprehensive CRM with sales features like contact and deal management, as well as customer support ticketing. Salesforce is widely used and is highly customizable. The Essentials plan is designed specifically for small businesses and costs $25 per user, per month for up to 10 users. Salesforce also lets you try out the Essentials plan with a 30-day free trial to make sure it's a good fit for your business. Visit Salesforce to sign up today.
Marketing Automation Providers
Marketing automation software providers offer the ability to create marketing workflows for capturing leads, creating email drip campaigns, lead scoring, and list segmenting. Software tools that offer marketing automation range from simple email tools to full-featured enterprise platforms with advanced automation functionality. Some of the best for small businesses include the following.
Marketo
Marketo is a powerful marketing automation tool for larger companies that generate large numbers of online leads like online retailers or software providers. While it is a relatively expensive option, it provides highly scalable email marketing tools like multitrigger campaigns and segmentation. Marketo is also a part of the Adobe Experience Cloud, and benefits from integrations with the full suite of digital marketing tools like analytics and social media apps.
HubSpot Marketing Hub
In addition to the CRM listed above, HubSpot Marketing Hub includes lead forms, live chat, digital ads, contact insights, and website activity tracking. With plans that range from $50 to $3,200 per month, HubSpot also includes ad retargeting and email automation tools that make it ideal for brands that attract leads via social media or digital advertising and use landing pages and pop-up forms to generate leads that can be organized and targeted with email drip campaigns.
Because the Marketing Hub also includes a built-in CMS, users can create dynamic site content that changes based on the visitor's previous activity, and automatically change landing pages and lead forms to match the specific prospect. HubSpot's visual editor interface makes it easy to design landing pages, emails, and calls to action (CTAs) to engage visitors and convert them to leads. In addition to HubSpot's free CRM, the Marketing Hub integrates with third-party CRMs like Salesforce.
Infusionsoft
Infusionsoft is a robust marketing automation solution that integrates both sales and marketing features including email drip campaigns, contact and data management, and lead scoring. Infusionsoft tiered pricing ranges from $199 to $399 per month, based on the features desired and the total number of contacts in your marketing campaigns. Infusionsoft is especially good at generating marketing leads and nurturing them to sell ecommerce products.
Constant Contact
Constant Contact is a marketing automation tool that allows users to create professional-looking emails and send targeted drip campaigns to help nurture and qualify prospects and leads. Constant Contact includes an easy-to-use email editor and workflow tool, allowing marketing teams to easily create multiple email campaigns to send to your list segments.
Constant Contact also includes features like A/B testing for email subject lines, allowing users to optimize their campaigns for the best engagement rates. In addition, the calendar view makes it easy to plan out and execute marketing campaigns based on your overall strategy and timeline. Plans are available at $20 and $40 per month for up to 500 contacts, and a 60-day free trial is available for the base plan.
Bottom Line
CRMs and marketing automation software are important components of any sales and marketing strategy. In fact, that's why many CRMs have expanded to include marketing automation features. Deciding whether CRM marketing tools are enough for your team depends on how you use them and the features that help you accomplish your goals.
Zoho CRM is an affordable CRM that includes lead and contact management, sales pipelines, and sales reporting features, as well as an easy-to-use interface. Tiered plans begin at $12 per user, per month, and a free-forever plan is available with basic contact and deal management features. Visit Zoho CRM to start a 30-day free trial today.