An estimated $34 billion in crowdfunding was raised in 2015 globally. But contrary to what some might think, it's not as simple as putting up a campaign page and letting the dollars roll in. In fact, most campaigns fail. It's estimated that over 500 new crowdfunding projects are created everyday, and only 2% of campaigns with a goal of raising over $100,000 actually hit their goal.
In this guide, I'll give you the 5 steps you need to follow, in a convenient checklist format, to make your campaign one of the winners:
While there are several different types of startup business loans, one of the most popular is rewards crowdfunding.  Rewards crowdfunding allows you to source a small amount of money from a large number of people in exchange for providing rewards, such as a product sample, to your backers. The most popular crowdfunding sites, such as Kickstarter and Indiegogo, focus on rewards crowdfunding, and that's what we'll be covering in this article. However, much of the information in this crowdfunding guide is applicable to any type of crowdfunding campaign.
Successful Crowdfunding Campaign Checklist
Here's a checklist of the 5 key steps to crowdfund your business:
1) Have The Right Product
Make sure your product is a good fit for crowdfunding
Market test your product before the campaign
Look at competitors, and make sure you're positioned correctly
2) Build A Thorough Plan
Set a realistic funding goal
Plan your campaign finances
How will you produce your product or service?
Develop good reward levels
Set your campaign timelines
3) Build Campaign Assets
Create a kickass video pitch
Business backstory and product images
Create a press kit
Build your campaign website or landing page
Email capability and social presence
4) Build Pre-Campaign Momentum (VERY IMPORTANT!)
Pre-raise campaign backing from friends, family, and your extended network
Supercharge your social activity
Use traditional marketing to begin gathering emails for the campaign start
Get professional help if you need it
5) Execute the Campaign
Stay on top of production
Keep campaigning
Communicate often and well
Keep the momentum going
Hopefully, if you've done all the things that we've outlined in this checklist, you'll have one of the few successful campaigns. Now, let's take a look at each of these steps in detail.
Step-by-Step Successful Crowdfunding Guide
Remember, running a crowdfunding campaign is a complex, difficult endeavor. The best way to reach your funding goal is to over-prepare and do more than what is needed. Remember 98% of campaigns over $100,000 don't make it. You need to take each every step below seriously.
Step 1: Have the Right Product
The types of products that do well in crowdfunding campaigns tend to target consumers (not businesses), have a simple value proposition, and are visually appealing. Examples of products that are well set up for crowdfunding include electronic gadgets, health and beauty products, and apparel. If your product or service doesn't fit this description, you may want to explore other ways to finance your product.
To be a successful entrepreneur, you need passion. But many an entrepreneur falls in love with their baby without doing the necessary work to make sure it's not just them that's in love. Here are some steps you can take to road test the project before committing to the campaign.
Market Test
Experience in your target market is especially important for the social proof you need to show for a successful campaign. Understand the key pain points and why your product is so much better than competing products. As you design and build your prototype, getting real feedback at each step is important. Preferably this is not just from friends and family.
Here some are examples of ways to market test your product:
Run what's called a "404" test. This is where you take out inexpensive advertisements on Google that lead to a "coming soon" page. The click rate from strangers will give you an objective measure of demand for the idea.
Get someone to commit to buying the product or service either verbally or better yet in writing.
Create an objective user group and solicit feedback at each step of the process: sketches, design, prototyping.
Run a survey of strangers. These could be done in person (as in asking people on the street), using extended social networks, or using a service like SurveyMonkey or Qualtrics.
Research the Competition
In order to sell your project you need to show a compelling reason why your solution is way, way better than the existing way to solve this particular need. You need to understand, in detail, your differentiating factors by answering questions such as:
How do competitors position their solution?
How much do they charge?
Where are they likely to be headed in the near future?
Do they have a special advantage you can't match?
Do they have distribution or production advantages over you?
Do they have a brand advantage?
You'll need to reference all of the benefits over the competition in your campaign.
Write Your Pitch
Clearly articulate the positioning of your offering relative to the competition. This will come in handy as you develop your campaign assets. Here are the things to think about:
Why is your offering way better than the current way people are doing something?
What makes it unique?
What are the key benefits versus the competition?
Why is it a good value proposition?
Why is it going to be super easy to buy the solution?
What kind of awesome customer service can people expect from your company?
Step 2: Build a Thorough Plan
Remember how we said a successful campaign means hard work? A lot of entrepreneurs are used to playing things by ear. But a campaign has lot of moving parts. So don't slack off in building a plan, even if you're not used to being detail oriented.
Need help creating and sticking to a business plan? LivePlan gives you access to 500+ business plan templates and examples to follow, making building a business plan surprisingly simple. Try it here.
When you sign up to create a campaign on a crowdfunding platform, you'll be asked to create a profile that describes your business, product, funding goal, and rewards levels. A lot of the things that go on this profile require careful planning.
Set a Realistic Funding Goal
You need to set a realistic goal for your campaign. If you set your goal too high, your campaign won't be credible, and you'll likely miss your goal. If you set your goal too low, you may not raise enough money to move the product forward.
The question you should be asking here is, What are you raising the money for? Crowdfunding is about getting a business or project off the ground. That's what gets people excited. Your funding goal should reflect that.
A startup usually moves in phases:
Product / market planning – Prove there is demand for the product
Prototype – Create a beta of the product to share with investors and to improve on internally
First production run – Actually create and ship the product in small quantities
Scale the business – Expand production and perhaps start a new spin-off product line
Most crowdfunding projects are using their campaign to get to phase 3. So how much money do you need to get to that?
Different Types of Funding Models
When setting a funding goal, you'll also need to factor in the type of site you use. Some sites like Kickstarter are all-or-nothing while others like Indiegogo allow flexible funding. For the all-or-nothing funding, you either hit your target goal and collect all of the funding, or if you fall short, no money is collected and no money changes hands. For flexible funding, even if you miss your funding goal, you still receive whatever funds were pledged. You must decide on the funding model before your campaign starts. While the flexible funding model might sound attractive (who wouldn't want to keep any money they can raise?), it can leave you in a lurch if you want to produce a new product and only have two thirds or three quarters of the money you need.
Indiegogo Funding Options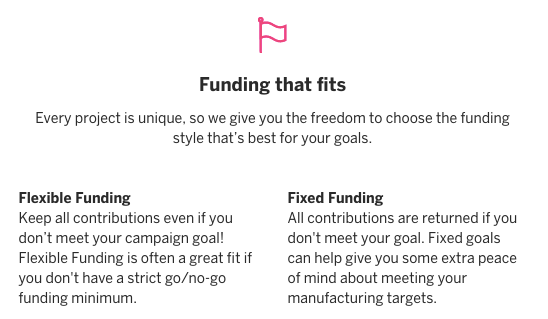 Kickstarter Funding Model

Plan How You're Going To Produce Your Product
You should have a detailed plan for how you're going to produce and deliver your offering. This is an area where a number of campaigns have fallen down. Your campaign is not over when the money comes in. You'll need to deliver any products that were promised to backers during the fundraising process. You may need to find a manufacturer who is willing to work with you at your small scale. You may need to set up molds which can be complex and expensive. You'll need to figure packaging, error management, testing, and delivery.
Here's an article with more information on product manufacturing for startups. And here's a directory of manufacturers, including those who will help with prototypes.
Develop Good Reward Levels
With rewards based crowdfunding, you give rewards to your backers in exchange for their financial contributions. The goal of the reward levels is to match the right incentive to the right level of backer to maximize pledges. Generally speaking the higher the pledge, the larger the value of the reward. However, you want to maximize profits so you'll need to figure out what percent of the pledge is acceptable to use as a reward.
Some example rewards include discounts, earlier delivery, limited editions, gift cards towards your service, and special recognition. Keep the rewards as simple as you can. Indiegogo's Slava Rubin recommends 3 to 8 reward levels. If you need more reward ideas, Kickstarter has compiled a list of 96 reward ideas.
Here's an example reward schedule from InstruMMents 01, whose Indiegogo campaign has exceeded their goal by over 300%. Their product is a dimensioning tool that can be used to measure the dimensions of objects via smartphone.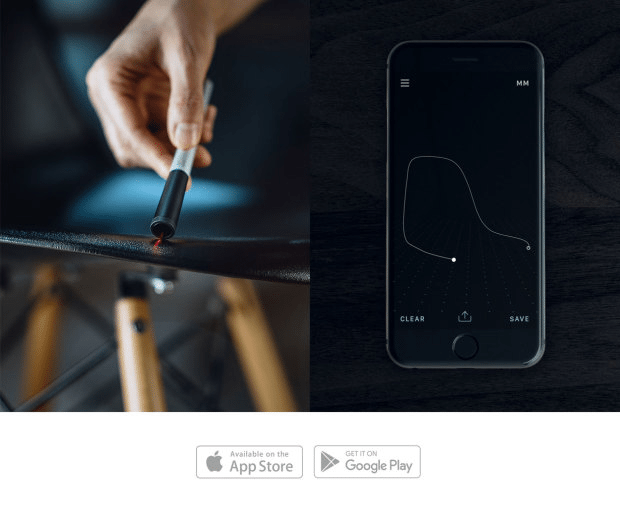 | Pledge | Rewards |
| --- | --- |
| $79 | Super early access, $70 discount, 5 year app access |
| $149 | Early access, $50 discount, Silver edition, 5 year app access, personalized signature etching |
| $1,399 | Early access Studio Pack, $600 discount, 5 year app access, 01 Ten Pack, personalized signature etching |
Set Your Campaign Timeline
After figuring out how much money you'll need, planning production, and setting fair rewards levels, you'll need to determine how long your campaign will be live on the crowdfunding site. Short campaigns create more urgency than long ones. Indiegogo recommends a 30-day campaign. You can always run more campaigns as needed. So don't feel you need to raise everything in your first campaign.
After your campaign closes on the site, you'll need to deliver the promised rewards to your backers. Make sure you keep delivery dates sufficiently vague, especially if you plan on manufacturing or have a number of deliverables you've never done before. Better to be slightly vague than miss dates and have to deal with upset backers.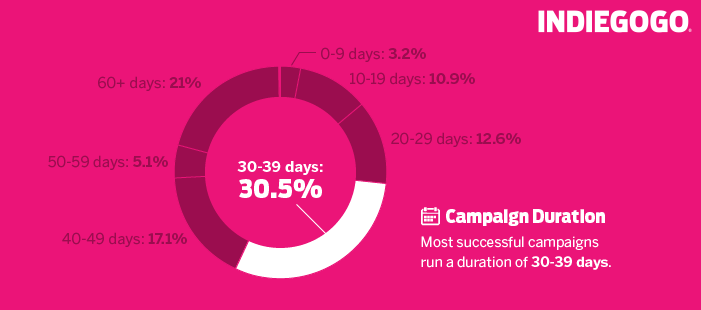 Step 3: Build Your Campaign Assets
Okay, you've built your campaign plan and now it's time to start producing the assets you'll need during the campaign. Here's what you'll typically need to ensure a successful launch:
Kickass video pitch
Business backstory and product images
Press kit
Campaign page or website
An email database and email communications
Social presence
Create a Kickass Video Pitch
A pitch video is arguably the most important asset of your campaign because everyone who visits your campaign profile page will be able to see it.  While videos are optional, projects that have a pitch video are 85% more likely to achieve their goal. No crowdfunding guide is complete without telling you how to create a great video pitch. Before you start working on your video take a look at some previous videos from successful campaigns and why they are kickass videos.
Here are a few examples: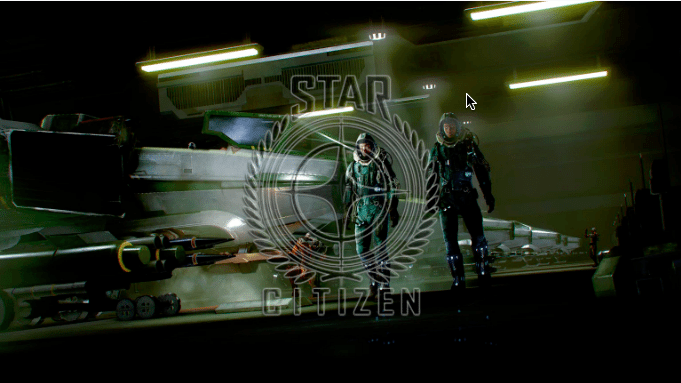 Campaign: Star Citizen (click to view video)
Raised: $2 million against goal of $500,000
Good stuff:
Extremely high video and production quality
Leverage video-friendly content very well
Tells a story of the project evolution
Provides strong social proof around the solution and creators
Proposes a big idea
Campaign: Coolest Cooler (click to view video)
Raised: $13 million against goal of $50,000
Good stuff:
Very personable story
Thorough video explanation of the features
Nice shots of real people using the product
Good social proof that the creator can build it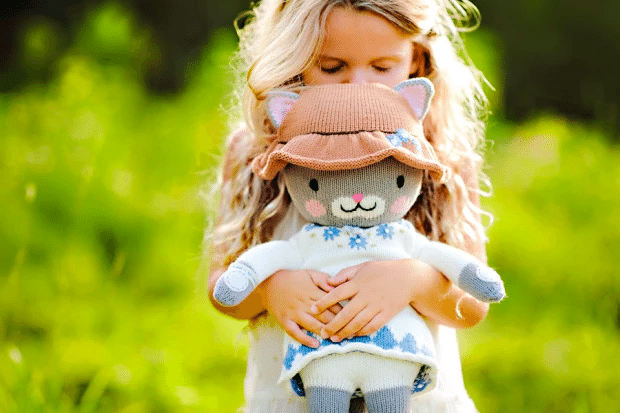 Campaign: Cuddle & Kind (click to view video)
Raised: $446,081
Good stuff:
Great job telling a story of evolution
Adorable shots of product being used
Strong emotional connectivity
Now that you have a sense of what a strong pitch video consists of, you should create a scriptboard; a combination of verbal script and visuals in the video. Unless you're really experienced at doing it, shooting an unscripted video is a terrible idea.
Here are some tips for what the scriptboard, and therefore your video, should contain:
Powerpoint or Google Slides are perfectly fine for your scriptboard.
Plan on a short video as viewers' attention spans are short. 2 minutes is best, which means your scriptboard has to be punchy and concise.
Tell a story of how you decided to solve a problem and how you arrived at the solution with your business or product. The more personal the story the better.
Connect emotionally with viewers. This could be your personal story, adding humor, adding tugs at the viewer's heart strings, or other.
It's okay to be funny (or at least try to be).
Highlight the product creator with lots of medium length headshot interviews.
Have a good balance of personal shots, product / service shots, shots of the product or service being used by real people, production methods, and key facts. Alternate throughout the video.
Use environment, actors, and action to tell your story and create emotional connection.
Don't be afraid to copy ideas from other videos.
Be authentic. Don't try to sell. That's a bad strategy for selling. Don't be stiff. Relax.
Show why current solutions are terrible.
Show why your offering is uniquely suited to solve this problem.
Show how you produce your product. Go into detail, but not too much.
Show social proof – either previous experience, prototypes – that we should trust you can deliver on delivery.
If possible, show testimonials to reinforce the social proof.
Highlight high quality deliverable. Backers consider shoddy goods to be a real risk in campaigns.
Highlight the value proposition. Great features aren't useful if they cost more than users are willing to pay. Value = benefit/price. Here's a good place to highlight rewards if you're doing that kind of crowdfunding.
Ask viewers for help directly.
Test the scriptboard, which might include sample video, on non-family and non-friends before shooting the whole video.
You can shoot your own video or hire a professional. You should hire a professional if:
You don't have the skills or time to shoot a video of the quality you're going for.
You have the budget for it. Professional video production generally costs between $250 to several thousand dollars per minute of video depending on the type of video you want to create.
If you're going to shoot your own video keep the following in mind.
You don't need a high end video camera. Generally, you need something that's portable, good image quality for the price, and has optical image stabilization. A good example is the Canon PowerShot ELPH 350 HS, which is popular among YouTubers.
Shoot 2 to 3 times the video you think you'll need. Digital film is free. Setup time is not.
Focus on personality over video mechanics.
Use props and extras.
Did I mention it's okay to be funny?
Now that you've shot the video, you need to do some post-production editing.
You should put some music in your video. Here are a few good places to get royalty-free (if not completely free) music. The first two are completely free.
Don't be afraid of transitions, including text transitions.
If you use text transitions make sure the text is extremely large since you're trying to keep it short.
Keep segments short instead of long views.
Use noise reduction filters on your videos. It's an easy trick to improve quality.
If any video isn't absolutely necessary to tell your story, cut it. Remember this is a 2 minute video.
An easy way to keep things short is not to repeat things.
For more best practices on video creation for crowdfunding campaigns, check out this resource from Kickstarter.
Business Backstory and Product Images
Along with your pitch video, you'll also need to describe on your campaign page how your business came to be and share some images of your product or prototype. For your business backstory, it helps to be as personable and interesting as you can be. Make sure you address how your product is going to solve the customer's pain point.
As for images, it's best to share a few images of the product alone and then a few of it being used by consumers. Here's a good example from AirJack's Indiegogo campaign, the makers of a bluetooth adapter for smartphones.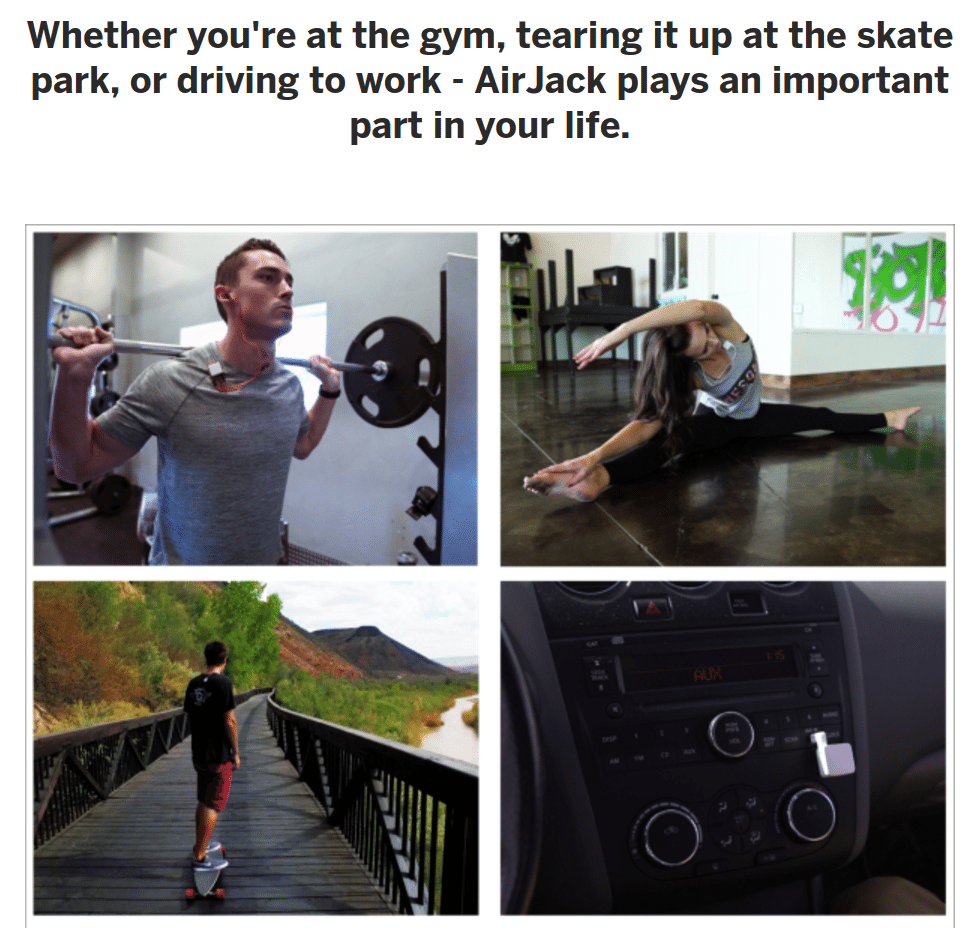 Create a Press Kit
Press kits allow publications that you hope will cover your campaign to easily get the information they need to write an article on the campaign. Most press kits have the following:
Has company facts: senior management backgrounds, location, contact information, how long have you been in business, how big are you, key customer testimonials, where are all of your offices.
High resolution photos of your product.
Downloadable vector graphics of your logos in various formats, e.g. black on white and white on black.
Sample press articles, interviews, events, etc.
Listing of awards your company has received.
Separate email for reporters and journalists to contact for more info.
Any brand guidelines, such how to capitalize your company name.
Here are a couple of example press kits from successful campaigns: Flow and Coolest Cooler.
Create a Pre-Launch Campaign Website
When you create a crowdfunding campaign on a site like Indiegogo or Kickstarter, you will get a campaign page on their platform. However, you'll also want to create a separate landing page or section on your company's website to raise pre-campaign momentum. As you build momentum prior to the campaign, you need a place to describe your product, offer rewards, and gather emails. Here are a couple examples of great campaign landing pages: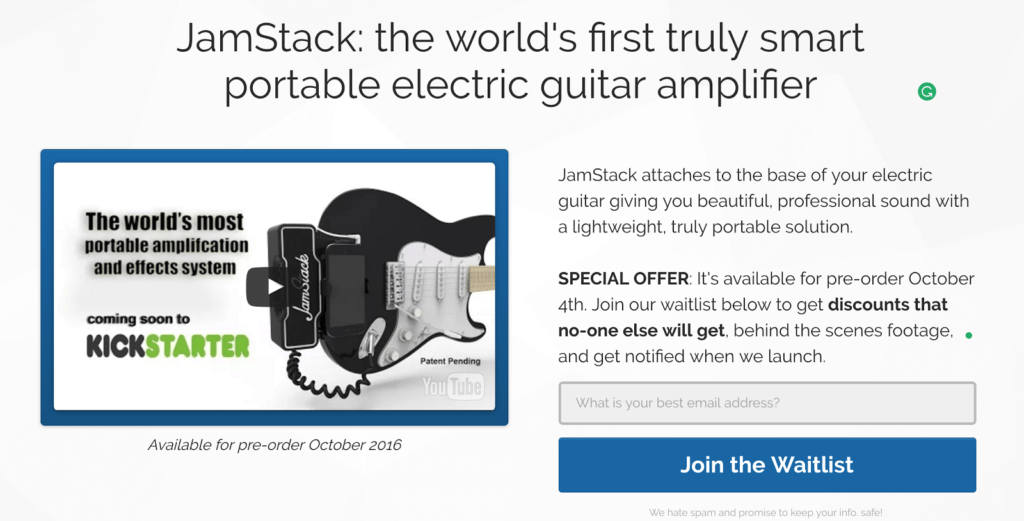 When creating your campaign website or landing page, keep these things in mind.
Keep it simple.
The main purpose of the campaign site is to make your campaign look legit and gather emails that you'll use to market your campaign. So if it's not essential for one of those two things, you probably don't need it.
If you don't have a website already, we suggest creating a WordPress site. WordPress is intuitive, and if you use Bluehost as your web hosting service, you'll pay less than $3.45 per month. A one-page website is often all you need for a crowdfunding campaign – learn more here.
If you already have a site, you might want to use AppSumo or Unbounce. They have tools to help build email lists and conversion widgets.
Make sure your web page is in good working order and loads quickly.
Other Campaign Necessities
Once you have your campaign page setup, you'll need a way to communicate regularly with folks before, during, and after the campaign. Two popular services are MailChimp and Constant Contact. They'll allow you to create email templates, send out mass updates, and track various things like open rates and bounces. Here's an article from Indiegogo on creating a successful email campaign for crowdfunding.
You'll need to make sure you have all of your social assets in place as well. No matter what your product is, you should be on Facebook and Twitter. Depending on the type of product you have, you should also consider using Pinterest and Instagram. While originally for just visual sharing, they have evolved into social discovery networks in their own right. So if your offering is visual, it's a no-brainer to be active on these sites. And now even if your solution isn't highly visual in-and-of itself, you should probably still be on these sites.
Step 4: Build Pre-Launch Momentum
You may remember that a kickass video pitch was the most important campaign asset. Well, assuming you have a good idea that you can execute, building momentum before your project launches on a crowdfunding site is the most important step in the entire campaign process.
According to Slava Rubin of Indiegogo, two thirds of successful campaign funding is secured before the campaign launches on a crowdfunding site. This may be surprising, but it makes sense. Campaigns are really impacted by momentum. If you can secure commitment from backers before launching, then the campaign will take off like a rocket when it does launch. That in turn will get others excited. According to Rubin, if you hit 25% of your target in week 1, you are 5 times more likely to hit your overall target. Again kids, it's about momentum. Here's how to create it.
Pre-Launch Pledges
Pre-launch pledges, the promise of backing by others before your campaign launches on the crowdfunding site, are how you will launch with a surge of support which will in turn get others excited. Here are a few tips:
Create pre-launch buzz with a great campaign website or landing page. For instance, you could have a 'VIP waiting list' where pre-campaign backers can sign up to pledge their support and get early access to information about product timelines.
Create a special reward for pre-campaign backers.
Hit up family and friends. You're looking for commitments to fund.
Get your family and friends to reach out to their network.
Supercharge Your Social Activity
To leverage social media for a crowdfunding campaign, it's not enough to build social pages for your product or business. You are going to need to be very active in building an audience, getting them excited, and creating a community feel.
Get involved in online community groups, forums, and related blog / news sites.
Comment on other's posts to build relationships.
Start creating value-added, interesting related content on other sites (as a guest writer), your social sites, your website, etc.
Start attending events in your industry and get to know everyone.
For more info on using social to drive momentum here's an article by Hootsuite showing more tips and examples.
Use Marketing to Start Gathering Emails
You'll need to use a combination of marketing strategies to get as many emails from interested potential backers before the campaign launches.
Test placing Facebook and Google ads to generate interest in your campaign website.
Reach out to physical organizations in your area that have reach. Examples vary by the type of solution but could be schools, associations, meetups, etc.
Identify thought-leaders and reach out directly to them (as opposed to commenting on their posts) to get on their radar screen. You may want to use special rewards here.
Don't forget offline marketing channels, like local radio and newspaper advertising.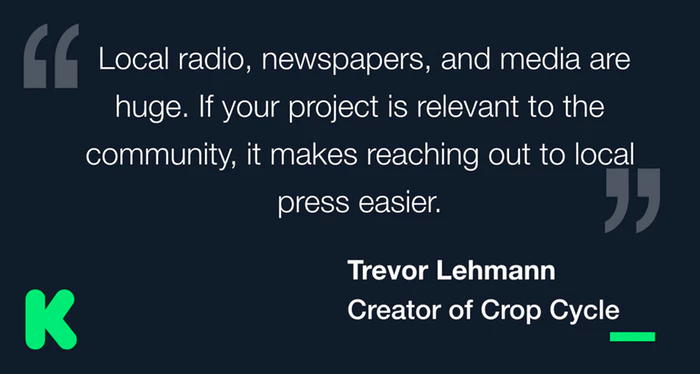 Also Get Help If You Need It
Remember, your ideal goal is to have two thirds of the campaign "pre-sold" before the campaign even starts. While you're drumming up buzz, you are also trying to get commitments. Of all the areas in the campaign you shouldn't be shy about getting professional help this is it. If you're having trouble getting traction on your PR, email list building, or community involvement, get some professional help.
There are tons of ways to get help in each area. For instance, you can use this site to find a PR agency or hire one of Upwork's top crowdfunding freelancers. They will do everything from helping you with your campaign pitch to filming your video to assisting your social media efforts. Remember this is an investment. A little money spent here can have a multiplier effect on your fundraising efforts if you build enough momentum.
Step 5: Executing the Campaign
Surprisingly, if you've prepared properly, actually launching and running the live campaign on the crowdfunding site isn't the hardest part. It's one of the easiest. Mistakes in execution usually occur in one of two areas: a weak launch or miscommunicating with backers as the campaign progresses. So keep in mind the following.
Launch
The beginning and end of the online campaign are when most funding happens so it makes sense to put in some extra effort at those times. At the initial launch, here are some things you should be doing:
Email all of your personal contacts and those on your mailing list that the campaign has launched and they should pledge now.
Reach out across your social media channels to announce the launch.
If you have a press release and haven't sent it yet, now's the time.
If you get off to a quick start be ready to shout out to everyone, including the press contacts you've created, how well it's going.
Communicate Well
You want people to like your product or service, obviously. But especially in a campaign setting, how you deal with issues, objections, etc. can often turn a bad experience around and can be as important as the product or service. Backers tend to be vocal online. Any experience, good or bad, tends to be quickly shared with others. This can have amplified effects on your fundraising efforts.
Don't get defensive. The "customer is always right" is your friend during campaigns. Don't get combative with folks who are having issues.
Cop to any legitimate issues quickly. Be sincere.
Always over communicate. Say more than is needed to put people at ease.
Don't be penny-wise but pound foolish. If someone is dissatisfied, whether rightly so or not, do whatever it takes to make them happy, within reason. A refund or replacement product sent overnight plus an unexpected gift is going to have outsize effect on your campaign.
If possible, man the customer service channel yourself as opposed to getting an employee or intern to do it. This is the best way to keep an ear to the ground about what is actually happening.
According to Indiegogo, successful campaigns have at least four updates. That means most have more. So make sure you keep communicating to backers so they spread that word of mouth. Your updates could be milestones being reached either in funding or production, thank you's for backing the project, events that you are running, press you received, etc.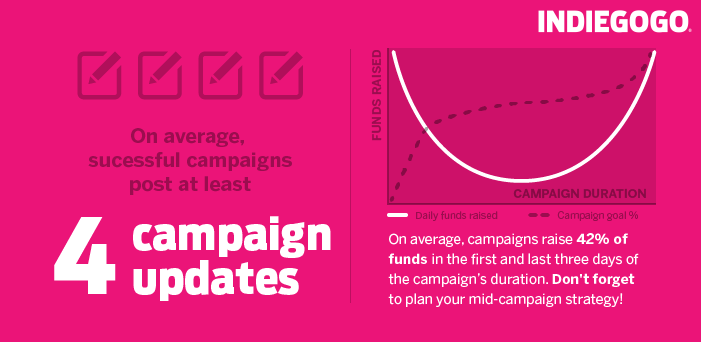 Keep Campaigning All the Way Through
All of the activity that you were doing before the campaign should continue midway through the campaign. A lot of campaigns hit their goal only midway through or at the end, when folks become afraid of missing out. Make campaign updates exciting. Don't just send a status note. Any communication is an opportunity to get potential backers excited and drive more fundraising. So treat it as the opportunity it is.
Don't forget about social. You should be updating your social presence more than the campaign site or campaign page. You can use Hootsuite, Buffer, or Sprout Social to make social communications a bit more manageable.
Keep the Momentum Going Post-Campaign
Now one last thing. You've run a great campaign. Hit your targets. Woohoo! Just make sure you keep in mind that this is just the beginning. You now should create a long-term plan to keep all of the backers, and those that were interested but didn't back you, up to date on future activity. Try email drip campaigns.
This is important since these are your first customers, and they will hopefully tell many others how happy they are with your product. Then, people who didn't initially back you may decide to buy your product. You've worked really hard to get this far, keep it going. All of that goodwill isn't just a campaign effort, it's the start of a long conversation with a new community.
Bonus: Budgeting for Your Campaign
Below is an example of some standard campaign budget items. Zero dollars mean you're just doing it yourself. Whether you include the cost of your time is up to you. And obviously your specific budget will be highly dependent on the specific offering you're campaigning for and the level of sophistication and scale you want to put into the campaign.
Crowdfunding Campaign Costs
| | Budget Range | Notes |
| --- | --- | --- |
| Product Design | $0 to $15,000 | Design could range from a napkin to high-end UX or industrial design. Engineering design is going to jack up the costs considerably. Make sure to talk to the manufacturer while designing. |
| Production Costs | $5,000 to $200,000 | This should include everything related to physically creating your product. This could include raw materials, setting up dyes, manufacturing costs, prototype builds, packaging, instructional materials, etc. |
| Photos | $0 to $2,500 | Highly dependent if you do the photos yourself or hire a professional. You'll need to consider your product on white background so it can be placed in other photos, teardowns, in-use shots. |
| Video Production | $1,000 to $15,000 | Sophistication, whether you hire a professional team, and quality of post production are key factors here. |
| Marketing | $1,000 to $5,000 | This should include print collateral, web development, video production, advertisement purchases, email software, and professional help. |
| Salaries | Varies widely | If you are going to pay people to help market the campaign, answer communications with backers, work on your social presence, or do other tasks, you should add this cost in. |
| Crowdfunding Platform Fees | 7% to 9% of funds raised for reward-based platforms | Each crowdfunding platform has its own fees. For example, Indiegogo has a 5% platform fee and a 3% + $0.30 per pledge third party credit card fees. Kickstarter has 5% platform fees and 3% + $0.20 per pledge payment processing fees. Percentages are based on total funds raised. |
| Rewards | Varies widely | This is the cost of gifts or products that you'll send to backers as a reward for backing your project. For example, if the reward for a $100 pledge is a T-shirt, you should budget your cost to source and deliver the T-shirt. |
The Bottom Line
A successful crowdfunding campaign can do more than just raise funds. It can build word-of-mouth buzz and generate great press coverage. It can supercharge your company. However, most campaigns don't hit their goal. You need to take it seriously. You need to put in the work, especially before the campaign even starts. But if you're organized, prepared, and work hard, it's possible to get the funding you need and set your company on a solid footing for future growth. Follow the steps in our crowdfunding guide to put yourself on the path to success. Good luck!