Just like in social situations, first impressions of your real estate listing count. A lot. Barbara Corcoran famously said that home buyers decide if they want to purchase a home in the first 8 seconds on the property. To help your future clients fall in love faster, we put together this list of 25 curb appeal ideas from the pros.
Promoting a house doesn't stop at the curb. Once your house looks great from the street, print some flyers to get it in front of even more prospective buyers. Click here to design your flyer with one of ProspectsPLUS!'s many real estate templates.
1. Refinish or Replace Mailboxes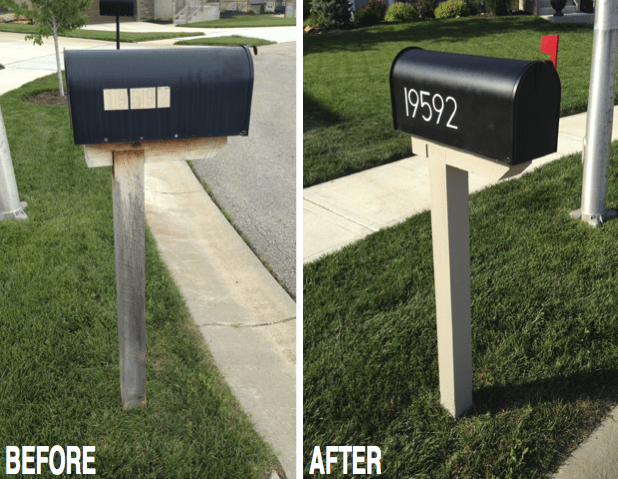 Among the easiest and least expensive curb appeal ideas is to replace or repair your mailbox. Since the mailbox is often the first thing people see when approaching your home, make sure it's in great condition. If it's not, it might lead people to think the rest of the home isn't either. Sometimes all you need is a coat of rustoleum spray paint and a coat of stain to make a dramatic but inexpensive improvement on your mailbox.
If it's beyond salvation, you can pick up a replacement mailbox on Amazon.com for next to nothing.
---
2. Upgrade the Front Door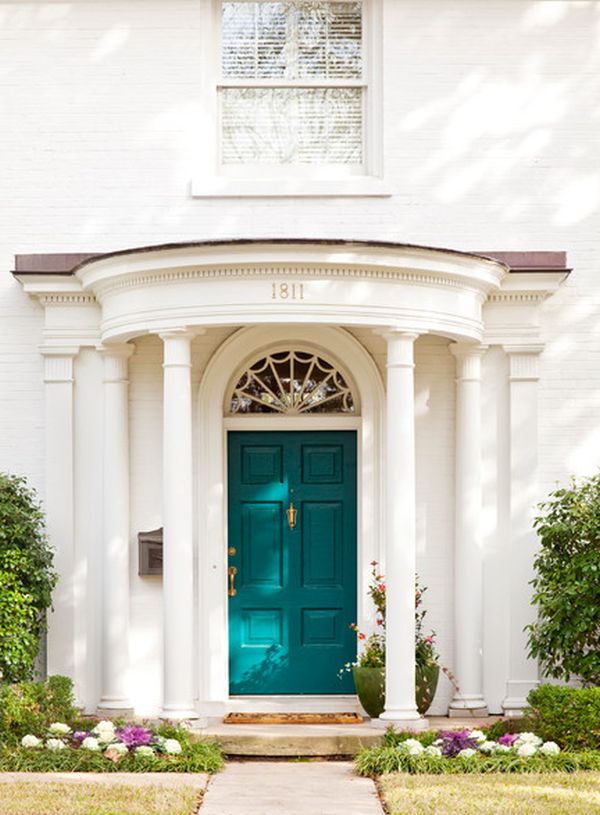 Sara McLean, Blogger and Color Expert, Dunn Edwards Paint
The entryway to any home has a huge impact on whether or not the home feels inviting. One way to make your listing feel more inviting and greatly increase curb appeal is to upgrade the front door. You don't necessarily have to replace the door; sometimes a fresh coat of paint will do the trick. Just keep color psychology in mind when choosing paint colors. Blue = tranquility, Red = confidence and power, Natural wood tones = earthy and calming. Avoid very dark colors like black as these tend to make a home feel closed and uninviting.
According to blogger and color expert Sara McLean, the front door is a place to have fun with color.
"Teal, yellows, and grass greens are popular, along with midnight blue.  Take into account the style of your home.  A beach bungalow could get away with a shade of pink. New Mexico adobe style would look smashing with a turquoise or coral entryway. Charcoal pairs well with a contemporary home, blending with metal accents."
Also, repainting a door can be an easy DIY job if you know what you're doing. Check out this great video from Dunn Edwards Paint that shows the right way to paint a front door.
---
3. Give Your Brick, Cement, Decks, and Siding a Deep Clean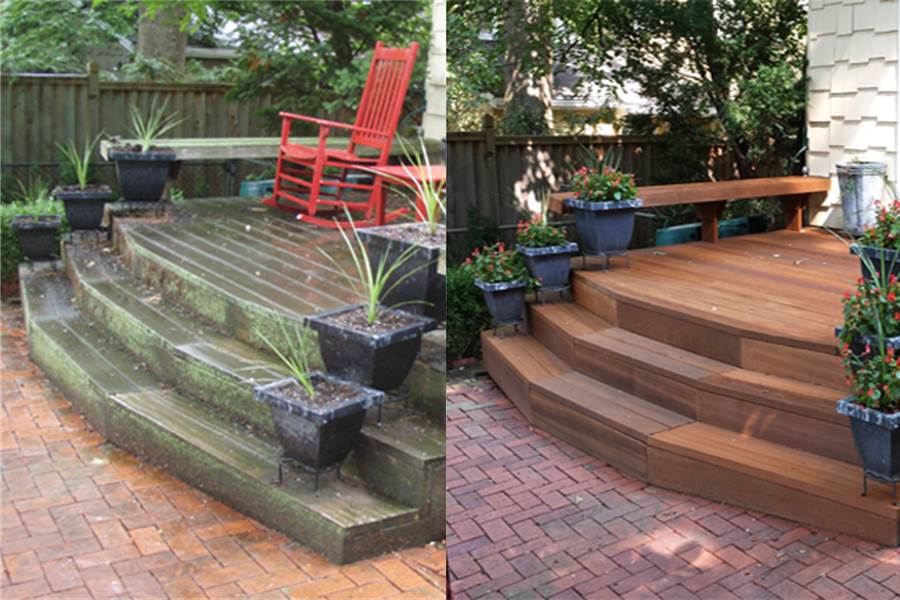 Bill Golden, RE/Max Metro Atlanta Cityside
Sometimes homeowners get so used to how dingy their brick walkways and decks look that they forget just how pretty the original color was. Power washing can remove decades of grime in seconds and dramatically improve the curb appeal of your listing.
A word of caution though: If your homeowner wants to power wash themselves, please make sure they wear proper eye protection and understand that power washing can be dangerous.
---
4. Landscaping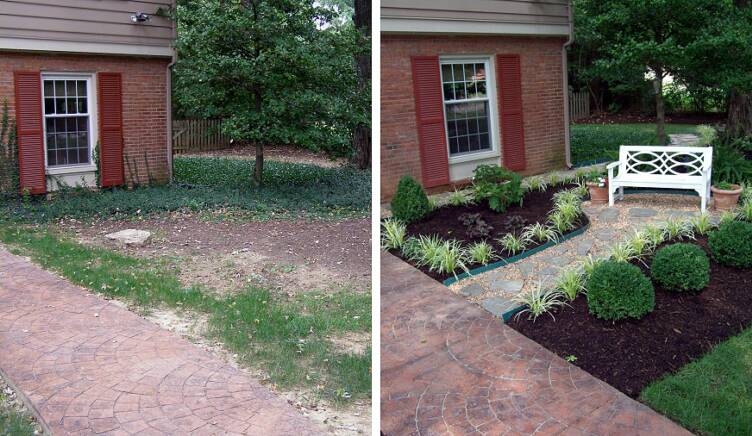 Even simple landscaping upgrades can make a huge impact on your listing's curb appeal. Think neat, tidy, and well manicured.
---
5. Don't Forget the Roof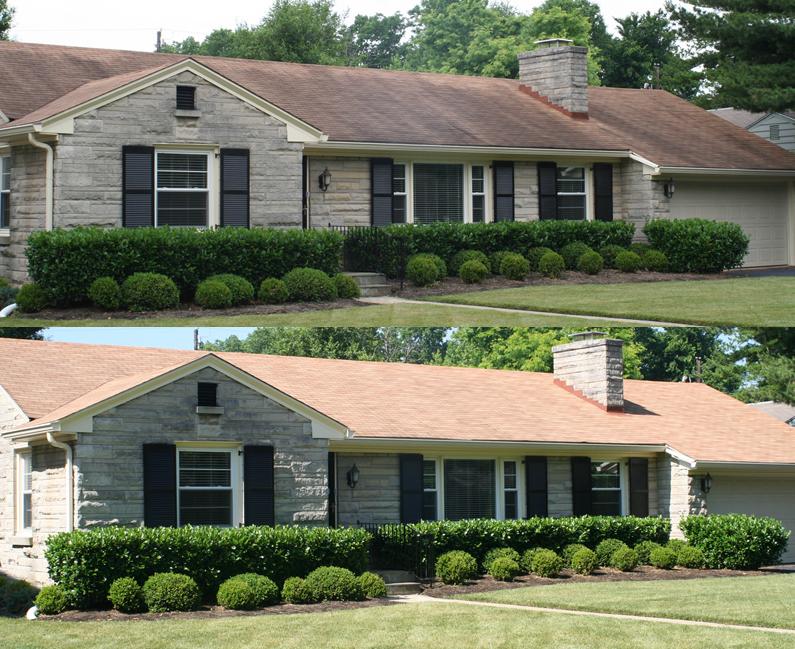 Since replacing the roof is one of the most expensive upgrades you can make on a home, keeping it looking clean and well maintained is essential. Instead of replacing a roof, many types of roofs can be power washed for a dramatic improvement in curb appeal.
I would tell clients to go with the pros for this one. Power washing a roof can be dangerous work.
---
6. Faux Brick Facades Can Add Texture and Drama on The Cheap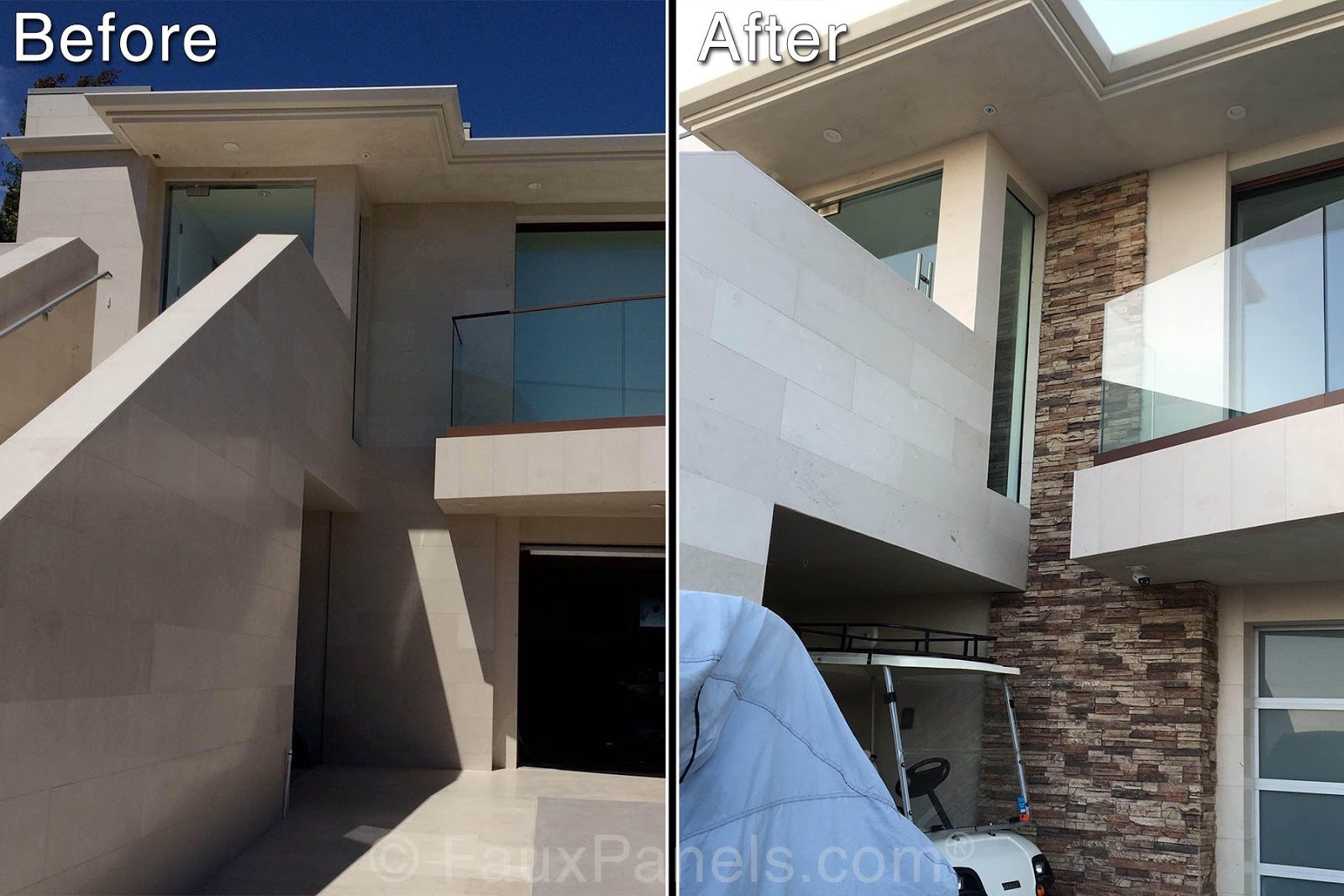 Let's face it. People gravitate toward natural brick finishes for homes. The texture helps break up an otherwise boring exterior, and brick or natural stone looks a LOT more expensive that it really is. This is perfect for mid-century modern homes. These natural stone panels from fauxpanels.com, for example, run around $90 per 4'x3' section.   
While it may not be cost effective (or visually pleasing) to cover an entire facade, accent walls, chimneys, and ugly cinder brick foundation all look 100x nicer covered in a natural stone panel.
---
7. Front Door Decoration – Plants and Flowers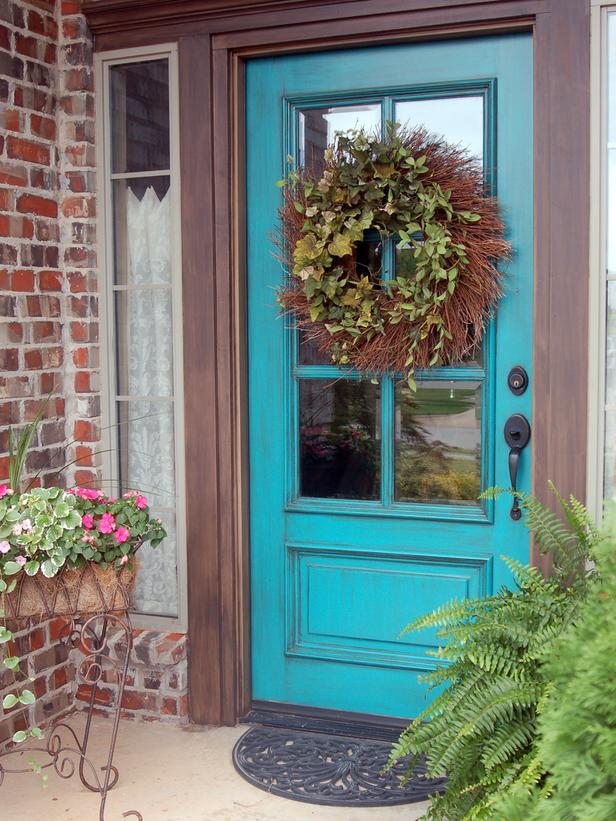 Potted plants, flowers, and small trees can turn a bland, boring entryway into an inviting one. Just make sure to use plants that fit the theme of your listing and the season. For example, evergreens might look a little bit strange in front of a Sante Fe Ranch, while beach grasses might look off in front of a Brooklyn townhouse. Also, use plants in moderation. Too much can easily overwhelm the front door.

---
8. Furnish The Front Porch – Even if No One Ever Uses it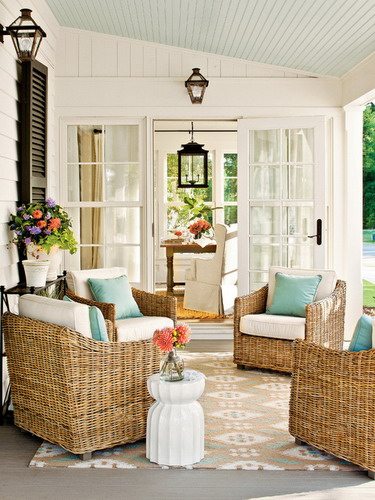 Even if your clients never use their front porch, you should encourage them to spend a few dollars to furnish it. Here's why. Every usable square foot is important to home buyers, but they very often have a hard time visualizing how a space can be used unless you show them. This is the same reason we stage or virtually stage vacant homes.
---
9. Use the Right Paint Color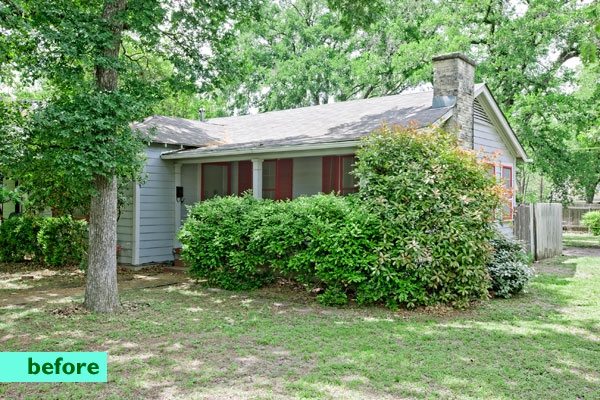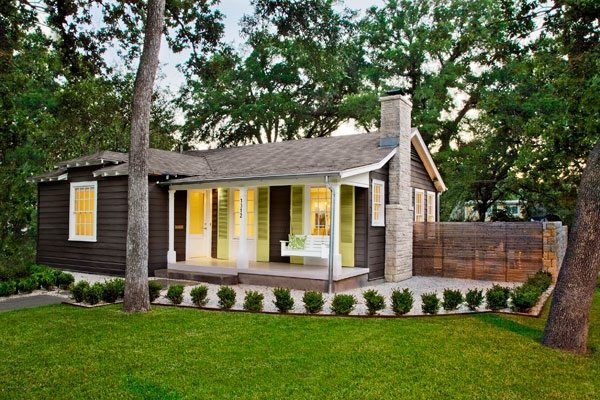 While trimming back the overgrown hedges made a massive difference here, changing the paint color also completely changed the look of this house. The grey was drab, bland, and uninspired while the brown looks fresh and contemporary.
---
10. Fence Upgrades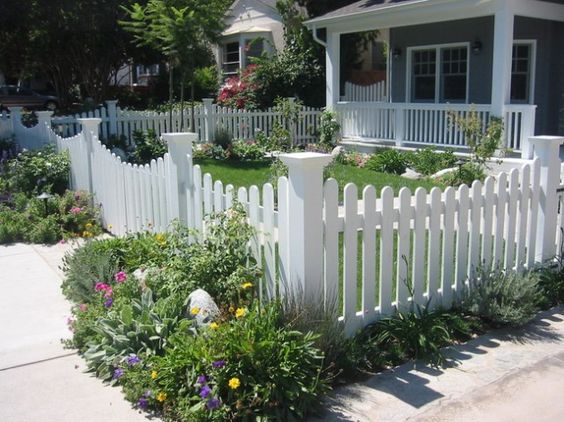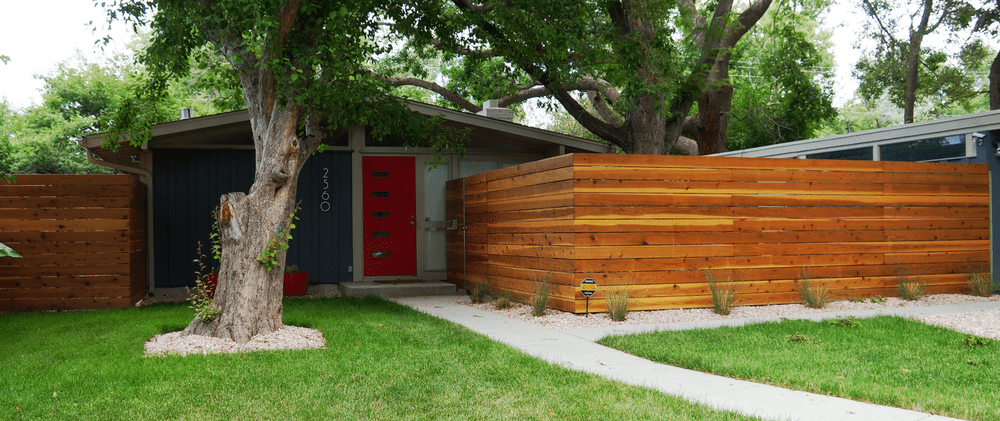 The right fencing can greatly improve a home's curb appeal. If your listing is contemporary, horizontal slat fencing is the perfect fit. For something more traditional, stick with vertical white picket or cedar fencing.
---
11. Lawn Care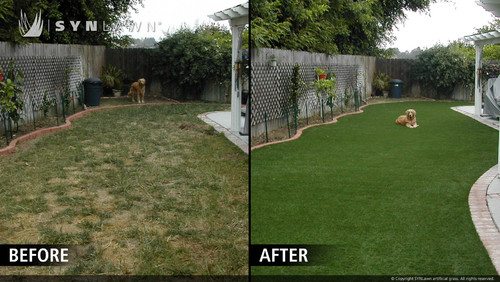 Everyone loves a lush green lawn, and no list of curb appeal ideas would be complete without lawn care tips. Aerating or re-sodding can be expensive, but for cheap, instant curb appeal improvement, lawn paint can make a brown lawn look fresh in minutes.
---
12. Decorate for the Season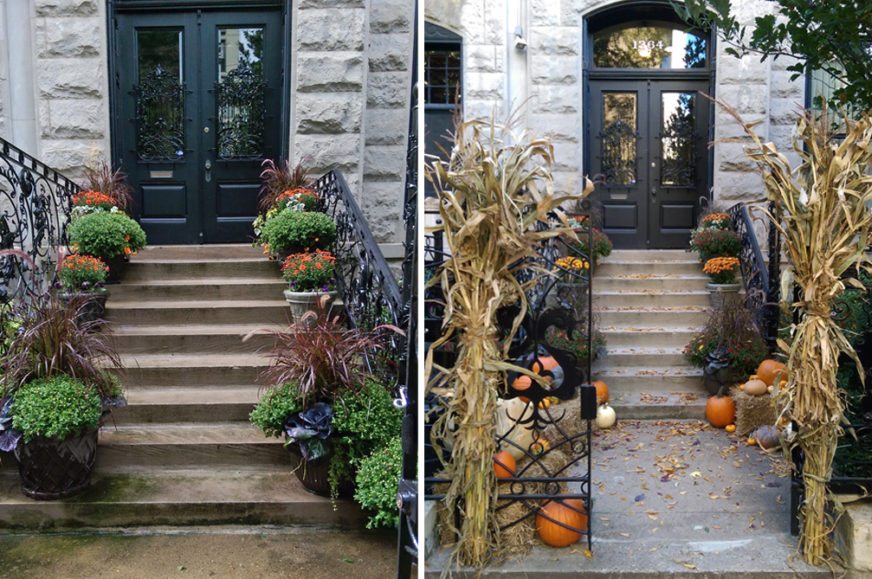 Lauren Russ, Topiarius
If you use plants as decoration for the front door, make sure they are seasonal. A house that changes with the seasons looks more like a home than one that doesn't. Here are a few DIY fall decorating tips from Lauren:
"Orange is a beautiful fall color, however, it isn't the only one! While orange may be the traditional color of fall, there are many natural hues that look stunning through autumn. If you're still not convinced, try pairing traditional orange pumpkins with birch logs for a trendy look. Start by cutting birch logs to varying lengths and attaching them together for stability. Decorate the birch logs with bittersweet and orange winterberry, lanterns, and pumpkins. While the lanterns give off a sense of ambiance, the pumpkins add fall festive flavor. Don't discard the display after the season is over; add some winter decor to make it multi-seasonal!"
---
13. Repaint With Light Colors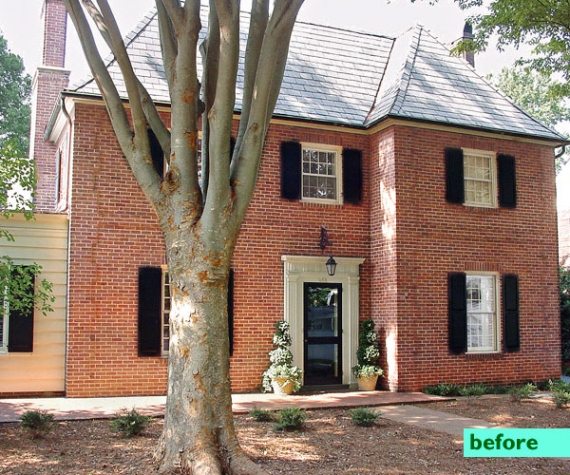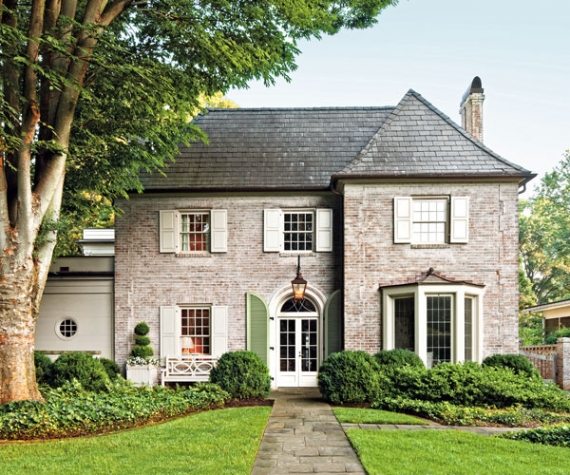 Generally speaking, light colors work better for the vast majority of homes. If you have the option to change the paint color of the home, choose light, neutral shades that highlight the home's lines. This gorgeous colonial above is a perfect example. Which looks more appealing?
Jack Menashe, home design expert and founder of Menashe Design in New York City agrees:
"When it comes to choosing the exterior color of a house, lighter colors reflect more light and make the house more eye-catching and inviting. Exterior details and contrasting finishes make houses look attractive and interesting. With contrasting window frames and an oversized front door, you will draw the attention of potential buyers."
---
14. Upgrade House Numbers for Instant Curb Appeal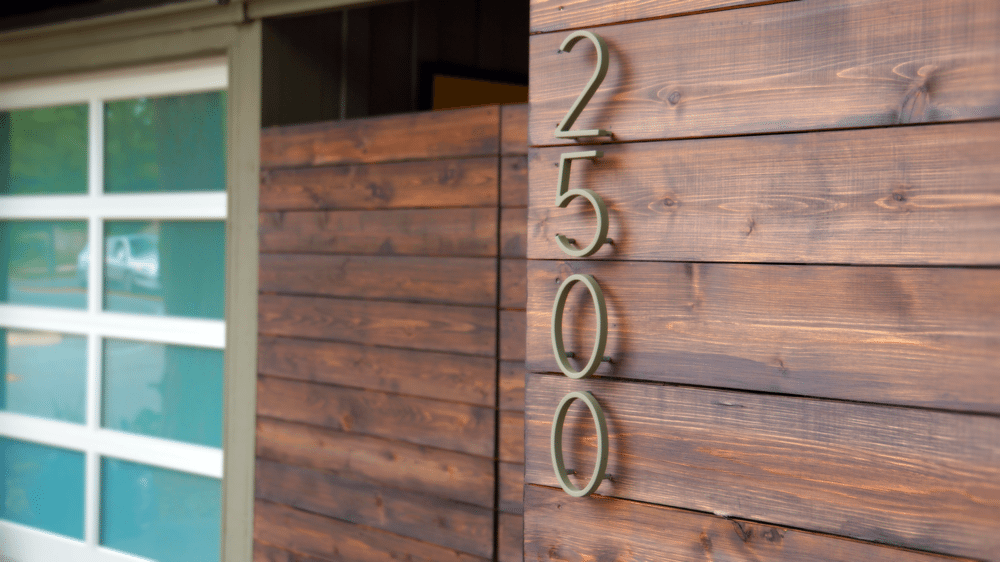 Unless you have balloons and a feather flag for your open house, chances are most people will be driving slowly down the block looking for the right house. Why not make it easy and pleasant for them by upgrading your listing's house number? Homeowners will love it because you can get great looking house numbers for less than $20.
---
15. Replace Missing or Broken Bricks in Walkways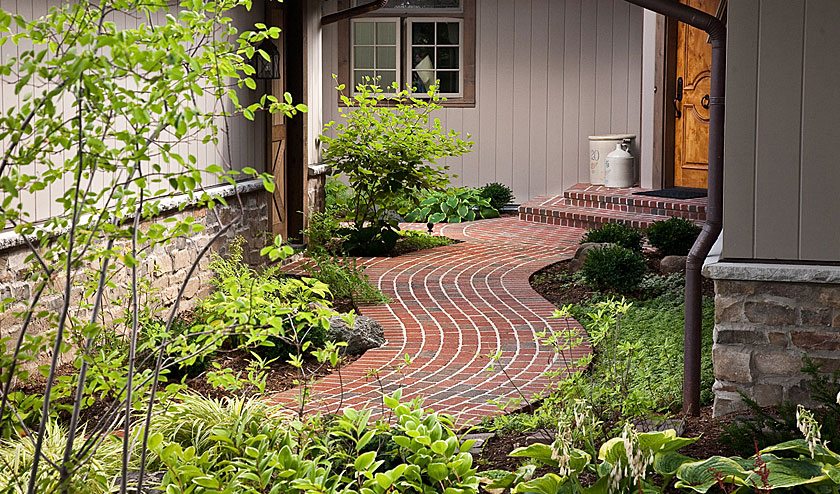 Cracked or broken bricks in walkways are not charming. Loose bricks can actually be dangerous for people who visit your home. Repair or replace cracked, broken, or uneven bricks and clean or replace concrete between bricks. In case you are wondering, the gorgeous landscaping above was done by Ginkgo Leaf Studio. If you're in Wisconsin, they should be your first stop for landscaping.
---
16. Replace Broken Gutters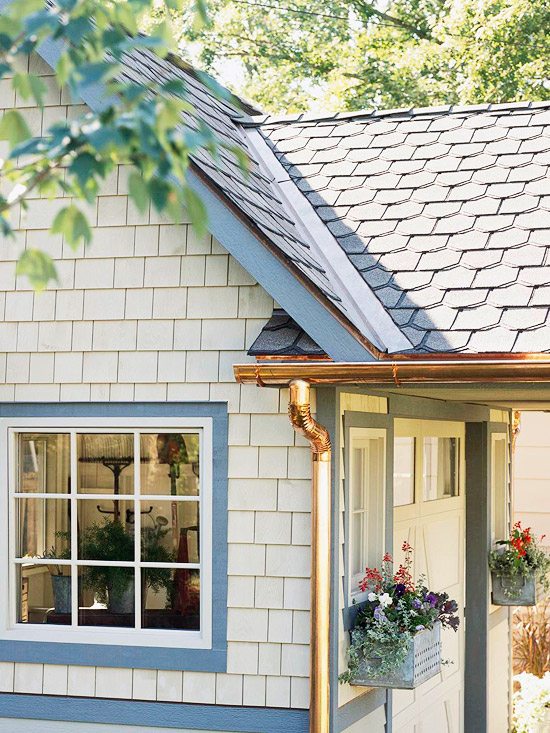 Broken gutters might lead home hunters to think the roof or foundation is in poor condition as well. Replacing the downspout for your gutters can be very cheap and will put home shoppers at ease until inspection.
---
17. Use Accent Colors for Shutters or Window Trim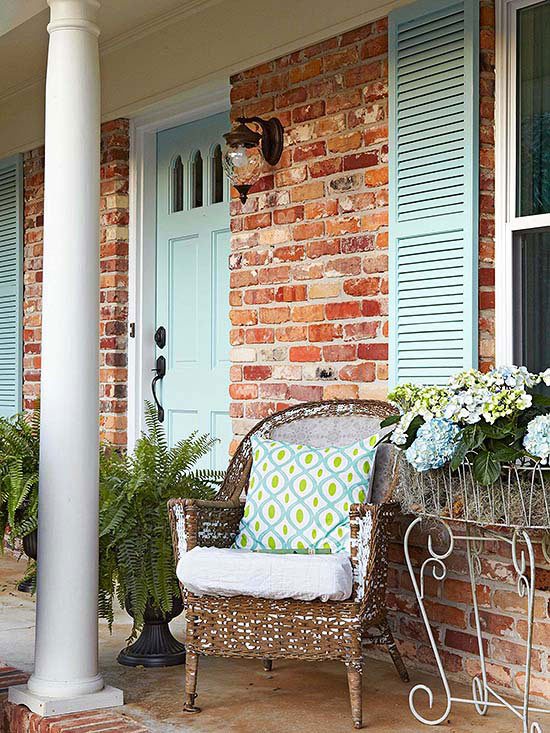 Choosing a bright accent color for shutters and window trim can really make a home stand out. Choose a complementary color that stands out next to your listing's main color. Matching your shutters with the door color is optional, but a nice touch.
---
18. Upgrade the Garage Door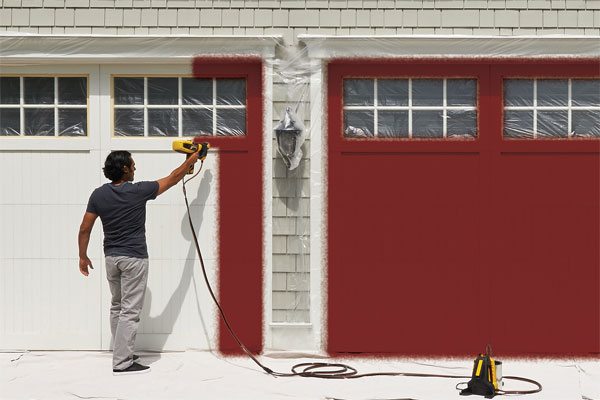 While replacing a garage door can be expensive, sometimes something as quick and easy as a fresh coat of paint can make a huge difference for curb appeal.
---
19. Install Solar Path Lights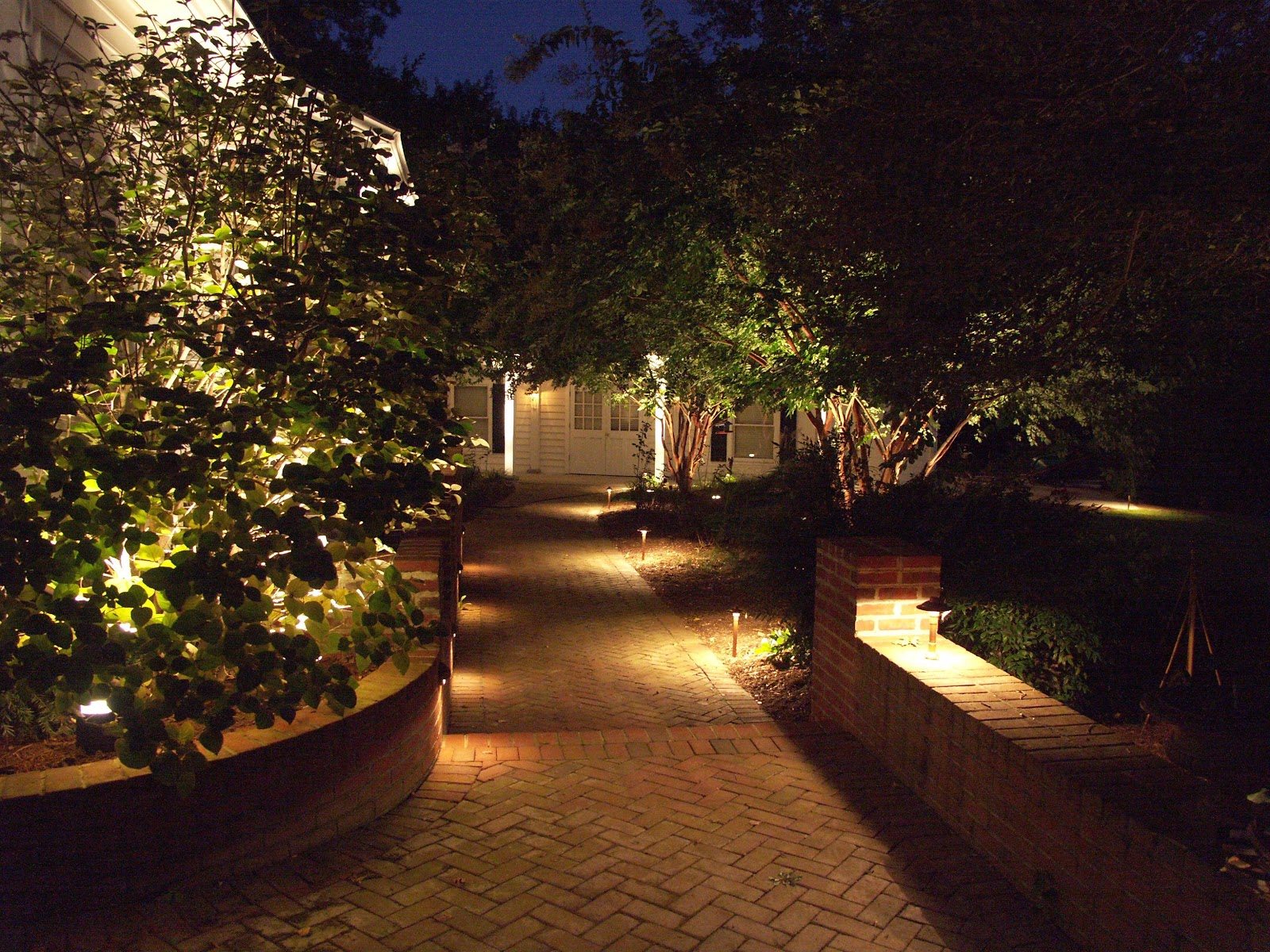 Keep up curb appeal at night by installing solar path lights to add some drama to your listing. Best of all, you can buy a dozen solar path lights for $30.
---
20. Upgrade Porch Lighting  
Another cheap and quick upgrade that can add a lot of curb appeal is replacing or refurbishing porch lighting. If the lights are in good shape but a little worn, they can be painted. If not, replace them. If you want to learn more about choosing the right porch light, check out this great guide from This Old House.
---
21. Trim Hedges that Block Windows and Porches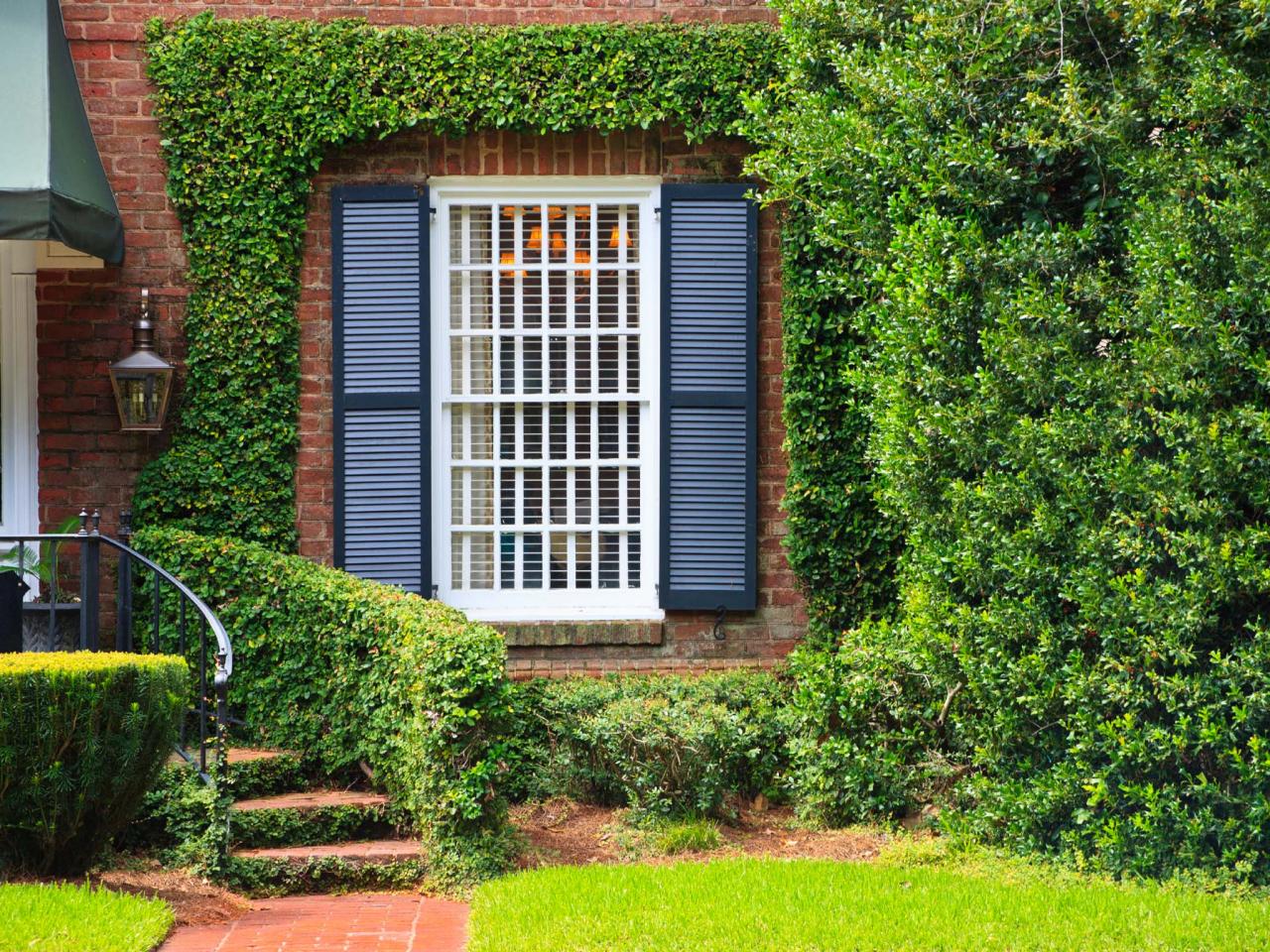 Unless you're trying to attract Grey Gardens fans, you should instruct your homeowners to trim back hedges or bushes that block windows or the front porch. These may make for a nice shady spot in the living room, but they look messy from the curb.
---
22. Add Window Planters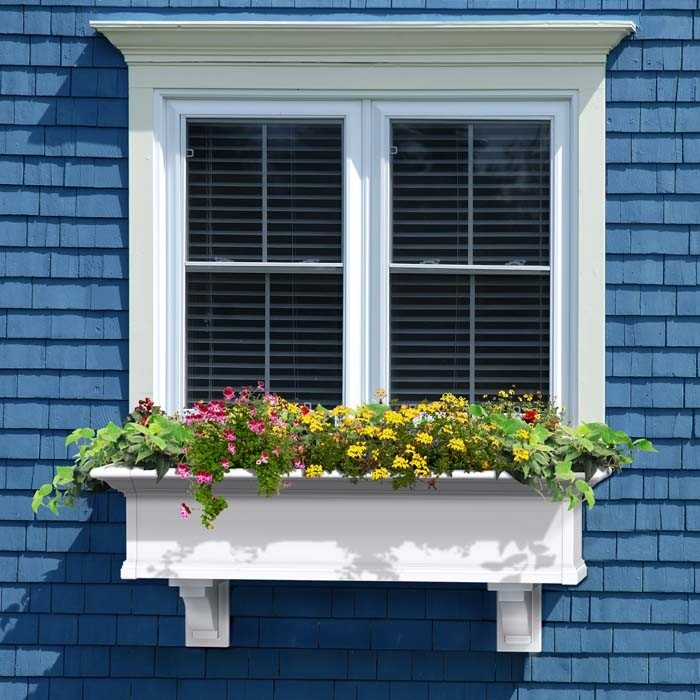 Window planters are an affordable and gorgeous way to accent an otherwise boring exterior.
---
23. Hide the Trash Cans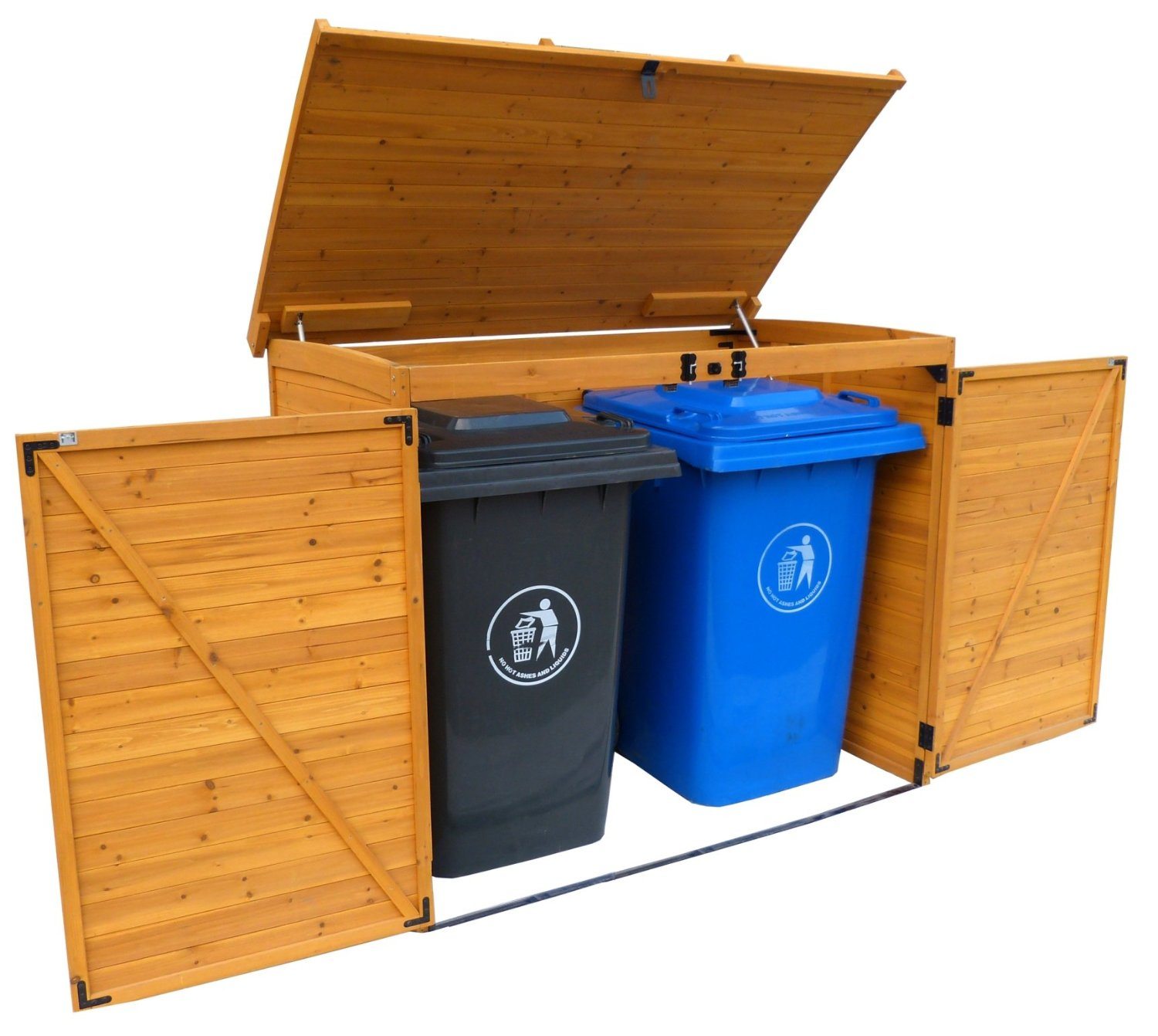 Instead of leaving unsightly trash and recycling cans on the side of the garage, hide them away with a storage shed. These have the added bonus of keeping raccoons out of the bins.
---
24. Resurface Asphalt Driveways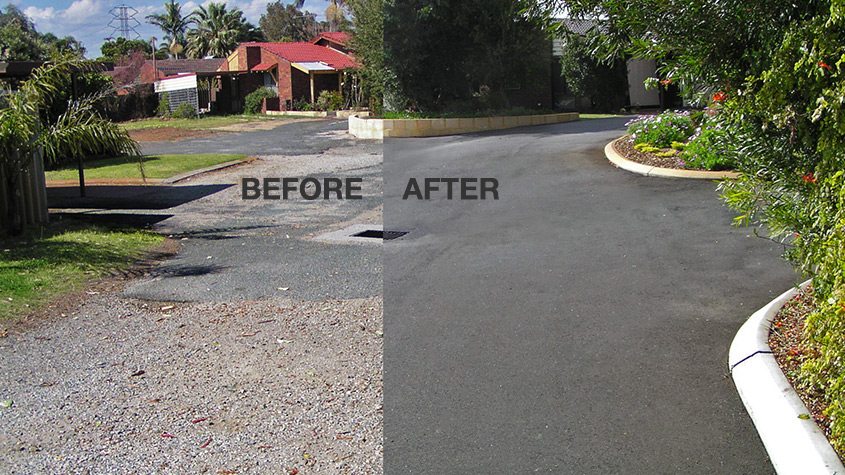 Since the driveway can take up one third of a home's front yard, making sure it looks good is important. Cracked and broken asphalt driveways can make even the nicest home look a bit shabby. If your budget allows, consider resurfacing the driveway with fresh asphalt.
---
25. Hang Up Wind Chimes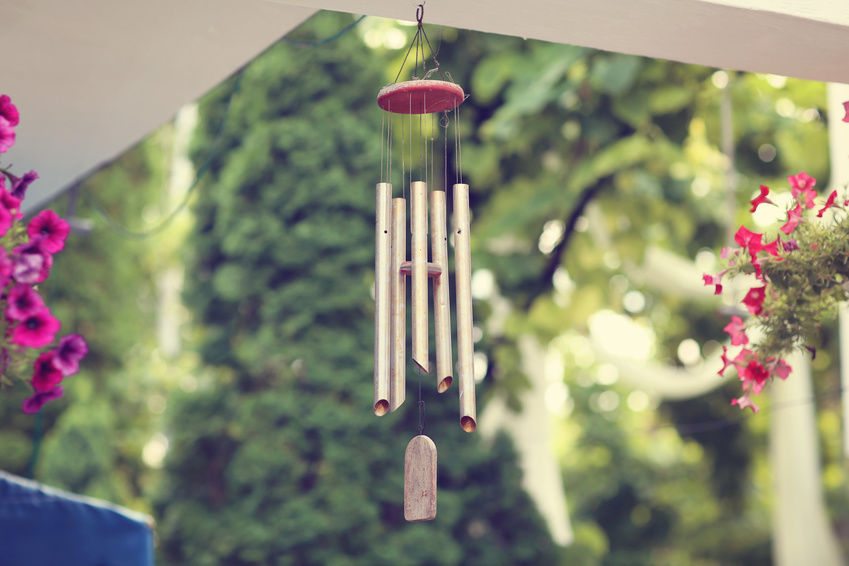 Music can soothe and relax buyers! The sound of wind chimes in a gentle breeze will put a smile on even the most stressed out home shopper or buyer's agent.
Over to You
Have some great curb appeal ideas that we missed? Let us know in the comments.