Beautifully designed daycare flyers are an effective marketing tool to promote your business, attract new families, and grow your roster. With nearly 4 million child care establishments in the United States alone, you need to have flyers that stand out and make lasting impressions to prospective parents. Make this happen by discovering fresh and eye-catching daycare flyer design ideas that you can utilize for marketing your services, programs, and other offers.
Pro tip: The hands-down easiest way to create your own flyer is to look for daycare flyer templates from sites like Vistaprint, Canva, and Moo. These templates are easily editable to suit your business. However, if you want a fully customized daycare flyer design, you can always hire a professional graphic designer from Fiverr for as low as $5.
Take a look at these 15 creative daycare flyer templates and create your own.
1. Professional Daycare Flyer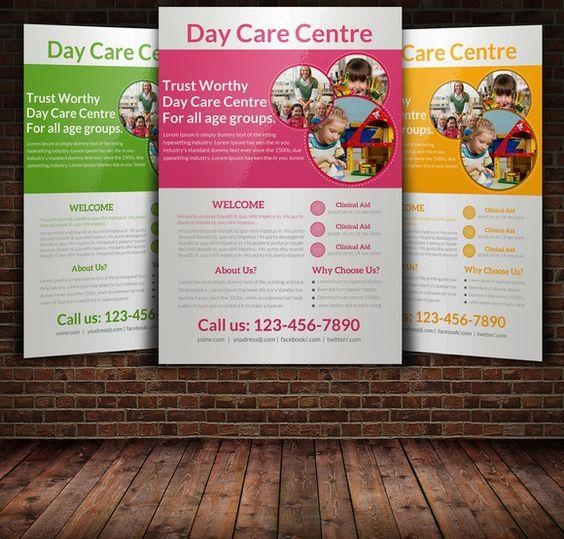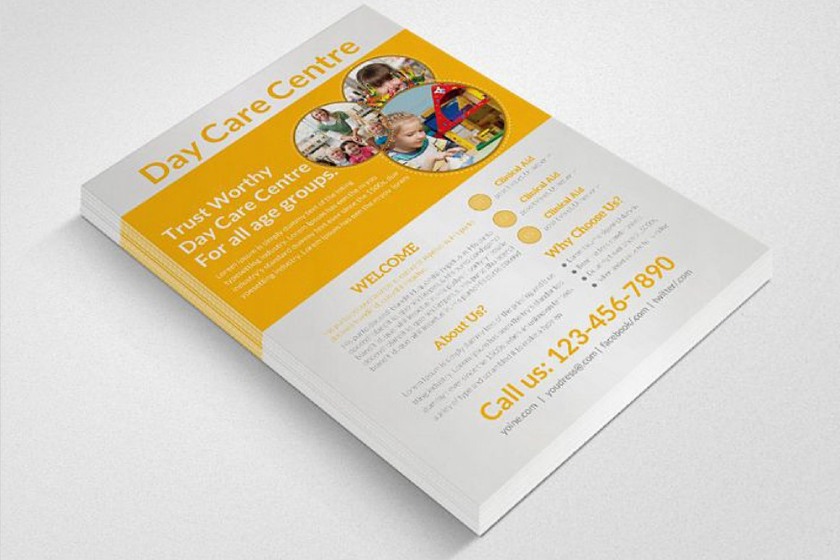 Single-sheet flyers are not only the most affordable type of flyer you can create, but they can contain lots of information too. We recommend using a template like the one you see above. It uses a simple color scheme and well-organized paragraphs to make its call-to-actions (CTAs) pop. The finished result is a professional daycare flyer that gives off a highly reputable, educational vibe.
2. Preschool Education Flyer
If the first example is a little too minimalist for your brand, a happy medium between professional and fun is a single-sheet flyer template like the one you see above. It has a bigger banner image and more colors, yet still looks respectable and trustworthy—ideal for a daycare flyer design.
Take note of how they achieve this despite the multiple colors. Each color is repeated carefully throughout the template, including in the banner image at the top. Picking a flyer color scheme from the colors present in your main image gives the final product a very cohesive look.
3. After-school Care Flyer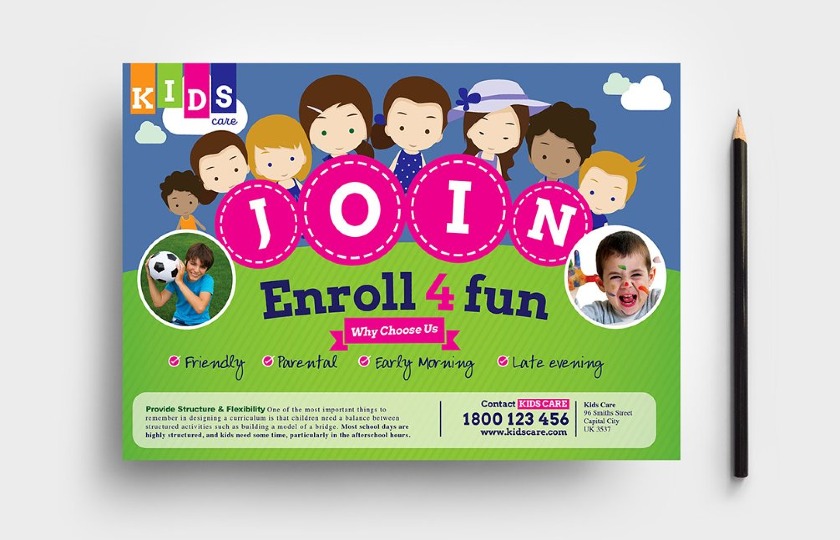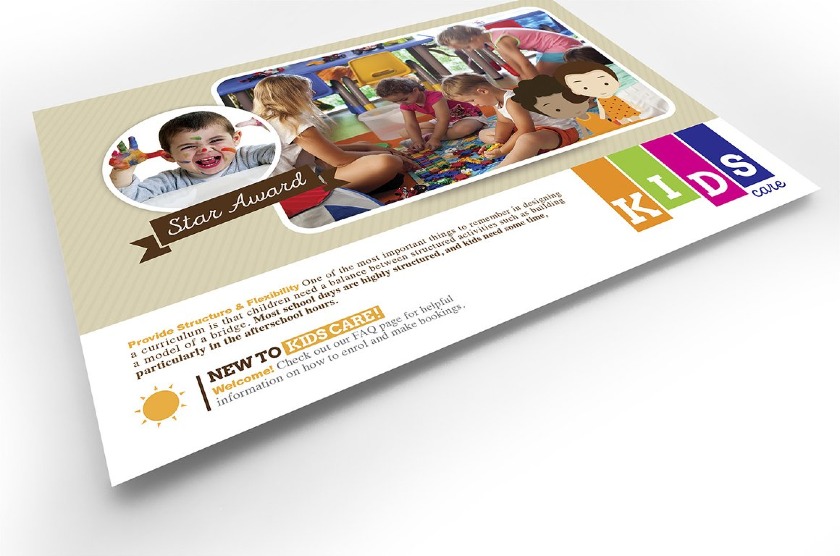 These after-school flyers use a mix of photos and cartoons to make your brand appealing and fun. Although you may be tempted to fill your flyer with information, don't forget that you're running a business aimed at children. Allotting more space for images and visuals can appeal to prospective parents, leaving other marketing materials for extra information instead.
4. Cute Daycare Flyer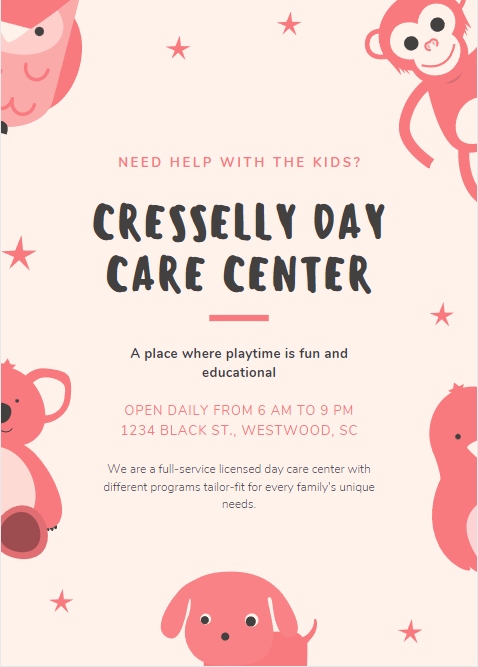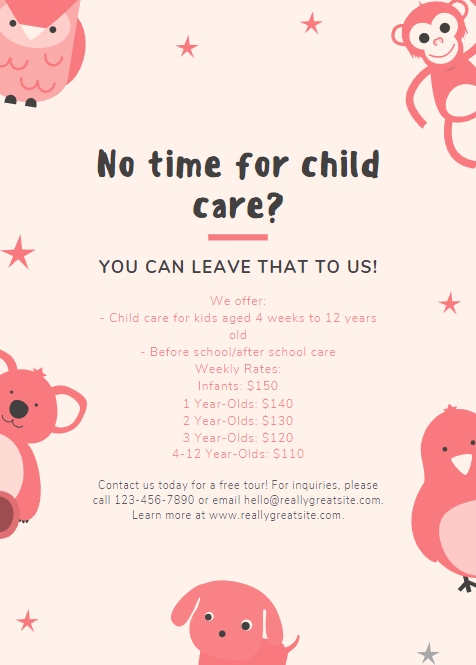 As a small business, you probably have a limited budget for marketing, which is most likely almost fully invested in your small business website. Unless you have artistic skills, a cartoon flyer from the previous example will cost you. Thankfully, you can get cute flyers like the one featured here for free on Canva, a graphic design software. You need to edit the content to fit your brand and print out the customized flyer you create.
5. Daycare Brochure
Brochures and flyers serve similar purposes but look different. The standard size for a flyer is a US letter size (8.5×11 inches), but brochures can be as small as A5 or even A6. In case you prefer the look of a brochure to a flyer, why not try out a fun template like the one above? These aren't difficult to create either. A site like Vistaprint has a ton of flyer and brochure templates for you to choose from and customize. To lessen the hassle, they can even print them out for you.
6. Tear-off Daycare Flyer
Create a more interactive flyer with a "tear-off" section that prospective clients can use instead of taking down information manually. Aside from putting a condensed version of your flyer's content on these tabs, such as contact information, you can also use this section for promo codes and discounts.
7. Magazine Quality Preschool Brochure
Do you need to fit in more information than a flyer will allow? Create a gorgeous trifold brochure with this free template instead. Each part of this brochure contributes to the high-quality overall look, from the font and colors to the images.
Pro tip: If you're looking for a flyer instead of a brochure, Moo has high-quality flyer templates that you can edit easily and print out.
8. Artistic Daycare Flyer
Not all graphics need to be cartoon-like. If you want a more sophisticated-looking daycare flyer, you can go for visuals like florals and animals, like in this artistic example. Choose a muted background but keep the rest of the visuals colorful to make your flyer stand out.
9. Digital Daycare Flyer
Despite the numerous daycare flyer templates that you can find for free, if you have limited finances, printing may still be out of your budget. To save money while still being able to promote your business, create a digital flyer instead. These can be shared through online platforms like social media and email. As a bonus, they can be much more interactive as seen by the flyer example here.
10. Horizontal Daycare Flyer
If you don't have a ton of content to place on your flyer, a horizontal orientation that's half the size of a traditional flyer (measuring 8.5×11 inches) may be a better option for you. It's not easy finding a daycare flyer template that fits the bill, but Vistaprint has a variety of horizontal child care flyer templates that you can customize and print easily.
11. Back-to-Back Kindergarten Flyer
The fonts, and the blue, red, and white color scheme, make this kindergarten flyer feel playful and modern. Plus, despite the number of illustrations on the flyer, this template keeps everything organized and easy to read. This is a great choice to start with for an accessible child care flyer that you can customize and edit easily.
12. Custom Daycare Flyer With QR Code
Keeping your flyer short and straight to the point can be tough, especially if you have a lot more information you need to say. Instead of piling on the content, add a quick response (QR) code that your customers can scan. That way, your flyer's design can stay minimalist, and you can have an extra opportunity to link your clients to your website or social media platforms.
13. Baby Daycare Flyer
Create a customized flyer in minutes by inputting basic information about your business. To do that, use an easily customizable daycare flyer template like this one. You don't need to change anything else in this flyer. Its simple color scheme and graphics work well for a variety of daycare centers and businesses.
14. Simple Daycare Flyer
Another easily customizable daycare flyer template, this design can work for all types of daycares by simply changing the colors to reflect your brand. It currently comes in four different colors, both horizontal and vertical orientations, and various sizes, plus different paper weights and stocks. With this design, you can create a flyer that fits with your business's overall look.
15. Illustrated Daycare Flyer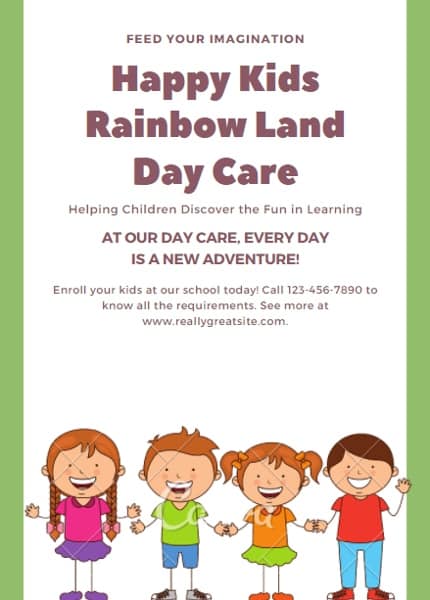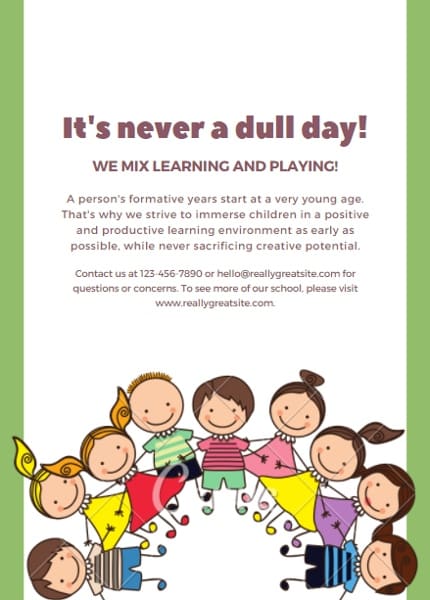 A simple way to create a less generic-looking daycare flyer is to create your own graphics or buy them. Although many of Canva's templates are free, you can choose to replace the graphics on its standard templates with premium ones from the library. Alternatively, you can upload your own images.
Pro tip: Hire an illustrator on Fiverr to create custom, professional illustrations for your business that you can reuse in your different marketing materials.
Frequently Asked Questions (FAQs)
How do I create my own daycare flyer?
You can easily create your own daycare flyer through daycare flyer templates you can find on Vistaprint, Canva, and Moo. These templates are easily customizable and editable. As a bonus, these sites can also print out your flyers for you. For a fully customized flyer, you can always hire a professional graphic designer on Fiverr for as low as $5.
What should I include in a daycare flyer?
Flyers are meant to be promotional and informational, so first and foremost, include your branding. This means your business name, logo, company tagline, and even your brand colors. You should then include pertinent information about your business, like the ages accepted, any special services, your programs, and a price range. Finally, don't forget to add your contact details, office hours, and website URL.
What's the best way to distribute my daycare flyer?
Once you have your flyers on hand, place them in convenient locations like at your front desk or in other stores. You can talk to your local cafes and restaurants to see if they have bulletin boards where you can post your flyer.
Hiring someone to hand out your flyer in busy areas is also a possibility. You can hire workers through Fiverr. You can share your flyers digitally on social media and especially in community Facebook groups.
Bottom Line
A flyer is an affordable and effective way to promote your business to prospective clients. It isn't difficult to create one either. There are a variety of free and paid daycare flyer templates available on Vistaprint, Canva, and Moo that you can easily customize to fit your brand. You can also hire a graphic designer on Fiverr to create a complete customized flyer for your business. Either way, don't miss out on this marketing opportunity and create your own daycare flyer today.
You Might Also Like …