Daylite CRM Review 2023: Is It Right for Your Small Business?
This article is part of a larger series on CRM.
Daylite CRM is one of our top recommendations for freelancers and businesses looking for a customer relationship management (CRM) system for Apple devices. We evaluated this provider, and it scored high in pricing, general features, and help and support. However, it got lower scores in ease of use, specialized features, and our expert score because of its steep learning curve and lack of native email marketing features.
Daylite CRM at a Glance
Pros
Offers a free plan for individual users
Affordable paid plan with robust contact management features
Integration with Apple Mail provides a rich source of leads and referrals
CRM data is available offline
Cons
Compatible only with Mac and iOS devices
Can be challenging to set up and use for beginners
Limited customization options
You're a salesperson using a Mac or iPhone: This software made it to our list of the best CRM solutions for Mac users.
You're a freelancer or an owner of a boutique firm looking for a free CRM: This platform offers a free CRM with all-inclusive features appropriate for individual users and small to mid-sized businesses.
You oversee a small sales team needing an all-inclusive CRM: This provider has free and affordable paid options with essential CRM, project management, and lead management features.
---
---
Daylite, by Marketplace, is an all-in-one CRM system made for professional services and agencies that use Mac devices, iPhones, and iPads. This platform allows teams to monitor and manage communications, client details, follow-ups, deals, projects, and tasks in a single platform. It is best for individual users, small businesses, and midsize teams that need an all-inclusive CRM solution for Apple devices.
Daylite CRM Review of Deciding Factors
Supported Business Types

Freelancers, boutique firms, and small to midsize sales teams

Standout Features

Apple supported features
Lead and pipeline management
Project management
Reporting and analytics
Mobile app

Pricing Plans

Offers a free plan for a single user
Paid plan costs $42 per user, per month (or $35 per user, per month when billed annually)
Free trial: 14 days

Contract Duration

Monthly billing option is available

Key Integrations

Google Workspace
Zapier
Billings Pro
Dropbox
HubSpot

Customer Support

How-to articles, webinars, blogs, and Daylite Academy
Free scheduled 30-minute demo
Access to help center; email, live chat, and phone support (9 a.m. to 5 p.m., M-F, Eastern Time)
Onboarding packages start at $300 (one-time fee)
Not exactly sure what to look for? Check our step-by-step guide to choosing a CRM to keep your selection process organized. It has a free downloadable template for choosing the right CRM provider for your business.
Daylite Alternatives
While Daylite is an all-inclusive CRM, it may not fit your business needs. You may want a feature-rich CRM for large sales teams or a lower-cost option that includes specific tools and reporting capabilities. Below are some of the best alternatives to Daylite based on use case:
| | | | |
| --- | --- | --- | --- |
| Best For | Small businesses that manage lengthy or unique lead nurturing processes on Mac or iPhone devices | Teams that want a free, Mac-friendly CRM | Organizations that want to easily visualize deals on an iPhone or iPad |
| Starting Price* | Free (unlimited users) or $15 per user, monthly | Free (unlimited users) or $45 per month (minimum of 2 users) | $14.90 per user, monthly |
| | | | |
*Based on annual billing; monthly pricing is also available at slightly higher rates.
Daylite earned a score of 3.75 out of 5 for pricing. It offers a free plan for a single user and a paid plan that costs $35 per user, monthly, when billed annually ($42 per user, monthly, when billed monthly). The main difference between the plans is the limit on the number of items in your database. This includes the number of users, file storage, contacts, projects, opportunities, and tasks.
You can sign up for a 14-day free trial of its paid plan before committing to a subscription.
| Plans | Daylite Free | Daylite |
| --- | --- | --- |
| Best For | Individual users and small teams who can be accommodated by a single-user plan | Small to medium-sized businesses needing a plan that supports unlimited users |
| Annual Pricing ($/User/Month) | $0 | $35 |
| Monthly Pricing ($/User/Month) | $0 | $42 |
| Users | 1 | Up to 100 |
| Projects & Opportunities | 2 | Unlimited |
| Tasks, Notes, Companies, Contacts & Appointments | 100 | Unlimited |
| File Storage | 100MB | 100GB |
| Contact, Lead & Project Management | ✓ | ✓ |
| Quotes & Estimates | ✓ | ✓ |
| Unlimited Pipeline Deals | ✕ | ✓ |
For more information on Daylite plans, select a plan from the drop-down menu below:
The free plan allows you to access essential CRM features that let you to manage contacts leads, opportunities, tasks, notes, emails, projects, and appointments. However, there is a fixed 100MB limit to your file storage allocation and the number of entries you can create in your database. You can also access quotes, estimates, and Apple Mail integration, as well as CRM data, even when you're offline.
Daylite combines CRM, project management, and lead management features in a unified platform. It lets you control which users and teams can view and access sensitive data. In addition, you can create custom fields, values, categories, tagging options, roles, and relationships. Even without an internet connection, it stores data directly on your Apple device, allowing you to work in real time from any location.
Daylite CRM Features
Daylite combines CRM and project management capabilities in a unified platform. Its general features include contact management, interaction tracking, email integration, and document management. It offers specialized features such as lead and pipeline management, reporting and analytics, mobile apps, and integrations.
In this Daylite review, we gave this provider a perfect score for its general features. This platform's contact management capabilities allow you to capture and organize contact details, schedule meetings and calls, and view a chronological history of client interactions. In addition, it lets you attach documents, such as contracts or photos, to your online files and folders.
Below are some general and standout features that offer the most value from Daylite:
Contact management
Interaction tracking
Smart contact segmentation
Email integration
Calendars and reminders
To-do tasks
Access and permission control
Meetings
Document management
Workflows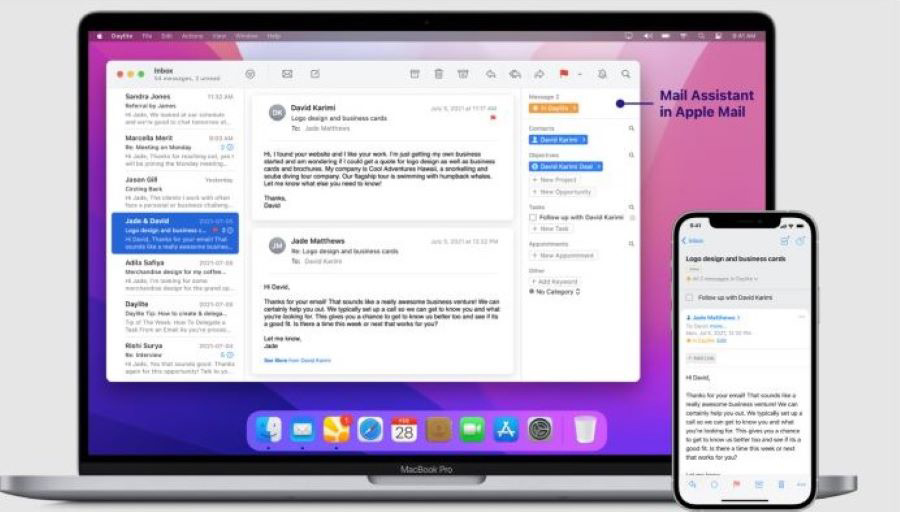 ---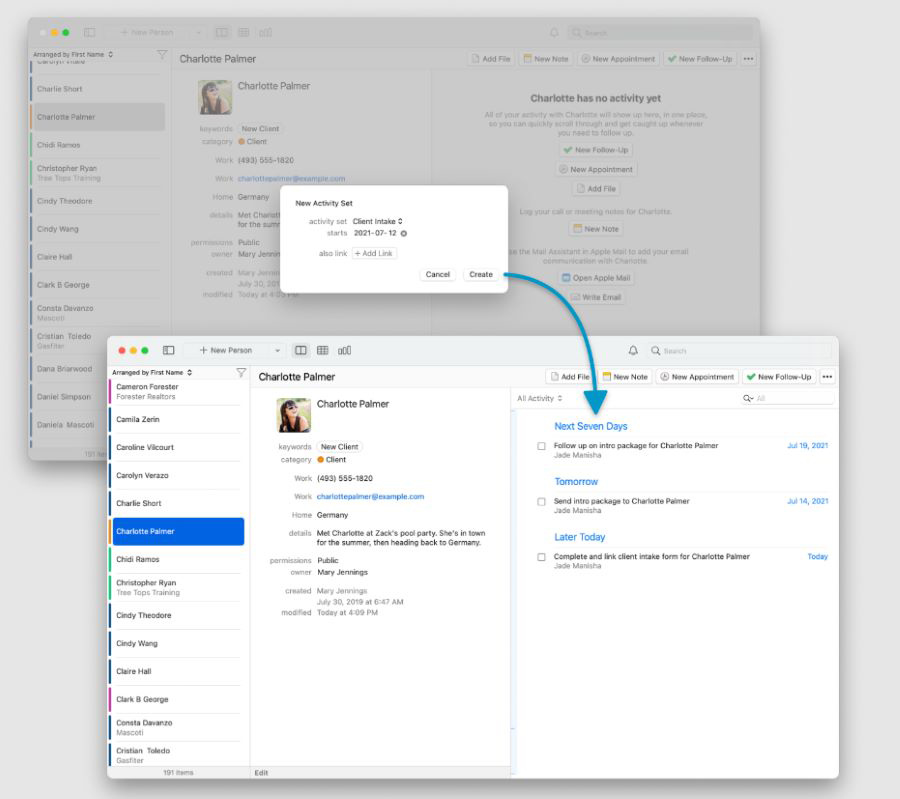 ---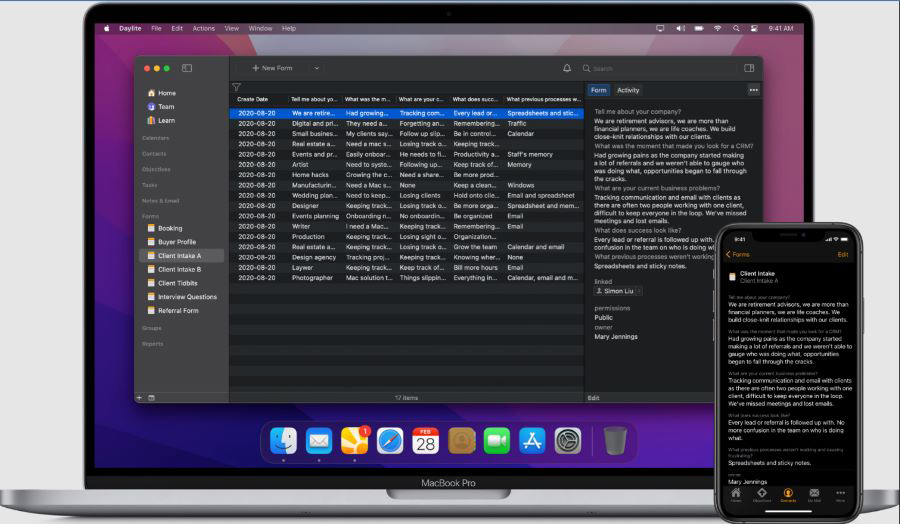 ---
This CRM platform scored 3 out of 5 for its specialized features. It offers features for managing leads, pipelines, and projects. Its other standout features include iOS-supported mobile apps, sales forecasting, lead prioritization, and sales tracking.
Daylite CRM helps you close more deals by organizing your leads and pipelines so that nothing slips through the cracks. Customize and manage sales opportunities from lead to won stages. This platform helps you segment your leads and prioritize them using a wide range of criteria, including gender, age, education, and income. It also lets you generate both standard and custom quotes for your products and services.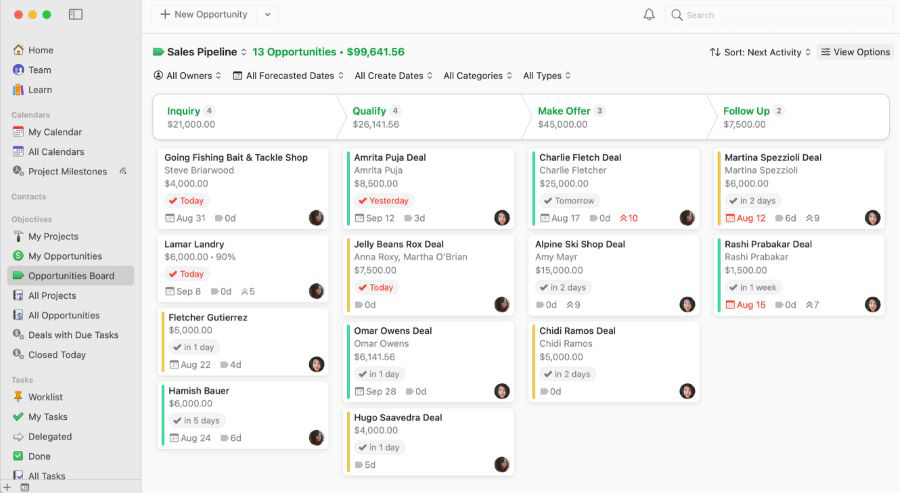 ---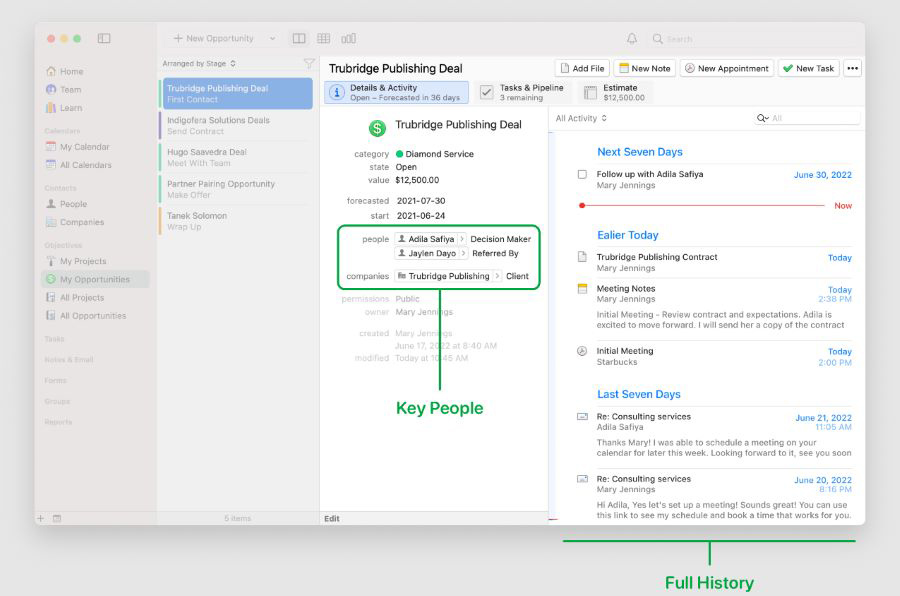 ---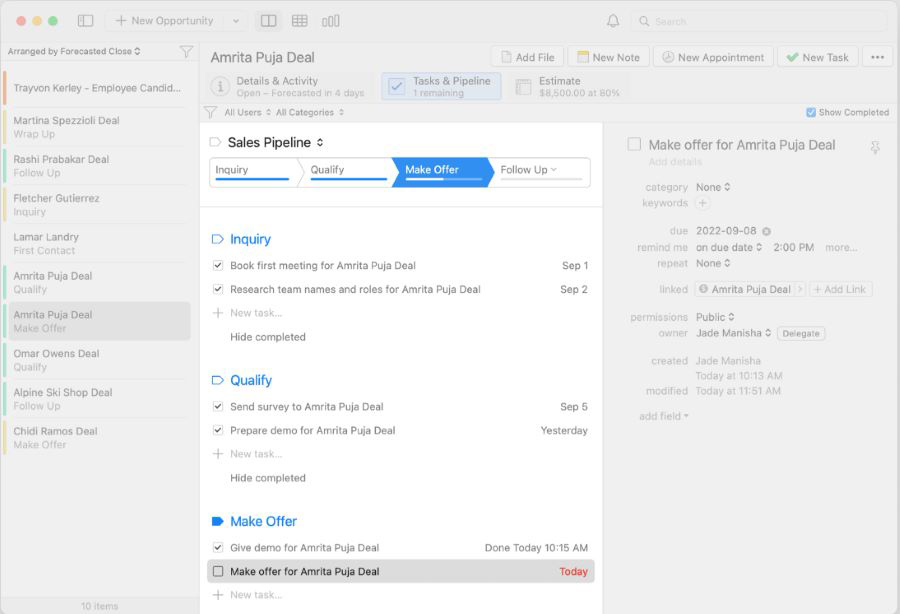 ---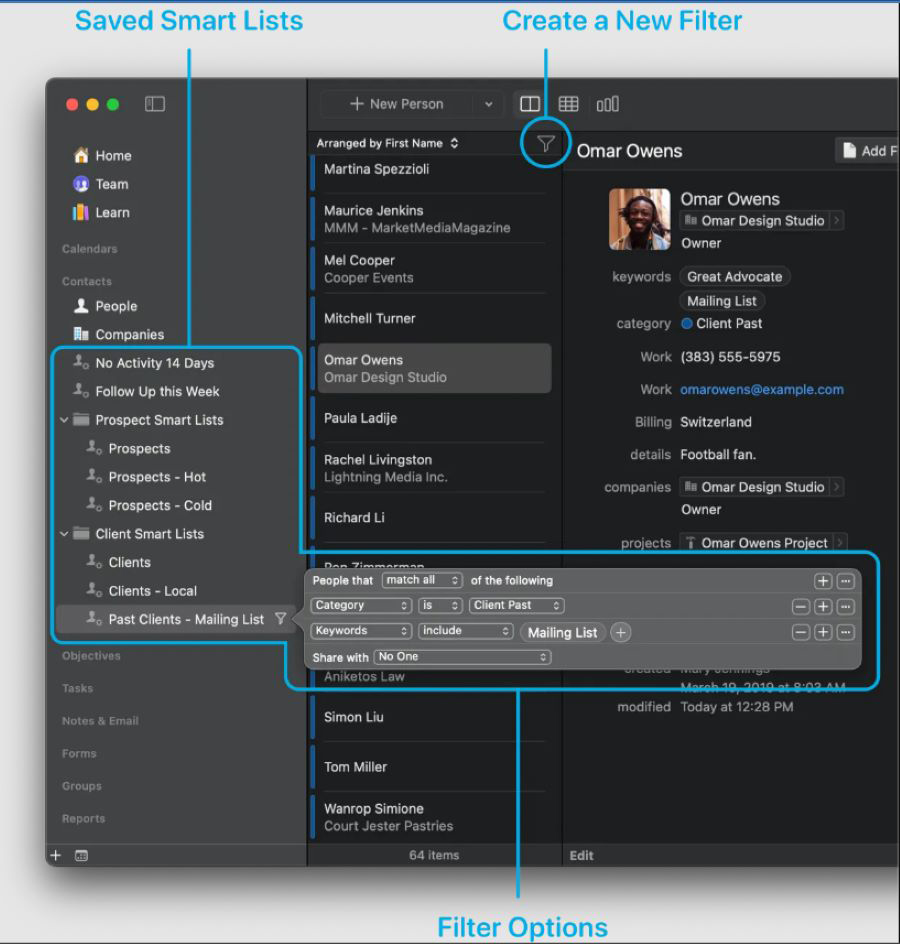 ---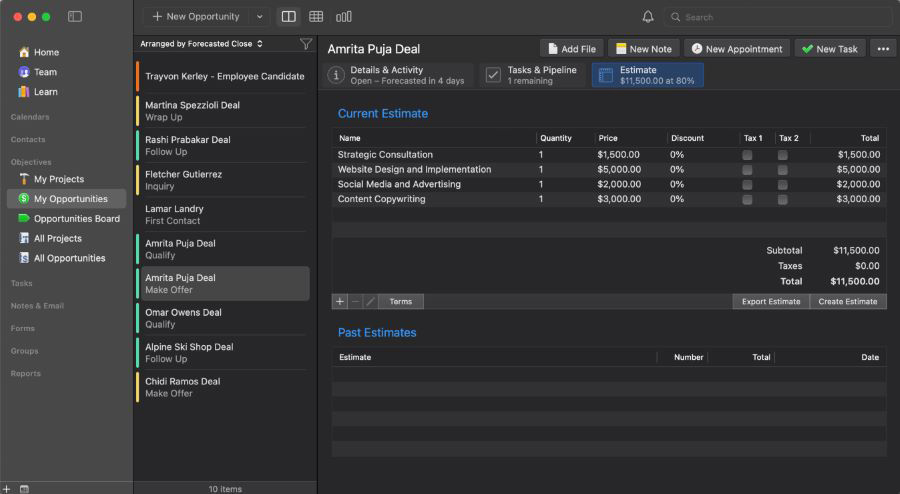 ---
---
This platform allows you to manage client and internal projects both individually and as a team. In addition, you can create follow-ups, assign tasks, set recurring meetings and reminders, and get notifications once they're done. It lets you attach contracts, photos, and links to your online files and folders. You can also use customizable sales pipeline stages to monitor progress and important milestones.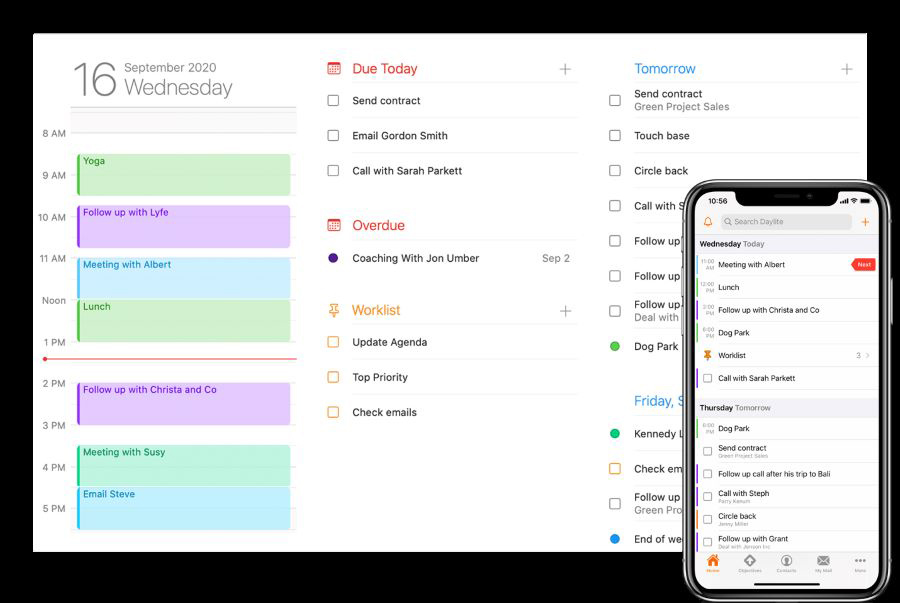 ---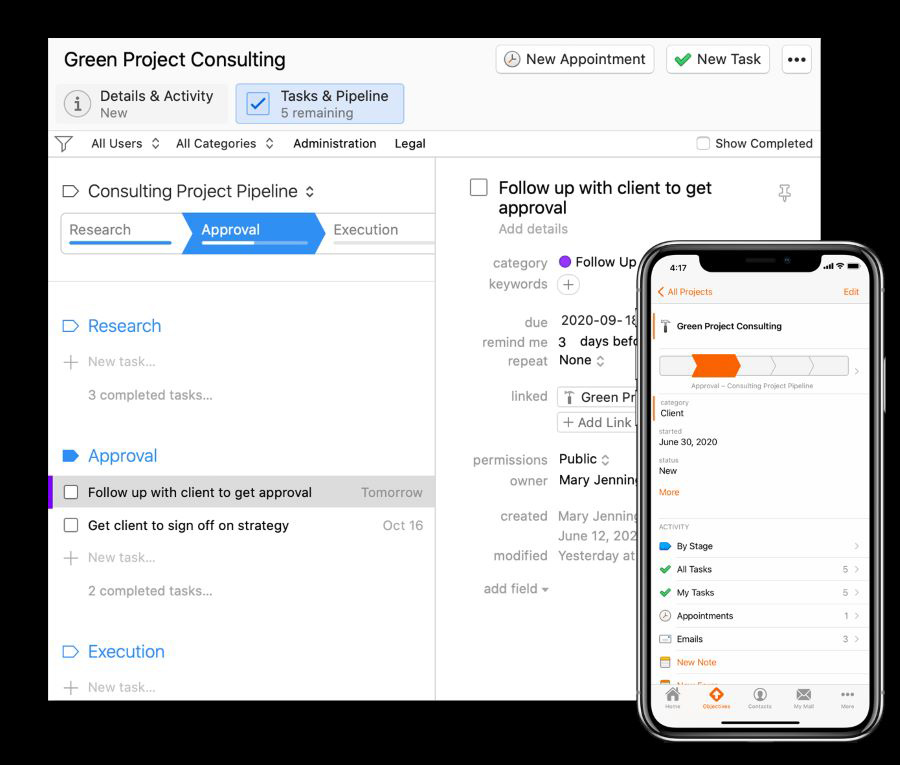 ---
---
Leverage Daylite's iOS-supported features to work on the go and even offline on your iPhone and iPad. It automatically syncs across your team's devices once you are back online. Use Siri to run the app hands-free and identify who's calling you with your device's caller ID. The Notification Center alerts you about meetings, invites, tasks, and reminders. For iPad users, the split view allows you to work in Daylite and another app simultaneously.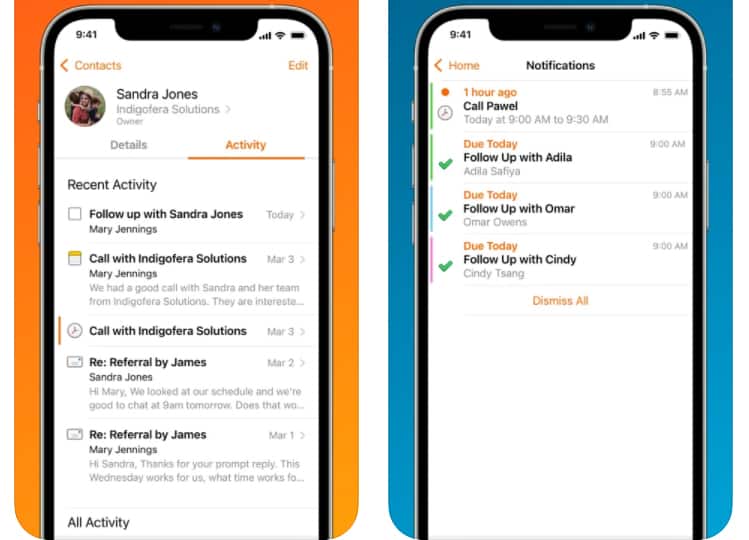 ---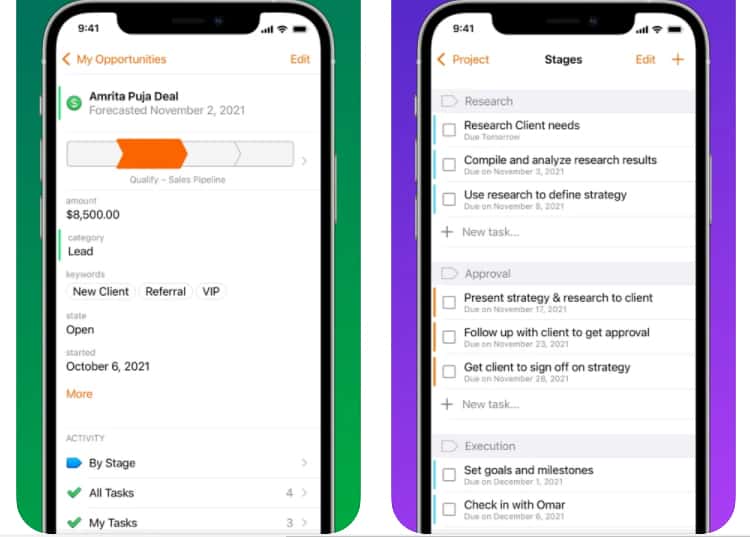 ---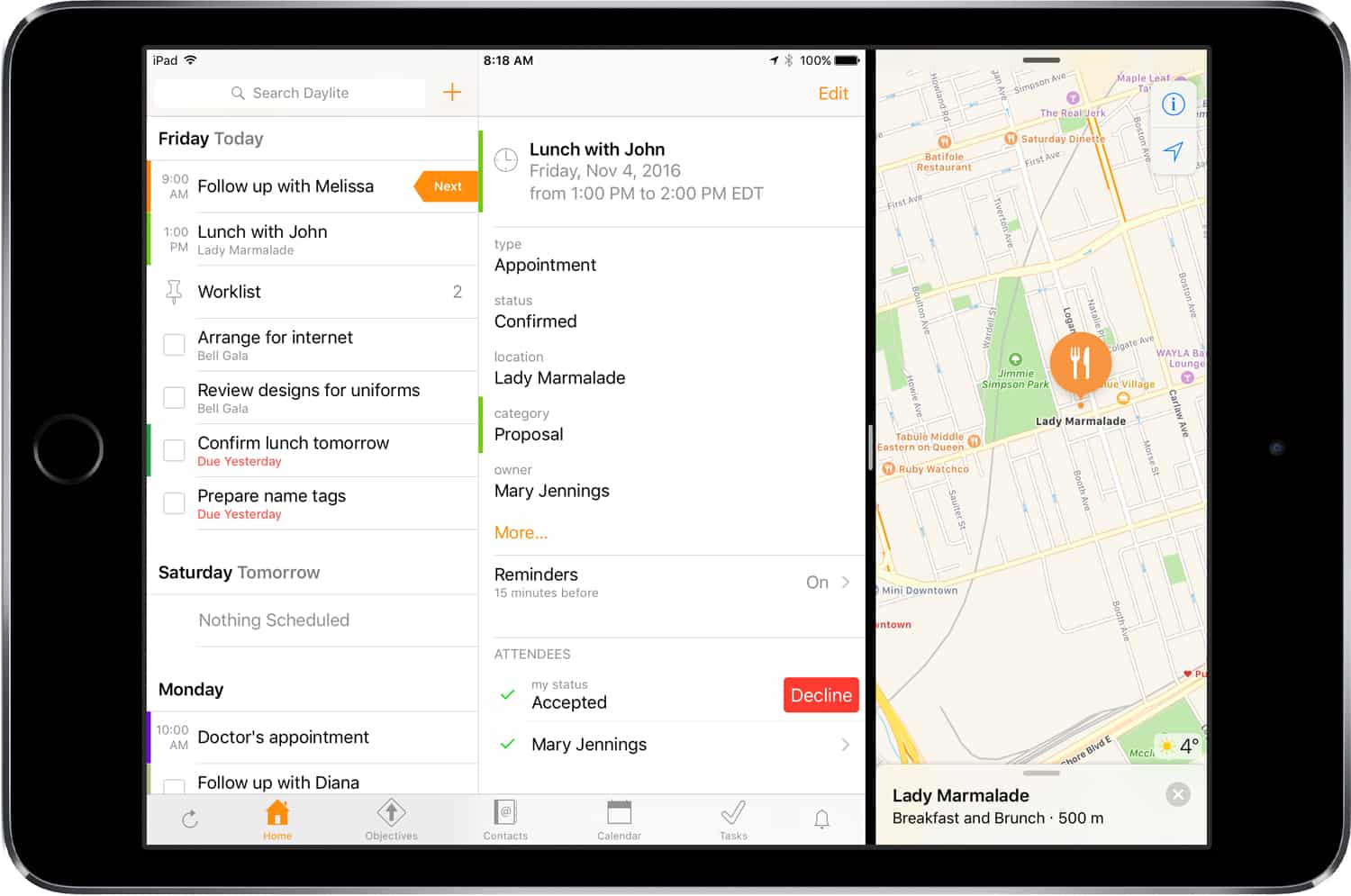 ---
---
Daylite centralizes all sales tracking data in one place, making it easy to view insights and trends. It also comes with sales forecasting and lead prioritization features that help you zero in on leads that might yield bigger profits than others. You can see all your sales opportunities via interactive graphs from its Insight View. Lastly, you can use its report engine to generate custom reports on sales, projects, emails, meetings, and tasks.
---
Daylite integrates with Apple Contacts, Calendar, Reminders, and Mail, allowing users to share their phone contacts, appointments, and to-do tasks logged in their CRM platform. It also offers integration with various third-party apps for customer service, lead management, project and task management, email marketing, scheduling, team collaboration, social media, phone integration, billing, and reporting.
If you want to customize Daylite, you can build your own integrations using the Daylite application programming interface (API) or work with a Marketplace expert.
Some of Daylite's most popular integrations include:
DirectMail
Dropbox
SimpleSign
Merlin
PieSync
Google Calendar
Helpwise
Fone & Text
Billings Pro
Zapier
---
We gave this platform a score of 4.63 out of 5 for its customer service. Daylite Free plan users can access the support team via email and chat. It has a help center with a knowledge base to find answers and instructions for common queries and basic troubleshooting. The company also assists with the setup, configuration, implementation, and data migration processes. You can also submit a request for assistance if you encounter a technical or account subscription issue.
Remote, on-site training and webinars are available for those who want to customize their workflow and get the most out of their Daylite subscription. Paid plan subscribers have access to phone support from 9 a.m. to 5 p.m. Eastern Time from Monday to Friday. Onboarding packages are available at a one-time fee that starts at $300.
Daylite Onboarding Packages at a Glance
Onboarding Plans

Daylite Foundations

Ultimate Productivity

Pricing

$300 (one-time fee)

Contact provider for customized pricing

Service Inclusions

Customize Daylite based on preferences
Customize data classification and organization
Personalize views
Guide on how to connect and organize your data
Add-on: Data importation (contact provider for customized pricing)

Free 30-minute consultation and assessment
Simplified communication processes
Marketing tracking
Streamlined team communication, internal processes, and workflows
Daylite got a score of 3 out of 5 for its ease of use because of its intuitive interface that makes navigation a breeze once you overcome the initial learning curve. It offers files containing detailed instructions on how to leverage its features according to your industry.
Most users find its data migration process complicated and would usually require assistance from the support team. Advanced support and training are available for those who want to learn about deeper customization options.
We gave this provider a rating of 3.13 out of 5 for expert score based on Daylite CRM reviews online. We found most users are delighted with its comprehensive CRM and project management features. They also find its smooth Apple integration and offline access helpful in keeping their contacts and sales pipelines organized. In addition, they find its support team responsive to queries and efficient in solving issues.
At the time of this publication, we noted the following comments posted on popular user review sites:
G2: 4.5 out of 5 based on 160 reviews
Capterra: 4.6 out of 5 based on 349 reviews
TrustRadius: 8.9 out of 10 based on 35 reviews
Among the common points for improvement mentioned in Daylite reviews is its steep learning curve. However, they also said that the app is worth its cost once they become familiar with its interface and navigation menu. Some mentioned requiring help from the support team for its complicated data export and migration process. Others noted the need for add-ons and third-party integrations to access features like email marketing and time tracking.
Methodology: How We Evaluated Daylite
To evaluate this program against other CRM solutions, we test each system ourselves. We examined crucial areas, such as pricing, core CRM features, quality of customer support, and ease of use. We also looked at recent CRM ratings about this platform from credible review sites.
Click through the tabs below for our Daylite evaluation criteria:
10% of Overall Score
Cost is typically an essential criterion for any business, so it was one of our considerations when evaluating the cost-effectiveness of this provider. We usually give a high score to providers that offer a starter plan that costs $30 or less. We also check the availability of a free starter plan, scalable pricing options, and options to pay monthly or annually.
10% of Overall Score
We looked at overall features we feel are essential for any CRM system, such as integration options, reporting, and analytics tools. We also considered the availability of a mobile app—which is crucial for sales reps who are always on the go.
30% of Overall Score
We also looked at the niche and targeted features of the software to see the value a user can get by subscribing. For this CRM system, we checked if they offer specialized features such as lead scoring, email and SMS marketing, workflow automation, and sales forecasting.
20% of Overall Score
We evaluated this provider's platform usability and the level of technical experience needed to use the system. This was analyzed in terms of the expertise required to set up an account, the learning curve to use its features, and the ease of integrating with other third-party applications.
20% of Overall Score
Support is a critical part of running any CRM tool, especially for small businesses that don't have in-house technical support. We analyzed the types and availability of support offered by these providers through live chat, email, and phone.
10% of Overall Score
We looked through existing and best CRM reviews on credible sites to measure the level of satisfaction current users have and any problems they typically encounter. We also added our thoughts and expert opinion on essential features, value for money, and popularity.
*Percentages of overall score
Bottom Line
Daylite offers a comprehensive CRM with contact management and lead management features in a single platform made exclusively for Apple devices. It is ideal for freelancers and boutique agencies looking for an all-in-one CRM with great mobile capabilities.
Sign up for Daylite's free trial for 14 days, or get started with their free plan to see if this provider works for you.