The retail apocalypse seems to be in full swing in 2017. Brands that look too big to fail such as Payless, Rue21, and RadioShack are among the 300 plus retailers filing bankruptcies this year. Experts are quick to point to the rapid growth of ecommerce and mobile shopping as the horsemen of the apocalypse. A closer look at the industry's health, however, revealed that the main victims are big box stores. Small businesses are actually thriving, even as online and mobile shopping continue to grow.
In this article, we provide an in-depth look at the retail sector and how it is doing in 2017.
Diagnosing The Demise Of Brick & Mortar Retail
Brick and mortar stores are shuttering at record numbers this year. The number of shops shutting down in 2017 is greater than all reported closures from 2003 to 2006 combined. According to Moody's, about $70 billion worth of retail leases are expiring in 2018. At that time, several retailers are expected to allow their leases to expire and expand their presence online.
This trend agrees with the conventional wisdom that ecommerce is rapidly taking over the retail industry, but it's not the whole picture.
Ecommerce Is Still A Tiny Fraction Of Total Retail Sales
Ecommerce may be growing at a rapid pace, but online and mobile sales are still a drop in the bucket compared to total retail sales. The US Department of Commerce reported that in 2016, ecommerce accounted for $389.9 billion of the total $4.849 trillion retail sales. If you do the math, that's just 7.8 percent of total retail sales last year.
Online shopping may be the industry's latest buzzword, but clicks are far from taking over bricks.
Big Box Retailers Are Facing the Most Closures
A closer look at the list of retailers shuttering their doors this year reveals that big box stores are responsible for roughly half of the liquidations. Payless Shoes, RadioShack, and The Limited lead the fleet in the number of stores going under. Family Christian, Wet Seal, and Crocs closely follow suit.
| | |
| --- | --- |
| Payless Shoes | 1,000 |
| Radio Shack | 552 |
| The Limited | 250 |
| Family Christian | 240 |
| Wet Seal | 171 |
| Crocs | 160 |
| J.C.Penney | 138 |
| Chico | 120 |
| BCBG Max Azria | 120 |
| Kmart | 108 |
| American Apparel | 104 |
| Office Depot | 100 |
| hhgregg |   88 |
| CVS |   70 |
| Macy's |   63 |
| Guess |   60 |
| Gander Mountain |   60 |
| Abercrombie & Fitch |   60 |
| American Eagle |   50 |
| Sears |   42 |
| Eastern Mountain |   35 |
| TOTAL | 3,591 |
Source: Forbes
The data led us to question whether the demise of retail is really as bad as people claim or whether the industry is just going through a major transformation. Our research revealed that it is the latter, and the so-called retail apocalypse has primarily struck large retailers. While many large chain retailers are collapsing and filing for bankruptcy, smaller brick and mortar shops are actually doing better than ever.
Small Businesses & Local Retailers Are Thriving
Mobile shopping and ecommerce are often blamed for the demise of big box stores, and while that is certainly a big part of the story, people's spending habits have also changed since the recession. This helps explain why small retail stores and mom and pop shops are still thriving.
People Prefer to Shop Small
Gone are the days when shoppers stand in awe of the countless choices presented by large retailers while waiting for a representative to be available. Now, consumers prefer to shop small, even during the holidays.
In 2015, MasterCard Advisors reported that small business retail accounted for 72.4 percent of total retail sales growth over a period of 20 months. In addition, a 2016 Deloitte survey discovered that roughly 4 out of 10 of consumers polled planned to shop in local independent stores for the holidays.
The spending shift from large retailers to small businesses has been spurred by the latter's ability to deliver prompt and personalized services. For example, some small businesses are offering personal shopper services, custom products to fit a customer's budget, and superior customer service.
Even industries, such as small independent bookstores, that people often point to as victims of the rise of ecommerce are doing pretty well. The American Booksellers Association estimated that the number of independent bookstores has risen 27 percent since 2009, rebounding from the recession.
Millennials Are Patronizing Local Businesses
Millennials are rooting for the local economy even if it costs them more. Roughly 7 out of 10 millennials claim that purchasing American-made products is important to them according to Edelman Digital. 40% say that they prefer to shop at local stores even if items are more expensive. In addition, Millennials are spearheading efforts to buy food locally, which contributed to the rapid growth of the $29 billion industry according to AdWeek.
The millennial generation favors local brick and mortar stores because they sell handmade products and provide a personal shopping experience. "Millennials have a strong sense of community and like to feel connected to the products and services they buy. Because of this, they'll consider spending more at the store down the street than they may with a large corporation or chain," writes Targetwise CEO Chelsea Segal.
The Natural and Organic Food Sector Has Exploded
One product that consumers today are willing spend more money on is healthy food, and that benefits local food retailers versus large chain grocers.
On average, organic foods were 47 percent more expensive than non organic foods. Nevertheless, consumers are willing to pay a premium, especially Generation Z and Millennials. They want organic and sustainable food selections that offer better nutritional value minus the chemical residues.
The natural and organic retail sector's value skyrocketed to $67.2 billion in 2015 from a modest valuation of $3.4 billion back in 1997. People nowadays prefer to invest more on what they put in their body than what they put on it, contributing to the demise of big box retailers.
People Want Big Box Brands At A Discount Price
When it comes to things like apparel and shoes, consumers are still fond of products sold by big brands. They just want it at a discount. According to NPD Group's Checkout Tracking, two out three shoppers spend at off-price discount retailers. The NPD Group chief industry analyst Marshal Cohen said, "Off price retailers are resonating with fashion and cost-consumers alike, and are stealing department store business for good reason." Shoppers want the best value for their money, and off-price retail satisfies the demand.
In addition to discounted merchandise, the rapidly changing inventory of off-price retail continues to drive foot traffic. Shoppers are in the dark on the items and discounts offered by off-price retailers, fostering a treasure-hunt vibe that rivals the convenience provided by online shopping. The thrill of finding high quality merchandise at low prices serve as a great motivator for consumers to spend time and money in discount retailers.
It's Not All Good News for Small Retail
While most small businesses are doing pretty well, that's not true across the board.
With online retailers offering easy return policies and customer-centric shipping strategies, apparel and shoe retailers are now facing a decline.
Also, no article about brick and mortar is worth its salt without mentioning Amazon. Amazon consumes a huge slice of the online retail pie. From 2010 – 2016, Amazon's sales in North America grew from $16 billion to $80 billion. What's even more impressive is that two-thirds of all US households have Amazon prime, allowing them to get essential items with free two day shipping.
Advancements in website optimization for mobile devices has also enabled mobile shopping to grow virtually every quarter since 2010. This is a threat to small businesses, many of which still don't have websites or online shop offerings.
Why Brick and Mortar Is Still King
While thousands of big box stores and some smaller shops are shutting down operations, thousands of brick and mortar stores are opening their doors. Forbes reports that 3,000 shops opened in 2017.
And if you need any evidence of that brick and mortar still reigns supreme, just look at Amazon. The ecommerce giant recently acquired 460 Whole Foods retail locations for $13.7 billion, marking its first retail footprint. Even though the encroachment of online and mobile shopping may seem unstoppable, the truth is that brick and mortar stores are indispensable assets in the retail industry. Here's why.
People Crave Sensory Experiences
While online shopping offers comfort and convenience, consumers still prefer to get a first hand look at the product when shopping. Out of 1,425 US consumers surveyed by Retail Dive, 62 percent chose in-store over online shopping because they want to see, touch, feel, and try out items.
The study also discovered that this is especially true for women, rural, younger, and older shoppers. "People find it hard to choose when they can't touch or try the products," said Dimira Teneva, Content Manager of ecommerce analytics platform Metrilo. "Physical stores create elaborate sensory stimuli to create an illusion that you're at the beach, or the best athlete, or the sexiest dancer, or the handiest DIY enthusiast – and people enjoy this fantasy," she added. For many American consumers, experiencing the product through their senses is the primary reason to shop in-store as opposed to online.
For instance, furniture is one product that many customers prefer to purchase in person. Furniture store sales have risen continuously since 2009, outpacing department stores and electronics and appliances stores. According to a Furniture Today survey, online channels accounted for just 1 out of 10 furniture and bedding retail sales in the US. Most Americans still prefer to get home furnishings in-store.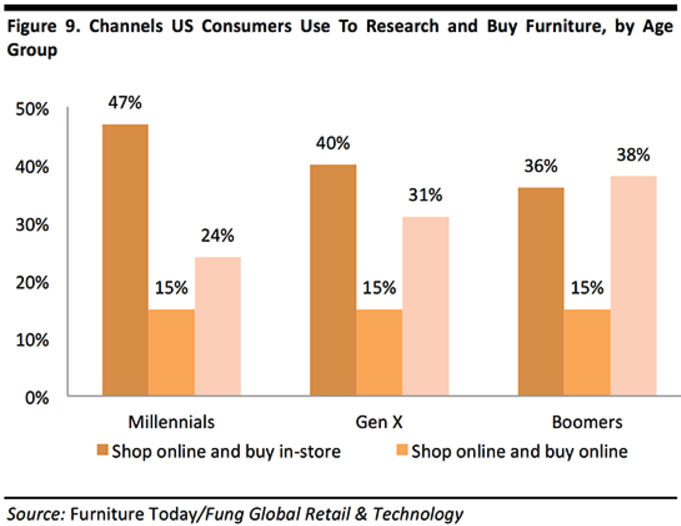 The trend extends to the beauty and personal care sector. The US Department of Commerce reported that the health and personal care category recorded a 7.3 percent change in year over year sales. Most of this growth happened in-store. 9 out of 10 consumers purchased cosmetic products in person, such as hair styling products, shampoos and conditioners, and sunscreen products.
The sector is among the several bright spots in the retail industry consistently generating positive store sales despite the growth of online shopping.
Consumers Research Online But Want To Shop Offline
90 percent of all retail journeys still end in-store, even if they begin online. Retail Dive polled 1,288 consumers and found that two-thirds of respondents conducted product research online but purchased the product in a store. Pre-purchase online research provides shoppers with pertinent information about the product including price, quality, and durability. In the end, however, they still head to stores to complete the journey.
Consumers pay particular attention to user-generated content like product reviews and ratings when making a purchase decision. A study by the Power of Reviews revealed that 65 percent of consumers read 1- 10 reviews before purchasing a product.
So while most retail journeys conclude in-store, the web can have a significant influence on retail purchases.
Tips For Small Business Retailers
Overall, the retail apocalypse appears to be passing over small retail businesses. In fact, small brick and mortar stores are directly benefitting from the demise of big box stores. However, the favorable landscape doesn't mean that main street entrepreneurs should sit on their laurels. Take this as an opportunity to maximize profits by capitalizing on trends that drive foot traffic.
Create A Website & Establish An Online Presence
As mentioned above, many consumers research merchandise online before going in store to purchase it. This means that having a website is a must-have for small retailers. Unfortunately, roughly half of US small businesses still don't have a website. Without a solid online presence, you risk losing customers and revenue. Gain the upper hand against your competitors by establishing your presence online.
Building a website for your small business offers numerous advantages including:
Creating a website can be easy and quick with the right guidance and tools.
Offer Social Media-Driven Experiences
People still aren't buying a lot of products through social media, but they are using social media in other ways. According to a study by GlobalWebIndex, nearly 40 % of individuals ages 25-44 used social media to research products before making a purchase in store.
Here are some ideas to integrate social media into your store and facilitate purchases:
Post videos explaining your product or service
Post testimonials of your product or service
Post images of customers using your product, and tag them (with permission of course)
Try Facebook advertising, and advertise on other social channels
Find out more creative and innovative ways to get people posting about your brand on social media to drive in-store traffic.
Provide VIP-Like Service
Today's shoppers are always on the go and want immediate, personalized service. A study conducted by the National Retail Federation revealed that 85 percent of shoppers will abandon their intended purchases if prompt assistance is not provided. In addition, the same study found that 54 percent of shoppers valued prompt service the most followed by personalized experience (30 percent) and smart recommendations (30 percent). Finally, the study discovered that only 27 percent of consumers feel that big brand stores tried to provide VIP-like attention.
Train your staff to engage customers in a prompt and friendly manner. It would also be great if your team can learn the customer's first name to add a touch of personalization to your service.
Create Unique In-Store Service
Additional and unique in-store services have helped brands create buzz and stand out. Urban Outfitters bought Pizzeria Vetri and integrated it into their stores. The retailer opened lifestyle centres where customers can eat, drink, read, and even enjoy salon services before, during, and after shopping. Barnes and Nobles started serving coffee, tea, and baked goods through B&N Cafe. Customers can get lost in their favorite book while sipping a hot beverage. These unique services encourage shoppers to spend more time in-store.
As a small business owner, opening lifestyle centers may be out of reach, but it shouldn't limit you from offering additional services. Consider installing phone charging stations or offering in-store tailoring. Sporting goods retailers can dedicate a certain area where customers can shoot hoops and post their results on social media. There are plenty of cost-effective in-store services that can drive more shoppers to your store and help you gain an edge over the competition.
Bottom Line: The Death of Brick & Mortar Retail
The retail industry is not dying but is going through a huge transformation catalyzed by the changing consumer spending habits. Small and local businesses are thriving along with discount shops at the expense of big box stores. Ecommerce may be growing at a rapid rate, but its total market share is still too small to pose any real threat to brick and mortar stores. The industry is purging the old and the worn out to give way to something new and exciting.
What do you think about our in-depth analysis on the transformation of brick and mortar stores? Feel free to share your thoughts in the comment section below.