Dentists generally have their pick of dental practice loans. SBA loans typically have the best rates and longest terms but they also involve a large amount of paperwork and the application process can be lengthy and intrusive. Short term loans may have a higher APR, but they could also cost you less during the life of the loan. Short term loans applications can be completed online in a matter of minutes and are far less invasive.
In this article, we'll compare SBA loans vs short term loans for dental practices so you can find the right option for your small business.
Our thanks to OnDeck for sponsoring this article. OnDeck offers prime borrower rates as low as 9.99% and can fund dental practices in as little as 1 business day. Their online application takes just a few minutes. You can prequalify for up to $500,000 here.
Lenders Want to Work with Dentists
Small business lenders view dental practices as safe businesses with steady revenue streams and healthy margins. More broadly, they view the dental industry as a safe industry that leads to relatively high, stable incomes and high net worth individuals.
And lenders have good reason to feel confident when lending to dental practices. As the chart below shows, the SBA finds that dentists have some of the best failure and charge off rates of all industries. Even within the medical industry, dentist offices stand out as top performers.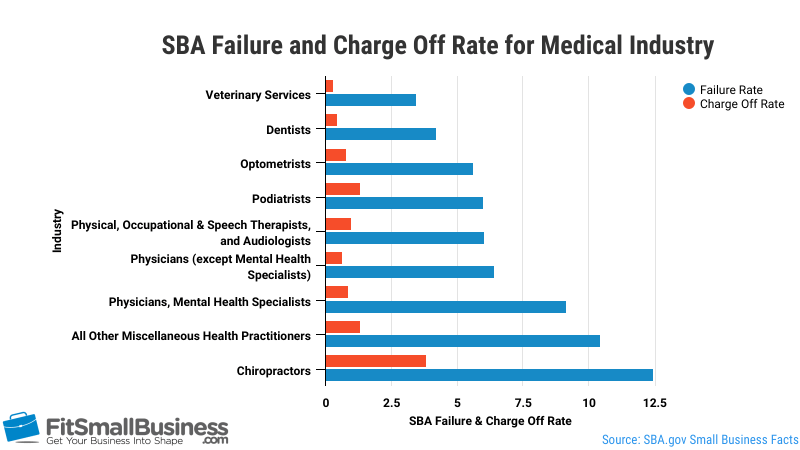 With industry charge off rates under 1%, dentists who own their own practice are able to be more selective about the small business lenders they work with and the financing they take out. And while many small business owners will decide they want to be very selective about rates and costs, there can be other concerns that top the list for busy professionals. Chief among them will be speed and simplicity.
Let's take a closer look at the the two primary options for dental practice loans.
Types of Dental Practice Loans
When you are looking for a loan for your dental practice you typically have two options:
The table below compares these two types of loans by their general qualifications, terms, time to funding, and application process.
SBA Loans vs Short Term Business Loans for Dentists
| | Alternative Loan | SBA Loan |
| --- | --- | --- |
| Time For Initial Approval | 1 Day | 1 week + |
| Time to Receive Funds | 1-3 Business Days | 30 - 90 Days |
| Loan Amounts | $5,000 - $500,000 | $30,000 - $5,000,000 |
| Payback Time Period | 3 Months - 3 Years | 10 years |
| Average APR Range | 30% - 50% | 6% - 9.5% |
| Credit Score | 500+ | 680+ |
| Annual Gross Revenue | $100,000 | $120,000+ |
| Time in Business | 12+ Months | 2+ Years |
| | Visit OnDeck | Apply for an SBA Loan |
Now let's look at how each of these loan characteristics might have an impact on your decision of which loan to choose.
SBA vs Short Term Loan Funding Speed
| | Short Term Loans | SBA Loans |
| --- | --- | --- |
| Prequalification | A few minutes | 1 Week |
| Time For Approval | 1 Day | 1-2 Weeks |
| Time to Receive Funds | 1-3 Days | 30-90+ Days |
SBA funding requires more planning. You're just not going to have an SBA loan funded very quickly. In fact, closing on an SBA loan can often take 2-3 months. As we'll discuss in the next section, your lender will likely keep you very busy gather documents while you wait for the SBA loan to be funded.
On the other hand, short term loans, like those provided by OnDeck, are typically funded in 1-3 business days. That speed in which you can obtain funding with a short term loan give your practice a lot more flexibility. And there are many situations that can arise, like quickly replacing a periapical x-ray so operatory room isn't down, that require a high degree of flexibility.
SBA vs Short Term Loan Application Process
Short Term Loans
SBA Loans
Application
100% Online
Often Many Trips to Bank
Document Collection
100% Online
Plus Integration with Accounting Software and Bank Accounts
Faxing, Emailing, Turning in Hard Copies at a Branch
Underwriting
Automated
Lots of follow up from loan officer and the lender's actual underwriting team (which can sometimes be in another office or state).
Closing
100% Online
Requires review of 90+ pages of loan docs, pending approval of closing docs
(see below for details)
SBA Application Process
The SBA loan is going to require a lot of documentation, which will slow things down. After your initial application submission they will typically need the following documents for each business you own:
Ownership Information
Business Licenses
YTD Balance Sheet
YTD P&L Statements
Business History & Overview
All Business Leases
Projected Financials (1-3 years)
Business Tax Returns (Last 2 years)
Personal Tax Returns for all 20%+ Owners (Last 2 years)
Resumes for all 20%+ Owners
Additionally, if you are purchasing another dental practice with the loan proceeds, you'll need to provide the following information about the practice being purchased:
Current Balance Sheet
YTD P&L Statement
Business Tax Returns (Last 2 years)
Proposed Purchase Agreement
Schedule of Inventory, Equipment, Fixtures, and Other Assets
Once you submit all of the documentation your SBA loan has to be approved by the SBA for their loan guarantee, and your lender has to approve you through their own underwriting process. This can take up to 90 days depending on the bank and how complicated your business structure is (i.e. if you have multiple legal entities for multiple dental practices then it will likely take longer).
Short Term Loan Application Process
The application process for a short term loan couldn't be more different. They are far less document intensive than an SBA loan and take just a fraction of the time and energy. For example, applying for an OnDeck loan only requires basic personal and business information and can be completed online in just a few minutes.
The streamlined, less document-heavy application process with short term business loans is even more of a time save for higher net worth business owners.  If you have stakes in multiple businesses, practices, or own rental properties, an SBA loan will require providing complete financial documentation for all of those entities. Applying with a short term lender will not.
SBA vs Short Term Loan Costs
Short Term Loans
SBA Loans
Origination Fee
5%
0 - 4%

SBA Guarantee Fee of 3% - 3.5% applies on loans above $150K
APR
30% - 50%
6% - 9.5%
Payback Time
3 Months - 3 Years
10 Years
With an SBA loan you can expect to get the lowest rates, but a short term loan with a lender like OnDeck might actually carry a smaller total cost of capital. This is because you repay the OnDeck loan within 3 years, and you may be paying interest on an SBA loan for up to 10 years.
"The most important loan attribute for a dentist is the ability to pay back the loan" said Dr. Emily Letran. "When you buy a new dental practice you should complete a cash flow analysis to determine if you will have enough cash flow to support the new loan. Dentists have their pick of loans because of their ability to earn a great income, but they need to know how the loan terms and total cost of capital will impact their practice."
SBA vs Short Term Loan Qualifications
| | Short Term Loan | SBA |
| --- | --- | --- |
| Credit Score | 500+ | 680+ |
| Annual Gross Revenue | $100,000+ | $120,000+ |
| Time in Business | 12+ Months | 2+ Years |
An established dentist office can  likely qualify for either loan. But if your practice is new or your credit score or DTI is being weighed down because of high student loan balances, then an OnDeck loan is more likely to meet your needs.
Most Common Needs for Dental Practice Loans
Every small business will need access to financing from time to time. Because dental practice typically have strong cash flow and profitability, their financing needs usually center around major projects. The main reasons dentists look for a loan from their dental practice include:
Acquiring a Dental Practice
Remodeling or Modernizing Dentist Office
Expanding or Relocating Your Practice
Marketing & Advertising to Grow Your Dental Practice
Let's look at each of these reasons in more detail to better understand why each one might require a small business loan.
Using a Loan to Acquire a Dental Practice
Dentists who own their own practice often purchase (or consider purchasing) a practice from another dentist. Occasionally this will be for a first practice, but more often for a second or third practice, a way to grow your existing business.
Practice acquisitions can be carefully planned out with plenty of time for both parties to get their ducks in a row. In the case of the seller, this means getting all the appropriate financials prepared for the buyer and possibly addressing any underlying concerns that may exist. For the buyer, this may mean lining up long term financing to facilitate the purchase. This is usually the case when the seller is retiring or moving to a new area.
But dental practice acquisitions can also be hastily arranged. The seller might actually be an estate that is settling the affairs of someone recently deceased. The sale might be triggered by a divorce or other some other financial hardship. In these cases, the buyer may not have time to line up long term financing. In those cases, they may find a short term loan will help them complete the acquisition in a timely matter. If needed or desired, the loan can be refinanced at a later date.
Using a Loan to Remodel Your Dental Practice
Like any small business owner, dentists will may find themselves need to renovate or remodel their existing or new offices. Knocking down walls to create a more spacious layout, moving wiring and bring plumbing up to code, installing AC and ventilation systems, repaving the parking lots and building awnings.
In addition to those necessities, dentist offices usually has many perks for their patients. Sometimes it can feel like you're having to keep up with the Jones'. Your patients expect your office to have televisions in every operatory to put tham at ease and help pass the time. Your patients want a waiting room that does the same. T
Some of these projects will be well planned out and you'll have time to save for the expense or obtain long term financing. Other projects may pop up as a surprise and require financing more quickly. Even if your remodel or renovation if planned out, long term financing can require so much additional paperwork that it won't seem worth it. For example, SBA loans will often require lender approval of the contractors you work with, their payment schedules, and their insurance. It can be a lot to coordinate and creating a bunch of paperwork for your contractor won't exactly win you any favors.
Expanding or Relocating Your Dental Practice
Whether you need to relocate your dental practice because of your lease expiring, or you need to open a new location or a satellite office, a business loan can help you manage the costs of the transition. No matter how the new space currently looks you will need to outfit the it to meet your needs. And while revenues from the new office will eventually be able to sustain these expenses, financing is usually required to get the new office up and running.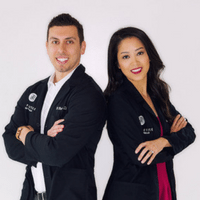 According to the husband and wife team of Dr. Dustin Cohen and Dr. Stacey Cohen of The Practice of Beverly Hills, expanding your practice brings a whole new list of expenses. In addition to remodeling your new office, which costs between $80 – $100 per square foot, you also need to prepare for these additional expenses:
Rent of New Location
Utilities
New Staff Salaries
New Equipment for Each New Operatory
New Lab Equipment
Dental Supplies
Office Supplies
Advertising
Computer and IT Equipment & Support
Expand Your Current Insurance
New Payroll and Income Taxes
Business License
Marketing & Advertising to Grow Your Dental Practice
Marketing and advertising is a critical when you open a new office, are looking to expand your patient rolls, or are offering new procedures or treatments. While marketing might be mission-critical, it's usually not cheap. Here are just a few of the marketing and advertising strategies that a dental practice may be considering:
As we have written about in our complete guide to marketing for dental practices, every dollar you put into marketing your practice should pay dividends. Short term borrowing to launch a new marketing initiative can pay for itself quickly through an expanded patient roster or by driving existing patients to higher margin cosmetic or elective procedures.
Benefits of an OnDeck Small Business Loan for Dentists
An OnDeck loan can benefit your dental practice by giving you fast funds to fulfill any of the needs discussed throughout this article. But working with OnDeck for your capital needs has 4 main benefits:
OnDeck is Faster than a Bank Loan: An SBA loan can take up to 90 days or more to fund. OnDeck can fund as quick as 1-3 days.
OnDeck is Easier than a Bank Loan: OnDeck's online application takes just a few minutes and syncs with your accounting software and bank account which keeps paperwork to a minimum.
OnDeck Offers Competitive Rates to Prime Borrowers: If you qualify as a prime borrower your rate could be as low as 9.99%.
OnDeck Also Offers a Small Business Line of Credit: Perfect for those practices who want credit available if the need arises, but don't want to pay interest on a term loan just to hold money in the bank.
OnDeck Dental Practice Line of Credit at a Glance

OnDeck Line of Credit

Credit Line Limit
$100,000
APR
13.99% - 39.9%
Repayment Term
6 Months
Draw Fees
None
Maintenance Fees
$20 per month
(waived for 6 months if you draw $5,000+ in the first 5 days of opening your account)
Credit Score
600+
Time in Business
12+ Months
Annual Revenues
$100,000+
Bottom Line
Dentists that own their own practice will typically qualify for most types of small business financing. An SBA loan is likely going to result in the lowest monthly payment, but SBA loans have arduous application processes and can take months to get funded.  Short term business loans, on the other hand, will likely have a higher rate than SBA loans but vastly easier application processes and faster funding times.
Prime borrowers can qualify for up to $500,000 with OnDeck at rates as low as 9.99%. OnDeck's online applications can be completed in just a few minutes and your practice could be funded in as little as 1 day.