Dentists use dental practice loans for working capital like payroll or major projects like purchasing a facility. Small Business Administration (SBA) loans for dentists have the best rates and longest terms but take 30 to 90 days to fund. Alternative loans have higher rates but are quick to fund and easy to qualify for.
Types of Dental Practice Loans
There are multiple types of business loans you can get for your dental practice. For quick funding, alternative term loans and lines of credit are the best options. If you can wait for at least 30 days, then an SBA loan is good for long-term financing. Conventional bank loans and dental equipment financing take a few weeks for funding and require a down payment and collateral.
The five most common types of dental practice loans are:
Short-term loan: Business loans offer up to $500,000 in funding and have repayment terms of up to three years. Loan proceeds are best used to furnish new offices, expand to new locations, or to fund other large projects.
Line of credit: Alternative lines of credit can get a dental practice funding up to $100,000 within a few days of applying. This makes lines of credit best for financing regular expenses like payroll, supplies, inventory, or utilities.
SBA loan: SBA loans offer the longest terms, lowest rates, and largest borrowing amounts we evaluated, making them a great fit for financing larger projects like acquisitions. You can get up to $5 million, repaid over as long as 10 years, but the application and funding process takes at least 30 to 90 days to complete.
Conventional bank loan: A conventional bank loan is the best option if your business already has an established relationship with the bank. It can take a few weeks to get funded, and the terms and financing product offered will vary from one lender to the next.
Dental equipment finance: Dental equipment financing can also be an option for your business when purchasing expensive imaging and X-ray machines. However, the financing options are limited and differ depending on the equipment you finance, so the option isn't covered in this article.
Short-term Loans
Short-term Loans are high-interest loans you repay within one to three years. Dentists often use these loans for marketing, the purchase of new equipment, lab supplies, or other working capital needs. They can be an excellent cash flow solution if you're getting off the ground or if you need cash while waiting for insurance payments to clear.
Short-term Loan Rates
APR: 10% to 100%
Prepayment penalty: None
Origination fee: 0% to 5%
Short-term Loan Terms
Loan amount: Up to $500,000
Repayment term: Three to 36 months
Repayment cycle: Weekly
Time to funding: One to three days
Short-term Loan Qualifications
Personal credit score: At least 600
Time in business: At least one year
Annual business revenue: At least $100,000
Short-term Loan Application Process
The application process with an alternative lender is far less document-intensive than with a traditional bank or an SBA loan provider and takes a fraction of the time and energy to complete. Applying for a dental practice loan only requires basic personal and business information, and you can complete the process online in a few minutes.
The streamlined application process with alternative loans is even more of a time saver for higher net worth dental practice owners. If you have stakes in multiple businesses, practices, or own rental properties, an SBA loan will require complete financial documentation for each of those entities. Applying with an alternative lender is comparatively simpler and requires fewer documents from your dental practice.
Best Short-term Business Loans
Line of Credit
Lines of credit offer funding for short-term working capital expenses like payroll, utilities, smaller repairs, and other expenses incurred while doing business. The line of credit is revolving, which means you can borrow again once you repay the balance, making it an excellent source of funding when you need it.
Line of Credit Rates
Expected average APR: 10% to 75%
Prepayment penalty: None
Line of Credit Terms
Loan amount: Up to $100,000
Repayment term: Up to 12 months
Repayment cycle: Weekly or monthly
Time to funding: One to three days
Line of Credit Qualifications
Personal credit score: At least 600
Time in business: At least one year
Annual business revenue: At least $100,000
Line of Credit Application Process
The application process for a line of credit is simple. You must enter some basic personal and business information along with the funding amount you need. Then, you'll connect your business bank account or upload three months of your most recent bank statements. The application is now complete, and you can get an approval decision as soon as the same day with funding one to three days later.
Best Small Business Line of Credit
SBA Loans for Dentists
SBA loans for dentists are the most affordable financing option you can get. This is because while you borrow the money from a traditional loan provider, the loan is guaranteed by the SBA. Therefore, these loans are less risky for your lender and will have lower interest rates than an alternative loan.
SBA loans also have longer repayment terms than alternative loans, making them an excellent financing product if you want to buy large equipment or commercial real estate. However, they aren't a good fit for everyday working capital needs or unexpected expenses, because it can often take 30 to 90 days or longer to receive funding.
SBA Loan Rates
Interest rate: 7% to 11%
Prepayment penalty: None
Origination fee: 0.5% to 3.5%
Loan packaging fee: $2,000 to $4,000
SBA guarantee fee: 2% to 3.5%
SBA Loan Terms
Loan amount: Up to $5 million
Repayment terms: Up to 10 years; 25 years for real estate
Repayment cycle: Monthly
Time to funding: At least 30 to 90 days
SBA Loan Qualifications
Personal credit score: At least 680
Annual revenue: At least $120,000
Collateral: Typically required
Down payment: At least 10% to 20%
Time in business: At least two years
As a dentist, you're already a great borrower for most lenders because of your high-income potential. When you go to your local bank, lenders recognize your income potential and weigh it along with other normal qualification requirements.
SBA Loan Application Process
The SBA loan application process requires more planning than an alternative loan. Closing an SBA loan can often take two to three months, and it can be invasive. Your lender will keep you busy gathering documents while you wait for funding. After your initial application submission, your lender will need the following documents for each business you own:
Ownership information
Business licenses
Year-to-date (YTD) balance sheet
YTD profit and loss (P&L) statements
Business history & overview
All business leases
Projected financials for one to three years
Business tax returns for the last two years
Personal tax returns for all 20% or higher owners for the last two years
Resumes for all 20% or higher owners
The additional documents needed if purchasing another practice from the acquired office are:
Current balance sheet
YTD P&L statement
Business tax returns for the last two years
Proposed purchase agreement
Schedule of inventory, equipment, fixtures, and other assets
Once you submit your documents, you'll go through two approval processes. First, you need SBA approval for it to guarantee the loan. Then, your lender has to approve you through its own underwriting process. This combined process can take up to 90 days, depending on the bank and your business structure.
The entire process can require multiple trips to your bank and many phone calls with your loan officer. This could take you away from your practice and stop you from focusing on growing your business.
Most Common Uses for a Dental Practice Loan
Many small businesses will need access to financing from time to time. Because dental practices have strong cash flow and profitability, their financing needs center on major purchases like commercial real estate or equipment. However, dental practice owners will also need financing for short-term working capital needs.
Dental Practice Financing for Acquisitions
Dentists often purchase or consider purchasing a practice from another dentist. For some dentists, this will be their first practice but, more often, it's a second or third practice to grow an existing business.
Dentists can plan practice acquisitions out with plenty of time for both parties. This happens when the seller is retiring or moving to a new area. In the seller's case, this means getting all the financials prepared for the buyer and addressing any underlying concerns that may exist. For the buyer, this may mean lining up acquisition financing like an SBA loan to facilitate the purchase.
Office Remodeling
Like any small business owner, dentists may need to renovate or remodel their offices. Knocking down walls to create a more spacious layout, moving wiring, bringing plumbing up to code, installing air conditioning and ventilation systems, repaving the parking lots and building awnings, or updating the decor can all take a significant amount of capital.
Besides these improvements, dentist offices have many perks for their patients. For example, your patients expect your office to have televisions in every operatory to put them at ease and help pass the time, and they want a waiting room that does the same. These aren't cheap upgrades and often require financing.
Expansion or Relocation
There are two main expenses involved with expanding or moving, the cost of the new facility itself and the cost to remodel. Whether you need to move your dental practice because your lease is expiring, or you need to open a new location or satellite office, a business loan can help you manage the costs of the transition.
You must fund the operations of a new facility before you bring in any revenue, such as hiring new staff. While revenues from the new office may be able to sustain these expenses, dentists usually require financing to get the new office up and running.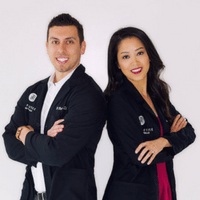 According to the husband and wife team of Dr. Dustin Cohen and Dr. Stacey Cohen of The Practice of Beverly Hills, expanding your practice brings a whole new list of expenses. Besides remodeling your new office, which costs between $80 to $100 per square foot, you must prepare for these additional expenses:
Rent of new location
Utilities
New staff salaries
New equipment for each new operatory
New lab equipment
Dental supplies
Office supplies
Advertising
Computer and information technology (IT) equipment and support
Expand your current insurance
New payroll and income taxes
Business license
Marketing & Advertising
Marketing and advertising are critical when you open a new office, expand your patient rolls, or offer new procedures or treatments. While marketing might be mission-critical, it's not cheap. Whether your business is engaging in online marketing with paid advertising, or you need physical advertising space like billboards to grow your practice, the costs can add up quickly.
Here are a few of the marketing and advertising strategies that a dental practice may consider:
New website
Local search engine optimization (SEO) efforts
Paid advertising on Google
Paid advertising on Facebook
TV commercials
Billboards
Every dollar you put into marketing your dental practice should pay dividends. Short-term borrowing to launch a new marketing initiative can pay for itself through an expanded patient roster or by driving existing patients to higher-margin cosmetic or elective procedures.
Dental Practice Loans for Bad Credit Borrowers
Growing educational costs often cause dentists to get private loans to either pay for tuition or at least pay for living expenses while in school. As a result, recent graduates from dental school have an average of more than $200,000 in debt. These private loans can handicap your borrowing ability. For example, they can come due before you've got your practice off the ground, and they often hurt the credit of many dentists who can't yet afford the payments.
Other dentists may have bad credit from unexpected life events or poor financial decisions. Regardless of the reason, it is difficult to borrow for a dental practice when you have bad credit. While you're likely to be a high-income earner, you also have a history of poor financial management. This is risky for any lender.
Traditional lenders, in particular, will struggle to offer dental office loans if you have bad credit. You can't qualify for an SBA loan if your credit score is less than 680. Your only financing option might be a bad credit business loan, where minimum credit score requirements can be as low as 500. If your credit is even worse than that, you likely must repair your credit before getting financing.
Lenders Want to Work With Dentists
Small business lenders view dental practices as safe businesses with steady revenue streams and healthy margins. They view the dental industry as a safe sector that leads to high, stable incomes and high net worth individuals.
Lenders have good reasons to feel confident when lending to dental practices. As the chart below shows, the SBA finds that dentists have some of the lowest failure and charge-off rates in any industry. Even within the successful medical industry, dentist offices stand out as top performers.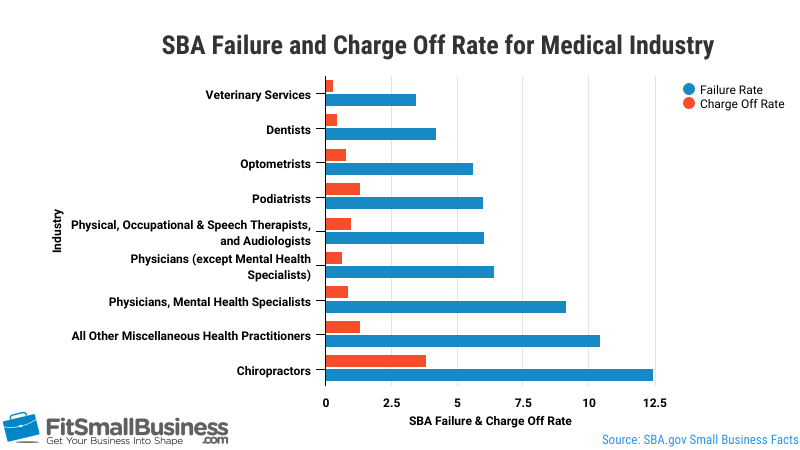 With industry charge off rates under 1%, dentists who own their own practice can be more selective about the small business lenders they work with and the financing they choose. Many small business owners decide they want to be selective about the rates and costs of their loans, but others are likely to prioritize speed and simplicity. As a dental practice owner, you can shop around and be as selective as you like.
Bottom Line
Dentists who own a practice will qualify for most types of small business financing. An SBA loan will probably result in the lowest monthly payment, but SBA loans have arduous application processes and can take months to get funded. Alternative loans will carry a higher APR, but the total cost of capital could end up being less.