Best Digital Menu Board Templates for Restaurants
This article is part of a larger series on POS Systems.
Digital menu boards should be easy to read. They give your restaurant a modern appearance and drive new sales. You don't need to be a graphic designer to create an eye-catching digital menu for your restaurant, and several brands offer editable templates for restaurants of all types.
Click on the button below to use the template we crafted with Google Slides. Additionally, step-by-step instructions on how to create your own digital menu board are toward the bottom of this article.
Get Your Free Digital Menu Board Template
Check out these 14 digital menu designs to get your creative juices flowing.
1. General Restaurant Digital Menu Template
This design from DSMenu is an excellent fit for restaurants of all types. Multiple colors draw your customers' attention to different parts of the menu. For example, spaces for images allow you to include some mouthwatering food photos without creating image overload. The left panel includes your restaurant hours of operation, web address, and social media handles. You can also highlight special offers or promote specials here.
Small restaurants will love that DSMenu offers a free Basic subscription that gives users access to this menu template and dozens of others.
2. Digital Menu Template for Coffee Shops
According to color psychology research, the colors orange and yellow make people hungry. This template by DSMenu embraces those colors and includes space for spotlight images of your shop's signature beverages. The various banners showcase different drink styles—hot, iced, espresso-based, and non-espresso beverages—and the price bubbles make it easy for customers to see costs. The promo spot in the bottom right corner reminds you to highlight any deals you're currently running or feature a signature seasonal drink.
3. Sandwich Shop Digital Menu Template
This sandwich shop digital menu template combines the appetite-encouraging power of the color orange with the color green. To most people, green suggests freshness and health. This is an excellent combo for a shop that specializes in made-to-order sandwiches. We like how the various headers help categorize your sandwiches by flavor profile—fresh favorites, savory and spicy, craveable classics, and big and bold—so customers with various tastes can quickly find what they want.
4. Fast Food Digital Menu Template
This menu board is by NoviSign, a higher-priced signage brand that offers its services at custom-quoted rates. But this menu design offers some great ideas for non-NoviSign users too. It follows the classic fast-food model of highlighting combo orders with dynamic images. Listing each combo with a number speeds orders and reduces confusion for your cashiers. Showing the prices in a large font lets customers know exactly what to expect. And you can feature non-combo items in the footer menu that runs along the bottom of the screen.
5. Digital Pizzeria Menu Template
Pizzerias have a lot of menu information to display. We love the way this menu template includes a section for signature pizzas and build-your-own pizzas. The dozens of topping options are neatly displayed, so customers don't need to ask too many questions to design their pies. The left-hand column provides an excellent spot for mouthwatering menu images, business information, or listing current promotions.
6. Digital Menu Template for Cafes and Bistros
Cafes and bistros tend to have wider-ranging menus than quick-service spots. They are also more likely to have liquor licenses, so they'll want to display alcoholic beverage options. This streamlined menu design includes featured cocktails, starters, salads, main courses, and desserts. The illustrations that replace traditional menu photos allow you to give an impression of your food without committing to a specific plating or group of ingredients. This can be especially useful if your menu features farmers market ingredients that can change daily.
7. Build-a-Burger Digital Menu Template
This handy digital menu from Must Have Menus walks customers through its order process step by step. We like how the bubbles showcase the options in each step. So by the time your customers reach your cashiers, they'll be ready to place their order in an organized way. The bubble and arrow menu flow is a great way to display complex information in a small space.
8. Diner Digital Menu Board
Like bistros and cafes, diners tend to have extensive menus with lots of different fare. This template includes a section to highlight signature dishes and popular items and has categories for items from the griddle, omelets, specials, lighter fare, and combos. The subtle colors and classic typeface are easy to read and present a homey, comforting look.
9. Digital Menu Board for Restaurants With Large Menus
If your menu is large and contains several item categories, this is the template for you. This digital menu board template includes sections for breakfast, entrees, sandwiches, share plates, beverages, beer, and desserts. And even with all those sections, it still finds room for a few spotlight sections that showcase signature items and remind customers about a promotional hot sauce. Like the bistro template, this menu template also relies on food illustrations, rather than menu photos. Here, the illustrations save space and allow for on-the-fly menu changes if you need to replace a dish's garnishes or side items.
10. Plant-based Restaurant Digital Menu Board Template
Remember how we mentioned color psychology above? We said that orange and yellow tend to make people hungry and that green makes people think of plants and health. So, it makes sense that a plant-based restaurant like a salad bar would use a lot of green. We also like how this template is framed by images of popular salad ingredients like lettuce, broccoli, peas, and tomatoes. The subtle lines separating the individual items allow you to include detailed menu descriptions without making the menu look cluttered. We also like the promotional box on the bottom right corner, where you can spotlight specials or build-your-own options.
11. Digital Menu Template for Bakeries
Bakeries tend to feature a wide range of goods. The selections might vary by time of day, and some items may require pre-ordering. This template for a digital menu board includes plenty of space for you to list individual baked goods and any limitations about seasonal availability or preparation notes.
12. Donut Shop Digital Menu Board
We love this image-driven menu template for donut shops. You can easily attach images for premium signature donuts to drive higher ticket orders. The text-only right-hand column lists classic donuts that donut lovers expect to find, from glazed to buttermilk. The range of eye-popping colors draws customers' attention to various parts of the menu, and you can include your half dozen or dozen donut pricing in the spotlight section in the bottom right corner.
13. Digital Menu Template for Build-a-Bowl or Noodle Shops
Build-your-own ordering has expanded beyond burgers and pizza. Nowadays, customers expect to build their own salads, grain bowls, noodle bowls, and burritos. This streamlined menu template has areas to walk customers through a four-step order process that fits any build-your-own concept. Multiple columns position the options for each step alongside the ordering instructions. The two-section header provides space to list price differences. The image column on the left-hand side lets you showcase a popular order combination or showcase a special offer.
14. Taproom & Draft House Digital Menu Template
Taprooms and draft houses tend to feature a lot of beers. The offerings tend to change seasonally or even weekly. With the number of small-batch craft beer producers growing every year—even during the COVID-19 pandemic—draft houses want to show beer lovers that they have the latest brews on tap. This template from BeerMenus organizes a lot of information in a small space. Each beer listing shows the beer style, the alcohol volume, serving size, and price. There is also room to include your taproom's social media handles, and you can direct customers to more information about the individual beers on the BeerMenus app.
Creating Your Own Restaurant Digital Menu Board
If you don't want to subscribe to a digital menu board service, you can design your own digital menu template. Free to low-cost design apps like Canva include all the tools you need to create high-quality static images that you can download to a thumb drive. You can also create digital menu boards using presentation apps like PowerPoint and Google Slides. If DIY isn't your bag, you might consider hiring a freelance designer through a site like Fiverr to handle the design work for you.
We like Google Slides for do-it-yourselfers because these internet-based slides can display on a computer, mobile device, or television equipped with Chromecast or AirPlay. Several TVs from manufacturers like Sony and Vizio include built-in Chromecast; just check the product details before purchasing. If your menu offerings, pricing, or availability change during the day, you can update your Google Slides online in real time, and the changes will quickly reflect on your screens.
Step 1: Create a Google Slides Account
If you have a Gmail account, all you need to do is sign into your email account. If you are not a Gmail subscriber, you'll need to create a Google account to access Google Slides.
Step 2: Design Your Menu Slides
Start with a blank slide. Use the design toolbar at the top of the screen to adjust the background color and add shapes, lines, and text boxes. Google Slides includes several options for shapes and colors to create a rough design. Add text boxes or tables to list individual items once you have a section for each menu category. We found that borderless tables are best for listing menu items; they keep your margins tidy.
If you have images of your menu items, you can include them as well. If you need a jumping-off point to create your design, you can tailor the Google Slide template we created. You can adjust every aspect of this design, from the font to the background colors, to make it fit your restaurant. You can also use the handy in-app Google search function to find free clipart if you need it.
Step 3: Publish Your Slideshow to the Web
Click on the File menu in the top left corner of the Google Slides menu bar. Select the option to "Publish to the Web."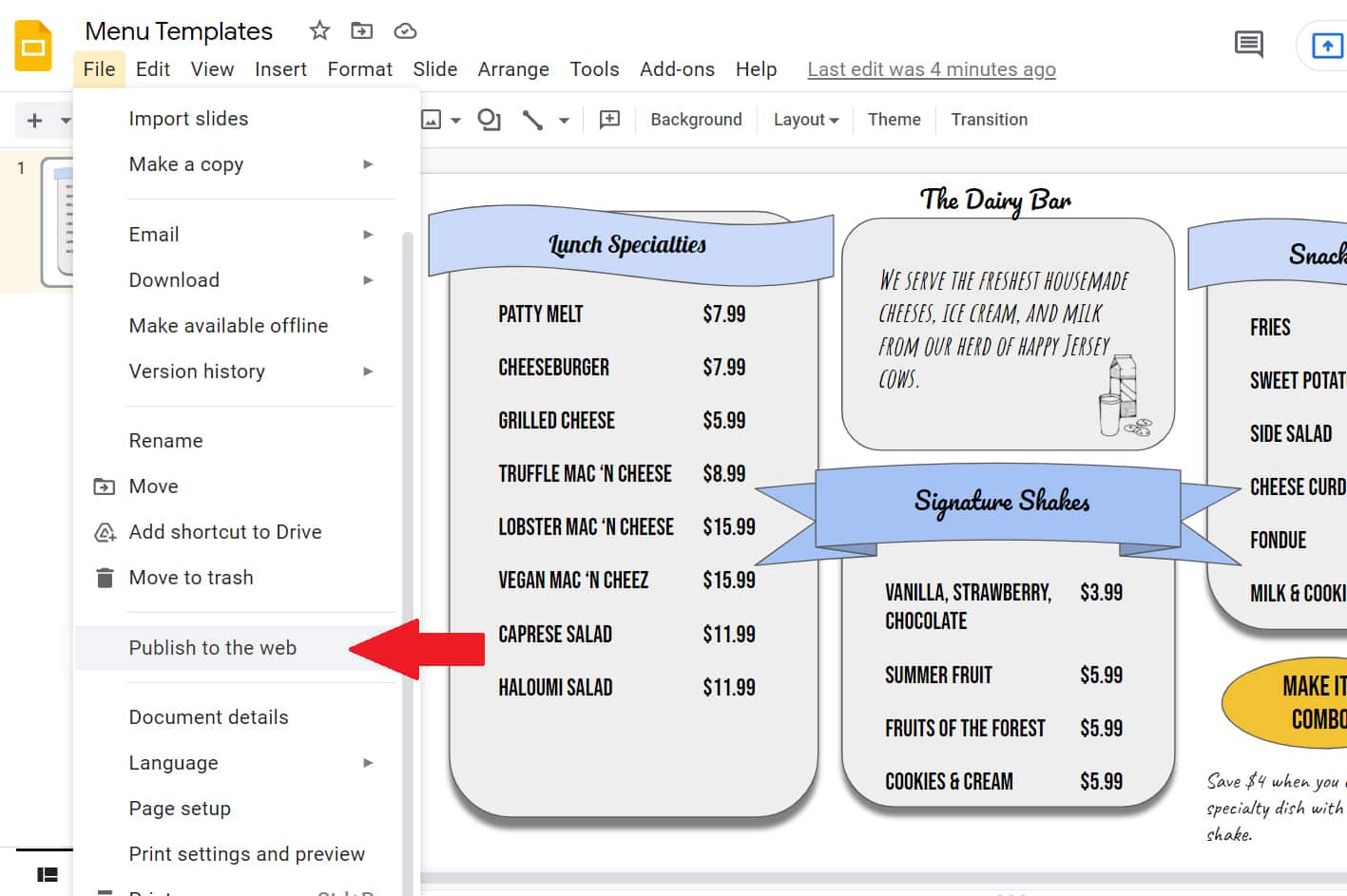 A pop-up box will prompt you to choose whether to start the slideshow as soon as the player loads and restart the slideshow after the last slide. If you have more than one slide in the set, you can also set the duration between slides, from one second to one minute. This is handy if you have included a promotional screen to showcase daily specials, catering menus, or upcoming events.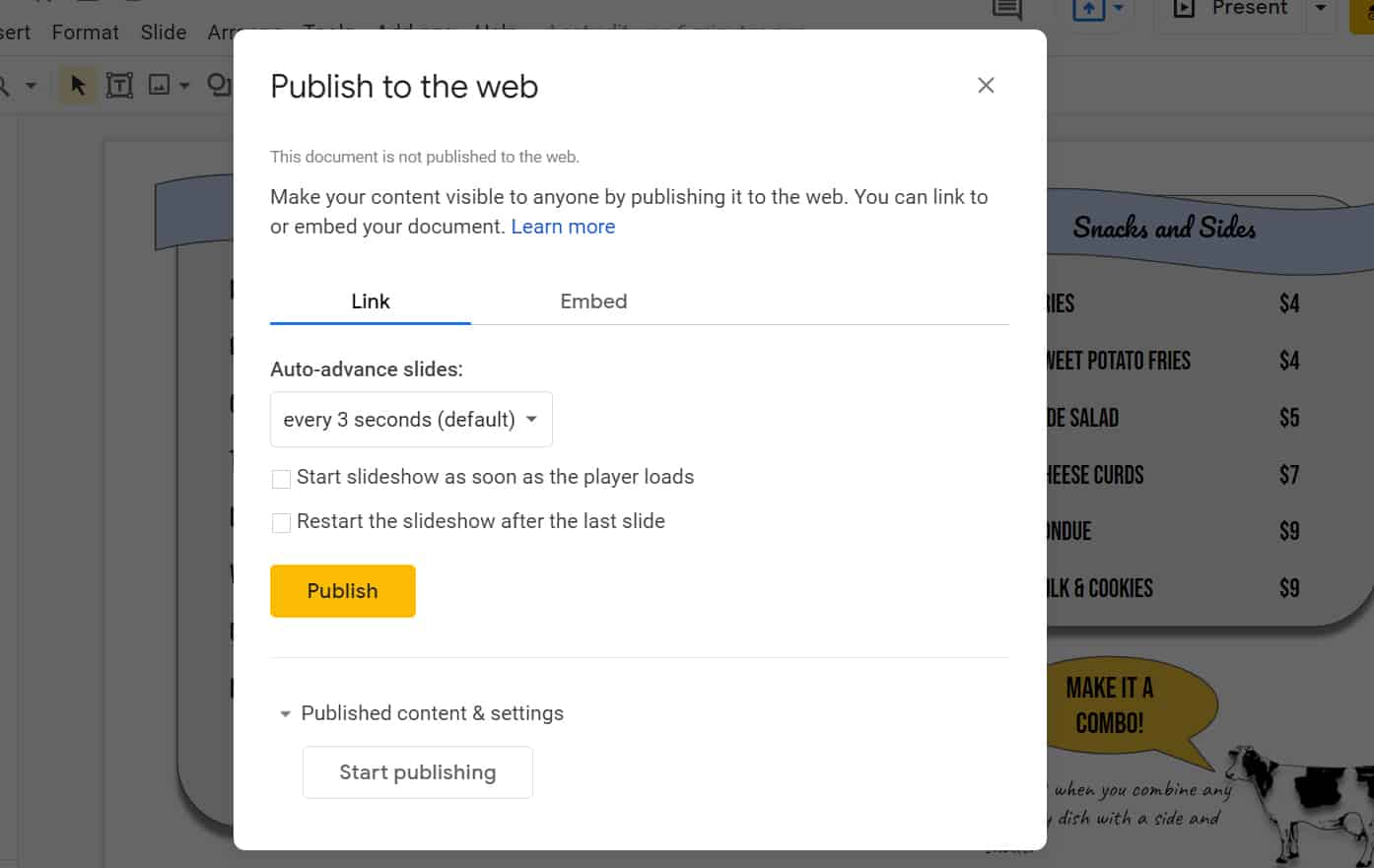 Once you finalize your settings and hit the "Publish" button, a pop-up screen will show you the link to the slideshow. You can copy this link or share it via Gmail, Facebook, or Twitter.
Step 4: Input the Slideshow Link into the Browser of Your Smart TV
On your Smart TV remote control, navigate to the television's web browser. Type in the link to your Google Slides file. The slide—or slides—should appear on your screen. Depending on your screen size and layout, you may need to adjust the image size. You can do this in Google Slides by navigating to the "Page setup" option under the File menu.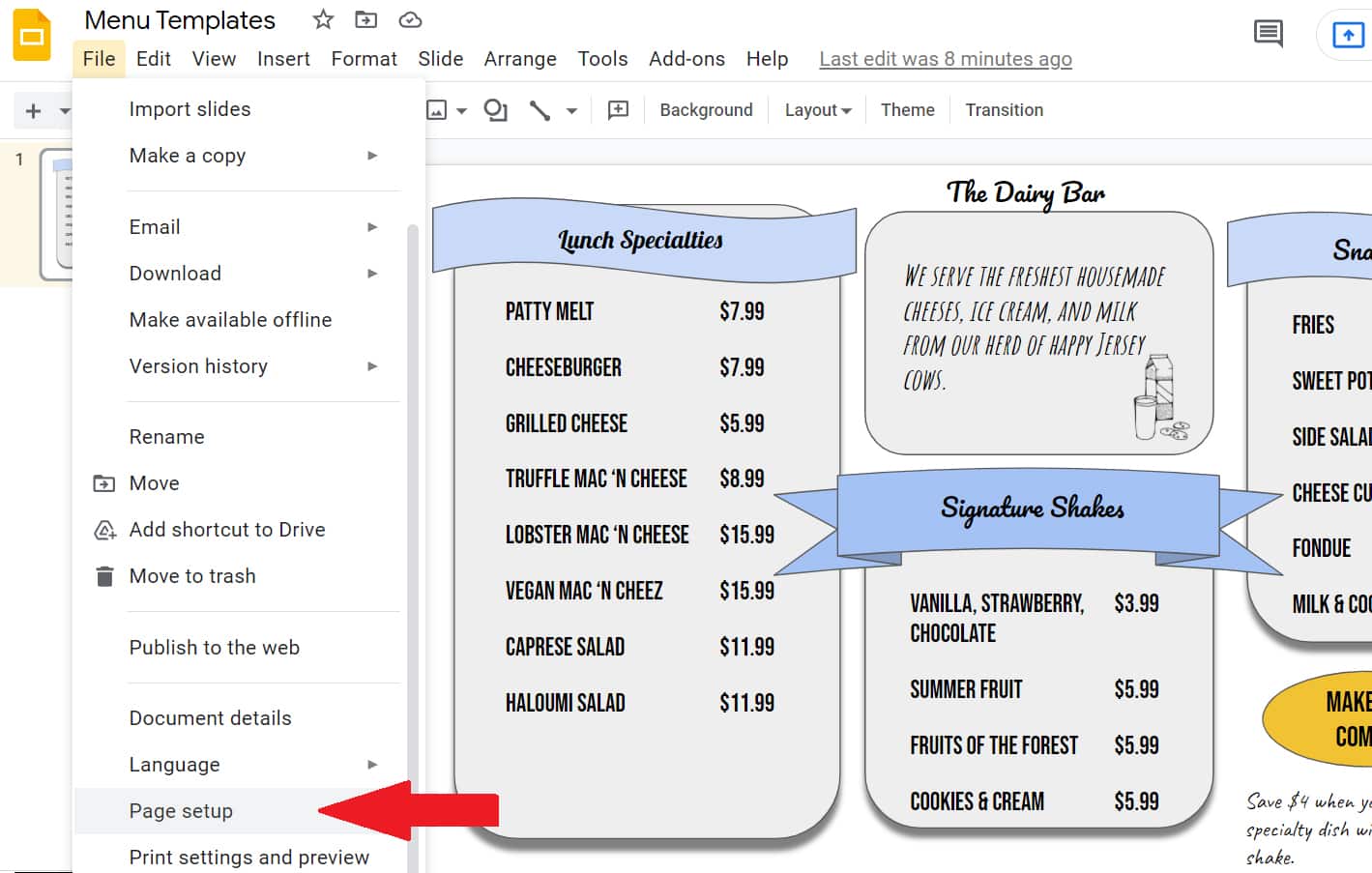 The default page setup in Google Slides is 16:9, which will fit most television screens. But if your display is different, you can also choose a standard 4:3 format, widescreen 16:10, or set a custom size.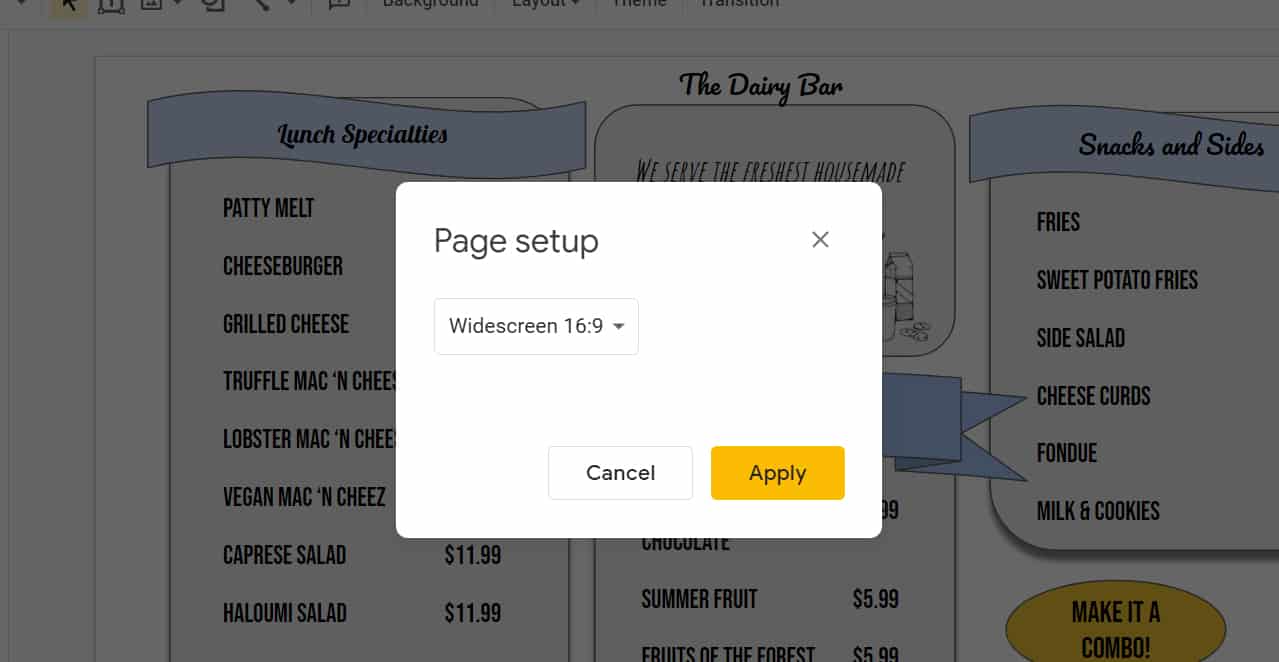 Alternatively, you can connect a laptop to your Smart TV using an HDMI cable or use your TV's screen mirroring function to display the screen from another Wi-Fi-connected device on the TV screen. For screen mirroring, follow the instructions in your Smart TV user's manual.
For a low-tech option, you can download your slides to a thumb drive and plug the thumb drive into your Smart TV. Just navigate to the File menu and choose the "Download" option. Google includes options to download your slides as a PDF, JPEG, and PNG file, among other file types.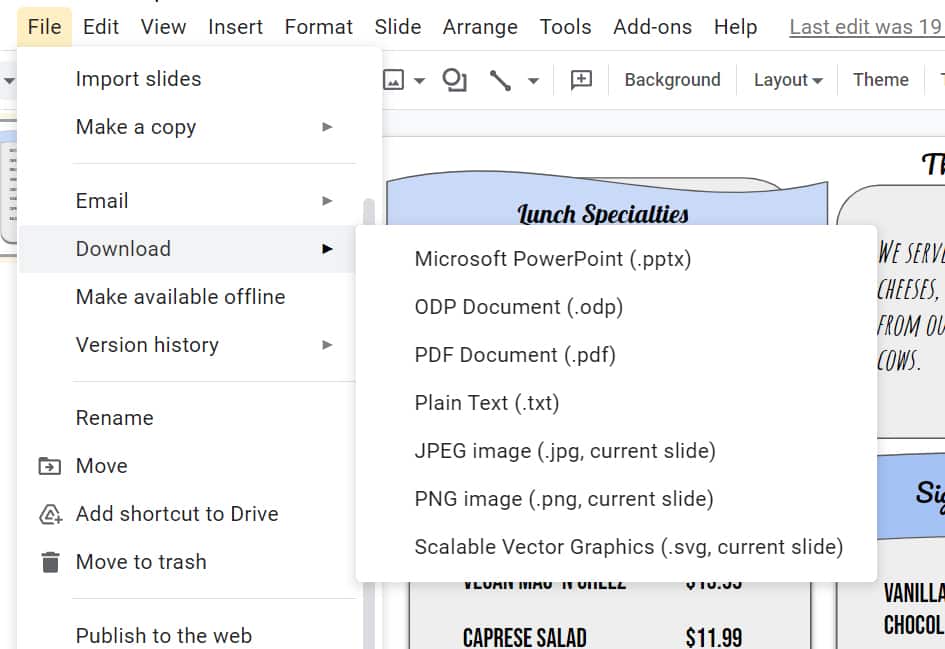 Bottom Line
Digital menu boards are a quick way to boost your restaurant's sales. They are easy for customers to read and offer a great way to showcase specials, promotions, or new menu offerings. There are several free and low-cost digital menu board display apps that supply dynamic, customizable menu templates. You can also design a menu board using design or presentation apps like Canva or Google Slides.
For more about setting up digital menu screens in your restaurant, check out our guide to setting up and using digital menu boards.
You May Also Like…