In this guide, we'll show you how to launch a direct mail campaign for your small business. We'll highlight two different programs: VistaPrint, which is our recommended service for reaching a targeted audience and Every Door Direct Mail (EDDM), which is our recommended service for reaching an entire neighborhood.
Before we dive into the details on this topic, we also suggest you check out Bing, a cost effective way to advertise your business online. Visit Bing to learn more.
What Does a Direct Mail Service Do?
A direct mail service does 3 main things:
Gives you online tools to design a postcard or flyer

Let's you create a list of addresses from a database

Prints, stamps & mails your letter to every address on the list
In other words, you can design and launch a campaign without ever leaving your internet browser. All of the manual work is done for you. You can even "rent" a list of addresses to mail your flyer to, so you don't have to find addresses manually. (You do have the option of uploading your own mailing list, however, using PSPrint.)
First Question: Who Are You Trying to Reach?
Before we get started, the first thing you have to decide is who you want to receive your mail. In particular, decide which of these 3 scenarios best describes your campaign:
You're trying to reach a specific audience.

Say, young married couples, or residents who just moved into the neighborhood. In these cases, you need a service that lets you create targeted mailing lists based on demographic data (like VistaPrint).

You want to reach every house in a certain area.

Say, you're opening a new restaurant or car repair service and just want to mail everybody who lives nearby. Instead, you would use Every Door Direct Mail, which we'll also explain further below.

You already have a list of addresses

you want to reach. Perhaps it's a list from your customer database, or a leads list. In this scenario you'll want to use VistaPrint, as they'll allow you to upload your own address list.
Why Does Targeting Matter?
Your ad or promotion is only effective if you reach the right audience. This is why you're planning to mail people in your local area, and not just random zip codes throughout the US.
There's other factors besides location, however, that you might want to consider. Let's say, for example, you're offering a promotion on window replacement. If half the homes in your area are rentals, half of your postcards are essentially going to waste. On the other hand, by removing all non-homeowners from your address list (which VistaPrint allows you to do) you can stretch your investment dollars twice as far.
How Launch a Direct Mail Campaign with VistaPrint
For Targeted Marketing
If you want to create a targeted mailing list, VistaPrint is the way to go. In addition to their advanced address-selecting tool, they have excellent design tools – including a huge range range of templates to choose from and support agents who can give you design help over the phone.
Step 1:
Sign up on VistaPrint
To get started, follow this link to VistaPrint's direct mail service page. There, you can select the postcard size (standard or oversize) printing style, quantity and more. Click "Get Started" and you'll be prompted to create an account. Once you're registered, you can start designing a postcard. Or, if you have a design already, you can upload it and skip this next step.
Step 2:
Choose a Template & Design Your Card
VistaPrint has over 4,000 postcard templates you can choose from. You can search by keyword or browse by industry (Real Estate, Construction & Repair, Food & Beverage etc.). You can also search by "purpose" which includes coupons, sales & clearance postcards, event invitations and more.
Once you've found a good template, click "select design" and you'll reach the editing page. Here you can customize text and add shapes and images. You can also drag to adjust boxes and adjust the color scheme of your card.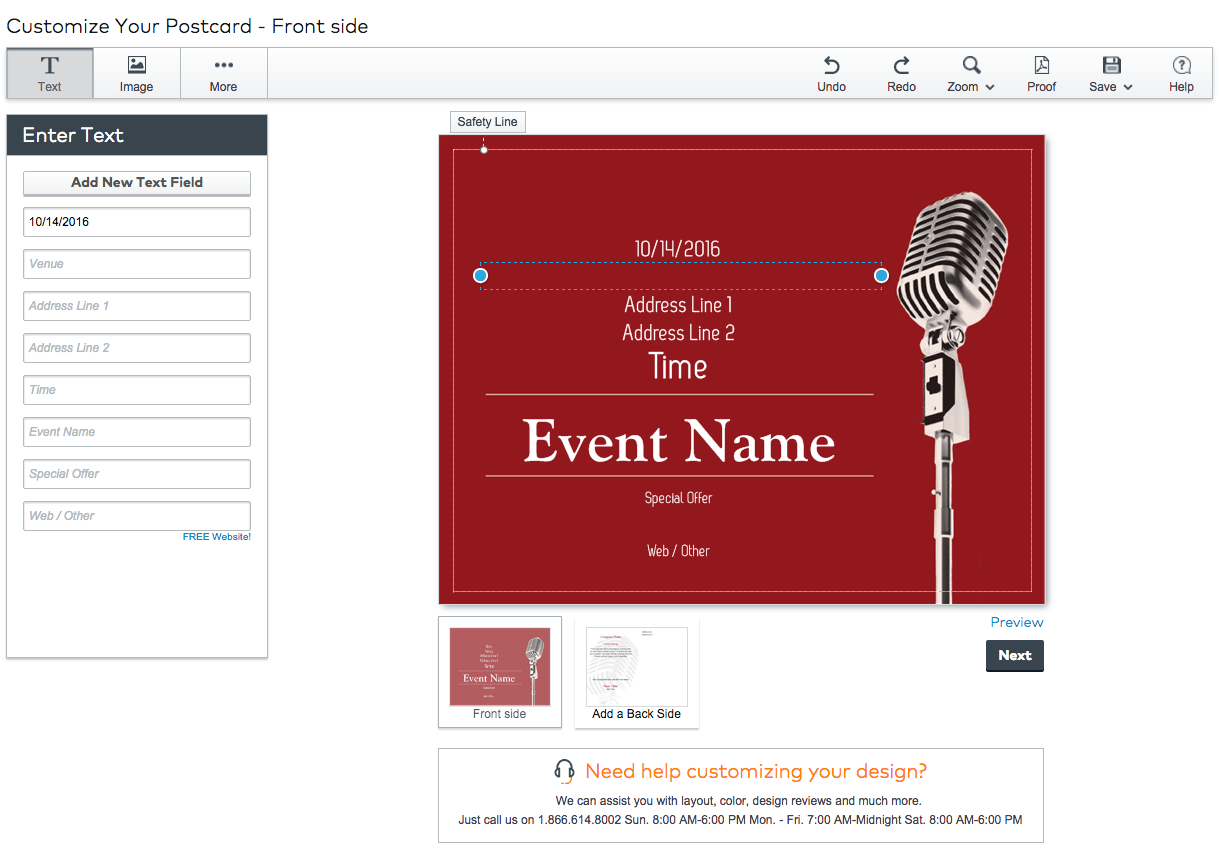 When you're finished designing, click "Next" to preview the cards. Spellcheck them a few times over, then check the box and click "Next" again.
For more help designing your postcard, check out some of these additional resources:
Step 3:
Create Your Mailing List
At this point, you'll begin creating the list of addresses where you'll mail your postcard. If you have a list already, you can upload it by clicking on the box to the right.
VistaPrint has 3 options for lists:
Residential Consumers

New Movers & New Homeowners

Businesses
Choose which one is most relevant to your business, then click "Next."
What you first need to do is select the general geographic area you want to target. You can do this by selecting zip codes and counties, or by entering a physical address and setting a radius (say, 20 miles around your store.)
Next you'll select which demographics you want to target. VistaPrint has a few quick options at the top, including "High Income Consumers" and "Baby Boomers & Elderly." You can also select "Custom Options" however, to get more detailed.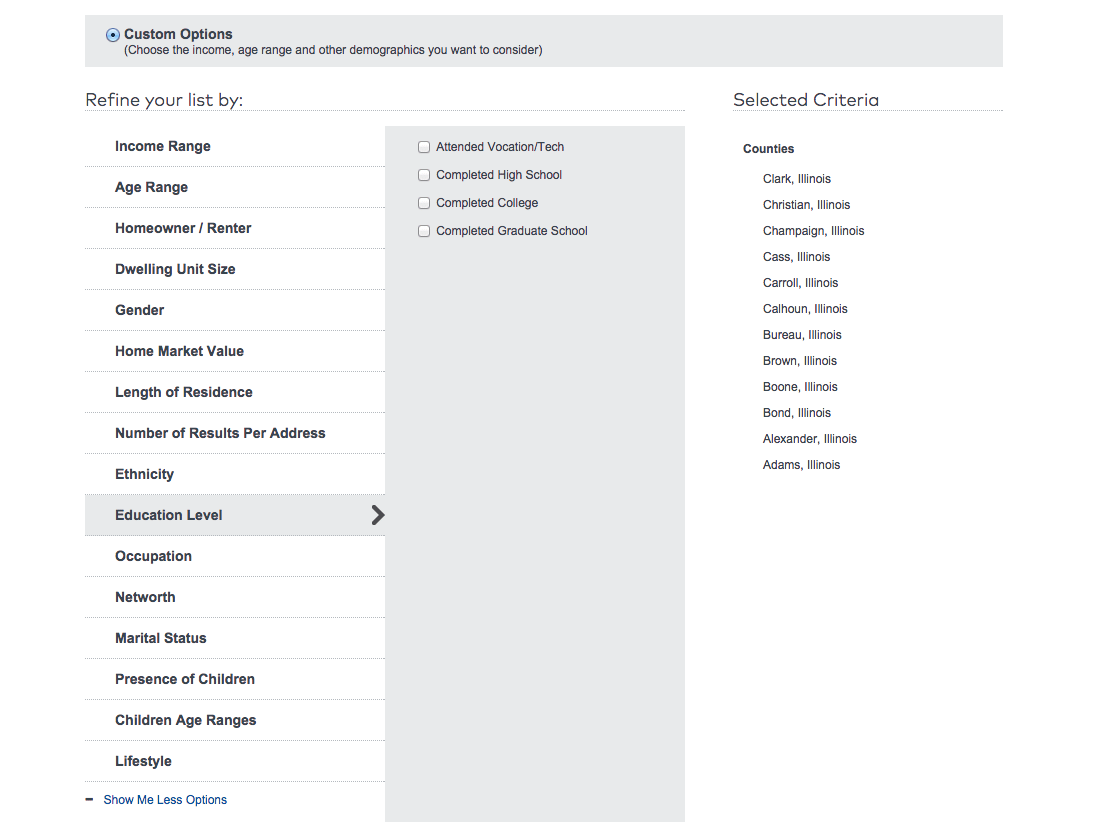 When you're done selecting filters, click "Next." In the next menu, they'll tell you how many addresses are available within your location and demographic filters. This number may be a lot bigger than the number of postcards you want to buy. But don't worry if this is the case. VistaPrint will only charge you for the number of cards you actually send.
Enter the number of cards you want to send in the box next to "Update," then click "Next."
Step 4:
Review and Finalize Order
In the next menu, you'll choose how quickly you want to ship the postcard and answer a few more questions about shipping. After that, you just need to review your order and checkout. VistaPrint tends to offer a lot of discounts & promotions, so be sure to keep an eye out for any coupon codes.
How to Launch a Direct Mail Campaign with EDDM
To Reach Every House in Your Neighborhood
Not all businesses have a particular "type" of customer. For example, a new restaurant opening up may want to reach everybody who lives nearby, rather than target a particular demographic. Likewise, there's some services that can be relevant to everybody, such as lawn care, auto repair or residential cleaning.
For these businesses, we recommend using Every Door Direct Mail (EDDM). They'll send your postcard or flyer to every house in a specified postal route(s). They also have a special folding-brochure option that's great for restaurants who want to send their menus. It even includes a page of coupons that can be ripped out.
Step 1:
Choose Postcard/Flyer & Template
Follow this link to the EDDM2Go website. The first thing you'll have to do is create an account, since EDDM won't let you begin an order until you're logged in.
Afterwards, click "Choose Your EDDM Template" on the Getting Started page. This will bring you to the menu where you can select your product and template. Find the bar near the top that says "Choose by Format," and select either a flyer or a postcard. Alternatively, you can select "Choose by Focus" and find the industry/organization-type that's relevant to your business.
If you already have a design, scroll to the bottom and select the template of the size you wish to use. Once you have yours uploaded, you can skip ahead to the 3rd step.
Step 2:
Customize Template
Once your template is selected, click "Customize" and you can begin adding your text and/or photos. The EDDM editor is a bit more primitive than VistaPrint's: You can't drag and drop to reformat or add any shapes. Nonetheless, it's simple and easy to get the card loaded with the information you need. Just click each area of the card to add your custom text and/or images.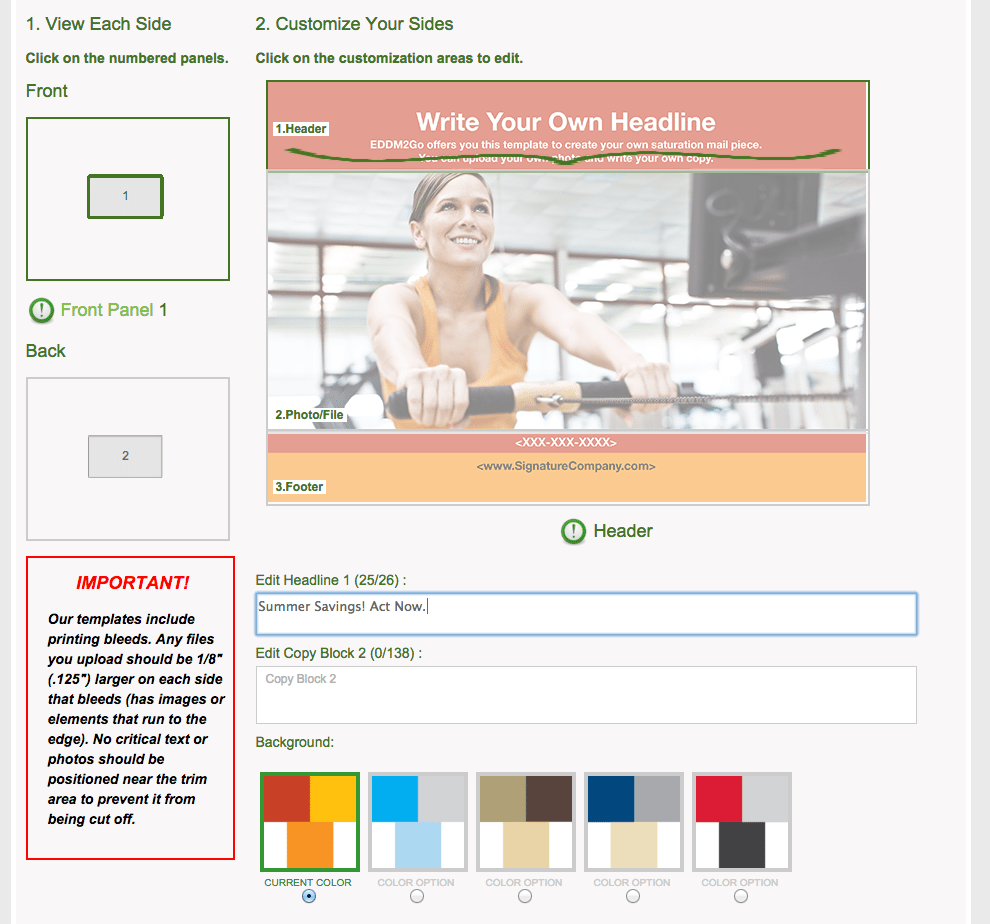 Once complete, save your design and then click "preview." Spell check your card a few times over, then click "Approve and Continue."
Step 3:
Choose Your Postal Route
The next menu will prompt you to enter zipcodes, or a radius around a zipcode. From there you'll be shown a map where you can choose which particular postal carrier routes you want to target. Choosing a route means every home (or business) in that route will receive your mail.
If you're having trouble deciding, EDDM has a tool towards the bottom where you can view certain demographic data. Hovering over a postal route will show this information, such as percentage of residents who are within a particular age range, or homeowners vs. renters. Remember, however, EDDM will still mail your postcard to everybody in that postal route, whether or not they match your demographic profile.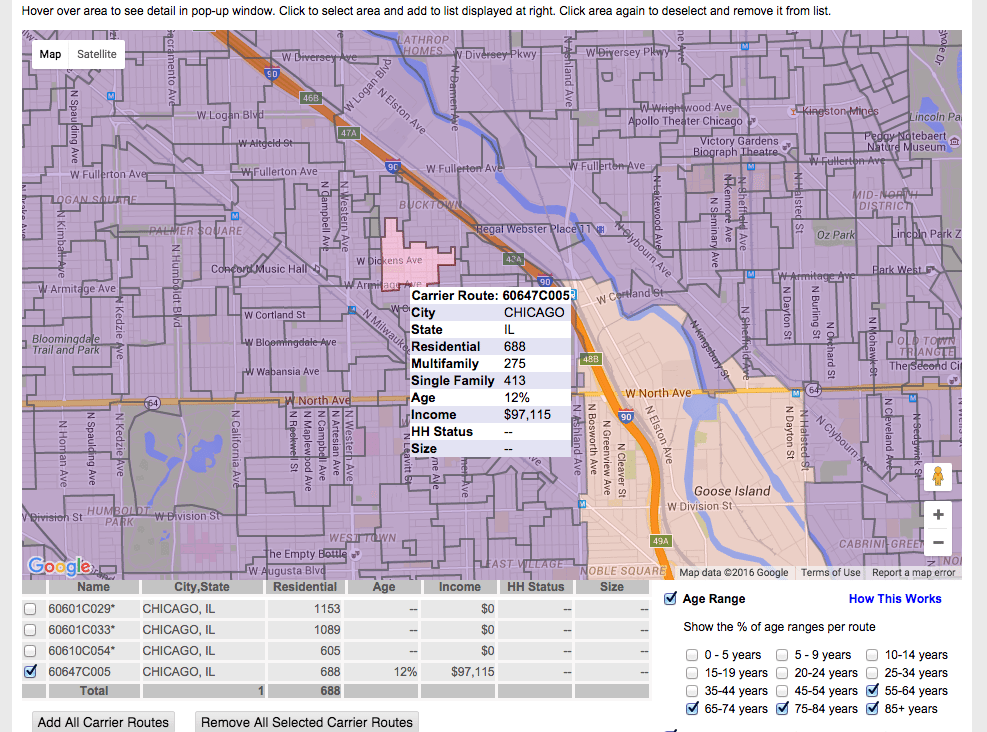 Step 4:
Review and Submit Order
Once you select your postal route(s) you'll see a preview of your order. One downside to using EDDM is that you can't control how many homes you reach in a postal route. Each have around 500 homes, and you have to mail to every one of them. If you want more, however, you can always add more routes.
Once you're satisfied with your order, click "Proceed to Checkout" and finish the purchase.
The Bottom Line
A direct mail campaign is a great way to build local buzz for your business. With costs between 40 – 80 cents per flyer (including printing, postage and mailing) it's also one of the most cost-effective. To learn more about direct mail services, check out our comparison of VistaPrint, PsPrint and EDDM here.
FREE Facebook Advertising Guide! Click Here to start advertising today in less than 1 hour with these 6 steps