Small business owners with employees need workers' compensation insurance to cover employees' on-the-job injuries and work-related illnesses. Every state but Texas requires employers to buy this coverage to pay medical bills and lost wages for employees hurt in workplace accidents. Without workers' comp, employers may have to pay these costs out of pocket.
The Hartford provides expert small business insurance specialists who can help you determine the workers' compensation requirements in your state to ensure you have the right coverage. Get a fast, no-obligation quote with The Hartford's simple online application.
Who Needs Workers' Compensation Insurance?
Workers' compensation insurance is a type of business insurance employers—sometimes even sole proprietors—have to get in most states. Failing to meet your state's workers' compensation requirements can result in fines or jail time. Your responsibility to provide coverage may depend on the number of employees, the type of business, and the type of work.
To answer the question "Do I need workers' compensation insurance?", consider if your business falls into one or more of several categories.
Businesses Located in the United States
Most U.S. states require workers' compensation insurance for businesses that employ workers. Some states, like Arizona, require workers' comp for every business—even sole proprietors. Other states set a minimum number of employees hired before workers' comp is required. You must comply with state laws, or you might face steep fines or jail time.
For example, in Florida, if your business is found to be operating without workers' comp, you're required to cease all operations until you comply with the law and pay the penalty. The penalty is equal to two times the amount the employer would have paid in manual premium within the preceding two-year period.
Businesses in High-risk Industries
Business in high-risk industries, like manufacturing and construction, probably need workers' compensation to safeguard their assets from lawsuits and reduce the overall cost of worker injuries. That said, even if your business is in a low-risk industry, such as one in a traditional office environment, accidents can still happen.
Not only does workers' comp pay for injured employees' medical bills and lost wages, but it can also cover your legal defense should an employee decide to sue for negligence. Additionally, many states' workers' comp programs include back-to-work plans to reduce the cost of hiring and training new employees.
Businesses Acting as Subcontractors
If you're acting as a subcontractor for a client, you may find that they require you to have workers' compensation policy so that they're not held liable for your or your employees' injuries that occur on their worksite. This may be true even if you don't have employees and work in high-risk industries. However, you should probably have workers' comp anyway if your business employs workers.
Businesses That Want to Reduce Risk
Workers' comp insurance protects your business by reducing the risk of a lawsuit. Employees are less likely to sue if their costs are taken care of by their employer. Many workers' comp policies also have coverage for employee lawsuits. It kicks in when an injured worker forgoes their workers' compensation benefits and sues for negligence.
Some business owners get self-employed workers' compensation insurance even if they don't have staff. This protects their business if they suffer an injury that keeps them from earning income.
Workers' Compensation Insurance State Requirements
With the exception of Texas, all 49 states and the District of Columbia require employers to carry workers' comp—and each state has its own spin on it. Some states require a business owner to provide insurance for themselves as soon as they hire a single employee, or when they reach a certain number of employees.
Most states require employers to provide workers' comp for full-time employees, but others also mandate coverage for contractors, temps, seasonal workers, part-time staff, and interns. Employee status requirements vary from state to state. Some states also workers' comp insurance exemptions for certain types of employees, such as family members, domestic workers, or limited liability company (LLC) members.
You can read our state-specific workers' compensation guides below:
Why Do I Need Workers' Compensation Insurance
Most states require workers' compensation insurance because employers have a legal responsibility to keep employees safe. Without workers' comp, employers would have to pay out of pocket for medical treatments, lost wages, and death benefits. If an injured employee, or their dependents, sues your business, you could be responsible for legal fees or a settlement.
Workers' compensation insurance means employees receive guaranteed workers' compensation benefits regardless of who's at fault. In exchange, employees have limited rights to sue their employer for damages for those injuries. Most states require employers to maintain at least $1 million in coverage per incident. If you have employees in multiple states, your business must have coverage that meets each state's regulatory standards.
What Workers' Compensation Insurance Covers
Workers' compensation insurance, commonly known as workers' comp, covers employees for work-related injuries and illnesses. A workers' comp policy provides coverage for medical bills and lost income. Also, if an employee dies from a work-related accident, workers' comp can cover funeral costs and pay death benefits to the worker's family.
Most Common Nonfatal Workplace Injuries
Workplace injuries are commonplace, even in industries you might not expect it. While a construction worker typically faces riskier situations more often than an office worker, they both have a chance of slipping and falling or experiencing a strain. For example, nearly a third of all workplace injuries stem from overexertion or repetitive motions
Here are some of the most common nonfatal workplace injuries, according to the U.S. Bureau of Labor Statistics:
Overexertion and repetitive motions: 30%
Struck by an object: 23.2%
Falls, slips, and trips: 23.1%
Transportation incidents: 4.9%
Violence and other injuries from persons and animals: 4.0%
Exposure to harmful substances or environments: 3.8%
Fires and explosions: 0.1%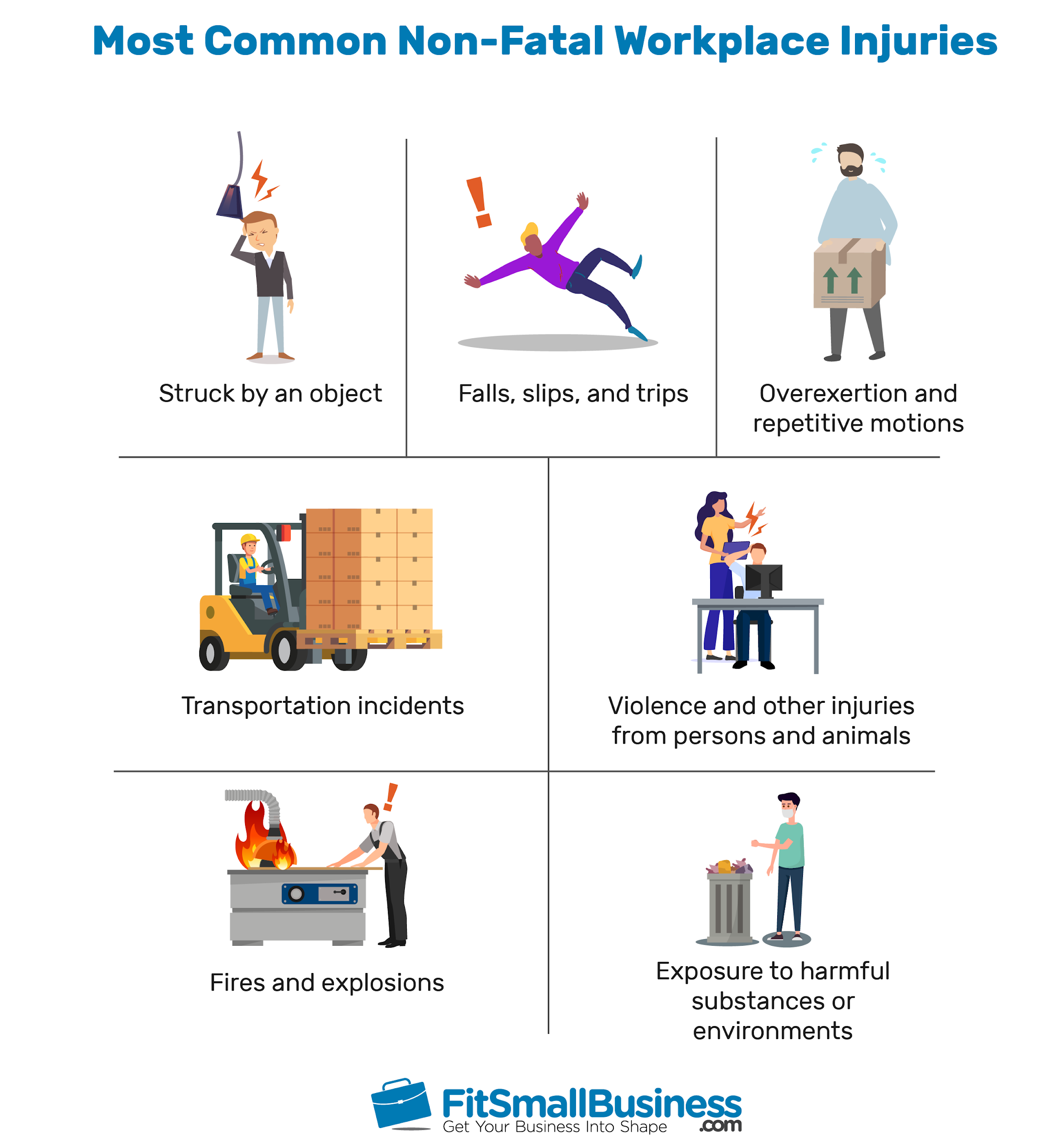 Sometimes workplace injuries and accidents are unavoidable, but smart safety measures and preventive actions—along with workers' compensation insurance—can help reduce the risk of an injury at your workplace. But even with safety protocols in place, your employees can get injured. Moreover, they can fall victim to repetitive stress injuries, like carpal tunnel, and other occupational diseases.
What Is Not Covered by Workers' Compensation Insurance
Workers' compensation insurance covers employees' injuries or illnesses sustained on the job. Generally, this includes injuries that occur at your place of business as well as those that occur elsewhere, such as while driving for business purposes or at a client's worksite. Every state has different workers' compensation laws, so the definition of a work-related injury varies.
Workers' compensation usually doesn't cover:
Self-inflicted injuries or injuries that occur intentionally
Injuries due to employee roughhousing or horseplay
Injuries sustained while commuting to or from work
Injuries sustained while committing illegal activities
Intoxication or substance abuse-related injuries
While workers' comp covers workplace injuries, they have to be the result of an employee's job tasks. Employers are not held responsible for injuries that occur outside work or an employee's typical duties.
How to Obtain Workers' Compensation Insurance
You can typically get workers' compensation insurance from a private insurer like you would for other types of business insurance. In some states, you can purchase state-funded workers' comp—Ohio, North Dakota, Washington, and Wyoming make this your only choice. Additionally, accounting and payroll vendors can help you acquire workers' comp insurance through business partnerships.
Here are six ways your business might be able to purchase workers' comp.
Ways to Purchase Workers' Compensation Insurance
| Workers' Compensation Provider | Best For |
| --- | --- |
| State Fund | Employers in high-risk industries or with existing workers' compensation claims |
| Professional Employer Organization | Businesses with a poor experience modification rate and high premiums |
| Insurance Carrier | Business owners that need to buy additional commercial insurance policies |
| Insurance Broker | Companies that want to compare quotes from multiple carriers |
| Payroll Software | New employers who want consolidate payroll and workers' comp into one system |
| Self-insurance | Sole-proprietors or very small businesses that wish to pay for claims out of pocket |
State Fund
If your business is in a high-risk industry or you have existing workers' comp claims, obtaining insurance from your state fund might be the right choice. Rates tend to be more affordable d they often guarantee coverage for high-risk industries or businesses that struggle to find coverage with a private insurer. Not all states have a fund—only 25 currently offer this option. Four states—North Dakota, Ohio, Washington, and Wyoming—require businesses to buy only from state programs.
Professional Employer Organization
A professional employer organization (PEO) is a good choice for businesses that have a poor experience modification rate (EMR) and have high existing premiums. PEOs can reduce your workers' compensation costs by pooling your employees across multiple businesses. As a result, the group rate is often lower than what your business might qualify for on its own.
Insurance Carrier
If you need additional commercial policies for your business, such as general liability insurance or a business owner's policy (BOP), buying directly from an insurance carrier makes the most sense. Buying directly from a workers' compensation insurance company can sometimes be faster and simpler, allowing you to consolidate your insurance shopping experience and manage all your policies in one place.
The Hartford is an excellent carrier with a highly rated claims process, making workers' compensation simple for both employers and injured workers. You can get a fast quote online or speak to one of The Hartford's experienced workers' comp representatives.
Insurance Broker
An insurance broker is right for business owners seeking the best commercial insurance rates available. A broker works with multiple carriers to deliver quotes for the coverage your business needs quickly. This helps you find the right coverage with affordable premiums without having to get quotes from each carrier individually.
CoverWallet is a nimble online insurance broker that works with top providers and delivers excellent service and resources. You can receive a free online quote in minutes.
Payroll Software
Any business managing their books with payroll software like QuickBooks can often add on services like workers' comp for an additional charge. Payroll software ensures your coverage is up to date based on your current employee count while also factoring in state regulations and taxes automatically. It's a great option for new business owners to consolidate payroll and workers' compensation into one intuitive system.
AP Intego offers pay-as-you-go workers' compensation insurance for small businesses that integrates with many payroll software platforms. Get an instant quote by completing a straightforward application.
Self-insurance
Business owners that are sole-proprietors or have few employees may want to consider self-insuring for workers' compensation if offered by your state. That means, instead of paying a premium to an insurer or state fund, an employer pays the cost of each claim out of pocket. To self-insure, many states require businesses to demonstrate they have the money and financial stability to cover claims on their own.
Alternatives to Workers' Compensation Insurance
Nearly every state requires most businesses to carry workers' compensation, so there aren't many alternatives. You might consider hiring independent contractors if your state doesn't require you to cover them or working with a staffing agency. Check your state's rules and evaluate the classification of your employees carefully.
How Much Workers' Compensation Insurance Costs
Workers' compensation insurance costs are dependent on specific risk characteristics for each business. Rates vary across businesses because workers' compensation is state-regulated and calculated differently than other types of insurance. Businesses with few employees can typically expect to pay around $1,500 to $3,200 for workers' comp annually.
Several factors influence the cost of workers' comp, including:
Industry and work classification: Certain industries present higher levels of risk, resulting in higher premiums. The National Council on Compensation Insurance (NCCI) has a business classification system that calculates a rate according to an employee's level of risk.
Payroll: Insurers factor in your total annual payroll when determining cost. Higher wages typically mean a higher premium to cover lost wages. Plus, with more employees, there's a higher probability of an injury occurring.
Employee status: Depending on your location, states have different workers' comp requirements for full-time workers, part-time employees, seasonal hires, subcontractors, and independent contractors.
Location: Workers' comp costs are regulated by state, with each one following its own rules and requirements.
Claims history: If your business has had previous workers' compensation claims, an insurance carrier may base your rate on the number and severity of past incidents.
Businesses rarely have the same workers' comp premium because these factors differ so greatly from business to business and even from insurer to insurer.
The Cost of Not Having Workers' Compensation Insurance
Workers' compensation is a legal requirement for employers. If you don't obtain workers' compensation, then you can face fines, penalties, or even jail time, depending on your state.
Here are some examples of state penalties for failure to carry workers' comp:
New Jersey: Considered a criminal offense with violators facing up to $10,000 in fines or jail time of up to 18 months
Illinois: Usually a misdemeanor unless an employer is shown to have knowingly failed to comply, then the charge is a felony; employers can be fined up to $500 for every day of noncompliance
Virginia: Civil penalties of up to $250 for each day of noncompliance, up to a maximum of $50,000
California: Considered a criminal offense and can lead to penalties of twice the amount the business would have paid in workers' compensation premium or $1,500 per employee, whichever is higher
Workers' Compensation Insurance Frequently Asked Questions (FAQs)
Workers' compensation insurance can be a complicated and confusing topic for business owners because of its wide variety of regulations and requirements. Below are a few commonly asked questions.
Do I need workers' compensation insurance?
Every state except Texas requires most employers to obtain workers' compensation to pay for work-related injuries or illnesses sustained by their employees. Rules vary, so you'll need to check your state's requirements. Generally, if you have employees, you need workers' comp. Some states even require sole proprietors to obtain coverage.
Do I need workers' compensation insurance if I'm self-employed?
If you're a solopreneur with no employees, your workers' comp and other business insurance requirements are dependent on the state in which you operate. Some states allow sole proprietors to opt out of coverage but still offer you the option to obtain it. Check your state's requirements to ensure your business complies.
What should I do if one of my employees is injured at work?
If one of your employees is injured on the job, assess the situation, and act quickly by calling emergency services if it's necessary. Document your employee's injuries and report it to the Occupational Safety and Health Administration (OSHA) and your state's workers' comp board. Communicate with your employee openly and collaborate to file a workers' comp claim with your insurance provider.
How do I file a workers' compensation claim?
If one of your employees is injured at work, report the accident to your small business insurance company as soon as possible to begin filing a workers' comp claim. You'll need to work with your employee to provide necessary documentation and information, including how the accident happened, the kind of injury, and the date and time.
Bottom Line
In most cases, employers are required by law to obtain workers' compensation to pay for costs when an employee experiences a work-related injury. Workers' comp is state-regulated, and there are many exceptions, and stipulations, so it's important to check your state's rules.
The Hartford makes it easy for business owners seeking workers' compensation insurance to find the coverage they need. Work with one of The Hartford's specialists through its direct call center or get a fast, free quote online in about 10 minutes.