Why Do I Need a CRM? 8 Signs Your Company Needs CRM Software
This article is part of a larger series on CRM.
If you're pondering whether your business needs a customer relationship management (CRM) software, consider what it can do for you. A CRM is primarily used to organize contact information, manage the sales process, and communicate with customers. So if you're finding difficulties in tracking down contact information, sales opportunities are being overlooked, or that customer retention is low, those could be signs that it's time for a CRM.
A CRM can be a valuable investment that offers terrific returns when used to its full potential. Although an average of return on investment (ROI) of $8.71 per CRM dollar spent was estimated in 2014, the estimated ROI could be as high as $30.48 per dollar spent in 2021. Aside from the ROI benefit of using CRM software, there may be signals within your operations that your business really needs a CRM.
Here are the eight signs that your company needs to implement CRM software:
1. Customer Information Is Difficult to Find
If your team often finds it difficult to track down customer or lead information, it's a sign that your business really needs a CRM. Customer and prospect information is not only used for identifying records and communicating with contacts, but also for gathering additional insights through descriptive information to create more personalized discussions with them.
Today's best CRM software systems collect and store customer and prospect data in a centralized, cloud-based system. Data input can occur manually or automatically.
Did you know? 74% of CRM users say CRMs provide for better access to customer data, which creates more personalized service.
The benefits of using a CRM include being easier to find and pull customer and prospect records, since it's all in one system. Plus, records can be shared among sales reps and different departments (such as billing). This creates efficiencies and ensures customer and prospect interactions and insights are documented within the system and available to team members who need access.
Contact management features are a main function of all CRMs, and are the most desired CRM feature by businesses, as 94% of businesses list it as their top feature request. Popular CRMs such as Zoho CRM, Really Simple Systems, and Agile CRM offer best-in-class CRM solutions, especially as it pertains to contact management tools due to the ease of use of completing data fields and filtering contact records.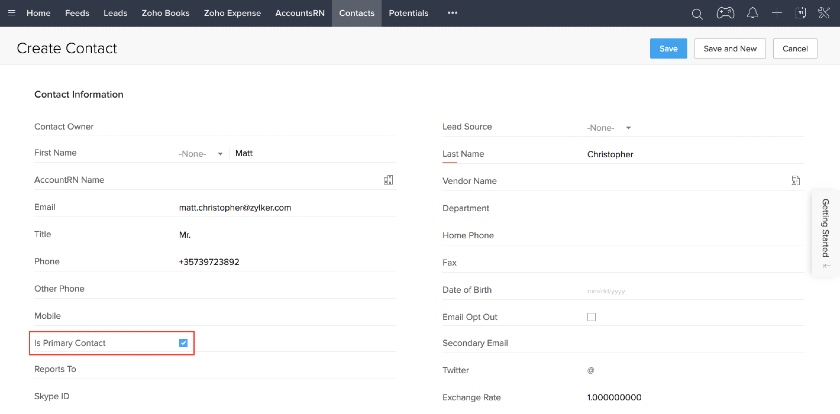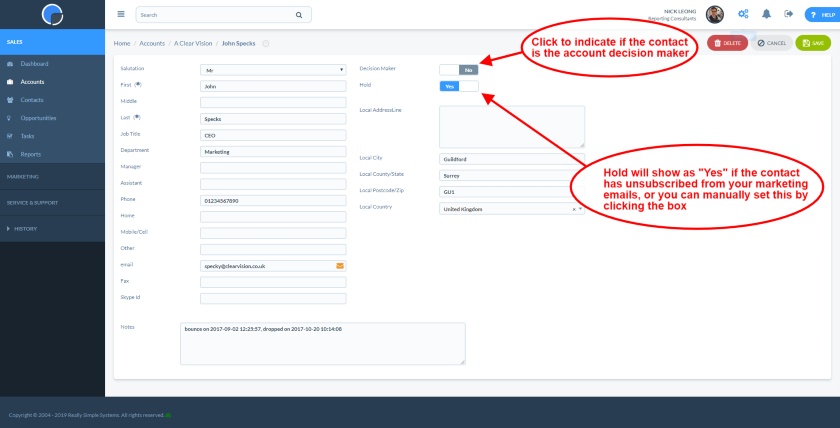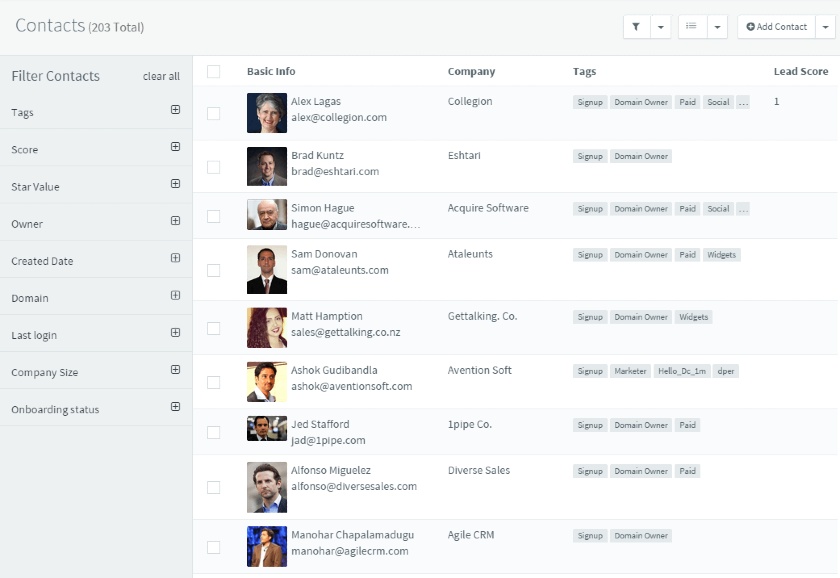 Are you interested in some of the best CRMs for recording customer data and tracking interactions? Here are our picks for the top contact management CRMs for 2021.
2. Data Is Not Being Used to Make Business Decisions
What is the basis for decision-making in your company? If you find business decisions are often being made based on instinct, gut reactions, or feelings—as opposed to quantitative data—it's a sign your business really needs a CRM software solution.
When emotion-based decisions are being made, it's often because you don't have access to key sales metrics, such as revenue broken down by territory, lead source, or product line. A CRM alleviates this problem. It's full of historical and current information that can help you identify sales opportunities, evaluate deals closed, and review customer service cases.
Some CRMs also have data analytics tools that can be used to find trends within your data, adding tons of value to businesses. Surveys show 61% of businesses state data and analytics are "very important" to their business growth strategy. Additionally, 64% of businesses saw improved efficiency and productivity through use of analytics.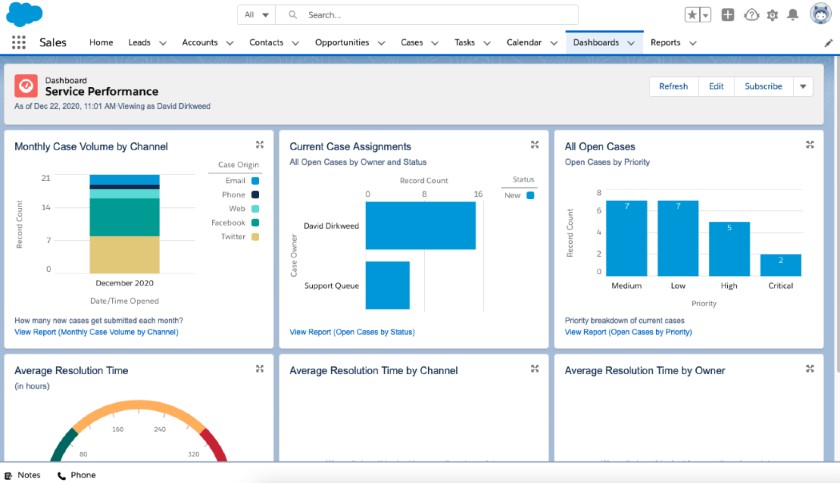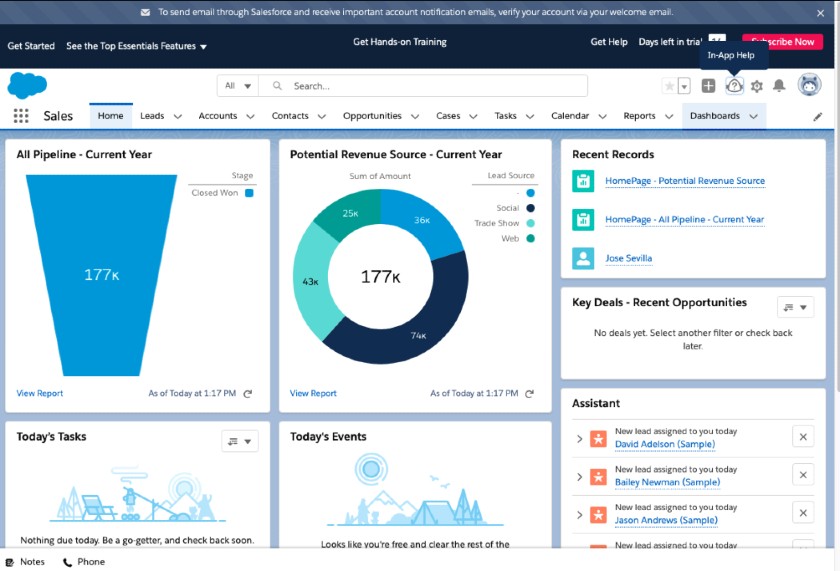 For ways to use data analytics with your CRM, check out our guide to CRM analytics for small businesses.
3. Cross-functional Teams Are Not Collaborating
A business is run by the interconnected processes of sales, marketing, accounting, human resources, and customer service teams. Therefore, if your departments are struggling to collaborate, it's a sign your business really needs a CRM. CRMs enable your team to manage account records by taking them all the way through the sales process from lead, to prospect, to customer.
The sales process usually requires interdepartmental collaboration. For example, when a prospect signs on and becomes a customer, your sales rep, customer service rep, and account manager may all be involved in the process of onboarding the client and converting them from prospect to customer. In addition, your accounting or billing team likely needs access to the customer data in your CRM to set up and manage invoicing and payments.
Some CRMs, such as Bitrix24, have built-in invoicing capabilities to centralize business processes. Many CRMs also integrate with external accounting software like QuickBooks to invoice customers and update accounting records right from your CRM system. There's also customer service software that is native to CRMs, such as Freshdesk's ability to integrate with Freshsales to easily transfer prospects to customers.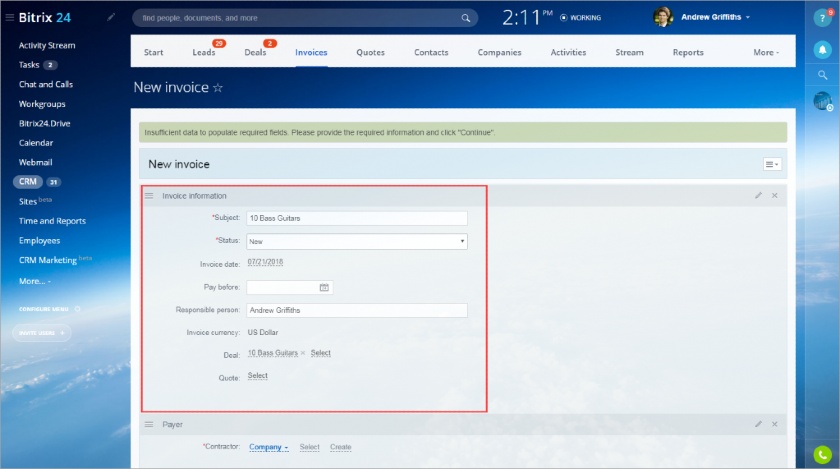 Support for your customers can be drastically improved by using a CRM system. For more information, check out our guide on how to use your CRM to improve customer service.
4. Sales Opportunities Are Being Missed
If your business is missing sales opportunities by not following up or sales reps not remembering where they are with each prospect, your business doesn't have an optimal system for monitoring sales opportunities. A shocking 46% of qualified leads end up as missed opportunities. One way to solve this is by taking advantage of the pipeline and opportunity management features of a CRM system.
A CRM takes the prospect or deal opportunities your team puts in the system and visualizes where each opportunity is. Opportunities can also be auto-generated by creating workflows with a lead source, such as submissions to an online web form. Your team can set up task reminders for what to complete and deadlines for completion to make sure no sales opportunity falls through the cracks.
One way opportunities can be visualized is with a Kanban-style view, which puts each opportunity in a box, and users can drag and drop it under the relevant sales stage. There is also the option of viewing an individual opportunity record showing which stage they are in on a flow-chart style design. HubSpot and Salesforce each have robust opportunity management features for sales managers and reps to monitor prospects stages and potential deals.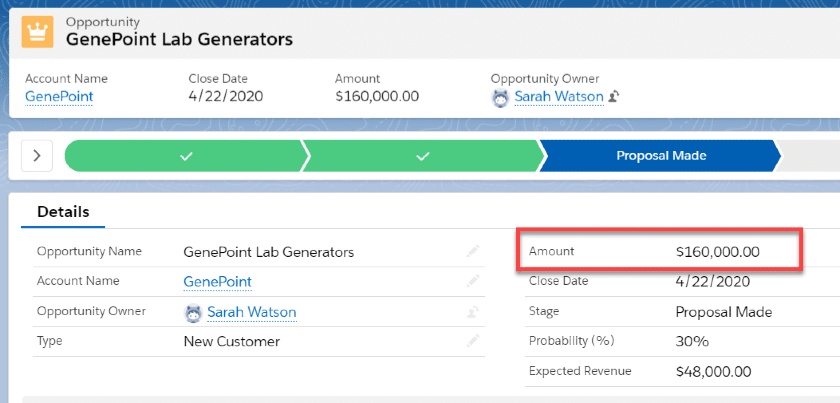 Sales management tools are a valuable asset to monitoring the pipeline. Here are our picks for the best sales management CRMs for 2021.
5. Redundant Tasks Are Eating Up Time
If you find repetitive sales and marketing tasks are taking valuable time away from more important work, it's another sign that your business really needs a CRM. It's estimated that more than 30% of sales activities can be automated. One of the biggest benefits of having a CRM is the ability to automate workflows and tasks.
Below are a few popular examples of processes that can be automated with a CRM:
Adding a lead record into a CRM database when an online form is submitted
Deploying promotional emails to leads based on website navigation behavior
Syncing a sales meeting to a sales representative's calendar (or multiple calendars)
Guiding or supporting a customer using artificial intelligence (AI) live chatbots
Posting social media content based on premade schedules
Upselling or cross-selling using email based on adding a new customer, or customer behaviors (such as clicking an link or visiting a product page)
Businesses that automate tasks in their CRM can see higher sales performance levels. Sixty-one percent of businesses using sales automation tools in 2020 had exceeded their revenue targets. Nearly all CRMs have the ability to automate tasks to some degree either with a built-in feature or integrations with automation tools like Zapier.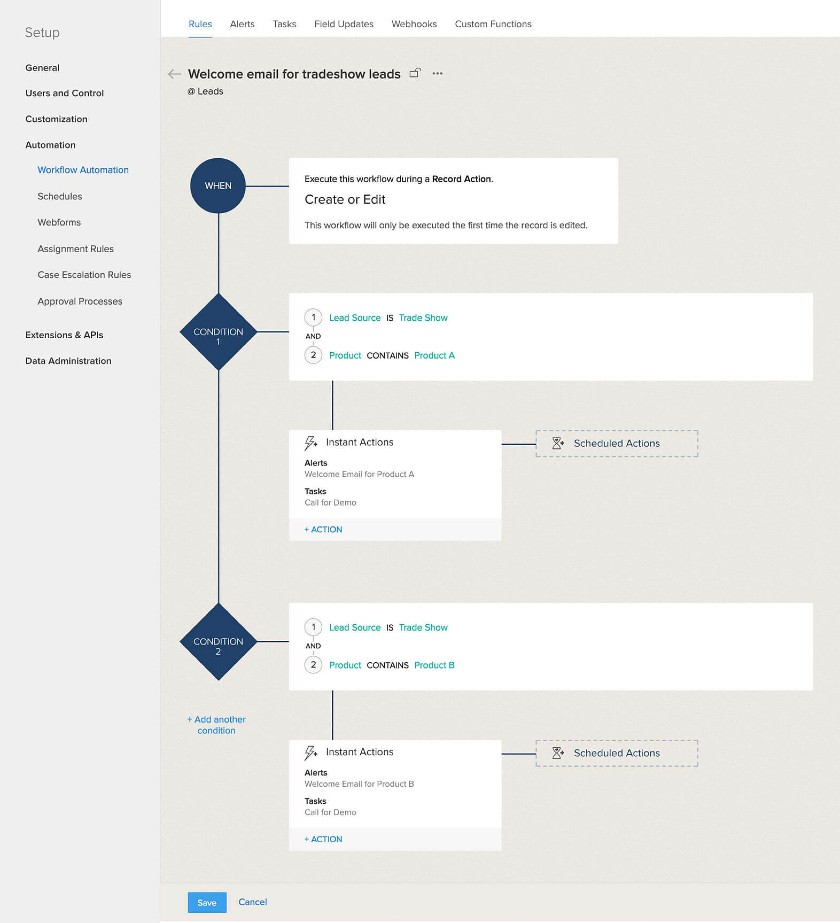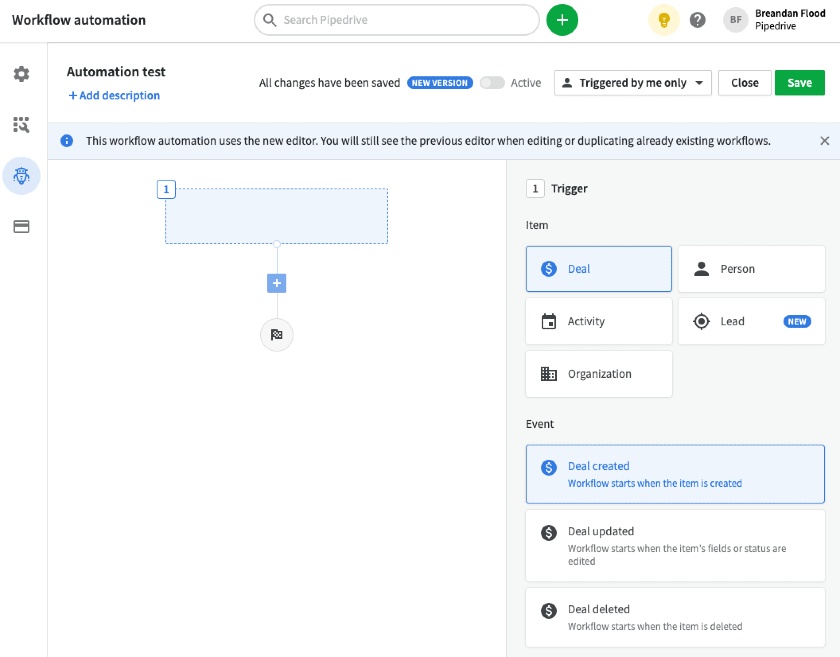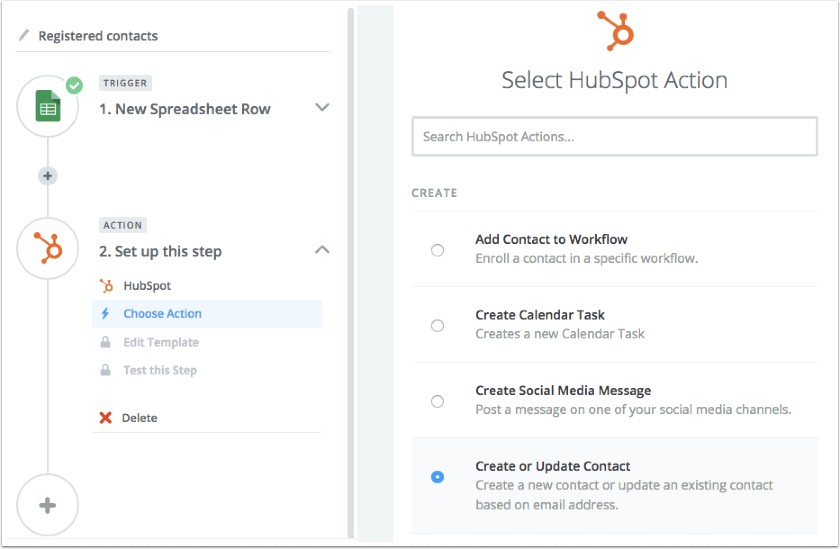 For other sales automation solutions, be sure to check out our picks for the best sales automation software for 2021.
6. Sales Reps Are Not Being Held Accountable
If you can't hold your sales team accountable for poor performance, it's a sign that your business really needs a CRM. One important CRM feature is the ability to assign leads, tasks, and due dates, and monitor activity.
When a new lead or opportunity comes in, you assign the lead to a team member (or set up rules to auto-assign leads) and then use CRM activity data to monitor deal progress. This can also be done automatically by setting different preferences for how lead assignment is determined, such as territory, product, or deal size.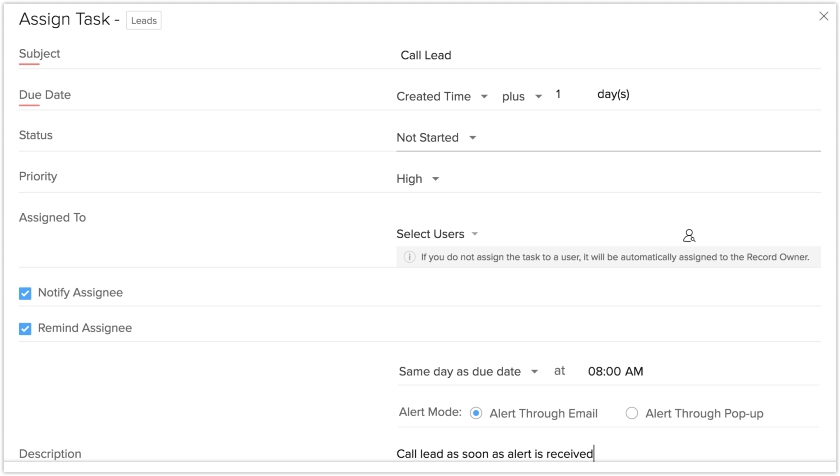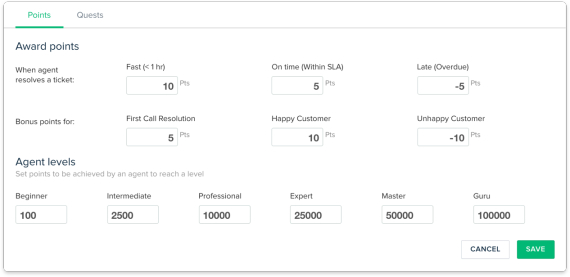 Looking to improve your lead tracking? This step-by-step guide will show you how to organize and track sales leads.
7. Marketing Strategies Are Not Being Executed
Many businesses get caught in a loop of creating new strategies that never get fully implemented. In fact, an estimated 67% of well-formulated business strategies fail due to poor execution. If your business is falling into this trap, specifically when it comes to marketing strategies, implementing a CRM can help stop the cycle.
Aside from the sales tools a CRM offers, it can also be used as a consolidated system for managing social media platforms, generating content, optimizing search engine results, and deploying drip email campaigns. There is also the capability to create online advertisements as a way to generate leads or web traffic.
When it comes to social media capabilities, it's important to note that customers are 78% more willing to buy from a brand as a result of a positive social media interaction. A CRM that also serves as a content management system (CMS) for social media accounts to publish content and monitor feeds is extraordinarily valuable, especially if your customers expect to interact with your business on social networks.
If your marketing strategy prioritizes search engine optimization (SEO), a marketing-focused CRM should be considered. Products like HubSpot include built-in tools to find keywords that drive traffic to your website. Seventy percent of marketers now see SEO as more effective than pay-per-click advertising.
Drip email campaigns are another strategy CRMs can execute on a mass scale with email deployment being entirely automated. With the right quantity of leads, they can be very successful. 2021 email campaign averages show estimates of a 43.76% open rate and 15.22% click rate. CRMs like Pipedrive make it easy to design and deploy these effective marketing campaigns.
For other email marketing CRM options, take a look at our picks for the best email marketing CRM software.
8. Customer Retention Is Low
There may be circumstances where your business is performing well at generating new business but can't seem to retain current customers. This can strain profitability since it costs far more to bring in new customers than the marketing and customer care needed to retain existing ones. If high customer churn is a persisting issue for your business, it's time your business had a CRM.
A CRM offers tools to manage existing customers, including increasing their satisfaction through empowerment and showing how much their loyalty means to your business. One way this can be seen in action is through survey tools offered by some platforms like Zoho.
Online customer satisfaction surveys can be sent to customers via email to see where adjustments in products, services, or processes can be made to improve their experience. Like other email functionality, many CRMs can automatically send surveys post-purchase or based on interactions, such as successfully resolving a help desk ticket.
Your business can also use a CRM to upsell, cross-sell, and extend promotional offers to customers based on information in the CRM database. BigCommerce, for example, is an ecommerce CRM that shows your team potential product interests of customers based on what web pages they've visited. Extending promotions based on this type of customer activity can lead to more conversions.
One of the most effective ways to keep customers coming back is through incentive-based loyalty programs. Seventy-five percent of customers are likely to make another purchase from a brand after receiving an incentive. Some CRMs, such as Lightspeed, allow businesses to manage and monitor customer loyalty programs using their CRM software.
For more solutions to keep your current customers satisfied and loyal, check out our article on the customer loyalty program ideas and examples.
Bottom Line
It's important to monitor the signs of operational chaos, inefficiency, satisfaction indicators, and underperforming sales metrics that indicate you need a CRM. Consider your budget, technical skill levels, and desired features, as well as which third-party applications and tools you need to integrate your CRM to make the best choice for your small business.