DoorDash and UberEats connect restaurants with independent delivery drivers. This allows restaurants to receive online orders and deliver food to customers without hiring their own drivers. These platforms list restaurants in an online marketplace and charge commissions to restaurants and delivery fees to customers for every order placed.
DoorDash and UberEats are very similar platforms. A decision between the two will likely hinge on personal preference, the popularity of each service in your area, and whether they integrate with your point of sale (POS). In many locations, however, restaurants don't need to choose one over the other. The services are non-exclusive so that restaurants can do business on both platforms simultaneously.
When to Use DoorDash
DoorDash is a good choice for small to medium restaurants that are looking for reliability. The DoorDash app allows top-performing drivers to schedule themselves for shifts in advance. So "Dashers"—as DoorDash refers to its delivery drivers—tend to treat the gig more like a full-time job. DoorDash is also a good choice for restaurants that use the Square Restaurant POS, as the platform directly integrates with that system.
When to Use UberEats
UberEats is great for franchise restaurants. Big names like McDonald's contract their delivery services exclusively through UberEats. The platform is not solely populated with large chain restaurants, however, as small local eateries also use the service in many areas. UberEats directly integrates with Lavu and Lightspeed Restaurant POS, so it is a good choice for restaurants that operate on those systems.
DoorDash vs UberEats at a Glance
| | DoorDash | UberEats |
| --- | --- | --- |
| Pricing | 30% commission on orders | 35% commission on orders |
| Operating System | Android | iOS |
| Direct POS Integrations | Square | Lavu, Lightspeed Restaurant |
| Order management | X | X |
| Payment processing | Handled by DoorDash | Handled by Uber |
| Marketing features | X | X |
| More information | | |
How We Evaluated DoorDash & UberEats
We conducted research for both restaurant delivery services. We watched training videos, compared features, and surveyed reviews of each service. We looked at things like the price of each service, how easy the apps are to use, their menu editors, and marketing features.
Below are the criteria we used to evaluate the two competitors:
Price: We looked at the cost to set up the service, and how much of a commission percentage is charged on each order.
Ease of use: We evaluated whether the app is easy to set up and looked at whether the restaurant portals are easy for managers and staff to navigate.
Software compatibility: We considered what operating system the platforms run on like iOS or Android, and what POS integrations are available.
Marketing features: We looked at what options each platform offers to increase a restaurant's visibility.
Customer support: Is it easy to contact the platform when you have problems with the service? Is it possible to contact a person, or are restaurants referred to online support forums for answers?
User reviews: We looked at available reviews to learn what restaurant owners experienced from each service.
At the end of our evaluation, we found the major differences between DoorDash and UberEats are in their POS integrations, option for a "white label" product, and the way drivers are scheduled. Many restaurants choose to utilize both services to maximize their delivery reach or add one to supplement an in-house delivery program.
DoorDash vs UberEats: An Overview
DoorDash and UberEats both organize local restaurants in a searchable marketplace that allows customers to place online orders. Both platforms also connect restaurants to independent delivery drivers who have passed a criminal background check. Both platforms handle payments to the drivers and allow restaurants to pause incoming orders when they are busy. DoorDash, however, has an additional "white-label" feature that enables restaurants to use the DoorDash platform without any DoorDash branding.
Another smaller difference is the way each platform presents restaurants in their marketplace. UberEats features the most popular restaurants at the top of their app, so your restaurant may be directly competing with national chains like McDonald's. DoorDash tends to separate local restaurants from national chain partners. While both apps are active nationwide, DoorDash currently accounts for a larger share of the United States market.
Terms of Service
According to their Terms of Service, DoorDash and UberEats are logistical platforms. It is important to keep this in mind; DoorDash and UberEats do not consider themselves delivery services. The fees they charge are the cost of admission to access their logistical platform. Access to the platform allows restaurants to promote themselves to the app's member customers. The platform offers the additional convenience of connecting restaurants with an independent delivery driver when they need one.
Understanding the product is important so that you can avoid being frustrated by the platform's actions. Since UberEats and DoorDash are logistical platforms, customer support from either one is best equipped to handle technological issues like their servers crashing, or problems with the tablet they provided you. They are not as well-equipped for wrangling customer complaints about food or drivers. Their default solution will be to refund the customer, which could leave your restaurant eating the cost of that order.
Your restaurant is the brick and mortar location associated with the food that was ordered. Your restaurant will still be the business fielding phone calls, emails, and online reviews from disappointed customers. Restaurants that partner with either platform are also responsible for paying the applicable sales taxes on all sales made through the app on their behalf. The business remains your business. The costs of doing that business will be yours as well.
The customer data, however, stays with the platforms. Unlike operating your own in-house delivery system, you will not receive customer emails, phone numbers, or dining preferences. The only way to reach DoorDash and UberEats customers directly is to place your restaurant's marketing materials in the to-go bags and boxes, which may be against the platform's terms of service.
DoorDash Pricing & Features
DoorDash offers a two-week free trial for restaurants. Thereafter, you pay a small startup fee for your tablet, and a photographer to do a photoshoot for your online menu. The price for this varies depending on your location but typically is between $300 and $500. Additionally, there is a 30% commission on all orders placed via the DoorDash platform.
Accepting Orders
When you sign up with DoorDash, you'll receive an Android tablet for your restaurant with the DoorDash app pre-installed. The app is divided into three simple sections: New Orders, In Progress, and Completed Today. It's a very simple process that any manager or employee should be able to handle with ease.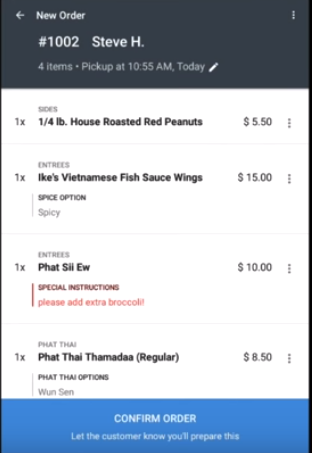 Connecting With a Dasher
When you've indicated that an order is ready to be picked up, DoorDash will automatically connect you with the nearest Dasher. When they arrive, all you have to do is hand over the food and update the app. The Dasher will then deliver the order to your customer.
If you are a partner on the platform, there are no payments involved. The customer has already paid when they ordered through the app, and DoorDash will send you your portion via a direct bank deposit within a week.
Dasher Reviews
Restaurants can review Dashers through the DoorDash merchant portal. You do have to make an effort to do at the end of every shift, but if you care about maintaining a professional fleet of local drivers, the effort is worth it. If a Dasher falls below 4.2%, they can be deactivated from the app.
Menu Editor
The Menu editor in the Merchant Portal gives you a highly detailed interface where you can input all your menu items, variants, prices, pictures, and more. It is more detailed than the UberEats menu editor, so it can take a bit longer to learn to use effectively. It is, however, still a pretty intuitive system.
Sales Data
Through the Merchant Portal, you'll have access to high-level summaries of all your orders and sales. The overview on the dashboard shows you how many orders you've received, the average order amount, how many unique customers you've had, and how much you've earned in net sales. And, like UberEats, you can export this data for accounting and tracking purposes.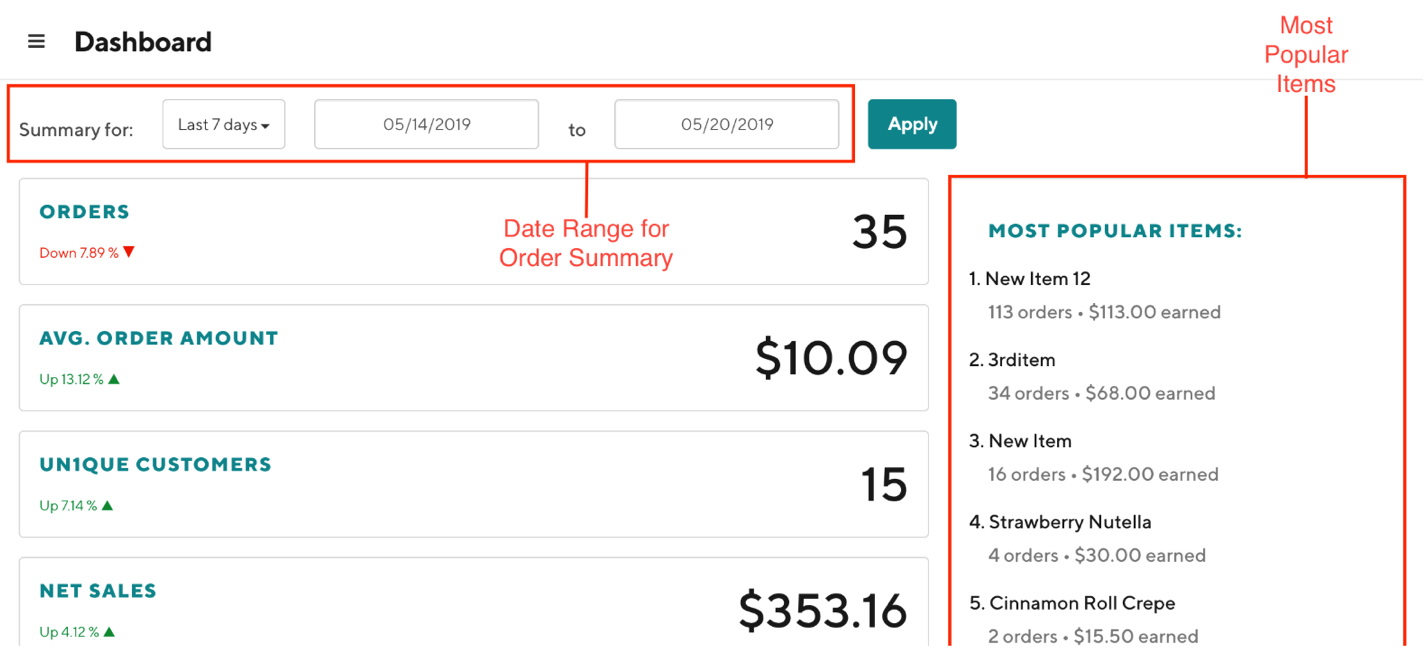 POS Integration
DoorDash integrates directly with Square for Restaurants. Restaurants that operate with this POS can set up the system so that DoorDash orders are folded directly into the order stream with in- house orders. Restaurants with different POS systems can integrate DoorDash via the third-party aggregating apps Chowly and ItsaCheckmate.
UberEats Pricing & Features
The setup costs for working with UberEats are similar to DoorDash. Depending on where you're located, you'll pay between $300 and $500 for an initial setup and a professional photographer to help you to create your online menu. Thereafter, you'll pay a 35% commission fee for each order.
UberEats for restaurants has two components, the iPad app that allows you to take orders from customers, and the Restaurant Manager that you access from a web browser for back-end tools. Both are straightforward and easy to use for managers and employees.
Accepting Orders
When a customer orders food from your restaurant on the UberEats app, you'll be notified via the left-hand sidebar on your tablet's app. It only takes one tap to accept and order from UberEats. Then, depending on your in-house processes, you or a staff member will need to ring this order into your POS or whatever system you use to communicate orders with your kitchen.
Managing Orders
Once an order is accepted in the UberEats app, you'll see what your customer has ordered, the amount they paid, any special instructions that come with the order. The app will also indicate an estimated time that a driver will arrive to pick up the order. The app gives you the ability to adjust the price of an order, request more time to finish an order, or cancel it if you need to.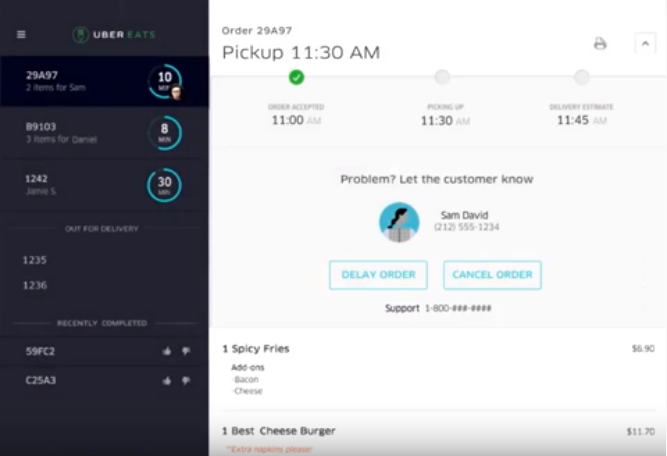 Tracking Orders
Once a driver has picked up an order, the UberEats app allows you to track the delivery in real-time. You'll be able to see exactly where the drivers are while your orders are in transit. It's a great tool for keeping tabs on the drivers delivering meals to your customers.
Menu Editor
UberEats makes it easy to add and edit menu items and categories to your online restaurant. Simply log in to the Restaurant Manager dashboard from a web browser and click on Menu Editor. In addition to managing your menu, this is where you'll input the service hours of your restaurant.
Restaurant Analytics
The Restaurant Manager also gives you detailed, actionable analytics for your restaurant. You can view all your sales, top-selling items, and customer satisfaction rating. These numbers allow you to identify your restaurant's strong points, as well as areas that need improvement.
Driver Reviews
UberEats allows restaurant partners to review delivery drivers with a simple thumbs-up or thumbs-down. Drivers can be deactivated from the platform if their rating falls below a certain rating standard. UberEats driver rating standards may vary from city to city.
Accounting
The Sales tab in the Restaurant Manager is where you'll find a weekly record of all your orders. You can drill down on each week to see sales broken down by day. You also can download a CSV of your weekly statements for accounting purposes and to ensure that you pay the correct sales tax on these orders.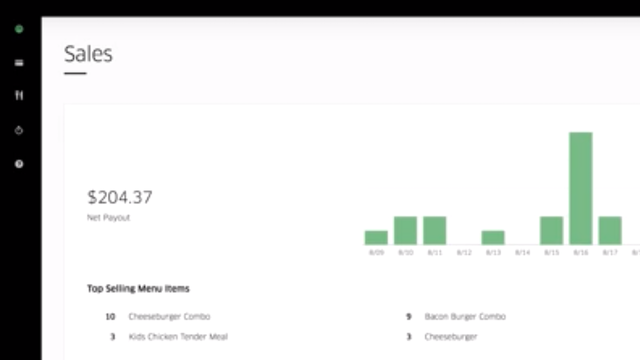 DoorDash vs UberEats: Marketing Options
DoorDash and UberEats both have several marketing options. Most of these options center around promoting discounts and deals to encourage customers to tap on your restaurant. The major difference between the two platforms is the level of control a restaurant has over in-app marketing campaigns. DoorDash offers a clear, multi-tiered marketing approach while UberEats allows restaurants to improvise.
DoorDash Marketing
In addition to being able to promote your store within the DoorDash app itself, DoorDash offers in-store marketing materials like stickers, decals, and promotion cards. When placed in your restaurant, they let customers know that they can order from your store through DoorDash.
DoorDash offers higher tiers of membership that unlock more favorable in-app placement for your restaurant. Joining DashPass, for example, will promote your restaurant to a group of DoorDash customers that order frequently and pay no delivery fees. Pricing for these additional tiers is only available by contacting a DoorDash Merchant Growth representative.
UberEats Marketing
UberEats offers a comprehensive selection of in-app promotions via the Restaurant Manager portal. Restaurants can offer promotions, special deals, free delivery, and discounts on certain items. The only additional cost to run these promotions is the cost of the discount itself. For example, if you run a $5 off a $25 order, your restaurant will cover that $5 discount. UberEats allows you to set a "marketing budget" for each offer, and to set the offer to end once your budget is met, so you avoid surprise charges.
UberEats' marketing platform also includes downloadable materials to help restaurants create content for Instagram, Facebook, and email. There are also options for in-store flyers that can be printed and placed in your restaurant.
DoorDash vs UberEats: Ease of Use
Setting up your order tablet, taking orders, and training employees on the system can chew up a bit of time. However, once initial setup and training are complete, your employees should be able to handle either system with few problems.
DoorDash Ease of Use
Accepting orders and handing off prepared food to drivers is the simplest part of DoorDash. Once trained, your employees can breeze through the process. It's the back-end merchant portal that may take some time for managers to learn. However, DoorDash offers a wealth of training materials so you can use it to its fullest potential.
UberEats Ease of Use
UberEats, much like their ride-sharing counterpart, is infinitely intuitive. The workflow on the app can be grasped easily within a few minutes of a new employee logging on. Additionally, the Restaurant Portal, accessed via a web browser, is simple and can be used nearly instantly by any restaurant manager who has experience using back-end software.
DoorDash vs UberEats: Customer Support
With any delivery service, you're likely to run into problems with late drivers, wrong orders, and various other unforeseen difficulties that come with running a restaurant. Both DoorDash and UberEats have multiple tools to help resolve any issues that may arise.
DoorDash Customer Support
DoorDash offers the following ways to contact the company when you need help. These services are available 24 hours a day.
Toll-free customer service number: (855) 973-1040
Email support: restaurants can reach DoorDash support via this online form
In-app support: Navigate to the "help" option in the DoorDash app
Merchant support portal: DoorDash offers a searchable support portal on its website
UberEats Customer Support
UberEats allows you to communicate with the company with the following methods. These are available 365 days a year.
In-app support: Head to the "Help" section in the app's navigation
Phone support: The best way to reach a person is to phone support via the app
Restaurant support portal: UberEats offers a searchable online FAQ and knowledge base
Social media support: UberEats customers can also contact support can via Twitter at @Uber_Support
When reaching out to either platform for support, it is important to keep in mind that they are negotiating the interests of drivers, the customers, and restaurants. Sometimes DoorDash and UberEats support will reimburse a restaurant for the cost of an order that was never picked up. Sometimes, however, a customer complaint about food will lead to refunds from the platform. Contacting support with a service issue is not a guarantee that the solution will always be in your restaurant's favor.
DoorDash vs UberEats: User Reviews
Many reviewing sites organize reviews from DoorDash and UberEats customers, restaurants, and drivers together, which gives a comprehensive view of each platform. Positive reviews of both apps cite their ease of use and convenience. Negative reviews from restaurateurs cite the high commission rates and feeling pressured to buy into higher membership tiers or offer promotions to gain visibility.
Both DoorDash and UberEats have been criticized for listing restaurants on their platforms without the restaurant's permission. Both platforms have also been sued by drivers for failing to pay tips.
DoorDash User Reviews
Among the user review websites we looked at, DoorDash received an average of between 1 and 2.5 out of 5-star ratings. Common complaints from restaurant owners were not getting paid for orders, high commission rates, and drivers who do not represent their restaurant in a positive light. Some restaurant owners note that their restaurant was added to the DoorDash website without their consent, and their listing featured out-of-date menus.
Many restaurateurs, however, like the flexibility of using DoorDash when business is slow and pausing the app when they get busy. Many also appreciate the in-house marketing materials DoorDash provides. Some positive reviews note that owners had success negotiating lower commission fees with the platform when they asked.
UberEats User Reviews
Customers give UberEats high marks for its wide selection of major franchise restaurants and small local eateries. Many customers complain, however, about inexperienced drivers and late deliveries. Critical restaurant owner reviews note high-refund rates from UberEats due to customers claiming their orders were never delivered.
Positive restaurant reviews note the high-quality photography the app provides. Many restaurateurs also claim they were able to negotiate lower commission rates and activation fees with the app just by asking.
Bottom Line
Both UberEats and DoorDash provide a marketplace to promote member restaurants and connect those restaurants with independent drivers. While both companies operate nationwide, specific areas may be better covered by one or the other. Many restaurants choose to work with both companies or work with them alongside their own in-house delivery solutions to extend their delivery reach.