Drone insurance provides unmanned aerial vehicle and unmanned aircraft system operators protection against accidental injuries or damage inflicted by their drone. Drone insurance primarily covers third-party liability bodily injury and property damage claims for small business owners. Average drone liability insurance costs $750 annually. However, this doesn't cover the drone itself.
Drone Liability Insurance Providers
Drone liability insurance providers either sell specialty policies specific for drone use or as part of a larger commercial general liability policy, like a professional photographer's package. Verifly provides on-demand policies while all other policies offered are on annual policy terms.
Drone Liability Insurance Providers
| Drone Insurance Company | Best For |
| --- | --- |
| | Drone operators that need hourly coverage quickly via a proprietary underwriting app |
| | Photographers and videographers that seek an inexpensive rider to existing business policies |
| | Drone operators who work in densely populated areas covering concerts, sporting events, and fairs |
| | Professional photographers who use drone and RC aircraft to capture footage in open spaces |
| | Photography companies that use a wide variety of aerial footage, from drone to small private aircraft |
| | Agriculture and open space security firms that seek to patrol unpopulated areas |
Drone liability insurance providers evaluate the risk based on the drone's purpose, the geographic area the drone will operate in, and the potential for property or bodily injury damage. For example, there is more risk to fly a drone over a wedding than there is to fly it over an unpopulated canyon leading up to a house in the hills.
Here are the top drone insurance providers based on overall coverage and convenience:
Verifly: This insurance company is an innovator in drone insurance, with a proprietary app that allows a drone operator to get coverage on an hourly basis. Underwriting is done based on GPS location and time. Markel Insurance Company underwrites it.
The Hartford: Premier business policies for photography businesses using drones and other photography equipment needing coverage across the board. An easy addition for companies with existing business policies at The Hartford.
Global Aerospace: An aerial risk management solution insurance company, including coverage for unmanned aircraft for any reason. Good for companies with large film, concert, or sporting events.
Aerial Pak: A leader for remote-controlled aircraft risk, including drones. Policies are created in conjunction with the Remote Control Aerial Photography Association to cover risks specific to drone photography.
USAIG: An aviation insurance giant, this insurance company insures risks associated with all types of flight. Excellent provider of hull insurance for drone operators with a fleet of expensive, high-end drones.
Unmanned Risk Management: Works with small businesses that use drones to survey and secure land and livestock. Specialty policies for drone operators in agriculture, photography, and service providers.
How Drone Insurance Works
Drone insurance typically refers to drone liability insurance. This covers the drone operator or his business from accidental injuries to bystanders or private property. Most commercial drone liability insurance is sold to professional photographers, videographers, and an increasing number of real estate agents and agriculture companies. Some personal drone operators will purchase personal drone liability insurance.
There are different ways a drone operator can purchase a drone insurance policy. This includes annual policies, riders to existing business policies, and short-term policies. Some drone insurance providers sell policies on an hourly basis. If you aren't using drones frequently, the latter option helps reduce costs.
Who Needs Drone Insurance
Even the most skilled professionals occasionally make mistakes, and equipment failure can happen to anyone. If you want to avoid the possibility of hefty legal fees, you need drone insurance. Commercial-use drones must be registered with the Federal Aviation Authority (FAA) and must comply with all airspace rules and regulations.
The three main risks that are covered by drone liability insurance are:
Property damage: A drone hits a power line that leads to a building catching fire, or a drone that loses power and drops onto a car.
Bodily injury: A drone falls out of control into a crowd, leading to serious injuries to people on the ground.
Invasion of privacy: A person claims that the drone was spying on them or has captured private footage of them in their home.
Drone insurance is considered a derivative of aviation insurance. Drones can potentially lead to serious bodily injury, even death, as well as property damage if they crash or fall. Aviation is a specialty risk with extreme financial exposure.
While some photography and videography insurance policies cover drone use, the additional business activity has to be disclosed to the insurance company. Not every insurance carrier for photography business insurance covers drone usage. Those that do require additional riders to cover the risk.
Some Clients Demand Drone Insurance
Even if your chances of having an accident are remote, some clients, particularly large corporate clients in real estate, education, law enforcement, or oil and gas, require any drone pilots they hire to have drone insurance. If you want to work with these kinds of clients, you need drone insurance and have to provide a Certificate of Insurance from your insurance carrier.
Clients like the results that drone footage produces but are afraid of the potential risks. A wedding organizer wants to protect guests' safety. A cow rancher searching for a rogue bear wants to keep the herd safe from a falling drone. Homeowners don't want neighbors suing them for privacy invasions when getting footage for home sales.
Drone Insurance Example
A recent legal case in California regarding a 2016 wedding-drone incident outlines the peril and potential claim denial―thus business exposure―perfectly. The wedding photography company, Hollycal Production, Inc., was capturing an outdoor wedding via a drone in Corona, California. The drone operator lost control, and the drone crashed into a guest.
The woman lost the use of one eye permanently. The insurance company, Philadelphia Indemnity Insurance Co, denied the claim. The United States District Court upheld the claim denial based on the notion that the drone was not a standard part of the photography business, but instead subject to the aviation exclusion in the business' insurance policy.
Types of Drone Liability Insurance
Commercial drone owners and operators need to address liability and property concerns with different types of policies. You want to make sure you are protected against liability claims for accidental crashes and operator errors. You also want to protect the investment in your drone. Drones range in price from a few hundred dollars to several thousand.
Commercial Drone Liability Insurance
Commercial general liability insurance covers the expenses of accidental injuries or property damage resulting from drone use. This includes bodily injury, disability, and even death resulting from a drone crash. It also includes damage to utility lines, roofs, cars, and other personal property damaged by a drone.
Commercial Drone Hull Insurance
"Hull insurance" is a term used in the aviation industry for accidental damage during operation to the aircraft—in this case, the drone. This is a separate policy and something that every commercial drone operator should consider. Hull insurance costs start at $220 annually, but they still have a deductible. If you have more than one drone, costs increase according to the total value.
Drone Insurance for Fire & Theft
Other drone insurance losses to cover include fire and theft. These perils are often covered via business property insurance or a business owner's policy (BOP). This is a policy that combines liability and property coverage in one policy. Premium prices start at a few hundred dollars per year and increase with the value of the drone and camera equipment. Specialty providers don't cover this type of loss.
Drone Insurance Costs
There are two ways you can purchase drone liability insurance: annually or a la carte with an hourly policy for as little as $10 per hour. Commercial drone insurance costs vary widely based on location, use, population, and hazards in the area. Drone operators with one drone might pay $1,000 annually for general liability limits and hull coverage.
Typical Drone Insurance Costs
| Liability Coverage | Price per Drone (Annual) |
| --- | --- |
| $1 million | $750 |
| $2 million | $1,000 |
| $3 million | $1,500 |
| $5 million | $2,000 |
When insuring multiple drones, or very expensive drones, hull insurance might start to make more sense. One drone expert we spoke with received a quote of $1,400 per year for $1 million liability coverage, and hull coverage for two drones valued at around $2,000 in total. When he added a $6,000 drone to his fleet, including hull coverage, his premium went up to $1,900 per year.
Standalone Drone Insurance Policies
A standalone drone insurance policy covers just risks associated with drone photography and use. Policies range from roughly $600 to $1,000 per year to insure a typical drone with $1 million liability coverage. These are for lightweight drones less than 15 pounds used in commercial photography. Most don't cover damage to or loss of a drone.
Consider the risk of the entire business, whether photography, videography, agriculture, or surveillance. Getting a policy that serves only one aspect of risk leaves significant gaps where business owners could become liable.
Factors That Affect the Cost of Drone Insurance
There are a lot of factors that go into the pricing of drone insurance. Be prepared to explain to the drone insurance carrier the business use of the drone and typical mapped areas of use. Your experience and any training are also important in obtaining drone liability insurance for reasonable costs.
The drone insurance carrier will generally need to know:
What type of drone you're flying like make, model, and size
What kind of work you intend to do with the drone like commercial photography, inspection, and law enforcement
How much experience you have flying drones
Whether or not you've had any accidents in the last five years
Whether or not you are a Part 107 FAA-certified drone pilot
Locations where the drone will be used like crowded city vs farmland
Although drone insurance policies can be very similar across multiple insurance carriers, it still makes sense to call around to get multiple quotes. While you may not see much variety in pricing, you may have specific needs or concerns that not every company can provide.
On-demand Hourly Drone Insurance Policies
Launched in 2016, drone insurance startup Verifly has been offering hourly drone insurance policies that can be purchased on the go with an easy-to-use, Uber-like app. Sign up for Verifly, and then choose a quarter-mile circle flight area on a map. Verifly assesses the potential risks and gives you a price for a one-, four-, or eight-hour policy.
The policy itself can be downloaded quickly for situations where proof of insurance is needed. To see what a drone insurance policy looks like, you can download a PDF of Verifly's sample policy here. Currently, Verifly is offering damage liability coverage ranging from $1 million to $2.5 million for as low as $10 per hour. They also offer $10,000 of personal injury coverage for violations of privacy.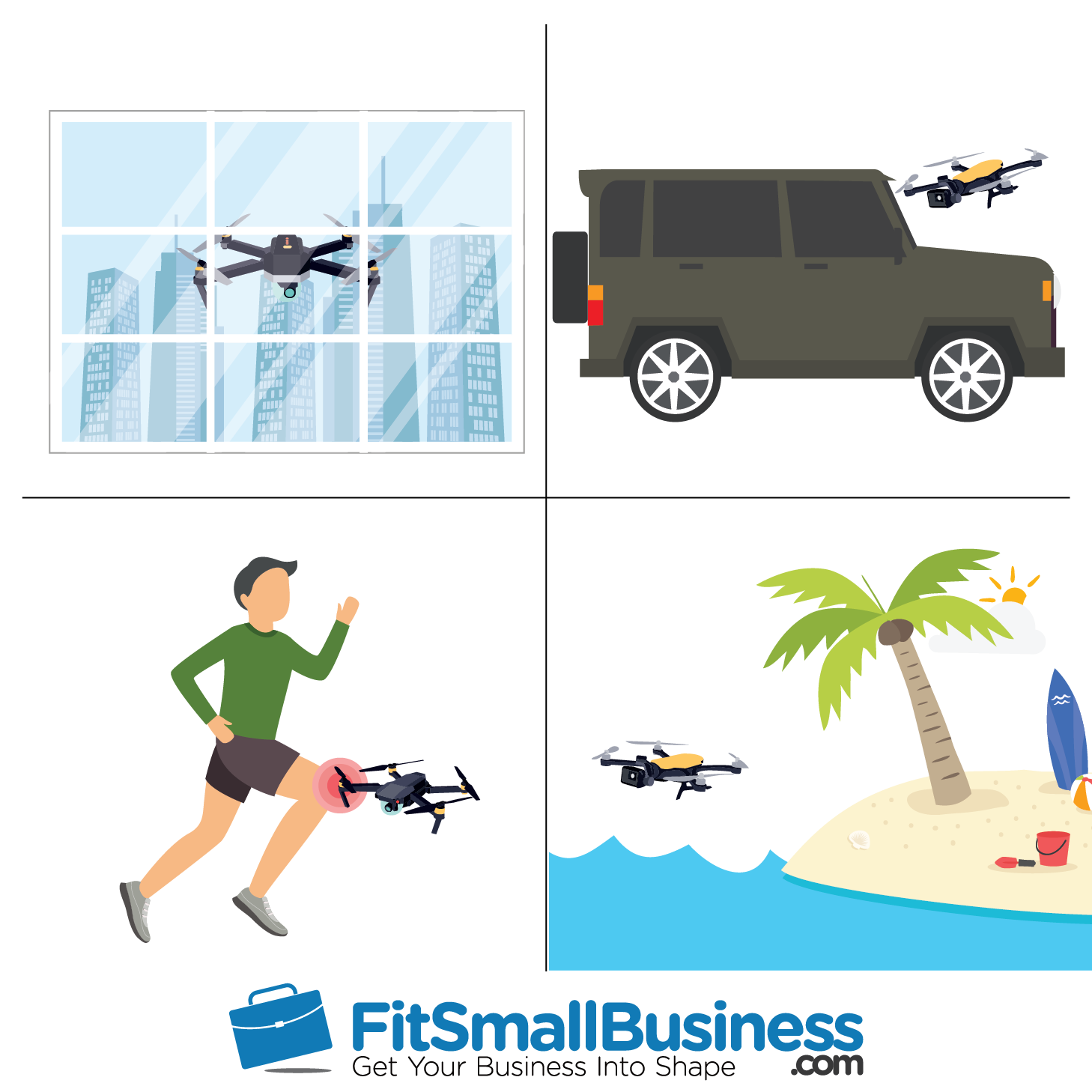 Tips for Buying Commercial Drone Insurance
Increase Drone Insurance Coverage for Marketing
Clients want to be protected, and most won't risk hiring a drone operator without making sure the proper insurance is in place. Some companies are demanding drone operators have a minimum of $5 million in general liability coverage. The expense of drone insurance is worth it for many wanting to increase business opportunities.
"Clients hiring drone pilots, especially in real estate, are now requiring insurance just as they do for any other type of supplier. Furthermore, we are seeing a marked increase in the requested limit—with many more jobs requiring $2.5 million of liability insurance—as shoots go increasingly up-market."
—Jay Bregman, Founder, Verifly
Consider Drone Insurance to Protect the Drone
Hull insurance protects damages to the actual drone. Less expensive drones might not be suitable for hull insurance because the deductible plus the cost of premiums just doesn't make sense. Hull insurance and coverage for theft or fire loss are separate policies in most cases.
"Typically hull insurance―where you're insuring the actual drone―isn't really recommended unless you're flying a system worth, say, over $5,000. Most real estate folks are flying systems well under that, and the numbers for hull insurance usually aren't worth it. Some manufacturers, like DJI, offer their own insurance plans for the aircraft, which make more sense financially."
—Alan Perlman, Founder, Unmanned Aerial Vehicle (UAV) Coach, Drone Pilot Ground School
Drone Insurance Usage Limitations
Understand what types of flights your drone is covered for. Some policies will only cover you for certain uses. For example, if you're a real estate photographer but get offered a gig shooting an oil pipeline, you need to make sure your insurance will still cover you. Always ask what situations you will be covered for.
Increase Liability Insurance Coverage for Multiple Drones
Having multiple drones means you have increased risk. Anytime a drone goes up, there is some possibility for error or equipment failure. As numbers increase, the chance of a problem increases, especially if more than one drone is used at the same time for the same shoot.
"Typically, the standard drone insurance policy is enough, but if you have more than one drone in your fleet, it's recommended that you choose a more expensive package that will cover liability across all your UAVs. It's important to note that depending on the client, different policies may be required. Commercial real estate being handled by a large corporation would more than likely require higher coverage than a local family selling their home."
—Sacha Ferrandi, Founder & Head Principal, Source Capital Funding, Inc.
Get Drone Insurance From an Aviation Specialist
While many of the big insurance companies are coming out with policies for drone insurance these days, sticking with a carrier that specializes in aviation insurance is still probably your safest bet. Remember that basic business policies exclude aviation activity losses. Unless specifically covered, you are at risk.
"There are a myriad of options for insuring drone liability but the devil, as always, is in the detail. We would recommend operators obtain a policy from an aviation specialist as they have policy forms developed specifically for the needs of drone operators. If insurance is obtained through a general liability or homeowners insurance policy, it is worth checking that commercial flights are covered, and that no exclusions exist in the policy that may negate significant coverage items.

"Also, it is worth establishing that your insurance provider has the ability to offer the right insurance products for you as your business grows. Can they insure the asset itself? Can they offer high limits of liability if a contract requires it?"
—Chris Proudlove, Senior Vice President, Global Aerospace
Frequently Asked Questions (FAQs)
There are many questions about drone insurance because they are used both personally and commercially. Additionally, with regulations changing constantly, we don't blame you for wanting to double-check things.
Are drones covered by homeowners insurance?
Homeowner's insurance policies exclude any liability dealing with aircraft except for model or hobby aircraft. Every homeowner using drones for personal or hobby purposes may have some liability coverage. The drone operator must still follow airspace rules and not use the drone to invade anyone's privacy.
Do you have to register your drone?
Commercial-use drones must be registered with the FAA. Registering a drone with the FAA has a one-time fee of $5. The registration certificate is required when insuring the drone for business use. Personal use and hobby drones don't need registration, and some hobbyists who registered are eligible for refunds.
Can you fly a drone over someone's house?
Flying a drone over someone's home poses several potential legal issues. Aside from the liability of injuring someone or damaging property, there could be criminal actions taken for invading someone's privacy. It is disputed whether a private homeowner's airspace ends at 100 feet or 500 feet in altitude. Legally, homeowners cannot shoot down drones in private airspace.
Do I need drone insurance?
To protect your business interests, drone liability insurance is necessary. These aren't toys and can lead to serious harm or damage. A certificate of insurance is required by most clients and businesses hiring drone operators for photography and videography shoots. Without drone insurance, you risk civil and criminal financial losses for claims against your business.
Bottom Line
If you're using a drone for any commercial purposes, you're going to need to purchase drone insurance to protect against liability claims at the very least. Covering your drone from theft and accidents is optional but highly recommended. How much you use it for business and in what type of area will determine the amount of coverage you need.