Before you make an offer on an investment property, you need to make sure you know what you're getting into. Due diligence is the process of performing a comprehensive evaluation of investment property to establish its income potential and decrease some of its risk. Since due diligence can be complicated, we've broken it down into five phases.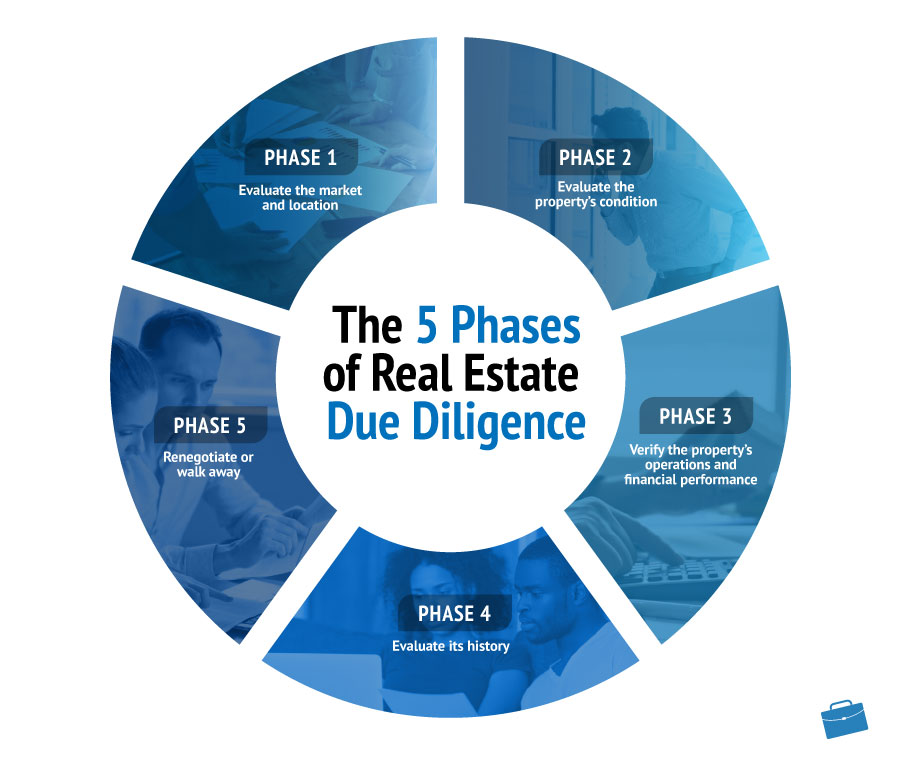 To assist you with the five phases during the due diligence period, we've included some helpful tools: a property comparison spreadsheet, investment property condition worksheet, and a lender verification checklist, which we've outlined in each section of this chapter. You can click on the images below to subscribe and download the free tools. You may also consider purchasing one of the many real estate investment software programs that help investors evaluate rental property.
The Due Diligence Period
The due diligence period begins with gathering online data to compare properties and continues through closing a purchase. You don't want to rush due diligence and risk making costly mistakes, but timing is critical since you'll have contracted deadlines. Due diligence in real estate is done through a process of elimination. You'll start by evaluating dozens of properties, narrowing those down to 10 or fewer, making offers on two or three and, ultimately, buying one.
When you're ready to buy the next investment property, you'll enter a new due diligence period following the five phases. As you develop due diligence skills, it gets easier. Soon, you'll have the ability to quickly evaluate whether you're looking at a good deal or a dud based on its positive cash flow, physical condition, location, history, and how it performs financially overall.
The Due Diligence Process
Real estate investing guru, Robert Kiyosaki, author of Rich Dad Poor Dad and Rich Dad's CASHFLOW Quadrant, advises investors to look at 100 properties, make offers on 10, get three offers accepted, and buy one of those properties. This is one example of an effective due diligence process because it's based on setting a numeric goal that can assist in focus and planning.
You can use this formula or create an ongoing process until you've invested in all the properties you want to buy. Schedule blocks of time for evaluating properties from the online data you gather in phase 1. Schedule a full day or two for touring properties in phase 2. The remaining phases occur after you have an accepted offer, so how you schedule them depends on the contingency deadlines in your purchase and sales agreement.
The more properties you evaluate, the more trends and patterns you'll see emerge, such as:
What the current market rents in a specific neighborhood are
The length of time properties are listed and on the market for sale
Trends and fluctuations in selling prices
How preforeclosure and bank-owned properties compare
How location impacts selling price and rental income
Vacancy rates
Which properties sell faster than others and why
The overall impact of deferred maintenance and repairs
With due diligence, you'll also learn how to:
Determine what price to offer
Explore potential legal issues
Negotiate and renegotiate offers
Calculate positive cash flow
Estimate repair costs
Time a purchase
The education you receive through consistent due diligence in real estate is invaluable. Imagine having the ability to evaluate any property and know quickly if it will produce good rental income or a substantial profit. With that priceless knowledge, you could look at properties anywhere, follow our five phases, and soon build a profitable real estate portfolio.
---
Phase 1: Evaluate the Market and Location
In phase 1 of the due diligence period, you'll evaluate the market, location, and compare properties side-by-side. Phase 1 mostly uses online data. If you're considering properties not listed for sale or online, you can gather information from state, county, and local property records and by speaking with property owners. Some records are public and may be accessible online or might require a visit to the government office.
Public records include:
Property owner's or entity's name and address
Type of property
Land use and zoning
Assessed value (differs from appraised value)
Map, lot, and block numbers
Tax maps
Deeds
Map of property with acreage
Building floor plan, number of rooms, beds, and baths
Square footage and recent capital improvements
Property taxes
Sales history
If the property is not listed, you can send your marketing postcard to the seller as described in the chapter, How to Find Investment Properties for Sale, to find out if they're interested in selling before jumping into due diligence. Online listings include some needed data, including the listing details needed to compare properties. The best deals aren't always found listed with agents, but it's convenient to use online data to develop your due diligence skills.
Using the Property Comparison Spreadsheet
In addition to information on properties for sale and that have recently sold, Zillow provides asking rents for vacant units so that we can estimate market rents in your chosen locations. You can also search Craigslist, Realtor.com, and local classified ads for rental units. Asking rents help with evaluating income potential.
Enter into the Property Comparison spreadsheet the following:
Property addresses
Square feet and number of rooms, beds, and baths
Lot sizes
Year built
Days on market
Listing prices for listed properties
Last sold date and price for both listed and recently sold properties
Asking rent for properties advertising vacancies
Additional features, amenities, condition, and upgrades or repairs
Enter data for all the properties you wish to compare. You'll need to compare properties of the same type. For example, compare all single-family or multifamily homes. Compare similar commercial properties. What patterns and trends do you see in the properties currently available for sale? How does their information compare with properties that have recently sold?
Pricing and Days on Market
Don't assume lower-priced properties are better deals. You have to look at the whole picture. A higher-priced property may have higher rental income and need fewer repairs, or it could be overpriced, and the owner may be willing to negotiate. A lower-priced property could be in a low-rent neighborhood and, therefore, have less rental income or be in need of major repair.
Consider how long the property has been for sale, what the average days on the market are for similar properties, and what comparable properties have sold for. If the property has been on the market for six months and the average days on market is three months for comparable properties, the property could be overpriced, in need of major repairs or the sellers may be inflexible.
Square Feet, Beds, Baths & Amenities
Compare the square feet, lot size, numbers of rooms, beds, baths, and amenities in all three categories of the properties in your spreadsheet. Properties with more square feet and more rooms on larger lots or with recent upgrades and amenities will produce higher income. If the property has multiple units, large first-floor units with three or more bedrooms can rent for a premium.
Properties that have been updated and need few repairs rent faster and save you money on repair and maintenance costs. Properties with nice, large yards on quiet side streets are more appealing to renters than properties on busy or noisy streets unless they're located in the heart of a major city.
Location, Location, Location
Compare neighborhoods for properties for sale, recently sold, and available to rent. Neighborhoods close to schools, shopping, jobs, and major routes tend to have higher rental income than depressed areas with high crime rates. It's sometimes more difficult to find deals in these locations because there's higher demand.
Questions to ask include are any of the available rental units and recently sold properties in the same or a similar neighborhood as the properties for sale? How do they compare? The information from the available units for rent and recently sold properties help you determine if a property is overpriced and if it will generate positive cash flow.
If you're new to real estate investing, it's better to buy local properties rather than out-of-state properties. Your due diligence period, touring the property, the closing process, and managing the property is much easier if you're within driving distance. If you're an experienced investor or are working with an experienced real estate mentor, some great deals can be found out-of-state.
Market Rents
To determine if the listed market rents justify the asking price for the available properties, use the asking rents to calculate potential rental income for the properties for sale. If the asking rent for a three-bedroom, one-bath units is consistently between $1,200 and $1,500, and you're looking at three-bedroom, one-bathroom duplexes, you can estimate gross rental income for both units at $2,400 to $3,000 per month.
You also want to consider the location, condition, and square foot of each rental and compare it to the properties for sale. If your subject properties are in a better location, have recent upgrades, and more square footage than units listed for rent, you may be able to command higher rents in your subject properties. This is just a preliminary financial analysis. When you make an offer, you'll do an in-depth financial analysis.
Eliminating Properties From the Analysis
After comparing the data for the properties, there should be a few that look like they have potential. Add the ones with potential to your short list. Reach out to your agent and have them schedule showings. If your first analysis yielded few properties, you can evaluate another neighborhood, check other sites, or use the marketing strategies we outline in our chapter on finding properties to invest in.
---
Phase 2: Evaluate the Property's Condition
In addition to comparing properties listed on the market, you'll need to evaluate each property's physical condition, and estimate repairs, if needed. The majority of offers are made in phase 2. In our chapter, What to do When You're Ready to Buy Investment Property, we include a due diligence checklist for touring rental property, which you can also get here if you haven't already.
If you decide to submit an offer after touring the property, you'll typically have up to 10 days to perform all your inspections. The property inspection contingency allows you to walk away from or renegotiate the deal if any of your inspections prove unsatisfactory. To keep track of inspection and contingency deadlines in phase 2, we've included the Investment Property Condition worksheet.
Due diligence in phase 2 may include:
Home inspection by a licensed home inspector
Pest inspection
Fire safety inspection
Septic inspections and water tests
Lead paint, asbestos, mold, and radon tests
Review floor plans
List of capital improvements or structural alterations for the past five years
Seller's completed property disclosure form
Engineering site or development plans, and surveys
Current and completed work orders
Building code violations, if any (check with local building department)
Certificates of occupancy
Management and maintenance agreements
Rehab, repair, or construction budget
Which of these inspections and evaluations you perform in phase 2 depends on the type of property you're buying. For a fix-and-flip, you'll need to get contractor bids and estimated completion timelines in addition to having the property inspections by licensed inspectors. Repairs have a sneaky habit of taking longer and costing more, so be sure to add 10% to 20% to your repair costs and completion deadline.
Due Diligence on Residential Foreclosure Auction Properties
Properties purchased at foreclosure auctions present special due diligence challenges as they are often sold as-is. Some of these properties can have severe damage and structural issues or be stripped of their copper plumbing. If the owners or tenants still live in the property, they may resist letting anyone in to do inspections. If you buy at auction and, depending on which state the property is located in, you could inherit unpaid taxes and liens.
If you plan to buy at auction, bring a general contractor or inspector to the auction with you to tour the property. Research any potential liens and unpaid taxes before the auction. Some of these properties are vacant and have been winterized, so heating systems and plumbing damage may not be visible. Budget for unknown repairs when buying auction properties.
Don't assume the bank will vacate occupied rental units. You'll need to find out the status of any existing tenants and whether the bank plans to evict them. If they don't, it will be your responsibility to honor the remainder of their lease or evict them if they're month-to-month.
---
Phase 3: Verification and Financial Performance
Phase 3 of the due diligence period happens after you get an accepted offer and the property sale goes under agreement. Like the home inspection contingency clause, you'll want to include a contingency for satisfactory review and verification of all the relevant documents that show the property's performance. Ask for two weeks to verify the seller's documents and information so that the seller has time to gather everything, and you have time to review it.
If you're dissatisfied with your review and you're within the deadline, you can negotiate or walk away and get your escrow deposit back.
During this due diligence phase, you'll apply for financing. Include a financing contingency clause in your offer to purchase to give you an "out" in case you're unable to get funded. Financing contingency clauses are typically four weeks from the date you sign a purchase and sales agreement. We show you how to get financing in a later chapter. You can download the free verification and performance checklist we've included to streamline this process.
Tenant verification includes:
Leases and rental agreements
Signed apartment condition statements
Tenant applications with background check reports
Rosters for all occupants, including minors
Signed estoppel certificates, which are documents signed by tenants about their existing lease arrangement and security deposits
Security deposits and security deposit statements
Renters insurance policies
Income and expense verification includes:
Rent rolls and paid-to dates
Income from vending, storage, parking, and pets
Two years of bank statements
Utility and heating bills
Municipal bills like taxes, water, sewer, and rubbish removal
Routine maintenance costs
Property taxes and insurance costs
Federal tax returns
Two years of financial, income, and expense statements
Operating expenses
Property management fees
Cash receipts
Your projected administrative costs and office expenses
Your legal costs
Your mortgage expenses
All other income and expenses that will convey with the property
Property and seller verification includes:
Home warranties or guarantees
All sellers property records
Landlord personal property list
Which appliances convey
Certificate of good standing for a property held in a limited liability company (LLC)
Vendor and utility company account numbers and contact information
Partnership agreements where applicable
Running the Numbers
You probably ran some preliminary numbers to estimate how much income you'd have to bring in for the property to be profitable. During phase 3 of the due diligence period, you'll do a full financial assessment of the property and test your hypothesis to make sure the property generates positive cash flow. Investors use a variety of metrics to test a building's financial performance like the cap rate, cash-on-cash return, and cash flow formula.
Some properties listed on Zillow, LoopNet, and Roofstock provide net operating income (NOI), and the cap rate, but you should still run your own analysis and verify income and expenses.
Here's how each formula works.
Cap Rate
Cap rate is for buy-and-hold investment properties and is typically used to compare two similar properties. You calculate cap rate by dividing the annual NOI by the current appraised value. A good cap rate is typically above 4%. NOI excludes mortgages, so the cap rate doesn't give a full picture of the property's expenses.
Cash-on-Cash Return
Cash-on-cash return is the better formula to determine the property's cash flow potential. Cash-on-cash return includes rental property pretax income. To calculate the cash-on-cash return, divide the property's gross income from all sources like rent and vending by the total cash invested.
Cash Flow Calculation
I recommend using the cash flow calculation with any other formulas you use. Calculating cash flow is basic addition and subtraction. You subtract all the property's expenses from the property's gross income from all sources. If expenses exceed income, the property is not a good deal, and you may need to renegotiate the selling price or walk away.
Some expenses to include in your analysis are:
Property and income taxes
Your mortgage debt
A property appraisal
Insurance
Utilities
Operating expenses
Management fees, maintenance, and repairs
Vacancy rate
Your legal and accounting expenses
Nonpayment risk rate
Marketing and advertising
Expense data provided by the seller
In the chapter, Why You Need a Real Estate Investing Business Plan, we show you how to run cash flow projections for an investment property and which expenses to include, plus we include a cash flow forecast sample. Using formulas to evaluate an investment property's performance isn't a guarantee it will always be cash flow positive, so make sure it generates enough positive cash flow to weather any ongoing vacancies, unexpected repairs, and emergencies.
---
Phase 4: Verify the Property's Operations and Financial Performance
If you're applying for financing, the lender will require a title search to ensure there are no liens and the property has a clear title history. Clear title means the property is clear of liens and encumbrances, and the current owner has the right to sell or convey the property. If you're paying cash, you'll need to hire a title company or attorney to perform this title search. Encumbrances include property boundary and right-of-way disputes.
Due diligence for the property's history includes:
Easements, right of ways, and boundary disputes
Municipal permits and zoning regulations
Environmental audits
Copy of deed
Plot plan or site map
Title search
Zoning regulations
Occupancy permits
You also want to check zoning laws and occupancy permits to make sure the property is being used for its legal purpose. For example, a property could be rented as an illegal duplex or could have a retail shop in a strictly residential zone. You also may want to get an environmental assessment to determine if the property has issues you could potentially inherit like gas leaks, underground oil tanks, industrial waste, or wetlands.
---
Phase 5: Renegotiate or Walk Away
In the chapter, What to Do When You're Ready to Buy Investment Property, we offer negotiating strategies you can employ to phase 5 of your due diligence in real estate. What's important to note here is, once you make an offer on a property, a time clock starts ticking, and you'll need to complete all the due diligence phases during the contingency deadlines.
Since the contingencies have completion deadlines, it's ideal to have no more than three properties with accepted offers at the same time. Make sure you pay attention to the deadlines so that you don't miss a deadline and get stuck buying properties you don't want.
Phase 5 negotiable items include:
Repairs, hazardous materials, and environmental mitigation like safety issues, lead paint, asbestos, underground oil tanks
Properties appraising below contracted selling price
Unsatisfactory results from reviewing documentation
Inability to obtain financing
You can negotiate with the seller for a financial concession or a decrease in the selling price. For repairs, hazardous materials, and environmental issues, you can ask the seller to do the work. However, if the lender will allow the property to close, it's better to find your own service professional to do the work.
If, after reviewing the property's financials, you discover it yields negative cash flow, you can walk away if the seller refuses to renegotiate the price to make the deal work as long as you're still within the timeframe of your satisfactory review of the documents contingency. To avoid losing your good faith deposit, only walk away if the issues are tied to one of your contingencies like an unsatisfactory property inspection, documents review, or if you're unable to get financing.
Know When to Fold 'em and Walk Away
Speaking of walking away, keep your emotions in check, and focus on the property's condition and profitability. Many investors get into trouble when they ignore red flags and think they can make a bad deal work because they're tired of evaluating properties and want to buy now or fall in love with a property that may look great but, on paper, doesn't work.
It can be frustrating when you spend months evaluating properties, get one under contract, and discover during the due diligence period that it's not going to work. Sometimes, it takes many months to find a good investment property, and it is a lot of work. I've always laughed when people talk about buying real estate for passive income. There's nothing passive about passive income. Don't be afraid to walk away. The right property will surface at the right time.
Summary & Quiz
In this chapter, we covered the five phases of the due diligence period to help you determine if an investment property will generate positive cash flow. Investment property due diligence is the most important thing you can do to ensure you're buying a decent investment property. Keep your emotions in check, focus on the bottom line, and include contingencies in your offer that allow you to walk away if anything is unsatisfactory.
Key Points to Remember
You don't want to rush due diligence and risk making costly mistakes, but timing is critical since you'll have contracted deadlines.
Schedule blocks of time for evaluating properties. Schedule a full day or two for touring properties.
Don't assume lower-priced properties are better deals. You have to look at the whole picture.
Neighborhoods close to schools, shopping, jobs, and major routes tend to have higher rental income than depressed areas with high crime rates.
During phase 3 of the due diligence period, you'll do a full financial assessment of the property and test your hypothesis to make sure the property generates positive cash flow.
To avoid losing your good faith deposit, only walk away if the issues are tied to one of your contingencies like an unsatisfactory property inspection, documents review, or you're unable to get financing.
Real Estate Due Diligence Quiz
Answer a few questions about your business, and we'll give you a personalized product match.