TimeTracker by eBillity Review and Pricing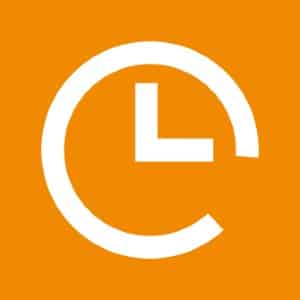 TimeTracker by eBillity is a cloud-based timekeeping software that allows you to enter and track your team's time to run payroll, invoice clients, and improve productivity. Its features include GPS tracking with geofencing, employee scheduling, automatic overtime calculations, and reporting and analytics. Prices start at $7.50 per user, per month, plus a base fee of $12.50 per month. You can try TimeTracker for free for 14 days with no credit card required.
What We Recommend TimeTracker For
We recommend TimeTracker by eBillity for remote teams that need a flexible solution for tracking and managing timesheets, monitoring work-related expenses, and billing clients. It is useful for engineers, architects, bookkeepers, freelancers, and other professionals who work from home because they can access the app using their mobile devices.
eBillity also offers legal time tracking and billing features through its standalone app, LawBillity, formerly TimeTracker +Legal. LawBillity has the same features as the former TimeTracker +Legal but includes invoice formats preferred by lawyers.
TimeTracker Is Especially Good For
Teams to track billable hours: TimeTracker tracks the actual time spent on a project and compares it to the actual time billed, providing you with a realization rate by client, project, and employee. Read our article on the best time tracking software to discover other popular productivity tracking applications for your team.
Businesses that use ADP Run or Gusto for payroll processing: TimeTracker can export hours tracked to ADP Run or Gusto for payroll processing.
Remote teams wanting to track time even when offline: You can enter time while offline and synchronize to the system once you reconnect to the internet.
TimeTracker Is Not a Good Fit For
Businesses looking for free software: If your small business needs only basic time tracking features, you should consider a free product, like Clockify.
QuickBooks Online Users: While TimeTracker does integrate with QuickBooks Online, it is not as seamless as QuickBooks Online's integration with QuickBooks Time, which can be initiated from with the QuickBooks Online dashboard.
Teams needing project cost management for estimation and budget control: TimeTracker can't generate estimates and quotes and facilitate project budgeting. For this, you might consider a complete bookkeeping system with built-in time tracking, like QuickBooks Online.
Are you looking for something different? Read our guide to the best small business accounting software and check out our top picks.
TimeTracker Pros and Cons
PROS

CONS

Track billable time writeoffs and client realization percentage
Expensive for large firms
Track time while offline and sync when you reconnect to the internet
Reports can be cluttered and hard to read
Geofencing feature for more accurate remote location tracking
Cannot generate estimates and quotes for project budgeting
TimeTracker Pricing
A TimeTracker basic account costs $7.50 per user, per month, plus a base fee of $12.50 per month when billed monthly. To use TimeTracker + Billing, you will need to pay a minimum of $12.50 per user, per month, plus a $22.50 per month base fee. If you need legal features, prices for a LawBillity subscription start at $30 per user, per month, when billed monthly.
Features

TimeTracker

Billing

LawBillity

Pricing*

($/Month)

$12.50 plus $7.50 per user

$22.50 plus $12.50 per user

$30 per user

Time Tracking

✔

✔

✔

Employee Scheduling

✔

✔

✔

GPS Tracking and Geofencing

✔

✔

✔

Time Sheet Approvals

✔

✔

Alerts and Reminders

✔

✔

✔

Free Mobile Apps

✔

✔

✔

Free Email, Phone, and Chat Support

✔

✔

✔

Expense Tracking

N/A

✔

✔

Online Payments

N/A

✔

✔

Client Portal

N/A

✔

✔

Job Costing

N/A

✔

Client matter costing

Invoicing

N/A

✔

LEDES and LSS invoicing formats

*eBillity offers a 20% discount for annual subscriptions (billed as a lump sum).
TimeTracker Features
TimeTracker offers a wide range of features designed to help businesses and remote teams improve their efficiency and accuracy. It combines multiple features in one suite, allowing you to track time from any device, manage your timesheets, track expenses, bill your clients, and generate reports without using separate programs. Some of its most essential features are discussed below.
Mobile GPS Tracking
Equipped with mobile GPS tracking capability, TimeTracker helps you verify your employee's location through GPS coordinates and record their work status. It lets you create geofences and set a radius from the job location in which your teams can clock in. The system alerts supervisors when an employee is outside of the designated area or going places not related to their work.
On the Clock Tracking
TimeTracker's On the Clock feature combines internet protocol (IP) detection, GPS tracking, and the Time Clock Kiosk to track and map an employee's location while clocked into work.
Project Tracking
TimeTracker lets you create project schedules, allocate costs of materials to a project, and set employee costs and client billing rates. Administrators can approve project time and expenses before billing, track travel time, and create project reports.
Scheduling
Create daily, weekly or monthly schedules in a few minutes and easily share them with your team. You can create your own templates using its drag and drop feature or copy and paste previous schedules. You can also set up time-off codes, create overtime rules, and easily approve or accept time-off requests.
Time Clock Kiosk
The Time Clock Kiosk is a feature that allows your team to clock in and out using the mobile app. Your employees log in using a four-digit password and use facial detection for photo capture. The system captures an employee's digital image and attaches it to their entry, reducing the chances of buddy punching. Managers can create employee breaks and overtime alerts, set up as many kiosk locations as needed, and receive alerts when a buddy punching occurs.
According to eBillity's website, it will soon launch facial recognition. This feature will use biometric points and shapes to verify an employee's identity. If the person doesn't pass the facial recognition, a notification will be sent to the administrator.
Legal Time Tracking and Billing Through LawBillity
Users who need legal time tracking and billing solutions need to subscribe to LawBillity, a rebranded version of Time Tracker +Legal. With LawBillity, you can convert billable hours to invoices in either LEDES or LSS formats and receive online payments instantly when you connect LawPay or set up automated clearing house (ACH) electronic payments. It is designed for legal agencies and firms who need specialized legal time tracking, billing, and administrative functionality.
Mobile App
The TimeTracker mobile application enables your employees to clock in and out of shifts, take breaks using time cards, and track and submit time entries for your approval. Administrators can check who is On the Clock in real-time using geolocation tracking, review, edit and approve employee time and expense entries, create and send invoices from anywhere, and more. The app is available on Google Play, App Store, and Amazon Appstore.
Reporting
Generate various business reports, including accounts receivable, contractor reports, employee reports, expense reports, and billable hours realization reports. Knowing how many of your employee's billable hours are realized as actual revenue helps gauge employee efficiency and identify areas where you may need to adjust your billing rates. For instance, if an employee takes too long to perform a task, you may not be able to bill a client for the full amount, which shows in your reports as a lower billable hours realization.
Accounting Integration
TimeTracker integrates with third-party accounting software, including QuickBooks, Xero, Sage Intacct, and Sage 50cloud. By syncing TimeTracker with your accounting software, you can easily import information like payroll items, employee information, and customer jobs from the accounting program, helping you generate the data you need to track time quickly. This aids in speeding up your billing and payroll processes.
Choice of Timers or Time Cards
Choose between two tracking methods: timers or time cards. Use timers if you need to track time for client invoicing, and use time cards if you have a team that needs to track time for payroll. With timers, employees can capture every second worked in one click, track time against clients and activity types, mark the entry as billable or nonbillable, and provide a short description of the work completed.
With time cards, employees can clock into a specific job and track exact start and stop times, showing how many hours they have worked. Time cards also include a counter clock that appears when the employee is on break or at lunch. They can leave descriptions for time entries and even receive a notification before the break is over.
Customer Service and Ease of Use
I signed up for TimeTracker's 14-day trial, and I like its user-friendly interface and simple navigation. It took me a few seconds to create my account, and I find its dashboard highly customizable. You can choose the data most important to your business by clicking on the "+" to add or "x" to remove a widget.
If you don't have time to set up your account, eBillity has a team of product specialists who will set up your account for you. They can help you navigate the features, integrate the system with other software, and even set up your time tracking apps. You can contact a support specialist through phone, email, or chat. Those who are interested can also schedule a private demo or sign up for a 14-day free trial. eBillity also offers live webinars and an online help center with videos, forums, and help content.
TimeTracker Alternatives
Best for: Businesses looking for a free software with basic time tracking features

Best for: QuickBooks Online users

Best for: Generating estimates and quotes and facilitating project budgeting

Free software

Software from: $ 20 per month
+ $8 per user, per month






Software from: $70 per month
Bottom Line
TimeTracker by eBillity offers a flexible time management solution with rich features and great benefits for remote teams and businesses, including the ability to enter and track time from any device, map an employee's location, and enter time while offline. It can be used by businesses with a single client, or large teams serving multiple clients. If you are looking for software that can track time with complete flexibility, TimeTracker is a great choice.
Sign up for a 14-day free trial today to evaluate TimeTracker by eBillity.