Digital marketing experts know how newsletters can boost your businesses. In the U.S. alone, the number of email users continue to grow, with the figure expected to reach 254.7 million by 2020, according to Statista's reports. In this article, we curated the best email newsletters to help build stronger relationships with your leads and customers.
Here are 20 of the best email newsletter templates and examples from around the web to get you started.
---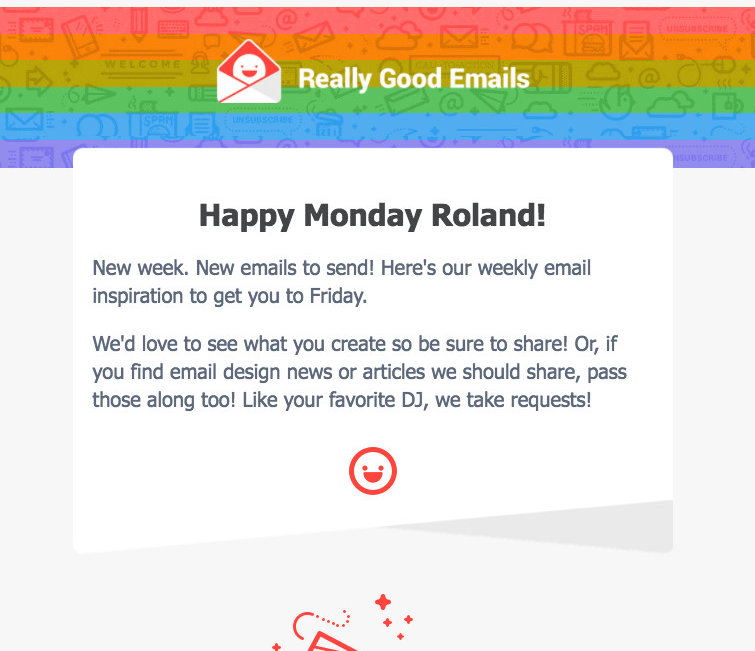 This newsletter from Designernews is eye-catching and attractive with its colorful theme. Straightforward and clean, the layout makes it easy to read—making it appealing even to busy professionals. One of the strategic email design tips this newsletter illustrates is how it contains a balance of promoted content and community news to keep readers interested and engaged.
---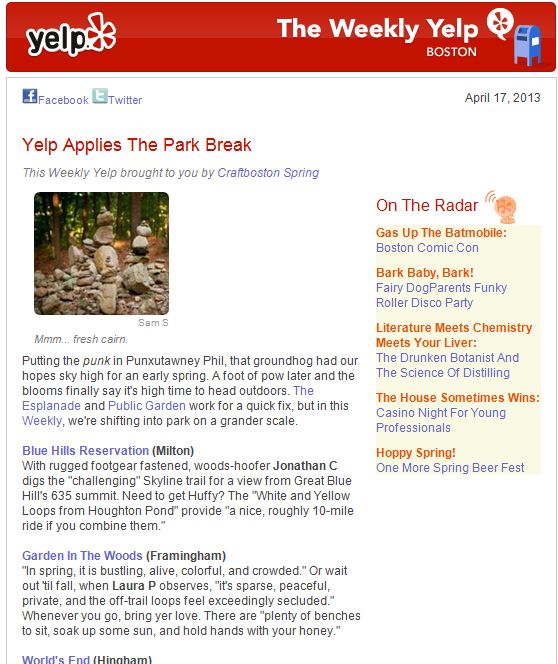 Yelp is already interesting because of its content, so a weekly email newsletter offering useful information to the appropriate audience will be well-received—provided the content is of their interest. For instance, recipients living in the Boston area can get recommendations for the best places to visit in their area for their different needs.
---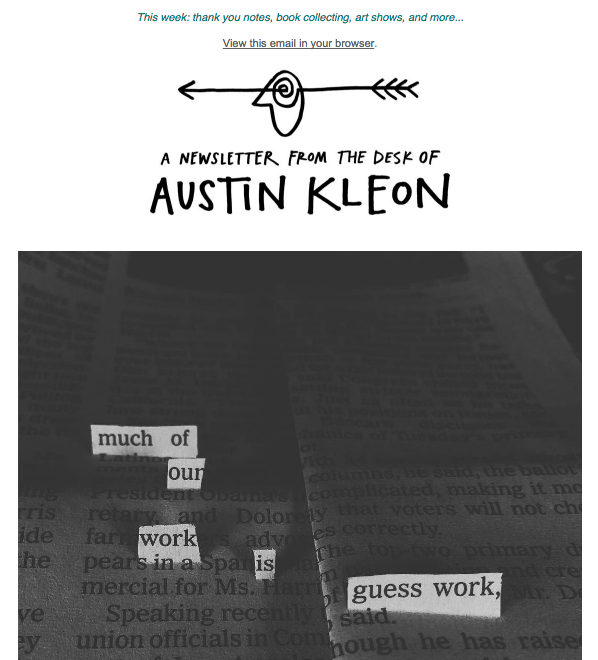 Austin Kleon's email newsletter is as simple as it gets, but it doesn't fall short when it comes to providing information. Recipients tend to subscribe to newsletters that are not only relevant, but educational as well. It effectively gets the attention of its audience with a friendly (as opposed to an impersonal) tone.
---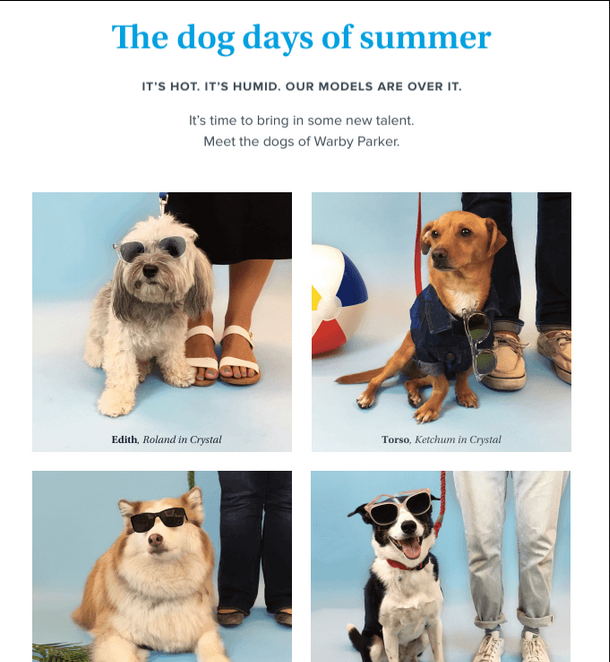 Email marketing newsletters aim to develop a deeper engagement with its subscribers by appealing to their interest. In this case, Warby Parker's newsletter uses the company's typical templated, two-column grid to relax its audience by using familiarity and humor.
---
×
Download All Our Creative Email Newsletter Samples & Ideas
Create an effective and interesting newsletter using our creative samples and ideas to capture your subscriber's attention.
×
Download All Our Creative Email Newsletter Samples & Ideas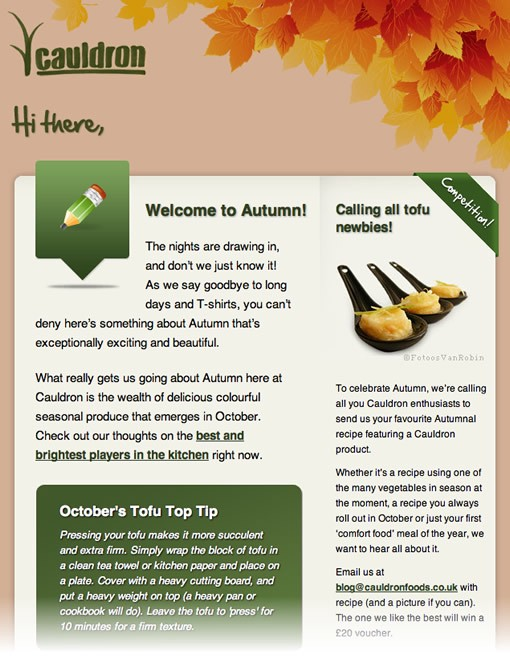 Not all email newsletters are weekly. There are newsletters that are seasonal, which means that there is a limited time frame for certain promotions. This example from Cauldron promotes the vegan-friendly food store in a way that it doesn't come off too strong, so as to not scare away potential customers. It uses calming visuals like pretty leaves, warm colors, and relaxed fonts to get readers interested in its content.
---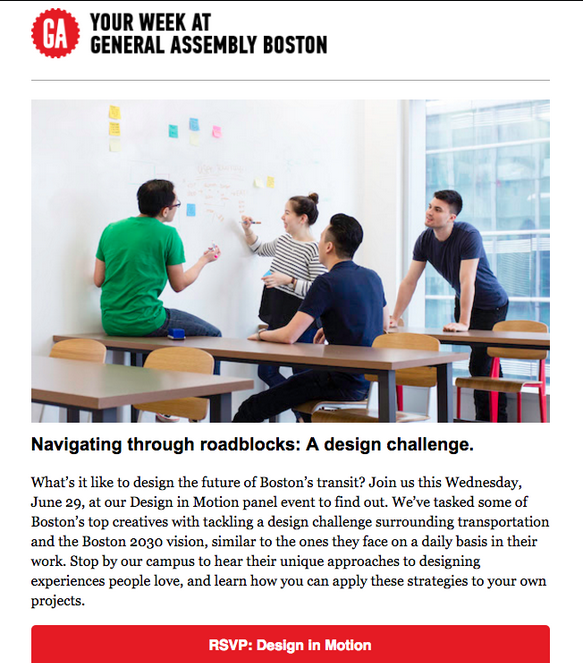 General Assembly's minimalist layout makes it easy for the business to drive their message across in a quick and concise email newsletter. The format only provides what is necessary for an educational organization to reach its market of students. A large eye-catching photo, an information about the course, and a prominent CTA to easily convert interest into attendance.
---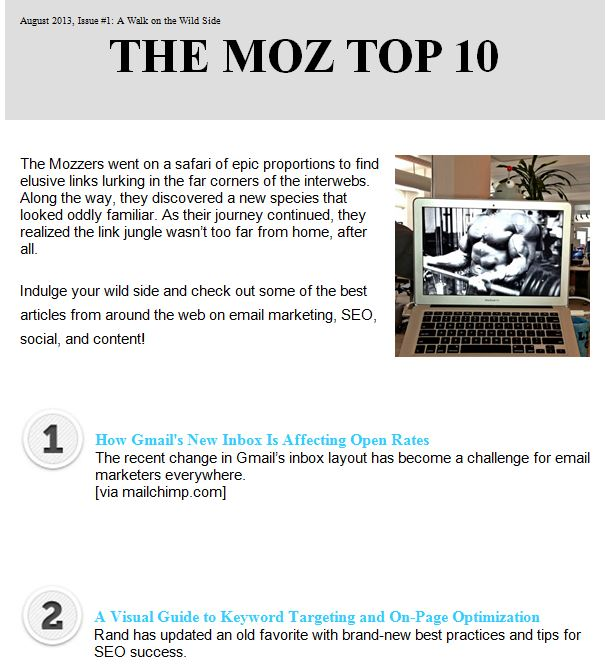 Moz's newsletter includes a list of articles that their readers would find interesting. If your business also maintains a blog, rounding up useful content from around the web in your newsletter could effectively keep your readers coming back for more.
---

Being an expert in your field doesn't mean you can slack off on your marketing efforts. This email newsletter from Ben & Jerry's is a great example of keeping your audience consistently interested and engaged. The design also makes sure to keep their product, brand colors, and fonts prominent to stay on top of the mind of their customers.
---

These days, while the importance of having good and healthy food is becoming more and more popular, busy people just find it challenging to cope. What better way for businesses involved in food to provide value than to share smart, innovative, and healthy recipes to their audience. Cook Smarts' "Weekly Eats" newsletter sends subscribers meal plan recipes, as well as smart kitchen tips, to help their subscribers with their cooking dilemmas. This makes their newsletters stand out and more valuable, making their followers anticipate them in their inbox.
---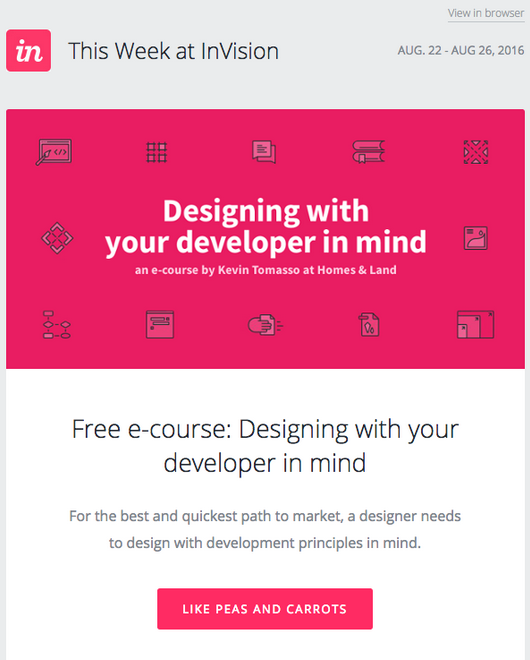 For its target audience, InVision's email newsletters are valuable because they offer learning new skills for free. As a web designer, this information is valuable. Plus, giving free online courses on web design not only gives InVision credibility in its field, but helps them be remembered as one of the top brands among web developers as well.
---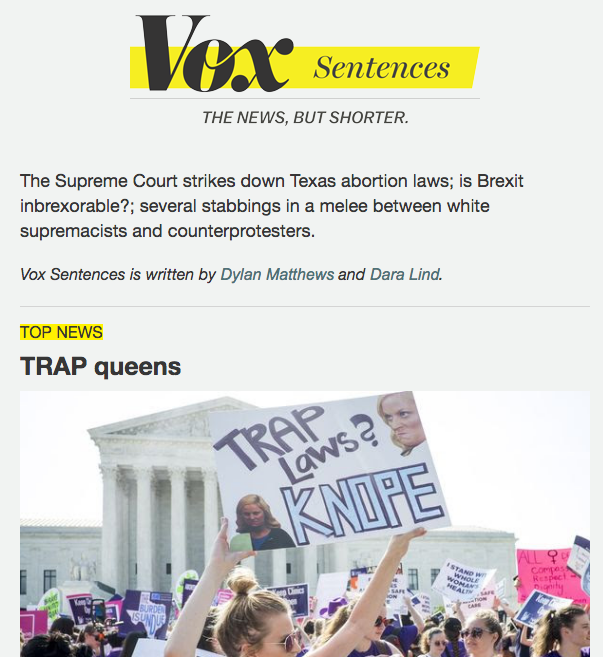 Vox's email is a great example of a content-rich but concise newsletter that gives you control over how much information you want to absorb. Going through their newsletter from start to finish leaves you with the information you need to stay well-informed on their news, without having to spend a substantial amount of time. They also provide links that lead to more details, should a specific topic be of interest you.
---
An app like that of Uber's needs to be consistently updated if it wants to stay relevant. This is why Uber takes advantage of using its email newsletter to introduce the app's new features when necessary, while keeping its branding consistent. It sticks to the use of the brand's web fonts to tie the email to their experience of using the app. This helps build familiarity that makes for a smooth transition to the update and promote continuous great customer experience.
---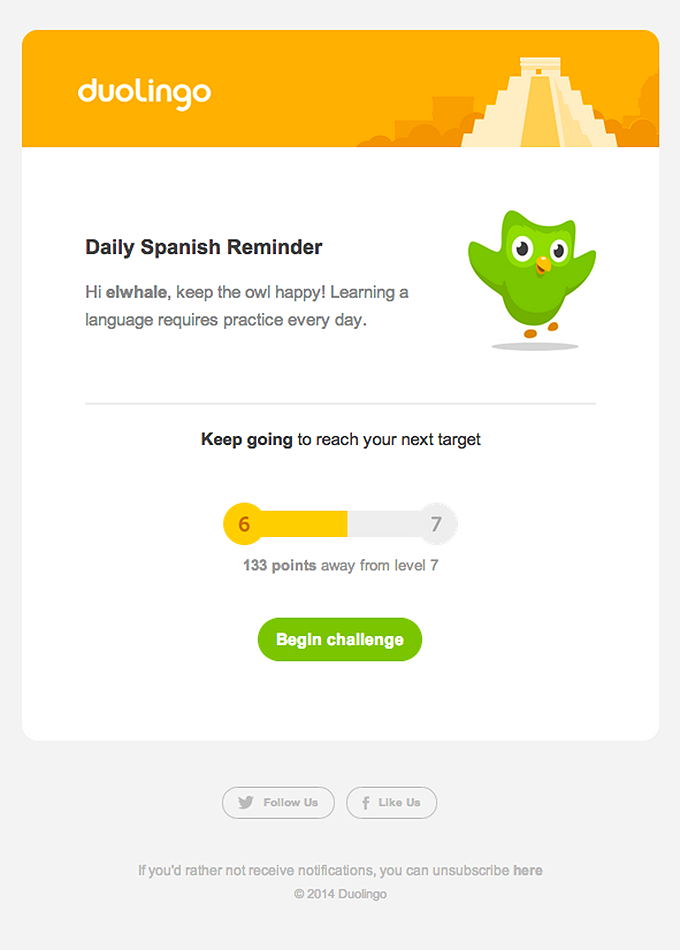 It's important for businesses like Duolingo to ensure that their clients are comfortable by improving their customer experience. Their email newsletter is designed to encourage them to continue taking their language courses by offering fun and visual images for their progress.
---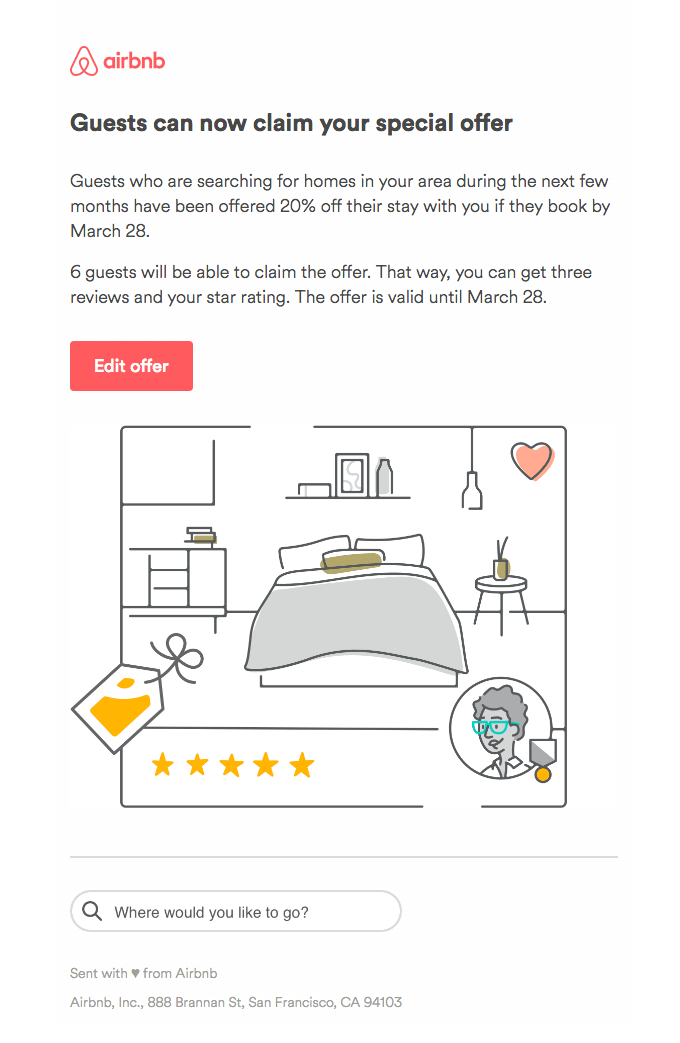 Airbnb's email newsletters personalize their content for hosts and guests. In addition, it also features a search bar in their emails. This newsletter in particular keeps hosts updated with current Airbnb offers relevant to their location, and gives the recipient a chance to participate in the mentioned promotion. If you run a website that brings sellers and consumers together in one platform, this example should work great for you.
---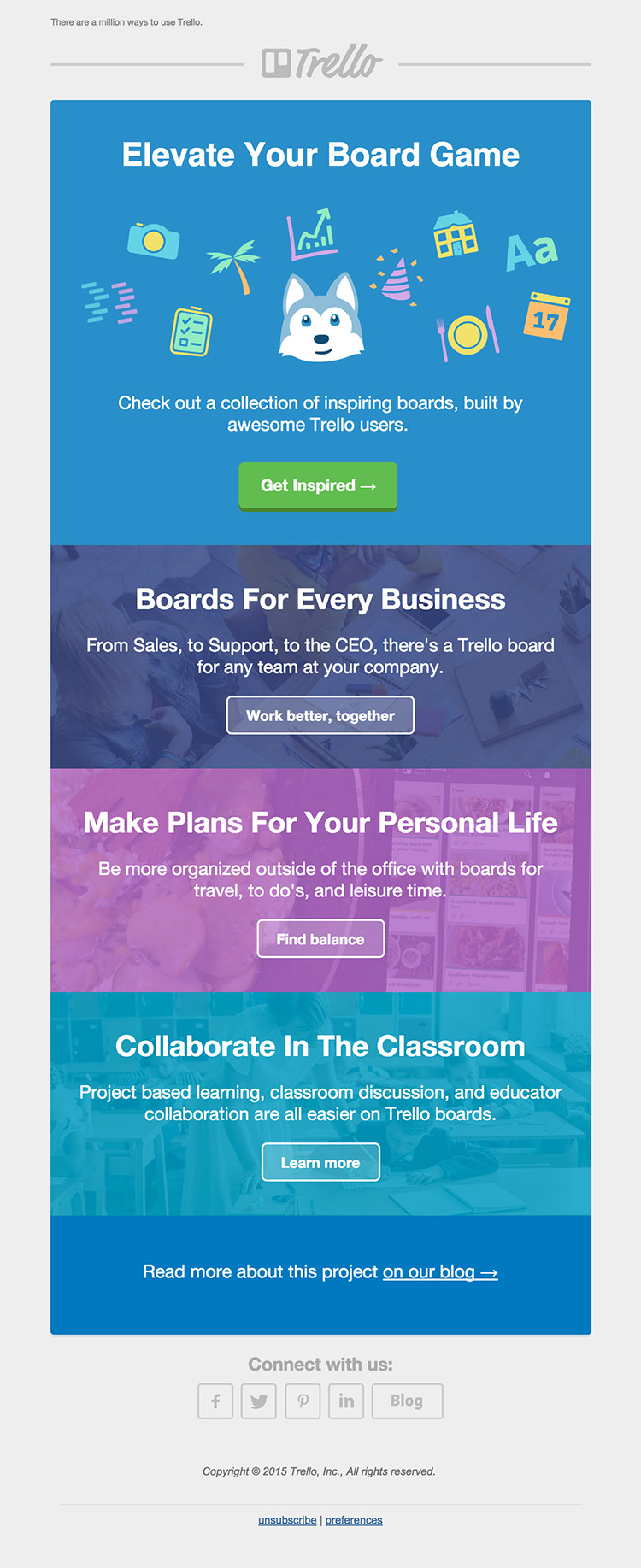 This eye-catching newsletter from Trello was designed to keep its users constantly engaged. To do this, the content focuses on the possibilities that Trello boards can offer for its various types of users. Subscribers get regular newsletters that offer inspiration on how to make the most out of their Trello boards.This example can be easily used to market innovative products by showcasing its value regularly to promote customer loyalty.
---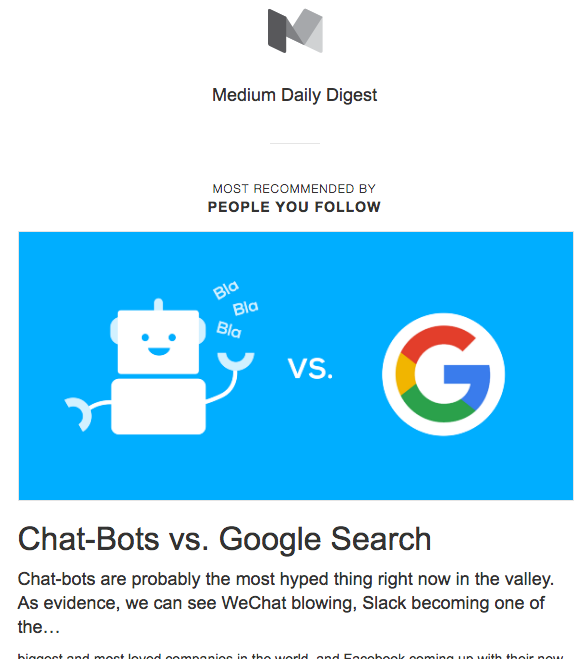 Time is critical for busy business professionals, so in order for a blogging service like Medium to successfully connect with their current audience on a regular basis, it's important that they recognize this factor. Medium's email newsletters are sent daily and would probably become tiresome for recipients if not for the fact that it indicates a timer on how long it will take to read it. This effectively eliminates the concerns of their readers over time constraints, which help them appreciate the usefulness of the newsletter.
---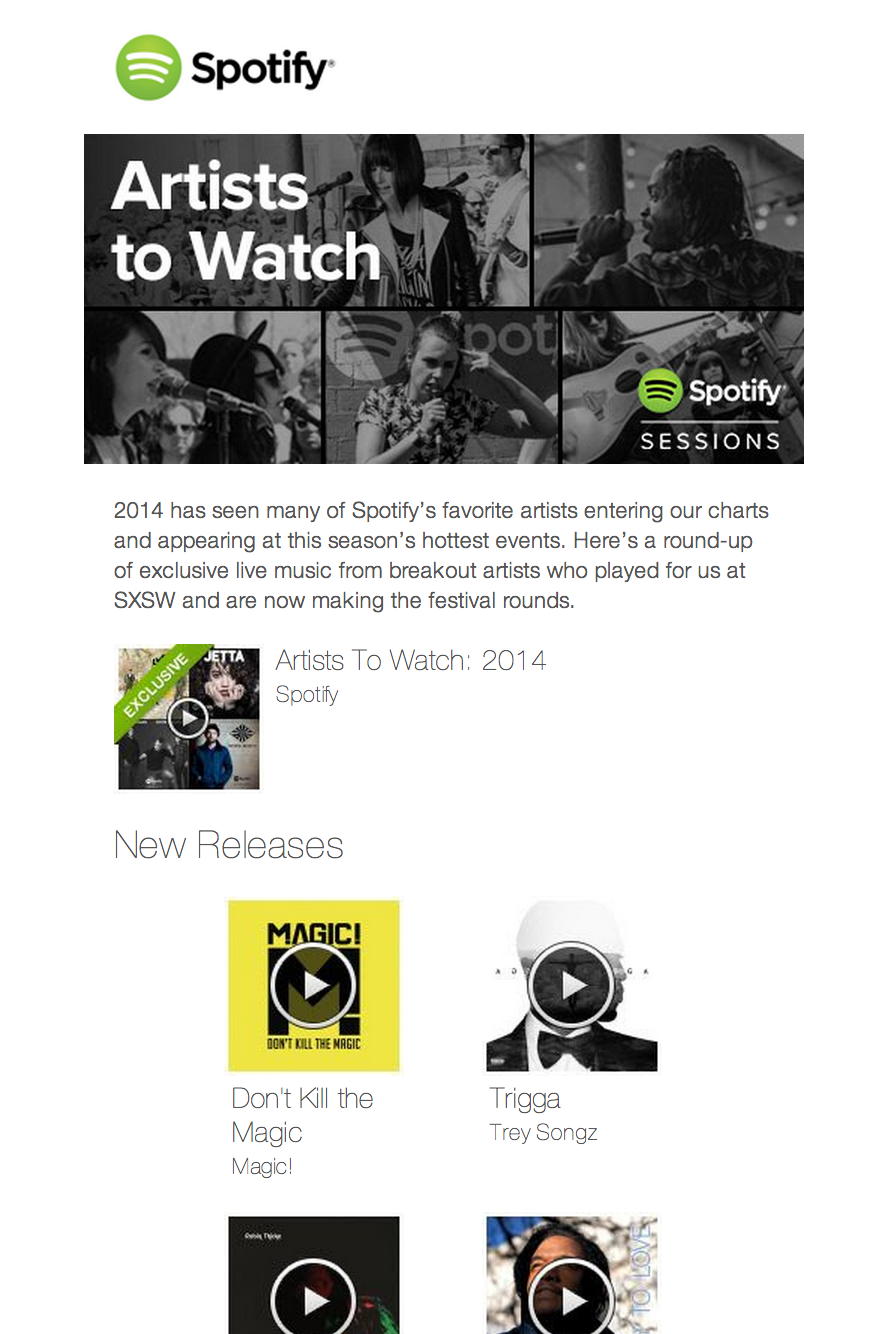 For a business that bases its popularity on its ability to personalize its content, Spotify has made it a point to keep this principle even in its email newsletters. Using individual data on a user's streaming habits in the past month, their newsletters are not only able to show its users interesting data about themselves, but it also allows the service to regularly suggest content that its readers (or listeners, actually) are possibly interested in as well.
---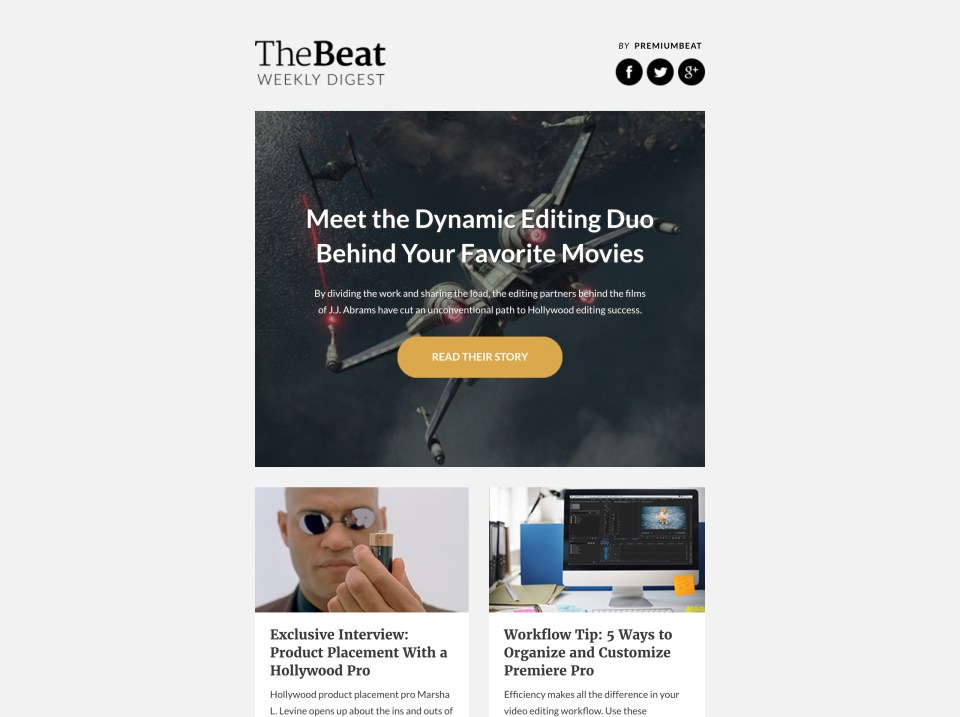 As a responsive email newsletter, one of The Beat's best features is its HTML typography, letting the look and feel of the newsletter stay user-friendly even when the subscriber's images are turned off. Add their great mix of content organized in neat sections, this example works best for those who want to focus more on text over photography in their newsletters.
---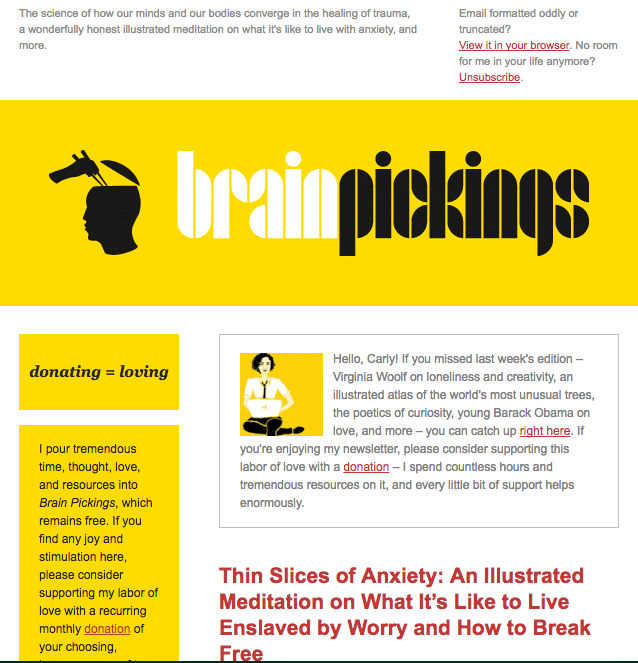 Usually, long newsletters can be a turn off for anyone with a busy schedule, but this example from Brain Pickings managed to keep it entertaining and timely. For starters, their newsletters are sent Sunday mornings, which means more time for leisurely reads. Then, the writers made sure that they maintain high quality and presentation of their content in order to hold the reader's attention. This is a perfect approach if you intend to publish lengthy newsletters to market your business.
---
If you're looking for content inspiration, then check out TheSkimm's email newsletter. This example manages to hold its readers' attention with minimal visuals by using short, catchy sections that aims to get their readers' curiosity going. Aptly named, it gives its subscribers a quick breakdown on important news by using headers and short paragraphs, keeping the layout clean even when the content is text-heavy.
---
Here Are Free Templates You Can Use to Start Your Own Email Newsletter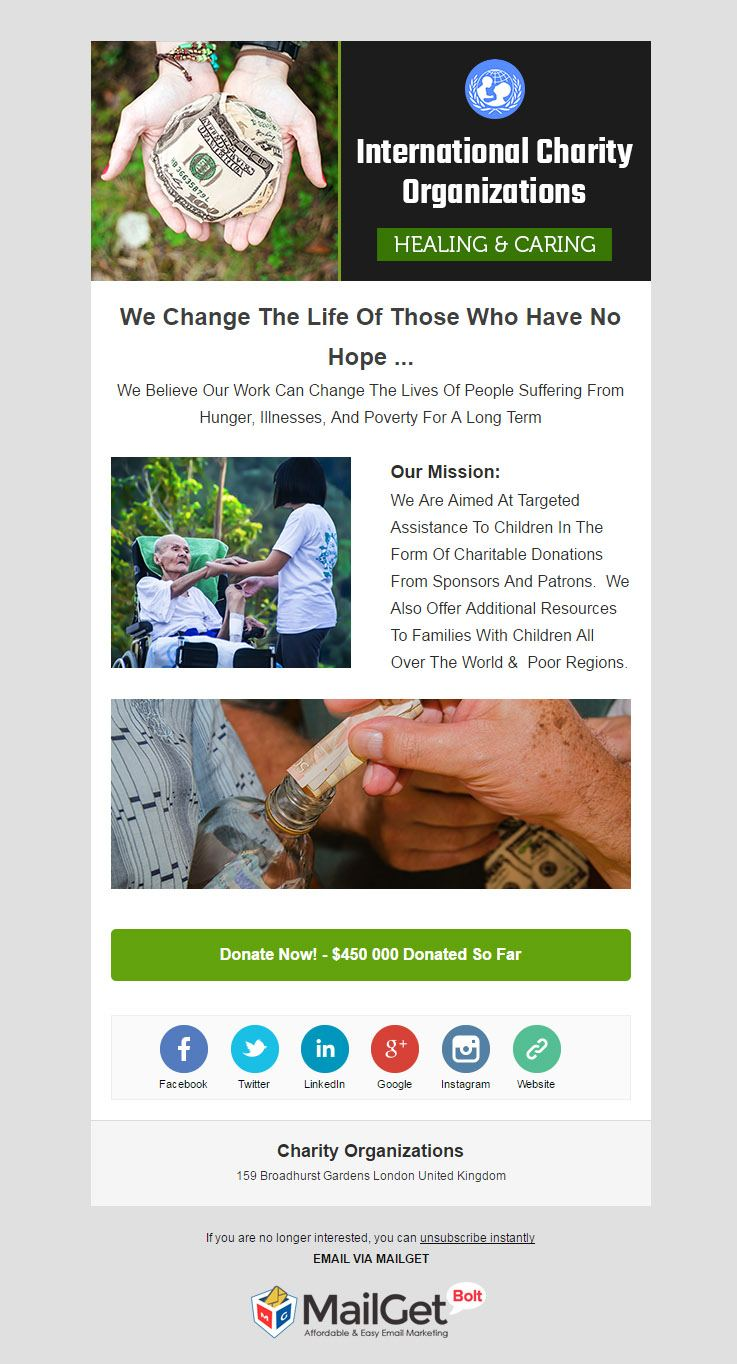 Charity and other nonprofit email newsletters should be a platform for you to tell your story. This template gives you enough space to list your foundation's accomplishments and photos for the events you participated in or hosted.
---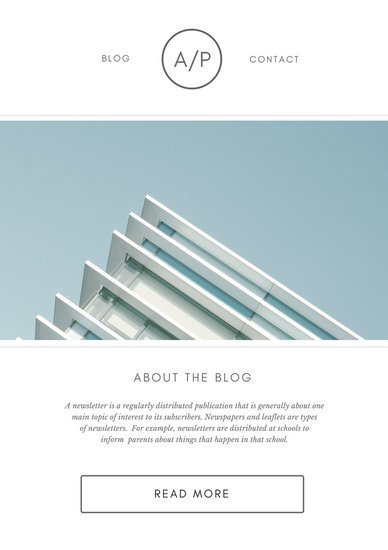 The objective for this newsletter is to stay top of mind of your previous and potential clients. The design is simple and well-structured, with the right accents complementing the overall image, similar to the high organization skills of designers and architects.
---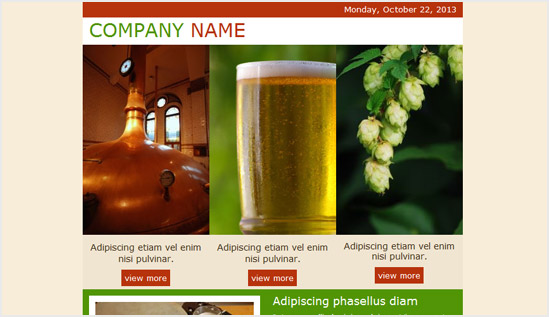 When you think of brewery, you think of a time to unwind and enjoy their craft beer. A brewery's email newsletter should communicate the same relaxed tone. The colors are bright, attracting attention, while the images bring in a relaxed vibe to make reading enjoyable.
---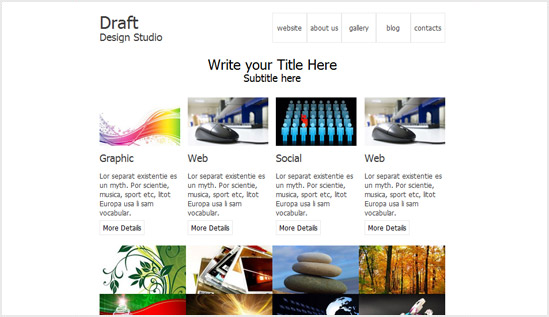 This template lets the stories shine by using a simple white background and typography. The gallery-style format gives your readers a peek at what's in store in each of your newsletters.
---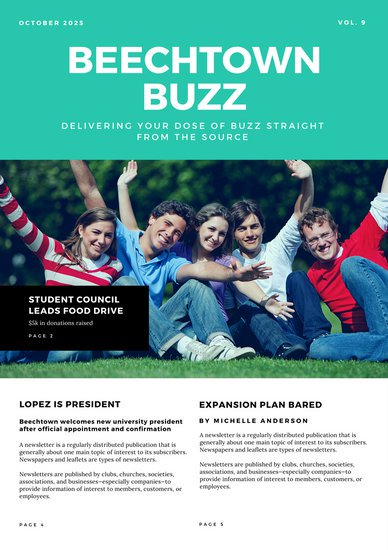 Newsletters from schools will perform well when it's more personalized. While this template gives equal space for images and text on its layout, there's enough room for to include featured stories meant to engage the readers.
---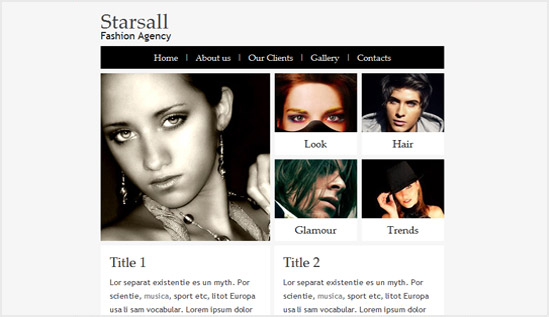 This template starts with a dramatic black-and-white theme and image tiles to give the audience a preview of your newsletter content. Make sure you use high quality images and continue to impress your clients.
---

If your hotel's website is spectacular, then there's no reason that your email newsletter should fall behind. This template gives the same look and feel of an website's elegant main page. Match it with interesting content that your customers will want to read.
---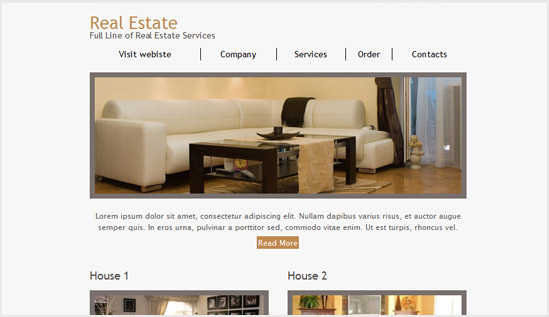 It's important for real estate email newsletters to be visually appealing. This is why this template focuses on images while using muted hues of gray for the text and borders.
---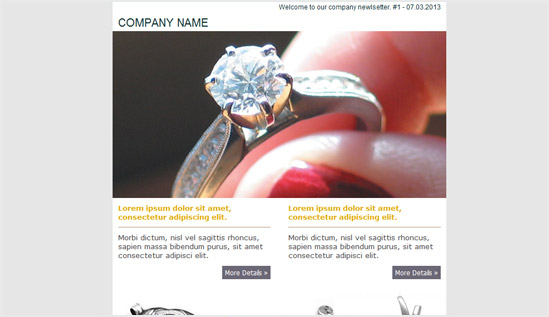 Like their websites, a jewelry business' email newsletters should not only host striking images, they should be able to deliver compelling stories as well. The layout for the template allows for large photos and small text so the narrative can be lengthy without taking too much space.
---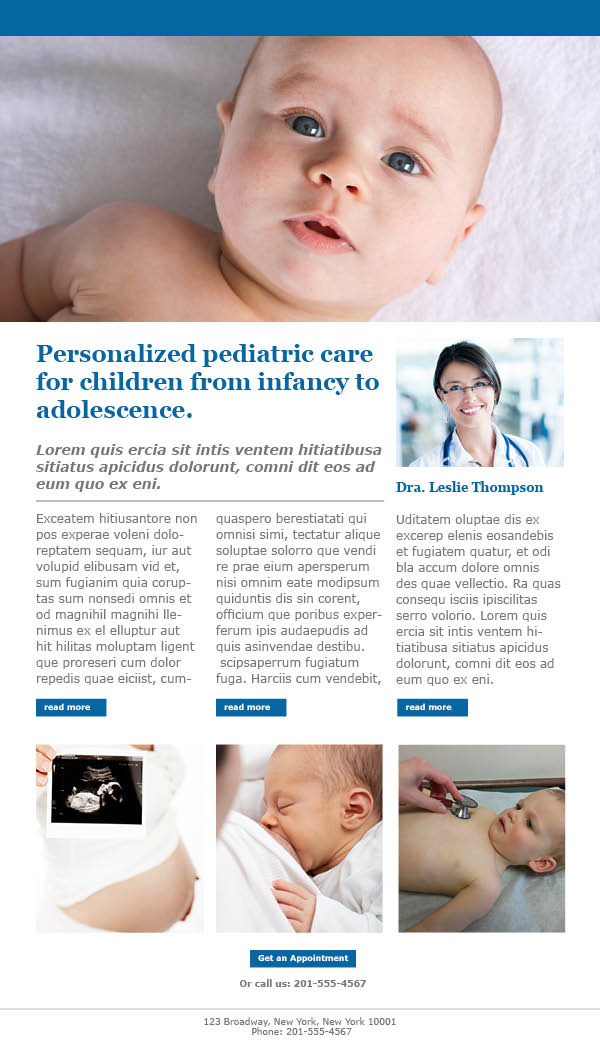 A clean, professional layout for this template emphasizes the general requirements of a medical practice that patients look for. The blue and white theme of the header and the CTA buttons give it just enough color accent to keep the newsletter from being boring.
---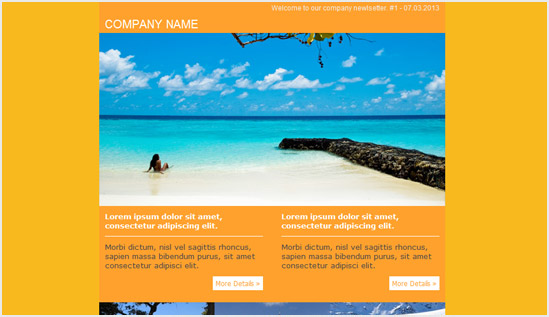 This is another template that's visually appealing with the orange background and vibrant images providing contrast. It also allows enough space for text captions to entice readers to click through.
---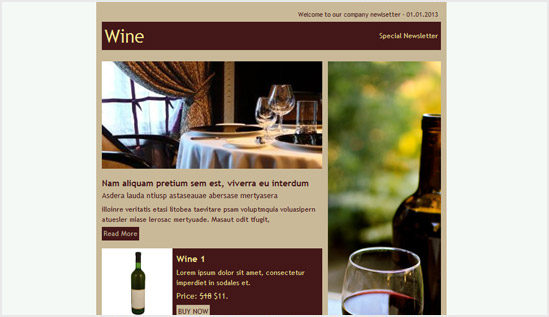 What attracts a customer to their favorite winery or restaurant's website is the elegant feel, and the same can be said for their newsletters. This template layout complements the overall vibe with tasteful horizontal and vertical image tiles featuring products and restaurant ambiance.
---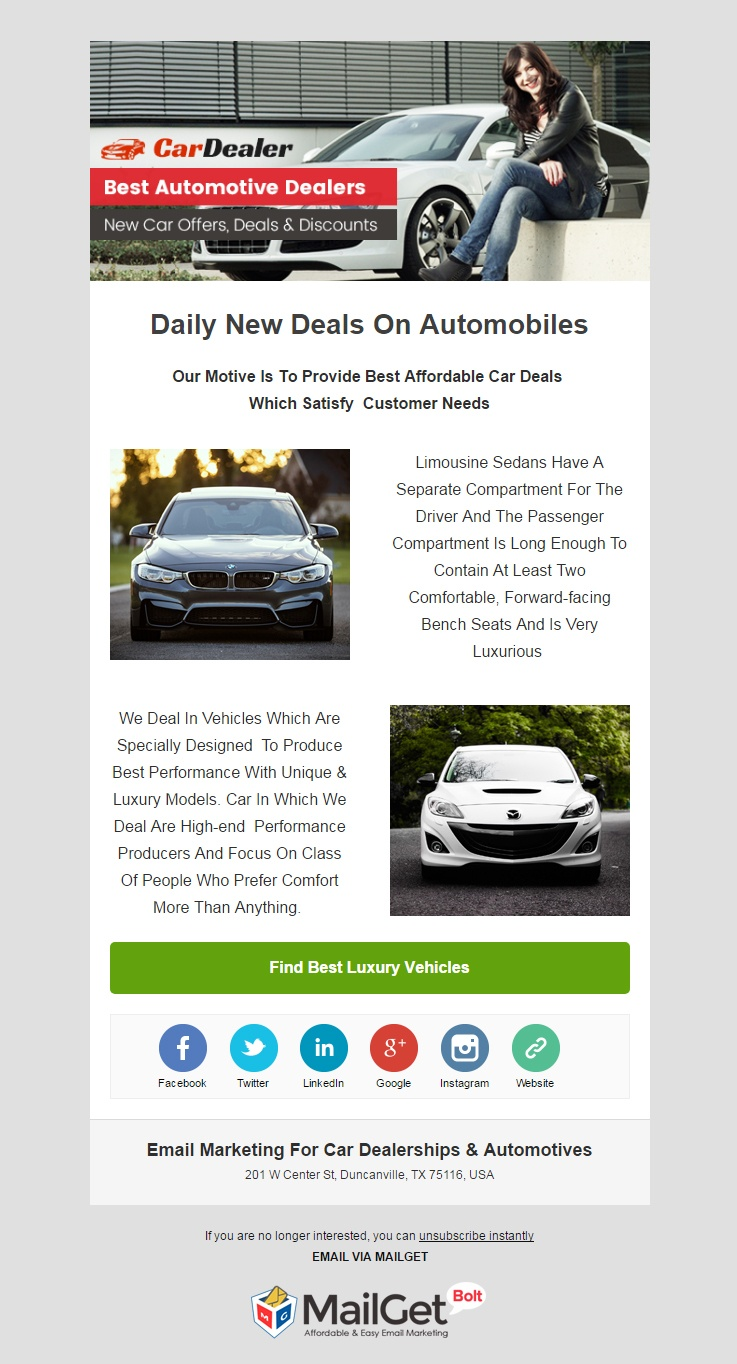 There's no doubt that product images should be the center of focus for these type of websites, as potential clients would want as much information as possible. This template also makes sure that you have space for quality content to match your images.
---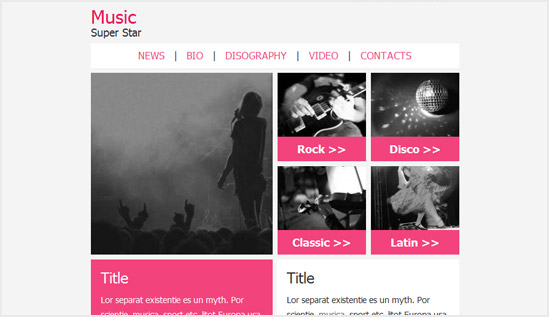 Performing arts and those who are interested in this field value dramatic presentation, which this template managed to provide. Bright color for the accents paired with gray scale images send readers in anticipation to click through and find out more.
---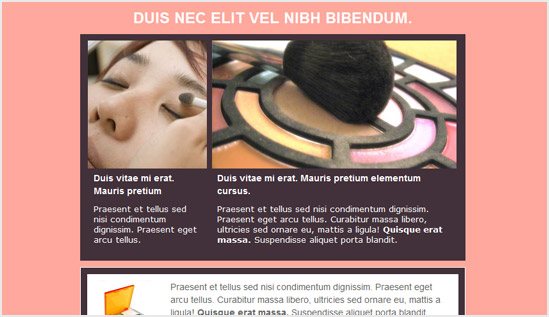 A strikingly visual image is required for email newsletters from spa and beauty businesses in order to constantly remind their readers the kind of customer experience they should expect. Don't forget to customize the links to the website into strong calls to action that will make your newsletter feel more personal.
---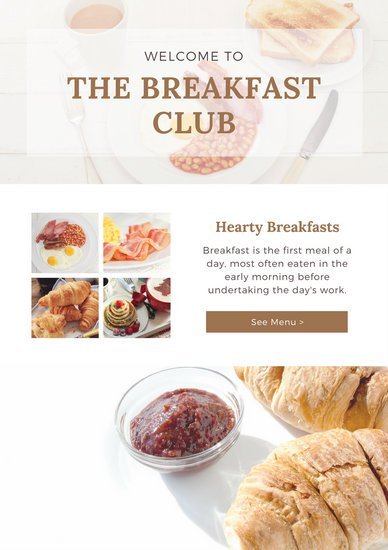 This category requires its own template as it calls for a less formal design compared to a winery or restaurant. Notice the use of brighter colors and a white background that resemble a casual menu presented in a more relaxed vibe.
---

Software companies usually reflect a younger demographic and a more casual feel, which is exactly what's reflected in this template. The colors are vibrant and a design reminiscent of an impressive SaaS website.
---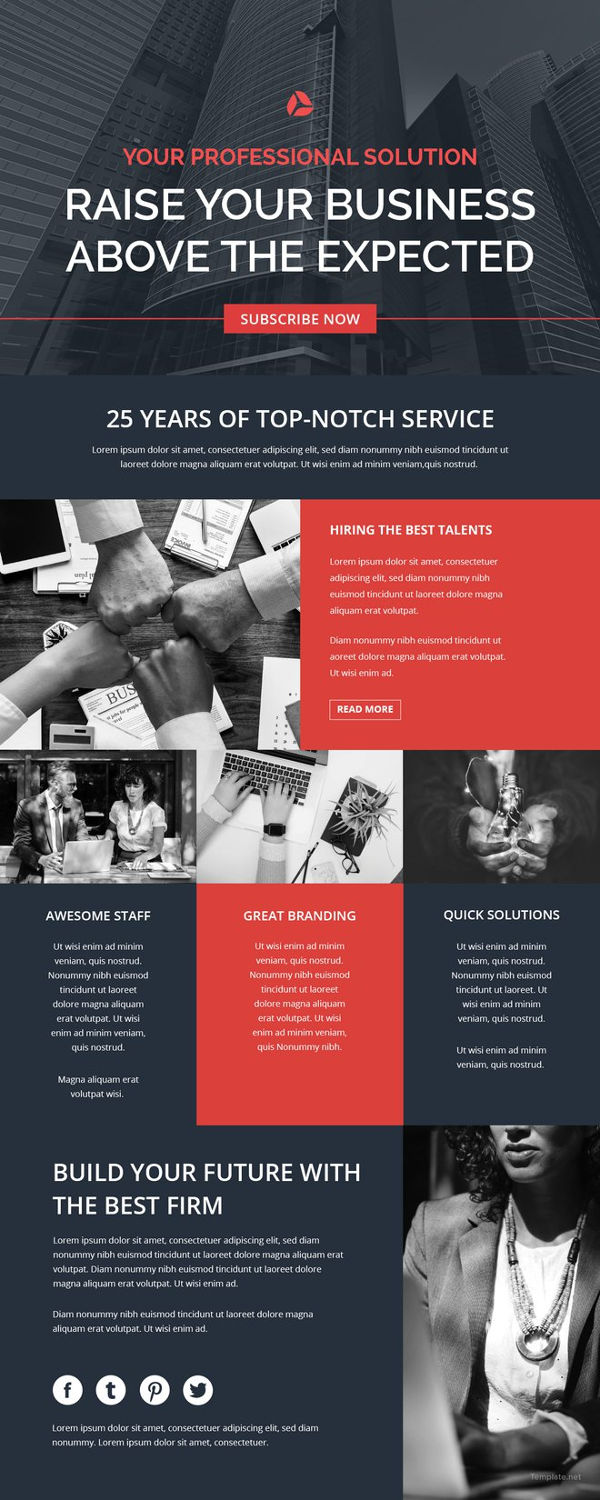 This corporate newsletter email template is designed to give a professional feel for all types of industry. Tweak the color scheme and add more to the layout to make it more suitable to your brand.
---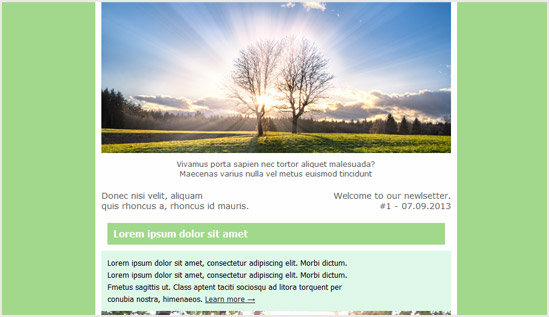 It's important for email newsletters from a religious group to set the right tone as soon as the email is opened. This is why both background and images work together to achieve a calm, serene vibe. The layout is kept simple and there's no flashy typography.
---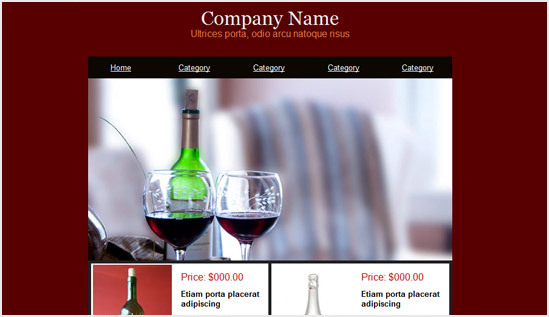 This template is versatile and can be used for food and retail-oriented business. The layout is image-heavy, with one large image to introduce your brand and the tiles below to showcase your feature products.
---
Over to You
Like any email marketing platform, your email newsletters should be relevant and interesting in order for them to be effective. Show your customers that you care by offering personalized content, and you'll have one of the most anticipated newsletters in no time.
Got any great email newsletter templates and examples to share? Let us know in the comments!