An employment verification letter, also called a proof of employment letter, is a written document that provides employer confirmation of an employee's current or former job status. It's often requested by an outside agency, such as an employee's landlord or creditor. Businesses typically provide verification letters on company letterhead, signed and dated by the employer.
The letter you write depends on whether the employment verification request is being made on behalf of a current or past employee. Below are the two types of employment verification letters, and some examples of requests you may receive.
1. Letter for Current Employees
Use a proof of employment template like this to verify that a current employee is working for you. However, if you print it on letterhead, omit the business address information at the top of the letter. These can be used for: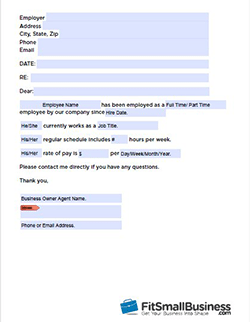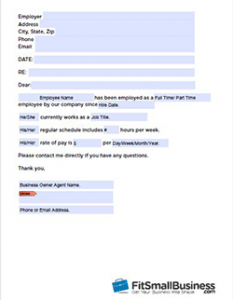 Home or auto loans
Rent or lease agreements
Credit card applications
Social services
Immigration visa or green card
Download as PDF
Download as MS Word/Google Doc
2. Letter for Former Employees
Use an employment verification template like this to verify that a former employee did work for you. Again, if you print it on letterhead, omit the business address information at the top of the letter. These can be used for: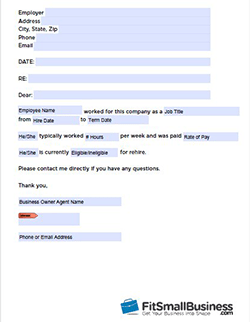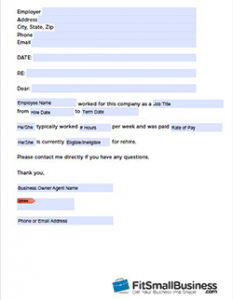 Job applications
Credit applications
Government benefits
Download as PDF
Download as MS Word/Google Doc
Proof of Employment Letter: What to Include & Examples
You should include the following in an employment verification letter:
Employer business name and address, or use letterhead
The current or former employee's job title/responsibilities
Dates of employment
Eligibility for rehire if for a former employee; many employers ask this question as part of employment verification, and you can choose to respond yes, no, or respond generically by stating something like "all former employees may be eligible for rehire pending review."
Salary, which depends on the type of request
Bonuses and raises, which depends on the type of request
Your name, signature, and contact information
The main rule with employment verification letters is to adapt your letter based on the reason you're being asked for it, and only provide the minimum information requested. The chart below shows what to include and not include, based on the type of organization making the employment verification request.
Employment Verification Requests & What To Include
Requestor

Job Status/Job Title
SupervisoryResponsibilities/
Hours worked

Length of Service/Employment Dates

Eligibility for Rehire

Salary (including bonus information)*

Financial Credit Real Estate

✕

✔

✕

✔

New Employer

✔

✔

✔

Optional

Social Service
Education


✔

✔

✕

✔
*Best practice: Only provide financial information if the employee authorizes you to do so.
As you can see, the information you need to provide will vary. For instance, a financial institution will want to know salary and bonus as well as the length of service to ensure the employee is creditworthy, whereas a former employee's new employer will want to verify the employee's job title, duties, and whether the candidate is eligible for rehire. Here are some examples:
Current employee buying a home: Kristoff is buying a home. The lender wants to verify his length of employment and income. Kristoff asks you to write a proof of employment letter he can give to his bank.
Former employee seeking a new job: Bobi worked for you two years ago and left amicably when she moved out of state. She recently received an offer from a new employer who wants to verify she was honest on her job application and wasn't fired for cause. The new employer sends you a request asking you to verify her employment. Here, you might not need to include Bobi's income, unless the new employer specifically asks for it. However, in addition to employment dates, you could indicate 'yes' to the question about whether she is eligible for rehire.
Current employee applying for social services: Karen applied for an income-based preschool scholarship for her two-year-old twin sons. The school wants proof of her income level to qualify her boys for the program. Since Karen works part-time as an afternoon delivery driver, you will want to include her work hours in the employment verification letter.
What Not to Include in a Proof of Employment Letter
To protect yourself as an employer, ensure the employee has approved the sharing of financial information with the requestor. Often, the employee will be the one who brings a request to you. For example, your bookkeeper, Susan, wants you to provide proof of employment to attach to her lease application for a condo she's hoping to rent. The landlord wants to verify that Susan currently has a job and gets paid enough to afford rent. In that case, have your employee Susan sign the request from the landlord and save that request document along with your employment verification letter. In addition, you should not:
Provide financial information unless requested and approved by the employee
Provide illegal/protected-class information like health concerns or marital status
Provide confidential information like failing to pass a drug screen or not having a valid driver's license
Share the reasons why you would not hire the person like poor performance
Example: Your employee, Juan, has minor health issues and sometimes misses work due to his asthma. Since medical information is protected by the Health Information Portability and Accountability Act (HIPAA), it is illegal to provide this information to a requester.
You can learn more about HIPAA by reviewing our article, Federal Labor Laws Every Small Business Should Know.
Careful What You Put in Writing
Anything you put in writing―specifically anything negative―is subject to future legal discovery, so be cautious that you don't accidentally set yourself up for retaliation if the employee isn't hired by the company asking for proof of employment. Many employers refuse to provide any reference information other than to confirm the employee's job title, employment dates, and salary. Some employers refuse even to respond regarding an employee's eligibility for rehire.
What an Employment Verification Letter Is Not
An employment verification letter is not meant to serve as a reference, background check, or Social Security number verification. Let's review these different kinds of requests that outside organizations may make about your current or former employees.
Employment Verification Letter vs Background Check
Background checks verify everything from former residence addresses and employment to criminal history. Background checks are provided by companies that specialize in this type of information. While you can verify current and former employment at your place of business, you should not provide other information about an employee's background in your employment verification letter to avoid violating the employee's privacy.
See our article on Best Background Check Companies for Employers or visit our recommended background-check service, Goodhire.
Employment Verification Letter vs Social Security Verification
It is the responsibility of the requesting organization to verify the employee's Social Security number. If it's for employment purposes, the new employer can use eVerify, a vendor like Goodhire, or contact the Department of Social Security. Social Security numbers are considered confidential and not to be shared in an employment verification letter for risk of violating the employee's right to privacy.
Employment Verification Letter vs References
Reference checks are sometimes confused with employment verification. They are not the same. When someone calls you for a former employee's reference check, you typically share details about the employee's performance and contributions at your organization. In contrast, you don't share performance details in an employment verification letter.
Sample Employment Verification Letters or Proof of Employment
Once you review the examples below, you may find it easier to write your own proof of employment letter. Click the links to view sample employment verifications using fictitious names and different scenarios showing what different types of employment verification may look like.
Email
An email can be fairly informal. Here is an email example to verify employment in response to a new employer asking to verify that your former employee worked with you. Make sure to include your phone contact information in case the requester has follow-up questions.
Print
A letter is a bit more formal and should be printed on your company letterhead, answering the requester's questions. Here's an example employment verification letter for a landlord.
Form
A form is often the easiest way to verify employment. You can download and customize this sample form template to your business and then print/make copies to be filled out by hand whenever an employee asks you to verify employment for any purpose.
Easier Ways to Verify Employment
Depending on the type of information requested and whether or not the requestor provided a form, you may not need to write anything. Here are some examples.
Go Through Your Human Resources (HR) or Payroll Vendor
If you're using an HR or payroll vendor like Gusto, you may not need to verify employment via letter. For example, when financing a home purchase, a bank may request proof of income. That can be provided by printing year-to-date payroll information from your payroll system.
Did the Requester Provide an Employment Verification Form?
Many requesters will provide their own form for you to fill in. If so, read the form carefully, fill in the blanks as best you can, sign it, and return it to the requester. As an HR best practice, you may want to keep a copy of the signed form in the employee's personnel folder in case you are asked about it later. More information is provided in our existing article Personnel File: What to Include & Not Include.
Consider an Employment Verification System or Vendor
If you'd like to get out of the employment verification process entirely, consider using a verification service like TheWorkNumber, Inverify, Intellicorp, or HireRight. These services typically provide the employee with a website and code they can provide directly to requesters wishing to verify employment.
Pick Up the Phone
Often, all that is needed is a phone call. Contact the requester by phone or ask the requester to call you so that you can say, "Yes, Adolfo worked here in 2016."
Employment Verification Letters Frequently Asked Questions (FAQs)
What if the employee has not started working for me yet?
If your new hire is relocating and needs to rent or purchase a home, the landlord or finance company will want to be sure they have a job. In this case, provide the requester or the employee with a copy of the signed offer letter.
Check out our Free Offer Letter Template and How-to Guide to learn more.
What if the organization requires the information to be put on their form?
If the requestor provides a form, they often prefer the information to be input using their document. There's no need to do anything but fill in the blanks, sign, and return their form to them.
What if the organization asks for information I'm not comfortable sharing?
If you don't feel comfortable providing the information requested, by all means, do not provide it. For example, if the new employer asks how many days the employee took off sick each year, you would be violating HIPAA by answering that question. If the requestor asks about protected class information, such as marital or gender status, you can write "decline to answer." It's nicer than saying, "it's none of your business."
What if the employee wrote the letter themselves and asks me to sign?
It depends. If you're comfortable with the information that the employee wrote, go ahead and sign it. Employees often draft letters themselves as they know precisely what information is being requested, and to save you time. As a best practice, ask the employee to sign above or below your signature, and keep a copy of the signed letter in your files.
What if the employee doesn't or has never has worked for me?
It's possible the requester has incorrect information. If so, respond by saying nothing more than "I have no record of this person as an employee. Unable to complete request as provided."
Bottom Line
As an employer, you want to assist your current and former employees in meeting their needs to verify employment so they can obtain housing, services, or credit. Make it easy on yourself and reduce your organization's risk by providing only the information requested, and only information that's not confidential, illegal, or none of the requester's business.
Don't forget to check out Gusto, an integrated HR/payroll software that makes it easy for employees to self-onboard and e-sign letters and documents and stores them in a secure online document vault. Try it free for 30 days.