To be more precise, don't buy postage at the post office.
The U.S. Postal Service (USPS) gives steep discounts for those that purchase postage online and print their own stamps and shipping labels. While the price difference will vary depending on weight, the box size, and the destination of the package; the difference can be as high as 22% on First Class Package Service shipments and up to 54% on Priority Mail Express.
Click Here to get our FREE Google advertising guide and discover the 6 steps you can use to show up #1 in Google search
Letter mailers can also get a one cent discount on First Class Mail, paying only $0.48 cents for a one ounce letter, instead of $0.49. It should be noted, that you can drop off your letters and packages at the post office or have them picked up by your daily mail carrier. This doesn't impact the price.
I recently had a chance to speak with Eric Nash of Stamps.com. Stamps.com is a publicly traded company, which essentially makes sending mail and packages via USPS very easy and efficient. While technically not accurate, small businesses can think of Stamps.com as a premium version of the USPS service that has a monthly subscription fee of $15.99 per month.
The answers below are based on my interview notes with Eric Nash, not his exact words.
Q: The Stamps.com website mentions big discounts over visiting the post office. Are these discounts Stamps.com has negotiated with the post office?
The discounts mentioned are available to anyone that uses an approved PC Postage vendor (online postage). The USPS is rewarding customers for the efficiencies that occur when  postage is printed online, such as address verification and automatic tracking on shipping labels. These rate discounts are not available at the post office.
Stamps.com offers the same discounts that are realized when a customer purchases postage through the USPS.com "Click-N-Ship" service. However, "Click-N-Ship" does not provide access to all the mail classes, such as First Class Package Service, Parcel Select, or Media Mail. The ability to print postage is limited to only Priority Mail or Priority Mail Express on "Click-N-Ship".  Also, you cannot print stamps for First Class Mail letters or postcards using "Click-N-Ship". Stamps.com allows you to print postage for all USPS mail classes.
The process of shipping is also much easier with Stamps.com, which provides quite a bit of time savings. For example, you can cut and paste an entire mail recipient's address into the address field with Stamps.com. With Click-N-Ship, you need to input name, address, city, state, and zip code into separate fields; therefore you cannot simply cut and paste an address. Instead, you have to manually enter data into each field. Stamps.com offers tremendous time savings, particularly for frequent mailers.
Q: Stamps.com has over 450,000 paying subscribers. Who are they?
They are mainly small businesses with less than 20 employees and organizations that send out marketing materials or invoices such as medical offices and law firms. Recently, we have seen a large increase in business from online retailers; there has been tremendous pressure on e-commerce sellers to include free shipping as part of the purchase. Since the online retailer is paying the shipping cost, they have to select the cheapest option to maintain ROI and the USPS provides the lowest rates for packages under five pounds being delivered to a residence. We have seen an influx of business from these online retailers as they have become more price sensitive.
Q: Why are e-commerce companies moving away from FedEx and UPS?
Both UPS and FedEx have lots of surcharges that get added onto to their basic shipping costs. For a package traveling to a residence, there is an added "Residential Surcharge", which is $2.80. If you live in a rural area or city outside of a large metro area, you could be charged a "Delivery Area Surcharge", which is $2.85. Then there is a fuel surcharge that adds an extra 7%. USPS offers very attractive pricing compared to FedEx and UPS since they do not have any surcharges.
Q: Doesn't FedEx and UPS cut deals with large savings, even as much as 60 or 70% off?
Yes, it's true that FedEx and UPS give bulk senders big discounts. But those discounts are typically at higher weight levels and not in the typical small package weight of one to five pounds. Also, what many senders don't realize, is there is a minimum cost per package that is included in their contracts. Many senders don't realize the "savings" they expected on lower weight packages because of this minimum cost.
Q: Do you offer any special benefits to e-commerce vendors, such as eBay sellers?
We do. We offer sellers the opportunity to import data directly into Stamps.com from their eBay, Amazon, Etsy, or PayPal accounts. We also have integrations with a number of shopping carts including Magento, Shopify, Volusion, and many others. Importing information is just the first step. After the shipping label has printed for the package, the USPS tracking number will automatically be exported back into eBay, Amazon, or the shopping cart, enabling the buyer to see their package has left the seller's hands and is in route to their house.
Q: Who is your main competition besides UPS and FedEx?
For small businesses, many of our customers switch from having the old fashioned stand-alone postage meters. Pitney Bowes is the main player in this market, with little competition. They insist on having a long-term contract for renting the hardware and having companies buy their proprietary printing ink and paying for equipment insurance and maintenance agreements. While it's very expensive and not efficient, many businesses are locked in.
Stamps.com is a month-to-month subscription with no agreements. Customers often sign-up during the busy holiday season when business owners send out more mail and packages, so they can avoid the long lines at the post office.
About Eric Nash, Senior Director Online Marketing of Stamps.com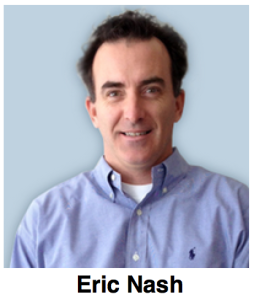 Eric Nash has been the senior director of online marketing at Stamps.com for 8 years. His responsibilities are focused on customer acquisition including search marketing, social media and display advertising.  Eric has worked in the online space since 1999 working for a variety of industries including online gaming, insurance and home finance.
Click Here to get our FREE Google advertising guide and discover the 6 steps you can use to show up #1 in Google search