According to the Bureau of Labor Statistics, the consumer demand for experiences, as opposed to physical products, has resulted in a projected growth of 11 percent for the event planning profession through 2026. To help you stand out from the growing crowd, make sure you're always visible, beginning with a well-designed business card.
Here are 25 design upgrade ideas for professional event planner business cards from around the web.
---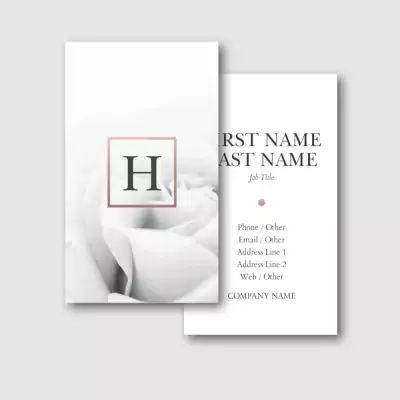 Event planning is about creating an experience, and your business cards should be able to use colors and lighting to evoke the same emotions you want from the experience. Try hiring a freelancer from Fiverr to design a business card that properly represents you and your business. Pricing starts as low as $5. Click here to find a freelancer.
---
If you already have an eye-catching logo you use on other business marketing materials, then there's no need to create additional images for your business card to stand out. This example shows how to use your business logo as a patterned background. Apply a similar concept but don't forget to experiment on different styles, like making them smaller or more blended onto the background color.
---
3. Table Setting Design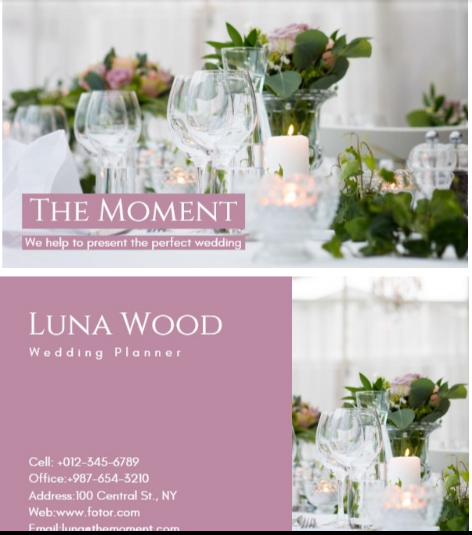 There's nothing prettier than a nice table setting for a wedding. If you have some of this in your portfolio, you should choose a high-resolution image to add to your business card. We like how the photo is used as a full-size image on the front and a sectioned portion at the back while keeping the overall lavender color theme to complete the look.
---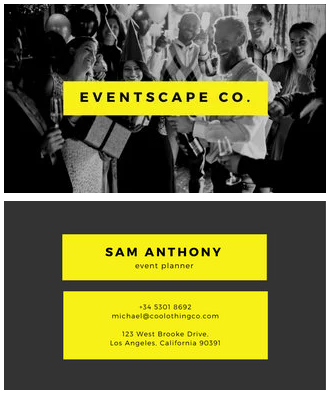 You'll want to give your business card holders a glimpse of what an event with you looks like. What better way than to add your own in-the-scene photo as a backdrop. We like the monochrome style with an overlay of yellow boxed frames to include the message.
---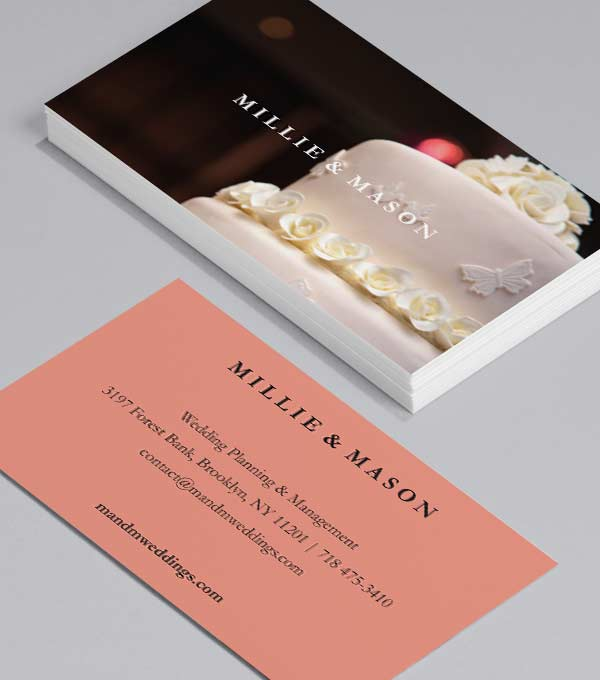 Wedding cakes are a favorite staple for event planner business cards, but there are other recognizable symbols that are as eye-catching and memorable. You'll also want to use a variety of designs and colors to help stand out, but working on a budget can sometimes limit your options. Moo offers a money-back guarantee service with its Printfinity program. Print a different design, double-sided, in full color on every business card, fix a typo or request a design change at no extra cost. You can also choose from its wide variety of designs or upload your own and customize using its online design tool. Sign up with Moo today and get started with your business card design for as low as $19.99.
---
6. Minimalist Square Business Card Design
This is a pretty example of a minimalist square business card. The lines are clean, and the text is short and simple, but the whole look comes alive with the thick lavender borders around the edges. Use your own brand color when you try out this design for your own.
---
7. Glitzy Elegant Business Card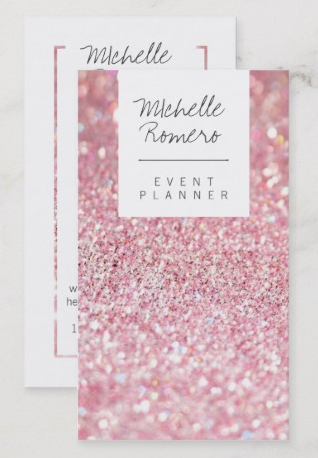 If your specialty is glitzy and glamorous special events, you'll love this example. Sparkly pink diamonds create a luxury feel and can be achieved in a variety of ways, depending on your budget. You can use a high-resolution image with spot UV or foil elements to create the shimmering effect.
---
8. Modern Event Planner Business Card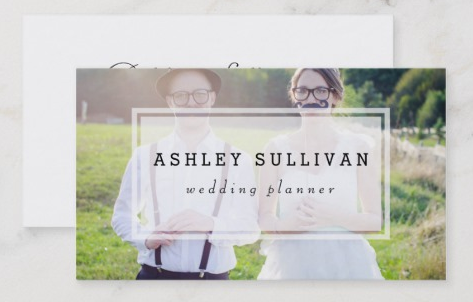 Wedding planners have a trove of images in their portfolio that can be used as full image background. What makes a business card stand out using this design is how the text is presented. This example shows how to use a box frame overlay on your business card. Create a style and color to show your personality to your audience.
---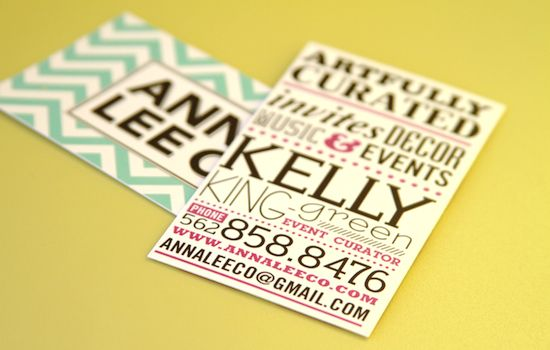 When done right, typography can carry your personality through your business card. Instead of images or logos, a mix of sizes and font style for your text can create an interesting design. Observe a hierarchy to make sure that your message remains clear and concise for your audience.
---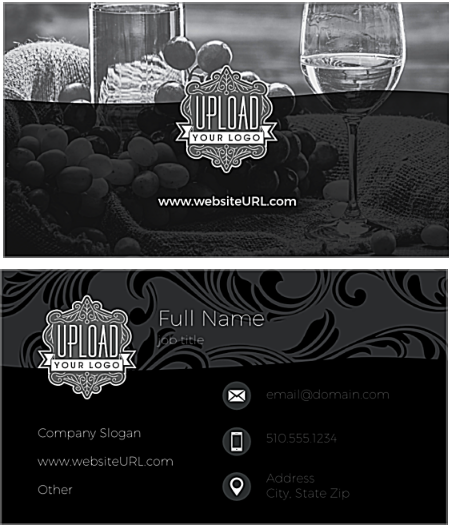 Event planners have to be creative and full of personality in order to provide an exceptional experience for their clients. This needs to be reflected in their business cards, and the template in this example provides elegance and drama that can surely create excitement for any type of client. Begin your idea and personalize your design from start to finish with PsPrint. PsPrint has a wide range of papers and styles, as well as helpful guidelines and free file review for the business cards you create. Click here to start making your business cards.
---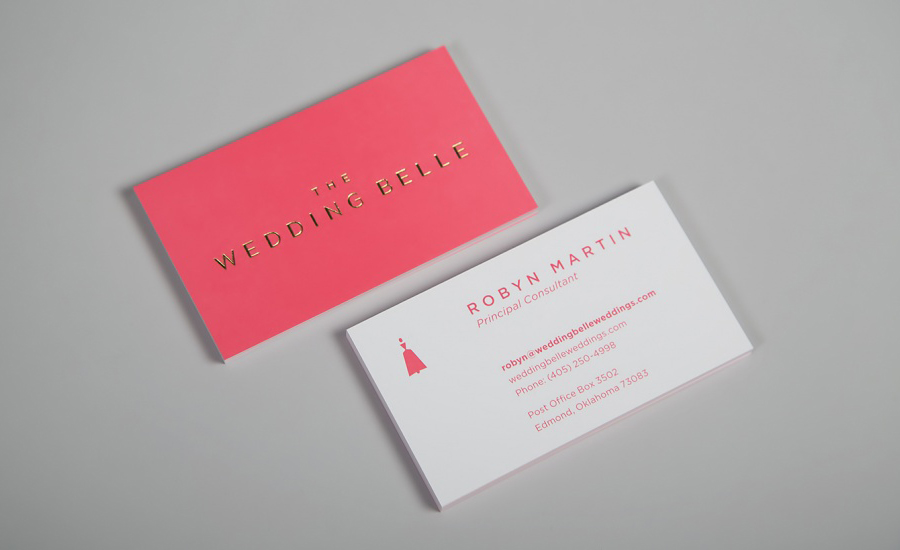 Business cards with a color theme are meant to evoke emotions from clients and, in this example, feminine elegance is the core message. Block color on one side with gold foil lettering while the other is plain white with matching pink text. Depending on the elements you add to it, your business card can reflect an overall look that will make your personality shine.
---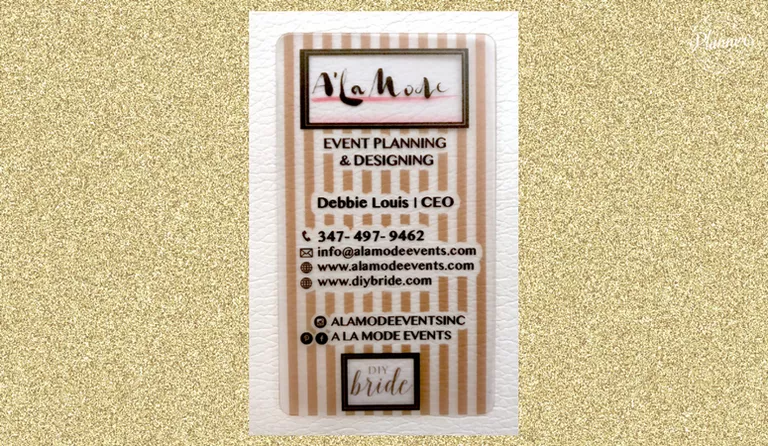 Plastic frosted business cards are unique and open up more options for your design in terms. They stand out with their slightly textured and cloudy look and are preferred considerably to clear plastic cards when aiming for a creative look. You can also combine this with clear transparent portions in order to create an accent for key features on your business card.
---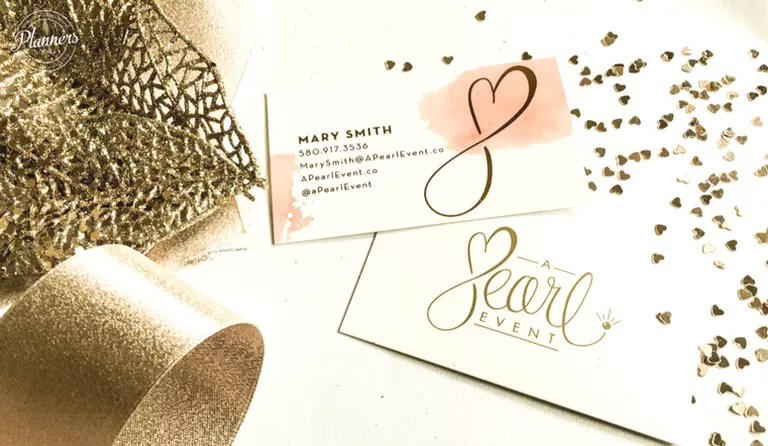 The combination of watercolor and gold foil results in a striking contrast for a delicate, elegant look. Notice how it is used in this example, with watercolor serving to create an accent and elevate the already impressive design. Remember to keep the watercolor highlight tasteful.
---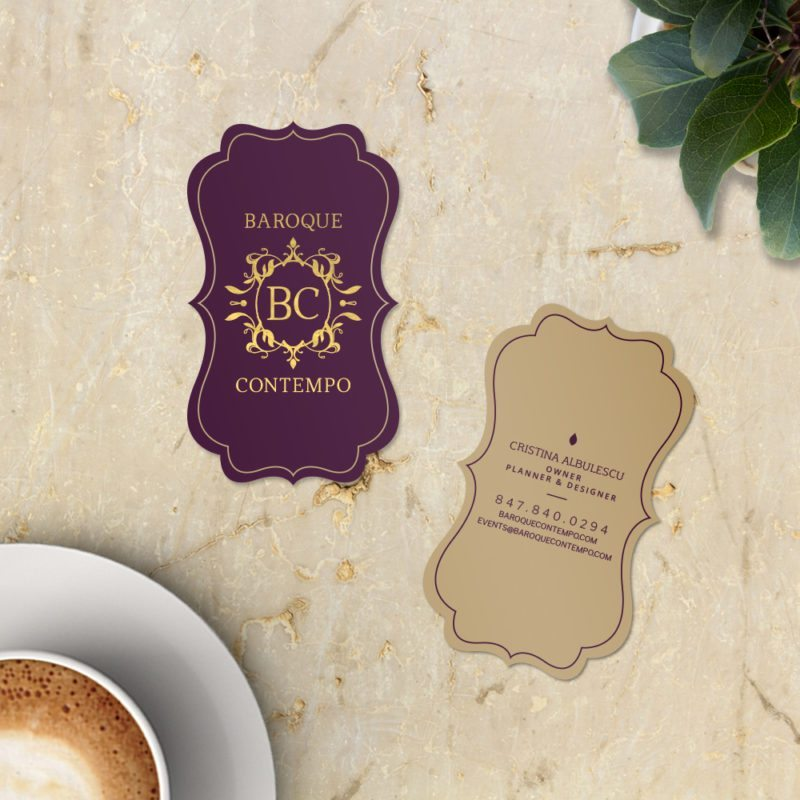 If your goal is to create a rich, regal branding, then this idea is for you. The elegant shape is made using die cut complemented by flourishing lines and patterns. The color choice is also a major consideration, combining purple and cream to complete the rich and regal look.
---
15. Elegant Border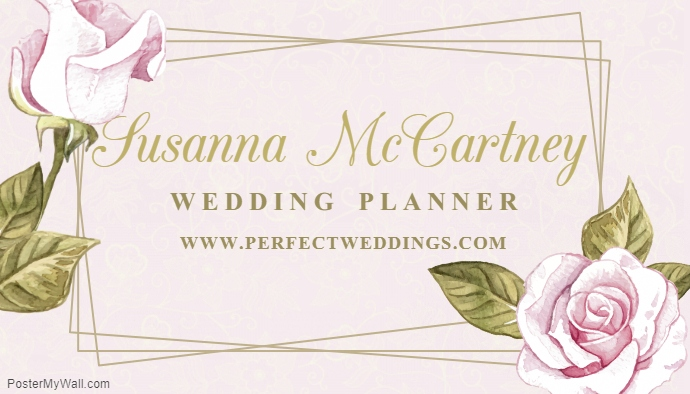 An elegant border can go a long way for your business card design. It takes even the simplest set of text and turns them into a work of art with the addition of swirls, flourishes and other patterns. Just remember to create borders that reflect your personality and brand.
---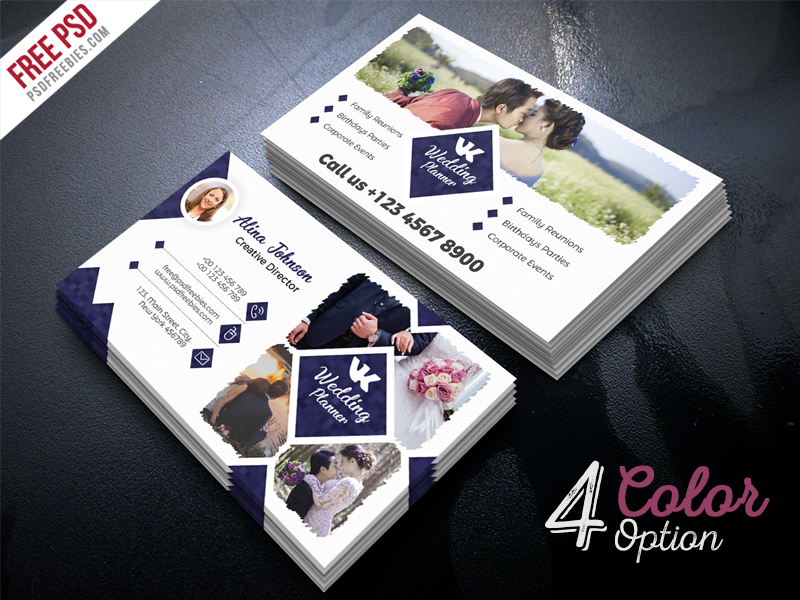 A corporate design gives your business card a professional look. The layout is well-made, and the colors are coordinated to reflect your brand. We like how this example also incorporated the event planner's photo in the design to help build the trust of potential clients.
---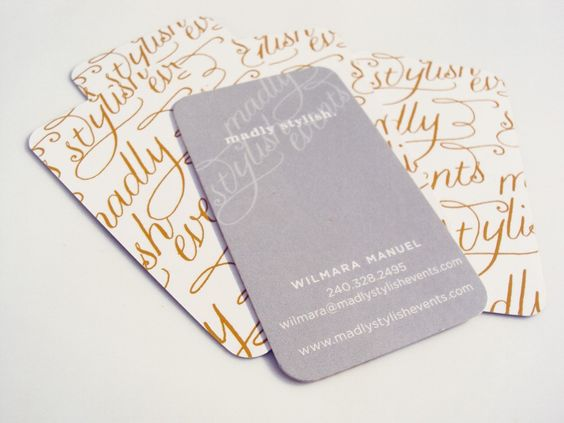 If you don't have a logo to use as a background, you can opt with your business name instead. Add it as a pattern on both sides, with one being more subdued to make space for your additional contact details. Remember to come up with a business name typography that reflects your brand.
---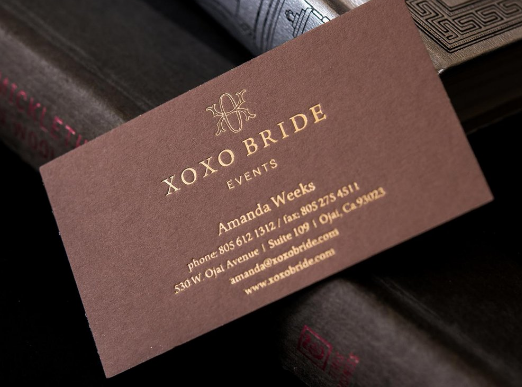 Letterpress printing is impressive on its own. Add your design idea, and it can give your audience something to recognize your brand easily. We like how this business card example opted for letterpress printing instead of copper foil which usually works best with brown matte paper.
---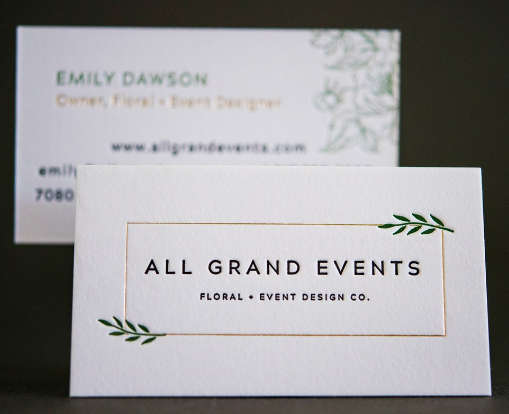 This minimalist design is made with letterpress printing as well. What's interesting in this example is the addition of a simple, clean border with leaf pattern accents on the corners. Note how the outer edges are wide, giving the illusion of a somewhat larger card.
---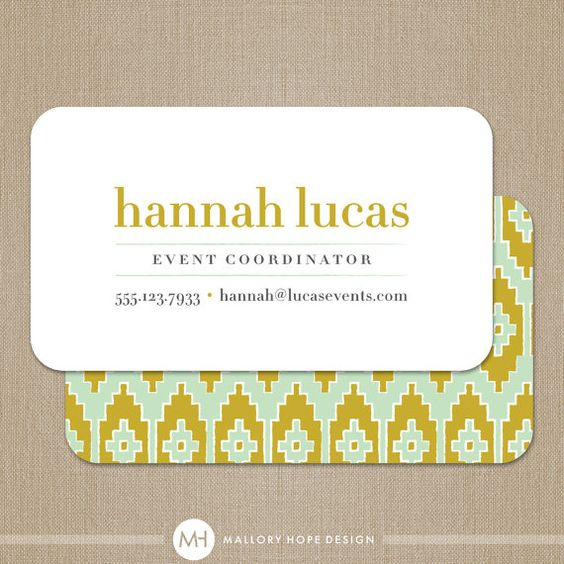 This business card example made use of pixel patterns, and it's a very interesting design. It brings about more design concept with this style, so try and experiment on a number of ideas like using a pixelated version of your logo. It's also noteworthy how the colors match between the pattern and the chef's name to complete the look.
---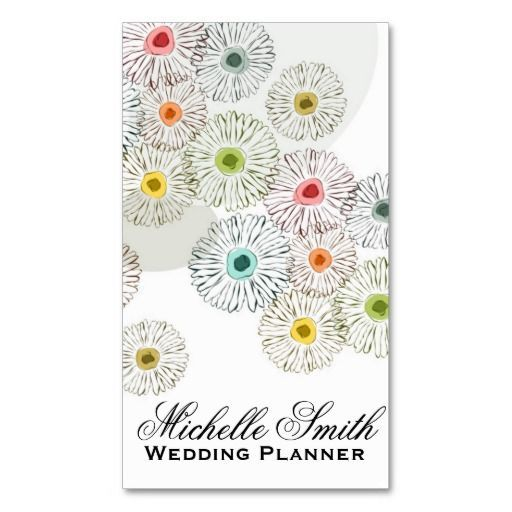 Nothing says personal than a hand-drawn design. This business card creates a pretty image of flowers on a white background. The overall look helps build a brand that's all about giving a personal touch and attention to every wedding they plan. Try the same idea and experiment in other symbols and design for yourself.
---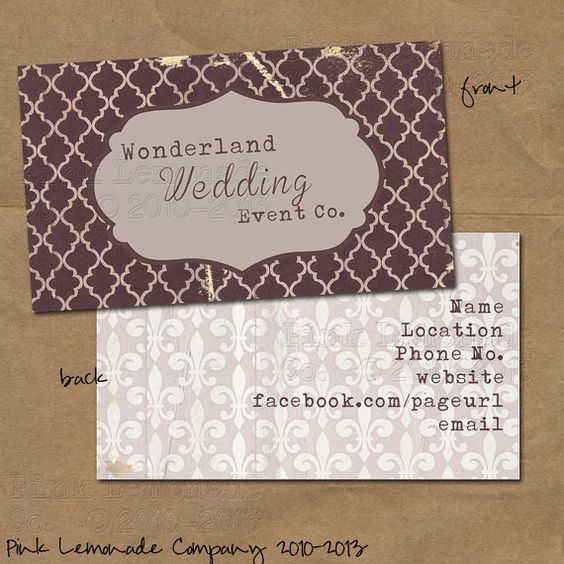 If your event planning business excels in organizing a retro event, you might want this feature incorporated into your business card design. There are a number of ways to show a vintage feel, and it all depends on your branding. You can also add a tagline or a call-to-action to get potential clients calling.
---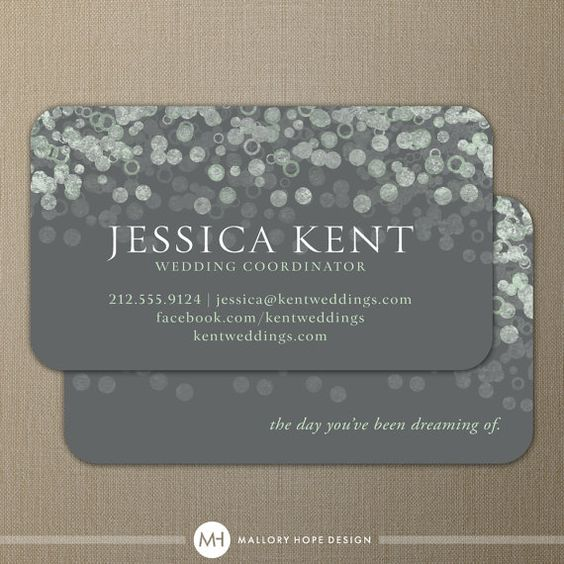 Celebrations aren't complete without a good bottle of champagne. That's why in this example, the designer recreated champagne bubbles as a background pattern for the business card. You can change it up and choose different colors or add other visual elements like spot UV to give the design more personality.
---
24. Watercolor Balloons Design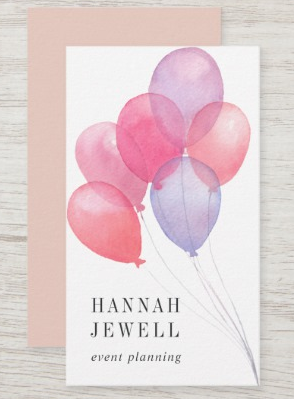 This is a unique take for an event planner business card design. This example uses watercolor for its images, and the result is a refreshing take on a traditional symbol. It gives a natural feel compared to the usual high-resolution business cards so that it immediately stands out. Be careful and make sure you're not tempted to overdecorate and let the simplicity appeal to your audience.
---
25. Gold Foil Design
Another way to create a glitzy, glamorous look is to use gold foil on your business card. The way this style is applied, including the choice in background color in this example, gives the business card an elegant, almost old Hollywood feel. A perfect way to give potential clients an idea of what you can deliver as an event planner.
---
Over to You
Clients look for exceptional experience when hiring an event planner so it makes sense that even your business cards should be able to project your skills and personality. Take a page out of our list of event and wedding planner business cards and help your business stand out above its competition. If you find yourself inspired to get started designing your business card, get started by choosing a business card provider. Read our guide on the best business card providers.
Did we miss out on your favorite event planner business cards examples? Share them with us in the comments.