Event planning has a lot of moving parts, and you need to know when different tasks need to be completed by in order to keep everything on schedule. Trust me, I know how quickly things can become unmanageable, which is why I created this checklist based off of my experience planning events.
Follow along with our event planning checklist here as I go through and explain each item on the list. If you plan ahead, you'll be able to reduce the stress of planning your event and ensure it's a success.
Note: The amount of time needed to plan an event is based on my experience planning a luncheon for 300 people. However, this can vary based on the size and type of event.
6 Months Before: Big Picture Planning
Determine Your Budget
The first thing you should do after you decide to hold an event is determine your budget. Things can get expensive quickly, so keep a spreadsheet of all costs so you know when you've reached your spending limit.
For any business event, you will most likely need the following things:
Venue
Food and beverages
Entertainment and speakers
Marketing
Insurance (to cover A/V equipment and event workers)
Consider budgeting for the items below if you want to delegate tasks or have money to spend on added features:
Production company (ensures everything runs smoothly the day of the event)
A/V Equipment
Photographer
Alcohol
Decorations (balloons, pipe and draping, flowers)
Miscellaneous items (promotional items, signs, badges)
These costs vary greatly depending on the type and size of your event. If you want to hire celebrity entertainment or have a three-course meal, you can expect to pay much more. However, you can decrease costs by finding entertainment that's willing to perform for free or little cost. My event was an awards ceremony and we did not have to spend money on speakers since the award recipients were the ones who gave speeches.
You can also decrease costs by only serving coffee, tea, and bagels (or beverages and hors d'oeuvres) over a full sit down meal. Consider having one of your staff members bartend at no additional cost. However, sometimes a venue will require you to use their staff for the event, such as their bartender if you want to have alcohol at your event.
You might want to find a venue that has amenities, such as tables, chairs, tablecloths, and wifi included in the price. This could decrease cost and make things easier for you if everything is included and you don't have to worry about transportation of these items.
Have Concrete Goals and Objectives
The next important step is to determine your goals and objectives.
You need to decide what you want your business, your attendees, and your sponsors/partners to get out of the event.
For example, I used to work for Association TRENDS, a magazine that's geared towards non-profit and association executives (such as the CEO of National Association of Manufacturers or the CFO of NPR). Since traditional print media is declining, we decided to try an event in order to diversify our revenue sources. Here are the goals we came up with:
Build our brand as the authority on association news and trends in the association space
Create an enjoyable atmosphere for our audience to network and form business relationships
Get sponsors that we can connect with high quality leads
Now that we know what we want to get out of the event, we can get more specific about our audience.
Decide on Your Target Audience
You may think your target audience is as simple as whoever wants to come to the event. However, it could be in your best interest to have a more exclusive event. This is because you want to keep your attendees and potential sponsors happy.
Look back at your goals to help you decide who the audience for your event should be. For example, when I was planning the event at my previous company, we wanted association executives to attend the event because we wanted to build our brand among this group. We also thought this group would enjoy networking and building business relationships with each other and therefore get more out of attending the event. Finally, we knew that this group would attract the sponsors that we wanted to target.
We did not invite people working at corporations because we only wanted corporations to attend if they were paying thousands to sponsor the event.
Choose an Event Type
Once you have your budget, goals, and audience, it's time to think about the type of event you want. Is your event going to be educational? Then you probably don't want to do anything outside of work hours. Do you want to do something celebratory? Consider a cocktail hour or a lunch event.
Choosing the right time and date is critical to your event's success. Think about your target audience and what their typical schedule looks like.
Possible events include:
Seminars
Trade shows
Golf events
Networking events
Product launches
Award ceremonies
Deciding which one is right for your needs really depends on what you want to get out of the event.
4-6 Months Before: Logistics
Pick a Venue
Once you know the type of event you want to hold, it's time to choose your venue.
"When choosing a venue for your event you should first consider what type of event you are hosting and create a list of needs your venue should meet. In a metropolitan location such as DC, venues that are metro accessible are ideal for great attendee turnout. To lower your rental charges, seek out a venue that comes with amenities such as tables, chairs, free WiFi, and lighting packages included in the rental fee.

Lastly, seek out venues that give guests a different feel. Hotels are great, but there are plenty of special event venues that break up what attendees are accustomed to. The look, feel, and experience your guests receive from a perfectly chosen venue will leave them waiting for the next event and new hot location." -Kimberly Blackburn, Eastern Foundry
Here are some alternatives to hotels that will make more of an impact with your guests:
Art gallery
Boat cruise
Science museum
Zoo or amusement park
If you're looking for a venue that won't break the bank, try one of the following:
Office space
Park/ outdoor space
Restaurant
Before landing on a venue, you will want to get cost estimates from a few different spots. Then you can compare pricing and determine a fair price. You can almost always negotiate, so don't accept the first price the venue comes back with.
When negotiating prices with vendors, Brian Kelly & Sean Koski from Ticket2Events share the following tip:
Hit vendors with a price that is 20% lower than the budget you set aside for this product. Typically your vendor will come back with a yes or no. If yes, the price is right under budget anyway. If no, you have some room to negotiate.

If you have already received a pricing proposal from a vendor, we suggest telling the vendor that there is a budget you neglected to mention, and you really want to stay within that range. If the vendor doesn't want to adjust their price, we suggest moving on to a new vendor but keeping the proposal the old vendor has. We suggest "shopping around" and keeping all proposals on file.
It also doesn't hurt to let the vendor know that if a negotiation can happen for this event, you'll be more ready to re-use them and deliver repeat business!
Choose a Date and Time
The date of your event is largely dependent on when your venue has availability, so try to keep an open mind about the date. However, take these things into account before you commit:
Make sure there are no competing events
You don't want your guests to have to choose between your event and a similar event in your industry. When planning our event for association professionals, we made sure it was nowhere near the annual event that draws thousands of association executives every year.
Check the date with people involved
If you're working with partners or sponsors, make sure to clear the date with them. You also need to make sure that everyone staffing the event has an open schedule that day.
Choose a time that works for your type of event and your audience
If you are holding an educational event, you want to have it earlier in the day when people are more focused. If it's a celebratory event with an audience that works full time, hold something in the evening.
For our event, we decided to do an awards ceremony during lunch on a Friday. Association executives are typically middle aged men and women. We decided to do the event during work hours, since most have families they need to get back to after work. We wanted the event to be fun, so we chose a Friday, when people are typically in better moods than at the beginning of the week.
Have a Back-Up Plan
Unfortunately, since there are so many variables when planning an event, it's possible that everything will not go your way. If you do have to switch to plan B or plan C, "remember that no one attending your event actually knows how it was 'supposed' to be or how your high expectations are/were, so don't stress," advises Blaine Ashley of NYC Champagne Week.
Also be prepared for the worst case scenario, having to cancel the event.
Should the unexpected happen and you must pull the plug, be it due to weather, low RSVPs, or other contingency, you have to know how to handle it, and quickly. David Jacobson, founder of TrivWorks, recommends following the three steps to ensure cancelling doesn't result in angry customers and/or negative online reviews:
Tell invitees immediately – use any and all means at your disposal: phone, email, text, publish an alert on your website/social platforms.
Hang up signage – people who decide to come at the last minute don't want to arrive to an empty venue with no notices as to why the event isn't happening.
Reschedule quickly – preferably for a similar time/day of the week as the originally scheduled date, so as to minimize conflicts for attendees.
Create a Website/Landing Page and Marketing Plan
Once you have your venue, date, and time nailed down, you want to create your event website as soon as possible. It's easy and cheap to make a website, and we have a guide that walks you through how to set everything up for $3.45 or less per month.
The website is important because it is where people can go to learn more about your event and register if they are interested. Depending on the size and scope of your event, you can create a dedicated website for it, or just make a landing page on your existing website.
If you want people to be able to find your event organically through Google search, it's a good idea to create a website with a domain name that is dedicated to the event (ex: www.yourevent.com). You can check the availability of your domain name in the domain search tool below:
You will want to include the following elements on the page:
Benefits of attending the event
Speakers/entertainment with pictures and bios
Schedule of events
How to register and cost to attend (if applicable)
Sponsor logos
It's also time to create your marketing plan. This is an important step to make sure you stay on track since marketing is key to getting people to attend your event. View our guide on event marketing ideas the pros use to get tips for the best ways to market an event.
Get Speakers/Entertainment and Lock Down Sponsors/Partners
Whether you are looking for informative speakers to educate your audience, or you want performers to entertain, you need to confirm this well before the date of your event. Having the right speaker or entertainment selection can make or break your event. If your attendees don't enjoy your event, it won't look good for your business, and it will make it harder to get them to come back next year.
Getting sponsors can help you defray some of the costs of your event. If you want to have sponsors or partners for your event, get them to commit well before the event date. Set a deadline so they have an incentive to confirm by a certain time. You need to know how much money will be coming in from them so you know how much you can afford to spend.
2-4 Months Ahead: Get People Excited
Create Buzz Around your Event
Now that you have the logistics worked out, it's time to get people talking about your event. Here are a few ideas:
Send press releases about your event
A press release is a great way to get media attention for your event, but make sure to focus the release on something interesting. For example, when I worked to plan an awards ceremony, we sent out a press release when the winners were announced. This works great because the person receiving the award probably has a large network that will want to share the news. View our press release template, examples, and distribution tips to learn more.
Promote your event on Facebook
You can create a page for your event for free on Facebook. Then, you can pay as little as $5/day to promote the page to the exact demographic that you want to attend the event. For example, if you're hosting a networking event for women in business, you can show your ad only to women ages 25-45 in your area who are interested in business. View our guide on Facebook advertising to learn more.
Create teaser videos
A fun way to get people excited about your event is to promote a clip of your speakers or record the CEO of your business speaking about why you are holding the event. Videos tend to get more attention than pictures or text, so by posting videos on your social media sites, you are more likely to engage people.
Meet with All Third Party Vendors
Since so many people are involved with the planning of the event, it is vital that everyone is on the same page. By meeting with all of the event vendors months before the date of the event, you can rest easy knowing that everyone knows what their responsibilities are. This will lower the chance of confusion when event day arrives.
Finalize Design of Event Signs and Program
You want your event to have a cohesive look when it comes to all signs and printed materials. You may even want to create a separate logo specifically for the event, especially if it's one you want to hold multiple years in a row. If you don't have a design team in house, you can hire someone on Fiverr to do this for you for as little as $5.
If you have sponsors, you will want to ask each of them for high resolution logos to include on all marketing materials for the event.
Order Promotional Items to Leave a Lasting Impression.
Giving away gift bags at an event with promotional items is a great way to keep your business top of mind even after the event is over. Ask your sponsors if they would like to include a small gift as well. Chances are, they will jump at the chance to give away swag to their target audience.
Here's a list of some good promotional item ideas with longevity:
Blankets
Portable phone charger
Coffee mugs/ water bottles
You can also do a themed gift that relates to your event:
Fun in the sun kit (sunscreen, sunglasses, koozie)
Stress-free (stress ball, scented candle, eye mask)
Many companies are tempted to give away marketing brochures about their business. However, no one wants a gift bag full of paper, and chances are only a small percentage will actually read it.
Jamie Herring, Association TRENDS, said, "Last year at my event, one of the sponsors brought selfie sticks. The event was full of high-level association executives and they loved them! We took it a step farther by creating posters that encouraged people to upload their selfie on Twitter with the event's hashtag."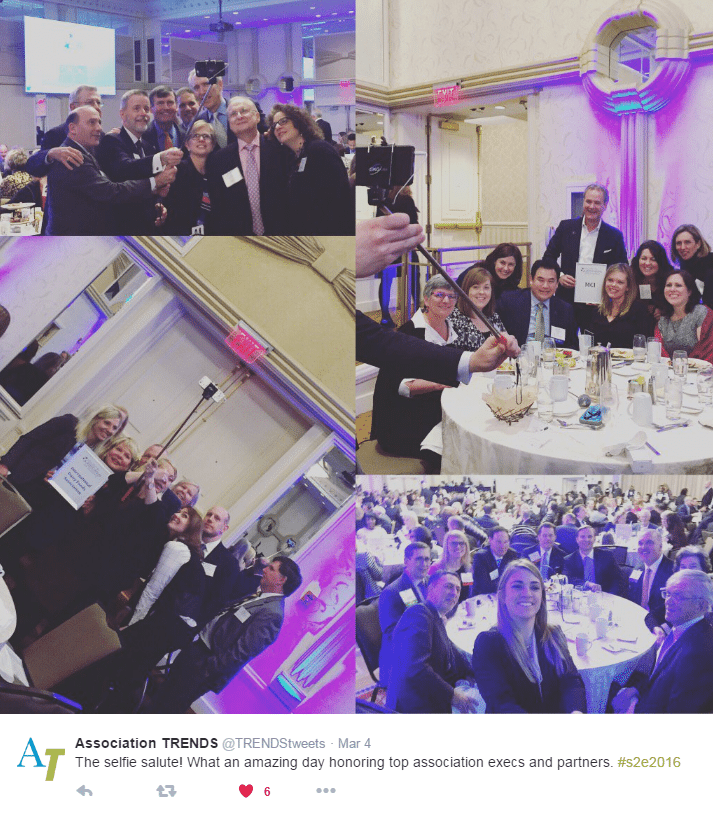 Hand out a fun promotional item such as a selfie stick to get people involved
The Week Before: Final Countdown
Have All Signs/Pamphlets/Brochures Printed
By now, registrations should have given you a good idea of the final number of attendees that will be at your event, so you can have your signs/pamphlets/brochures printed. The pamphlet or brochure should include sponsor logos and a schedule of events, and you can possibly sell advertising space within the pamphlet or brochure to increase revenue. View our in-depth guide to brochure printing, price, and design to learn more.
For any event, you will definitely need plenty of signs advertising your event at the venue. It will be frustrating for your guests if they show up at the hotel when the event is supposed to be, and they don't know where to go, or once they get to your event, don't know if they're at the right place. You can order these signs at your local Fedex, and turnaround time is really quick (typically same day).
Ramp Up Your Marketing Efforts
It's the last week to market your event, and you want to make sure that you convince everyone who is on the fence that they must attend your event. One creative way to do this is to promote how much time left the potential customer has to register for the event (ex: 5 days left) plus a reason why they should attend. People often need frequent marketing to get them to pull the trigger and register for an event.
Print the Badges
If you are hosting a networking event or if you have assigned tables for seating, it's a good idea to have badges for your attendees. Having a name badge makes it easier for people to network, and having assigned tables helps larger events run more smoothly. Plus, with assigned tables, you can strategically place high quality leads at your sponsor's tables.
Run Through the Roles of All Staff
The week before the event, you should get everyone together from your company that is helping out and let them know what they will be doing the day of the event. You may think you will have time to do this the day of the event, or that people will naturally know what to do, but this is not the case most of the time. By informing everyone what is expected of them, you are maximizing your resources. Also let everyone know what time they should arrive the day of the event.
According to Kimberly Blackburn of Eastern Foundry, "When deciding how early to show up to an event, think about how much time you'll need to set up, then add 1-2 hours to that, and that is when you should show up. Nothing adds more stress than not having enough time before an event."
1 Day Before: Last Minute Details
Set Up at the Venue
You will need to set up the day before or the day of the event, depending on the time of the event and when the venue will allow you access to the space. During this time, you should put your gift bags together, put up any decorations that the venue is not providing, and make sure everything is in place for your event.
Run Through Script
It's important to get anyone speaking at the event to meet the day before to go over the script. Everyone's speeches should be reviewed, so you can make sure they don't run too long or short, and to give the speakers themselves time to practice the final version of the speeches. Print out a copy of everyone's speech just in case something happens with the electronic copy.
Confirm Number of Attendees
Even if you had a projected number for the event, you should now have the final count (from registrations). Share that with the caterer, and make sure you have the right number of tables if it's a seated event. Having too few tables is obviously not a good idea, as people will be standing and not get a meal. On the other hand, having too many tables will make your event look empty and not well attended.
If you have sponsors, you will also want to send them the list of attendees so they will know who will be attending and who they will want to make sure they meet.
After the Event: Follow-up
After your event is over, your job isn't done! A lot of people drop the ball when it comes to following up after the event, but it's an important part of the process. This is especially true if you plan on working with the same people in the future or want to run the same event next year.
Ask for Feedback
The easiest way to know what worked and what didn't at your event is to ask your guests for feedback. This is important if you want to hold an event for your business in the future. You could have a feedback box at the event, or you could send a follow up thank you and survey by email to attendees.
Post-Event Publicity
Now that you've had your event, you want to keep the momentum going. Post pictures and videos of your event on your website and social media. If one of your event speakers had a great speech, post it on your website. You want to keep people talking about it so that they will be excited for your next event.
Send Thank You Notes
Let people who participated in making the event a success know that you appreciate their help. This includes sponsors, speakers, and anyone who helped out during the event. This helps forge a relationship between you and the the person you're sending the note in case you need their help at a future event.
Bottom Line
Event planning can be extremely stressful, especially if you don't have much experience with planning. By keeping everything organized and following our event planning checklist, you can ensure that everything stays on track. The most important thing is to give yourself plenty of time to complete all of the steps involved with creating an amazing event.
Have a questions or comment? Let us know below.