eVoice vs Grasshopper: Which Is Better for Small Businesses in 2023
This article is part of a larger series on VoIP.
When comparing eVoice vs Grasshopper, you will find that these voice-over-internet-protocol (VoIP) providers offer essential calling features but vary significantly in cost. Grasshopper's flat-rate pricing and unlimited extensions make it a more affordable choice for small businesses, while eVoice is an excellent option for teams needing different types of virtual numbers and built-in video conferencing.
We examined the two providers based on critical criteria that matter to small businesses, such as pricing, virtual phone number offerings, call management features, video conferencing, ease of use, and customer service. The best use cases for Grasshopper vs eVoice are as follows:
Grasshopper: Better for small teams looking for an affordable, full-featured business phone system with unlimited calls, texts, and extensions
eVoice: Better for businesses needing a virtual phone number for international expansion
eVoice vs Grasshopper at a Glance
| | | |
| --- | --- | --- |
| Monthly Starting Price  | $31* | $14 (per user) |
| Annual Pricing  | $28* | $12 (per user) |
| Free Trial | Seven days | 14-day free trial and 30-day money-back guarantee |
| Types of Virtual Numbers | Local, toll-free, and vanity | Local, toll-free, vanity, and international |
| Additional Phone Numbers | $10 each, monthly | $29.95 each, monthly for international numbers** |
| Unlimited Domestic Calling | ✓ | ✓ |
| International Calling | ✓ | ✓ |
| Custom Greeting | ✓ | ✓ |
| Multi-extension Support | ✓ | ✓ |
| Integrations | ✓ | ✕ |
| For More Information | | |
*Pricing is a flat rate for unlimited users.
**Pricing for local, vanity, and toll-free numbers is not provided on the website.
Best Alternatives
eVoice and Grasshopper are two leading virtual phone systems offering call management features. However, other options are available if your team needs extensive collaboration features, robust video conferencing, or extensive third-party integrations. A few Grasshopper and eVoice alternatives include:
RingCentral: It offers extensive integrations, in-depth analytics, and a 99.999% uptime service level agreement (SLA). Businesses appreciate its built-in video conferencing and advanced call management features like agent monitoring and interactive voice response (IVR). To learn more about this solution, see our RingCentral review.
Nextiva: Based on our Nextiva review, this VoIP provider offers robust collaboration and video conferencing features, such as in-meeting chat and screen sharing. Its Cospace application makes it easier for remote teams to collaborate with tools like team chat, internal file sharing, and team calendars.
Vonage: This cloud-based system offers over 50 business phone features, such as unlimited calls, short message service (SMS), and team messaging. It's great for businesses looking for feature-rich phone systems with a la carte capabilities. Check out our detailed Vonage review for more information.
Best for Pricing: Grasshopper
Grasshopper Monthly Pricing*

Solo: $31 for one phone number, three extensions, and unlimited users
Partner: $51 for three phone numbers and six extensions
Small Business: $89 for five phone numbers and unlimited extensions

eVoice Monthly Pricing (per User)**

Elite Monthly: $14 for unlimited calls, auto-attendant, three toll-free and local numbers, after-hours call forwarding, voicemail-to-text, and call routing
*Save over 10% with annual billing.
**Users who opt for the annual plan get two months free.
Grasshopper is one of our recommended business phone systems and takes the cake for this category because it offers users a flat-rate model. Unlike eVoice, which has a per-user model, Grasshopper's unlimited users mean your monthly bill stays the same, regardless of the number of users connecting to your service. Its base-level subscription plan costs $31 monthly for one phone number, three extensions, and unlimited users.
Although Grasshopper is the cheaper option overall, eVoice offers a single plan option that includes core and advanced features, such as after-hours greeting and call forwarding, that you see with providers like RingCentral. However, features like call recording and online fax are premium features requiring an additional monthly charge.
Best for Virtual Phone Numbers: eVoice
Local
Vanity
International
Toll-free numbers

Local
Vanity
Toll-free numbers
eVoice wins over Grasshopper because it provides customers with more phone number options than Grasshopper. Grasshopper and eVoice offer vanity, local, and toll-free numbers, but eVoice also has international numbers. International phone numbers appear and act like friendly, local numbers, but it uses the internet to forward calls to your location. This option is great for businesses expanding globally and establishing a local presence.
Are you interested in eVoice? Read through our eVoice review to learn about the provider's pricing options, key features, and use cases.
It should be noted that eVoice's vanity and international numbers are premium features and incur additional monthly charges. If you don't need an international number, Grasshopper's virtual number offering should suffice. Depending on your plan, Grasshopper has a set number of phone numbers for each subscription, ranging from one to five. Its additional numbers cost $10 per number, monthly.
Best for Call Management Features: Grasshopper
Voicemail and voicemail transcription
Call forwarding, transfer, blocking
Virtual fax
Extensions
Instant response
Custom greetings
Simultaneous call handling
Incoming call control
Auto-attendant and IVR
Ruby Receptionist

Voicemail
Call forwarding, transfer, routing, blocking
After-hours and professional greeting
Call blocking, forwarding, routing
Call recording
International forwarding
Auto-attendant
Extensions
Sequential and simultaneous ring
When comparing eVoice vs Grasshopper's call management features, Grasshopper wins overall because it doesn't differentiate between standard and premium features. It offers a complete phone system without additional charges. For example, Grasshopper provides virtual fax in all its plans, but eVoice offers this as a premium feature. These add-ons can get pricey, especially if multiple users need them.
Grasshopper and eVoice offer auto-attendant and live receptionists, but only Grasshopper provides its customers with an IVR feature. Users configure the IVR system using their extensions and hours, customizing how they interact with their customers. Also, Small Business plan subscribers get unlimited extensions, allowing you to assign all your employees and departments their own extensions.
Are you interested in learning more about IVRs and how it improves customer wait time and quality service? Read our guide on IVR systems to find out how this technology can transform your small business.
Grasshopper stands out because of the flexibility it gives small teams with remote staff. Features like instant response and live receptionists ensure that your calls are managed, and callers receive an answer even when you cannot take their call. eVoice offers its fair share of call management features, such as custom greetings, call forwarding, and simultaneous ring, which Grasshopper also provides.
Best for Video Conferencing: eVoice
| | |
| --- | --- |
| Offers web conferencing as a premium add-on with virtual meeting capabilities | No video conferencing features |
eVoice wins over Grasshopper when it comes to video conferencing thanks to its web conferencing add-on that hosts up to 95 participants via dial-in. Its integrated video conferencing feature allows screen sharing, file upload, and up to 25 simultaneous video feeds. Best of all, eVoice's web conferencing requires no software download or installation. Participants simply join using an internet connection and the link provided by the host.
One of Grasshopper's most significant drawbacks is its lack of video conferencing. For businesses looking for a complementary video conferencing platform, read through our list of the best free conference call services for small businesses to see if any suit your needs.
Best for Ease of Use: Grasshopper
| | |
| --- | --- |
| Very easy to use with an intuitive interface that's easy to set up | Easy to use with an outdated interface |
For ease of use, customer feedback has shown both platforms are easy to use, but Grasshopper takes the crown because of its clean, intuitive interface. Grasshopper's modern design and simple features facilitate a seamless experience that inexperienced VoIP users appreciate. Grasshopper's color scheme and layout are consistent across its desktop and mobile app, making it easy to switch between devices.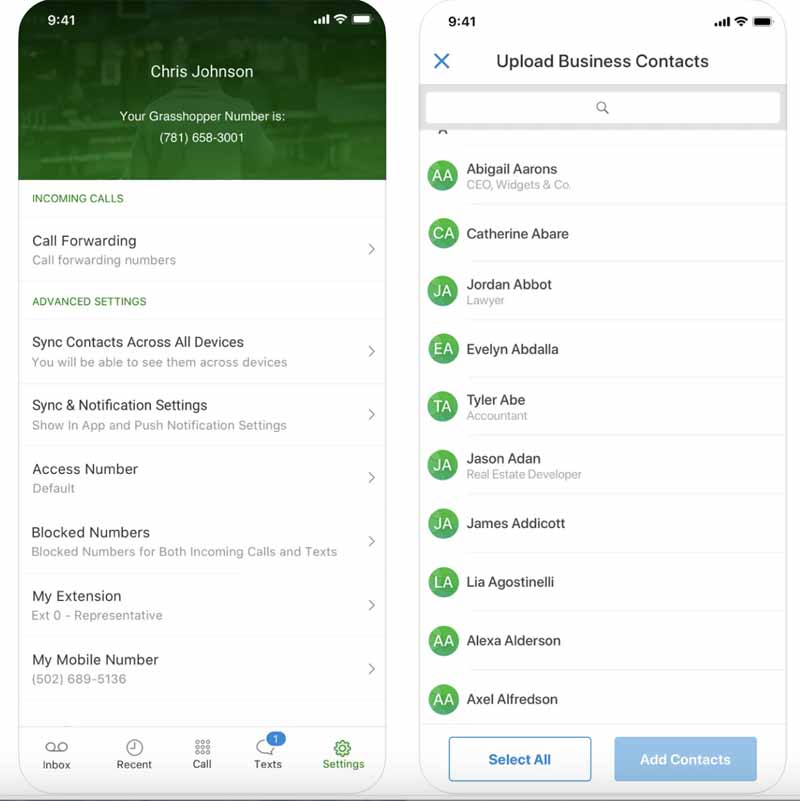 ---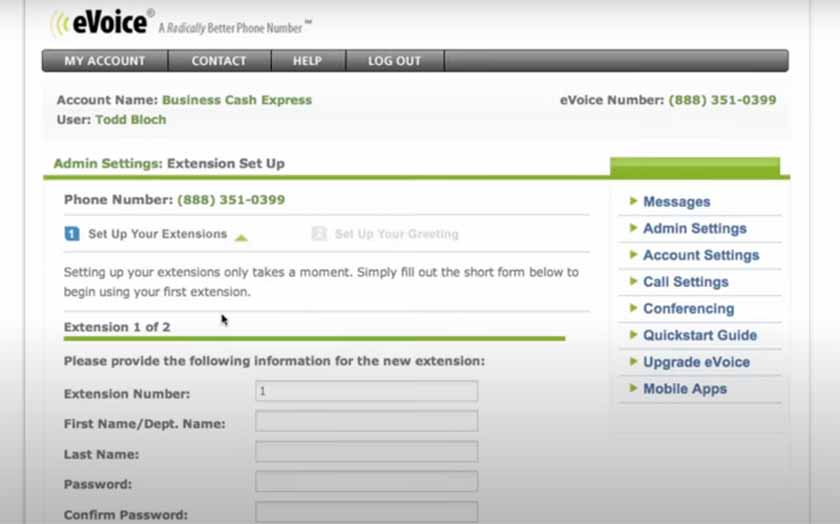 ---
Grasshopper's ability to transform your personal smartphone into a fully functioning business phone allows users to remain productive outside the office. It does a great job of separating personal and business calls and messages. On the other hand, eVoice is also easy to use, but when compared with Grasshopper, eVoice's interface looks dated. Customer feedback regarding eVoice reveals that while easy to set up, the interface would benefit from updates.
Best for Customer Service: Grasshopper
24/7 sales and support options via a toll-free number
Knowledge base with guides
Support ticket system

Live chat, phone support, and email help desk are available on weekdays from 8 a.m. to 8 p.m. Eastern Time
Given the eVoice vs Grasshopper customer service comparison above, Grasshopper is the clear winner because of its 24/7 sales and support options, specifically a toll-free phone number and direct line. Other support channels include a support center and knowledge base. The knowledge base search function produces videos, articles, guides, and community resources on topics and information related to your search.
eVoice's customer support includes live chat and phone support that operates on weekday extended business hours. Users can also reach eVoice through email and submit a support ticket for non-urgent concerns.
Not what you're looking for? Here are our top picks for the best VoIP services for small businesses, and find out which VoIP system fits your ever-growing business needs.
Frequently Asked Questions (FAQs)
How does eVoice work?
eVoice is a business phone solution offering virtual phone numbers, live receptionist services, and inbound call management tools. To use eVoice, choose a local, toll-free, or international number, create a company greeting, configure your call routing protocols, and download the eVoice mobile app for iOS and Android to use your account on the go.
Is Grasshopper better than Google Voice?
The choice between Google Voice and Grasshopper depends on your budget and business needs. Google Voice has a forever-free plan, and its paid subscriptions begin at $10 per user, monthly. On the other hand, Grasshopper offers users flat-rate monthly pricing starting at $31. Grasshopper is better for businesses needing multiple virtual numbers, while Google Voice is ideal for budget-conscious solopreneurs and startups.
How do I get a virtual phone number?
Virtual phone numbers are linked to an online account with your chosen service provider. To get a virtual number, you must select a VoIP provider, choose a type of virtual number, and select a phone number from the options provided. Then, create an account and provide your payment details. Once the account is created, you can log in through the provider's portal, and configure your call management system based on your business operations.
How We Evaluated eVoice vs Grasshopper
In comparing Grasshopper vs eVoice, we considered the most common features small business owners look for when choosing a business phone provider. We looked at pricing, ease of use, customer support channels, and general features.
Here's a complete breakdown of the factors we considered in this eVoice vs Grasshopper comparison:
We compared monthly per-user costs for eVoice vs Grasshopper and the features it offers across different tiers. Moreover, we looked at the availability of a free plan, free trial, and discounts for annual billing and volume purchases.
In our eVoice vs Grasshopper features comparison, we focused on the features that matter to small businesses, such as unlimited calling and call routing features like forwarding and IVR. We also considered video messaging capabilities, particularly if the provider has a larger participant capacity and longer meeting duration.
We looked at eVoice vs Grasshopper and how well the providers support their customers. This included their available channels, whether community resources are accessible, and their operating hours.
Small businesses often do not have technology experts and need a user-friendly phone system that's easy to navigate. We looked at whether each platform was intuitive and higher points were given to service providers with updated interfaces for easy operation.
We analyzed each product's value by considering the feature set, quality of customer support, and usability. We also reviewed verified user feedback to determine the overall popularity of both platforms while considering our own experiences.
Bottom Line
Our evaluation shows that Grasshopper is the better choice because of its flat-free pricing, user-friendly interface, robust call management tools like IVR and instant response, and 24/7 customer service options. It is best for small businesses wanting multiple virtual numbers for a fixed monthly fee.
On the other hand, eVoice is an excellent choice for companies looking to create a local presence in international markets. If you're interested in Grasshopper, take advantage of its seven-day free trial to determine if it's the best phone system for your company.