Facebook still holds the title of being the most-used social media site. In 2016, it boasted nearly $27 billion in advertising revenue, and as of May 2017, Facebook has almost two billion monthly active users. It's not surprising that businesses are using Facebook to reach their target audience.
But in order to get the most out of advertising on this social media platform, brands can't simply set an ad budget and sit back and wait for the results to flood in. Running successful Facebook ads requires attention to detail to make sure every element is properly optimized.
Here are 10 Facebook ad examples to help you create compelling campaigns:
1. Freshbook's Ad Speaks to Its Target Audience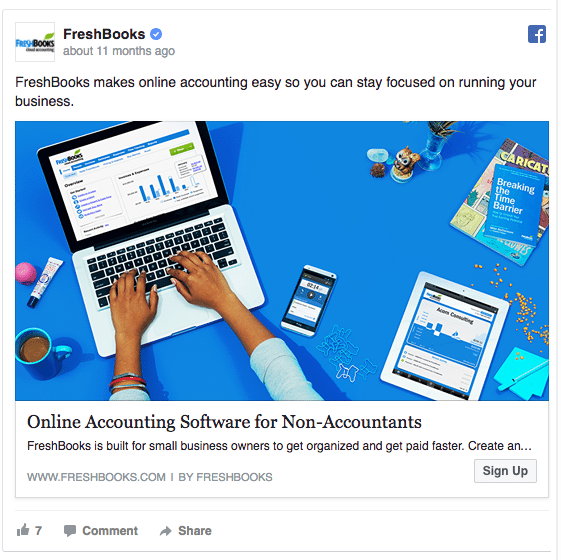 Source: KlientBoost
This ad presents a very relatable image – a busy workstation, accompanied by a cup of coffee and other work essentials. Then it successfully speaks to its niche audience through its headline "Online Accounting Software for Non-Accountants", and its description "…built for small business owners to get organized". It also highlights the main benefit of their product "makes online accounting easy so you can stay focused on running your business". Every business owner who relates to this situation will be immediately drawn to this ad.
Before starting any ad campaign, you need to identify a specific target audience. You can use the 'audience insights' feature in Facebook's ads manager. It is recommended to create custom audiences based on a several demographics such as age, gender, career, geographic locations, etc. You can also target people based on the pages they follow and their general activity on Facebook. This will help boost engagement and lessen expenditure rates. After determining your niche audience, speak to them. Convey your message using the right tone and language.
2. Short Yet Effective Vaseline Video Ad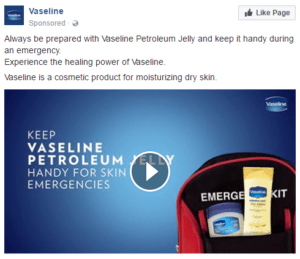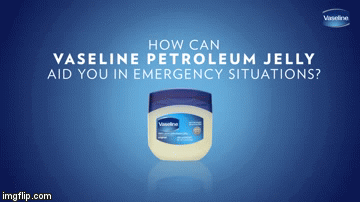 Check out Vaseline's short and simple video ad describing their product's benefits. People can get a complete overview of their product benefits without having to leave Facebook.
According to Adobe, customers who watch videos are 1.81 times more likely to purchase than non-video viewers. However, before you create a video ad, make sure to check out Facebook video ad requirements including length and video size.
Keep your video as short as possible as viewers tend to have a short attention span. Focus on your strongest selling points in the first 10 to 20 seconds. And don't forget to add captions to your video as some Facebook users initially play videos without sound.
Many brands have seen a lot of success with this type of ad – like Coca-Cola and Nike – who both have millions of views, likes, and shares on their video ads. Remember, creating a video ad doesn't have to cost thousands of dollars. Learn how to create a pro quality video ad with just your mobile phone with our guide.
3. Digicon's Ad Has Attractive Visuals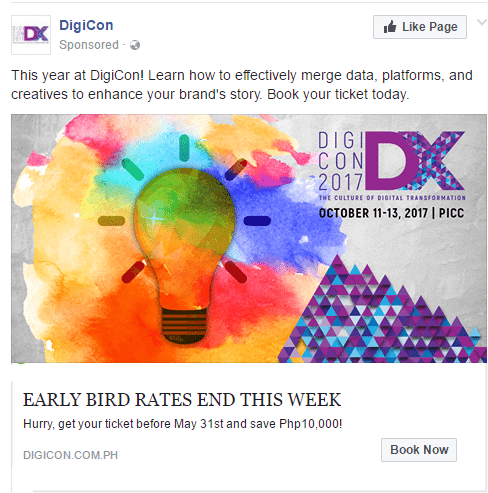 Take a look at how DigiCon created a great visual ad. The clear message, compelling offer, and the brilliant use of colors attract the user's attention. Strong visual content tends to boost reach and engagement. Relevant and eye-catching images are extremely effective as they draw the user's attention. If you create a bland ad with just text, people are most likely to scroll past your ad. Get your visitor to feel something to make them want to click on your ad.
Also consider the aesthetic you want your ads to have depending on your brand. Do you want a clean and minimal look or perhaps a more colorful and vibrant vibe? You can utilize contrasting colors and bold fonts, mix positive and negative space, or spice it up with complementary colors. Whatever it is, just make sure that all the colors and elements are in perfect harmony.
4. Catchy Headline in Southwest Airlines' Ad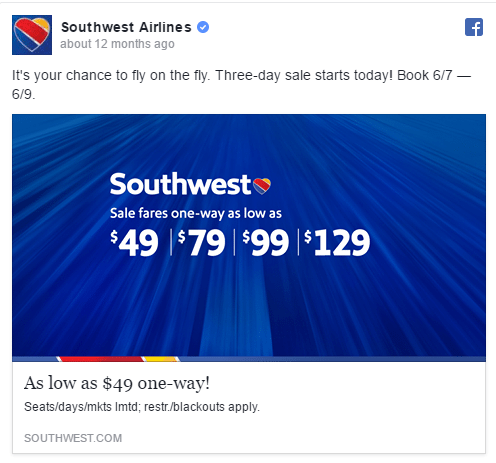 Source: SproutSocial
Look at this ad from Southwest Airlines. Its headline, "As low as $49 one-way!" effectively captures the attention of budget-conscious travelers. It is short and doesn't overwhelm viewers with too much information. Plus, it goes straight to the main point of the ad – savings.
According to Copyblogger, 8 out of 10 people never make it past the headline. This is why it is critical to write a powerful title. Great Facebook ad headlines are usually:
Short and clear
Use numbers
Emphasize product benefits
Include a call-to-action
Ask a question
Use action words
5. Interesting, Compelling Offer in Seller Labs' Ad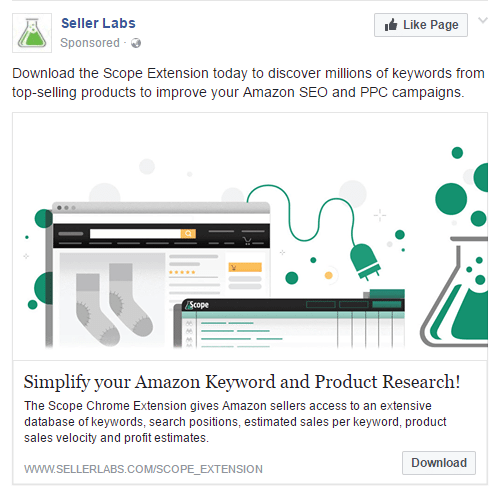 Let's take a look at Seller Lab's ad. Aside from promoting their product, they also focus on distributing valuable insight and sharing information with their "extensive database". They showcase the main benefit of their product which is simplifying Amazon keyword and product research  – a solution to a problem. Both aspiring and current Amazon sellers will find this valuable tool hard to resist. The use of highly positive words "discover" and "top-selling products" also helps persuade the viewers.
An offer or unique value proposition (UVP) tells your audience why they should click on your ad. It shows how your product or service differs from any other and the benefits they will receive if they choose your brand. So make sure to devise and highlight a compelling offer when creating Facebook ads.
Offering free content and tools is also a great UVP and can effectively attract leads. Instead of asking people to become a paying customer, sharing invaluable information with no strings attached is a better way to get people to engage with your ad. Once your audience enters your lead nurturing cycle, you'll have the opportunity to build trust and offer them your paid products and services.
6. Clear Call-to-Action in Citi's Ad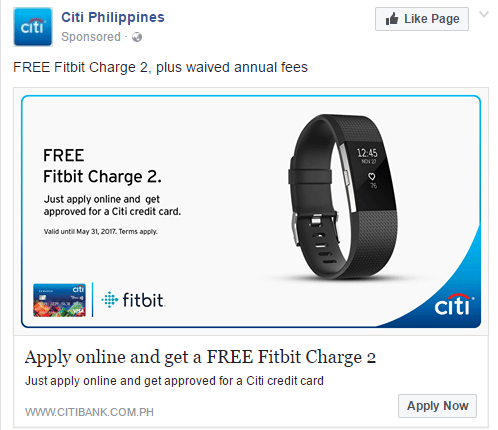 Take a look at this Citi ad. It effectively communicates the benefits of getting approved for a Citi credit card as well as included the 'Apply Now' button to direct people to the application page. Overall, the ad is simple, straight to the point, and effective.
The best Facebook ads stay focused on a particular goal. Are you trying to get leads, increase brand awareness, or sell a product? No matter what, your ad should have a clear call-to-action. Without it, your audience will have no idea where to click or what to do next. Calls to action are essentially used to drive people to complete an action immediately.
7. LinkedIn's Ad Has Impeccable Ad Copy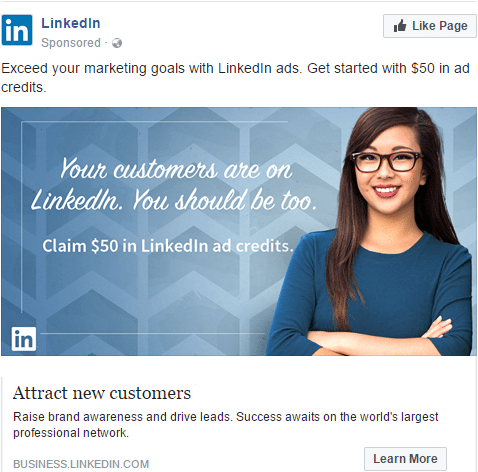 Look at how this LinkedIn ad very cleverly uses simple yet active verbs combined with aspirational language to build excitement about their service. Using words like "Exceed your marketing goals" and "Success awaits" presents a very exciting proposition. The short but powerful headline plus the $50 ad credit are also good reasons to persuade the target viewers to click.
To come up with great ad copy you should remember the following:
Always focus on what you can offer your audience. Get these points across in a clear, concise manner.
Copywriting demands words that are easy to understand. Flowery language will muddle your message.
Use action verbs to make it more energizing for the reader. Actionable words can trigger the decision-making part of the brain so take advantage of it.
8. Unbounce's Ad Leads With the Numbers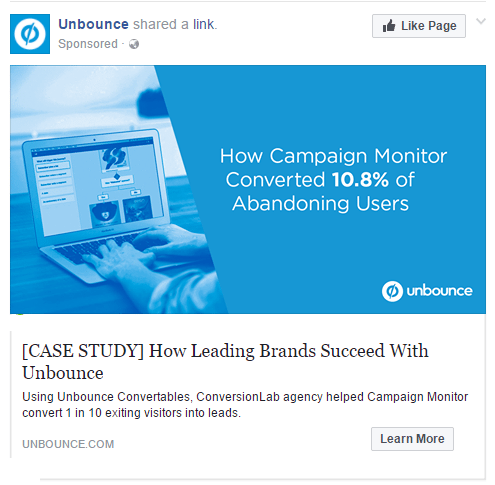 People love to see the numbers. Numbers can help build instant trust, and they immediately draw the eye. Consider using statistics where you can in your ad, as statistics create authority. Numbers represent facts, so they naturally attract people who want concrete information. Just like in this ad from Unbounce highlighting the 10.8% conversion of abandoning users.
9. Playbuzz's Ad Uses Social Proof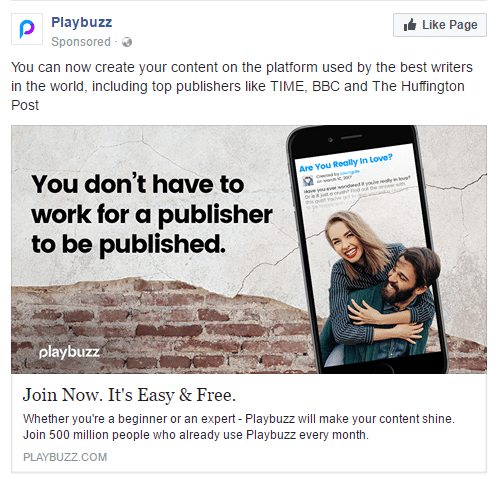 See what PlayBuzz did in their ad? They mention that top publishers like TIME, BBC, and Huffington Post use them. If such big companies rely on them then it must be a great product, right? Plus, they also state that there are 500 million people using the product. How can all those people be wrong? This will help take the audience's fear away.
One of the most influential emotions involved in a purchase decision is fear. A lot of times, people won't buy a product because they are afraid of losing money or of making the wrong choice. So address that fear in your ads by providing trust signals or social proof.
10. Expedia's Ad Creates A Sense of Urgency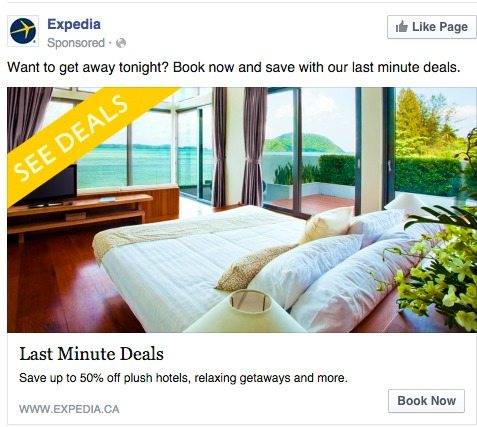 Source: Wishpond
Let's examine Expedia's ad above. When viewers read "last minute deals" they will recognize that a decision has to be made quickly.
Creating a sense of urgency can help improve your click-through rate. You can trigger your customers' sense of urgency in a few ways: limited-number (short supply and won't be available once it runs out), limited-time (only available for a certain period of time), and using words like "Now," "Today," "Flash Sale," "Last Minute," and the like.
Start Creating!
Inspired by the above Facebook ad examples? Get ready to create your own Facebook ads! Don't get overwhelmed by the process. We have a detailed guide on how to set up Facebook ad campaigns.
Now that you know what makes a Facebook ad work, start connecting with your target audience. Just remember that even highly relevant and creative Facebook ads won't generate any revenue without properly optimized landing pages to complement them.