Five9 Review: Is It Right for Your Business?
This article is part of a larger series on VoIP.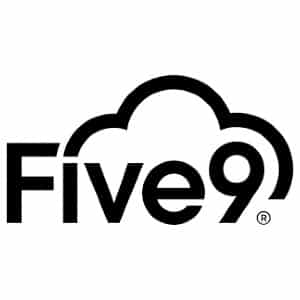 Five9 Overview
PROS

CONS

Prebuilt integrations with popular software like Slack, Salesforce, and Zoom Phone
Occasional software crashes and dialer bugs
Application programming interfaces (APIs) and software development kits (SDKs) available
Users reported experiencing poor call quality from time to time
User-friendly interface
Lacks strong lead generation tools, unlike other auto-dialer providers, such as ChaseData
Flexible and customizable platform
Fees—even starting rates—aren't published on its website, unlike other contact center competitors, such as Nextiva and RingCentral
Compliant with numerous regulations, including Health Insurance Portability and Accountability Act (HIPAA), Payment Card Industry Data Security Standard (PCI DSS), and General Data Protection Regulation (GDPR)
Has no overall feature comparison or list, so it's hard to tell which features users can choose from without talking to a Five9 agent
What We Recommend Five9 For
Five9 is a cloud-based contact center software with private branch exchange (PBX), voice-over-internet-protocol (VoIP), workforce optimization, and AI tools. It is best for companies with remote teams as it can be accessed from anywhere with an internet connection through its softphone. It also has tools for real-time coaching and monitoring agents—great for distributed teams.
When to Use Five9
Companies with high call volumes looking for a customizable and robust contact center software: Five9 is among our list of the best hosted PBX providers due to the flexibility of its platform and services. Users can choose from its three pricing options—pay-per-use, custom quote, and preconfigured bundles—and choose which features your business currently needs.
On-the-go sales teams looking for an auto-dialer software they can access in their own devices: Five9 made it to our list of the best auto-dialer software because it provides robust tools that don't require expensive equipment. Since Five9 is cloud-based, implementation is done without additional equipment and complicated setups. It lessens the costs of expensive hardware upgrades and allows rapid trial and deployment of new services. You may also access real-time upgrades without disruptions.
Businesses looking for a contact center software with extensive integrations: Five9 comes with a wide range of prebuilt integrations with customer relationship management (CRM) and unified communications (UC) software, like Zendesk and Microsoft Teams. It also has SDK and API options for more advanced and customized software connections.
Those looking for industry-specific, regulation-compliant contact centers, such as healthcare organizations: If data security and privacy are your priority, then Five9 is worth checking out. It is compliant with many regulations, including the Health Insurance Portability and Accountability Act (HIPAA), General Data Protection Regulation (GDPR), and Customer Proprietary Network Information (CPNI).
When Five9 Might Not Be a Good Fit
Companies looking for an affordable contact center solution with straightforward pricing: Five9 doesn't publish its pricing on its website, and those who prefer to look into prepackaged plans with prices can look into Freshdesk Contact Center. It is one of the best call center phone systems for its affordability, custom reports, and call routing options.
Teams with an overseas customer base looking for a more budget-friendly provider: While Five9 is a global platform, 8×8 is still the best choice for international reach. 8×8 provides local phone numbers in 120 countries and unlimited calls to 48 countries. Learn more in our guide on the best services for VoIP international calls to explore more options.
Looking for a business phone system instead? Check out our list of the best business phone systems to determine if any of the top providers match your needs.
Five9 Pricing
Unlike most contact center software with straightforward pricing, Five9 offers flexible options: pay-per-use, customized quotes, and preconfigured bundles. While it provides a full suite of contact center tools, users are not required to purchase them and are allowed to choose which functionalities they'll include in their subscription. Those interested may contact its sales team to discuss their current needs. Meanwhile, similar providers have paid plans that cost anywhere from $15 to $170 per user, per month.
| Five9 Plans | Core | Premium | Optimum | Ultimate |
| --- | --- | --- | --- | --- |
| Best For | Businesses looking for a voice contact center | Teams looking for a contact center that supports digital engagement | Companies looking for a contact center with workforce optimization tools | Those who need a contact center with workflow automation features |
| Softphone | ✓ | ✓ | ✓ | ✓ |
| Call Recording | ✓ | ✓ | ✓ | ✓ |
| Blended Inbound/Outbound Customer Engagement | ✓ | ✓ | ✓ | ✓ |
| 24/7 Support | ✓ | ✓ | ✓ | ✓ |
| Digital Channels (Chat and Email) | ✕ | ✓ | ✓ | ✓ |
| Essentials Quality Management | ✕ | ✓ | ✕ | ✕ |
| Enterprise Quality Management | ✕ | ✕ | ✓ | ✓ |
| Enterprise Workforce Management | ✕ | ✕ | ✓ | ✓ |
| Full Platform Workflow Automation | ✕ | ✕ | ✕ | ✓ |
Five9 Features
Five9 comes with a wide range of customer and employee engagement tools to ensure optimal team performance and client experiences. It features conversational AI and automation capabilities to transcribe calls, coach agents, and eliminate time spent on handling manual processes.
Five9 provides a blended contact center, letting you handle both inbound and outbound calls in one platform. It allows agents to easily switch from handling incoming to outgoing calls as needed. An active blending tool is also available—adjusting outbound calling operations according to the inbound call volume.
General Features
Five9 offers an omnichannel contact center that lets you create excellent customer experiences across multiple channels like email, voice, SMS, video, webchat, and social messaging apps. Its unified omnichannel agent interface lets you manage your customer engagement within these channels to cater to their needs quickly.
Additionally, Five9 has auto-dialers that can eliminate time spent on waiting and dialing. Its dialers screen out unanswered calls, hang-ups, and leave voicemails—enabling agents to focus on interacting with customers and increase their productivity levels. The four types of automated dialer technologies available in Five9 are as follows: predictive dialer, power dialer, progressive dialer, and preview dialer.
Interested in learning more about outbound dialers? Read our guide on how outbound dialers work and which is best for your business.
---
Integrations
While Five9's platform is already robust with its built-in capabilities, it also allows users to integrate their existing third-party systems with its software for a more efficient workflow. Prebuilt integrations include CRMs like Salesforce and Zendesk, and unified communications (UCs) such as Microsoft Teams and Zoom Phone.
Additional connection options available are APIs and SDKs. These tools enable customized and advanced integrations between Five9's platform and your existing applications for various purposes, like real-time data access and recording.
---
Employee Engagement Features
Aside from Five9's comprehensive contact center tools, it also comes with a wide range of employee engagement and productivity features. You can manage your staff and improve your agents' capabilities with its workforce optimization functions. These functionalities include speech analytics, gamification, and quality and performance management.
Five9 offers reporting and analytics tools that enable businesses to measure and monitor key metrics to improve performance and processes. It provides real-time and historical reporting, a supervisor application, and a performance dashboard.
---
Artificial Intelligence (AI)
Five9 helps teams eliminate repetitive tasks so they can focus on more important ones through AI. It provides customers with a self-service option through conversations with a conversational bot that can respond and address simple issues or requests accurately. Moreover, Five9 uses AI to help transcribe calls, create conversation summaries, and provide real-time guidance for agents.
Five9 users can save time and money by creating voice-overs through AI technology. Its virtual voice-over tool comes with 25 standard, natural-sounding voices you can choose from. Custom voice avatars are also available through Five9's partnership with WellSaid Labs.
---
Five9 Alternatives
| | | |
| --- | --- | --- |
| | | |
| Best for: Small businesses looking for budget-friendly software with customized reports and call routing options | Best for: Companies looking for a platform with workplace optimization tools | Best for: Businesses in industries with strict data security requirements, like health or finance |
| Starting price: Free or $18 per agent, per month | Starting price: Pricing for contact center solutions available upon request | Starting price: $87 per user, per month |
Want to explore more options? Check out our list of the best call center phone systems to find out which product matches your needs.
What Users Think of Five9
Most Five9 reviews online match our analysis, noting that it's an excellent choice for its flexibility in terms of features and inclusions. It works best for businesses with changing needs as it allows users to change their monthly subscriptions—including the number of licenses.
At the time of publication, Five9 has earned the following scores on popular user review sites:
Many recent users appreciate its ease of use and customizable plans. They like that they can choose a lot of specific features and purchase the number of licenses they need. Others mentioned that it is also very easy to set up and maintain. There are mixed reviews on its customer service, but the majority of the users shared positive experiences—applauding its expert support team for being responsive and helpful.
Bottom Line
Five9 is an excellent choice for those looking for a flexible contact center software. It matches businesses that prioritize functionalities over price as it has a wide range of advanced technologies, such as AI. Its strengths also include its blended contact center (for both inbound and outbound call management), extensive integrations, and customized pricing.
If you are looking for a more straightforward platform, you can check out Freshdesk Contact Center. However, if you are ready to deploy a more advanced contact center platform, Five9 is worth a try.