Fiverr is a freelance marketplace platform that allows clients to find contractors for many types of services. It allows businesses to hire freelancers from different fields of expertise such as graphics and design, digital marketing, content creation, digital animation, and more. We compiled Fiverr user reviews from around the web and determined that they generally have positive ratings. We also compared the most popular pricing options available.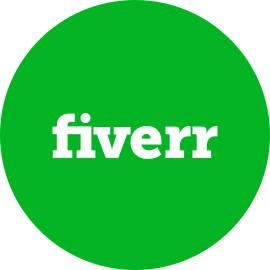 Summary of User Reviews
What Fiverr Does Well
Users who gave Fiverr a positive review said that they like its easy-to-use interface. It has search tools that help businesses filter the results they get based on the qualifications they are looking for. They also like that they can check the ratings and feedback of every service provider which helps them choose who they will order a gig from (gigs are work orders).
What Fiverr Does Not Do Well
Users who gave Fiverr a negative review said that it has issues with scams on both ends of the deal. Some clients don't get the job they ordered, and some freelancers don't get paid. They said that while Fiverr has security policies, there are times when it is not able to fully-protect users from instances like these. Users also said that customer support needs improvement.
Which Freelance Website is Right for You?
Most Helpful Positive User Review
"Fiverr has job varieties which are what a lot of small businesses or starting entrepreneurs look for. Jobs like designing a logo, brochure, or postcards suddenly become easy as you outsource them to one of the many freelancers on Fiverr. The site is review-based which certainly helps find the right person for the job."

– Yuliya Rae
Most Helpful Negative User Review
"It often takes me a long time to select the right person to do my gig – as there are so many. I'd like to see an indicator for service providers "available" for new gigs vs. ones that are booked up. I'd also recommend a better way to post my gig and have a number of service providers offer to compete and the best one wins.

– Faigie Grunberg
Fiverr Pricing
Fiverr charges businesses with a processing fee of $1 on transactions costing up to $20 and 5% on purchases above $20. While other freelance sites charge between 2.5% to 3% transaction fees, the fact that many great services can be found for under $20 on Fiverr makes it one of the most inexpensive options.
| Amount of Gigs Purchased | Fiverr Processing Fee |
| --- | --- |
| Up to $20 | $1 |
| Above $20 | 5% of total amount of transaction |
Fiverr Features
Check out the list below for some of Fiverr's features.
Access to freelancer work samples
Access to buyer feedback on freelancers
Customized seller packages
Direct contact with freelancers
Useful Fiverr Resources
6 Best Freelance Websites for Employers 2018 – Freelance websites provide access to just-in-time workers to complete important assignments of all kinds. We looked at six of the most popular freelance websites with affordable pricing and features small businesses would want.
Top 59 Free Job Posting Sites & Paid Options for Small Businesses – Need to narrow down your search for freelancers to hire? We simplify things for you and list down great ways to find freelancers for your business.
29 Creative Ways to Find Employees Online & Off – If you're looking for ways to find new talent for your business, this article will help you get ideas on ways to find employees both online and offline.
How to Hire a Freelancer in 3 Easy Steps – From choosing a job marketplace to filtering candidate responses, we guide you through three important steps to find the best freelancers for your business.
Fiverr FAQ
Can I pay the freelancer with my credit card?
Fiverr allows businesses to pay freelancers for finished gigs using either credit or debit card, which will be processed within the Fiverr system.
What if I'm not happy with my delivery?
Fiverr suggests that you ask your freelancer for job revisions. If the issue is not resolved, you can go to Fiverr's Resolution Center to complain or report a freelancer.
Fiverr Overview Video
This video provides an overall background on what Fiverr can do to help you hire freelancers for your business.
Compare Fiverr Competitors
Not sure if Fiverr is the right fit for you? Read our reviews of all top freelance sites for comparison or check out one of these three Fiverr competitors.