Food cart insurance refers to policies for nonmotorized vehicles, unlike motorized food trucks that have different insurance needs. Most cart owners need general liability for third-party lawsuits and commercial property for damages to their business-owned property. Insurers often combine these coverages into a business owner's policy (BOP), which costs food cart owners $300 to $800 annually.
One of the best ways to find affordable food cart insurance is to work with an online agency like CoverWallet. With CoverWallet, you submit a single application to get multiple quotes to compare prices and coverage to get the right insurance for your small business.
Food Cart Insurance Providers
Food carts are just a small part of the mobile food industry and, as such, owners can sometimes have a hard time finding coverage. One solution to this problem is to work with a small business insurance broker who has access to multiple carriers. Our list of top food cart insurance providers includes both brokers and insurers who specialize in the mobile food industry.
Top Food Cart Insurance Providers
| Provider | Best For |
| --- | --- |
| CoverWallet | Food cart owners who want to compare policy premiums and coverage before they buy |
| Food Liability Insurance Program | Cart owners who want inland marine automatically included in their BOPs |
| InsureMyFood.com | Food cart owners who want to customize their insurance program to their operations |
| Insurance321 | Food cart owners who don't have time to research insurance options |
| AP Intego | Food cart owners who want to simplify their workers' compensation payments |
CoverWallet is an online broker that specializes in small business insurance and can offer coverage to many industries, including food services. As a broker, CoverWallet partners with some of the top business insurance carriers, including big-name companies like CNA, Liberty Mutual, and Progressive.
It's the relationships with quality insurance providers that make CoverWallet a great option for business owners who want to shop around. Instead of going to individual small business insurance carriers, food cart operators can submit a single application through CoverWallet and get multiple quotes to compare.
The Food Liability Insurance Program (FLIP) is an online insurance program run by Veracity Insurance Solutions, LLC. As an insurance program, FLIP can offer low-cost products for restaurants and other foodservice businesses, including food and beverage carts.
FLIP is an ideal choice for food cart business owners who know they need inland marine insurance for their mobile equipment. Cart owners who purchase FLIP's food liability insurance program automatically have $5,000 in inland marine coverage for a single incident in addition to coverage for business personal property and general liability. Premiums start at $299 per year.
Compared to the other providers on our list, InsureMyFood.com is a small company. However, they are the largest insurance agency for mobile food vendors, insuring more than 5,000 mobile food businesses, including food carts, trailers, and trucks.
Food cart owners who want an insurance program tailor-made for their unique business should consider working with InsureMyFood.com. The agency works with a number of insurance companies and underwriters to create individualized insurance solutions for food cart operators.
Insurance321 is an online insurance company that connects small business owners with insurance providers. After business owners submit basic information, Insurance321's proprietary software matches the business risk to the company best suited to offer them coverage.
Insurance321 is the right choice for food cart owners who are too busy to either comparison shop or to learn all they need to know about policy options. Applying through Insurance321 eliminates the need to fill out applications for every potential insurer and provides the best match for food cart owners without all of the homework.
AP Intego is an online agency that offers commercial policies to many foodservice businesses through an easy-to-use application. Most food cart owners can get immediate quotes for general liability, commercial property, and workers' compensation insurance in less than five minutes.
Food cart owners with growing businesses or who hiring seasonal help should consider using AP Intego for its pay-as-you-go workers' compensation insurance. Most workers' comp premiums are based on annual payroll estimates, which means businesses sometimes end up paying more during yearly audits. AP Intego's plan is different in that it integrates with your payroll service to set an accurate monthly rate, saving many cart owners from a surprise bill at the end of the year.
How Food Cart Insurance Works
Food cart insurance is a collection of business policies cart owners buy to protect their assets. Each policy covers a different risk. For instance, general liability insurance pays for third-party claims of physical harm, property damage, and advertising injury such as defamation. Commercial property, on the other hand, covers repairs when business-owned property is damaged.
Cart owners can often get commercial property and general liability bundled in BOPs for less money than what they would spend getting the policies separately. The annual cost of general liability for food carts is usually around $200 to $500, and property insurance often adds another $200 to $500. Getting this coverage in a BOP typically costs between $300 to $800 per year.
Types of Food Cart Insurance
General liability and commercial property are fundamental coverages for food carts. However, those policies only cover certain risks, so cart owners often need additional coverage to be fully protected. For instance, commercial property only covers items at specific addresses, so operators may need inland marine to cover their carts as they move to different locations.
Most Common Types of Food Cart Insurance
General Liability Insurance
General liability insurance covers claims made by non-employees that your business caused their property damage or physical injury. Policies also cover advertising injuries such as libel, slander, copyright infringement, and invasion of privacy as well as product liability claims.
Some situations that may trigger your general liability insurance include:
A customer's third-degree burns when hot dog water splashes on them
A pedestrian's damaged laptop after you run over it with your cart
A competitor's lawsuit if your tweet storm turns libelous
A customer's allergic reaction after eating foods you serve containing nuts
In these and similar cases, general liability insurance typically pays the injured party's medical or repair bills. If they decide to sue, general liability can also cover your attorney's fees, court costs, and settlements or judgments.
Commercial Property Insurance
Commercial property insurance pays for damage to your business' physical assets, including your cart, inventory, and equipment, when they are damaged in a covered event. Your insurer pays up to the insured amount minus your deductible.
Events covered but commercial property insurance often include:
Fire
Theft
Vandalism
Hail
Windstorm
Food cart businesses often have limited personal property, which is one reason they often qualify for a BOP. Moreover, cart owners who rent storage space or keep their carts in their homes may want to look for policies that only cover business personal property, essentially any movable item owned by your business.
Inland Marine Insurance
Inland marine insurance is property coverage for business-owned items as they move between locations. Much like commercial property insurance, inland marine policies pay to repair or replace these items up to the insured amount when they're damaged in covered events, such as fire, theft, vandalism, and windstorm.
Food cart operators need inland marine insurance because commercial property typically only covers business-owned items at the address listed on the policy. Because moving equipment to various locations and storing it offsite are common operations among food cart owners, many insurers include inland marine in their food cart BOPs.
Commercial Auto Insurance
Commercial auto insurance covers the vehicles used by your business, whether they are owned, leased, hired, or borrowed. Most states require a certain amount of liability coverage for business-owned vehicles, but owners may want additional coverage for their own repair and medical bills, damage to hired and non-owned autos, and roadside assistance.
An actual food cart is usually covered by commercial property insurance. However, cart owners who use a truck or van to transport their cart may need commercial auto, as may concessionaires, food vendors, and food trailer owners. Businesses that rent or hire vehicles may be able to add hired/non-owned auto liability to their general liability policies.
Workers' Compensation Insurance
Workers' compensation insurance is state-mandated coverage that pays employees' medical bills and lost wages after they suffer a work-related injury or illness. Every state but Texas requires employers to carry workers' comp, and many mandate coverage for even a single employee, including part-time workers, seasonal staff, and family members.
Injuries covered by workers' compensation insurance usually include:
Traumatic injuries, such as those sustained in a food cart collision
Repetitive strain injuries, such as carpal tunnel from serving food
Occupational disease, such as skin cancer from prolonged sun exposure
Coverage specifics vary by state, but most policies pay benefits when injuries or illness are a direct result of work tasks.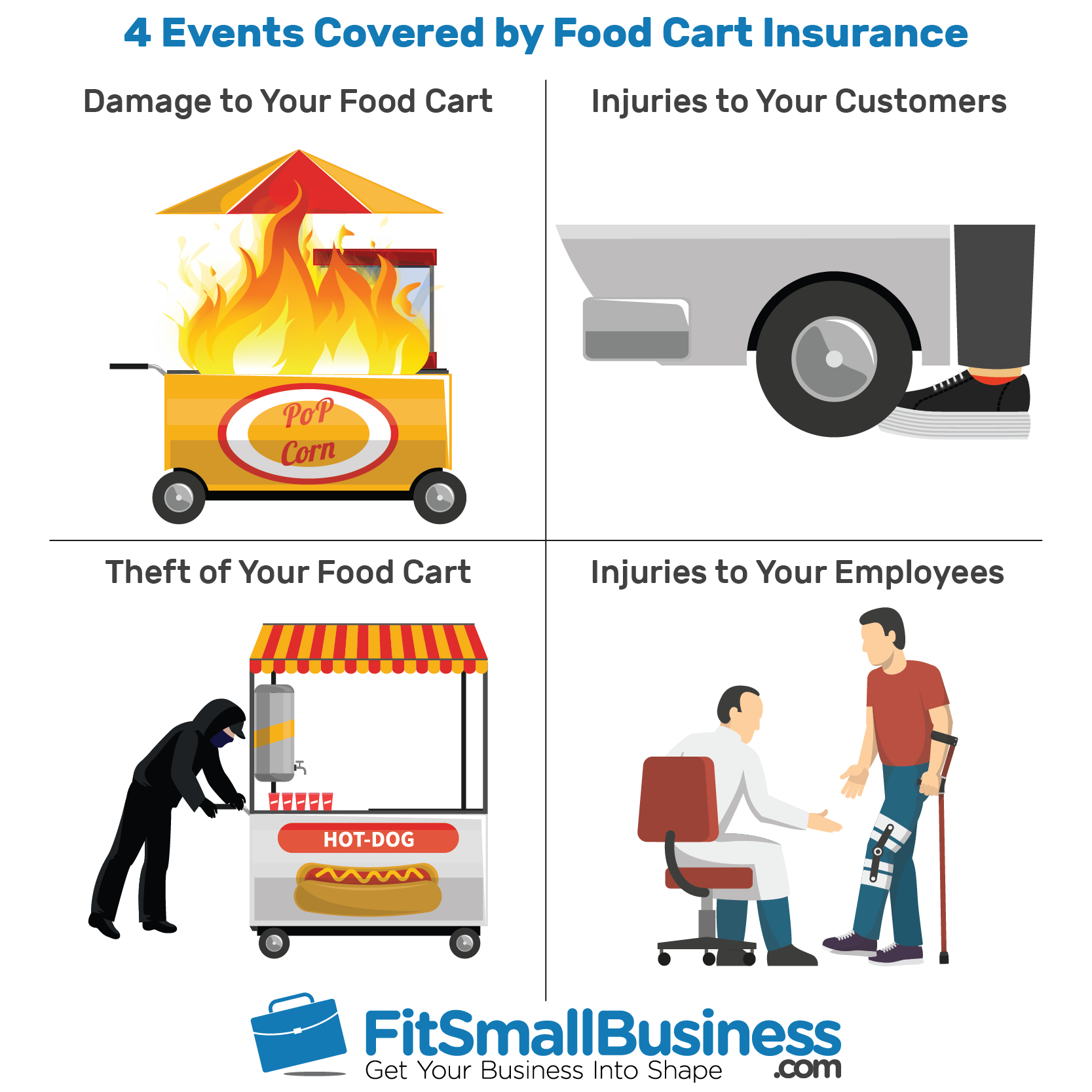 Food Liability Insurance Costs
Compared to other food businesses, food carts are relatively inexpensive to insure, mostly because they tend to be one-person operations. Most find sufficient coverage for $300 to $800 per year or $25 to $67 per month. However, adding carts or employees usually requires more insurance, so your insurance costs can go up as your business grows.
Food Liability Insurance Costs & Deductibles by Insurance Type
| Insurance Type | Annual Premium | Coverage Amount | Deductible |
| --- | --- | --- | --- |
| General Liability Insurance | $200-$500 | $1 million per occurrence/$2 million aggregate | $0 |
| Commercial Property Insurance | $200-$500 | $10,000 | $250 |
| Inland Marine Insurance | $300-$700 | $10,000 | $250 |
| Commercial Auto Insurance | $750-$1,250 | $100,000 | $500 |
Food liability insurance costs depend largely on the types of policies required, and the coverage amounts selected. More policies and higher coverage limits typically mean your higher overall costs. However, these are not the only details insurers consider.
Other factors that impact food liability insurance costs include:
Locations: If your storage facility is in a high-risk neighborhood, you may pay more for property insurance. The same is true for the areas where you sell your food.
Preparations: Food cart owners who prepare the foods they sell face a greater risk of being sued for spreading foodborne illnesses than those who sell prepackaged foods, so they typically pay more for their food liability insurance.
Property value: Commercial property insurance coverage amounts are determined by the value of your business property. The more property your business owns, and the more valuable that property is, the higher your rates are.
Deductibles: Insurers typically reduce your premium if you select a high deductible because that means you've taken on more financial responsibility if you file a claim.
Employees: Hiring staff usually means more insurance. Most employers have to get workers' compensation as they add employees, but many may want to increase their liability coverage. Both increase their overall food cart insurance costs.
Tips on Getting Food Cart Insurance
Getting the right business coverage for your food cart operation is essential to your success. The last thing you want is to spend money on insurance only to find that it doesn't cover your exposures or falls short when you file a claim. These tips can help you avoid being underinsured.
Ask About Insurance Requirement for Permits and Events
Food cart owners who set up on city streets or parks usually need permits. Those who work festivals, farmers' markets, or private events often have to sign contracts. Both situations may require certain types and amounts of insurance, such as general liability with $1 million in coverage for each occurrence. Having this information before you shop for insurance can save you trouble in the long run.
Gather Important Documents Before You Apply
Insurance applications require a lot of details about your business, including information about the value of your cart, your revenue, and any licenses or permits required by your city and state. Insurers use this information to decide what coverage you need, whether they can cover you, and how much they should charge, so it's important to have these particulars on hand as you apply.
Some information you may need when applying for food cart insurance includes:
Value of your business assets
Yearly revenue
Number of years you've worked in the industry
Number of years your business has been in operation
Policy information for your current insurance coverage
Claims history
Mistakes on your insurance application may mean insurers decline to cover your business or deny claims, even if they do insure you.
Compare Rates from Multiple Insurers
Insurance carriers' rates vary for different industries. In fact, their rates can vary for businesses in the same industry, depending on how they assess the business' risks and operations. This makes it important to get quotes from more than one carrier so you can compare premiums and policy details. Working with a broker can make this process faster because brokers usually have access to multiple carriers.
Joel Paprocki, owner of InsureMyFood.com, also recommends finding an insurer who knows the food cart industry:
"Food cart owners should work with an agency that they trust and has experience in their industry to help guide and educate them on the options so they can make a fully informed decision. Unlike personal insurance, there is very little uniformity in business coverages, and even when limits appear to be the same, what is covered can vary widely."
Food Cart Insurance Frequently Asked Questions (FAQs)
Most food cart owners share similar risks, but different operations generate more questions. In this section, we've answered a few of the most commonly asked questions about food cart insurance.
What's the difference between food truck and food cart insurance?
Both food truck and food cart insurance are collections of business policies, but these businesses have somewhat different operations, and that impacts their insurance needs. For example, food trucks are motorized vehicles, so they require commercial auto insurance. Food carts are generally not motorized, so owners only need commercial auto if the business owns vehicles.
Do I need food cart insurance when I work events?
Event organizers typically require all vendors to carry general liability insurance, and some may also ask to be listed as additional insureds so that they can turn to your coverage if they're sued for your actions. Food cart owners who only work events may want to look into special event insurance.
How can I reduce my food cart insurance costs?
The key to reducing insurance costs is to reduce claims. Insurers typically consider at least three years' worth of claims history when determining the premium, and business with more claims almost always pay more. Food cart owners can minimize the likelihood of claims by securing their cart when not in use and following food safety standards.
Bottom Line
Running a food cart may seem like a low-risk business, but owners need to be aware of their exposures. Injuries or property damage to customers can be far more expensive than the food cart insurance policies that cover them, and that makes insurance a smart investment.
Food cart owners who are concerned about cost should submit an application on CoverWallet Not only is the process easy, but CoverWallet typically returns multiple quotes on most submissions. This gives cart owners a chance to compare offers and select coverage that fits both their operations and budgets.