For Sale By Owner (FSBO) Checklist: Free Download & Guide
A for sale by owner (FSBO) checklist is a step-by-step plan that outlines the tasks of selling a property without the help of a real estate agent. Owners selling their homes typically need to understand the local market and laws, set a price, prepare the house, design marketing materials, and work through the real estate transaction process to close the property with a buyer.
Following a step-by-step plan can set a realistic timeline and know what to expect at each stage. Download our free for sale by owner checklist to streamline your efforts, stay on track, and sell your home faster.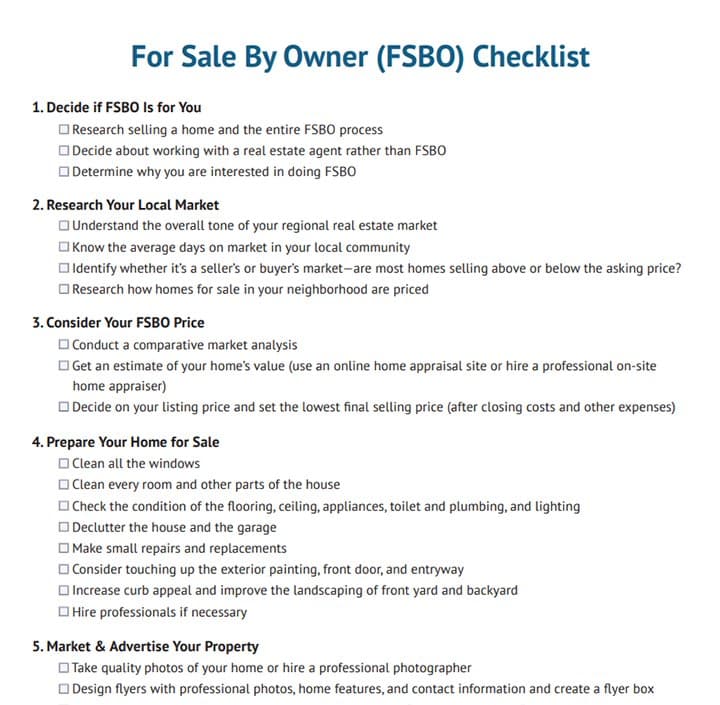 Thank you for downloading!
💡 Quick tip:
To sell homes faster, sellers need to use advertising and marketing materials. ProspectsPLUS! is a one-stop online design and printing platform that helps owners create eye-catching FSBO materials.
Visit ProspectsPLUS!
1. Decide if For Sale By Owner Is Right for You
Checklist Items:
Research about selling a home and the entire FSBO process
Decide about working with a real estate agent rather than FSBO
Determine why you are interested in doing FSBO
There's a reason why real estate agents work full time—it's because selling a home takes a lot of time and work. If you decide to do away with the professional assistance of an agent, be ready to manage the entire home sale, from researching comps to setting the price, listing the property, marketing and home staging, and completing all the paperwork for legal compliance.
While selling your own home gives you complete control over the sales process, this may cause a challenge if you are not experienced with the homebuying and selling process. Also, even though you are saving money by not paying a real estate agent commission, FSBO homes typically sell for 14% less than when listing with a real estate professional. Think through the pros and cons of the FSBO process before making a decision:
PROS

CONS

Complete control over the home sale process
FSBO homes sell for less than agent-listed homes
Save on listing agent commissions
Longer time to sell FSBO homes
Direct negotiation with buyers
A lot of time-consuming work
No need to match your timing with the agent for showings
Listing, advertising, and orchestrating a home sale requires specific skill sets
Limited pool of potential buyers
Risk of drafting your own contract
Regardless of the pros and cons of the process, there are some instances where taking the FSBO route makes sense:
When you already have an interested buyer: If you already have a sure buyer before you list your home—a friend, neighbor, or relative—FSBO could be a good option. Marketing is one of the hardest parts of selling a home. Unlike realtors who are pros at finding leads, homeowners selling on their own might struggle, especially with a limited network. If you already have a buyer, you can skip this stage entirely and just hire a lawyer to represent both your and your buyer's interests during the transaction.
When there is a high demand in the market: When the supply of housing outpaces the demand, you might be able to sell your home quickly without the help of an agent. Though not always the best option, FSBO can help you save on commission and closing costs in a hot market. Seasonality also plays a vital role in understanding homebuying behavior. Knowing the best and worst times to sell a house is helpful for individuals selling their homes.
When you're not in a hurry to sell: Selling a home takes time, and FSBO usually is a slower process because you're doing it without professional help. Before you bring a client to sign a contract, you will have to list and market the house on your own. Agents typically took 61 days to sell a home at the beginning of 2022. If you don't have networking capabilities to attract buyers, making a sale may take a lot longer. If you're not in a hurry, you can afford the extra time needed to do all the legwork on your own.
If you don't have a buyer but still want to take the risk of going the FSBO route, be sure to understand everything that goes into the process of selling a home. Utilize online tools like Zillow to market and list your property, research best home staging practices, and take the legal steps necessary to remain compliant with state laws.
You can post your FSBO listing on Zillow for free, including video and unlimited photos. Zillow is a leading online real estate marketplace for rental and for-sale properties. Your FSBO listing will be posted on Zillow and Trulia to reach a large audience of online home shoppers. Furthermore, Zillow users will receive instant emails once a new property is listed on the site, giving your home more exposure.
2. Research the Market & Price the Home
Checklist Items:
Study the local market
Do a comparative market analysis for your home
Set your highest and lowest asking price
Your first step in listing your property as FSBO is researching comps and setting a fair price for your home. Many FSBOs fail because the pricing is too high or too low for their home or the neighborhood. It is important to understand the local market and how much your home is worth for the features of your property. You can do a comparative market analysis of the home sale values for comparable properties in your area to help you decide on a reasonable price.
Use an online listing website like Zillow, Realtor.com, or Trulia to make a list of properties currently on the market, sold recently, and pending in your surrounding area in the past three to six months. They should have similar features like the number of bedrooms, baths, square footage, and condition of the property. Review the prices to get an idea of where to price your house.
The home price is a major factor in making homebuying decisions. Using the information in your market research, set a realistic highest and lowest price for your house. The highest price is the amount you would be thrilled to receive as an offer, while the lowest is the bare minimum you would accept as a seller. Always remember that your asking price will affect negotiations and, ultimately, the sellability of your home.
Seasonality affects the behavior of your local market. To set a realistic home sale timeline, research the best and worst times to sell a home. However, you should also know the best and worst times to buy a home to predict market behavior.
While not necessary, many FSBO sellers consult with a local appraiser to give them a professional estimate of a home's value. You can find home appraisal services by simply contacting your local bank or mortgage provider, or by doing an online search through Google for appraisers in your area.
3. Prepare Your Home for Sale
Checklist Items:
Make small repairs and replacements
Increase curb appeal
Make your house "show-ready" by cleaning and decluttering
Before you open your house for visitors and tours, make sure you've cleaned and decluttered every part of the home and completed small repairs. Buyers are discouraged when they see leaky faucets and sticky doors in your house.
Check the condition of your home, including the flooring, ceiling, appliances, plumbing, and lighting. Consider making small repairs and replacing the furniture visitors will likely come in contact with during their house tour. Fix or replace burned-out light bulbs, broken window panes, and broken fixtures that can negatively impact potential buyers. However, you don't need to make major repairs at this stage.
Touch up on the outside of your house, especially the landscaping, the front entrance, and the exterior paint job, to improve its curb appeal. To increase the visual attractiveness of your property, mow the grass, trim the hedges, power wash the house, weed the flower beds, and replace the mailbox or the house number if necessary. The outside of your home—right down to the welcome mat—should pique a buyer's interest so that they'd want to check what's inside.
Clean your home so it looks its best before potential buyers make a tour. This can be tricky if you're still residing in the house. Consider cleaning the house every two days and doing a deeper cleaning once a week. While not required, hiring a professional cleaner will earn you large bonus points from buyers. A professional cleaner pays attention to small details in every room, so the house feels like it has been well taken care of by the current owners—from baseboards to windows to dust removal and mopping.
Another important tip is to avoid stuffing things in the closet, garage, basement, or attic, as potential buyers may look into them. If you have too much stuff, you can use mobile storage, do a garage sale, or donate them to charity.
4. Market & Advertise Your Property
Checklist Items:
Create marketing flyers and signages
Add your property to popular and FSBO-specific listing websites
Consider online advertising using social media
Promoting and marketing your house is one of the toughest stages of the FSBO process. That said, a marketing plan is vital when selling a house by owner. A marketing plan guides you in getting the word out to potential buyers. From professional real estate photos to flyers, online listings, and attractive marketing pieces, having a well-thought-out strategy will help you find qualified leads and receive more offers.
Traditional real estate advertising and marketing, like flyers, brochures, yard signs, newspaper ads, and direct mail, remain effective, especially in helping prospects grasp specific information with printed materials. Flyers and brochures, for example, highlight key information about your home and are great souvenirs to distribute during open houses and showings. You can download free open house flyer templates or connect with a freelancer at Fiverr, who can help you create a print-ready FSBO PDF.
According to the National Association of Realtors (NAR), 97% of buyers used the internet to search for a home. That's why listing your property on Zillow, Trulia, or Realtor.com or other FSBO sites brings qualified people to your door for a tour or open house. If you're looking for a real estate platform to list and promote your property, check out some of the best FSBO sites:
FSBO Sites

Key Features

Customizable listings
Unlimited listing photos
Tools to help price your home
Access to purchase all necessary legal documents

FSBO.com listing for 12 months
Unlimited photos
Video upload
Free Redfin.com listing

Free listing
Free "Zestimate" of your home value
Listings include video and unlimited photos
Exposure on Zillow and Trulia

Ideal for listing FSBO condos and commercial properties
Free to list owner-financed properties on the site
Manage all listings in one platform
View listing performance

Starting Price

Free plan available

Starts at $99.95

$0 for FSBO listing

Free for basic listing; contact LoopNet for premium pricing

Learn More
In addition, social media is a great way to advertise your property to a larger audience. Facebook posts are an easy, low-cost way to reach homebuyers in your locality. Join Facebook groups to promote your listing to people looking for FSBOs and save money on advertising. Facebook will also post automatically to your Instagram account for another free way to advertise your property online.
5. Conduct Showings & Open Houses
Checklist Items:
Prepare sales forms
Set the mood
Let visitors tour and answer questions
Display a sign-in sheet and follow up with visitors within 24 hours
Preparing for an open house means understanding every step of the buyer journey—from making sure the sales forms are ready to creating the right mood for the buyer and following up on leads. You have to understand where your prospects are at in their homebuying journey and close the deal at the right moment.
Having paperwork prepared means you are ready to sell when the buyer makes the right offer. Sales contracts differ by state and often require an attorney to complete the form. Check with state laws to determine your course of action before opening houses or showings. However, make sure this paperwork is ready so that if a buyer falls in love with your house and decides to make an offer, you can immediately guide them to the next step.
The mood of your home during the open house leaves a lasting impression on buyers. Maximize different factors like lighting, the smell of food, and the right temperature to provide a comfortable setting. To make your prospects feel more at home, you can bake cookies and use scented candles to control the smell of a room. Leaving all of the lights and curtains open during open houses also helps people see features more distinctly.
The open house is your opportunity to host potential buyers and share the best parts of your home through a guided tour. However, you should also let your visitors wander around your home by themselves to remove the awkward feeling of them being in someone else's house. Once they're done with their self-tour, interact with them to highlight all important features and entertain any questions they may have.
Have all open house visitors leave their contact information on an open house sign-in sheet so you can track leads and connect with them later. You can include a box to check if buyers are pre-approved for a loan to minimize questions that might seem invasive to prospects. Consider using an electronic sign-in sheet like Spacio to collect contact information that's easily accessible on your computer or phone.
After seeing several houses in a day, your buyers might not remember the details of your home. That's why it's essential to connect with your open house visitors within 24 hours. This reminds them about your property and the conversation you had during the open house. Offer to send them another flyer or schedule a follow-up showing. Additionally, ensure clients have your updated contact information so they can reach out at any point with additional questions.
6. Negotiate & Accept an Offer
Checklist Items:
Find out about prequalification
Assess offers and counteroffers
Accept earnest money
When it's time to start accepting offers, ask your potential buyers about their pre-approval status. A pre-approval letter helps you determine how long it will take to complete the sale and how seriously you can take a buyer's offer. Note that the sales timeline is typically shorter for a qualified buyer than for a buyer who has not received a pre-qualified loan guarantee.
It's rare for both the buyer and the seller to agree on the initial asking price. Expect negotiations, which means considering offers and making counteroffers. Using the information you gathered during your market research, negotiate a fair price. Use your high and low range to accept a buyer's offer or provide a counteroffer. Providing a counteroffer does not jeopardize a sale but gives you a chance to advocate for the value of your home.
Once both parties have accepted the purchase price, the buyer should put down earnest money (around 1% to 3% of the sale price) to represent their good faith in buying the property. Once you and the buyer have entered into a purchase agreement, the earnest money will be deposited and applied to the buyer's down payment or closing costs. Though not always required, the earnest money will protect the seller in case the buyer backs out of the deal.
7. Complete Inspections & Due Diligence
Checklist Items:
Settle home inspection findings and repairs
Decide on a title company
Open an escrow and deposit earnest money
After accepting an offer and receiving earnest money, it's time to schedule the home inspection and set a timeline for the closing. The buyer should hire a professional to conduct an inspection, including termite, plumbing, and electric, so there are no problems that could lead to lawsuits later.
Upon completion of the inspection, decide with the buyer what needs to be repaired. While some sellers agree to a buyer's request for repairs, some opt to lower the price rather than make larger and more costly repairs. The decision usually depends on what the home inspector finds and what the repairs entail.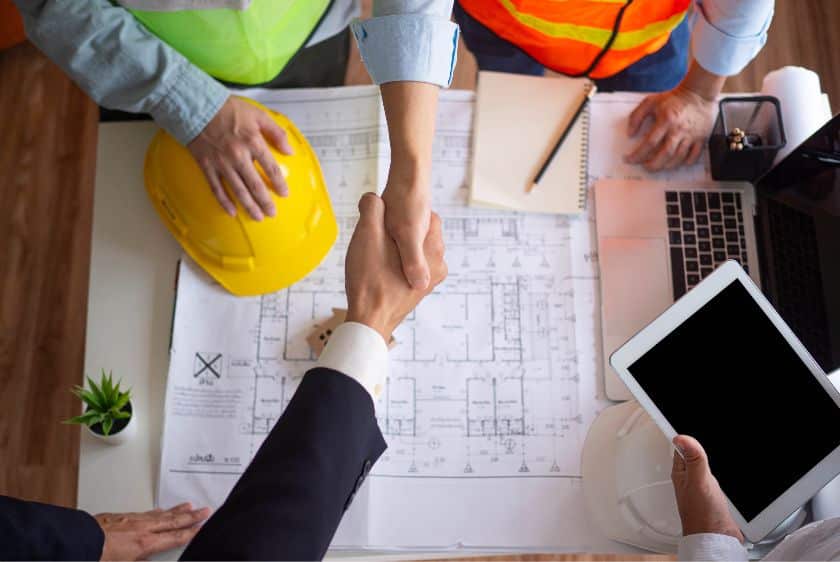 If you don't know the ins and outs of real estate sales documentation, a title company will help you keep all of the details and paperwork straight. The title company will assist both sides of the transaction in completing all necessary paperwork to remain compliant with state laws. You can find a reliable title company online or through a real estate agent.
You should also open an escrow account to keep and manage the money between you and the buyer until all paperwork is done. With the earnest money deposited, the buyer or the loan company pays the full amount less the deposit into the escrow for safekeeping until the sale is final on all sides.
8. Exchange Paperwork & Money & Close the Transaction
Checklist Items:
Sign paperwork to complete the sale
Address final details
The final part of selling your home by owner checklist is ensuring all the paperwork is done. Closing usually takes place at the attorney, title company, or the lender's office. Your buyer will be required to sign several documents to complete the sale.
On closing day, make sure to bring an ID with you as identification is required to notarize legal documents. To complete all sales documentation, you will have to sign multiple legal papers. Though closing documents vary by state, they often include:
Promissory note
Mortgage
"Truth in lending" statement
Title or deed
Monthly payment letter
Bill of sale
Completed loan application
Before handing over the keys to a new owner, iron out all the final details and deploy your moving plan. It's also time to get ready for a new stage in your life. Here are some of the most important things to consider before closing the door on your home sale:
Set a stop date for the utilities
Establish a time and date for the movers to relocate your household goods
Connect with the insurance company to stop the property coverage
Change your address with the post office
Alternatives to FSBO
Selling a home requires a lot of time, work, and skills. FSBOs may bring several risks to the homeowner, such as not knowing how to price or negotiate properly, making emotional decisions, and having no experience or expertise to navigate all the legal requirements. In most cases, the risks of FSBOs could outweigh the benefits. If you're not confident in selling your home yourself, consider the following alternatives to FSBO.
Work With an Agent
Hiring a real estate agent can help you get better offers and sell your house faster. Furthermore, an experienced professional understands your local market and can act as your adviser as you navigate through a highly competitive and volatile housing industry.
Since agents use proven strategies to sell properties, they can assist you in setting a listing price, conducting prelisting inspections, prioritizing repairs, and effectively marketing your property on the right platforms. Getting professional assistance will also free you a lot of time since agents will do all the legwork for you.
---
Sell to a Real Estate Wholesaler
A real estate wholesaler is someone who will put your home under contract and find interested buyers looking for investment properties for sale. They will then shop the contract to investors, landlords, or house flippers at a higher price. Basically, they match buyers with sellers and act as the middleman. Selling your home to a real estate wholesaler is another alternative to FSBO that can help you close faster. Furthermore, you're going to get paid in cash and avoid the risks of failed deals due to financing issues.
To successfully sell your property, find a transparent wholesaler who will explain the process upfront and who has a robust network of property investors. However, if the wholesaler can't find an interested buyer for your property, they may cancel the contract, and you'll have to start the homeselling process again.
---
Sell Home Online With iBuyer
If you're looking for a hassle-free alternative to FSBO, consider selling your home to iBuyer.com and get a quick cash offer. iBuyers, short for "instant buyers," are typically large companies with huge capital that are looking to purchase real estate investment properties.
Enter the address of your home to get an accurate valuation estimate of your property, and the platform will connect you with iBuyers across the country. You can receive instant cash offers for your home in as little as seven days—no need to list or market your home. You also don't have to deal with repairs, upgrades, and showings, as the buyers will purchase your home as is, saving you time, money, and energy.
---
For Sale By Owner Statistics
If you're wondering how FSBO properties fared in the real estate market, we compiled a list of the most recent statistics according to NAR's 2021 Profile of Home Buyers and Sellers. These statistics help guide you in deciding whether to perform FSBO and which strategies to use when selling your home.
Only 7% of home sales in 2021 were FSBO
57% of FSBO sellers knew the buyer of the home
12% of homes were sold via FSBO in rural areas, while only 4% in urban areas
$260,000 is the median sale price of homes sold via FSBO, compared to agent-assisted homes at $318,000
Top three most difficult tasks for FSBO sellers are preparing the home (17%), setting the right price (14%), and performing paperwork (11%)
34% of FSBO sellers did not actively market the home; 26% used yard sign; 23% went through friends, relatives, and neighbors; 18% used MLS websites; and 14% used social media
Top three reasons for selling a home as FSBO are did not want to pay commissions (36%), sold to a relative, friend, or neighbor (30%), and buyer contacted seller directly (8%)
Bottom Line
An FSBO checklist guides homeowners in performing specific tasks and observing realistic timelines when selling a property. The checklist above outlines all the necessary steps you need to prepare and complete a home sale. Download the checklist to make the home sale process more organized, saving you time and money.