Form 720 is used to report and pay your federal excise tax liability for certain products that are manufactured, produced or imported like fuel as well as services such as airline travel. It is not used for alcohol, tobacco and firearms which instead use Form 5000.24.
In this article, we will discuss what information and documents are required to complete Form 720. In addition, we will provide you with an overview of what is required in each section of Form 720. To learn more about excise taxes, check out our Small Business Excise Tax Guide.
We highly recommend you use an accounting software like QuickBooks to record all the information you need, avoiding many headaches come tax time. Click here for a free 30 day trial. 
Required Information/ Needed To File Form 720
Employer Identification Number – This is your federal employer ID number, also known as your Tax ID. It is used by the IRS to identify your business. For more info on how to apply for your EIN number, check out our guide.
Sales report by product and service – The excise tax for many of the items on Form 720 are calculated as a percentage of sales. Therefore, you need to keep track of your total sales amount for each product and service that you sell so that you have accurate dollars to use for this calculation. If you use a Point of Sale (POS) system then you should be able to generate this report easily.
Units sold report by product – The other method used to calculate excise tax is by quantity. For example the total gallons is used for fuel. You need to keep track of the quantities of all products sold so that you can use that information to accurately calculate the excise tax for those items that are based on units sold.
If you use an accounting software like QuickBooks, you can easily run these types of reports in just a few minutes. Head over to our free QuickBooks Course to see how quickly you can get your business up and running.
Form 720 Due Dates
Form 720 – Quarterly Federal Excise Tax Return is due the last day of the month following the end of the quarter. For example, first quarter ends March 31 which means the due date is April 30. If the due date does not fall on a normal business day, the due date is the following business day.
Quarter

2017

2018

2019

1st Qtr
(Jan 1 - Mar 31)

May 1*

April 30

April 30

2nd Qtr
(Apr 1 - Jun 30)

July 31

July 31

July 31

3rd Qtr
(Jul 1 - Sept 30)

October 31

October 31

October 31

4th Qtr
(Oct 1 - Dec 31)

January 31

January 31

January 31
*April 30 falls on a Sunday
Form 720 – Overview of Primary Sections & How to Fill Out
There are 7 main sections of Form 720. Below you will find a brief description along with a snapshot of each section.
Form 720 – General Information Section

In this section, you will provide the following basic information about your business:
Business Name
Business Address
Employer ID Number
Quarter ending date
Form 720 – Part I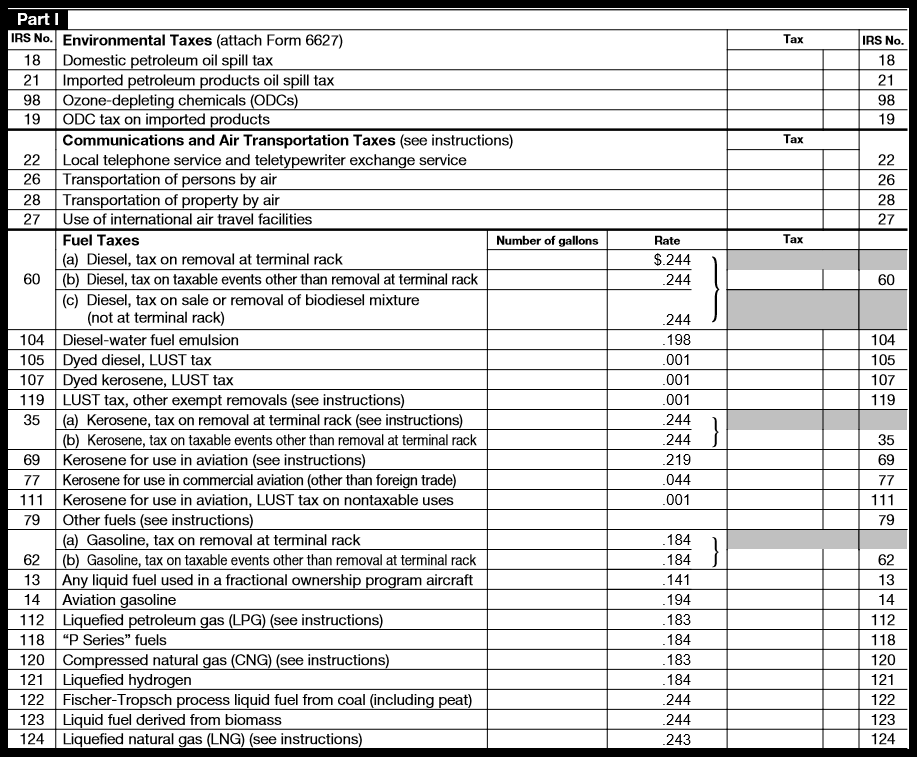 In this section, you will calculate environmental taxes, communications and air transportation taxes, fuel taxes, retail tax, ship passenger tax, foreign insurance tax and manufacturer taxes. To calculate environmental taxes, you will have to complete Form 6627 and file it with Form 720. The rates for each tax can be found directly on the form (as indicated in the above screenshot).
Form 720 – Part II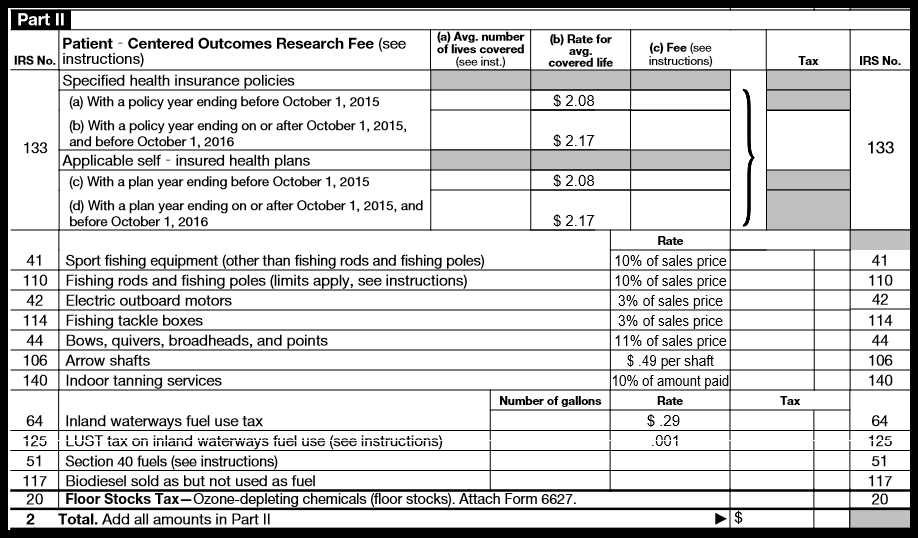 In this section, you will calculate excise tax if you are an issuer of certain health insurance policies, if you sell sport fishing equipment, fishing rods & poles, motors for boats, bows or provide indoor tanning services.
If you issue health insurance policies, you will need to provide the average number of lives covered for each policy issued. For the fishing equipment, motors and tanning services you will need to use your sales report by product and services that we discussed in the previous section.
Form 720 – Part III

In this section, you will report any claims that you calculated in the Schedule C section of this form, which we will discuss later on. You will also provide the total amount of excise taxes paid during the quarter and calculate your balance due, if any.
Form 720 – Schedule A (Excise Tax Liability)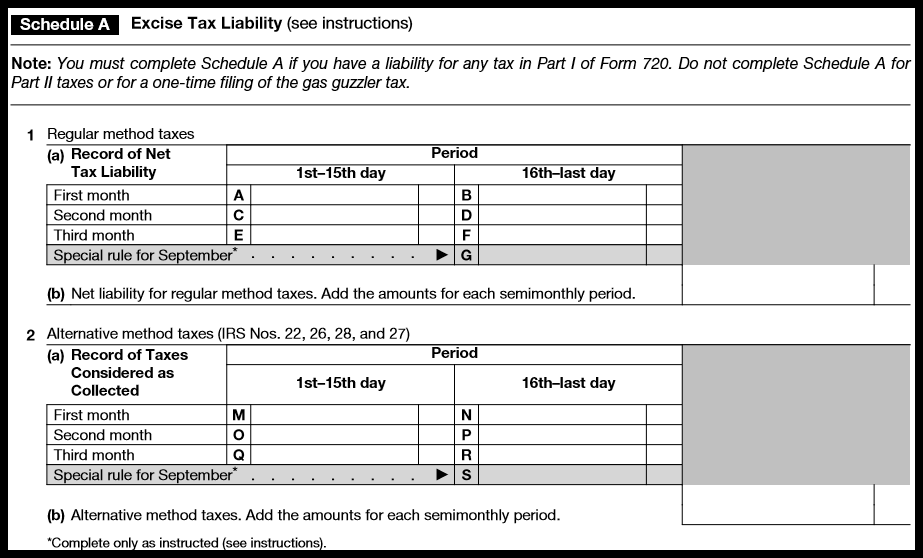 As indicated in the screenshot above, you must complete Schedule A if you have a liability for taxes in Part I of Form 720. Do not complete Schedule A if you don't have a liability in Part I but you do owe taxes in Part II or for a one-time filing of the gas guzzler tax. Vehicles that don't get more than 22.5 miles per gallon are subject to this tax.
Form 720 – Schedule T (Two-Party Exchange Information Reporting)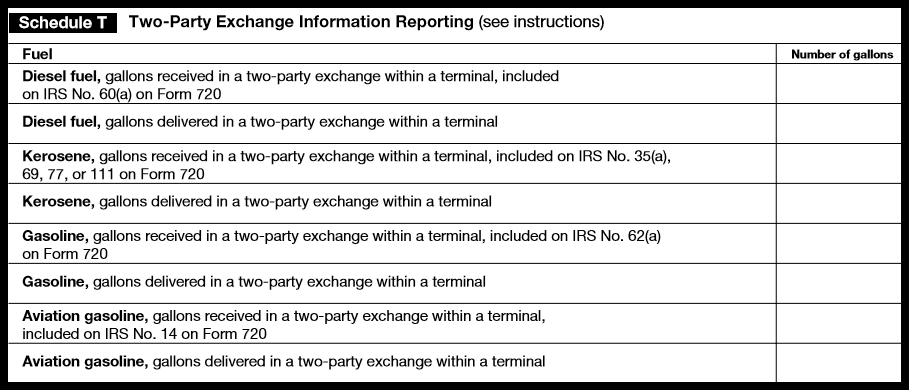 Note: If you do not produce, manufacture or sell diesel fuel, kerosene, gasoline or aviation gasoline then you do not need to complete Schedule T.
The purpose of Schedule T is to report the total gallons of taxable fuel received or delivered in a two-party exchange. In a two-party exchange, the receiving person, not the delivering person, is liable for the tax imposed on the removal of taxable fuel from the terminal at the terminal rack.
A two-party exchange means a transaction (other than a sale) where the delivering person and receiving person are both taxable fuel registrants. Refer to the instructions for Form 720 to determine if you have transactions that would qualify as two-party exchanges.
Form 720 – Schedule C (Claims)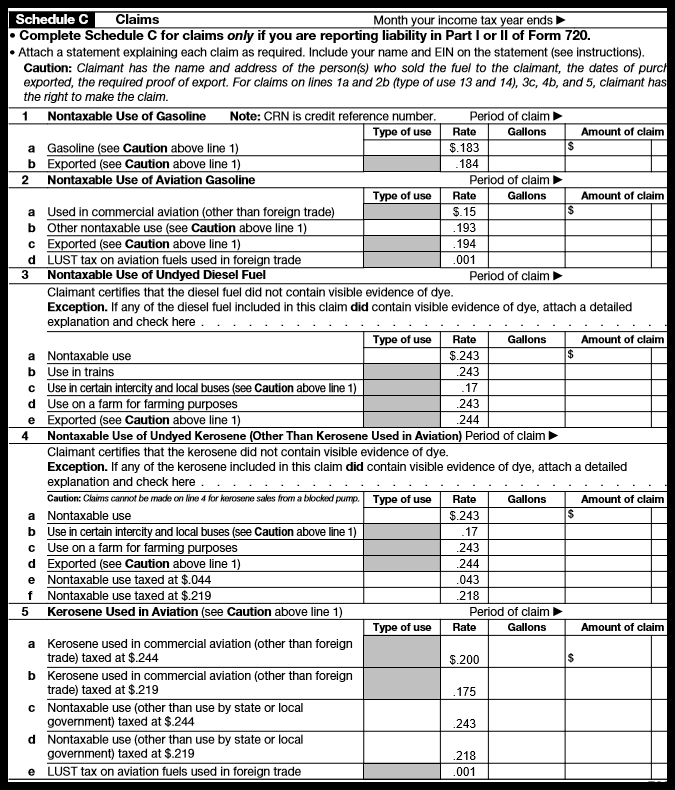 Depending on the type of fuel and how it was used, you may qualify for a claim to reduce the amount of excise tax that you owe. Below is a chart from Form 720 instructions that lists all of the different uses of fuel that qualify for a claim. You will select the type of use from this chart and include it in the Type of use column (as indicated in the screenshot above) next to the appropriate items that you are filing a claim for.
Form 720 Schedule C (Types of Use Table)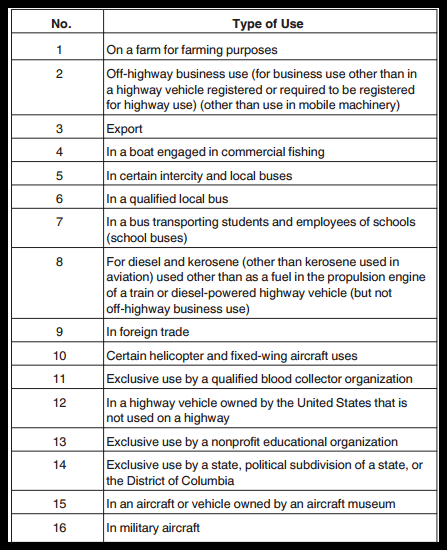 The Bottom Line
Excise taxes like most taxes in general can be overwhelming. The key to accurately filing your tax returns is making sure that you have good, accurate accounting records. By using a program like QuickBooks to manage your income and expenses, you will have access to up to date financial reports like Sales by product and service, Sales by quantity and Profit and Loss.
Head over to our free QuickBooks Course to see how easy it is to get your business up and running in no time!