With over 1 billion users, Facebook marketing is a powerful tool you can use to promote your small business. However, a lot of small business owners don't really give their Facebook business page much thought after the initial setup. Many don't know what to post or feel like keeping up with it is not worth the time or effort.
If you are in this same boat, try thinking of your business Facebook page as a fun way to connect with current and potential customers, instead of as a hassle. The way to be successful promoting your business for free on Facebook is by using it for what it's meant for: a social network.  
Make sure you're capitalizing on more than just Facebook by integrating all your social media profiles into one platform. With Hootsuite, you can find and share great content and schedule your posts to consistently grow your followers. Click here to get started for free.
Advantages of Facebook Marketing For Small Businesses
The three primary advantages are:
It's free

– There is no cost associated with having a Facebook business page, and it's free to post and share content.

You can promote your products and services

– Once you have a fanbase, you can sell your products to them without marketing costs. You can also update your fans to let them know about any special events or deals that your business is running.  

Interact and stay top of mind with your customers

– Facebook is a great platform where you can engage with your customers, listen to what they have to say, and respond to their comments. By posting pictures and statuses, you can let people know what your business is up to. This allows you to stay top of mind with your existing and potential customers, so hopefully when they make their next purchasing decision, they will think of you and not your competitor.
It only takes about 15 minutes to set up a Facebook business page, but if you want to have success marketing your business on Facebook, you will need to spend at least 1-2 hours a week on the site. This time will be spent creating engaging posts and also responding to people who interact with your page.
How to Enhance your Small Business Facebook Page
The first step you will want to take before marketing your business on Facebook is to make your business' profile page as impressive as possible. This will not only help get people to like your page, but if done right, it will have a side benefit: increasing your chances of ranking higher in Google's search results.
If you have not set up your Facebook business page, start here.
You want people to be able to find your business easily on Facebook, and once there, they should be able to learn everything they need to know about your business.
Take the following steps to create a robust business profile:
Use keywords in the "About" section – Keywords are terms that will let people know what your business is about. For example, keywords for a pizza restaurant would be "pizza" and "italian food." Be descriptive in this section and use as many characters as Facebook allows. By filling out this section clearly, you will not only let visitors to your page know more about your business, but you are also informing search engines like Google. Here's an example from our own Facebook page at Fit Small Business:

Claim a vanity URL

– When creating your page, you can choose a web address (i.e. www.facebook.com/yourbusiness). This will give your page a professional and branded feel, and the URL will be easy to share with customers. Until you change it, your URL will include a bunch of random numbers, which will be hard for your customers to remember and find. Note that you can only change the URL once, so make it a good one.

Choose the correct category

– Make sure the category is representative of your business. Local businesses will want to choose the category "local business," and then you can get more specific about your type of business by choosing up to three subcategories. For example, a nail salon can choose "nail salon," "beauty salon," and "cosmetics and beauty supply."

Get reviews

– Having multiple positive reviews is a great way to increase the chances of someone visiting your business. Ask loyal customers to leave a review, or offer a discount to people that write a review on your Facebook page. View

our guide

for more information on how to get online reviews. Note that your Facebook reviews can potentially show on Google and other search engine results pages, like the business below.

Choose appealing pictures

– Your cover photo and profile picture are the first things people will notice when they are on your page. Make sure the images are captivating and applicable to your business. You can even change up your pictures every couple of months if you have a specific event or milestone that you want to promote. Check out these

do's and dont's

when it comes to creating your cover image, and use

Canva

to easily create a great looking cover photo for free.
How to Get Fans for your Facebook Business Page
Now that you have optimized your Facebook business page, it's time to get people to like your page. These people are called fans. This is important not only because you will be able to promote your content to your fans, but also because a page that doesn't have any likes doesn't seem trustworthy. Here are some ways to get fans:
Add the Facebook icon wherever you can

– Promote your Facebook page on all marketing, including business cards, signs, email signatures, website, etc. Make sure you set up a vanity URL for your Facebook page (i.e. www.facebook.com/yourbusiness) so that it's easy for people to find your page.

Ask people in person

– Ask people that come into your store to like your page. You know they already are interested in your business, so why not ask them to like your social media pages? You can even offer them something on the spot (e.g. discount, free item) if they like your page while in the store.

Ask people online –

Have a

pop-up box

on your website that asks people to like your Facebook page. You can also ask people to like your Facebook page after they have purchased something on your site. The message can be along the lines of "Thanks for your purchase! Like us on Facebook to hear about new products and promotions."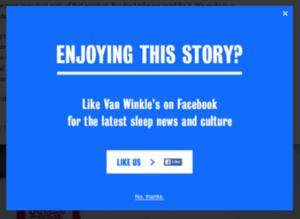 Get involved on Facebook –

You can post on pages and groups that are related to your industry from your business page. If you offer helpful answers and advice, you may get people to click back to your page and like it.
To really boost your page, do something fun and creative in order to get people to like your page. Two tactics that work well to increase page likes are holding a contest or offering a coupon/discount to people who like your page.
1. Hold a Contest
Hold a contest or raffle, and have one of the criteria to enter be that the person has to like your Facebook page. There are tons of different types of Facebook contests you can run. The post from a dentist office below asks people to like their page and the post in order to enter their summer giveaway.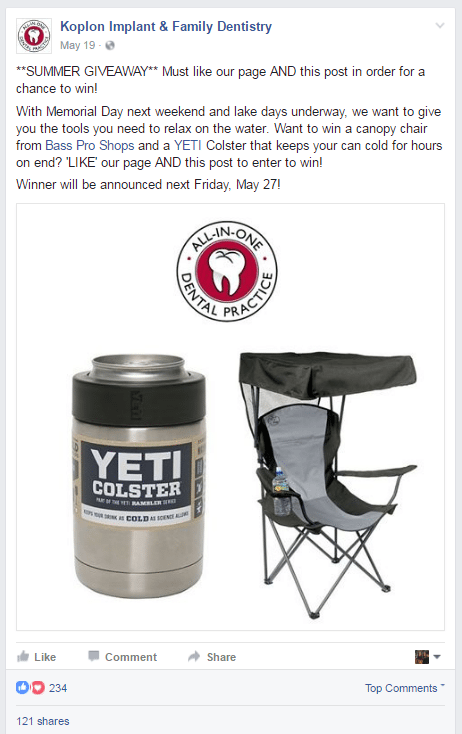 Before you create this type of promotion, you want a system in place to track who has entered the contest. Otherwise, it will be hard to know who is eligible to win the prize.
An easy way to keep track of who has participated in your contest is to use Facebook's app Contests for Pages. This option is free up to a certain amount of engagement, but after that, you will have to pay $50 for one contest or $96 for a year. They allow you to create two types of contests:
Timeline contest –

In this type of contest, people enter by liking or commenting on a certain post on your page. This works well if under 40 people like or comment, but Facebook will make you upgrade to a premium plan if you want to capture more results.

Form contest –

You can also choose to have people fill in a form to enter your contest. You can specify what they will have to fill out and include a button for people to like your page.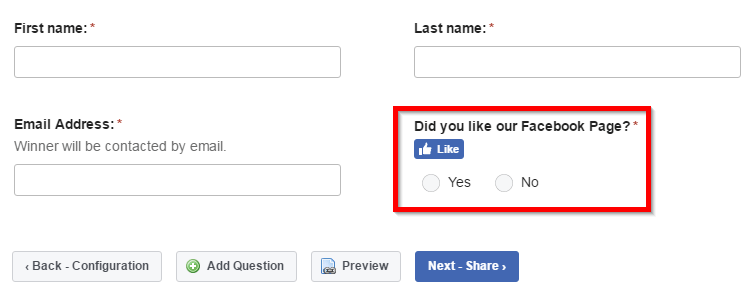 There are also many third party apps that you can use to help build your Facebook contest. This is a good option if you are willing to pay the price (ranges from $10-$25/month for most) and want more help designing your contest. You also have more control over who enters, and the information you get from entrants. Some of the most popular options are:
Visit their websites for more information on costs and features.
What should you offer as a prize?
You want to offer a prize that is related to your business, so you are only capturing leads that will be interested in your product or service in the future. A good idea is to offer a gift card for your business. Make sure it is a good enough prize to entice people to enter. For a gift card, we recommend offering $50-$100.
2. Offer a Coupon or Discount
People love free stuff and discounts, so give them something in return for liking your page. It doesn't have to be big; it can even be a promotional item with your logo on it that you have lying around. Just let people know that you appreciate the page like.
Another option is to create an offer directly on your Facebook business page.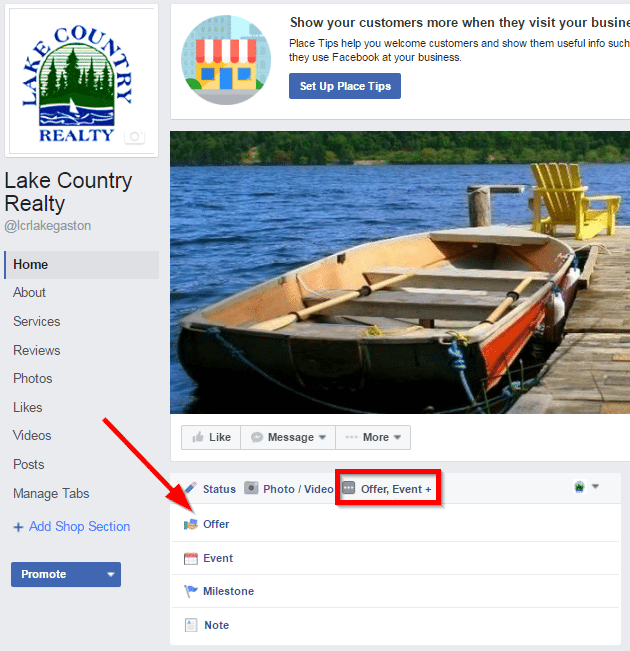 You will be able to create a promotion code that people can use to get a discount (such as 20% off). If you choose to simply post the offer, it will only be shown to your fans. However, for as little as $5 you can boost the promotion, and the offer will be shown to people outside of your current fanbase.
By including in the text of the offer something along the lines of "like our page for more offers and promotions," you are giving people a tangible benefit of liking your page. They will want to be a fan of your page if they think they will get more discounts.
Word of Caution – Don't Buy Fake Likes
You have probably seen an ad or heard from peers that you can buy Facebook likes pretty inexpensively. Don't do this. Since Facebook uses engagement as a metric when deciding whether your post will show in a user's news feed, having thousands of unengaged fans will hurt your chances of showing on a legitimate fan's news feed. Also, if you have thousands of fans and your posts only get 3 likes, that will be a red flag for new people coming to your page.
What Should You Post on your Facebook Business Page?
We've talked about how to get fans for your Facebook page, which is step one. The second step is to get your Facebook fans to engage with your posts by liking, commenting or sharing. A "like" on your post is not the same as someone "liking" your Facebook business page, but one can lead to the other. For example, if someone likes your posts, that post could appear on their friends' news feeds. Hopefully one of their friends will enjoy the post, navigate to your Facebook business page and like your page so that they can see more posts from you.
When deciding what to post, keep in mind that the Facebook news feed is similar to a social scene. You wouldn't show up to a party and immediately start trying to sell your product or service. You first need to warm people up by having a good conversation, and then when they know what you're about, you can slip in something about your business.
In the same way, when posting content on your Facebook page, a general rule of thumb is to make your posts 80% interesting/entertaining to your followers, and 20% promotional.  Another reason to do this is because Facebook uses an algorithm to determine which posts a user will find interesting on their news feed.
How Does Facebook's News Feed Algorithm Work?
Since there are so many people posting on Facebook every day, there is no way that a user would be able to see every post from friends and pages that they are a fan of. Therefore, Facebook created an algorithm to predict how interesting a story will be to the user.  
Facebook primarily focuses on showing posts from friends and family, with posts from business pages a distant second. This means not every post that you publish on your Facebook business page will be seen by your fans. You will need to understand how the algorithm works in order to have more of your posts show on your fans' news feeds.
The algorithm uses a combination of factors that Facebook believes determine interest, including:
How often users interact with your page and posts

– This looks at actions that users have taken, such as liking or commenting on posts, writing on your wall, or sharing your content.

The type of posts that you are publishing –

Videos have a higher chance of showing in someone's news feed than a link to an article or story, and both videos and articles show more often than just text. This is because Facebook has determined that videos tend to get more likes, comments, and shares than links or text.

How recently a post was published –

Posts can quickly become old news, so make sure you are posting frequently to

have a higher chance of showing up on someone's feed.
What Do Users Expect on their News Feeds?
The reason people come to Facebook is to see pictures and news from their friends and family, or interesting/funny articles, videos, statuses, etc. With this in mind, make sure to post interesting content on your page. When people engage with your posts (by liking, commenting, sharing, etc.) it sends a signal to Facebook that they are interested in your posts, which increases the chance that future posts will appear on their news feed. Remember the general rule of thumb is to post 80% entertaining/interesting and 20% promotional posts.
First, we will give some examples of engaging promotional posts from small business owners. Then, we'll give some expamples of entertaining/interesting posts.
What Types of Promotional Posts Work Best on Facebook?
You can promote your business while still sharing informational and entertaining information to your Facebook fans. For example, a status update that reads "All winter coats on sale!" will probably not end up on many people's newsfeed, and if it does, they will probably glance right over it.
However, if you post that status along with the image below, there is a much better chance of people noticing and engaging with the post. Facebook is meant to entertain, so be entertaining!
Examples of Promotional Posts from Small Businesses
Hopefully, these examples from other small business owners will give you some ideas of content you can post on your page.
Example 1 – Use pictures
Share tempting pictures with a reminder to pre-order your product. Use a holiday to make your post even more relevant.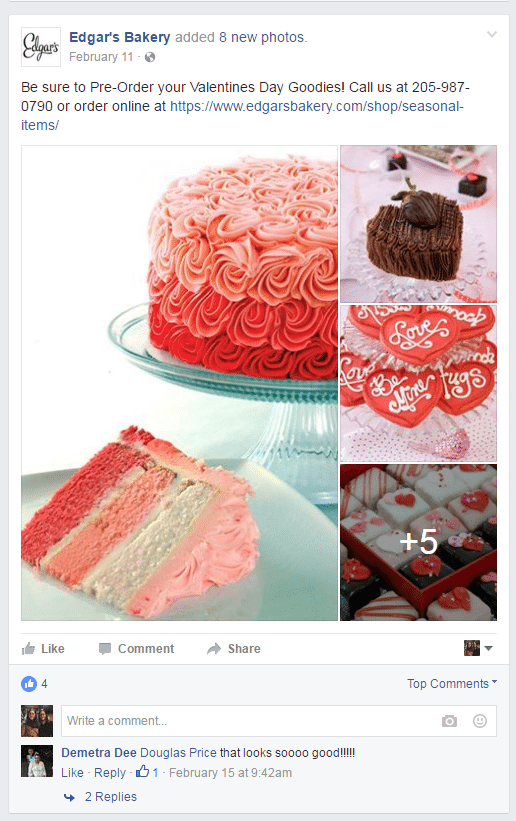 Example 2 – Focus on customer benefits
Combine your call to action with good news for the Facebook user. A dentist that's open on a Saturday? How convenient! You can also use this tip for news about opening another location or an award you received.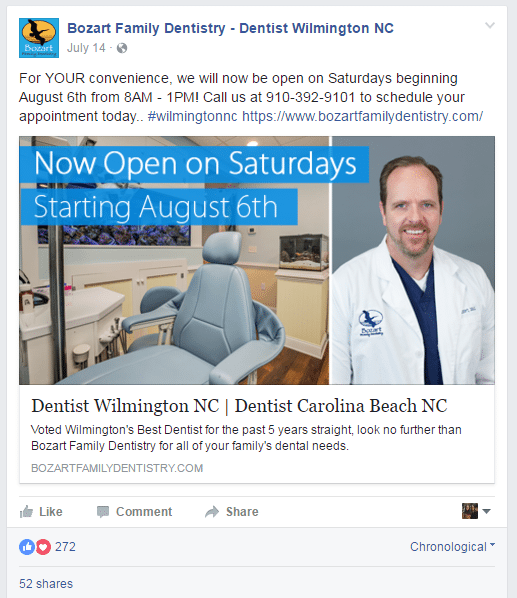 Example 3 – Offer a deal
Come up with a creative deal to promote, and accompany it with a picture and clever sentence. Maybe they'll introduce your product to a friend who will then turn into a new customer.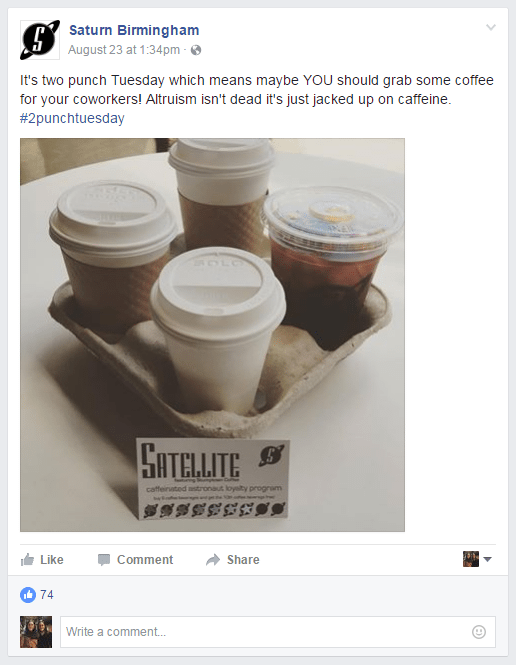 Example 4 –  Pin a promotion
Facebook allows you to pin one post to the top of your page's feed. If you are offering a good promotion, pin the post for the period that you are running the special so that all new visitors to your page will see it. People don't typically scroll far down a page's feed, so pinning makes it easy for them to see what you want them to see. The dentist below pinned the post for new customers to get a free whitening treatment.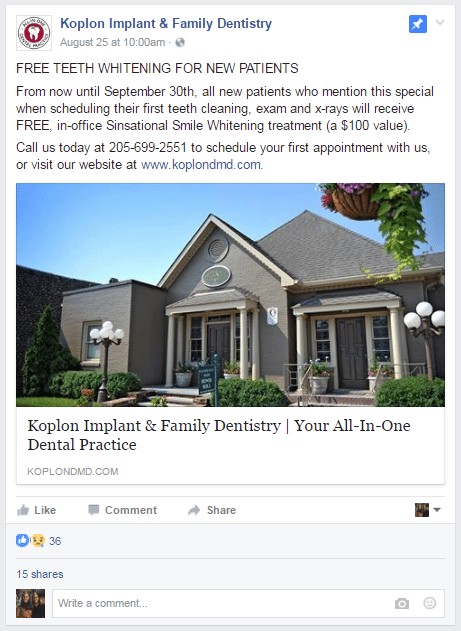 Example 5 – Promote an offer
Facebook allows local businesses to create offers that Facebook users can claim and use either online or in the store. This is really easy, and you can do it right from your Facebook business page.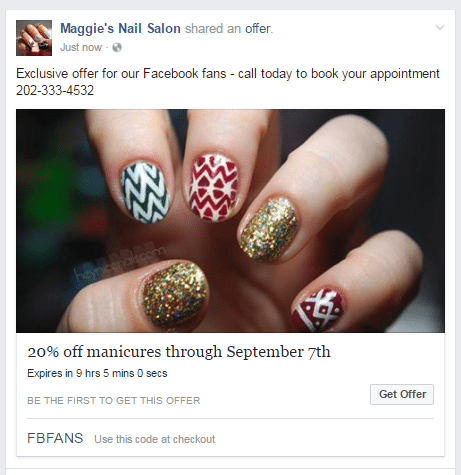 Examples of Entertaining & Informational Posts from Small Businesses
Even if your small business does not seem like it's in the most exciting industry, there are still ways you can post informational and entertaining content that is related to your business. Below are some examples of posts you can try with your business.
Example 1 – Post pictures of your customers
This is a great way to show up in user's news feed organically. By tagging your fans in pictures, you are not only alerting them of the post, but your post is also likely to appear in the news feed of the fan's friends. People are also more likely to like and comment on a post of someone they know. So how do you do this? If you own a restaurant, take pictures of your customers eating your signature dish. If you're a real estate agent, take a picture of your client in front of their new home. You get the idea.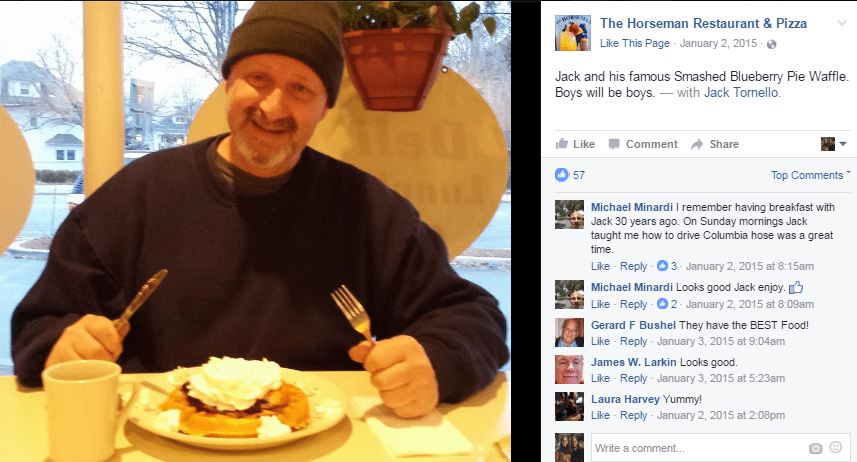 Example 2 – Post an interesting article
The goal is not only to get people to read your article, but also for them to like, comment, and share. Below is a good post from a dentist office. Most people don't like going to the dentist, but they do like beer. This doesn't necessarily have to be from your site, it can be an article from the New York Times, Buzzfeed, etc. Ideally, the article will relate to your business in some way.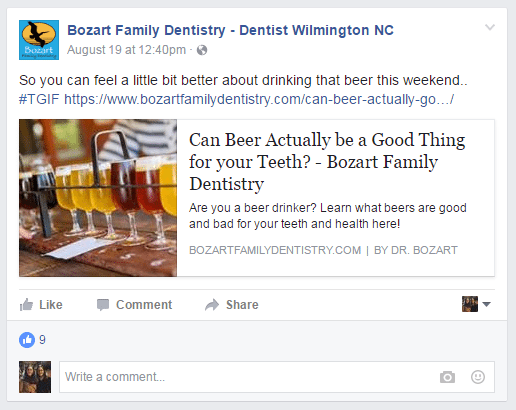 Example 3 – Ask a question
This is an easy way to get people to comment on your post. Pair the question with a cute picture, and you'll get people to pause at your post long enough to read the question.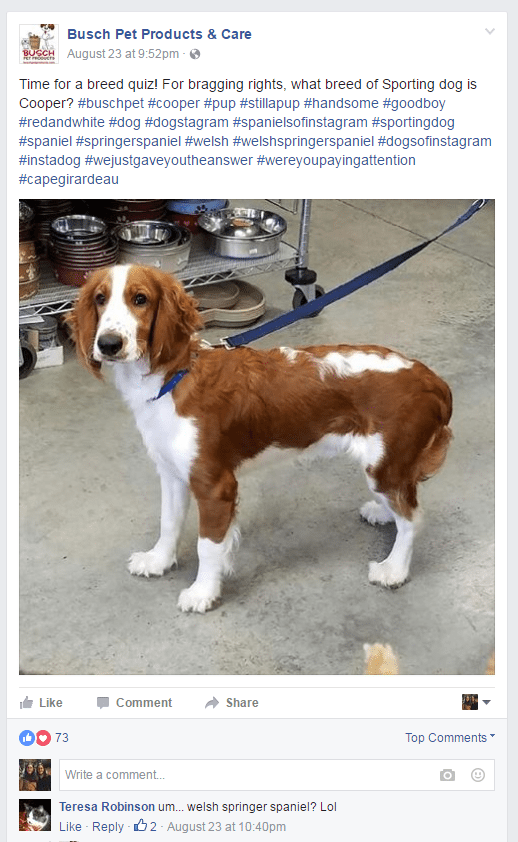 Example 4 – Ask people to tag a friend
Jim 'N Nick's is a barbecue restaurant that is famous for its cheese biscuits. By asking people to tag a friend, you are exponentially increasing the reach of the post (if it works). People will be notified if they are tagged, start craving your food, and then show up at your restaurant. You are also spreading brand awareness.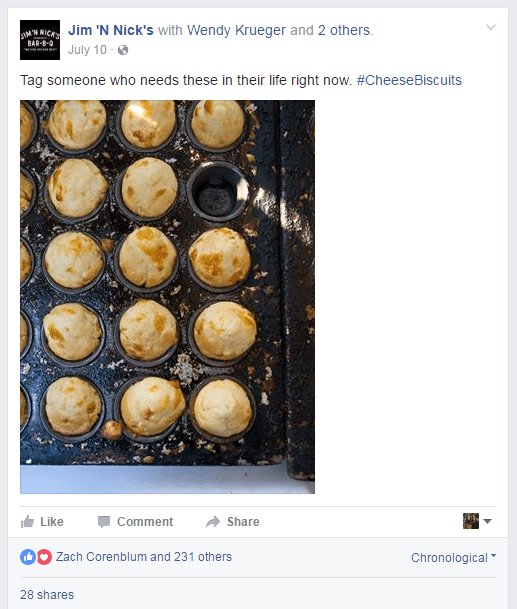 Example 5 – Post an inspirational/funny quote
Quotes get a lot of shares. People who get a laugh or feel inspired from a post want to share the feeling with others. You can use Canva to create this type of image for free. Include your logo, so if it's shared by a third party, you are still advertising your business.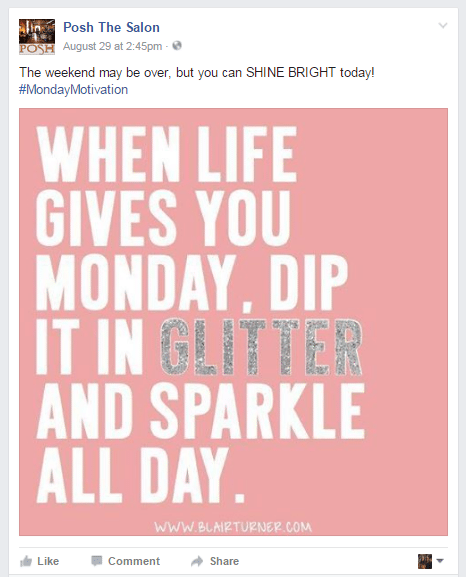 Example 6 – Post a video
Videos on a Facebook user's newsfeed auto-play, and therefore are very attention grabbing in nature. Have you noticed all those videos of people making delicious looking dishes in fast motion? That type of video could work well if you own a restaurant. You should also consider posting a featured video to your page, like this one from a local pizza restaurant. People will connect more with your business if you show them the people behind it all.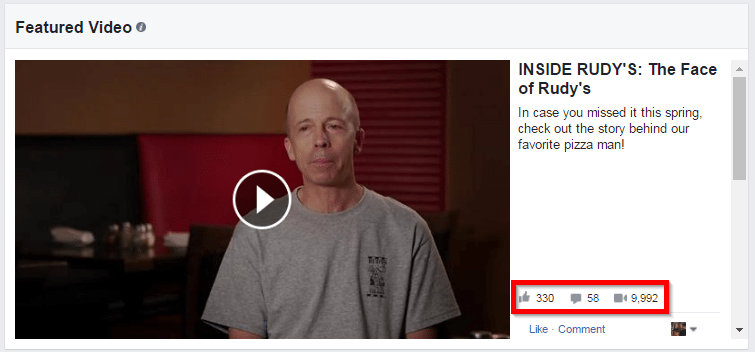 These are just a few examples. If you are running out of ideas for content to post on your Facebook business page, here are a couple of options to help you out:
Try Post Planner

– This is a great tool that finds engaging content from around the web for you to post on your Facebook page. You can enter the industry that your business is in, and the program will find posts that they have analyzed and that are proven to drive engagement. Plus, it doesn't break the bank at only $7/month.

Look at your competitors

– Look at the Facebook pages of companies that are similar to yours. Check which of their posts are getting the most likes and comments, so you know what works for your type of industry.
Track Which Facebook Posts are Doing the Best
After you have posted a few times, you will want to check to see how many people are seeing your post, and how many likes, shares, and comments you are getting. We have given examples of a few different types of posts, but focus on posting the ones that work best with your fans.
Also look to see what times your posts tend to do the best. There is a lot of conflicting research out there about which days and times of day are best for posting content, so see for yourself what works best for you.  
You can track how well your posts are doing by going to the insights tab on the top of your Facebook page. Here you will be able to see all of your activity, plus the reach and engagement of your posts.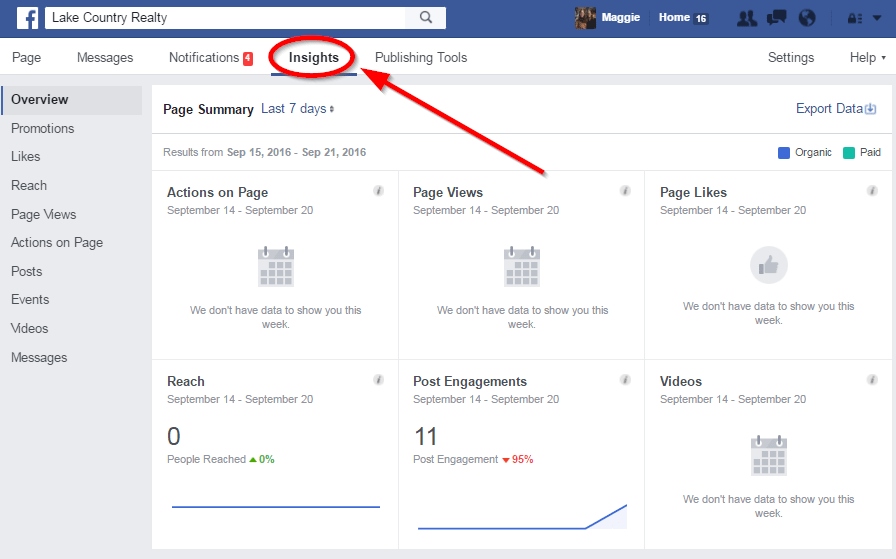 Consider Paying to Boost a Post on Facebook
Though we are focusing on how to market your Facebook for free in this article, it's important to note that you can pay to boost your posts for a relatively low cost. If you notice that one of your posts is doing well and has gotten a lot of engagement, you can boost the post so that it shows outside of just your network. You can choose a targeted audience so that the post only shows to people that you think would be interested in your business.
For more information on paid advertising on Facebook, view our in-depth guide here.
Create a Schedule for your Facebook Posts
We suggest creating a schedule for your posts. That way you can make sure that you are sticking to the 80% informational/entertaining and 20% promotional rule, and a schedule will help you stay on track with your posts. It's easy to start thinking of your Facebook page as low priority, but if you do not post regularly (at least 3 times a week), you will hurt your presence on Facebook. The good news is that Facebook lets you schedule posts, so by sitting down for an hour or two once a week, you should be able to get all of your Facebook posts done for that week.
The Bottom Line
Facebook marketing is a great tool for small business owners. In order to have a successful page, you can't lose sight of why people are on Facebook, which is to see interesting and entertaining posts.
As a small business owner, you can play into this expectation by sharing things that are not only relevant to your business but are also funny, cool, and interesting to your fans. Your business page does not exist to convert sales in the short term. The primary goal of your page is to create a long-term relationship with your current and potential customers so they can get a sense of you and your business.
If you want to learn more about Facebook advertising check out our guide here.