Help desk software provides a way for customer service agents to manage, distribute, and solve support tickets or requests for help quickly. We looked at a broad range of free help desk software to collect the six best options for small businesses based on six features, including multichannel support related to the user experience.
Top 6 Help Desk Software Free Options 2019
| Free Help Desk Software | Best For |
| --- | --- |
| | (Best Overall) Teams that need a free plan for an unlimited number of agents |
| | International businesses wanting their help desk to feature customized company branding and logo |
| | Companies that want to integrate their help desk with other software they use |
| | Teams that want the ability to send self-service responses when an agent isn't available |
| | Businesses that want live performance metrics included in a free plan |
| | Companies wanting an option that prevents two agents from working on the same ticket |
How We Evaluated the Best Free Help Desk Software
Implementing help desk software allows small businesses to track and respond to tickets in a timely manner to keep customers happy by quickly resolving their problems. While many help desk software programs come with a price tag, there are many options that also offer a forever-free starter plan with features robust enough for small teams.
We evaluated the best free help desk software options based on the following criteria:
Support channels: We looked at which channels, such as phone, email, messaging, and social media, the software offers.
Reporting: Good help desk software should offer reporting features to analyze performance and customer satisfaction.
Integrations: We analyzed the ability of help desk software options to connect to other software small business tools, such as a CRM.
Mobile app: The best help desk software offer a mobile app so customer support agents can manage tickets on the go.
Automated replies: We looked to see if each option offers automated replies if agents aren't available.
Knowledge base: We researched help desk software options to see if they offer a self-service knowledge base that customers can search to answer their questions.
Training and support: Excellent help desk software also includes its own customer support, including webinars, documentation, and live online support.
Based on these criteria, we recommend Freshdesk for the best overall free help desk software options for small businesses. It has a robust set of features on the free plan that can accommodate the business needs of many companies while offering affordable plans to upgrade when a business grows. It also has many integrations that work well with programs many small businesses use daily.
Freshdesk: Best Overall Free Help Desk Software

Freshdesk is help desk software that offers omnichannel support, meaning it can turn phone calls and emails into tickets, and integrates into your Facebook and Twitter feeds to better manage your social interactions. It also has a great user experience, even for those who aren't tech-savvy, making it best for businesses of any user size looking for a free plan with a wide range of features who want to streamline their customer service process.
Freshdesk Ease of Use
Most people who use Freshdesk say it has a simple user interface and it's easy to learn how to navigate the features. It also offers custom reminders to make sure that customer issues get addressed and don't fall through the cracks.
Freshdesk Core Features
Freshdesk's free plan includes a robust set of features that include omnichannel support channels, social ticketing, and a knowledge base. Omnichannel support connects customer conversations across a variety of contact methods, such as Facebook Messenger, chat widgets, and email. They also offer a mobile app for Android and iOS phones.
The main features of the free version of Freshdesk are:
Omnichannel Support
Freshdesk offers omnichannel support, which streamlines the customer support process by letting agents reply to emails, answer phone calls, and chat with customers, all in one place. The Freshcaller integration allows users to answer phone calls within Freshdesk and turn it into a ticket rather than doing it manually. Agents can also follow up with customers by converting conversations into tickets to keep track of any continuing issues.
Social Ticketing
Freshdesk has a feature that allows you to connect one Facebook and one Twitter account to the platform so you can see when customers are talking about your business on social media. This allows you to support customers before they even reach out to you—you can turn tweets or posts into tickets, communicate with the customer, and track them in Freshdesk. You can also create rules to convert mentions with certain keywords into tickets automatically
Knowledge Base
Freshdesk has a knowledge base for customers where you can create solution articles to help customers find answers to common questions or issues. For example, you could create a solution article about how to return an item or how to pay for a service. This helps save your customer service agents time by freeing them up to handle more complex support issues.
Freshdesk Customer Support
Freshdesk has a broad range of customer support tools to help each business get the most of the service. They offer Freshworks Academy with multiple courses to learn how to get started and use new features (which I didn't find in any other free plan), a comprehensive knowledge base similar to Deskero and ngDesk, and live chat for customers on the free plan.
Freshdesk Mobile App
With Freshworks CRM's easy-to-use mobile app, agents don't have to be at their desks to manage support tickets. You can swipe tickets to easily close them out or delete them, and send canned responses to common questions without having to type a long answer on your phone. You can also receive push notifications make sure tickets don't go unanswered and share them to other programs such as Trello, Asana, and Google Hangouts.
Freshdesk Pricing
The Freshdesk free-forever plan is named the Sprout plan. They also offer paid plans named Blossom for $15 per user, per month, Garden for $29 per user, per month, and the pricier Estate and Forest plans for larger teams and enterprises that include more advanced features such as automations, collision detection, performance reports, and a multilingual knowledge base.
What Freshdesk Is Missing
Freshdesk is an excellent intuitive help desk software option, but it does not offer collision detection in the free plan to ensure two agents aren't working on the same ticket, auto-responses, or in-depth performance reports. If you're looking for a platform with collision detection and don't want to pay to upgrade, try osTicket.
What Users Think About Freshdesk
People who like Freshdesk say it has a simple user interface, good organization tools, and that the reminders are helpful. Some users commented that the email fields need to be refined and that the paid plans are too expensive.
Where to Find Freshdesk
Freshdesk offers a free plan that is popular with businesses worldwide because it offers an easy-to-navigate interface, integrations, and excellent customer support. Sign up for Freshdesk for free today by visiting their website.
Deskero: Best Free Help Desk Software for Customized Worldwide Support

Deskero is help desk software with a free version for one agent. It allows a small business, trying to increase brand awareness on a tight budget, to customize their help desk with logos and a color scheme at no cost. It also offers multichannel support so you can turn emails, phone calls, and chats into tickets to keep track of them in one place, along with 10 languages in the free version. It's great for solopreneurs who provide customer service worldwide.
Deskero Ease of Use
Deskero has a clean user interface with a chat box in the bottom right corner that tells you how many customers you have waiting and how many web visitors you have. There's also a mobile app available to help you stay on top of customer support requests no matter where you are.
Deskero Core Features
Deskero has several valuable features for small businesses, such as multilingual controls, a knowledge base, and customized branding included in the free plan. They also have a free iOS and Android mobile app available for download.
The features found in its free Start plan include:
Multilingual Controls
Unlike many other help desk software options, Deskero lets you pick from 10 different languages—and they are continually adding more. If you support customers in many regions around the world, it can be a great customer support solution.
Customized Branding
Deskero's free plan allows you to upload your company logo by simply dragging and dropping it into the drop zone on the support portal. You can also choose from seven different color themes to match your brand and choose a custom domain.
Knowledge Base
Deskero has a customizable knowledge base that allows you to create searchable groups with articles for customers based on topics. You can also customize the language of each article and choose who it's visible to: agents and customers, agent groups, or customers only.
Deskero Customer Support
While Deskero doesn't have Academy courses likes Freshdesk does, they do offer a robust knowledge base on their website to search for answers to questions. There's also a box in the left-hand corner of their website that allows you to easily send requests via live chat. However, I sent a question and did not receive an answer nor an out-of-office auto-reply.
Deskero Mobile App
Deskero has a simple mobile app that allows you to manage tickets. You can chat with customers, use templated responses, forward tickets to other agents, solve them, and view website visitors without having to be at a computer.
Deskero Pricing
Deskero is free for one user on the Start plan. However, you can add more agents for $4 per user, per month. There are also paid plans with features such as social network ticketing and automated ticket assignment ranging from $9 to $90 per agent, per month.
What Deskero Is Missing
While Deskero has a free plan with good user experience, they don't offer multiple users, social media tracking, or omnichannel support. If those are things your business would like to incorporate, consider Freshdesk.
What Users Think About Deskero
Users who enjoy Deskero say it's easy to learn to use and like the interface customization options. Some people say the mobile app features and user experience could be better.
Where to Find Deskero
Deskero offers a free plan for one user with the option to add additional agents at just $4 per user, per month. It's a great choice for small businesses because it's easy to use, has custom branding features, and a robust chat tool. Sign up today by visiting their website.
Zoho Desk: Best Free Help Desk Software for Extended Integrations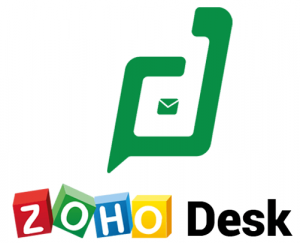 Zoho Desk is a help desk tool that integrates with the rest of the Zoho productivity suite, including its CRM, analytics, bug tracker, sales intelligence, payment, and screen-sharing tools. The free plan offers basic ticket management functions for up to three customer support agents, such as email tickets, a knowledge base, and notification rules. It's a great choice for teams that are already using Zoho's product line to integrate it with their existing sales software.
Zoho Desk Ease of Use
Zoho Desk has an intuitive user experience that's easy to navigate, especially if you're using other Zoho products. They also offer a sharp mobile app that makes it easy to manage tickets on the go, though you can't live chat with customers on the desktop or mobile app in the free version like you can with Freshdesk and Deskero.
Zoho Desk Core Features
Zoho Desk offers basic help desk features for people who want to integrate their help desk functions with their CRM or other customer service and sales tools, which can save agents time by not needing to switch applications. The main features in the free plan include a knowledge base, notification rules, and customer management.
These features allow you to do the following, all for free:
Notification Rules
The free plan includes customizable notification rules that help agents keep track of customer support tickets, even if they are working in other Zoho applications. Unlike other free plans we looked at, users can develop rules that send alerts to both agents and customers when progress is made on a ticket, so nothing falls through the cracks and customers are aware where their request stands.
Knowledge Base
The free version of Zoho Desk has a private knowledge base for agents to create a repository of solutions each agent can access within Zoho Desk. However, it does not offer a public knowledge base for customers to find answers to frequently asked questions.
Customer Management
When you update customer details in Zoho Desk, it automatically updates them in other Zoho products, such as Zoho CRM, making it convenient for businesses that use other Zoho services. You can also assign dedicated agents to specific customers, so other agents know which customers are already working with a particular agent.
Zoho Desk Customer Support
On the free plan, Zoho Desk only provides email support. Paid plans include phone and chat support. If you're looking for free help desk software that offers live chat support or training, Freshdesk may be a better option.
Zoho Desk Mobile App
Zoho Desk offers a mobile app for both iOS and Android users. If you use Zoho CRM, it automatically brings in customer information, giving you knowledge about each customer and past interactions. You can also receive instant notifications about each ticket you're working on, and respond to them while you're out of the office.
Zoho Desk Pricing
The free plan for Zoho Desk is for three users. They also offer paid plans that range from $18 to $45 per user, per month for companies who have more than three agents and want additional features such as product-based tracking, customer happiness ratings, social media ticketing, and agent collision detection.
What Zoho Desk Is Missing
While the free version of Zoho Desk is a solid option for businesses that need basic help desk functionality, it lacks features such as social ticketing and live chat. If you're looking for those features, Freshdesk or Deskero are good alternatives.
What Users Think About Zoho Desk
People who like Zoho Desk say it's well-designed and easy to use. Some people say the customer support is slow and the advanced features available on the paid plans are too expensive.
Where to Find Zoho Desk
Zoho Desk is one service in Zoho's suite of services. It works best when paired with their other products, such as Zoho CRM. Try it today by signing up for the free plan on their website and discover what it has to offer.
Agiloft: Best Free Help Desk Software With Auto-responses

Initially, Agiloft was an internal help desk solution. They then expanded to support end users. Customers can submit requests and, if an agent isn't available, are sent a self-service solution that directs people to the appropriate knowledge base article until an agent is available to follow up. It's a great choice for small teams who can't offer 24/7 live support and need the ability to send automated responses.
Agiloft Ease of Use
Agiloft has a comprehensive feature set that can be very helpful, such as custom API integrations, but it may require a bit more complicated setup than Zoho Desk or other options. It's a powerful tool that's great for tech-savvy users who can set up custom API integrations and who know how to make the most of its rich feature set.
Agiloft Core Features
Agiloft offers a broad range of features and integrations for small businesses to make supporting customers manageable. Their core features include live chat, automated ticket assignment, and long-term case management.
It's benefits include:
Live Chat With Auto-responses
When customers request to chat from the website, a notification will pop up for any agent assigned to chat requests, prompting the agent to accept the request. You can also designate specific working hours or send automated responses if no agents are currently available. Agiloft checks for new chat requests every five minutes by default, but you can also customize how often you want to check for new requests, which you can't customize with any other free option.
Automated Ticket Distribution
Some customer support teams find it difficult to distribute tickets fairly among support agents. Rather than having to do it manually, Agiloft allows you to assign tickets evenly with a round-robin distribution, so everyone receives the same amount of tickets. You can also create custom rules for assigning tickets based on agent expertise or product, which many free plans, such as ngDesk, don't offer.
Long-term Case Management
This is a helpful feature for companies that receive a high volume of technical support requests that aren't typically resolved quickly. Agiloft will send agents proactive alerts if a ticket has been open too long or if it needs to be escalated to a new level for follow up, which we did not find in any other free plans.
Agiloft Customer Support
The free plan includes 30 days of standard support after signing up. They also offer online tutorials, free online training for administrators, and a knowledge base of frequently asked questions (FAQs) for users. However, they do not offer Academy courses or live chat as Freshdesk does.
Agiloft Mobile App
Agiloft offers a mobile app for both iOS and Android users. You can see your last opened records, assigned records, and search, create, edit, and view tickets. However, you cannot send email or live chat through the mobile app.
Agiloft Pricing
Agiloft's free version supports up to five users and has most of the functionality found in its paid plans. You have to contact the company for custom pricing for the licensed version. You must have at least five users, and the paid version offers upgrades and customer support, unlimited email integrations, and API integrations.
What Agiloft Is Missing
While the free version is robust, it can be complicated for users who aren't tech-savvy and more difficult to set up than other help desk options. Agiloft also doesn't offer live support or specialized training for agents on the free plan or the ability to chat with customers on the mobile app like Freshdesk.
What Users Think About Agiloft
Softwareadvice.com reviews say people like that it's a versatile, highly customizable platform. Some users said some of the settings are difficult to implement and it can be daunting to set up.
Where to Find Agiloft
Agiloft is a comprehensive customer support program that allows agents to manage both simple and complex customer service requests with round-robin assignments and intuitive notifications. Sign up for a free plan today by visiting the Agiloft website.
ngDesk: Best Free Help Desk Software for Performance Metrics

ngDesk is a free help desk software option for unlimited users that doesn't have pricing tiers. However, there is a one-time setup cost for those who don't want to do it themselves. It has a great user interface, live chat, and a good knowledge base, but its advanced reporting features are what sets it apart from other free plans. It's a good choice for teams that want to be able to access live performance metrics without upgrading to a paid plan.
ngDesk Ease of Use
ngDesk has a simple setup process that took just a few minutes. After you sign up, you're prompted to go through a short tutorial that guides you through the features. It has an excellent interface that is easy to navigate.
ngDesk Core Features
ngDesk has a good range of features for small businesses to handle support requests. The main features include live chat, a knowledge base, and live performance metrics. It also has a mobile app so you can manage customer support tickets on the go.
These features allow you to do the following:
Live Performance Metrics
ngDesk offers live performance metrics that make analyzing agent performance easy for customer support managers. You can see how productive each agent is via response time and tickets solved and view customer satisfaction ratings with data-driven insights, which is a feature not found in the other free plans we reviewed.
Chat-to-Ticket Conversion
When customers ask a question on the chat widget embedded on your website, it goes in the ngDesk portal where you can chat directly with the customer and turn the chat into a ticket, if needed. You can also archive chats and search for chat history to find out how past support requests were resolved or if there's a recurring issue. You can turn live chat off for an agent, and if no one is online, a request will automatically be turned into a ticket.
Knowledge Base
ngDesk allows you to create a searchable knowledge base to help agents understand how to best answer and resolve customer requests. You can easily create a repository of articles across a range of categories and sections to make it easy to navigate. Unlike Agiloft or Deskero's free plans, you can also restrict the view of certain content based on each user's role or job functions.
ngDesk Customer Support
We didn't see any live chat or support contact information offered by ngDesk. However, they do have a well-organized, robust knowledge base and tutorials on their website. If you're looking for software with more support, consider Freshdesk or Zoho Desk.
ngDesk Mobile App
While it's not mentioned on the website nor found in the knowledge base, there is a mobile app for ngDesk on the iOS app store. You can manage tickets, live chat, and access the knowledge base from your phone.
ngDesk Pricing
ngDesk is free for unlimited users to use. However, there is a cost to set up the software and organize its data. ngDesk can also create customizations for businesses that have special requirements. They do not list any prices for custom setup, so you have to contact the company directly.
What ngDesk Is Missing
ngDesk is easy to use and offers great reports, but it lacks social media ticketing, robust customer support, and the ability to turn phone calls into tickets. However, their website says they will be introducing a phone call feature in the near future, as well as an integrated CRM. If you want a platform with phone call features and social media ticketing, consider Freshdesk.
What Users Think About ngDesk
Many users say they like how easy it is to navigate around the platform and that it has good collaboration features. Some people said the contact management process could be updated.
Where to Find ngDesk
ngDesk is robust software for managing customer support requests that offers live chat, advanced reporting, and agent collaboration features. Sign up for free today to get started by visiting their website and exploring everything the platform has to offer.
osTicket: Best Free Help Desk Software With Collision Detection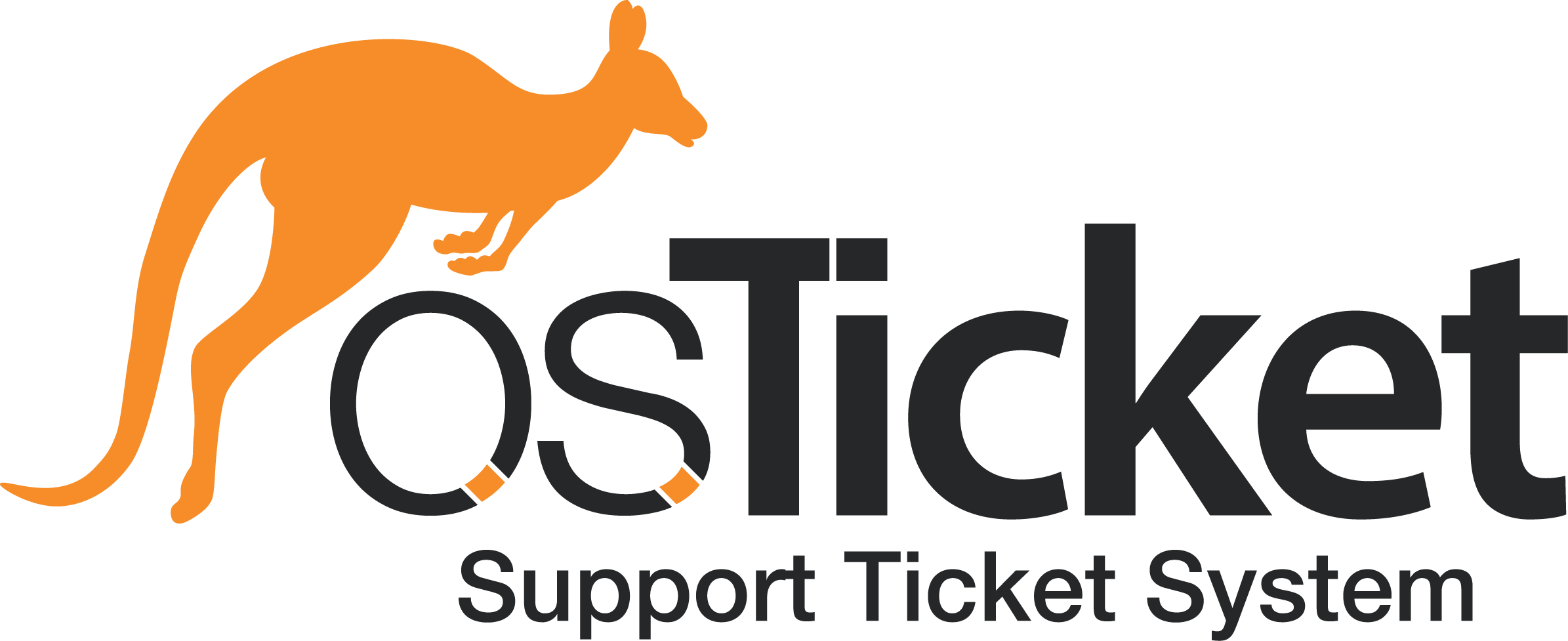 osTicket is ticket management software that allows businesses to create and route customer support requests to different agents, including custom rules to make sure it gets to the right agent and to help prevent it from going to more than one. It's best for companies that have several support agents and want to create specific rules for routing tickets and be able to make sure no two agents end up working on the same ticket.
osTicket Ease of Use
If you're going to use the free version, you need to have some technical skills. You'll have to download a ZIP file, install the program, and be able to self-host it rather than use it on the web. If you want a free cloud-based help desk option, consider any of the other options in this article.
osTicket Core Features
osTicket offers a solid set of features helpful for managing support tickets. Core features include custom fields, agent collision avoidance, and an internal task list for agents. It also offers a read-only mobile app so you can look up information on the go.
Its benefits include:
Agent Collision Avoidance
Agents have the option to lock tickets to prevent conflicting, dual responses to customers. You can also customize the amount of time any agent is able to lock a ticket or see how long the ticket has been locked to avoid a delayed response. We haven't seen this functionality in any other free plan.
Custom Fields
osTicket offers custom fields for each ticket, and customers can choose these fields to make sure the request gets to the right agent. For example, you could create a drop-down list that asks the customer to specify what type of issue they are having, then it will automatically be sent the best agent to handle each customer support ticket.
Internal Task List
osTicket lets users assign tasks to each ticket. Ticket-related tasks prevent the ticket from being closed until every task associated with it is closed. You can also add collaborators (in addition to the agent) to a task to collaborate on customer issues.
osTicket Customer Support
The free plan doesn't offer customer support outside of a community forum. The paid plans have email and phone support and a walk-through session. If you need live customer support, consider Freshdesk's free Sprout plan.
osTicket Mobile App
osTicket has a mobile app for iOS and Android users. However, it's read-only, so you can view tickets, but you can't update them or chat with customers. If you want a more robust mobile app that lets you update tickets on the go, consider Zoho Desk or Freshdesk.
osTicket Pricing
osTicket offers a free version for businesses that are able to host the product themselves on their own server. Paid plans are cloud-hosted and offer customer support ranging from $9 to $16 per user, per month.
What osTicket Is Missing
osTicket is a good choice for businesses with multiple users, but they lack social media ticketing support and cloud-hosting on the free plan. If you're looking for those features, consider Freshdesk.
What Users Think About osTicket
People who like osTicket say they it's easy to use, easy to report tickets to multiple departments, and easy to get answers quickly. Some people say it's difficult to search for specific customers.
Where to Find osTicket
osTicket helps small to medium-sized businesses route customer support tickets to the right agent so issues are solved quickly to keep customers happy. Sign up for free by visiting their website and creating an account.
Bottom Line: Free Help Desk Software
Help desk systems make managing customer inquiries simple by routing customer support tickets, helping agents collaborate, and analyzing performance. It streamlines the customer support process by creating a system that automatically tracks each ticket rather than simply answering phone calls and replying to emails, keeping customers happy and engaged.
If you're looking for help desk software for your business, we suggest Freshdesk. The free version has a broad set of features, including social media ticketing and robust customer support. Visit their website today and sign up for free.