An invoice is usually created to bill a customer for a sale after the goods or services have been delivered. This is also known as a credit sale. Once you create the invoice, you want to keep one on file and send one to your customer after you have shipped their products or provided services to them. The benefits of generating an invoice are as follows:
It allows you as the business owner to keep track of what your customers owe you (accounts receivable)
It provides your customers with the details of the products or services that they purchased, the cost, and when payment is due.
If you use QuickBooks Online, you can use it to create, send, and track invoices. If you don't use QuickBooks, use our free invoice template below.
Free Customer Invoice Template
Click here to access the invoice template as a Google Sheet, and here to access as an Excel Spreadsheet. This template was created in Excel and has all of the key elements that should be included on an invoice. It also has fields that will automatically calculate a discount, sales tax, and subtotals. In the next section, we'll explain what to include in your invoices.
What To Include In Your Invoice
You should typically include the following information in your invoices.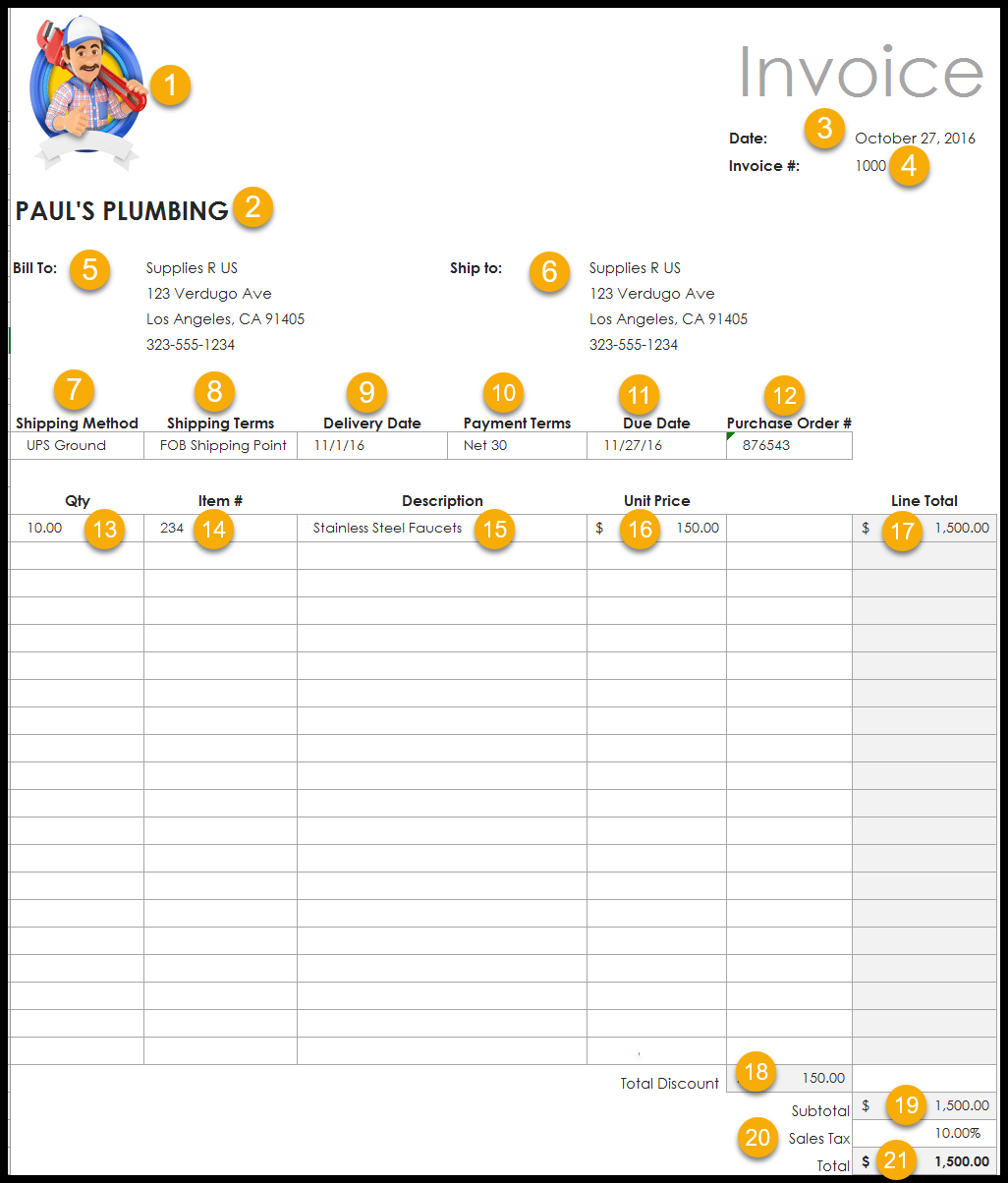 Invoice # – This should be a unique number that you assign manually or that your accounting software will generate for each invoice. Having this reference number will help you to apply payments received from customers to the right invoices. It also helps a customer when they need to call you about an invoice because you can quickly answer their questions if they provide you with the invoice number.
Invoice Date – This should be the date you generate and send the invoice.
Business Name – For some tips on how to name a business, click here to read our article.
Business Logo – If you don't have a logo, then read our article on business logo design.
Bill To – This is the customer's billing address.
Ship To – If you are shipping products to a customer and the address that you need to ship the products to is different from the bill to address, then this information is crucial to ensure the products ordered make it to the right destination.
Shipping method – Indicate how the product was shipped (e.g. UPS, FedEx, or USPS)
Shipping Terms – If you are shipping products, then based on your agreement with your customer, you need to indicated either FOB Shipping Point or FOB Destination. FOB Shipping point means that the buyer is responsible for the goods once the product has left the seller's warehouse. The buyer owns the product and is responsible for any shipping and delivery costs involved. FOB Destination means that the buyer does not take ownership of the goods until they arrive at their destination. Any shipping or delivery costs are the responsibility of the seller.
Delivery Date – Indicate the expected date that the product should arrive at the customer's destination.
Payment Terms – This is based on the length of time you give your customer to pay you (i.e. Net 30 which means that the due date is 30 days from the invoice date). Payment terms are very important because they determine when you get paid, which directly affects your cash flow. Take a few minutes to read our article on what the best invoice terms are for your business. You may opt to charge your customer a late fee if they don't pay the invoice on time. If so, you should note in the invoice that late payment is subject to a fine.
Due Date – This is when payment is due from the customer.
Purchase Order # – Some companies must get approval prior to purchasing products or services. Typically, if you work with schools or any government agency, they must complete a purchase order before they can place an order. To make sure payment is not delayed, you must include the purchase order number on the invoice.
Quantity – Enter the quantity for products sold or the number of hours if you bill in hours for services.
Item # – Use this field if you have products with unique item numbers; otherwise, if the products that you sell do not have items numbers or if you sell services, you can leave this field blank.
Description – Be as detailed as you can here so that the customer knows exactly what you are billing them for (e.g. stainless steel faucets).
Unit Price – Enter the per unit cost of the product or service sold.
Line Total – The template will multiply the quantity column and the unit price column to get this line total.
Discount (if applicable) – If you want to apply a discount, then you can do so as follows:

Percentage – Edit the formula in this field by entering the percentage discount in the template that you would like to give to your customer. The formula will automatically calculate the discount and deduct it from the overall total amount due. For example, in the Total Discount field of the above invoice, I have a formula that multiplies the Subtotal of the invoice ($1500) by .10. This gives my customer a 10% discount. Just change the 0.1 to the discount rate that you would like to give your customer. (Note: The Total Discount field will show #VALUE until you start entering the fields with numbers).
Flat amount – delete the formula and just enter the dollar amount of the discount. For example, you would enter 10.00 to give your customer a ten dollar discount.

Subtotal – Total amount before discount and sales tax are applied.
Sales Tax (if applicable) – Enter the sales tax rate (without the %) that you charge in this field of the template, and the template will automatically calculate the sales tax amount before the discount (if any) is applied. The sales tax amount will be added to the total amount due as indicated below:
Total amount due – This template will add up each line item total, sales tax, and the discount totals to get to the total amount due.
Late Fees & Penalties – If you want to apply late fees or penalties, you could either add them underneath the products and services items and then just type in a flat amount or base it on a percentage of the overall amount due. (i.e. 1%). I also recommend that you notify your customers by having the info appear on the invoice as we have done in the your business info section below.
Your business info – Your mailing address is located at the bottom of the invoice so that customers know where they need to mail their checks and what other forms of payment you accept. For instance, you could provide customers the option to pay online or by phone with a credit card. To learn more, read our article on how to accept credit card payments. You should provide your contact info if customers have questions as indicated in the screenshot below:
Using Accounting Software and Other Methods to Create Invoices
The three most common ways to create invoices are accounting software programs like QuickBooks Online, Microsoft Word, and Excel spreadsheets. Here are a few of the pros and cons of using one of these options to create an invoice.
Creating Invoices with Accounting Software
Pros
Using an accounting software program like QuickBooks Online is the best way to invoice your customers. Some of the pros and cons of using an accounting software program are as follows:
All accounting software programs have preset invoice templates installed in the program that you can choose from.
Most accounting software programs allow you to customize the templates to add your company information such as your company logo, website and contact info.
All accounting software programs automatically calculate the invoice totals for you. No formulas or manual calculations required.
Some accounting programs like QuickBooks Online let you customize the look and feel of the invoice, including column headings and positioning and where your company logo appears on the invoice.
Up-to-date reports that provide you with detailed information about the sales and services sold to customers
Up-to-date reports that give you the total amount that your customers owe you and how long the invoice has been outstanding.
When a customer pays you, you can easily mark the invoice as paid which will automatically update your account balances and financial statements.
Cons
You have access to fewer templates compared to Microsoft Word or Excel.
There's a cost to purchase the accounting software program unless you go with a free option like Wave. You should also keep in mind, however, that accounting software does a lot more than just create invoices for customers. You can manage other accounting tasks like paying bills, paying employees, and managing all bank and credit card transactions in most accounting software programs. Click here to read buyer's guide for the best accounting software programs.
Creating Invoices In Excel
If you create less than 10 customer invoices per month and you don't have many expenses to keep track of, then Excel is the next best things to using an accounting software program. As you may have noticed, I used Excel to create the free template at the top that I have shared with you.
Here are the pros and cons to using Excel to create invoices:
Pros
Using Excel to create an Invoice template allows you to:
Access over 200 customizable invoice templates.
Create formulas so that certain columns like total amount will automatically calculate.
Create an Excel workbook for each customer so that you can keep track of all of their invoices in one Excel file. If your customer calls with a question, you can quickly open their file and look up the information that you need.
Cons
The downside to using Excel to create an Invoice template is:
It is a manual process to set up.
While you don't need to be an Excel guru, it helps if you understand the basics of creating formulas, worksheets, and workbooks.
It is easy to make mistakes when it comes to calculations.
Creating Invoices in Microsoft Word
If you don't have access to Excel or Google Sheets or you create 5 or fewer invoices per month, then I suggest using Microsoft Word to create customer invoices.
Here are the pros and cons to using Word to create invoices:
Pros
Using Word to create an Invoice template allows you to:
Access over 200 templates from the Microsoft library so that you don't have to start from scratch.
Customize the templates with your company logo and contact info like your website.
Add/Delete columns of information to customize it for your business needs.
Cons
The downside to using Word to create an Invoice template is:
It is a manual process to set up.
Unlike Excel, there is no way to add formulas to calculate discounts, sales tax, and subtotals. As a result, you are more likely to make mistakes because you have to do the calculations manually and then type them into the invoice template.
You are not able to have more than one customer invoice in a Word document. Therefore, you will have to find a way to quickly locate a customer's invoice if you need to.
Bottom Line
If possible, try and use accounting software to invoice your customers. In the long run, it will save you a lot of time that you could spend doing other things that will actually grow your business. If you are not able to use an accounting software program right away then go with Excel so that you can minimize calculation errors and keep each customer's invoices organized in one file.