Hosting an open house is one of the best ways to find serious buyers. For realtors, it's also a great way to meet and exchange information with new prospects. To ensure you make the most of your event, a unique and eye catching real estate open house flyer is essential.
We've created a flyer below which you can download for free and edit to match your listing. You can also check out the flyer templates at ProspectsPLUS!®, a company that specializes in real estate marketing materials. They have a number of top-notch flyers for real estate agents. Use these free open house flyer templates to create a flyer for your event.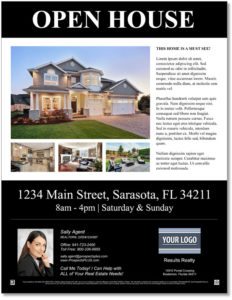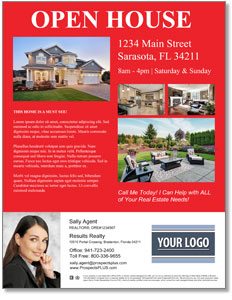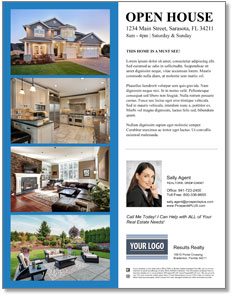 To access these free templates, simply log-in or create an account with ProspectsPLUS!® to see all the templates and customize them for your event. Make sure you choose "PDF download only" to get the free template. Once you confirm your final proof, add the template to your cart. The original price of this template is $19.99, but use the code FSBPDF to get it for free! This will total the cart to zero and you can then submit your order.
Other Do-it-Yourself Open House Flyer Options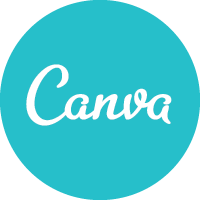 If our template doesn't quite work for your tastes, there are services that let you design real estate flyers. Three that we like are Canva, ProspectsPLUS!®, and My Creative Shop.
Let's look at each service in more detail.
Canva is an online service that let's you design flyers, cards, images for email marketing, and much more. They have hundreds of great templates that you can upload your listing photos into and customize. If you have a few minutes, Canva is a great option for creating a killer open house flyer. Best of all, Canva is 100% free for basic flyers and graphics.
Here's a flyer I made for an imaginary (and very cat friendly) listing with Canva: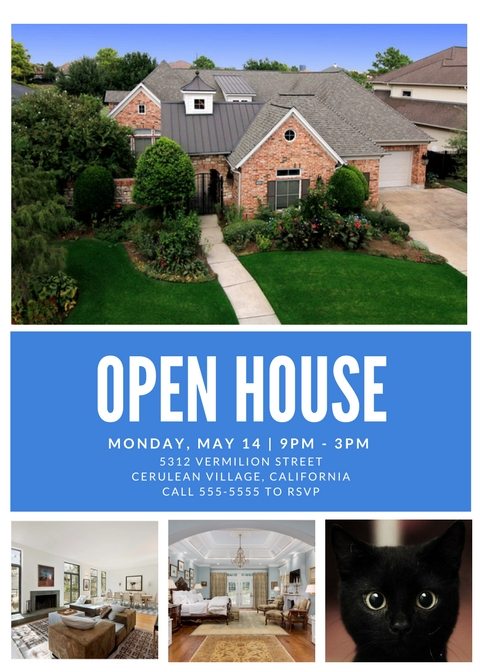 Want someplace you can design, print, and mail your flyers all in one shot? If so, ProspectsPLUS!® Is another great option. They have dozens of editable templates with logos for all the largest brokerages, as well as a ton of other marketing materials like door hangers, postcards, business cards and more.
Here's a flyer I made on ProspectsPLUS!®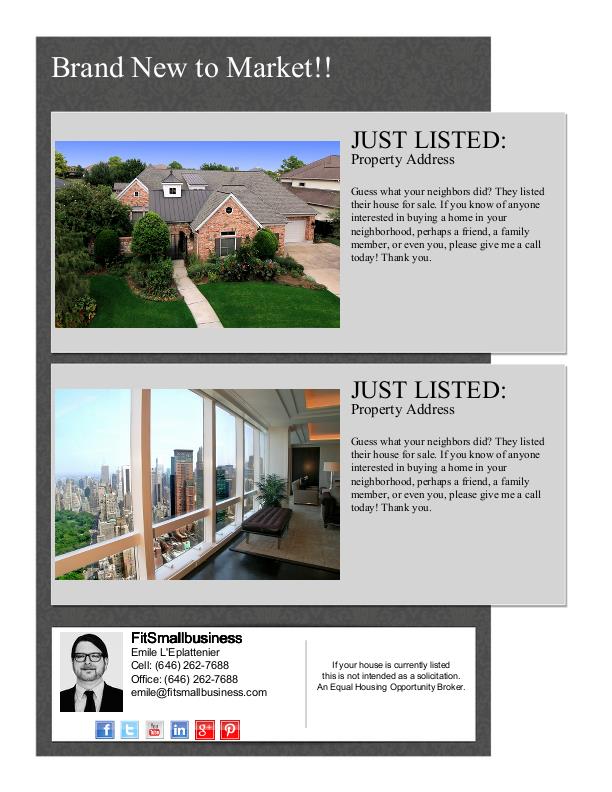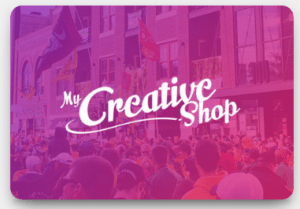 My Creative Shop is another option for designing flyers. They have great templates (including door hangers!) and editing options. The only drawback is that there's no free option like with Canva. Here's a flyer for another imaginary (and also very cat friendly) open house.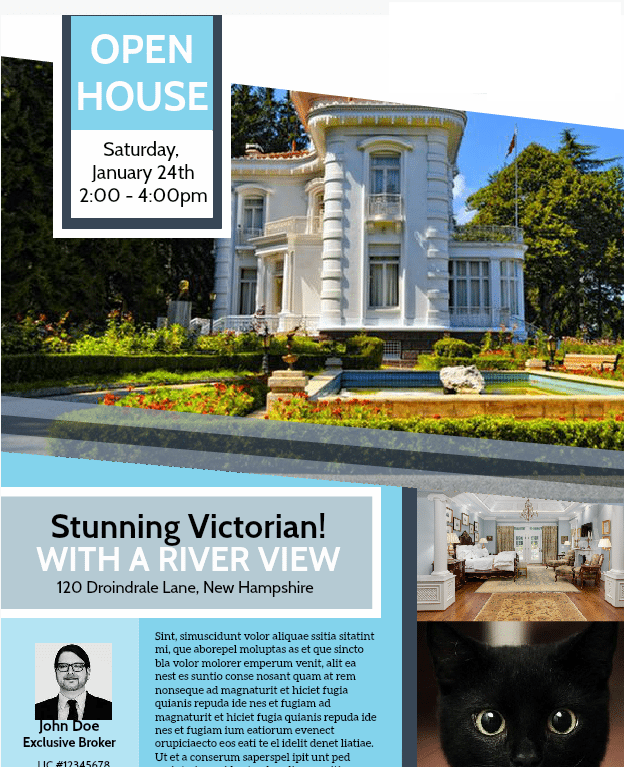 Hiring a Professional for Your Open House Flyers
If you're still not finding what you're looking for, your last option is to call in the professionals. Don't worry though, you can get a pretty amazing professionally designed flyer for less than you probably pay for coffee and bagels with a client.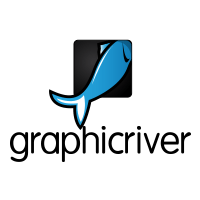 The main benefit of using a template site like Graphic River, is that the design quality is generally much better than DIY sites or printing companies. You will need to edit them yourself, but they will look pretty awesome.
The great flyer template below from Graphic River is only $8. To edit flyers from Graphic River, you're going to need access to photoshop. If you don't have photoshop, you can easily hire someone on Fiverr who will edit the flyer for $5.
If you're still not getting the results you want, then you're going to have to hire a professional graphic designer to design a custom flyer for you. This can get a little bit pricey, but at the end of the day you should be able to get exactly what you want.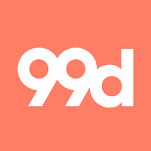 99Designs is a great way to find and hire a talented graphic designer for your flyer project. Here's how it works. You submit a design brief to 99 Designs that says what you're looking for along with examples of designs you like, then dozens of talented designers from around the world start making mock ups of your design. Once they're done, you choose the one you like the best then start working with that designer to refine the design.
Generally speaking, the graphic designers on 99Designs will be more talented than a designer on Fiverr. As far as turnaround goes, most contests on 99Designs will run for 7 days. That said, you can end the contest as soon as you get a design you are happy with. However, since you will be able to reuse your flyer again and again, it makes sense to see as many submissions as possible. It's also not cheap (prices start at $299) compared to other services, so make sure you get your money's worth.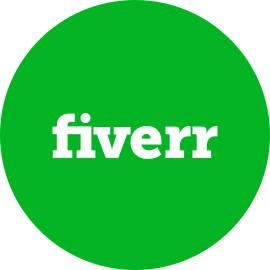 Fiverr is another great place to hire a designer to create flyers quickly and cheaply. You can either bring them a design template from a site like Grahic River, or send a designer examples of other real estate flyers you like. The designer you hire can then emulate those flyers and design something similar for you.
The only caveat here is that the quality of designers on Fiverr can vary pretty dramatically, so make sure to look for a designer with good reviews and sample projects that look great. As far as turnaround goes, it shouldn't take a good designer more than an hour or so to edit your flyer. If they're not very busy, you should be able to get your edited flyer back on the same day.
What To Include In An Open House Flyer
You have two main goals with a real estate open house flyer and what we designed for our open house flyer template:
You want to showcase your listing. Like just listed or just sold postcards, you want to use attractive photos, a short description, and bullet points to highlight your home.
You want to emphasize the event. The key takeaway from the flyer should be that there's an open house on XX date. That's why our open house flyer template has these words emphasized more than everything else.
Here's everything you should include on your real estate flyer:
The open house date & time
4 to 6 high quality photos, including a "main photo" of the front of the house
Bullet points of home features, including number of bedrooms, bathrooms, square footage, special features, etc.
Asking price
Home address – not necessarily emphasized, but definitely large and legible
A short listing description – 3 to 4 sentences.
Your headshot + contact information.
While you're working on your flyer, you also might want to draw up a sign-in sheet. That way, you're sure to get contact info for everyone that comes through your open house and can follow up right away. You can make your own sign-in sheet, or just print out one of our open house sign-in sheet templates.
Where to Distribute Your Open House Flyers
The Neighbors – A few days before your open house is scheduled, take a few hours to walk the neighborhood and personally invite people to your open house. While few neighbors will be interested in moving down the block, they may have friends or relatives who are. This is also a great way to build authority in your farm area.
Local Coffee Shops and Cafes – Local coffee shops and cafes usually have a bulletin board for event flyers. When in doubt, always ask permission before hanging your flyer.
Local Community Centers – Community centers will also sometimes have bulletin boards for local events.
Local Supermarkets – This may be a Northeast thing, but many supermarkets or small gourmet markets may have bulletin boards for local services and events.
Other Small Businesses – Small boutiques, gift shops, bookstores, and galleries can also be great places to put up your fliers. Even better, you can build relationships with local shop owners.
Telephone Poles – While technically not legal in some areas, many communities use telephone poles for ad hoc bulletin boards. As a rule of thumb, if you see flyers posted on telephone poles already, then chances are enforcement is not strict. Even so, you should always use tape and NOT staples or nails. And NEVER post your flyers on trees!
Areas to Target – When choosing an area to target, always think like a potential buyer. The surrounding community or local downtown is an obvious choice. If you're in a big city, go where the people are. Subway stations, bus stops, or other crowded places will mean more eyeballs on your flyer.
Flyer boxes on your real estate signs – If flyer boxes work well in your area (i.e. no rain, lots of foot traffic) then adding a box to your open house sign can be a great idea. Just make sure to keep it well stocked.
The Bottom Line
Our free open house flyer template gives you a quick and easy way to design a flyer for your next showing. To print your flyer, we recommend using ProspectsPLUS!®. You can either upload your finished template and print from there, or you can work with one of their many real estate flyer templates.