Freedom Trail Realty School Review 2023: Pricing & Features
Freedom Trail Realty School is an online real estate school located in Boston, Massachusetts, providing prelicensing, broker licensing, state reciprocity, and continuing education courses. It offers livestream and on-demand classes in various packages that include access to materials and exam preparation questions.
Freedom Trail Realty reviews show that students are happy with the quality and convenience of its education. It's best for students who live in the New England region and want to complete their education quickly.
Visit Freedom Trail Realty School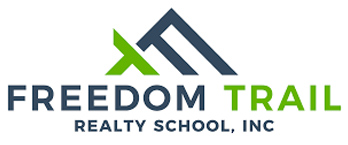 Pros
Livestream and on-demand classes
Can be completed in as little as five days
Pass or Don't Pay guarantee
Courses taught by experienced professionals
On-demand class review available
Broker recruitment program for career development
Cons
Covers a minimum number of states
Continuing education only available in Massachusetts
Limited exam prep
CT and RI classes reciprocity only
Who Freedom Trail Realty School Is Recommended For
New agents starting a career in real estate
Students who want a variety of course formats at a competitive price
Real estate agents looking to obtain a second license via reciprocity
Busy students who want to finish their course in as few as 5 days
Students who want a pass guarantee
Who Freedom Trail Realty School Is Not Recommended For
Students outside of Massachusetts (MA), Connecticut (CT), Rhode Island (RI), and New Hampshire (NH)
Non-MA licensees who need CE credits
Students who want state-specific exam prep tools
Prelicensing courses: Starting at $229
Broker licensing courses: Staring at $349
Continuing education courses: Starting at $15
Reciprocity courses: Starting at $129
Exam prep: Included in packages
---
---
Visit Freedom Trail Realty School
Freedom Trail Realty School Reviews: What Users Think
Freedom Trail Realty School reviews were limited because it's only available to a few New England states. Students thought the classes were easy to follow, and the materials helped them pass the exam on the first try. Some Freedom Trail Real Estate reviews mentioned students were able to complete the course in two weeks and get their licenses within a month. Students also liked working at their own pace and having access to the instructors via livestream classes.
Indeed: 4.8 out of 5 based on 18 reviews
Google Reviews: 4.9 out of 5 based on 97 reviews
Yelp: 4.5 out of 5 based on 26 reviews
Most Freedom Trail Realty School reviews were positive, but one student said he felt the livestream course was too long, not engaging, and the instructors spent too much time answering questions in the chat. A few students reported that the classes were boring for them. Students who prefer self-study courses instead of livestream classes should consider Colibri Real Estate.
Would Our Expert Use Freedom Trail Realty School?
Our favorite feature of Freedom Trail Realty School is the depth of experience of the instructors. We like that the salesperson licensing course offered by the school can be split into both livestream and on-demand videos and can be completed within a month. This allows flexibility to complete the course and meets the Massachusetts requirement for classroom-based learning.
However, available continuing education (CE) classes are limited and only available for MA licensees. For a greater variety of continuing education classes available in nearly every state, we'd choose McKissock Learning, which offers both CE packages and a wider variety of individual CE classes.
Types of Education Available at Freedom Trail Realty School
Freedom Trail Real Estate School offers quality real estate education to new students who want to obtain a Massachusetts or New Hampshire real estate salesperson license. In addition, it offers brokers prelicensing and continuing education in MA. It also provides reciprocity classes in NH, MA, RI, and CT.
Prelicensing
Freedom Trail Realty School includes 24/7 access to on-demand courses that can be combined with livestream classes. E-books are included with each package. The livestream classes are available on days, nights, and weekends to accommodate busy schedules. Combining livestream with on-demand classes gives students maximum flexibility and meets the MA state requirement for 20 hours of in-person class time.
The Base package is suitable for students with real estate experience and can work independently. Students who prefer taking the total 40 hours in a live classroom format should look at the Ridgeline package. The Peak package is best for students who are brand-new to real estate and want access to all of the available course features. The Summit package is suited to students who want private tutoring and extra test prep.
Base Package

Ridgeline Package*

Peak Package

Summit Package

MA or NH salesperson course
E-book
Audiobook*
Unlimited on-demand access*
25-hour livestream access/45 for NH
Over 1,100 practice questions/500 for NH
6 months to complete
Digital flashcards (MA)
How to study guide and planner
Job board and job recruiting
Alumni group invite

Everything in the Base package plus:

Real Estate Forms 101 course
40-hour livestream access
Over 1,100 practice questions
9 months to complete

This package is only available for CT Reciprocity & MA prelicensing

Everything in the MA-only Ridgeline package plus:

60-hour livestream access/50 NH
Over 1,700 practice questions/700 NH
12 months to complete/6 months NH
Pass or don't pay guarantee
Archived live class recordings
Unlimited practice tests

Everything in the Peak package plus:

100-hour livestream access/80 NH
Three online tutoring sessions*
Architecture class*
NH has only 6 months to complete
*Available in MA only
All Freedom Trail Real Estate School prelicensing options are self-paced and can be completed on any device. Depending on the plan purchased, students are capped at the number of livestreaming hours they can take. Prelicensing options vary for MA and NH. There are only three prelicensing packages for RI and NH, and with fewer features for reciprocity and prelicensing.
The reciprocal classes for CT are similar to the MA prelicensing packages. MA and NH reciprocity is a non-credit course for students who are licensed in another state and want to understand the process of getting a MA salesperson license.
Available exclusively in MA, Freedom Trail Realty School offers up to 18 continuing education credits. Students can purchase individual classes or a 12-credit package. All classes offer immediate course access, live chat support, access to alumni groups, and networking. Students can track their progress and receive certificates of completion. It's a good solution for MA students who want all 12 required credits in a single package and post-class access to their records.
Broker Education is only offered in MA and includes two packages: Basic and Summit. These packages offer the same features as their prelicensing counterparts, only the curriculum is designed for MA broker's licensing. In addition to the licensing course, the Summit package adds two additional courses in Real Estate Law and Brokerage Relationships and removes Real Estate Forms and Architecture.
All courses except RI reciprocity include exam preparation practice questions. RI reciprocity packages include full practice exams. There are from 500 to 1,700 practice questions in the packages. Each course also includes flashcards, a planner, and study guides. The Peak and Summit packages add tutoring and unlimited practice tests. The NH Peak and Summit packages offer unlimited practice tests. All three NH packages have fewer practice questions than MA.
Freedom Trail Realty School Alternatives
Freedom Trail Realty School focuses exclusively on MA, NH, RI, and CT prelicensing and reciprocity. For students needing courses outside of that area, many alternative real estate schools cover more states.
Schools

Best For

Experienced MA agents who are looking for a broker's license

Students who want peace of mind with a pass guarantee

Licensees who want a wider variety of CE classes

Students who want extra help with exam prep in their prelicensing course

Key Features

Online self-study
State-approved instructor support
Discussion board
MA-approved e-books for some courses

Prelicensing pass guarantee
National and state exam prep
Business growth courses
Career resources

A la carte CE classes
NH and MA combo CE packages for multi-state licensees
MA prelicensing exam prep

Self-paced
Livestream classes
On-demand videos
Prelicensing, broker, and CE

Starting Price

$429

$269

$299

$70

Learn More
Freedom Trail Realty School Pricing & Plans
Freedom Trail Realty School pricing varies by package and type of licensing. Classes include livestream and on-demand format in every package. Continuing education for MA licensees can be purchased as a package or as individual classes. The package is much less expensive than buying individual classes, but if a student only needs filler classes to complement classes they've already taken, individual classes are inexpensive.
Plans*

Salesperson Prelicensing

Broker Licensing

Continuing Education

Reciprocity for MA, NH, CT, RI

Who Plan Is Best For

Prelicensees who want a MA or NH salesperson license

MA agents who want to upgrade their salesperson license

Students who want a CE package at an affordable price

Agents in a neighboring state who want a reciprocal license

Annual Price Range

($/Month)

$229 to $499

$349 to $499

$10 to $59

$129 to $499

Exam Prep Tools

✓

✓

✕

✓

E-book & Audiobook

✓

✓

✕

✓

Livestream Classes

✓

✓

✕

✓

On-demand Access

✓

✓

✓

✓

For Credit Course

✓

✓

✓

✓

Tutoring

✓

✓

✕

✓

Pass or Don't Pay Guarantee

✓

✕

✕

✓

Job Board Access

✓

✓

✕

✓

Digital Audio Archives

✓

✕

✕

✓
*Features only available in some packages and for some states
General Freedom Trail Realty School Features
Freedom Trail Realty School is the first real estate school to create an online licensing course in Massachusetts. The features offer students flexibility and the option to either take the full course in livestream classes or combine half on-demand and half live online.
Freedom Trail Realty School key features include the following:
Seven days per week livestream classes
Recorded class archives
Pass or Don't Pay Guarantee
Real estate job board
These options give students the flexibility to tailor their education with either livestream classes or a combination of livestream and on-demand classes. Both options are tracked directly on the platform dashboard so students can keep apprised of their progress. The Pass or Don't Pay guarantee allows students to retake the course if they don't pass the exam.
Most students pass their exams on the first try because of the education from professional and experienced real estate instructors. When they've passed their exam, they have access to a real estate job board to explore careers available to licensees.
On-demand 24/7 access
Multiple day and weekend livestream classes
Can be combined
Interactive classroom
Freedom Trail Realty School students can access their on-demand classes anytime from any device. The livestream courses run on days, evenings, and weekends. The Massachusetts Board of Licensing and Registration requires students complete at least 20 of the 40-hour requirement in a classroom, so students can take all their classes livestream, or take 20 hours in class combined with 20 hours livestream. These options are designed to benefit students' busy schedules.
Freedom Trail Realty School's on-demand courses
The online live classes are interactive, and students can access the courses from their account dashboard. All livestream classes are recorded, so students can review classes as needed. Licensed real estate professionals with experience in the field teach all classes. Students can use the livestream chat feature to ask them questions during classes.
---
Pass guarantee available in some packages
Six to 12 months' access to course materials
Peace of mind during exams
The company offers a one-time refund from your first failed exam under its Pass or Don't Pay Guarantee in packages that include it. You need to submit a failing test score within 30 days of your exam and have a score above 85% on the practice exams. Exams have to be taken within 90 days of completing your course.
---
Instructor's experience from 6 to 23 years
Accessible in livestream classes
Real estate professionals from diverse fields
All of Freedom Trail Realty School's instructors are licensed in MA or NH as well as other states. In addition to real estate licenses, two of the MA instructors include an attorney and a mortgage loan originator. Students benefit from learning from instructors who are not only teachers, they are doers.
Livestreaming courses by Freedom Trail Realty School
Instructors are accessible to students during the livestream classes, and the classes include a chat feature. Freedom Trail Realty School reviews mentioned that the chats are lively and instructors readily answer student questions.
---
Keep track of course completion rate
Track on-demand and livestream classes
Certificate of completion
With 40 hours of classes for prelicensing, students can easily lose track of their progress. With Freedom Trail Realty School, the course dashboard records how much class time students have finished and used course materials. Students can also click checkboxes to keep track of the courses they've finished.
Tracking and having long-term access to records is essential should the board of registration audit a licensee's CE records. Another benefit is students have continued access to their records when they've completed their course or class.
---
Included in every course package
Can opt in to recruiting program
Access to school alumni group
All Freedom Trail Realty School packages include access to the real estate job board so new licensees looking for a brokerage can see which companies are currently recruiting. The job board is accessible through the online platform. Students can search by location, name of company, and job title. They can also opt in to be contacted directly by agencies that are looking for new agents.
Job board search results by city
Once students have finished their course, they also get access to alumni groups. This is a great benefit for peer-to-peer support, networking, growing a real estate career, and giving seller and buyer referrals to agents outside their territory.
---
Up-to-date forms for a changing market
Available 24/7
Accessible on all devices
This standalone on-demand course is one hour long and covers how to use the most common real estate forms. It's a great addition for those who want to review or stay on top of the most up-to-date real estate documents. It is also added as a purchase incentive in the three higher-level packages.
It includes lease agreements, disclosures, purchase and sales agreements, and the most common residential real estate forms. The instructor has over 15 years of experience, so students can learn from an expert. The cost of the course is $29, making it affordable for students on a budget.
---
Ease of Use
Freedom Trail Realty School reviews showed that the platform is easy to use. Students purchase a package or CE classes and get instant access to their course information. The dashboard has a progress bar so they know how close they are to completion. Course materials are also easy to view online. Every livestream class session students attend is recorded and accessible on their accounts if they want to review the information before an exam.
Bottom Line
Freedom Trail Real Estate reviews show that its livestream and on-demand classes are a good option for students who want a MA or NH real estate salesperson's license. It's also an excellent choice for RI and CT licensed students who want a reciprocal MA license. With day, evening, and weekend livestream classes, combined with on-demand classes, students can finish their course quickly. Freedom Trail Realty School has everything NH and MA prospective licensees need to ace their exams.