Unishippers is a freight broker for businesses who regularly ship large orders. This can be both domestic and international orders, and they can range in size from full truckloads to UPS packages.
As a freight broker, Unishippers does not actually make deliveries. Rather, they help you find the best carrier based on shipping time & price. Now you might be wondering, why do I need a middleman if I can ship orders myself? There's actually a few key advantages:
Unishippers Advantages
Lower Shipping Costs

. Thanks to their volume discounts, UPS and freight carriers charge less than they would if you shipped on your own.

Comparison Shopping.

Unishippers provides an online search tool and one-to-one help to find the best carriers & rates.

Convenience and Support.

You get a consolidated bill for all your shipping, plus an agent to advocate on your behalf when shipments are damaged.
If you're not familiar with how volume discounts work, here's the gist: When a business has a contract with a carrier like UPS, they can typically negotiate lower shipping rates. This is especially true for larger companies, since the more packages you ship, the larger the discount you can receive.
The logic behind Unishippers is they combine all their clients into one account. Thus, with thousands of packages going out each day, their volume discounts are much greater than the ones you would receive on your own (if you receive any discount at all.)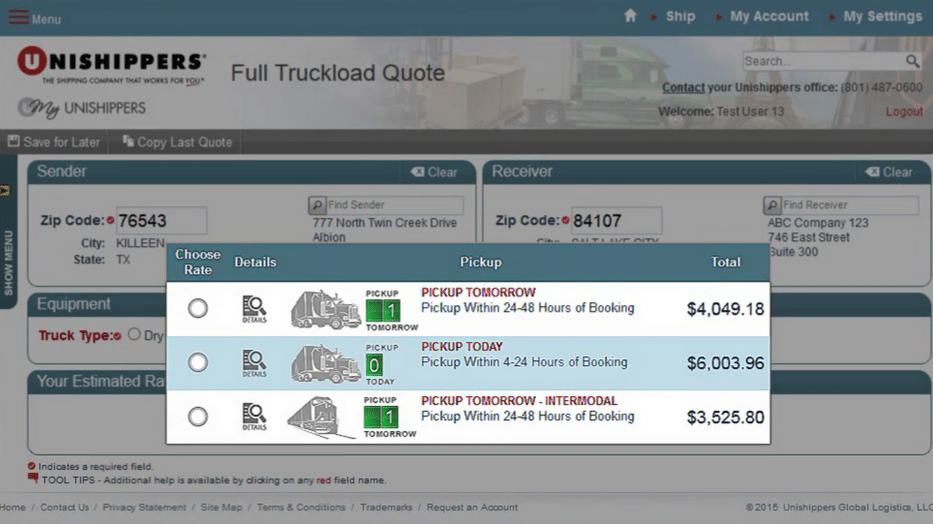 If you have larger freight orders to ship, however, you can save money just by using their Freight Manager Online Tool (pictured above). Unishippers partners with over 30 freight companies, including full truckload, less-than-truckload, air freight, international freight, ocean freight and more. When you enter a new order, you're presented with offers from several different carriers. Thus, you can choose the one with the best rates or the fastest delivery time – whatever you need for that particular order.
Unishippers Disadvantages
Unishippers is ideal for businesses with large and heavy orders. If a lot of your packages are under 10 lbs, it can actually be cheaper to ship items on your own. Here's why:
Unishippers does not use USPS or FedEx.

They exclusively ship UPS for smaller orders.
Why does this matter? It's actually much cheaper to ship lighter packages via USPS. For example, a 3 lb envelope can be delivered overnight across the country for $19.99 from USPS (thanks to their flat rate envelopes) versus $76.13 from UPS. For 2-day shipping, USPS would cost $15.50 while UPS would cost $40.68. (For more examples check out our comparison guide of USPS, FedEx and UPS here)
I heard this same sentiment from several different UPS and Unishippers customers. Domestically, USPS orders under 10 lbs can go out much cheaper and faster, thanks in part thanks to their flat rate envelopes and packages. For international orders, the weight limit is much higher. As one business owner explained, a 55 lb package of machine parts could be shipped to the UK for $160 via USPS versus $288 from UPS.
When it comes to heavier domestic orders, however, the price differences level out. This is especially true for ground shipping. UPS can actually ship 10 lb package on the ground from New York to LA cheaper and faster than USPS. The cost is $23.23 for 4-day shipping from UPS versus $29.22 for 1-week shipping via USPS. (For more examples, check out our comparison guide)
How Much Money Will I Save with Unishippers?
So now that you know when it's ideal to use Unishippers as a freight broker, you probably want to know how much money you can save. Unfortunately the exact numbers are not readily available, in part because UPS does not permit clients to disclose their discount rate. However, based on what some business owners have said on Practical Machinist, a manufacturing forum, and from what I was told by a Unishippers representative, customers can expect to save 10-20% on average.
The volume discount applies not only to UPS, but all of their 30+ freight carriers. One user noted that the rates are actually best for shipments above 100 lbs:
I've found them to be very good at getting the best rates for 100-4000 lb shipments. They have good people for getting the exact class and nmfc #ers in real time which can reduce costs. Also, for the few problems I've had with the 400 or so shipments I've used them for, they are a good advocate if there is freight damage re getting a claim settled.
Customer Satisfaction
Because Unishippers is a franchise, their reputation varies from location to location. Though mostly positive, there are some mixed reviews on Yelp and in various online forums. The biggest complaints seemed to be about billing – charges that are higher than expected. Unishippers contends this is because of inaccurate weight estimates. You'll only be quoted the accurate amount if you enter in weight and dimensions correctly. (see more here)
That said, Unishippers has a surprisingly high rating from employees on Glassdoor. It has 3.9 out of 5 stars based on 82 employee reviews.
The Bottom Line: When You Can Save By Using a Freight Broker
Whether or not Unishippers can save you money depends on the types of products you ship. If you send a lot of FTL or LTL shipments, the comparison tool will almost certainly come in handy. Likewise, if you send a lot of heavy parts (over 10lbs) in smaller packages, their UPS discount can make them very worthwhile. For lighter packages, however, it's worth taking a look at USPS instead.