A fulfillment center is a business that provides outsourced inventory storage, order packing and shipping services to ecommerce sellers and other companies that store and ship goods. With fulfillment centers covering these time-consuming tasks, small businesses owners can focus on growth. Outsourcing fulfillment is more flexible and often more economical than an in-house operation.
Outsourcing fulfillment successfully depends on finding the right fulfillment center to work with. If you're a small or startup ecommerce businesses, start your search with ShipBob. It provides economical fulfillment and two-day shipping services for businesses selling on one or more online channels — from Shopify, WooCommerce, and Walmart sellers to subscription box businesses and crowdfunding campaigns. Click here for a free quote.
What is a Fulfillment Center?
A fulfillment center is a company that handles product storage and order shipping operations for other businesses. Inventory storage and management and order processing, packing and shipping are core services that fulfillment centers provide. Fulfillment center costs will vary based on the types of goods a business sells and overall product storage and sales volume.
Small and growing businesses often find outsourcing order fulfillment to be more efficient, economical and flexible than managing in-house facilities, systems and staff. A fulfillment center not only handles many time-consuming tasks, but it can also scale up or down to meet demand easily. This gives business owners the freedom to focus on growth-driving activities rather than fulfillment tasks and overhead.
A fulfillment center generally covers five key operational tasks for ecommerce clients: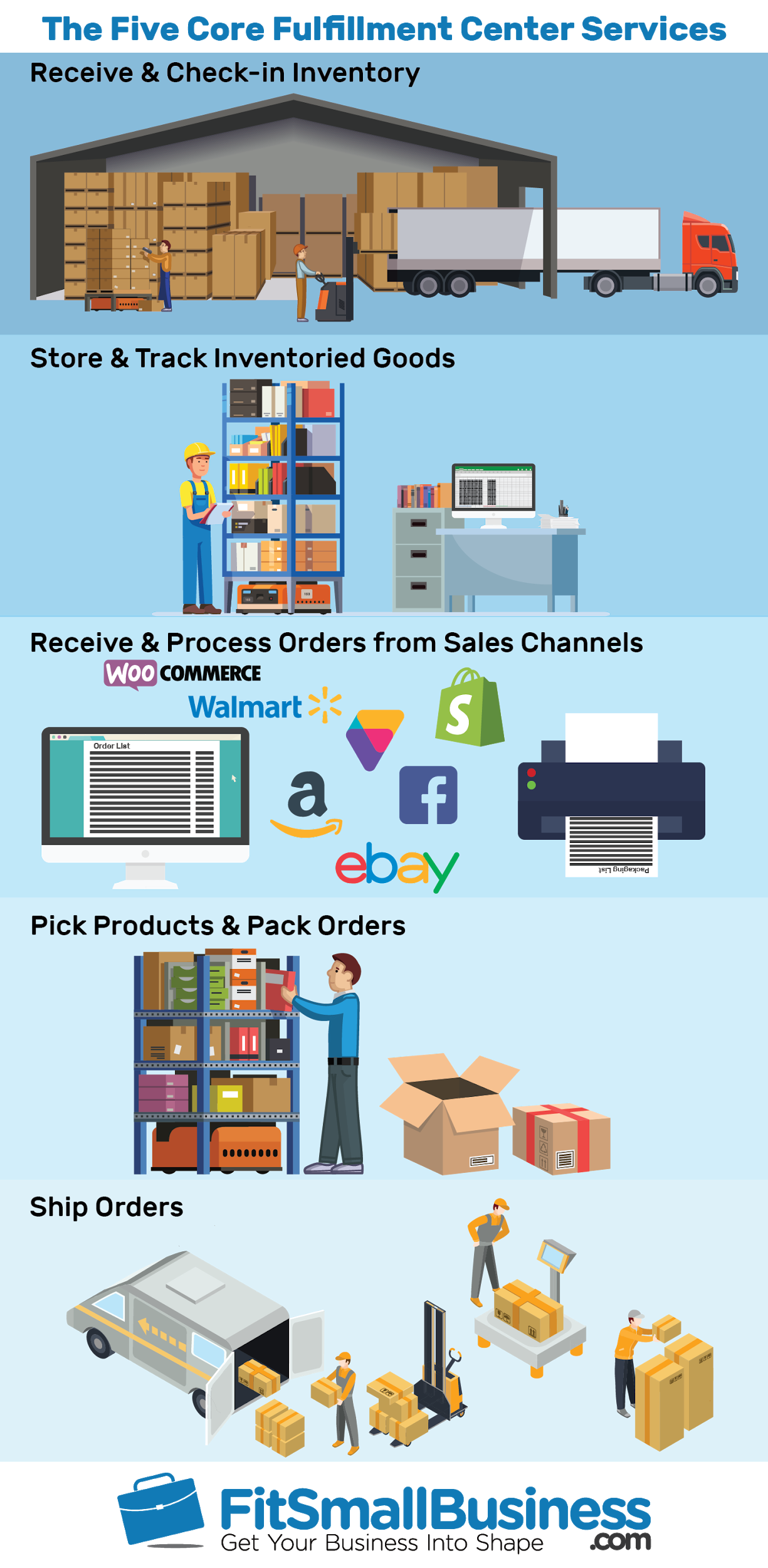 Receive and check-in stock shipments: Ship products to your fulfillment directly from your suppliers or from your manufacturing or bulk warehouse facility; your fulfillment distribution center will receive shipments and check receipts for accuracy and damage
Store and track goods in inventory: Once received, your ecommerce fulfillment warehouse will store goods and track stock counts for inventoried items in real-time
Receive and process orders from multiple channels: Ecommerce fulfillment centers connect to your online sales channels directly or to your internal order management systems to receive and process customer orders in real-time
Pick products and pack orders: Pick-and-pack tasks include pulling ordered items from stock shelves, checking orders for accuracy and packing goods properly for shipment
Ship orders: Fulfillment centers ship your orders with the carriers of your choice via your account or using their carrier accounts; often, a fulfillment distribution center gets better shipping rate discounts from carriers and passes that savings on to clients
Along with these five primary fulfillment tasks, most order fulfillment services handle related functions such as returns management, product assembly and kitting services like specialty packing for subscription box businesses. Some ecommerce fulfillment centers even offer customer support services or maintenance for online product listings on websites and marketplace sales channels.
Of course, order fulfillment services do come with costs, but many small businesses and startups discover that handing these tasks to the pros is the most cost-effective solution. Stephanie Farrell, ecommerce and marketing manager for the boutique fashion site Minnow + Mars says, "Our ecommerce fulfillment center provides the expertise that we don't have."
"Our fulfillment center picks, packs and ships our customers' orders far more efficiently than we can ourselves," says Farrell. "By outsourcing fulfillment, we don't have to worry about adding warehouse space and staff to handle daily shipping tasks. Another perk is that we receive discounted shipping rates that are far lower than what we'd pay using our shipping accounts. That savings helps offset our fulfillment center costs, and makes the outsourcing process a very economical solution."
Who a Fulfillment Center is Right For
Any business that regularly ships goods to customers is a candidate for fulfillment center services. A bare-bones, side-gig seller or startup shipping just a few orders per month might not be ready to outsource to a fulfillment warehouse yet. But once a business hits about 100 orders per month, which is around three per day, outsourcing inventory and shipping task to a fulfillment warehouse company can be a good move.
Here's a closer look at five types of sellers that can benefit from outsourcing order fulfillment services:
Ecommerce startups and side gigs: Staying on top of daily order shipping is critical in this early stage, but also time-consuming. Handing fulfillment off to the pros lets you focus on growth
Small and growing ecommerce sellers: The costs of maintaining a warehouse and dedicated staff add up fast; outsourcing fulfillment helps you meet demand more economically than an in-house operation
Multichannel sellers: Maintaining online listings, marketing and product sourcing fills a multichannel seller's day, so many outsource time-consuming fulfillment tasks
Crowdfunding and subscription box sellers: Batch fulfillment, which packs and ships orders on a project basis, perfectly fits subscription box and crowdfunding needs
B2B wholesalers and manufacturers: Turning bulk storage, pallet prep and freight management over to a fulfillment partner allows business-to-business (B2B) sellers to focus on manufacturing, importing and marketing
Some businesses rely on a fulfillment partner to handle fulfillment tasks for all orders. Others combine outsourcing with other fulfillment options, like in-house fulfillment or even drop shipping. The best solution depends on each business' unique needs and capabilities. Often, the deciding factor is cost, which we'll explore next.
Fulfillment Center Pricing
Fulfillment center pricing varies based on the products each business sells and ships, so there's no set standard within the fulfillment industry. The best way to determine your business' outsourced fulfillment costs is to compare quotes and service offerings from several fulfillment centers. Small and growing sellers can start the bidding process with ShipBob and Fulfillmentcompanies.net.
As you start vetting potential partners, you'll find that fulfillment center pricing is typically broken out into four cost centers, plus special services are available with added fees:
Stock receiving: Receiving fees cover unloading, counting and checking inbound stock shipments against vendor packing lists to ensure accuracy; some fulfillment distribution centers charge a per-shipment receiving fee, others set receiving costs per pallet or box
Inventory storage fees: This fee covers storage and tracking for the goods the fulfillment center stores for you; generally, this fee is based on the average volume of the shelf, pallet or bin space used to store your good in the center's warehouse
Pick-and-pack fees: This cost covers the work of picking ordered items from storage areas, checking for accuracy, packing orders appropriately and preparing the box for shipment; order fulfillment services typically charge either per-item or per-shipment; some, like ShipBob, also include basic packing and shipping materials in this fee while others run packing materials as a separate charge.
Shipping fees: These are the carrier transportation costs for your packages; since fulfillment distribution centers ship large volumes daily, they get deeply discounted shipping rates and pass the savings on to their clients; however, most centers can run labels under a business' shipper accounts if needed
Special services: Fulfillment centers offer all types of specialty packaging, labeling, product assembly and order packing services; these services are often called kitting or bundling and fees can be based on a complete project or per item or finished kit; fulfillment companies can also help you design and print custom-printed boxes and specialty packing materials for subscription boxes and other product branding needs.
Some order fulfillment centers have à la carte pricing with each service covered above appearing as a line item on your bill. Others, like ShipBob, roll several services into an overall fulfillment fee.
| | | | |
| --- | --- | --- | --- |
| Stock Receiving | $35 per inbound shipment | No fee if products meet FBA packaging and labeling requirements | $13.25 per pallet |
| Stock Storage | Pallet: $40 per monthBin: $5 per month | Per average stock space, from 69¢ to $2.40 per month per cubic foot | Pallet: $15/month1/2 Pallet: $7.50/month1/4 Pallet: $3.75/monthBin: $1.25 per month |
| Pick and Pack Fees | Rolled into negotiated shipping fees | Standard-sized items:$2.41 - $4.71Oversized/heavy items:$8.13 - $137 | $2.55 first item + 30 cents per added item, per order |
| Shipping Fees | Negotiated rates based on average order size and volume | Shipping fee included in pick and pack fees above | Up to a 45 percent discount off standard FedEx rates |
Storage, packing and shipping needs of ecommerce business vary greatly and, as shown above, fulfillment center pricing does too. For example, RedStag Fulfillment has lower storage fees than ShipBob, making them more economical for storing large quantities of goods. However, RedStag's per-item pick and pack fees can get pricey for multiproduct orders. ShipBob's negotiated rates offer lower pick-and-pack fees than RedStag, but it has higher inventory storage fees. Based on this, a business that stocks less inventory but ships orders with multiple units might find ShipBob the better value.
Then there are specialty ecommerce fulfillment services, like Fulfillment by Amazon (FBA). It's a popular choice for Amazon and multichannel sellers since it offers sales-driving perks like Prime shipping eligibility for FBA-shipped items. However, it requires careful inventory management to keep its per-cubic foot storage costs in line.
The takeaway on fulfillment center pricing is this: to ensure you get the best deal, you must first clearly define your fulfillment needs. This means analyzing and forecasting your inventory volume, including the number of unique stock keeping units (SKUs) you carry and the volumes you plan to stock on average. Then, estimate the average number of items per order and shipment size and weight. With this information in hand, you're ready to search out the most economical fulfillment center for your business.
Fulfillment Center Providers
There are hundreds of fulfillment centers across the nation, and many cater to the needs of small ecommerce sellers. To begin the search, Will Schneider, CEO of the fulfillment matchmaker FulfillmentCompanies.net, advises business owners to "start by clearly defining storage and shipping requirements to ensure prospective fulfillment partners can meet those needs efficiently and cost-effectively."
After outlining current needs, Schneider also recommends that "business owners consider potential needs down the line and seek a fulfillment partner that can deliver those services. For example," says Schneider, "many of the fulfillment centers in our network offer services including online marketing and sales channel build out. Others can leverage retail buyer contact to help small manufacturers expand into brick-and-mortar sales."
Once you've assessed your business' current and potential fulfillment needs, you can start your search with these four proven small business-friendly ecommerce fulfillment centers:
ShipBob
We've mentioned ShipBob earlier in this guide with good reason. It's a great choice for small businesses — even startups — that want to deliver enterprise-level shipping speed to their customers. Even if you sell just 100 orders per month or need occasional fulfillment services for subscription boxes or a crowdfunding campaign, ShipBob is happy to talk with you.
Perks include:
Nationwide warehouse network
Two-day ground shipping to most United States-based shoppers
Free integration with many ecommerce platforms like Shopify, WooCommerce, Magento, CrateJoy, eBay, Kickstarter, Walmart, Squarespace and more
Batch fulfillment, specialty kitting and subscription box packing services
Fulfillment consultations for crowdfunding and startup businesses
Fulfillment by Amazon (FBA)
If you sell products on Amazon, Fulfillment by Amazon — commonly called FBA — is a program that takes order fulfillment tasks off of your plate, plus gives you sales-driving benefits. Most notably, products fulfilled by FBA are eligible for Prime free two-day shipping. This is a major benefit for Amazon sellers since more than 10 million Prime shoppers actively seek Prime-eligible products when shopping on Amazon.
Cost-wise, using FBA as your Amazon order fulfillment service can be an excellent value. However, you must understand how it works, closely monitor your inventory levels and follow its product packaging and labeling requirements. If you don't, you can face surprise costs, such as long-term storage fees or repackaging and relabeling fees. Learn all of the details in our Amazon FBA guide.
RedStag Fulfillment
RedStag Fulfillment is another small business-friendly ecommerce fulfillment center that offers all of the basic services covered above, plus several specialty services. These include:
End-to-end video-tracked security for high-value goods
Simple product assembly and specialty kitting
Specialty packing for fragile, oversized and heavy goods
Drastically reduced FedEx shipping rates for heavy and oversized goods
FulfillmentCompanies.net
The three order fulfillment services listed above cater to a full range of small business needs. However, some businesses have special material or technical needs. If that's the case, FulfillmentCompanies.net is a free fulfillment matchmaker that helps you the ideal fulfillment fit for your business. If you need a partner to manage both shipping and web listings, one that specializes in refrigerated storage and delivery or a truck freight fulfillment for B2B needs, FulfillmentCompanies.net should be your first stop.
Visit FulfillmentCompanies.net
Pros & Cons of Using a Fulfillment Center
Handing fulfillment tasks off to an order fulfillment service lets business owners focus on driving growth. However, Schneider reminds sellers that "using a fulfillment center isn't a set-it and forget-it process." He says, "businesses must work closely with fulfillment partners and respond to restock needs, monitor performance reports and customer satisfaction levels and keep a sharp eye on fulfillment charges."
Here are a few pros and cons of the fulfillment outsourcing process to remember as you consider this option.
Pros of Using a Fulfillment Center
If time is a priceless commodity in your business, here's how an order fulfillment service can help:
Spend time on growth-driving tasks: If you're not caught up in time-consuming daily shipping tasks, you can focus on marketing, product development, adding online sales channel and other growth tasks
Avoid costly fulfillment mistakes: Fulfillment centers have the process down and minimize packing errors and shipping overcharges
Profit-focused category expansion: eCommerce order fulfillment pros can help determine storage, packing and shipping costs of potential products so you can build out a collection with profits in mind
Scalability: A fulfillment warehouse can quickly add or reduce allocated assets based on your storage and shipping needs, unlike static overhead in-house warehouse capacity and costs
Lower average costs: Flexible capacity and discounted shipping rates can make fulfillment center pricing competitive with, or even lower than, an in-house warehouse operation
Startup and side gig-friendly: Do you still have a day job? Outsourcing fulfillment for an ecommerce startup, subscription box venture or crowdfunding campaign lets you do it all and still get to work on time
Cons of Using a Fulfillment Center
If you're wondering what could go wrong in handing fulfillment over to an outside party, here are some negatives to consider:
Cost: For a small or startup operation shipping just a few orders a week, outsourcing fulfillment can cost more than running a shoestring fulfillment operation
Loss of control: Fulfillment centers do a great job packing and shipping, but if you need to add a personal touch, like a handwritten note or extremely detailed packaging, in-house fulfillment makes that easier
Packing and shipping mistakes: Some fulfillment companies make more packing and shipping errors than others; unfortunately, this reflects poorly on your company — not your fulfillment partner — in the eyes of your customer. Choosing a proven provider with an excellent accuracy record, like those covered, minimizes this concern
Alternatives to Using a Fulfillment Center
Some businesses outsource all fulfillment tasks to a fulfillment center, but many ecommerce sellers — especially small and fast-growing mid-sized companies — handle fulfillment differently. According to Alejandro Velez, CEO of the ecommerce site Do It Wiser, "Outsourcing fulfillment is beneficial since the level of technology and scalability of large fulfillment networks is impossible for a small business to match, but it's not the only option."
"Fulfillment centers can't deliver the valuable personalized customer service that brings in great reviews and builds a loyal customer base," says Velez. "Balancing in-house and outsourced fulfillment enables sellers to test market new lines hands-on, add a personal touch to shipments — like a handwritten note or customized good — or offer exceptional service, like fast replacement of a defective item or after-hours shipping for a special customer."
To cover all the fulfillment, customer service and special order management bases, sellers can look to these alternatives to a fully outsourced solution.
In-house Fulfillment
An in-house ecommerce fulfillment operation gives you hands-on control over every aspect of your stock management, order packing and shipping process. You must allocate space to store and pack products, understand shipping fees and take the time to get it all done. However, that's not overly difficult or costly with a small inventory load and just a few orders per week. Schneider points out that running an in-house operation is "the best way for a startup to understand the finer points of fulfillment and prepares them to manage costs and expectations better if they outsource later on."
Larger in-house operations require more space and dedicated staff. At this stage, running the numbers is the only way to know if in-house or outsourced fulfillment is the best value for your business. Our guide to in-house vs. outsourced fulfillment shows you how to compare these costs.
Drop Shipping
Many suppliers will ship orders directly to your customers on your behalf, so that you can market and sell with no upfront stock or storage costs. Many ecommerce sellers, startups and side gigs use drop-shipping as their only sourcing and fulfillment method. It's also a cost-effective way for established ecommerce sellers to expand into new categories without added inventory costs and test-market new products before committing to stock buys. Our guide to drop shipping provides more detail on how this differs from outsourced fulfillment.
Hybrid Solution
Many ecommerce businesses — large and small — combine some or all of these fulfillment methods into a hybrid fulfillment solution. For example, fast-growing ecommerce businesses like Velez's use in-house fulfillment for test marketing or personalized needs but lets a fulfillment warehouse handle the bulk of their shipping. Other hybrid solutions drop-ship for large items or bulk-pack orders straight from supplier warehouses, but ship smaller items and orders using in-house or outsourced fulfillment. A hybrid solution can offer the most flexibility for small and growing businesses.
The Bottom Line
An ecommerce fulfillment center can play a key role in driving growth for startup and small ecommerce businesses. The time and potential shipping rate savings alone can mitigate the costs, but to make a smart choice, sellers must understand their needs, potential costs and all fulfillment options and alternatives up front.
There are hundreds of fulfillment companies in the market, but you can save time by checking out ShipBob first. It's a startup and small business-friendly fulfillment provider that offers enterprise-level technology and a nationwide warehouse network. With ShipBob, even a small player can compete with the internet's star sellers by offering two-day deliveries with low-cost shipping rates. Even if you only sell 100 orders per month, ShipBob is happy to talk business.
What is a fulfillment center for your operation —  a do-it-all partner, a way to hand-off a portion of your shipping or your answer to subscription box fulfillment? We'd love to hear how you handle your fulfillment needs — whatever they are. Please share your insights and experiences in the comments below.