Cold calling, or phoning a prospect with whom you've had no prior contact, is a common technique for developing new sales leads. However, it is not the only effective way to fill sales funnels. These nine tips on how to generate leads without cold calling are perfect alternatives for sales agents and business owners alike.
Use these nine lead generation strategies as alternatives to cold calling:
1. Develop a Content Strategy
Written and video content on company websites and in marketing campaigns are powerful tools for generating new prospects and leads. It's also a great way to inform existing customers of news or information that benefits or impacts them. The best way to develop a strong content strategy that creates new leads is to understand your target audience and to share meaningful information that compels them to initiate the sales process.
Successful website content is visually appealing, provides information that visitors want to know, and makes simple calls to action clear, thus kick-starting the lead generation cycle. Landing pages and web pages with web forms or pop-ups are especially useful for prompting visitors to share their contact details or to request more information, resulting in new leads.
2. Offer Free Customer Resources
Technical resources like specification sheets and setup guides can augment the use of your product or service. However, personally relatable content such as case studies, blogs, and short videos will facilitate learning and may possibly generate leads. Many companies make these assets available, at least to some extent, obligation-free so that non-customers can also educate themselves on the product and possibly decide to make a purchase.
Consider providing customers written or video content via the following channels:
Blogs & Community Forums
Blogs and community forums are a great way to post a mixture of short- and long-form content that demonstrates industry expertise and relates to your prospects in some way. For example, a small mobile app startup might find the new Android software update newsworthy and decide to share it in a new blog post. Visitors can leave comments or discuss the content, allowing the root of organic ideas and questions that compel prospects to learn more about your product.
Case Studies
Case studies highlight a company's most successful customers by their use case and how the product or service made significant, usually quantifiable, improvements to their business. Case studies perform best when they detail how a particular product or service has continued to work over the course of at least a year and include the effects on production, or how much money or time was saved, giving prospects an idea of how the product might work similarly for them.
Knowledge Bases
Knowledge bases are archives of information related to your business, product, or service. The archives can consist of different file types and sources, including forum discussions, articles, and videos, with data that's searchable by tag. This allows customers and prospects to find the information they need without queueing for a live representative, potentially resulting in more inbound leads.
Product Training
Basic installation and how-to guides should be easily accessible, as elemental product training is the best way to help new customers and prospects learn more about your product and what it can do for them. Print documents can be supplemented with short videos, and are both excellent ways to educate prospective customers and persuade existing customers to retain your services.
Whitepapers
Whitepapers are documents that outline research studies and other information that is useful for establishing industry credibility and authority. Whitepapers are especially useful for businesses that have developed new or innovative technology and that want to convey their unique offering, process, or methodology in an easily readable format for prospects to consume at their leisure.
3. Launch an Email Marketing Campaign
Automated email marketing can have a significant impact on lead generation. By sharing relevant information with decision-makers in your target audience via email, you give them the power to initiate the sales process by responding to a specific call to action.
Email marketing tools work similarly and should include some combination of the following elements:
Design
Polished email campaigns that are informative and visually appealing can make a difference in the perception of your company as an authoritative expert in your field. Applications like Constant Contact provide email templates that can be customized, branded, and tailored to highlight your unique message. An eye-catching design is critical to conveying your message to potential sales leads.
Automation
Email marketing software like Constant Contact and customer relationship management (CRM) tools like Salesforce make it easy to share new and relevant information with contacts and potential prospects consistently. With email automation, personalized emails can be scheduled for sending either in mass or individually, eliminating the need for time-consuming manual messaging.
Testing & Tracking
Email testing, such as subject line and content A/B testing, can help marketing teams compare email campaigns and identify the subject lines and email content that result in more engagements as measured by email opens, clicks, and responses. The result is that new email campaigns are designed with the highest-performing components and become more successful over time.
4. Ask for Customer Referrals
Customer referrals generate new leads organically, especially if your company has a track record of highly satisfied customers. Referrals can be particularly successful because your customers are likely to know decision-makers and influencers within the industry or market your product serves. Start by asking customers who are happy with your company if they would refer you to other potential customers.
5. Attend Industry Events
Attendance or participation at conferences and trade shows in your industry is one of the best ways to network with potential customers and prospective business partners. Showcasing your product, volunteering to help with setup or registration, or accepting speaking engagements offer your business a platform for advocating awareness of your product and what makes it stand out. That paves the way to generate a multitude of leads without picking up the phone.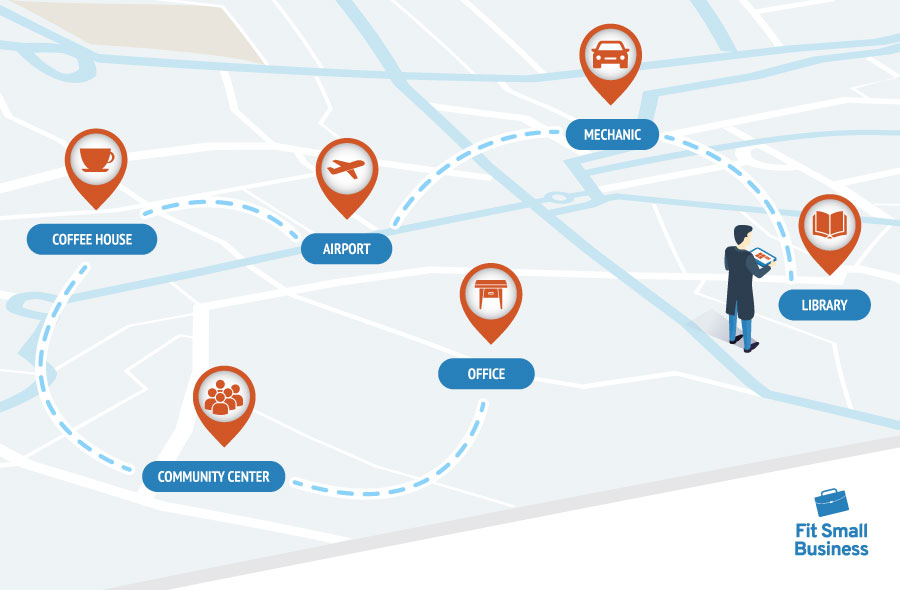 6. Canvass the Territory
Smart, inexpensive advertising can drive prospective customers to your store or website, adding new leads to your sales funnel. Common methods of canvassing for small businesses include dropping business cards at airport lounges, coffee houses, local auto repair shops, and libraries, as well as paper bulletins in community centers, signage, and even employee T-shirts that familiarize potential customers with your logo.
7. Implement a Referral or Reseller Program
Referral partners and resellers work as extensions of your business. As such, they can generate new leads from their own customer bases and networks, reaching more people than one business can alone. Though programs vary, the keys to building a channel partner program that successfully generates and grows revenue are to offer different levels of partnership to suit different needs, as well as incentives, training, and rewards.
Businesses should consider the following when deciding to implement a partner program:
New Partner Qualification Criteria
Channel partners should understand the value proposition of reselling your product or service, but they should also be engaged and generate demonstrable revenue. Determine what prospective channel partners should bring to the table in terms of experience, knowledge, and influence. Then, screen for potential partners based on how well they fit your criteria.
Specifically, consider the following prospective partner questions:
What interests you in a partnership with us?
What is your experience working with our customers?
Who are your customers?
What is your knowledge of the competitive landscape?
How much territory can you support?
What does an ideal partnership look like for you?
The goal of these questions is multifaceted. It is to understand how much prospective partners understand the product and industry, how much they can commit themselves to learning and pitching your product, and how far their influence reaches so that you can develop reasonable expectations for new lead generation.
Incentives & Rewards
Develop a system that motivates your partners to proactively drive new lead generation and sales. For instance, consider discounting products for demos or for display in showrooms, giving them free software accounts, and splitting co-branded marketing costs so that they feel prepared, confident, and valued for advocating for your product or service.
Performance Metrics
Define metrics so that your partners know what is expected of them on a yearly, quarterly, monthly, or day-to-day basis and how it benefits them to meet or exceed those expectations. For example, explain to new partners what it means for their partner discount when they demonstrate a specific amount of revenue growth over the course of a year. If you and your partner understand their goals, you can plan together how to achieve them.
Onboarding Schedule
Develop a comprehensive plan for partner onboarding within the first 30 to 90 days of finalizing new partnership agreements. Conduct operational training with primary business partner contacts so that they understand the process of transacting business, including processes for deal registration and the submission of purchase orders. Then, schedule product training for partner sales employees that includes product positioning and addressing common questions.
8. Leverage Social Media
Social media platforms allow for direct engagement with potential and existing customers. Because posts can be shared infinitely, information about your company can be disseminated to an even wider audience than possible with cold calling alone. Businesses can also create and place paid ads through Facebook, Instagram, TikTok, Twitter, and YouTube. Ad engagements can also result in new lead generation through clicks that feed reporting from your ad platform.
9. Offer Easy, Fast Accessibility to Agents
Despite an array of media that prompt calls to action at your disposal, it's important to make it easy for people with questions to reach representatives. In addition to your overall content strategy, beef up your website with clearly marked telephone numbers, including hours of operation, or with a live chat widget, putting you within virtual reach of potential customers.
Regardless of how solid your lead generation strategies are, they won't do you any good if your customer service experience is less than stellar. It's one thing to land a lead through a great email campaign or customer referral, but make sure you have the necessary processes in place to convert that lead to a customer and satisfy them throughout the customer journey.
Frequently Asked Questions (FAQs)
Why is lead generation important?
Lead generation is important because new leads result in more opportunities to create sales. Since sales generate revenue, the lifeblood of every business, the generation of new leads can be nurtured by marketing and sales teams until a purchase decision is reached.
How do you generate leads?
New leads are generated whenever your business identifies prospective customers who are interested in learning more about your product and how it can help them accomplish specific goals. By creating pathways for conversation and for understanding, teams establish themselves as credible resources, persuading prospects to engage the sales process.
What are some limitations of cold calling?
Cold calling is limited to the availability of telephone service which, whether through a landline or a voice-over-internet-protocol (VoIP) provider, costs money. Cold calling is also limited to the number of staff available who can make the calls, and reporting is limited to the availability of a telephone plan that offers surveys, chat, call recording, or other means of analytics. Bulk emails, customer referrals, email templates, and social media, however, are accessible for free.
How effective is cold calling for generating leads?
Studies show cold calling has a success rate of 2.5%. However, email marketing and social media marketing are far more successful—on their own and when combined—making them much more viable options for small businesses looking to boost lead generation and conversion rates.
Bottom Line: Alternatives to Cold Calling
It is possible and perhaps even more effective to generate leads without relying on cold calling. By crafting a precise content and web strategy that engages prospective customers, developing channel partners who can also advocate for your products, asking for recommendations from existing customers, and attending industry events, businesses create more informed prospects who may eventually convert into customers.
Constant Contact is the perfect email marketing tool for teams that want to organize and automate these activities, track their effectiveness, and capture new leads. In addition to customizable templates and a landing page builder, Constant Contact plans offer email integration and email tracking, as well as social media integration and engagement monitoring. To learn more about Constant Contact or to kick off your free trial, visit their website today.