Georgia real estate licensure requires a lot of hours: 75 hours of prelicensing, 60 hours of post-licensing, and 36 hours of continued education. To help you make the best use of that time, we took a look at the best online real estate schools in The Peach State to determine which would provide you the highest-quality education, the best prices, and the most convenient means of learning.
These schools are:
How We Evaluated the Top Real Estate Schools
Whether you are learning how to become a real estate agent or already know the ropes, you want top quality when it comes to accredited online real estate education. Depending on what stage you're at in your real estate career determines the schools and options available to you. We explored accredited education programs to recommend the best options for you based on price, customer reviews, courses available, and course features. The schools listed stand out due to their efficiency and content-rich classes.
Our overall best online real estate school in Georgia is Barney Fletcher Schools due to its excellent value and course format variety; it also includes accredited education for every stage of your real estate licensure. With a score of 4.52 out of 5, Barney Fletcher Schools has achieved top marks in most of our categories, which include the following:
40% of Overall Score
Pricing is based on the cost for pre- and post-licensing, continuing education courses, and exam prep for each online institution.
Education Available (Included With Pricing)
The level of courses provided by each site according to licensing stage: prelicensing for new agents and continued education for licensed agents looking for license renewal options.
30% of Overall Score
Consist of various formatting and learning styles for each course to meet the specific needs of the agent as well as ease of course accessibility.
15% of Overall Score
Convenience and attainability of customer service support for technical support and instructor assistance.
15% of Overall Score
Based on customer feedback for each program, with particular attention given to value for money, to certify the course meets user satisfaction.
*Percentages of overall score

Best Overall Real Estate School in Georgia

PROS
Course format variety
Lower cost
Course completion within 1-2 years of purchase

CONS
Minimal refund request available
Some courses require Adobe Acrobat Reader
RATING CRITERIA

Pricing
5.00
OUT OF
5
Course Features
4.25
OUT OF
5
Help & Support
4.50
OUT OF
5
Customer Reviews
3.81
OUT OF
5
Barney Fletcher Schools nabbed the top spot as the best overall online real estate school in Georgia. With a focus specifically on Georgia real estate, Barney Fletcher Schools has created programs that can be accessed in multiple ways: live in-class courses, live classes via webinar, and self-paced online classes. The online courses allow for instructor support coupled with interactive tools such as whiteboard animation and message board.
For those who need extra study help, they also provide live tutoring and at lower prices than competitors. This is our number one choice because it's perfect for agents seeking their license as well as seasoned professionals looking to continue their education.
Pricing
Prelicensing: $269.10
Post-licensing: $120
Continued education: $119
Exam preparation: $35
What's Missing
Our drawback to Barney Fletcher Schools is the refund policy. It requires a written refund request at least one business day prior to the start of your classes, so you need to make sure you're committed to taking the course prior to starting it. Also, some courses do require the use of Adobe Acrobat Reader for PDF documents.
Features
Interactive learning materials
Test Prep Simulator with quizzes and explanations
Flashcards, glossary
Courses can be purchased in a package or individually
Prelicense completed within one year of purchase, CE within two years
Available on all devices
Accredited by the Georgia Real Estate Commission (GREC)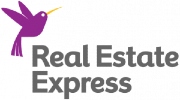 Best for Prelicensing Course Variety

PROS
Direct instructor access
Customer support
Career resources

CONS
Six months to complete from purchase
CE through partner company
RATING CRITERIA

Pricing
3.87
OUT OF
5
Course Features
4.88
OUT OF
5
Help & Support
4.75
OUT OF
5
Customer Reviews
3.63
OUT OF
5
As a new agent, Real Estate Express is a great choice for your Georgia prelicensing education. Not only do they offer a variety of course formats, but they also offer additional resources so you can get to gettin' your real estate license. The 90-day boot camp program is video-based instruction that will help a new agent produce income within the first 90 days of licensure. There is hands-on support from instructor, and Q&A with insight from real estate experts who can answer questions and give advice. These additional support resources will help a new agent get their real estate career off to a fast start.
Discount: For Fit Small Business readers, use promo code FSB25 for 25% off your purchase of any Real Estate Express class. Click here to get started.
Pricing
Prelicensing: $419
Post-licensing: $99
Continued education: $158.95
Exam preparation: $99
What's Missing
Continued education (CE) through Real Estate Express is offered through their partner company McKissock Learning, not directly through their platform. This was our runner-up for best overall, but because of the limited class variety for post-licensing, we thought it would be better suited as the top pick for prelicensing education.
Features
Multiple course formats: live stream, on-demand video, and self-paced
Learning Management System (LMS) with goal setting and progress tracking
Courses can be purchased as packages or individually customized
Exam preparation with simulations
Real estate e-books
Pay or don't pay guarantee
Accredited by ARELLO and IDECC
Best for Upgrading to a Broker's License

PROS
Self-paced with interactive activities
Free course demos
Available on all devices

CONS
Higher prices
Limited customer support
RATING CRITERIA

Pricing
3.48
OUT OF
5
Course Features
4.88
OUT OF
5
Help & Support
4.75
OUT OF
5
Customer Reviews
4.55
OUT OF
5
For Georgia peaches who are looking to become a broker, Kaplan will be your most convenient choice. The 60-hour online course can be completed 100% online at your own pace so it can fit into your busy agent schedule. The content includes current marketplace trends on the national and Georgia-specific levels. Even though the courses are 100% online, they include interactive activities such as practice quizzes and real-life scenario exercises to boost content retention.
Pricing
Prelicensing: $538
Post-licensing: $259
Continued education: $119
Exam preparation: $99
What's Missing
Although Kaplan does offer technical support at any time, customer support is only on weekdays. Also, Kaplan is more expensive than its competitors.
Features
Six months from purchase to complete
Full refund within 30 days of purchase
Courses written by real estate professionals
Final exam online proctoring included
Agent resource center includes articles, advice, and career information
Unit summaries and key point reviews
Accredited by ARELLO and IDECC

Best Customizable Continued Education

PROS
Courses purchased as package or individual
Customer support
Expiration 12 months after purchase

CONS
No director instructor access
Mid-level pricing
Course variety format
RATING CRITERIA

Pricing
3.98
OUT OF
5
Course Features
3.75
OUT OF
5
Help & Support
4.75
OUT OF
5
Customer Reviews
4.50
OUT OF
5
Staying true to their name, our top pick for customizable continued education is The CE Shop. The courses offered have all the fixin's on their LEAP platform: interactive and engaging content, student forum, and progress tracking. Although you can purchase courses as a full package to fulfill your education requirements, you can also pick from a variety of classes based on your interests. For example, class topics include assistance animals and fair housing, current issues and trends in real estate, and personal safety. These personal touches gave The CE Shop a leg up from the rest.
Pricing
Prelicensing: $319
Post-licensing: $129
Continued education: $129
Exam preparation: $69
What's Missing
Compared to its competitors, The CE Shop has mid-level pricing, although courses can be purchased individually for a lower price. Also, if you are looking for livestream courses, you will not find them here.
Features
Available on all devices
Refund request within 30 days of purchase
Text-based courses
Agent essentials resource page with news and career tips
Practice exercises
Accredited by ARELLO

Best for Study & Exam Preparation

PROS
83% pass rating
Enhanced exam prep
Live instruction

CONS
Recommend computer desktop
Can cancel low-enrollment classes
RATING CRITERIA

Pricing
4.27
OUT OF
5
Course Features
3.75
OUT OF
5
Help & Support
3.13
OUT OF
5
Customer Reviews
2.72
OUT OF
5
Formerly known as the Georgia Institute of Real Estate, Capitus Learning is the top dawg for exam preparation. As one of the oldest providers of real estate education, they know exactly how to prepare their students for success. Their CRAM course, an optional program available monthly, is a weekend crash course created to help you pass your exam the first time around. It is taught live via Zoom by experienced real estate professionals using Q&A, practices tests, and lectures. This CRAM course is perfect for individuals who need an extra boost to pass their school and state exams.
Pricing
Prelicensing: $347
Post-licensing: $139
Continued education: $19
Exam preparation: $60
What's Missing
Because the exam prep course is completed via Zoom, it is recommended to be taken on a computer rather than a phone or tablet. Also, if there is low enrollment in the course, Capitus reserves the right to cancel classes with a full refund or option to transfer to another class.
Features
Customer support via phone or email
Georgia-specific education
Lower pricing
For online courses: six months to complete
Qualified instructors
Accredited by GREC

Most Affordable Prelicensing Education

PROS
One of the most affordable
Direct instructor access Monday through Friday
Courses refundable within 30 days

CONS
Only self-paced formatting
No package variety
Only offers prelicensing in Georgia
RATING CRITERIA

Pricing
4.13
OUT OF
5
Course Features
3.75
OUT OF
5
Help & Support
4.75
OUT OF
5
Customer Reviews
2.50
OUT OF
5
Aceable Agent has the best value, as it combines exam prep into its prelicensing education. Throughout their self-paced program, they include level assessments, prep tests, and topic summaries to help with knowledge retention. Similarly, pop-up questions appear throughout the course to highlight information that will show up on exam day. These techniques of reinforcement will benefit any new agent's self-paced study on any device. You also have one year from purchase to complete your courses.
What's Missing
Aceable Agent did not get the top spot for prelicensing education because it does not provide a variety of course formatting for different learning styles. Also, if you are looking for other licensing options, you'll have to go elsewhere as they only offer prelicensing education.
Features
4.7 out of 5-star customer rating
Downloadable study guides
Career center with articles
Available on all devices
On-staff career mentors
Student support team seven days a week
Level and chapter overviews
Accredited by GREC