How to Get Real Estate Leads From Craigslist in 10 Steps (+ Downloadable Checklist)
Craigslist is a popular bulletin board-style platform for posting ads, sharing community information, and buying and selling goods. Although Craigslist wasn't built for real estate lead generation per se, it's a simple, affordable, and effective way for agents to promote listings and connect with potential real estate clients. Below is a step-by-step guide on how to get real estate leads from Craigslist—from creating an account to posting your real estate listings, optimizing your posts with high-quality images, and reposting listings frequently.
Real Geeks has a feature that enables you to integrate your client relationship manager (CRM) with your multiple listing service (MLS), automatically post your listings to Craigslist, and monitor Craigslist-generated leads. Plus, Real Geeks offers Internet Data Exchange (IDX) websites and a paid social marketing program—providing agents with an efficient marketing solution for converting homebuyer and seller leads.
To easily remind you of the 10 steps about how to get real estate leads from Craigslist, we consolidated a visual checklist you can download for free.
1. Create a Craigslist Account
Although you can post listings on Craigslist without an account, creating an account makes it simple to manage your real estate posts and communications. Once you're logged into the platform, you can easily confirm, edit, and renew posts.
To create an account, go to Craigslist.org, identify your location, and click "My Account" on the left side of the homepage. Enter your email address and click "Create an account." Once you submit your email address, Craigslist will send you an email asking you to select a password and complete your registration. You'll then be able to log in and access your personal user dashboard.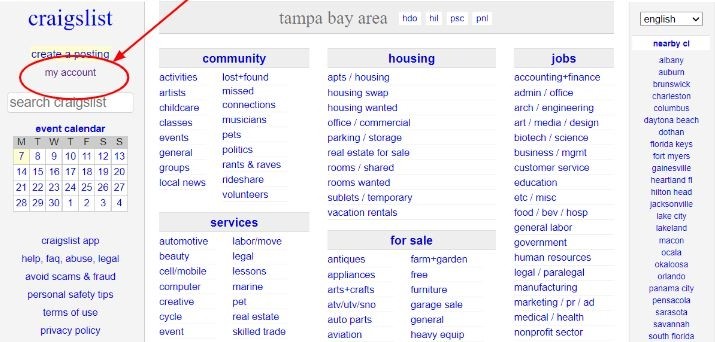 ---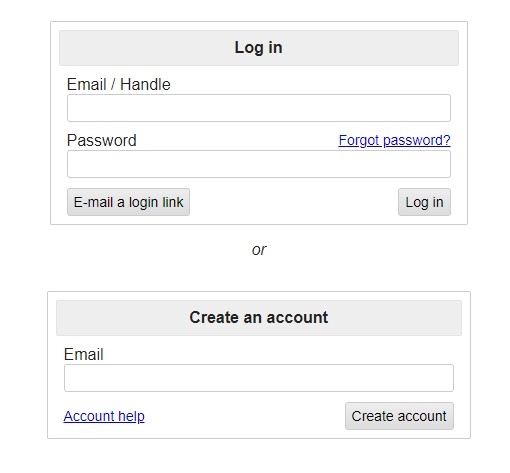 ---

---
On your Craigslist user dashboard, view and manage active and inactive posts, as well as modify and save drafts. You can also filter posts by date, status, title, location, and other criteria and search for specific text if you have a large volume of posts.
2. Choose a Location & Posting Category
Posting residential listings to get Craigslist real estate leads is simple and free. Before you can post, select the city closest to you in your user dashboard.
Then, to post your listing, you can either click "Go" from your dashboard or "create a posting" from the top left-hand column of the homepage. The next few screens will prompt you to select the type and category of your post. Start by choosing the "housing offered" option and then select "real estate – by broker." This will ensure your post is added to the correct area on Craigslist where people are searching for housing.

---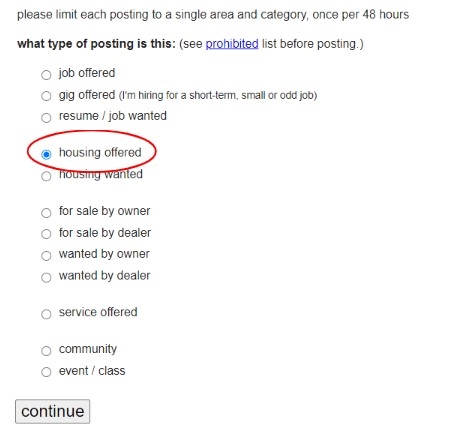 ---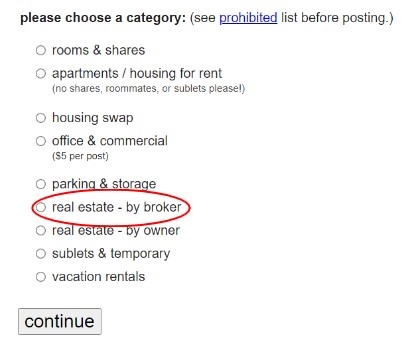 ---
3. Agree to Craigslist's Real Estate Posting Guidelines
Your Craigslist real estate ad must adhere to guidelines and regulations governing housing ads, restrictions, and tips. Once you've selected all the correct categories for your post, you'll see a screen detailing Craigslist's guidelines for real estate and a large button that says, "I will abide by these guidelines."
As per Craigslist's guidelines, each real estate post must be about a single property, not loans, services, or multiple properties. There are additional details for what can and cannot be included in your listing, such as not adding photographs of yourself or links to "more information" outside Craigslist. A successful Craigslist real estate agent will follow these guidelines in their listings regardless of the platform. After reading the guidelines, click the button at the bottom to continue the process.
4. Add Listing Information: Title, Location & Description
The next step is creating a listing post to help you get Craigslist real estate leads. Craigslist will prompt you to input a title and body for your post, as well as optional details about the property. It's a simple form with no styling, but you still want to maximize your chances of capturing a real estate buyer lead by adding a compelling listing description, title, and professional photos.
You only need to fill in the following fields for your post: title, city or neighborhood, postal code (ZIP code of the property), and email address. Nevertheless, adding more details will make your listing stand out and give your prospects a better picture of the property. Here are the top tips for creating an effective listing post on Craigslist:
Write a compelling title: Instead of just using the property's address as the title, write something descriptive, like "Lovely Remodeled Bungalow Within Walking Distance of Downtown."
Include the street name: Rather than writing the full address, only add the street name or indicate the general area by neighborhood.
When adding the address, be wary of adding the full street address. For example, instead of adding "123 Main Street," opt for "Main Street." This protects the privacy of your listing, especially if someone is currently living in the home. Additionally, this encourages the lead to contact you for further information about the property and schedule a showing.
Add a description of the property: Inform the buyer or renter what they will see when they view the property. Use descriptive words that paint an accurate picture of the home and guide the client's imagination. For instance, instead of "spacious kitchen," write "spacious kitchen with ample cabinet space, breakfast bar with granite countertops, and new stainless steel appliances."
Enter neighborhood information: Make your Craigslist post stand out by using the body to highlight interesting and valuable information. To attract leads, include amenities offered in the neighborhood, such as shopping offerings, school districts, and walkability scores, using real estate keywords to drive more traffic to your post.
Include a clear call to action (CTA): Let your clients know what to do next by adding a strong and clear CTA at the end of your description. This makes it easy for interested leads to contact you. You can use specific tracking numbers or codes to know where leads are coming from.
Consider hiring a freelancer if you don't have the time or inclination to write ad copy to maximize Craigslist's advertising opportunities. Fiverr is an online community of freelancers who can complete a variety of tasks for as low as $5. Hire freelancers to perform various tasks like photography, copyediting, and personal branding.
5. Add Posting & License Details
On the same page, you'll be asked to provide additional details, like price, square footage, accessibility, housing type, and the number of bedrooms and bathrooms; the only required fields are laundry and parking details. You can also include open house information or details about when the house is available. Though this information is optional, adding more details to your post will give prospects a better idea about the home and encourages them to reach out.
As a licensed agent or broker, be sure to add your real estate license number for reference. Doing so boosts your credibility and gives interested buyers the confidence to contact you. Once you have added both listing details and your license information, click "continue."
6. Add Location & Map
After writing an eye-catching title and compelling property description, Craigslist will generate a map showing the location of your listing. This is an important feature because it helps potential buyers determine if the home is in their desired location.
There are two ways to add the location. You can add the street name, the closest cross street, and the postal code to the blank fields to automatically place the pin. Alternatively, you can drag and drop the pin or click the interactive map to choose the exact location of your listing.
7. Add High-quality Listing Photos
The next step to publishing your listing on Craigslist is to upload high-quality photos. This is critical and key to showcasing your property's best features and attracting qualified real estate leads. Click on the "Add images" button to add up to 24 professional property images. To attract serious buyers, use high-resolution (300 dpi) photos in JPG, GIF, or PNG format.
If you want to enhance your high-quality listing photos, employ real estate photography best practices for the most success. Then use Canva to edit photos or create social media posts, flyers, brochures, or even a professional logo. Canva makes your listing photos and marketing materials more appealing—enabling you to stand out from the competition. Get started with the free plan.
8. Review Draft of Post & Publish
After adding your property information, map, and photos, you will be prompted to a page where you can review the draft post. After reviewing the post and everything is accurate, click "publish" in the screen's lower right-hand corner.
You will immediately receive an email from Craigslist asking you to confirm that your listing is ready to be published. This is another opportunity to review all the listing information and photos to prevent publishing an incomplete listing or a listing with mistakes.
Your Craigslist post won't be live until you complete the email confirmation step, so it is important to check your inbox. If you don't see an email within a few minutes, check your spam folder to be sure the confirmation email did not accidentally route to the wrong place.
9. Add New Leads to a CRM
Once your Craigslist real estate listing is posted, expect prospects to reach out to you via the email address in your user account. To maximize your Craigslist real estate ads, use a real estate customer relationship manager (CRM) to track and nurture each lead as soon as they make initial contact.
By using a CRM with a Zapier integration or built-in listing management, like the one offered by Real Geeks, it's easier to streamline the lead capture and tracking process. Real Geeks integrates with the MLS and automatically posts your listings to Craigslist. You can then monitor Craigslist-generated leads and follow up with interested buyers using Real Geek's automated email drip marketing tools.
10. Renew & Repost as Frequently as Permitted
Free Craigslist posts will remain active on the website for 30 to 45 days, though this may vary based on your location. You can renew an active free post after 48 hours from the time it was initially posted or last renewed. This will move your post to the top of the list and be seen by a lot of active users. Note that renewing your post will not extend its lifespan. After 30 days from the initial posting, you will no longer be able to renew your post.
To keep visibility high, repost the same listing before the original one has been removed. Reposting creates a new copy of your real estate post and will move it to the top of the list. However, keep in mind that a "dual listing" may be flagged by moderators. If Craigslist determines your account is posting too frequently, they can delete or "ghost" your listings, making them invisible to users.
To avoid issues with deleted and flagged posts, create a separate Craigslist account for every day of the week you wish to post listings. Alternatively, you can use an auto-posting service like Real Geeks to post and repost properties for you as frequently as the platform permits.
Craigslist Statistics
As of September 2022, Craigslist] ranked as the 27th most-visited website in the country and the first in the "eCommerce & Shopping category," with 218.5 million monthly visits. If you're planning to market your real estate services to Craigslist, be mindful of the following statistics so you can create an effective marketing strategy:
With these statistics, here are some of the pros and cons of using Craigslist for real estate:
PROS

CONS

Most residential real estate listings are completely free (or pay a $5 fee for commercial real estate listings)
Craigslist can ghost or flag ads
No frills, easy-to-use interface
Lead quality is not guaranteed and qualified
Customize your own listing content
Tracking real estate leads from Craigslist can be difficult
Bottom Line
Generating leads can be daunting and in many cases, expensive. With a popular classified ad site like Craigslist, you can attract and prospect new leads for free. Follow the 10 easy steps on how to get real estate leads from Craigslist—from signing up to posting a compelling real estate ad that prompts buyers to reach out. This maximizes your return on investment by converting even just one client. Moreover, leads generated can also go into your CRM for long-term nurturing and conversion down the road.