GNUCash is a free accounting software for freelancers and small businesses, and can be downloaded and installed on multiple platforms. We compiled GNUCash reviews from around the web to determine what their customers think about the company. We also compared the most popular pricing options for small business owners.
For an in-depth comparison of three top accounting software, read our accounting software buyer's guide.
GNUCash Customer Reviews
Overall Experience: Great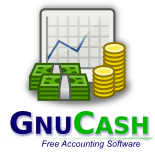 Ease-of-Use: Good
Customer Service/Reliability: Fair
Rates: Free
Summary of GNUCash Reviews
We scoured available reviews online and found that GNUCash has mixed ratings. Here's what we found:
What GNUCash does well:
Users who gave GNUCash a positive review appreciated the free and professional accounting system.
What GNUCash does not do well:
Users who gave GNUCash a negative review mentioned issues with the user interface such as slow loading time and difficulty finding some functions.
Most Helpful Positive User Review
A positive reviewer on Capterra said that GNUCash may not be a pretty program but it is functional. They also mentioned that the fact GNUCash is a free open source software, means that it offers services at a much lower cost compared to other options on the market.
Most Helpful Negative User Review
A negative reviewer on Capterra mentioned that the software is often not intuitive and finding the answer to a question can seem a bit tedious. The user interface requires a steep learning curve that may be difficult for someone working with a software like this for the first time.
Other GNUCash Reviews From Users Around the Web
Here are a few other resources for finding helpful GNUCash reviews from customers. We rated the review sites on a scale from poor to excellent based on how trustworthy and useful the reviews seemed.
Review Website

Average Rating

Number of Reviews

Quality of Reviews

Software Advice

3 out of 5

Staff review +
41 reviews


Good

Capterra

4 out of 5

5 user reviews

Good

Trust Radius

3.5 out of 5

Staff review

Fair

*Average rating as of date article was written: June 29, 2017
GNUCash Pricing
GNUCash is a free and downloadable open source accounting software. All of its features are available for anyone who installs the program at no extra cost. The project makes money for continuous software development and support from associate members, purchases and donations.
| | Pricing |
| --- | --- |
| Price | $0/month |
| Platform | Linux, Windows, Mac OS X |
| Users | Unlimited |
| Features | Double entry accounting, checkbook-style register, scheduled transactions, reports, statement reconciliation, income and expense, customer and vendor tracking, invoicing, multiple currencies, check printing and more |
| Mobile | Via Android App (for expense tracking only) |
| Customer Support | Email, user manual, source code |
Everything that a potential client needs is available for download on the GNUCash website, including source codes and documentation. The software can be installed on Linux, Windows, and Mac OS X, offering clients a lot of flexibility.
A mobile app is also available on Android but only for expense tracking purposes as a complementary application to the desktop version.
GNUCash offers most of the features that other paid accounting software offer such as double entry accounting, statement reconciliation, tracking, and invoicing among others. It also generates reports such as profit and loss, balance sheet, and portfolio valuation. All reports and graphs are also fully customizable.
Compare GNUCash Competitors
Not sure if GNUCash is the right accounting software for your small business? Check out our accounting software buyer's guide comparing three top providers.