GoDaddy may be best known for its domain registration and web hosting services, but it also offers a beginner-friendly website builder that makes it easy for just about anyone to create an online store. Of course, GoDaddy has stiff competition, and though it's one of the most competitively priced website builders with a leading booking system, you'll want to stay tuned to find out if it's the right ecommerce content management system (CMS) for you.
GoDaddy Ecommerce at a Glance
GoDaddy

What We Like
Ultra-beginner-friendly
Zero coding required
Most affordable and comprehensive site builder for selling online
No transaction fees
Advanced appointment booking tools to transform your site into a 24/7 marketing machine
Offers a WordPress migration service
What's Missing
Limited customization capabilities
Analytics data is sparse
Blogging features are minimal
Highlights:
Ecommerce plans start at $14.99 per month
Sell physical and digital products
Sell services online via appointment booking tools
Accept recurring payments for membership and subscription-based businesses
24 online store templates to choose from
Search engine optimization (SEO) walk-through service to help your site rank in Google
If you've got bigger questions about how a website can help your business or are wondering what you should think about before starting a site of your own, make sure to check out our Complete Guide to Building a Small Business Website.
GoDaddy Ecommerce Website Examples
Wondering what type of web design you can get with GoDaddy ecommerce? Well, GoDaddy offers 24 prebuilt online store templates to help you get started quickly and easily. On the off-chance that one of its templates isn't quite right for your online store, you can also choose from any of the other templates and then add a store to your site, giving you a lot of design freedom.
Let's take a look at a few of GoDaddy's ecommerce templates to see what the sites look like:
Example 1: Athlen
Best for: Businesses looking to accept online bookings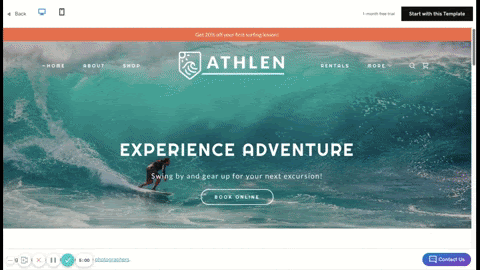 Example 2: Croinna
Best for: Online retailers looking for a modern design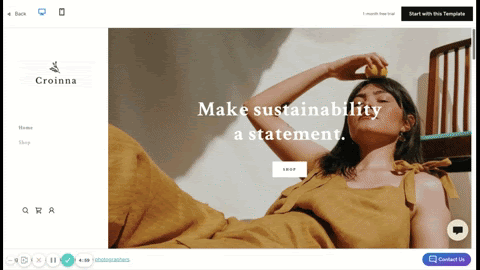 Example 3: Lanily
Best for: Selling products and services online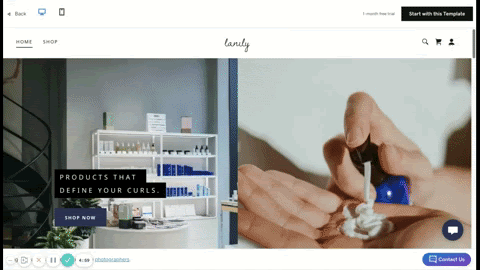 GoDaddy Ecommerce Website Pricing
GoDaddy website plans come with features that are important to operating a business online. Plans range from $14.99 per month (billed annually) for the Standard Plan and go up to $19.99 per month (billed annually) for the Ecommerce plan. All plans allow for online payment and appointment booking, but only the Ecommerce plan allows users to list and sell physical products.
GoDaddy Ecommerce Plans Compared
| | Starter | Premium |
| --- | --- | --- |
| Best For | Accepts one-time online appointments (e.g., salon or spa) | Accepts recurring online appointments (e.g., fitness center or subscription service) |
| Starting Price | $14.99 per month | $19.99 per month |
| Transaction Fees | $0 | $0 |
| Product Limit | 100 | 2,500 |
| Payment Processors Available | 40+ including PayPal, Stripe, and Square | 40+ including PayPal, Stripe, and Square |
| Accept Online Appointments and Bookings | ✔ | ✔ |
| Accept Recurring Appointments and Payments | ✔ | ✔ |
| Accept Online Payments | ✔ | ✔ |
| Sell Products | ✔ | ✔ |
| Google Shopping Feed | N/A | ✔ |
The GoDaddy Ecommerce Website Setup Process
If you are concerned about how difficult it is to build an online store using GoDaddy Ecommerce, rest assured the steps are easy and straightforward. The exact process for each user will vary slightly depending on what sort of products or services you sell, but in general, you will follow the process of creating an account, selecting an ecommerce template, customizing your template and pages, adding your store's products, and lastly, launching your online store.
1. Go to GoDaddy & Create an Account
The first step to starting an ecommerce website with GoDaddy is to create an account. This process is free and takes less than five minutes. Visit GoDaddy, click on "Websites + Marketing" in the top navigation bar, then click the "Start for Free" button in the middle of the page.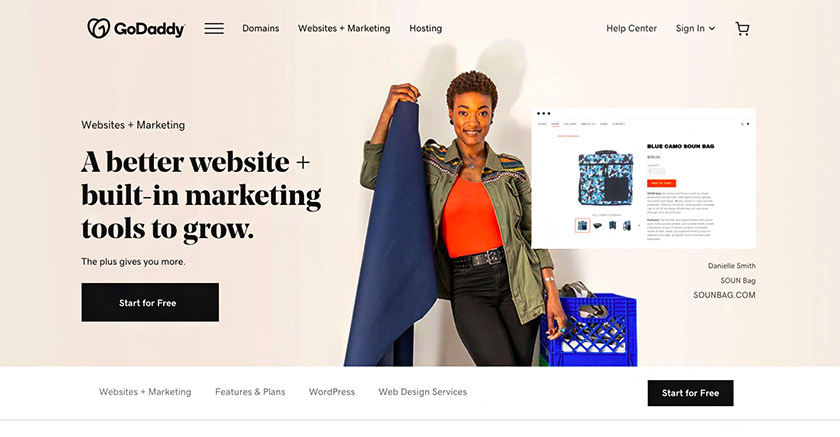 New users are asked to fill in some basic contact information, but you don't need a credit card yet, so you aren't committing to anything until you've seen what GoDaddy has to offer and had a chance to experience its tools firsthand.
2. Select an Online Store Template
After completing your registration and answering the launch questions, it's time to choose a template that works best for your business. GoDaddy offers lots of templates for different types of websites. The ones most relevant to ecommerce entrepreneurs are the ones in the "online store" category. Once in the "Retail & Online Store Website Templates" area, you can hover over each template to preview it with a sample site. Select one to start building your store.
3. Add Pages & Customize Your Template
After selecting your template, you'll be prompted to answer a couple of quick questions. The first one is about what category your business falls in, and the second is what you want to name your site.
After answering those questions, you'll be brought to the site editor. You can begin customizing your template by adding pages, changing site navigation, and fixing all the other steps necessary to bring what your customers will see in line with your brand and store initiatives.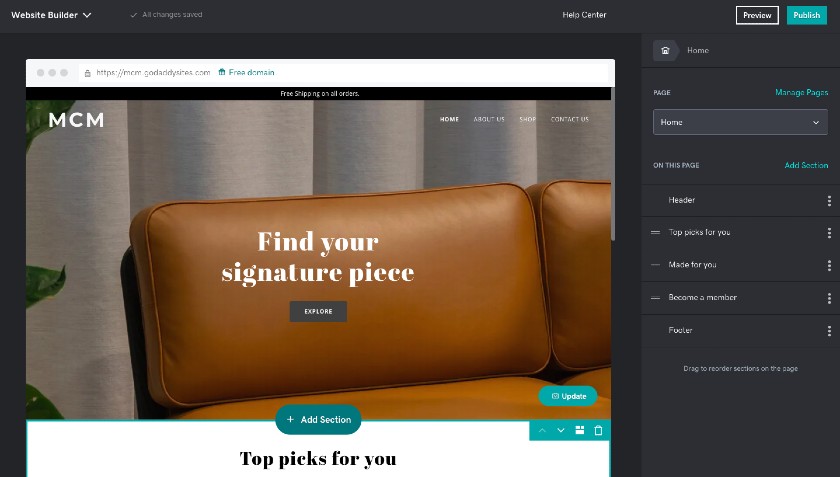 Pro tip: Don't forget to spend a little extra time on your site header and footer. These areas will follow users across all the pages on your site. Thus, use this valuable real estate wisely with lead capture, easy-to-follow navigation, contact information, social links, and other directives that will bring visitors to the pages and convert them into customers.
4. Add Products & Configure Online Store Settings
Once you've got your website's basic infrastructure setup, it's time to start putting together your specific store pages. In order to get this done, you'll need to start by adding products. To do this, add a "Shop" section. Click "Pages & Sections" from the home editor screen, then select the page you want to add products to (e.g., your "Shop" page). Next, click "Add Section" and select "Online Store" from the left-hand vertical menu options.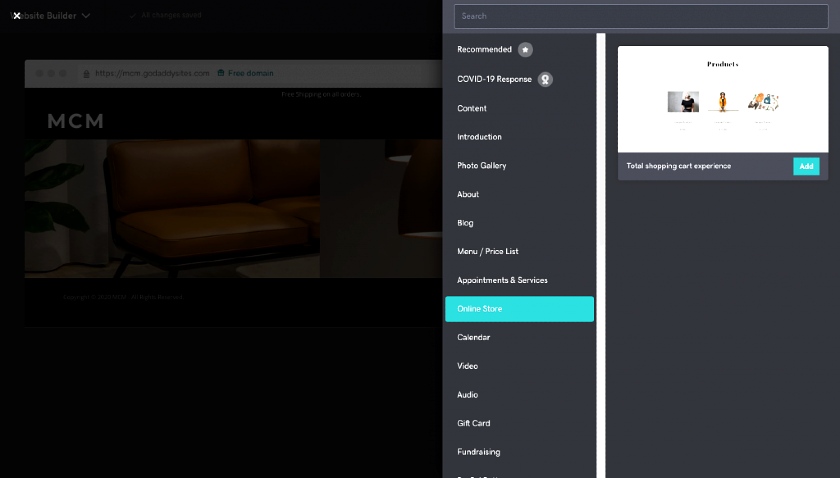 After adding your store, you can then add products. Fill in all the details you can about your products, including price, product description, sale price, and meta descriptions of any product photos. You'll also need to set up payment options for each product so customers will know how they can pay.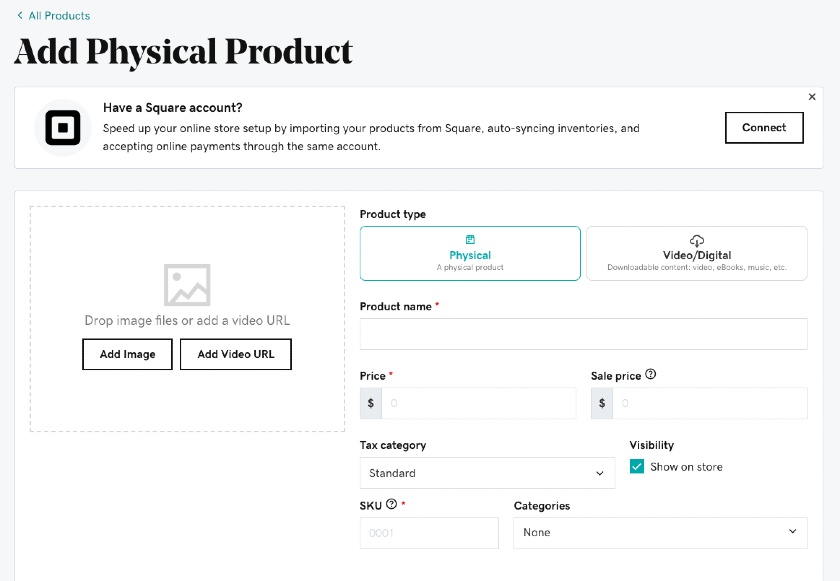 It's important to note that GoDaddy has two different product types: a digital product and a physical product. If you're selling a physical product that will need to be shipped to someone, there is a secondary selection you'll need to make that will allow you to also keep track of inventory and add shipping options for your customers.
5. Launch Your Online Store
Nice work—you're almost ready to send your online store out into the world and start interacting with customers. Before you go live, here are a couple of things to double-check on your site to make sure you're prepared to start doing business:
Website headers and footers: Make sure all the navigation links in these areas function (test every link), you've got the proper contact information listed, and any lead capture options you have there are working.
Check your copy: Until someone actually purchases something from you, the content on your website is your product, so make sure it represents you and your brand. Read through every single page, paragraph, and sentence to check for spelling, grammar, and punctuation. Your message should be clear and easy to follow.
Verify your product details: Check your product pages to make sure the correct photos, descriptions, and prices are applied. Once your store goes live, the last thing you want is for an incorrectly listed product to cost you a sale.
Walk through the GoDaddy search engine optimization (SEO) checklist: Your GoDaddy website is already optimized for many aspects of Google search, but it never hurts to make sure you're doing everything you can to appear in relevant searches. GoDaddy has put together a handy guide for local search engine optimization (SEO)—check it out.
After you're sure your site is ready to go, it's time to hit "Publish" in the upper right-hand corner of your website editor. From here, you'll be directed to "Choose a Domain," where you can select from a suggested domain, search for a new one, or connect a domain you already own.
Once you've got your domain squared away, the next step is to select a GoDaddy plan and complete the checkout process to purchase that plan and launch your site.
Looking for a more in-depth guide to building all sorts of websites with GoDaddy? We've got you covered—check out our comprehensive walk-through on how to build a website with GoDaddy.
Best GoDaddy Alternatives
If you're not convinced GoDaddy is the right choice for your online store, you do have other options, and depending on your business type and unique needs, other platforms may or may not be a better fit. For example, while GoDaddy is a great option for those looking to accept online bookings, those who want to use a dropshipping provider may find another platform, such as Shopify, to be a better fit given its wide range of dropshipping integrations.
Here are the best GoDaddy alternatives:
For more information on these products, including in-depth, side-by-side comparisons and analysis, check out our complete review of the best website builders.
Frequently Asked Questions (FAQs)
Can you use Shopify with GoDaddy?
Technically yes, but it wouldn't make any sense to do so. Both Shopify and GoDaddy offer ecommerce solutions for business owners looking to start an online store. There wouldn't be any gained functionality by building your website on GoDaddy and hosting your store on Shopify since you can build your store and host your site on either platform. Learn more about Shopify and how to use it.
Which is better: GoDaddy or Squarespace?
The answer to this question really depends on how you want to use each platform. GoDaddy is a better choice for those who need built-in booking tools, such as salons and fitness centers with group classes. However, if you don't need these features and are most concerned with top-notch design and built-in tools to help you market and grow your business, choose Squarespace. Get the complete breakdown of Squarespace vs GoDaddy.
Is Weebly better than GoDaddy for ecommerce?
The answer to this question depends on your priorities and preferences. In general, Weebly is better for those selling products online, whereas GoDaddy is better for those selling services online. Both are very user-friendly and competitively priced. However, neither are ideal solutions for those looking to sell online using dropshipping. If you're in this boat, then opt instead for Shopify, as it has the most dropshipping integrations available for a site builder.
Bottom Line
Building an online store with GoDaddy is easy and can be done in just a couple of hours. GoDaddy's pricing for all-inclusive plans is competitive—if not far more affordable than competing website builders. And with no transaction fees, it is a great place for budding entrepreneurs to get started selling products and services online. Start building your online store for free with GoDaddy now.
You Might Also Like…