Here at Fit Small Business we have a lot of experience with Google advertising. We've seen cost per clicks as low as $0.25 when advertising on behalf of a real estate agent in a small town, to upwards of $20 per click when running ads in competitive small business software. This means that unfortunately there is no one answer to the question, "How much does Google advertising cost?" The answer is going to vary based on your industry and audience.
So, in this guide we will answer the question, "How much can I expect to pay based on my industry and audience?" We will take a look at 2 indicators of cost in order to answer this question:
Google's Suggested Bids – Google has a tool where you can enter a search term that you are interested in having your ad show for, and Google will give you an estimate for how much advertisers are bidding for that keyword.
Data from Wordstream – WordStream helps thousands of businesses with their Google advertising. They compiled their data from those thousands of accounts in order to generate industry benchmarks. We spoke with one of their data scientists in order to interpret the data for Google ad costs.
Want some free advertising to get started? When you sign up with Bluehost.com, you get a domain name, website, business email AND $150 in free advertising with Google and Bing, all for $2.95 per month. Click here for instructions on claiming your ad credit or learn how to set up your WordPress site here.
How Much Does Google Advertising Cost?
Our research on suggested bids shows that costs per click can vary from $1 for industries such as home goods and automotive, all the way up to $20 for industries such as insurance and consumer services.
Costs vary greatly depending on your industry, the quality of your ad and the size of your audience.
Suggested Bids for 10 Different Types of Businesses
We did research using Google's Keyword Planner tool to see the average suggested bid for 10 different types of businesses.
By researching the suggested bids for keywords related to your industry, you can get an idea of how much you will need to bid in order to compete against other businesses who are bidding on similar search terms.
Business
Popular Search Terms
Average Suggested Bid (U.S.)
Car dealership
"Dealerships near me"
"Auto dealers"
"Cars for sale"
$2.15
Plumber
"Plumbers near me"
"Plumbing services"
"Cheap plumber"
$23.31
Restaurant
"Restaurants near me"
"Best local restaurants"
"Good food near me"
$5.11
Online dating website
"Free dating sites"
"Speed dating"
"Best dating sites"
$3.82
Insurance company
"Cheap insurance"
"Insurance quotes"
"Insurance companies"
$20.75
Doctor's office
"Doctors near me"
"Doctor appointment"
"Primary care physician"
$5.19
Home goods store
"Household items"
"Cheap furniture"
"Room decor"
$1.92
Corporate lawyer
"Corporate lawyers"
"Top corporate law firms"
"Business attorney near me"
$9.95
Real estate agencies
"Best realty companies"
"Houses for sale"
"Local real estate agent"
$3.59
Hotel
"Best hotels"
"Last minute hotels"
"5 star hotels"
$2.94
As you can see, there are huge differences in price between different types of businesses.
---
Bonus: What's better than Google Advertising? Getting traffic from Google for free. Get our guide and learn how to rank on the first page!
---
Factors affecting cost difference between businesses:
Competition – The more businesses that are advertising in a particular industry, the higher the price point will be. Since you bid on keywords, more bidders drives up prices, just like in a standard auction.
Payoff to acquire a new customer – The more a business stands to gain for a new customer, the more they will probably be willing to pay for clicks on their ads. For example, law firms stand to gain much more from a new customer than a hotel. Therefore, a law firm is probably willing to pay more to drive traffic to their website.
You will also see a difference in cost per click if you target your ads to a small town versus a big city. The main reason for this is that there is generally more competition in bigger cities.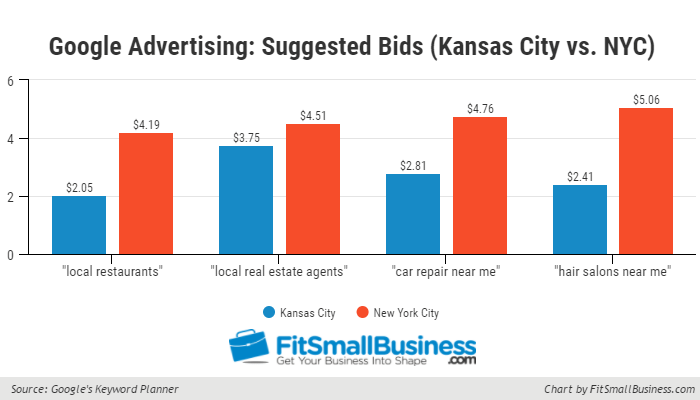 Suggested Bids for All Industries: WordStream Report
Industry
Average Cost Per Click
Data from 2,367 US-based Wordstream client accounts who were advertising on Google AdWords.
Advocacy
$1.72
Auto
$1.43
B2B
$1.64
Consumer Services
$3.77
Dating & Personals
$0.19
E-Commerce
$0.88
Education
$1.74
Employment Services
$4.20
Finance & Insurance
$3.72
Health & Medical
$3.17
Home Goods
$3.19
Industrial Services
$2.00
Legal
$5.88
Real Estate
$1.81
Technology
$1.78
Travel & Hospitality
$1.55
The average cost per click in WordStream's report is noticeably lower than the data from Google's suggested bids. Therefore if you're not quite hitting these "industry benchmarks" don't sweat it. Based on my experience with Google AdWords, and the research we did with the Keyword Planner tool, average cost per clicks are typically $2 to $5 higher than WordStream suggests.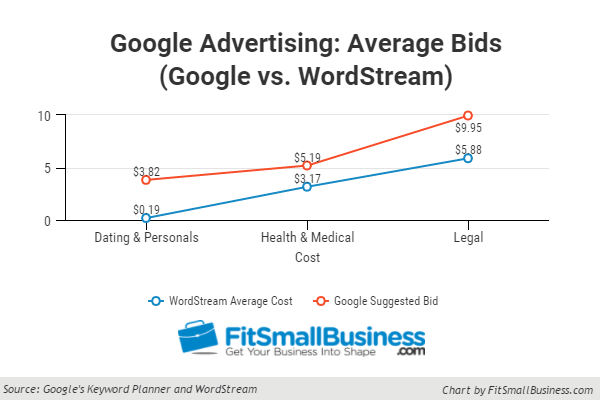 Strategies To Lower Your Cost Per Click (CPC)
We reached out to WordStream's data scientist, Mark Irvine, to see what tactics they use to get such low average costs across their accounts.
He attributed the lower costs to 3 strategies:
Test new ads continuously – The only way to test which ads will have a higher click through rate, or lower cost per click is by constantly testing your ad copy. The ad may look great to you, but you may be unknowingly sending a confusing message to users.

Work to increase Quality Score – Google also takes into account how relevant and useful an ad will be to the user when deciding which ads to display on the results page. For example, if your practice specializes in cosmetic dentistry, you may be able to bid less and still have your ad show before a dentist who bid more, but doesn't mention cosmetic dentistry in their ad or on their website.

Prioritize long tail keywords – The short termed keyword "Lawyer" may cost advertisers $100+ per click, but long termed keywords like "Boston Workman's Compensation Lawyer" can help advertisers attract more specific traffic at a lower cost per click.
It takes time and experience to work down your Google advertising costs, and the strategies Mark mentions can definitely help.
That being said, it is less important that your cost per click is similar to others in your industry, and more important that you are seeing a positive return on your investment. Therefore, you should calculate a cost that you are comfortable paying based on what you know about your business and your customers.
How To Determine Your Goal Cost Per Click
In order to determine how much your business is willing to spend per click on your ad, you will need to ask yourself the following questions:
Out of everyone that visits your website, how many will become paying customers?
How much is one new customer worth to you?
Let's say that 1 out of 100 people visiting your website typically become a new customer. If a new customer is worth $150 to you, then your goal CPC should be less than ($150 x 1%) = $1.50.
That's because it is going to take 100 clicks on your ad in order for you to get one new customer. If your cost per click is $2, then you will be paying $200 to get a new customer when that customer is only worth $150 to you.
Of course answering the two questions above is not that straightforward. However, by thinking about your answers, you should have a better idea of what you are willing to pay per click on your ad.
Google Advertising: How To Set Your Budget and Bid for the Best Results
The good thing about your AdWord's campaign is that you have full control over how much you spend in total.
Setting Your Budget
Your daily budget is the amount that you are comfortable spending each day on your Google campaigns. The ability to set your daily budget means that the actual total of your Google advertising cost should not come as a surprise. If you set your budget as $25 per day, then you will pay no more than $175 per week and $750 per month.
Just keep in mind that your ads will run continuously until you decide to pause them. People have ended up with a bigger than expected bill by setting their budget, and then forgetting to keep tabs on their ads.
Setting Your Bid
By using Google's Keyword Planner tool, you can see how much you will need to bid for keywords related to your business. If you are a local business, you can target your results to your location.
For example, based on the suggested bid for keywords related to flowers, a flower store located in Alabama should bid between $3 to $5 on their keywords.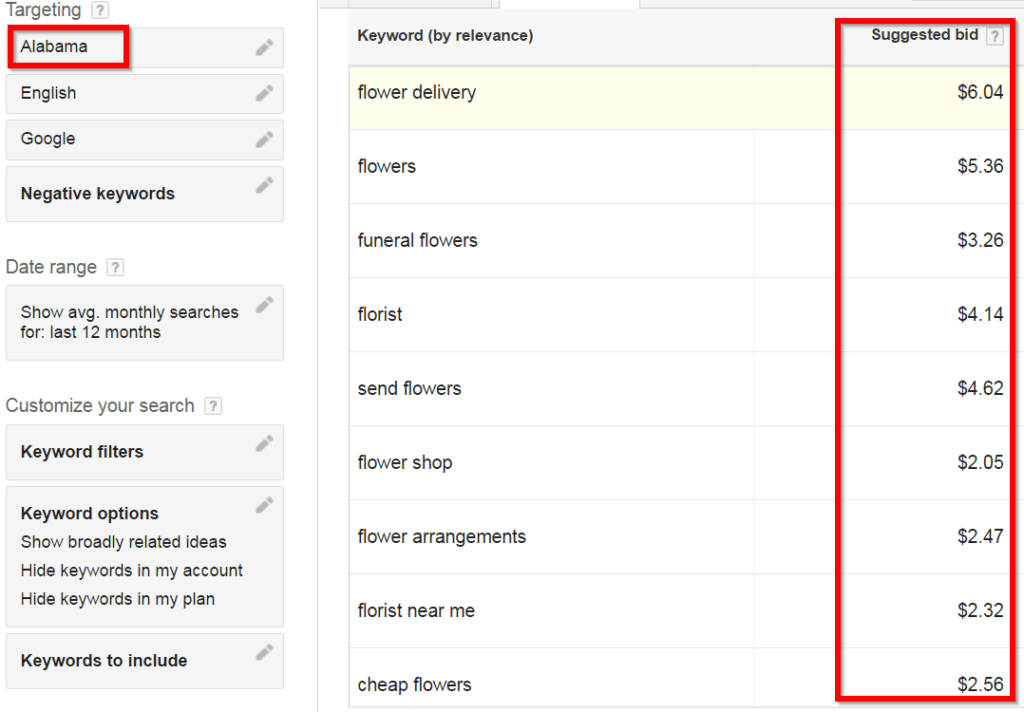 When to Bid Higher or Lower for a Keyword
Businesses are typically willing to bid higher for keywords that are closer to the decision to purchase.
For example, the average suggested bid for real estate agents is $3.59. However, the suggested bid for "sell my house fast" is almost 10x higher at $34.67.
That's because this keyword suggests that the user is in the purchasing phase of the customer buying cycle.
Bottom Line
There is no definitive answer to the question of how much your Google advertising cost will be. It's possible that you will pay less than $1 per click or upwards of $20 per click.
A few factors that affect cost, such as the competitiveness of your industry and the size of your audience are out of your control. However, you can influence the quality of the ad itself. Learn more about how to create awesome Google ads in our article, How To Advertise on Google and Boost Your Small Business.
Don't forget to check out Bluehost to get $150 in free advertising when you sign up for a domain name, website, and business email for only 2.95 a month.