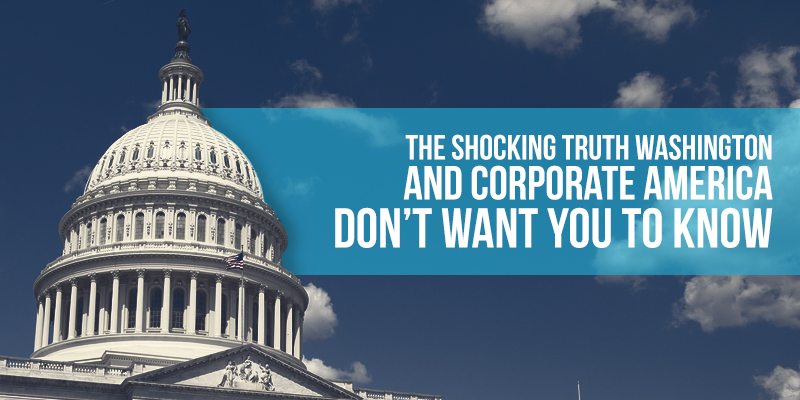 Ever heard of Verizon, Chevron, AT&T, GE, and Coca-Cola? Believe it or not, these and 179 other Fortune 500 companies all received government contracts in 2014 that were supposed to be set aside for "small businesses." In an economic environment that is already challenging for the small business owner, the last thing we need is another shady alliance between Corporate America and Washington D.C. Keep reading below to find out the shocking truth.
Click Here to get our FREE Google advertising guide and discover the 6 steps you can use to show up #1 in Google search
What The Small Business Act Is Supposed To Do: Help Small Businesses Get More Federal Government Contracts
The Small Business Act is supposed to help small businesses get a fair shake. Basically, the government self-mandated that it needs to give 23% of annual federal contract dollars to small businesses. This can range anywhere from providing a service to a federal office, such as carpet cleaning, to providing a product like sauces for the Federal prison department.
How to Qualify for a Small Business Contract
If you are interested in qualifying for a small business contract, here is what you need to do:
1

.

Make sure your business is eligible for small business government contracts

– Check out the SBA's

Getting Started 

page to see if you qualify as a small business and to familiarize yourself with the program

Register Your Small Business and Create a Company Profile

– The SBA's

Register for Government Contracting Page

will walk you through the process

Search and Apply for Contracts

– Check out this

resource list

that has contract databases and application instructions
So, is the Small Business Act Working? Not so much . . .
In late 2014, the SBA claimed it had met it's 23% goal for the first time in 8 years. Go Obama.  
Fast forward to May of 2015. Turns out, things were not quite as peachy as the SBA wanted us to believe. Several in-depth third-party reports published data that rocked the government's contract funding world, detailing how much of the SBA "small business" contracts actually go to Fortune 500 companies.
What Public Citizen and the ASBL Found
Here's what the reports found:
70% of the largest small businesses that received federal "small business" contracts did not actually meet the requirements to be classified as a small business

At least 8% of money that was supposed to go specifically to support disadvantaged small businesses actually went to non-qualified businesses

Massive corporations such as Lockheed Martin, GE, and others were classified as "Vendors that Received Small Business Contracts"

Of the $17.1 Billion dollars given to the top 100 "small business" contract recipients, $9.5 Billion (56%) went to businesses that exceeded the SBA's definition of a "small business"
179 of the Nation's Top Fortune 500 companies received Federal "Small Business" contract money in 2014

15 of the 179 received over $1 million in Small Business Contract Money

Verizon Wireless was the highest recipient, with nearly $126 million dollars received, all of which was technically designated for "small business" contracts

The other 14 receiving over $1 million included massive corporations such as Boeing, Hewlett- Packard, Chevron, Johnson & Johnson, LockHeed Martin, and World Fuel Services
Public Citizen is a national, nonprofit consumer watchdog agency that fights for consumer rights in a variety of areas, including health care, global economics, climate change, and workplace safety.  
The ASBL is a nonprofit and nonpartisan advocacy group that exists to "promote and advocate policies that provide the greatest opportunity for small businesses"
How Does This Happen?
In general, I have grown pretty desensitized to corporate and government corruption. But this one got to me. How is it that something that is so blatantly corrupt can be common practice? Well, after doing some in-depth research, this is what I found.
Money and Power
The reality is, it is hard to argue against money and influence. Let's take the defense sector for example, where a lot of "small business" contracting money is spent. Although neither the SBA nor the large corporations will bring it up, it is certainly interesting that 9 of the top 10 Defense Sector Contractors that were receiving "small business" contracts in 2013-2014 were also 10 of the top campaign contributors (on both sides of the aisle). In fact, Lockheed Martin was #1 in campaign contributions and #1 in defense sector "small business" contracting revenue received. It is an interesting coincidence.
Also, it is worth noting, that these large corporations are also the primary places of employment for post-military officials and do the majority of lobbying for the defense sector in-general. In other words, they have a lot of power.
If it's been said once, it's been said a thousand times: money talks.
Excuses, Excuses
The Administrator for the Small Business Association, Maria Contreras-Sweet, was actually asked directly about this problem in a 2014 U.S. House of Representatives meeting. Basically, Contreras-Sweet claimed that there was a 5-year contract rule given to small businesses. So, her explanation, was that larger corporations had bought out smaller businesses and then had rights to the contract ("grandfathered in") until the 5-year term was up.
Her explanation makes sense. The problem is that there is no such rule in-place. In fact, in 2007, the SBA changed that rule, even directly saying that larger corporations can no longer claim small business status for contracts when they buy-out a smaller company and that government agencies can no longer count that contract as a small business contract. In other words, there is not really a legitimate excuse for why this is happening.
Non Bull-Shit Translation: "It's easier to just keep things the way they are"
My translation of Contreras-Sweet's excuse is, "It's easier to just keep things the way they are." There are an amazing number of cogs to the government machine and if an agency can get away with keeping things how they are, it eliminates a lot of extra work and extra cost. The problem is that it can also hurt other people, in this case small business owners.
The Good News
Although it is easy to get depressed, there are some glimmers of hope.
Solid Small Business Subcontracting Numbers
According to the SBA numbers given to Public Citizen, total subcontracting small business dollars were at a 5 year high, coming in at just around 34% of total subcontracting dollars. This is within 2% of the Small Business Act total goal of 36%. You clearly cannot trust government reports at face value. But from the reading and research I have done, these numbers are generally considered to be more reliable.
The Government is Taking Action, Even if It Is Slow
Interestingly enough, even after all this info has come out, the Pentagon and SBA had a conference in June and claimed that 24.99% of all federal contracts went to small business owners. Of course, tens of billions of those contract dollars went to Fortune 500 companies and were included in that number.
But, because of the hard work done by the ASBL, Public Citizen, and other federal investigators, the House Small Business Committee (HSBC) unanimously adopted an amendment to call for a new General Accountability Office (GAO) investigation into the possible fraud associated with small business contracts. Also, the Senate Small Business Committee  Chairman, David Vitter, has demanded that Contreras-Sweet provide him with a complete list of all firms that have received "small business" contract funds, so the committee can do a full audit.
So Where Does That Leave You?
So what can you actually do to help fix this problem?
Educate Yourself and Others

 – One of the main things you can do is to continue educating yourself on what is going on in the small business community, both at a local and federal level. Also tell friends, family, and other small business owners. The more people that know, the bigger voice the small business community will have.

Share On Social Media

– The other thing you can do, is to share this article and the ASBL/Public Citizen reports on your social media. The more buzz these articles get, the quicker the government will act. There's no motivator quite as powerful for federal lawmakers as negative publicity. Social media is the best chance we have of going viral and getting public attention.  

Be Excellent at What You Do

– Work on being the best small business solution in your industry. If your small businesses can get to the place where you are truly the experts/up-and-comers in your field, then federal agencies will be much more likely to listen to what you have to say.
Click Here to get our FREE Google advertising guide and discover the 6 steps you can use to show up #1 in Google search