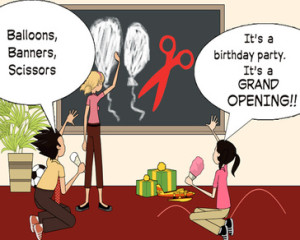 What's the diffference between a grand opening and a birthday party?
They have lots in common, including: balloons, banners, party favors / gift bags, entertaiment, and food.
A grand opening may not have birthday cake and a birthday party may not have special one-day discounts, but they both should be happy celebrations.
One key to both grand openings and  birthday parties is having the right crowd, in terms of both size and composition. Too few people, the event lacks energy. Too many people, the event can become choatic. Those throwing a birthday party do have an advantage, RSVPs. Birthday party planners have a good idea of how many people will show up in advance. On the other hand, there is much more guesswork about how many people will be coming to a grand opening.
Successful grand openings and birthdays both generate good positive buzz after the event.