The best business cards create a visual first impression, so as a graphic designer, it's all the more important that yours is strong. Potential customers will expect you to create a design that clearly represents their brand visually, so there's a lot riding on your business card compared to other industries.
Here are 28 of the most inspiring graphic designer business card examples from around the web.
---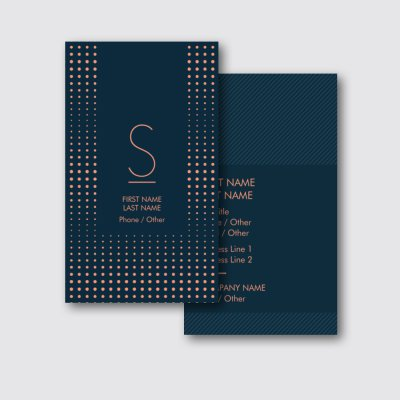 It can be frustrating when the design that took time to perfect is not as good as it is in print, so make sure that your business cards are professionally printed with Vistaprint. Vistaprint is the business card provider of choice for small businesses, with its affordable price and great turnaround time. And if you still haven't finalized your business card design, you can easily choose from their over 10,000 templates or get help from one of their professional
---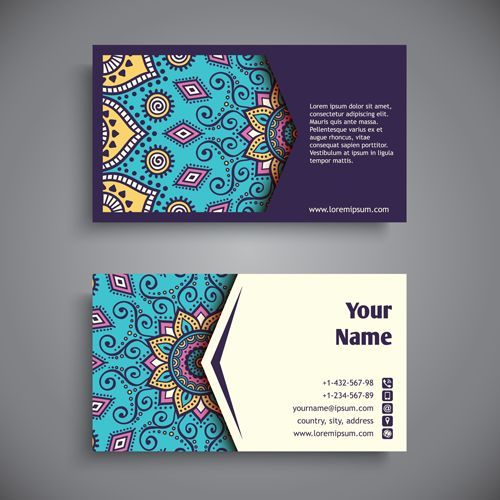 It's easy to stand out with a colorful pattern or print on your business card design. The right colors and pattern can easily attract the attention of potential customers. Find a color scheme that works with your own brand colors and work with a pattern that's attractive. If you can incorporate your logo highlighted within the pattern, that would be brilliant.
---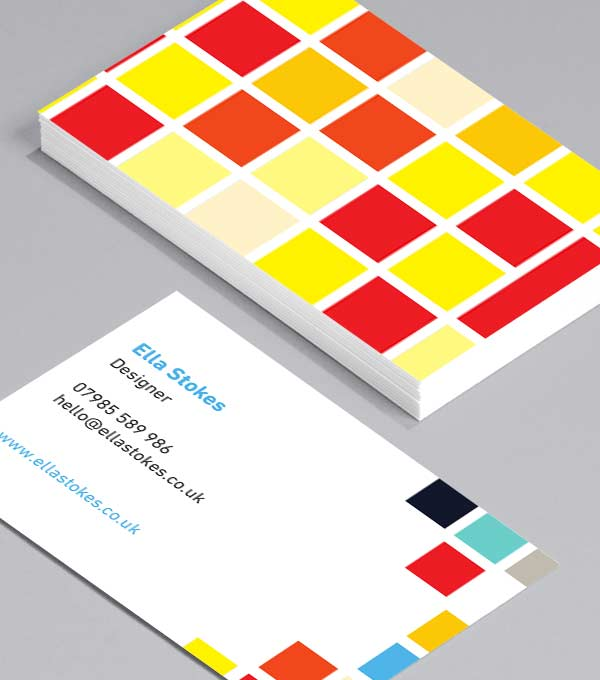 Your business card's goal is to send a clear message to its reader, and your choice in color palette sets the tone. In this example, designing your business card with large pixels that work with your chosen color palette can help emphasize the right emotion you wish to convey in your message.
---
A vintage design gives you the opportunity to take advantage of nostalgia as part of your marketing materials strategy. The above example combines this design with letterpress to help your business card stand out even more. If your work is influenced by classic vintage and you want to let your audience know, this is the best way to go about it.
---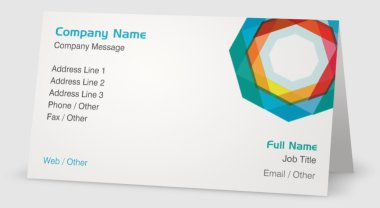 Your business logo doesn't always have to be front and center. In this example, the designer added the company's logo in the upper right-hand corner to bring more personality to the design while still promoting the brand. It also made use of the dominant colors as accents for the company details.
---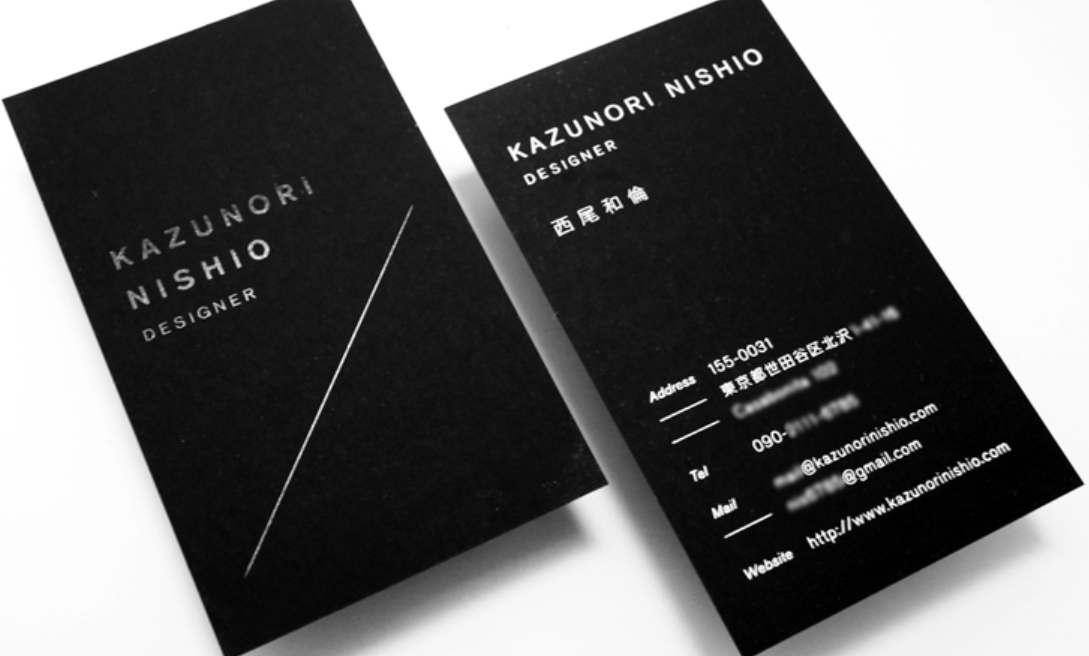 When done right, a minimalist style can tell a reader much about the graphic designer the same way a fully decorated business card can. The use of shadows and gradients, as well as the choice of lines, can bring out one's personality and represent your design aesthetic.
---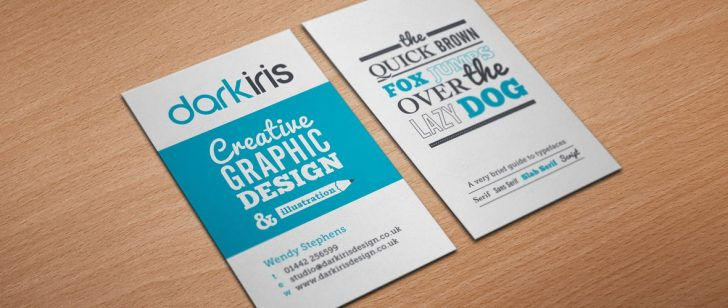 We love the layout and use of colors in this example. Apart from that, this business card manages to create harmony even with the use of a number of font styles. Try this example out for yourself and play with fonts, but remember to keep the layout clean.
---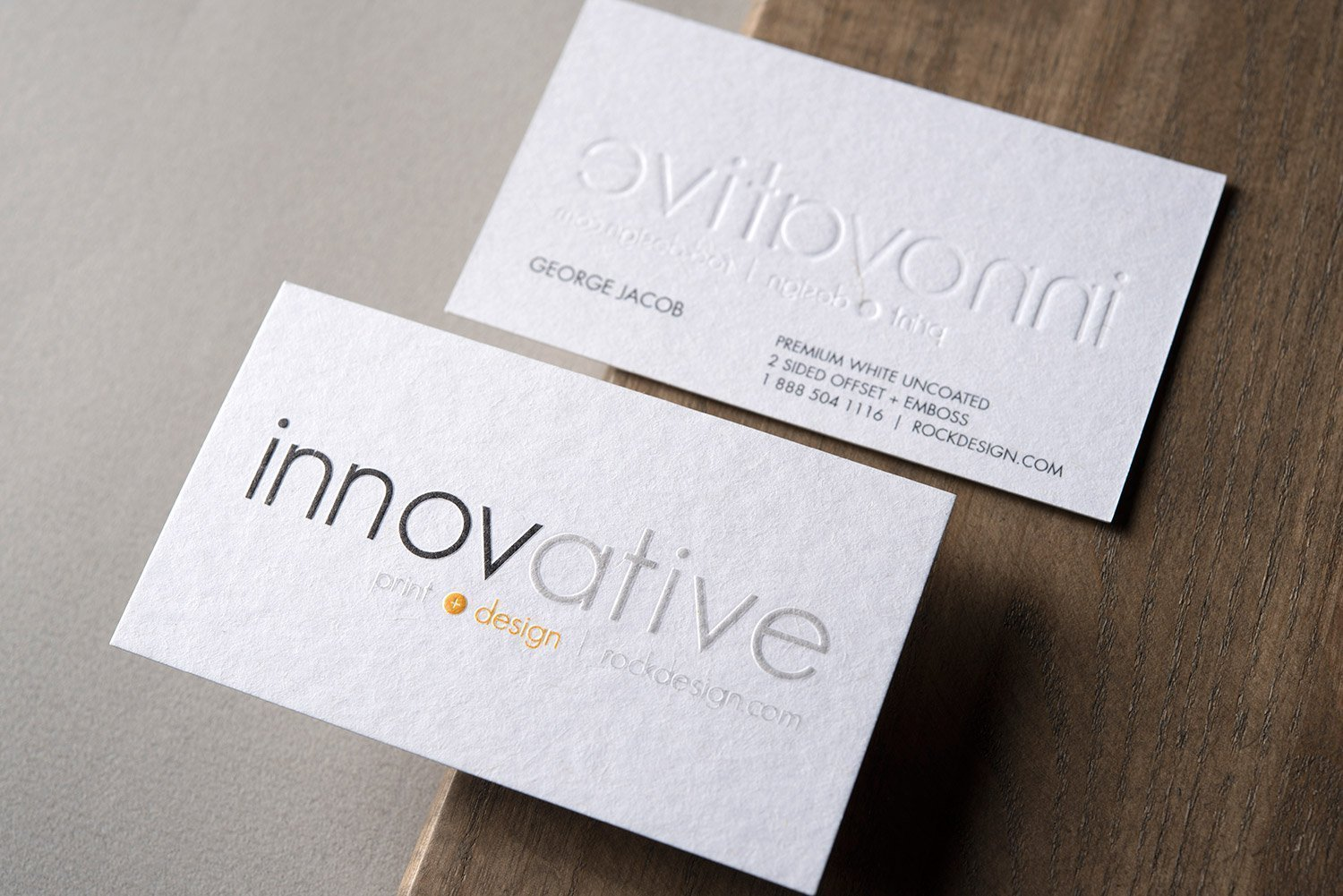 Embossing is a unique element most business card designers apply. It gives an ordinary design an elevated look by raising the element on one side of the card. It also creates a three-dimensional effect that gives your audience a more interactive experience when held. Most importantly, the right use of embossing lets you highlight important information on your business card.
---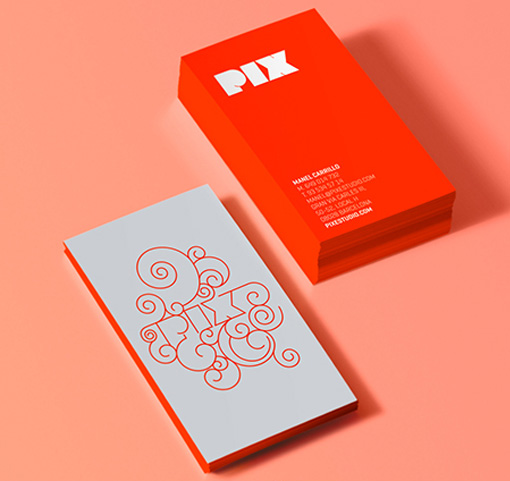 A dynamic logo gives you an added advantage when creating marketing materials. It can adapt to any size of design and still be recognizable, consistently promoting your brand. Notice how the business logo evolves in the example from the way it's presented on the front and on the back of the card. Its versatile characteristics make it effective in creating a memorable brand.
---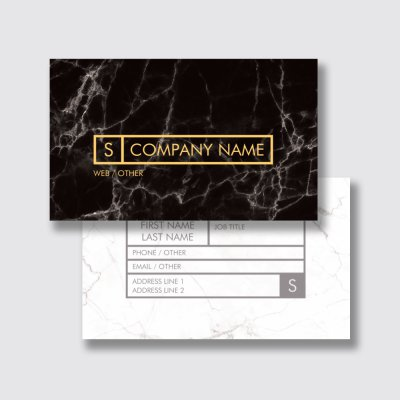 Want to be memorable? Try this dramatic look for a more artistic look on your business cards. It starts with a textured dark background that sets the mood, which is then followed by the use of gold for the text. The final touch is a spot UV finish to complete the dramatic effect.
---

This example takes its charm from a simple take on a vintage design. The layout is clean and the information concise, letting the message at the front of the card become the focus of the design. Try this example and use a familiar look to send out your message.
---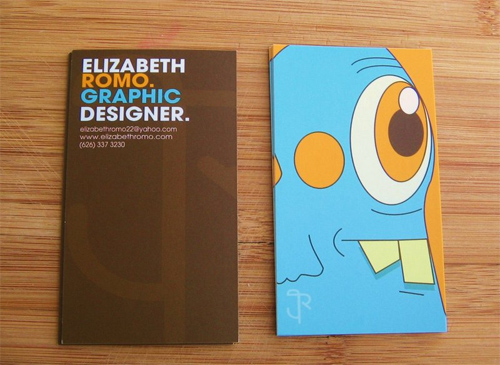 We love how playful this example is, and if you are a graphic designer specializing in illustrations and rendering, give this one a try. Notice how the colors of the illustration and text contribute to the whole fun and playful vibe while also showcasing the designer's skills to the audience.
---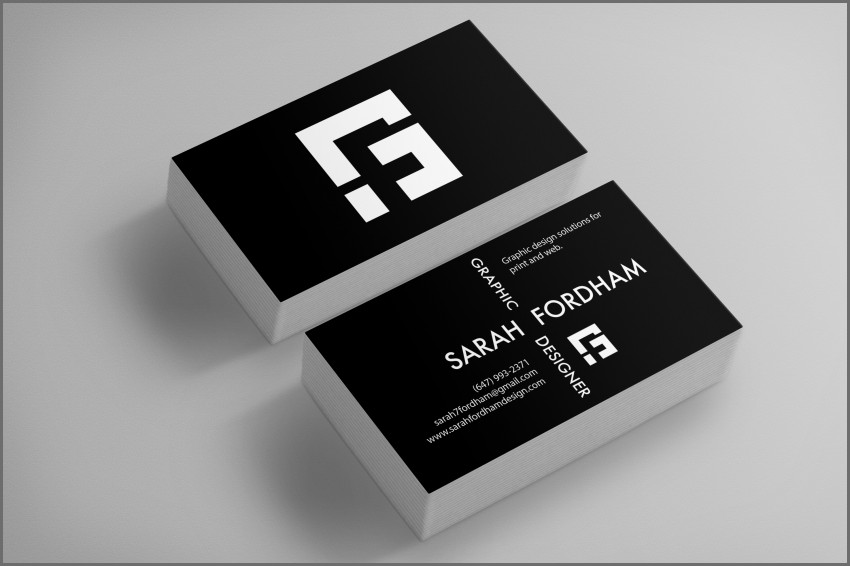 This example gives you a unique take on a modern black and white business card. The front displays a simple white logo while the back uses a layout that's both fun and interesting. Notice how the example made use of font hierarchy to create an order to the messaging, even with its unique layout style.
---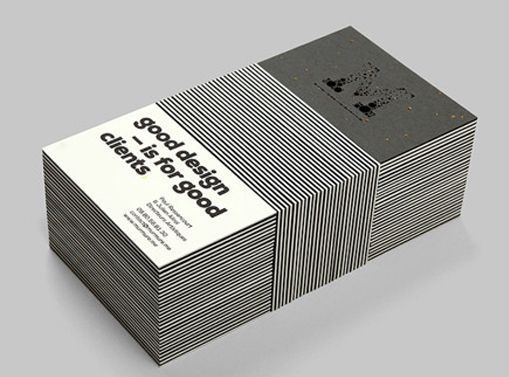 Another black and white business card example that offers a completely different approach. The card is divided into three distinct sections, each with a different interesting design. Your readers are given a unique experience as they focus on each section one by one and a completely memorable look when viewed as a whole.
---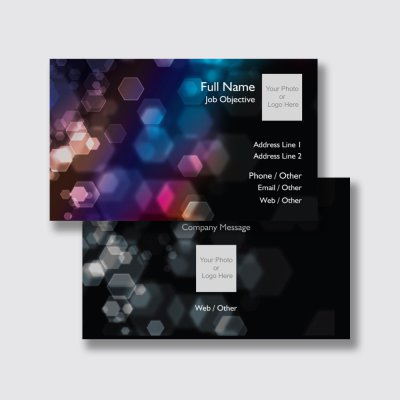 Here's one more approach for making use of pixels as a design element for a graphic designer's business card. The use of colors on the front and black and white on the back provides an interesting contrast to bring out your personality.
---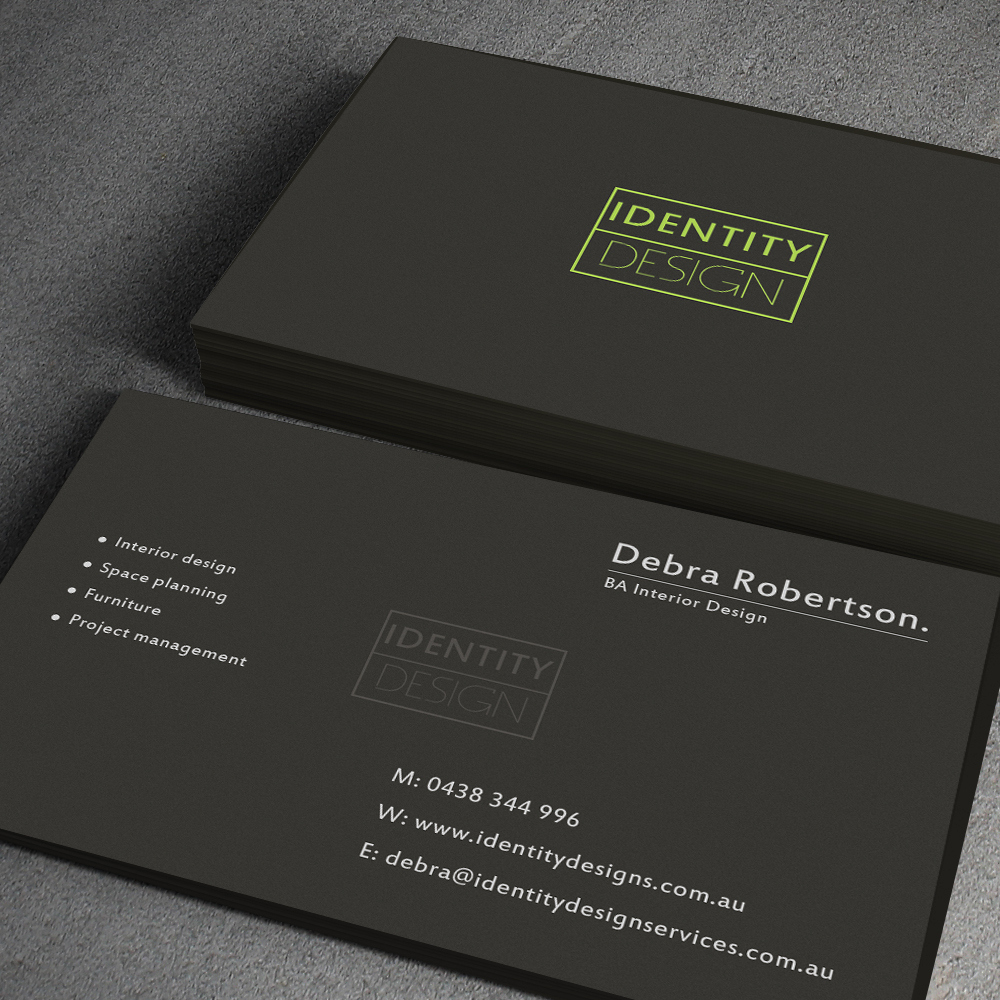 More of the black and white design, this time using a matte finish. Have your logo displayed at the front of the card, minimalist style, then use the back side to share your information in white text. Add a touch of style by adding your logo in the middle in gray as part of the background. If you have a dominant brand color, use this for your logo at the front.
---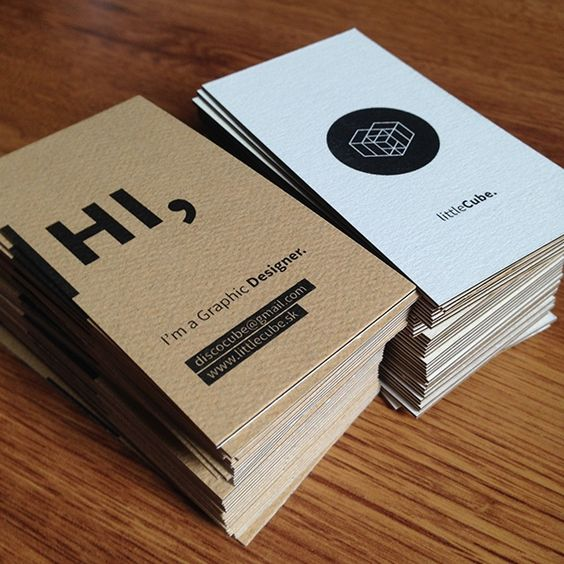 Conversational-style business cards are becoming popular nowadays. By addressing your audience directly, your business card tends to catch more attention and readers feel more connected. This is where the use of font hierarchy also comes into play, as your design depends mostly on your use of typography to tell a story.
---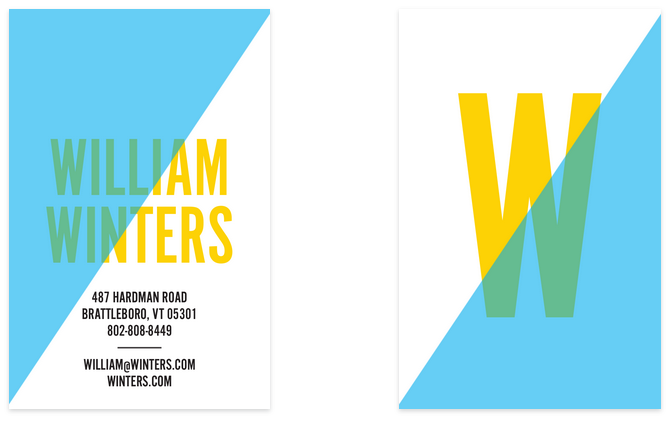 Like the title suggests, this business card is designed to track visually with the owner's initials (W). This example shows a lot of personality and creativity, as the idea easily gives the designer a stand-out style. Want to give this example a try? Start with a concept, the initial of your name, and your business name, and associate easily recognizable geometric shapes. Then use these shapes to create layers and design on your business card.
---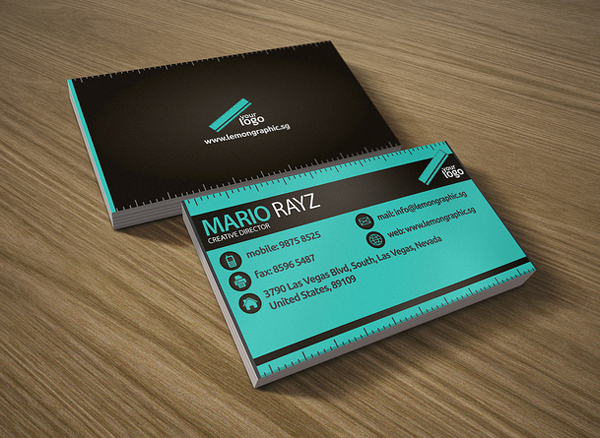 Another way to make your business card memorable is to turn it into something useful, valuable or functional. Give it a purpose and look for an idea that will make your readers want to interact with it often. In this example, the owner decided on creating a mini ruler along the edges of the business card, which makes perfect sense for someone like a graphic designer to offer to potential clients. Other ideas would be quick typography tips, color palette guides, measurement conversions, etc.
---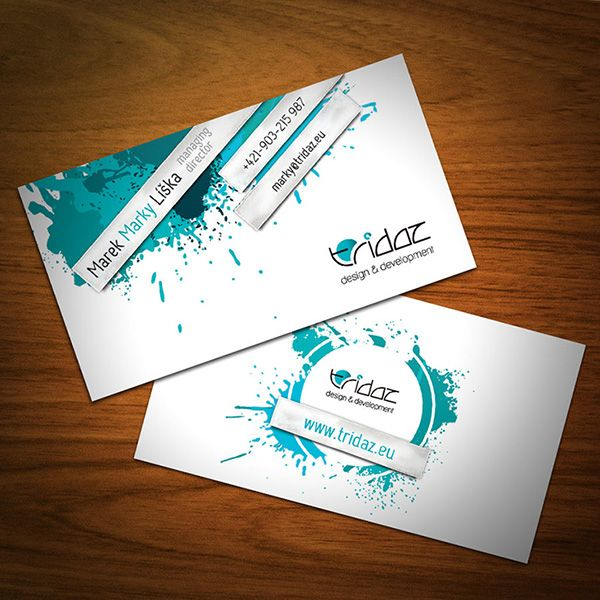 A splash of color on a white surface can quickly become an eye-catching piece for your audience. This artistic take on a business card design gives a modern, creative feel that tells much about the business brand and style. Use this for your own business card design by incorporating your own brand color to make it recognizable and memorable to your audience.
---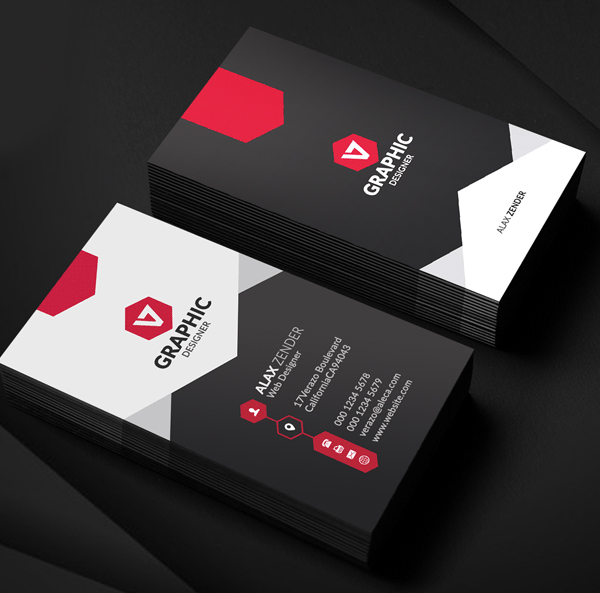 This corporate look stands out with its modern style and interesting layout. It has all the important elements that make an effective business card, giving an overall professional look to impress your audience. The use of red, white, black and gray can be customized to reflect your own brand.
---
Another design idea for plastic business cards. This frosted plastic print looks great and easily shows one's creative skills and design style. The impressive use of design on the front and back will make the audience wish they have one of their own. Just make sure that your information is clear and readable on both sides of the card.
---
23. Typography and Design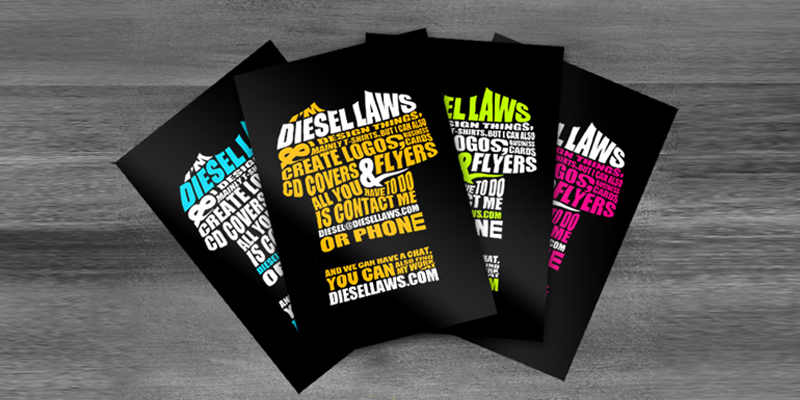 We've already mentioned how typography can affect the overall design of your business card. More adventurous designers will want to challenge themselves by using typography as the central image, making it look intriguing and informative at the same time. Notice how in the example, the designer takes control of the font hierarchy by using colors to highlight important text on the image.
---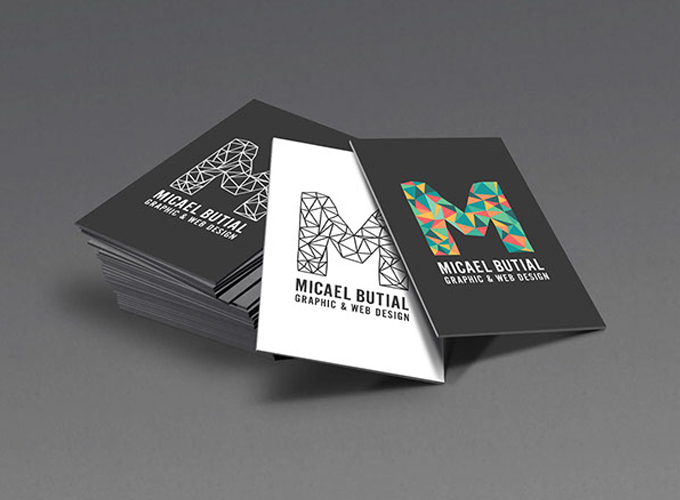 This simple but interesting look lets a graphic designer share a design experience with their audience. The logo is a clear reflection of the owner's style and gives potential clients an idea of what to expect when working with them. If you want to try this example on your own, remember not to overelaborate, as the idea is to intrigue and not to confuse. Also, choose a color palette that helps with your branding.
---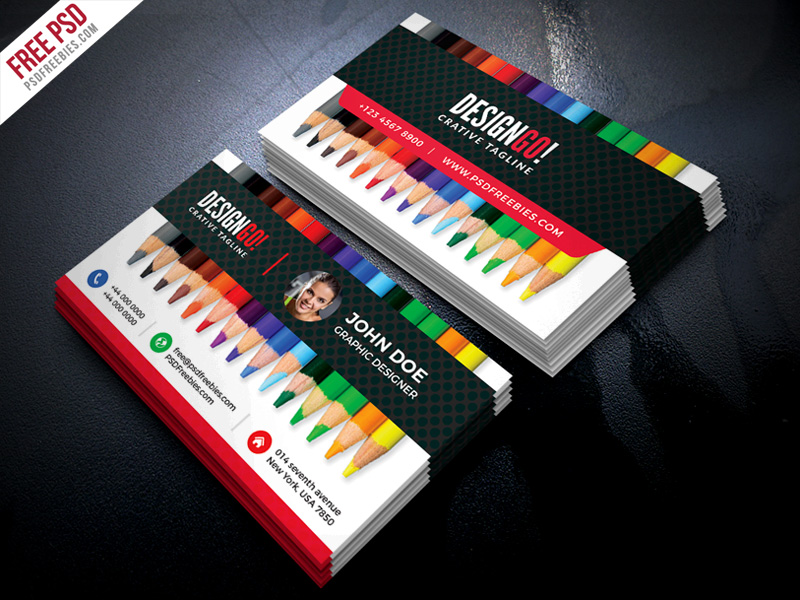 If you want a bolder look, check out this business card example. The use of the image is enhanced by the crisp colors that are eye-catching and fun to look at. Try this design and experiment on widening the panel for your company, name and job title to make it stand out more than the color pencil images. You can also move your contact details to the back of the card for a cleaner look at the front.
---
26. Grunge Effect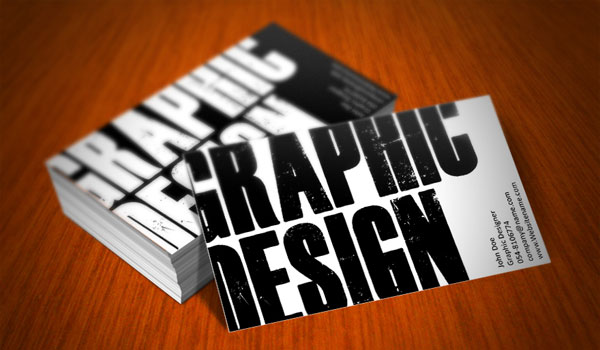 Graphic design is an art, and anyone who appreciates art will agree that the beauty is sometimes in the imperfection. That's what the grunge style is about, and it can be clearly seen here in this example. Uneven cut-offs and coloring gives grunge the appeal of artistic freedom, and can work well with graphic designers who work with bolder styles in their projects.
---
27. Balanced Color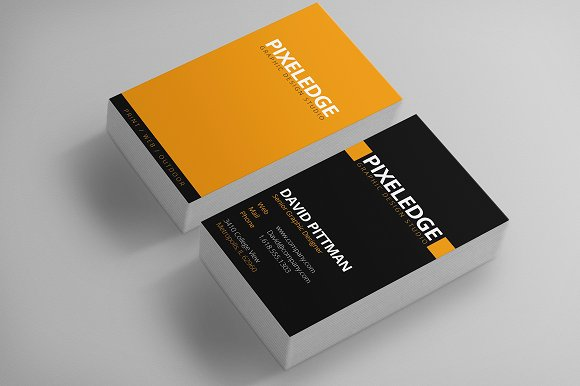 We like how the black and yellow design is balanced out on either side of the business card. The layout is clean and the choice of typography styles and weight is smart and adds to the professional vibe. There is no need to include an image as the overall look is already complete, but consider adding your logo to improve branding.
---
28. Digital Interface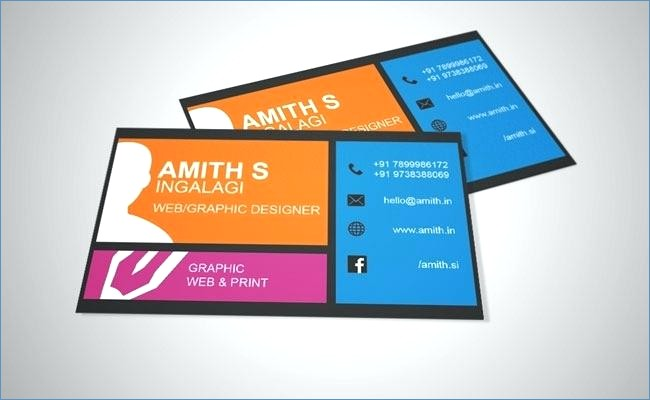 This familiar look is what we get from our handheld devices and computers. For a graphics designer specializing in web design, this style is perfect to showcase your ideas for potential clients. Imagine a screenshot of your best work and use it to design your business card.
---
Over to You
The best business cards are always the ones that reflect who you are as a brand using a memorable and stand-out design. Use our list of examples to inspire you as you reinvent your own to take your business to the next level.
Want to add your favorite graphic designer business cards to our list? Share them with us in the comments.