Grassroots marketing works by promoting your business to a small group and hoping that your message will spread to a larger audience. The goal is that by doing something that sparks one person's interest, either because it's heartfelt, intriguing, helpful or unconventional, you increase the chance that they will share the message.
By thinking outside of the box and venturing away from boring emails or pricey advertisements, you can potentially spend less money while making more of an impact. Here is a list of some of my favorite grassroots marketing examples from the pros, plus a few tips from around the web.
Grassroots Marketing Examples from the Pros
1. We send dog bones out to our customers with pets along with a thank you card.
Gene Caballero, Co-Founder, GreenPal
Not only is this very cheap but it lets our customers know that we care. We follow up with an email asking if they received the gift along with a link to our Yelp page. Online social media has been our biggest platform that has helped grow our business. With good reviews comes more business. We have been able to capitalize on customers leaving us positive reviews by using these unexpected acts of kindness.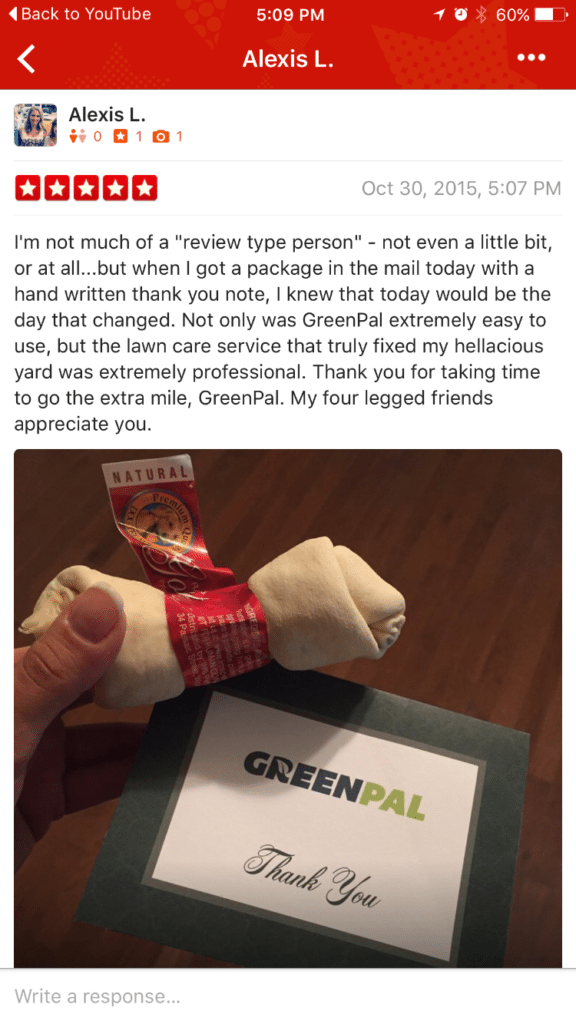 ---
2. I carry around fun-tak (a sticky adhesive) and attach promotional cards around NYC.
Lori Cheek, Founder, Cheekd
To spread awareness of my dating app, I post my card on the Citibike (NYC's bike sharing program) baskets, inside of the subway cars, movie ads on the platforms, the back of bathroom stalls, and I even tag noticeable existing street art. I'll leave the cards in the sugar stacks at Starbucks, drop them into people's shopping bags, hoods, pockets, etc. I've even slid a few into dating books at Barnes and Noble to see what kind of traffic they'd drive. I've had people send me messages that say things like, "I found your card riding uptown on the 6 train" or "I don't know how this card ended up in my pocket, but I'm intrigued."
---
3. We created a game to teach fire safety to kids.
Jonas Sickler, Marketing Director, ConsumerSafety.org
We created a game for kids called Firefighter Says that uses the familiarity of Simon Says to teach fire safety to small children in a fun and actionable way.
We received tons of traction on social media, several mentions in blog posts, and we were included in multiple resource listings for fire departments. We even earned a natural mention of our game in a TV news spot on the other side of the country (we never contacted them).
---
4. Be willing to take risk and even be controversial to create buzz in order to create a rallying point for your customers.
Scott Lathrop, Professor, Syracuse University's Whitman School of Management and MBA@Syracuse online MBA program

To sharpen the effectiveness of your grass roots marketing efforts, always be ready to capitalize on trending topics that are emotional touch points for your target market.  Try to understand and anticipate the rise of such topics by carefully following the media your customers follow.  Support causes particularly near and dear to them.  Stress community service and social responsibility above profit and commercial gain.
Don't shy away from controversial issues – they are often the very subjects your customers pay the most attention to. Sometimes it can even be useful to create controversy and 'buzz' to provide a rallying point for your customers, and to galvanize your relationship with them.  Assume the role of 'community organizer' for causes your niche customers believe in.  Use social media to convey your support for these causes in authentic original ways.  Provide information, chat rooms, and public forums for debate on those topics.
---
5. I do a monthly collaborative photo shoot with my clients.
Erica Perebijnos, Owner + Creative Director, EP_Designhouse
Most of my clients are fashion and lifestyle businesses who need content to post on their social media pages. I offer free monthly collaborative photo shoots, where my clients send in product to be photographed.
Everyone involved receives every photo to use as they please (they can use for web, social media, advertising etc). I require that all companies involved tag all other companies when posting any of the collab shoot photos on social media. These shoots are a great way to get new followers and customers on a grassroots level while spending little if no money doing so.
---
6. We recruit enthusiastic people in their 20s to promote a travel program to college students.
David Mulqueen, Project Manager, Odd Dog Media
We send our recruitment team to college campuses around the country. Upon landing on campus each week, our recruiters make energetic, enthusiastic, and almost over the top classroom announcements to the largest lecture halls on campus. They research classes ahead of time to find the most suited and follow each announcement with a signup sheet that includes promotional flyers about the program. With a weekly budget of $200 for supplies, we could easily generate up to 1500 leads a week.
---
7. We send inactive users an exclusive offer.
Danyal Effendi, Digital Marketing Manager, PureVPN
To get inactive users on board again, we created an exclusive deal for them. We then sent an email highlighting the exclusivity and told them that the offer is for them only and not available anywhere, not even on our own website.
We observed that the link was shared by them with their friends and families. There was lot of new subscriptions through our hidden landing page. This way, we were able to reach potential users through referrals of the exclusive offer.
---
Often the perception is grassroots marketing needs to be dramatic, like the time I dressed like King Kong and went into area where hundreds of people were eating. The best is to understand your market and attend a program or meeting where your audience will be and ask a very prescriptive question with a little humor, that gets you noticed and people will come up to you. Make sure the question included something around your expertise.
---
9. We partnered with Habitat for Humanity to generate press and help the local community.
Brandon Young, Payless Power
Our biggest challenge is getting more exposure for our business, and we wanted to find an effective and cheap way to do so that would also help out our fellow Texans. We teamed up with a Habitat for Humanity to help build a home for the needy. This was a big project, so there were many volunteers and even some local press and of course all our staff had T-Shirts with our logos on it. We also had a good response on Facebook when we posted it as well as cross posted it with Trinity Habitat. All in all, we helped the needy and got some good press.
---
10. We promoted a giveaway by arming our staff with sidewalk chalk.
Janet Tirado, Public Relations Specialist, PrimePay
To promote our giveaway contest, PrimePay got employees nationwide involved in "random acts of nostalgia" with chalk art. Sidewalks, driveways, walls, and more were fair game for the #PrimePay30 moniker that was used to the promote the company's giveaway.
The grassroots campaign was one of the most successful in the company's history. It excited employees throughout the country and gave passers-by an opportunity to engage with PrimePay and discover our mission of empowering small businesses.
---
11. We run a free event for kids and teach them how to code.
Sarah Cantu, Community Organizer, Tech Talent South
I work for a tech education company and coding bootcamp, Tech Talent South. One of our most successful efforts has been a free workshop series that is open to the public. It's great for us because we're able to interact with parents and children we may not otherwise meet, but it's also great for the community because the kids who go through our workshops get access to free, hands-on lessons on topics on like HTML and CSS.
Added bonus? We've had more than a few cases of parents who, in turn, become interested in learning to code and sign up for our paid, adult programs.
---
12. We created a team of fans to help people connect with our product.
Eric Gautschi, Managing Partner and Creative Director, The New BLK
We represent a University hockey team and created a "Mobile Mavericks" street team to help fans and students connect with the team on social media. They plan and attend tailgates, pre-game parties, and other fan events, creating a sense of community.
---
13. We had a different team member write a blog each week that we send out to our contacts.
Alli Williams, PR Manager, Amplify Relations
We created an email campaign to engage users with our brand. We began with an idea to create weekly blog content, each blog written by a different member of our team. Our email list began small. We compiled our own address books that included current clients, past clients, professional networking contacts, and even family and friends. Over the course of a few months, the list grew as users began forwarding our messages to people in their own contact list.
---
Grassroots Marketing Tips from Around the Web
Jeff and Rich Sloan, StartupNation
The best thing for your product might be to actually demonstrate how it works. Joni Hilton and her husband Bob Hilton, for example, take every opportunity they can to demonstrate the amazing effectiveness of their non-toxic Holy Cow cleaning products. In the aisles of Ace Hardware stores nationwide, plus plenty of supermarkets and drugstores and other retailers, they hire demonstrators to clean the tile, carpet, whiteboard – you name it.
---
Megan Marrs, Wordstream
One easy way to spread awareness of your brand is by posting your message, logo, or business card in different locations. However, to take it to the next level, consider incorporating your message into something people see every day. A great example of this is when Axe Body Spray used custom stickers attached to the classic "exit man" signs, as you can see in the picture below.
---
Neil Sisson, Tweak Your Biz
Find an important influencer in your sector or celebrity personality that buys or uses your product and use their fame, endorsement and connections to get noticed. Note that this doesn't necessarily have to be someone famous. Consider using a sorority president if your demographic is college students, or a popular trainer if your product is health oriented.
---
Ben Snedeker, Infusionsoft
For example, the train station "kissing point" by Labello lip balm provided a spot on the platform for travelers to kiss their loved ones goodbye. When your marketing strategy provides the opportunity for participants to engage, you also increase the probability that participants will take photos and share them on their social media channels, like Instagram, SnapChat, and Facebook. Include in your campaign a hashtag for people to use (in this case, #kissingpoint would have worked well) to add another level of participation.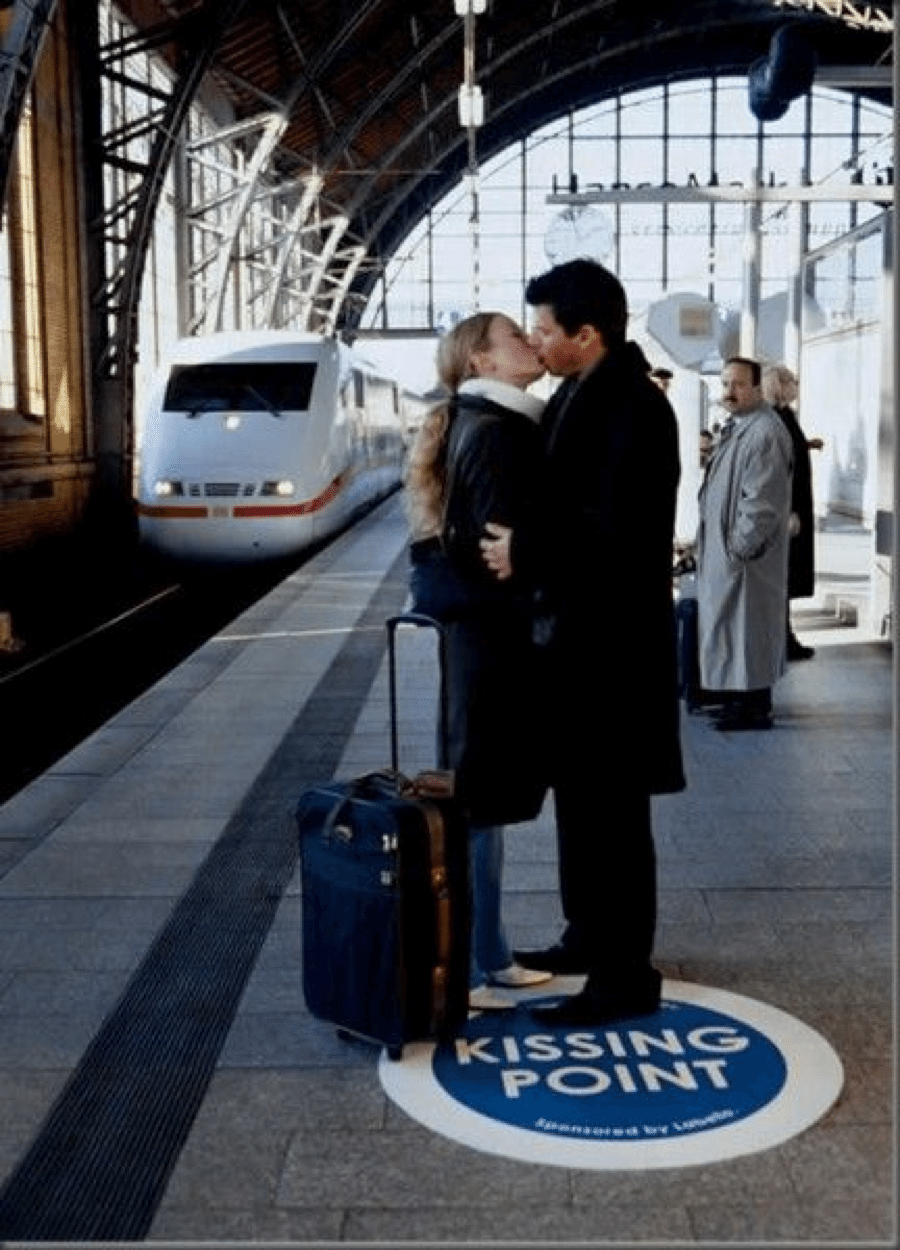 ---
Marta Kagan, HubSpot
For True Blood's first season, they promoted the show by sending vials of a mysterious red liquid with messages in a "dead language" to goth and horror bloggers. This led them to a "vampire-only" website called BloodCopy.com. By creating a complex backstory, HBO and its creative partner, Campfire, were able to tap into an existing community of horror aficionados and organically build an audience that made True Blood one of HBO's most anticipated and successful show debuts.
---
Ryan Lum, Creative Guerilla Marketing
Partner with a local business with a similar target audience in order to spread your message to more people. For example, if you own a healthy smoothie shop, ask the local gym owner if you can have your employees pass out free samples to gym members who have just finished their workout.
Below is a creative example of Colgate marketing their product to those who have just finished their ice cream bar. View more examples like this in Ryan's article.

---
Melissa Tsang, ReferralCandy
Instead of just having a booth at your next local event, have a game that actively engages people walking by. One example of this is when Foursquare set up an actual game of four square at the SXSW Conference, which just involved chalk and rubber balls. They then handed out shirts, buttons, and stickers to anyone waiting in line to play, and explained what their company was to people who had never heard of it before.
---
Eric Greener, ExactDrive
By being a strong presence in your local community, you are increasing the number of people in your area who are familiar with your business. In this article, Eric gives four ways to make noise with grassroots marketing, without needing to have a large marketing budget.
---
Samuel Edwards, Inc.
In this article, Samuel goes over when it's best for businesses to use social media for grassroots marketing. In order to understand this, you will need to ask questions such as: Are my target audiences using social media? Which platforms are they using? Who are my biggest influencers? How is the competition using social media to spark grassroots movements? The answers to questions like these will point you in the right direction.
---
Brandon Gaille, BrandonGaille
Exploring the possibility of getting new clients is a great idea as you never can tell who will become a long term customer. In order to maintain a stream of new clients, one grass root marketing strategy is to give out a bonus to clients who refer new customers. Give out something that is worth the referral effort. You can even run a contest with prizes for clients who refer the most number of clients.
---
Kim Bhasin, Business Insider
In this article, Kim interviews the president of a marketing agency about what makes grassroots advertising so effective. He also goes over the limitations of grassroots marketing and how the marketing strategy has evolved over the past decade. He reminds us that most people involved with grassroots marketing are volunteers, so you need to engage them personally.
---
Patrick Gartner, Soldsie
Interacting with customers who comment on your social media pages is a great, easy way to engage with your fans online. Responding to comments, answering questions, and addressing customer service issues shows that you are active. This, in turn, encourages the community to revisit your feed and fans to advocate for your brand.
---
Over to You
Have you used any of these grassroots marketing ideas to promote your business? Let us know in the comments section below!
If you're looking for more marketing tips, check out these 64 local marketing ideas from the pros.